Smart TVs have been in high demand since streaming services overtook the movie and TV industries in the 2010s. Among the seemingly endless Smart TV options available, Android TVs (and now Google TV's) consistently stand out as some of the best.
I'm obviously biased, since I focus on Android TV.
However, I also have two Samsung TV's, which run the Tizen OS, and had a WebOS-based LG TV previously. So I've had a lot of experience running different types of Smart TV's.
So what is the difference between a Smart TV vs. Android TV?
What do I think Android TV's do better than the rest of the competition?
Simply put, the term 'Smart TV' encompasses brands running a native operating system. This means televisions running WebOS, Tizen TV, Android TV\Google TV, and even Roku TV or FireTV OS are all Smart TV's.
However, when we look at comparing Android TV's to Smart TV's, we're really asking what does an Android TVs do better than other brands of Smart TV's?
Android TVs are known for having a massive amount of apps you can download and install, giving you a lot of flexibility. More TV manufacturers produce Android TVs and Google TV's than any other type of Smart TV.
The differences don't end there, though. In this article, we will explore the most notable differences between Android TVs vs. Smart TVs.
---
Operating System (OS)
It goes without saying that the biggest difference between a Smart TV and an Android TV is its operating system (OS). The OS allows your devices to connect to the Internet, stream movies, download content, and so much more.
The OS is responsible for the general appearance of your TV's interactive features. This includes how the home screen and interface look, right down to how each streaming app looks and performs.
Like a computer or phone, the type of OS used varies from Smart TV to Smart TV.
Android TV
Android TVs run on a TV-specific version of Android OS, thus falling under the Android brand. You'll see newer televisions running Google TV, which runs on top of the base Android TV OS.
For the purposes of this article, there's no functional difference between Android TV and Google TV.
Android OS is the most common operating software you'll find on any Smart TV.
Since they use the same OS, Android phones can easily connect and cast to Android TVs using a feature called Chromecast built-in.
This makes it super-easy for anyone familiar with an Android phone to get up to speed on Android TV. However, there may be a bit of a learning curve if you're coming from the Apple iPhone ecosystem.
Android TV's usually get at least some regular software updates. Usually Android TV gets more regular software updates and security fixes than other smart TV brands. This depends on the manufacturer, but it's fair to count on at least two years worth of regular updates on your new Android TV.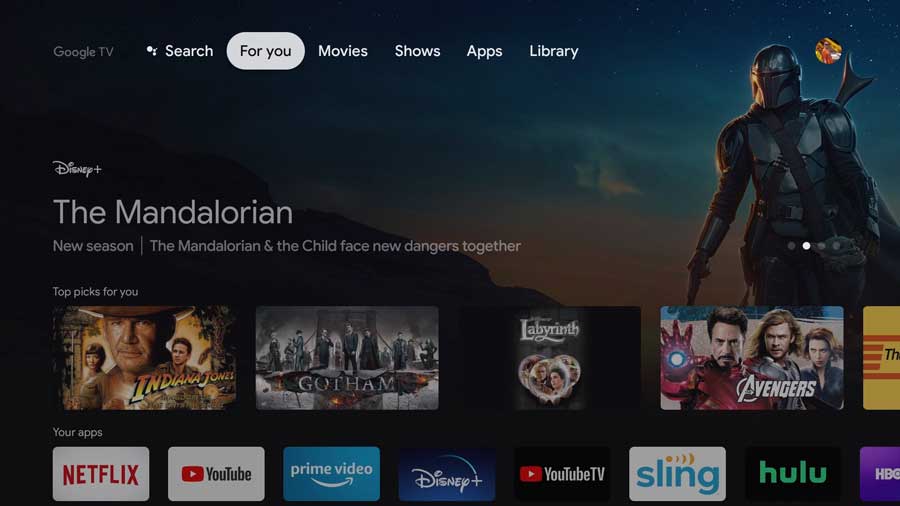 Smart TV
Some of the most common operating systems for non-Android Smart TVs are WebOS, Tizen OS, Fire TV, and Roku TV OS. Each has many unique features, but we'll highlight a few of them here.
WebOS is LG's TV OS, and let's your LG TV communicate with other smart LG products like refrigerators and washing machines. Personally, I'm not sure why you'd need to control your washing machine from your TV, but evidently someone at LG thought that would be a good idea.
One nice feature about LG's WebOS is their "live app" feature that lets you open another app without fully closing the app you were previously on.
Roku leads the market for streaming devices in North America, at least in part because it's OS is so user-friendly. Roku's native TV OS keeps that ease-of-use going with features like a universal search function and easy-to-learn ways to cast from your phone. Fire TV OS functions very similarly to Roku TV but is less dependable.
There's certainly more to say about the other operating software available, but WebOS and Roku TV OS are hands-down the most comparable. Any other OS would certainly be a step down in quality.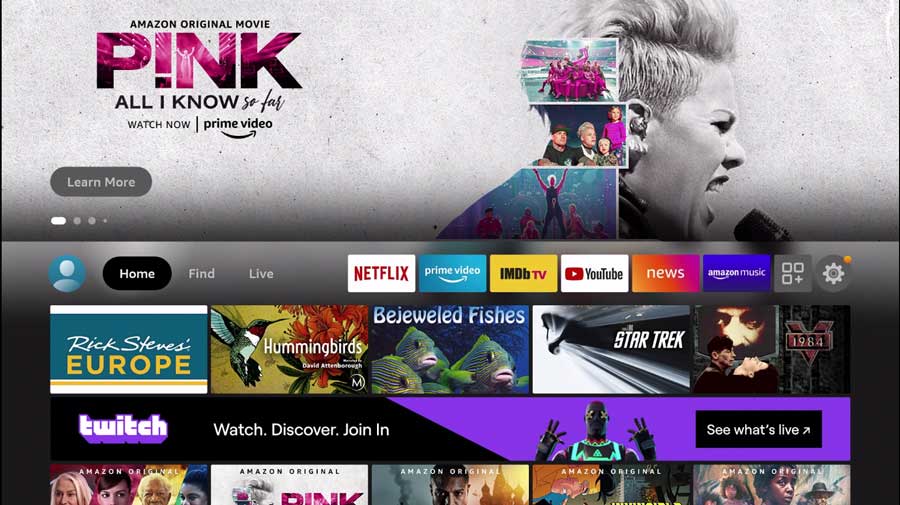 ---
Smart TV vs Android TV: Apps
Apps are what make a Smart TV a Smart TV.
When you think about it, a Smart TV that can't play Netflix or play music is simply a dumb TV.
With that in mind, what apps your new Smart TV offers should be one of your top considerations. You want to make sure you get your money's worth out of your new entertainment experience.
Android TV
When it comes to apps, Android TV is king. Android TVs offer thousands more apps than any other Smart TV OS. Even Fire TV, which is based on Android as well, has far fewer compatible apps, due to Amazon's restrictions.
While not every app you'd install on your phone is available on your Android TV, the Google Play store offers over 5,000 apps specifically designed for Android TVs.
These apps range from streaming services like Disney+ and Spotify, to Live TV like NFL and Twitch, to games like NBA Jam and Despicable Me: Minion Rush.
For some newer users, the sheer quantity of apps can be intimidating. Despite having all the options you could ever want, it can also be a little overbearing when you're only looking for one specific app.
Chromecast
As we mentioned earlier, Android TVs also offer Chromecast built-in. This allows you to 'cast' content from your Android phones, tablets, or any computer that uses Google Chrome.
Compared to other Smart TVs, Android TV's Chromecast is one of the most user-friendly ways to cast content to your television.
Most non-Android Smart TVs do have options for casting content, though it's definitely not as easy.
Smart TV
Other Smart TVs simply do not compare when it comes to Android TV's quantity of apps. Though most Smart TVs have the standard streaming apps like Netflix and Prime Video, there are common exceptions.
For example, when Disney+ and HBO Max initially launched, it took up to a year for certain Smart TVs to get those popular streaming apps.
This isn't usually an issue for Android TVs. Larger Smart TV operating systems like Roku and Fire TV typically don't have this problem either.
If you are looking for simplicity with your smart TV experience and don't want to scroll through more than just a few essential apps, a non-Android Smart TV may be right for you.
---
Smart TV vs Android TV: Voice Assistant
As technology develops, customers are looking more and more at what voice assistant options are available on their Smart TVs. Originating as a method for people to speak into the remotes to request a program, Smart TV voice assistant technology has developed to improve the overall TV experience.
Android TV
Google Assistant comes pre-installed on all Android TV's (and Google TV's). All Android TV remotes include a microphone button that allows you to seamlessly activate Google Assistant. These days, most Android TVs don't even need remotes for this feature to work.
Just say "OK Google" and the Assistant launches.
At a base level, Google Assistant helps you change the channel of your TV or open another app. You can also ask Google Assistant to play music, turn off the lights in your room, change the volume, run a Google search on the show you just finished binging, and plenty more.
Though the list is still growing, Google Assistant is currently available in the following languages:
English
Spanish
French
Italian
German
Japanese
Indonesian
Korean
Portuguese (Brazilian)
There is also some support for Amazon's Alexa voice assistant on some specific models of TV. If you're in an Alexa household, check with the Android TV manufacturer to be sure.
Smart TV
Many Smart TVs also use Google Assistant, even though Google and Android are their chief rivals. For the time being, however, these options are still on the market.
Aside from Google Assistant, the most common Voice Assistant you will find on Smart TVs is Amazon Alexa.
Similar to Google Assistant, Alexa features a microphone button on the Smart TV's remote. With it, you can change the channel, open apps, play music, change the volume, and just about everything else Google Assistant can do.
Smart TVs that don't have Google Assistant or Amazon Alexa still generally have some voice assistant or speech-to-text features. Unfortunately, these "off-brand" voice features aren't always reliable. Many are notorious for thinking you said something you didn't.
It's entirely up to you how much voice assistants play a part in your decision-making.
Many customers utilize and even depend on voice assistant options from their Smart TVs. Other customers prefer to skip the voice options and use their remotes or phones instead.
If a voice assistant is something you're interested in, you should look for a Smart TV that has either Google Assistant or Amazon Alexa for the best possible experience. While Android TVs do include Google Assistant, it's not exclusive to Android TVs, nor are most of its features.
---
Smart TV vs Android TV: Options and Prices
While the operating software, apps, and other features are intangibly important, there's one decision-making aspect that trumps all: the price tag.
Screen size and image quality generally have the biggest impact on a TV's price, but turning that TV into a smart TV reasonably adds a bit more to the cost.
Which smart TVs are the cheapest, while still being worth your dollar? Shockingly, the Smart TV with the most features consistently stands out as being one of the cheapest as well…
Android TV
As mentioned earlier, Android TVs are open-sourced. Not only does this mean that the TV's OS runs smoother and is capable of running thousands of apps, but it also means Android TVs generally cost less.
For example, the screen mirroring function of Chromecast works smoothly thanks to Android OS being open-sourced. A different Smart TV with a close-sourced OS would not be able to project the screen of another device so smoothly. The close-sourced software and device would need to be more developed to achieve what the open-sourced Android TV achieves naturally, which costs money.
Android OS is used by around 50 TV manufacturers, more than any other Smart TV OS by a long shot. Sony, TCL, Hisense, Philips, Onn and Skyworth are among some of the biggest names that produce Android TVs.
Smart TV
Smart TV prices are much more varied than Android TV, with models all across the pricing spectrum.
Larger and more dependable brands like LG TVs with WebOS tend to be on the more expensive side. The less well-known Smart TV brands with more obscure operating software very often end up being around the same price as low-end Android TVs.
Roku TVs have become incredibly popular in North America, with TCL and Hisense leading the way. Samsung, the TV manufacturing market leader, interestingly does not produce any Android or Roku TVs. Instead, they use Tizen TV operating system. You can see my comparison between Android TV and Tizen TV here.
Insignia, a Best Buy brand, makes several Smart TV's based on Amazon's Fire TV OS under the $200 mark. This is $50 cheaper than the TCL Android TV of the same size. Insignia is a budget TV brand, manufactured by other companies and re-branded for Best Buy shoppers.
On the other end, LG QNED Smart TV's with WebOS can cost upwards of $3000, a few hundred dollars more than the Android TV with similar specs.
While all of these example TVs have differences beyond their operating software that impacts their price, the price pattern between Smart TVs vs. Android TVs is pretty consistent.
---
Smart TV vs Android TV: Popularity
We touched on this briefly in the previous section, but the popularity of different Smart TV operating systems varies greatly, depending on where you live.
Conviva reports, through Protocol, that Roku and Amazon's Fire TV operating system dominates in North America, combining for 59% of the big screen TV market. Android TV lags far behind with only 2% of the market.
It's a very different story everywhere else in the world, however.
In Asia, almost half of all big screen TV's sold run Android TV (49%), with Amazon's Fire TV a distant second place with 26% of the market. Roku isn't even on the list, having almost no presence in Asia.
The rest of the world is more balanced between Android TV, Fire TV and Samsung's Tizen TV. Roku, for all it's dominance in the US, barely factors in the discussion elsewhere in the world.
What does this mean for consumers?
Well, even though Android TV isn't as popular in the US as I'd like, it's global strength means that the platform itself still gets a lot of attention and development.
It's safe to say Android TV (and Google TV) isn't going anywhere for a long time.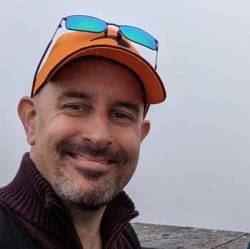 Latest posts by Tim Wells
(see all)