Last Updated on October 16, 2023 by Tim Wells
If you're like me, you're always looking for great new apps for your Android TV or Android TV box. But you're probably tired of hearing about the same few apps mentioned over and over again.
I'm looking for something different, aren't you?
So for this article, I dug up some of my picks for the best Android TV apps that you don't hear too much about.
Each of these apps is something that I install on my own Android TV devices. A few of them are the winners of my head-to-head comparison tests. In those cases, I'll link to the complete comparison article if you want more information.
You won't see Netflix, YouTube, Kodi, Plex, or Spotify on this list. These are great apps for Android TV, but we've heard about them enough already.
Whether you want to browse the internet on your smart TV or optimize your WiFi connection for streaming, there's an app here for every situation.
---
Best Android TV Web Browser: Puffin TV
You'll probably not browse the web on your Android TV often, but you still want a fast and easy-to-use browser.
When I downloaded Firefox and Google Chrome on my NVIDIA Shield TV, I was disappointed with how they looked on the big screen. They were almost impossible to navigate, so I almost gave up.
I recently tested every available web browser for Android TV. In that test, I looked at browsers you could download through various app stores and some you'd need to sideload.
Puffin TV won easily.
In the end, it wasn't even close.
Web browsers need a good interface and a lot of speed to work well on a TV screen.
I love Puffin TV's layout.
The simple main menu takes up the left side of the screen, and there are only a few options that are easy to see from across the room. Once you click on an option, the menu disappears, and your web page fills the entire screen.
All your menu options, including back, refresh, zoom, and even adding bookmarks, are just a click away.
The best part is that they save space when you don't need them.
Let's talk about the performance.
I'd heard it was fast, but I didn't expect it to be this fast. Puffin TV easily won every speed test – twice as fast as most of the other browsers!
Speed is one thing, but what's most important to me is how easy it is to use. Because it was designed specifically for Android TVs, it's super-easy to use on a television.
My one complaint about Puffin TV has more to do with Google than them. To keep the app on the Google Play Store, Puffin had to remove the ability to download files from their browser.
That means you won't be able to download APKs directly from Puffin. Don't worry, though. The next Android TV app on the list will take care of that.
---
Best Way to Sideload Apps to Android TV: Downloader
As I mentioned, the one drawback to Puffin TV is that you can't directly sideload apps to your Android TV device anymore.
That's where Downloader comes in.
Downloader was initially developed for the Amazon Fire TV. However, since Fire OS is based on an older version of Android, it'll also work on your Android TV devices.
The Downloader app has one simple job, and it does it very well. Point it at an APK file, and it downloads it on your device. Then it even allows you to install it without going to a file manager.
Over the years, the developers have added a few new features, including Google Search and even an integrated web browser, complete with favorites.
They added Google Search in 2020, which is a great time-saver. Previously, you'd need to type in the complete URL for the APK file you wanted to download, which led to errors and frustration.
Now, it's a simple search in most cases.
The integrated web browser isn't full-featured by any means. So don't expect to navigate around the web for the fun of it. Still, it's a great way to browse through your favorite APK repository to see what's new.
If you want to read more about the Downloader app, I've written a complete user's guide, including instructions on downloading and installing it.
The Downloader app is easily the best Android TV app I've ever used. Period.
---
Best Safety App: Surfshark VPN
A VPN (virtual private network) is a tool for privacy. It lets you access blocked content in your country by changing your server location. Governments and ISPs track online activities, especially of streamers. To avoid legal trouble, always use a good VPN while streaming.
Surfshark VPN is the best VPN for Android TV. It has a simple android TV app and a kill switch. It also shows you the best server locations for speed. To sweeten things further, Surfshark offers an exclusive deal with more than 80% savings. You will also get peace of mind with their 30 day money-back guarentee.
To install Surfshark on your Android TV, simply visit the Google Play store and search for the keyword "Surfshark".
---
Best Media Player: VLC
You've probably been using VLC Media Player for years. It's a free, no-frills media player that will play almost any audio or video file right out of the box.
If you're like me, you haven't given it more than a glance lately. Even though it's my default video player, there were many things that VLC could do that I wasn't aware of.
Let's start with the obvious.
VLC is hands-down the best free media player there is.
It'll play all the most popular audio and video file formats (MPEG-2, MPEG-4, H.264, MKV, WebM, WMV, MP3, etc.). There are also codec files that you can download for free that will let it play even more types of media files.
But it also gives you the essential features of a media center, allowing you to browse for audio and video files. VLC will play them, whether stored on your Android TV device, external storage, or a shared folder elsewhere on your local network.
It even automatically found my Plex server and let me play the files directly.
I've been using VLC for over a decade because it's simple and does what I need it to do without adding 'fluff' features that get in the way.
In short… it's exactly what I want from my media player.
---
Best Streaming App: Stremio
Stremio is a streaming-based media center app that gives you the freedom to watch everything you want at anytime you want. While Kodi focus on playback and organization of the local content, Stremio works by aggregating content from various services and addons online, while providing you with the best quality streams. You can also discover new content based on your preferences and recommendations. Stremio supports 4K HDR streaming, subtitles, and offline viewing. You can also sync your progress and library across all your devices by creating a free account of Trakt.
Stremio has a clean and intuitive interface that makes it easy to find and watch the content you want. You can also customize your experience by installing different addons from the addon catalog. Stremio offers a secure and private streaming experience, as it does not run any code locally and does not collect any personal data. Stremio is the ultimate choice for a high-quality and hassle-free streaming experience.
---
Android TV Remote \ NVIDIA Shield Remote
If you've ever lost your remote control in your couch or had the batteries die in the middle of a movie, you need a remote control app.
No matter what Android TV device you have, there's a remote control app that works with it.
Google created the official Android TV Remote Control app that will work on any device running the official Android TV operating system.
It's a fairly basic app that allows you to navigate the screen using a D-pad emulator (shown below), or you can switch to a touchpad emulator.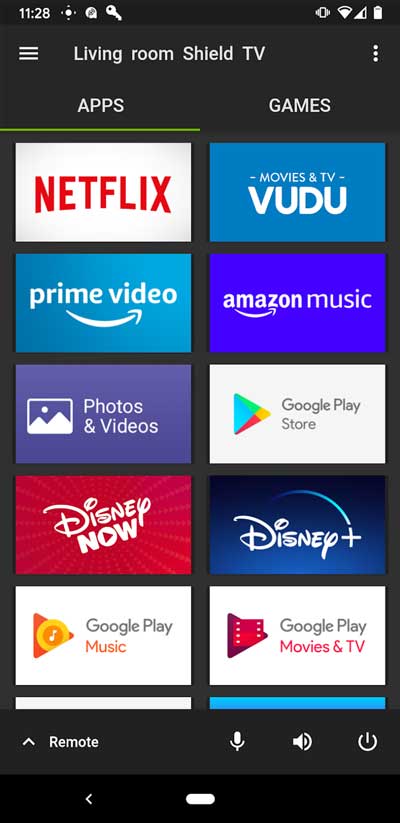 The official NVIDIA Shield TV Remote Control app takes things a step further.
You navigate around the app by swiping around your phone's screen like a touchpad. However, as seen above, you can also directly launch apps or games on your Shield TV by clicking on the icons.
You can also do voice searches, change the volume and restart your device directly from Android smartphones or Apple iPhones.
If you have an NVIDIA Shield TV, the official remote control app is a 'must-have.' But even if you don't, you can still get the basic functionality with the official Google app.
---
Best WiFi Analyzer: NetSpot
Here's another app that doesn't run on your Android TV, but makes it work much better.
Wireless networks are getting more and more crowded every day.
I recently did an audit and found over thirty devices connected to my home network sending and receiving wireless signals that slow down my Android TV's wireless speed.
It gets worse.
From the desk in my home where I'm writing this, I can see nine different wireless networks that I could connect to. Imagine how many devices are connecting to those as well.
That's where a wireless analyzer like NetSpot for Android comes in.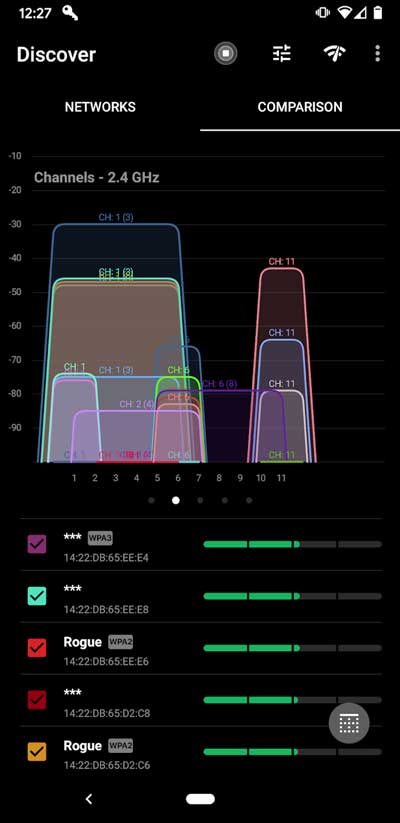 I used to be a big fan of WiFi Analyzer by Farproc, which was simple and great for home users. Unfortunately, it hasn't been updated since 2018, and it appears the developer has moved on.
NetSpot is an Android port of their popular Windows\Mac application. It's geared more towards 'prosumer' customers but still has a few great features for beginners.
What I like best are the graphs that show how much traffic is on each wireless channel.
For example, in the image above on the right, you can see a lot of network congestion on WiFi network channels 1-6 and channels 10 & 11. By contrast, channels 8 and 9 are wide open.
Based on this, you could make a quick change and increase your network speed.
NetSpot also has useful tools like a built-in speed tester and network strength analyzer. It's a great suite of tools that you can use to keep your network running as fast as possible.
---
Best Alternative App Store: Aptoide TV
One of the biggest complaints about Android TV is that there aren't a lot of apps available in the stock Google Android TV Play Store.
However, that doesn't mean that there aren't great apps available.
You just need to know where to look.
Aptoide TV is an alternative app store for both Android TV and Android TV boxes. With over 750,000 different apps to choose from, if you can't find what you're looking for on the Google Play Store, it'll be on Aptoide TV.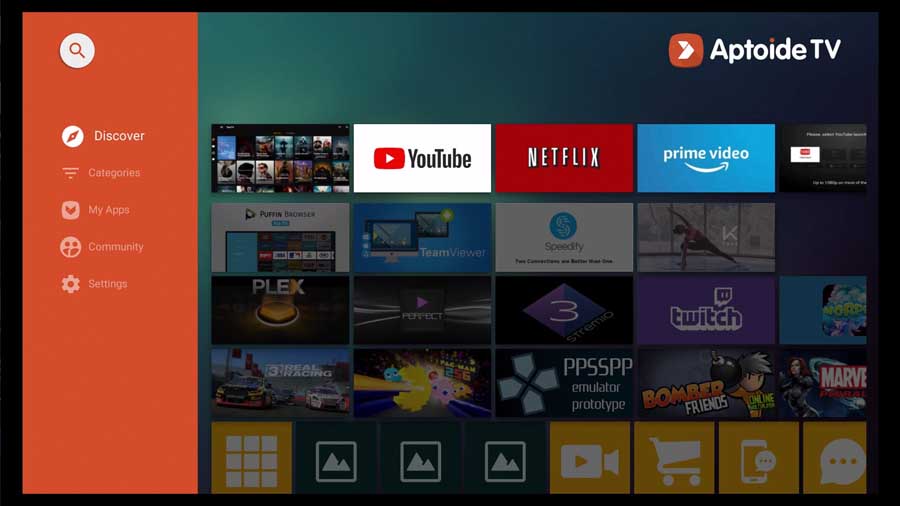 You will need to go through a few extra steps to sideload the app on your Android TV device, but it's well worth it. When you're ready to install Aptoide TV, I have an article that takes you through the process step-by-step.
Once installed, Aptoide TV is extremely intuitive to use.
The main menu, which runs along the left-hand side, has a section for featured apps that you can discover and different categories of apps to browse through.
Aptoide TV is always one of the first apps I install on every new Android TV device because many of my favorite apps are only available there.
If you're tired of seeing the same Android TV apps on the Google Play Store, give Aptoide a try.
---
Best File Transfer App: Send Files To TV
I love apps that do one thing and do it very well. The Send Files To TV app is the easiest way to send files from your smartphone, PC, or Mac to your Android TV.
Send Files to TV needs to be installed on both the sending device and the receiving device, and they also need to be on the same WiFi network.
Beyond that, you can transfer any file type and any size.
All you need to do is open Send Files To TV on the sending device and navigate to the app you want to send. Once you select it, hop over to the receiving device and open the app. Once you click Receive, the transfer should begin.
That's all there is to it.
If you don't want to install a specific app to download APKs on your Android TV, you can always download them on another device and use this app to send them to your smart TV.
You'll still need a file explorer to install it, which is where our next Android TV app comes in.
---
Best Android TV File Manager: X-plore
There are a few excellent file managers for Android TV. FX File Explorer and Solid Explorer File Manager are both solid choices (pun intended), but my vote goes to X-plore File Manager.
I recently did a comparison review of seven Android TV file managers available on both the Google Play Store and Aptoide TV. It's got a ton of detail and screenshots for each app, so I highly recommend you check it out.
I'll link to it below so you can go there after you finish this article. We'll touch on a few of X-plore's highlights here, though.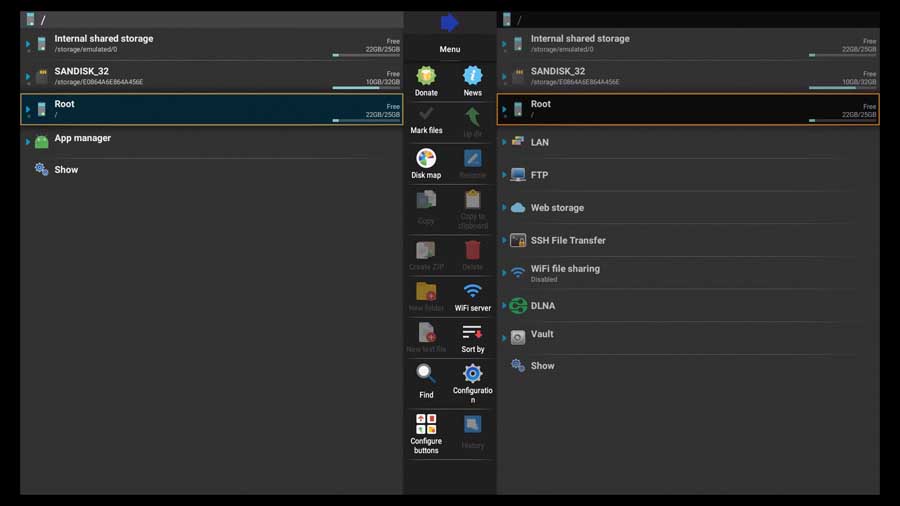 As you can see from the image above, X-plore has a split-screen layout. You can navigate to a folder on each side of the screen and copy\move files quickly between them.
X-plore is the easiest way I've found to transfer files between external storage and cloud storage. For example, SD cards, external hard drives, USB flash drives, and network-attached storage drives (NAS).
In fact, I was really impressed by how easy it was to add the NAS hard drive on my Windows network.
ES-File Explorer was removed from the Google Play Store for violating its terms & conditions. So now's a great time to upgrade your Android TV file explorer.
---
Best VPN for Android TV: IPVanish
No VPN service is perfect. If a government agency really wants to see what you're doing online, they will be able to.
The best Android TV VPN will make it harder for hackers, thieves, and companies wanting to sell your data to get it.
IPVanish makes it easy for new users to connect to a VPN with just one click. They've also got a lot of features and options that experienced users can really customize their experience to get more security.
I recommend you check out my review of the IPVanish app for Android TV. It goes into a lot of detail about every setting and even offers my suggestions so you can get set up and running quickly.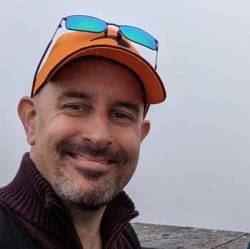 Latest posts by Tim Wells
(see all)