Last Updated on June 20, 2023 by Tim Wells
It might surprise you that most of the TVs in my house are Samsung TVs running Tizen OS – even though I run an Android TV website!
I've always loved Samsung's picture quality more than my Sony Bravia Android TV.
Unfortunately, Samsung doesn't make any televisions that run Android TVs.
They all run their proprietary Tizen TV OS.
Picture quality is still the most important thing to look for when buying a new television. But unless you're hooking up another streaming device to it, you will have to live with the operating system for several years.
Since they're two of the most popular smart TV platforms, it would be interesting to cover the differences between Samsung's Tizen TV and Android TV.
I'll briefly overview each operating system and its features, available apps, gaming, and updates.
By the end of this article, you'll have a good idea of the differences between them. Then you can make a better decision when you're looking to buy your next TV.
---
What is a Tizen TV?
Tizen wasn't the first operating system Samsung used on their smart TVs.
In fact, they've only been making "Smart TVs powered by Tizen" since 2015.
Since then, it's had a few minor tweaks. However, the version on their televisions today looks remarkably similar to their original version.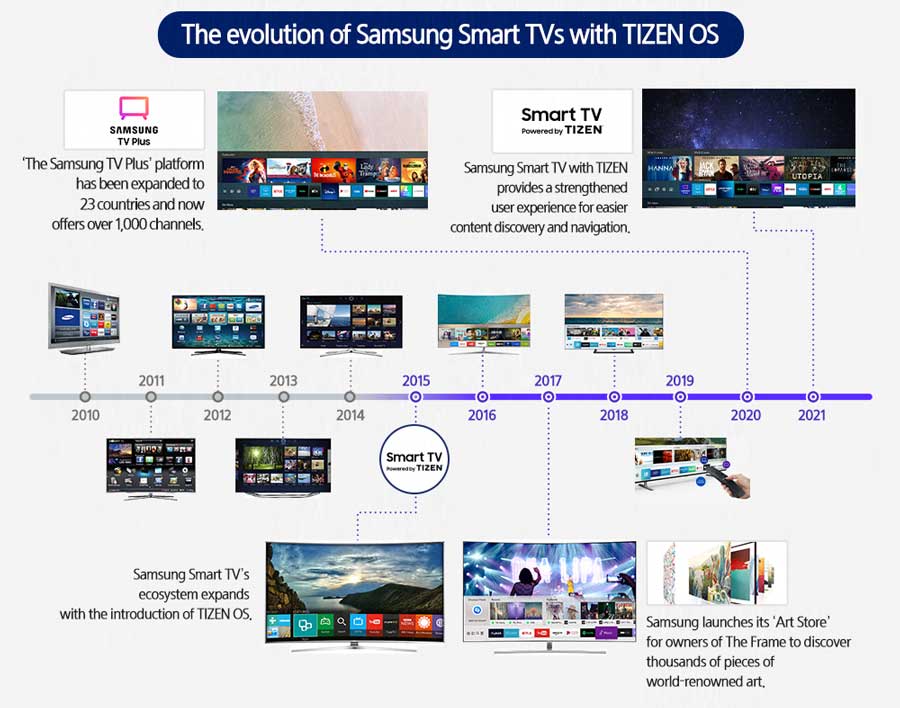 Tizen TV is an open-source, Linux-based, lightweight operating system that powers Samsung mobile devices, smart televisions, and digital signage devices.
I really like Tizen TV's clean, bright menu interface. The image below is from my 2017 Samsung UN40MU6300F.
Newer models changed their color scheme to a darker theme, but the basic layout has stayed the same.
The main menu runs along the bottom of the screen, with another row of contextual options just above it. Overall, about 40% of the screen is used for the menus.
Tizen TV is definitely streamlined for TV use.
Like most modern streaming devices, you can configure a 'favorites' row for all your most popular apps. There's another section for your recently used apps, so you can quickly switch back and forth between them.
Every Tizen TV comes with Samsung TV Plus, which treats live TV like any other app. It aggregates over 1,000 free streaming channels, including movies, sports, and national news.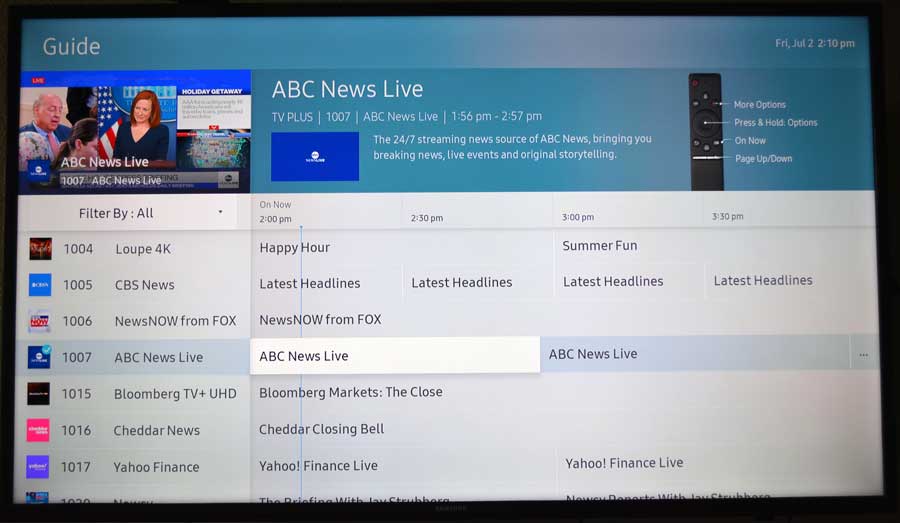 Samsung TV Plus has a built-in Guide feature, as you'd expect. However, it tries to bring live TV into the streaming era by suggesting additional content for you.
It's not personalized, so you won't get creepy recommendations like you would from Google TV.
---
What is an Android TV\Google TV?
By contrast, Android TV is more like a streaming device than a smart TV.
My biggest complaint about Android TV is if you try to use it as a "normal TV," it seems to take longer to get to where you want to go.
If you've used the NVIDIA Shield TV or Google Chromecast with Google TV, you'll feel right at home with the Android TV interface. However, you'll see a few critical differences between buying a television that has Android TV natively installed on it, like my Sony Bravia XBR-55X850D.
Like Samsung's Tizen TV, Live TV is treated like any other Android app, but it's not implemented as well.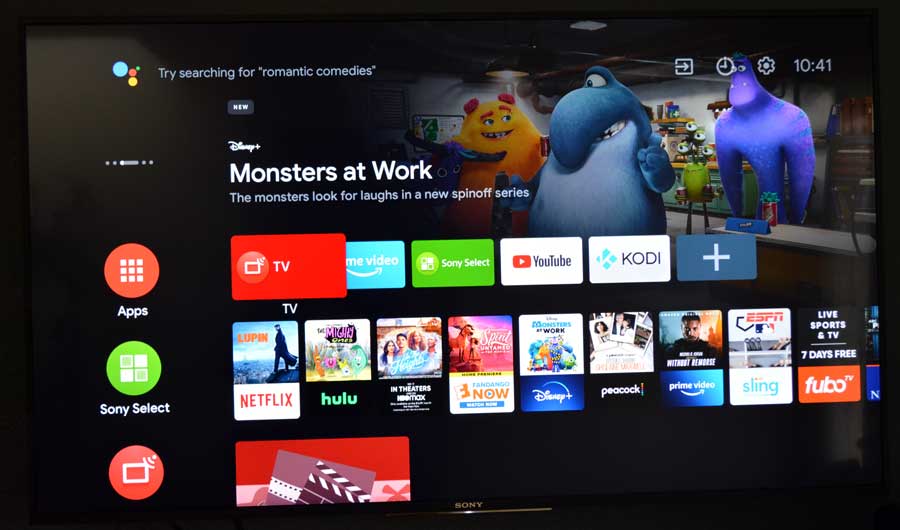 For example, Sony includes a Live TV app on their favorites row and on the TV Channel – both of which are customizable by the user. Here's my guide on customizing your Android TV home screen.
Similarly, TV settings are more clunky than on Samsung's Tizen TV. They're found in the same Settings menu as the rest of the settings, but it could be more intuitive.
The benefit of this extra complexity is a truly stellar streaming experience.
Android TV and Google TV are obviously based on Android. Still, it's got several notable differences from the pure Android OS that runs on your smartphone.
That means you have literally hundreds of thousands of apps that you can install on your Android TV.
There are native Android TV apps that you can install right from the Google Play Store. Plus, you can also sideload native Android apps on your TV.
---
Tizen vs. Android TV: Features
Keeping with the theme of being a super-simple TV experience, Tizen TVs automatically detect devices you hook up to.
In my case, it quickly found my Denon receiver, my Western Digital network storage, and the Amazon FireStick 4K that I was testing.
Everything was configured automatically, with no additional work needed from me.
Occasionally there's a device that can't be automatically configured.
When that happens, Tizen TV includes a graphic Connection Guide that walks you through how to connect different devices like game consoles, mobile devices, external storage, and audio receivers or soundbars, all from the on-screen menus.
Switching between inputs on Samsung Tizen TVs is much easier than on my Sony Android TV.
Another nice benefit to Tizen TVs is that Samsung includes a built-in web browser, which is seriously lacking in Android TV devices.
Search and Voice Assistants
Tizen TVs have several different options when it comes to virtual assistants.
Google Assistant, Alexa, and Bixby are found on newer Samsung Tizen TVs. There are rumors that Samsung's new 'Sam' voice assistant will make her way to TV screens.
However, the search function on Samsung's Tizen OS only lets you search for a TV program, TV channel, or application. You can't search for new content or a particular show or channel.
Although it's a 'Google-centric search bar,' Android TV and Google TV's search function is more global.
It will prioritize content from YouTube and Google Play Movies, but it also returns results from other streaming services.
Voice assistant support is up to each individual TV manufacturer. Sony TVs support both Google Assistant and Amazon's Alexa voice assistant.
However, since Google doesn't always play well with others, Android TV natively will usually only have Google Assistant.
---
Tizen vs. Android TV: Apps
Tizen TV has a similar look & feel to Android TV's Google Play Store, complete with ads at the top.
That's bad news if you're hoping that ditching Google will help you eliminate ads from your TV.
On the plus side, that makes navigating the Tizen TV app store really easy.
Everything is intuitively laid out on the screen and grouped into categories with a "Watch for Free" section (free streaming services, "Editor's Choice," and "What's New" sections.
Downloading and installing apps is incredibly easy.
You've got the same "one-click" installation from Android TV. There's even a detail screen for every app if you want to find out more before you install it.
Unlike the Google Play Store, there are a minimal number of apps. However, none of them are paid apps, which is a plus.
Here's the bad part. Since Tizen TV is based on Linux, you can't install Android apps on your Tizen TV.
Worse yet, there's no way to sideload additional apps on your TV. You're stuck with whatever Samsung gives you out of the box or can install via a firmware update.
Even with the limited number of apps, you'll find yourself monitoring your remaining storage space available more often on your Tizen TV than on Android TV.
My Samsung TV only had 800 MB of storage space dedicated to apps – a fraction of the available space on most Android TVs.
That said, even though there are a limited number of apps, it's more than enough for most streaming users.
---
Tizen vs. Android TV: Firmware Updates
I was pleased with how easy updating my Sony and Samsung TVs was, so I'd consider this a tie.
Both Tizen and Android TVs have automatic updates enabled by default.
Usually, they'll perform the updates overnight if you've got them connected to your home network.
Both systems can install firmware through a USB drive if you prefer manually.
It's worth noting that my 2017 Samsung MU6300 series TV and my 2017 Sony Bravia X850E received firmware updates in 2021 – four years after their release!
---
Tizen vs. Android TV: Gaming
Let's be clear: If you're looking for a game console, Tizen TV is not the TV for you.
Sure, Tizen has gaming apps.
My Samsung has 60 different games to choose from in the App Store. But they're all lightweight, smartphone-type apps and primarily side-scrollers or retro throwback games.
There's nothing that is overly resource-intensive, and unfortunately, no way to add additional games.
By contrast, the Android TV platform has thousands of games available. These range from mobile-friendly games to major releases like Asphalt 9, with amazing graphics and gamepad support.
If that's not enough, you can also connect to services like Steam and NVIDIA GeForce Now to play triple-A games directly on your Android TV.
More powerful Android TV devices like the NVIDIA Shield Pro can even connect to your PC to mirror games on your TV.
---
Which is Better: Tizen or Android TV?
So the question is: if you're trying to decide between Tizen TV vs. Android TV…which is better?
It all depends on what kind of TV experience you're looking for.
Samsung TVs have excellent display panels and look gorgeous, especially if you're playing 4K content.
You're limited to more mainstream apps like YouTube, Crackle, Netflix, and Disney+. I often find that the app I want isn't compatible with Tizen. But, if all you want is a simple, easy-to-use streaming experience, Tizen TV OS is really tough to beat.
By contrast, the Android TV operating system is much more robust.
It may be harder to use if you want to watch live TV channels.
However, it has literally hundreds of thousands of apps to choose from. This includes media centers like Kodi, which you can't get on Tizen TV. There are some great Kodi alternatives, like Plex, that you can find on Samsung TVs.
Remember, we're just looking at the operating systems themselves.
---
FAQ
Does Samsung have Android TVs?
No. All Samsung TVs run the Tizen OS, which is based on Linux, not Android.
Can you install Android apps on a Tizen TV?
Unfortunately not. Tizen OS isn't compatible with Android or Android TV. You cannot install APK files on a Samsung Tizen TV.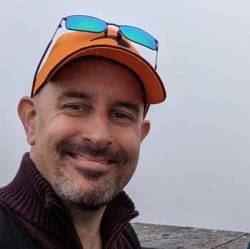 Latest posts by Tim Wells
(see all)