With 2021 in the books, it's time to take another look at the best Android boxes for the money in 2022.
Most of the new TV boxes and STB's that came out in 2021 were lower-end devices that really didn't offer anything new and exciting. So you'll see a lot of the same Android boxes on this list that you did in 2021.
But which one is right for you?
If you're looking for a great streaming device and that pure Android experience, here are some of my favorite picks.
If you live in Canada, some of these may be much more expensive, making other devices a better option once you factor in the exchange rate and shipping premiums. I've written a separate article to help you find the best Android TV box for Canadians that you need to read!
---
Pure Android vs Android TV
Even if you've only just started shopping for your next streaming device, you've probably heard the terms "Android box" and "Android TV box" thrown around.
They're often used interchangeably, but there is a huge difference between the two.
An Android box is any streaming device running pure Android. This is the same operating system that's on your Android smartphone. Android TV, by contrast, is a version of Android, developed by Google, that's specifically designed to be used on televisions and streaming devices.
Although they're similar, and can even use many of the same apps, they designed for different audiences. So why would you want a pure Android box instead of an Android TV device?
Let's take a look.
---
3 Reasons to Buy a Pure Android Box
If you're the kind of person that likes to tweak things to get the absolute best performance out of them, then a pure Android box is for you.
Pure Android boxes offer:
More apps: With pure Android, you get access to the full Google Play Store. That means you can install more apps without needing to resort to sideloading or other shenanigans to get the app you want on your device.
More customization options: Android TV is mainly for people who want a simple streaming device, so it's pretty locked down. Pure Android is wide-open, so you can tweak and configure your device as much as you want.
Less ads and bloatware: Are you tired of paying over $100 for a device and still seeing adds all over your screen? You almost never see them on a pure Android box. It's just a clean, simple interface so you can watch the content you want to, without
3 Reasons to Buy an Android TV Device Instead
By contrast, Android TV was designed for televisions and streaming devices. With the new Chromecast, Google has moved towards an interface that puts personalized content suggestions front-and-center, along with a healthy dose of ads as well.
Android TV offers:
Easy setup: Google makes setting up your Android TV device super-simple, especially if you have an Android smartphone or tablet. Just link your device to your phone and you can be up and running in seconds.
10-foot user interface: Apps are designed to look good from a minimum viewing distance of ten feet – about the distance from your TV to your couch.
Simple navigation: Since most Android TV's only come with a standard remote control, Android TV apps are designed to be used with your remote's D-pad, instead of an air mouse. That makes it a lot easier to navigate around the screen.
---
Three "Must-Have" Features to Look For
Amlogic CPU
The first "must have" feature is an Amlogic CPU. They're not the only CPU-maker for Android boxes, but they're easily the best performing and most reliable.
Amlogic has been making the brains behind most Android boxes for almost a decade and, with the obvious exception of the NVIDIA Shield, all of the best performing Android boxes run Amlogic CPU's. Even the Amazon Fire TV Cube runs on an Amlogic S922X CPU.
The other major chipset manufacturers are Rockchip and AllWinner. Both have had significant issues with performance and stability, especially in Kodi. In fact, team Kodi has explicitly said that if you're running their media center on an Android box, it better have an Amlogic unit.
Amlogic is simply the best CPU. I won't even consider an Android box without it.
System Memory (RAM)
The next thing I look for is 4 gigabytes of RAM. However, there's a little bit more flexibility in this rule than the others, so let me explain.
Most Android boxes come with somewhere between 2 GB and 4 GB of memory. Although more is better, there's a point of diminishing returns after 4 gigabytes. Even though many have 64-bit CPU's, most Android boxes still run in 32-bit mode. Unfortunately, that means Android can't use anything past 4 GB.
What does system memory do exactly?
System memory (RAM) effects how many apps you can run at the same time and how snappy it feels when you're moving around menus. It's also a big factor in how smooth video playback is.
Sure network speed is a factor, and we'll get to that next actually. But the video file needs to be loaded into memory before it can be displayed on your screen.
A word of caution though. It's really hard to tie the amount of memory to overall performance when you're looking at different manufacturers. For example both the Google Chromecast and Amazon fire stick only have 2 GB of RAM. However, they're specifically tuned to get the maximum performance out of the RAM they have.
Pure Android boxes don't have that luxury. Since you can't upgrade RAM later down the road, the best option is to get as much as possible when you buy your device.
Gigabit Ethernet
If you want the best, most consistent, performance out of your Android box you need to hook it up via Ethernet. Period.
Wi-Fi speeds have come a long way in recent years, no doubt. But we've also added a lot of wireless devices to our home networks over that same time. The more devices on your network, the less bandwidth is available for each of those devices.
I realize that not everybody has the option of hooking your Android box up to your network through Ethernet, and that's OK.
If you absolutely have to use Wi-Fi, it's not the end of the world. However, you'll need to take a little extra time to get the most out of your network configuration. Every network is different, but that may involve setting up a different wireless subnet for your high bandwidth devices, like your streaming devices and security cameras.
If you connect your Android box through Ethernet, that bypasses all that hassle. Not to mention, it also avoids interference that's caused by other devices on your network, or in your neighborhood.
---
Best Pure Android Boxes
Best Android Box Overall: Beelink GT-King Pro
The Beelink GT-King Pro is an absolute beast, and still the best overall Android box for the money.
Powered by Amlogic S922X-H Quad-core CPU and 4GB of RAM, it's easily the highest performing Android box in it it's price range. In fact, it's on par with the NVIDIA Shield Pro, which has topped the performance charts for over six years.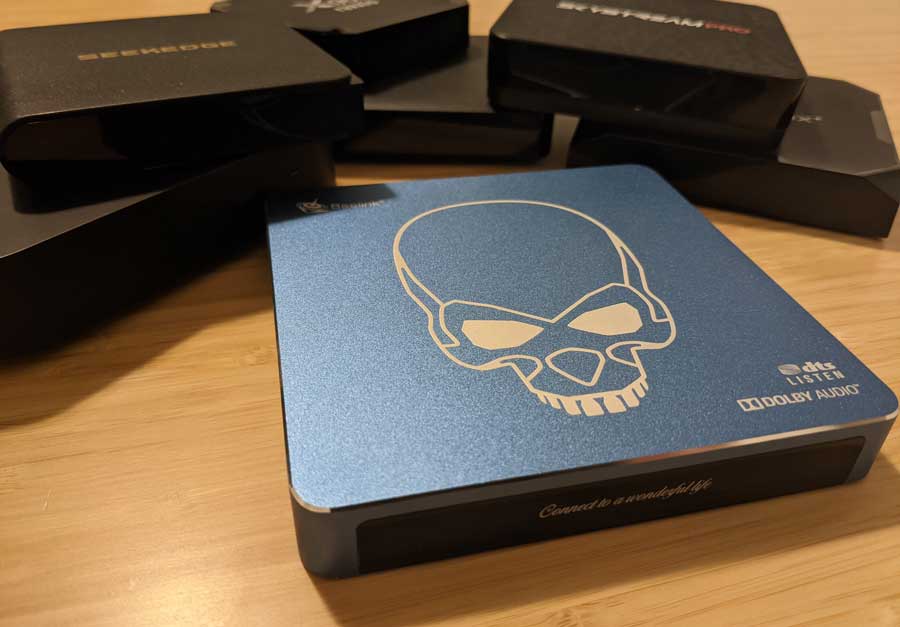 It has 64GB of onboard storage, more than four-times the Shield Pro and eight-times the 4K FireStick! That's enough to store twelve DVD's or two Blu-ray movies without compression. And if you stream most of your content, that's enough storage to keep you going for a long, long time.
But there's more to the GT-King Pro than just the raw numbers. One of the biggest improvements from the GT-King to the GT-King Pro is the switch to the S922X-H processor. That adds DTS-Listen and Dolby Audio licenses, and compatibility with 7.1 audio systems.
Let's be honest though. The Beelink GT-King Pro is not cheap.
It's natural to make comparisons to the NVIDIA Shield Pro. But, with it's amazing performance, a beautiful metal case and the added Dolby and DTS support, I think it's well worth the money.
It's not the newest device on the market, but the GT-King Pro is simply the best version of a TV box running the pure Android operating system.
If you're tired of cheap Android boxes that you need to upgrade every year, then the Beelink GT-King Pro is a great way to future proof your system. However, if the gorgeous metal case and upgraded audio aren't important to you, opt for the original GT-King instead to save a little money.
You can check out my full review of it here.
We earn a commission if you click this link and make a purchase at no additional cost to you.
---
Runner Up: MINIX NEO U22-XJ
I've been a fan of MINIX TV boxes for a long, long time. In fact, the NEO X8 was one of the first Android boxes I reviewed way back in 2014. Since then, it feels like every year there's a MINIX box on my 'best of' list – and deservedly so.
The MINIX NEO U22-XJ is no exception.
It's powered by basically the same Amlogic S922X CPU as the Beelink GT-King Pro, however there are some subtle differences. While the Beelink's CPU (S922X-H) is certified for DTS audio formats, the MINIX's CPU (S922X-J) is certified for HDR10, HDR10+ and Dolby Vision instead. Both have Dolby Audio certifications.
The biggest differences though are in the amount of storage, and the user interface. The MINIX U22-XJ has half of the storage as the similarly priced Beelink Android box (32GB compared to 64GB). However, I do prefer the sleeker look of the MINIX launcher.
Given the similarities, it's not surprising to find these two Android boxes #1 and #2 on this list (or #1 and #1a). They're strikingly similar takes on a high-performance TV box running pure Android. Both have amazing support from well-established companies.
While you can't go wrong with either, I have to give the slight edge to the Beelink box, just because of the increased storage. That said, if features like Dolby Vision and HDR10+ matter more to you, the MINIX U22-XJ is an excellent option as well.
You can check out my full review of it here.
We earn a commission if you click this link and make a purchase at no additional cost to you.
---
Best Value Android Box: Sofobod HK1
With both the Beelink GT-King Pro and the MINIX U22-XJ retailing for over $100, it's easy too see the value that the Sofobox HK1 Android box brings to the table.
Although you're not getting the cutting-edge S922X CPU in the previous models, you're still getting the amazing Amlogic S905X3. That's the same CPU found in the Supvin X96 Max and a better CPU than MINIX put in their current NEO T5 Android TV box!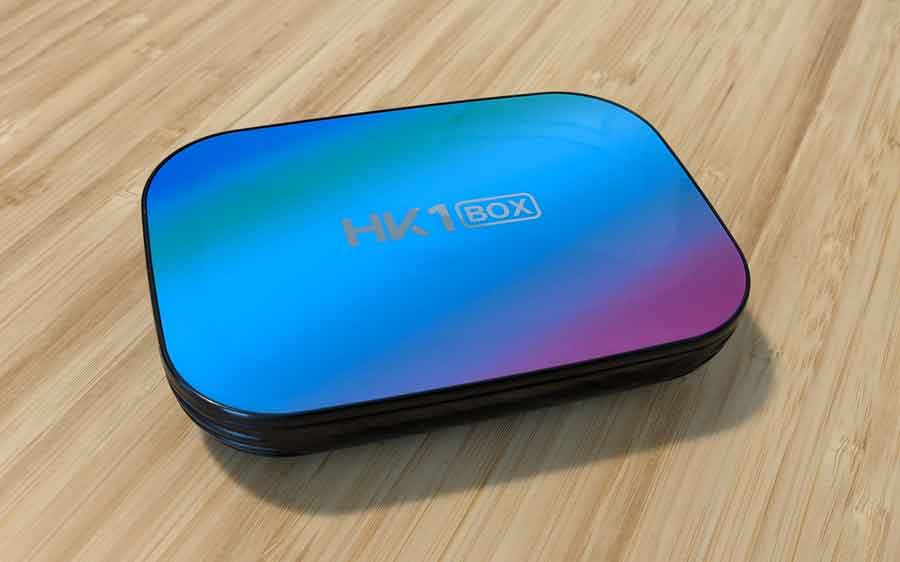 However, where the Sofobod HK1 really shines is it's massive amount of storage. This versions comes with a whopping 128GB of storage space, although you can downgrade to 32GB and save a few bucks. When you combine that with the 4GB of onboard system memory and an HDMI 2.1 port, you've got the power to easily play 4K videos at up to 60 fps.
The one complaint I have about the HK1 is it's dated launcher. I have to hand it to them for continuing the flashy design into the home screen, but I wish they'd but that same effort into adding some customization options. Most of the icons on the home screen can't be changed or deleted, so if you don't need or want a massive YouTube icon, you're out of luck.
Despite desperately needing an alternative Android TV launcher, it's hard to argue with the performance you get for the price.
That's why the Sofobod HK1 is easily my best value Android box choice.
We earn a commission if you click this link and make a purchase at no additional cost to you.
---
FAQ
Are Android boxes illegal?
Absolutely not! There's nothing inherently illegal without an Android box. It is simply a streaming device running the pure Android operating system.
That said, there are apps or streaming sites that would be illegal to use, depending on your country's laws and regulations. However those same apps and streaming sites would also be illegal to use on your smartphone and tablets.
Can an Android box play Netflix?
Absolutely! There's a catch however. Because pure Android was designed to run on smartphones and tablets, it doesn't necessarily support higher revolutions. In fact there is no Android box at the moment that can play Netflix in full HD or 4K video.
To make matters worse, Netflix blocks 4K and HD content from devices that they haven't specifically certified for it. That means even if you have an incredibly powerful Android box, you're limited to standard definition video unless Netflix has specifically given you the okay. There are several devices running Android TV that are Netflix certified. However, there are no Netflix certified TV boxes running pure Android.
Do you need internet for an Android box?
Not necessarily. You can play video files from your local network, an external hard drive, or flash drive without needing an internet connection. However if you want to stream content from sources like Netflix, Disney Plus, Amazon prime or anime streaming sites, you will need to be connected to the internet to do it.
How long do Android boxes last?
Similar to smartphones and tablets, the usable life of an Android box is usually between two and four years.
While it's highly unlikely that they will break down during that time, newer apps constantly come out that push the limits of our device's hardware. They require more memory and more CPU power to run. Eventually you'll reach a point where your Android box simply isn't powerful enough to run them. Then it's time to upgrade.