It's been a few years since I wrote my Canadian buyer's guide to Android TV boxes, and a lot has changed.
Several of my favourite Android TV box manufacturers have moved on to other products, so this is the perfect time to dive back in and get some new recommendations.
If you've been reading this site for a while, you'll see some fresh faces on this 'best of' list and some familiar ones.
However, there are some quirks to the Canadian market as well. Some Android TV boxes I'd recommend for the US wouldn't be good for Canada.
Before we get started, let's look at one of the most popular questions I get asked.
---
Are Android Boxes Illegal in Canada?
I've said this repeatedly: An Android TV box is a media player running the Android operating system.
But many people still ask whether Android TV boxes are legal or not.
In 2016, the CBC wrote an article that got a lot of attention and is still getting attention today.
Unfortunately, it got a few things wrong, so it's worth digging into.
Myth #1: Android TV boxes are illegal
You'll hear this one most of all, and it's the biggest lie of them all.
The big telecom and movie companies will try to tell you that Android TV boxes are illegal because they can access illegal content.
The truth is that you can get illegal content on your Android box, an Apple TV, Roku, or even your PC. Even your Android phone can access the same illegal streaming sites as your Android box.
There's nothing different about an Android TV box except that it's optimized for your television.
Myth #2: Streaming is illegal
This myth started because streaming got lumped into the same category as downloading torrents, but they're very different.
Remember torrents?
Torrents became popular through sites like The Pirate Bay. Although they go about it differently, they're similar to other peer-to-peer file-sharing sites before them (Napster or Kazaa).
Torrents are a way to download movies, music, and other files directly from other users. This eliminated the need to have the files stored on a central server somewhere.
The thought was that the government couldn't go after companies directly because they didn't host any of the files themselves. Nevertheless, downloading illegal content was still illegal.
Back in 2019, media companies started suing individual users for downloading files. The media lumped streaming into the same bucket when they're entirely different.
The legal loophole is that streaming doesn't download the files to your device.
They play them in real-time.
According to legal experts, "since most streaming video does not actually involve downloading a copy of the work (it merely creates a temporary copy that cannot be permanently copied), users can legitimately argue that merely watching a non-downloaded stream does not run afoul of the law."
There's also a well-publicized legal case where the major telecoms are suing the founder of the popular Kodi site, TVaddons. The legal case was built on shaky ground. It's generally believed that the goal is to keep the trial going as long as possible until TVaddons runs out of money.
What Is Actually Illegal in Canada
A few years ago, Rogers, Bell, and Videotron brought a lawsuit against several Android TV box manufacturers for selling "fully loaded" TV boxes.
A "fully loaded" TV box already has apps and addons to access illegal sites or video sources preinstalled from the factory.
The courts decided that these TV boxes enabled piracy, which was a big part of what those merchants were selling.
To put it another way, there's a BIG DIFFERENCE between selling the hardware by itself and selling hardware pre-configured to download or stream illegal content.
The moral of the story is that if you want to stay on the right side of the law, do not buy "fully loaded" Android TV boxes.
---
Is There a TV Box with Every Channel for Free?
You've probably already seen claims like this one:
"Includes ALL Canadian, USA, Sports, PPV, & International channels from ALL OVER THE WORLD in one app with a real cable guide & organized menus. Over 5000 Channels!"
But is it legit?
Unfortunately, in Canada, as in the rest of the world, no legal TV box offers every channel for free.
Several companies, like Canada TV Boxes and Astro TV Boxes, sell Android boxes tailored explicitly for the Canadian market. But the reality is that these boxes are no different than boxes you'll find on Amazon or other online retailers.
They're just running apps or add-ons you can install on any box for free.
Here's the bottom line: You don't need to pay a premium for a "fully loaded Android box" with every channel out of the box. You can easily download a couple apps and get the same thing for a fraction of the price.
---
Best Overall Android Box for Canada: MeCool KM2 Plus
The MeCool KM2 Plus is the newest entry on this list, but it really impressed me!
Why?
It punches WAY above its price point!
Depending on where you buy it, the MeCool KM2 Plus costs under $150. That means it's priced like a budget Android TV box but with the performance of a flagship device.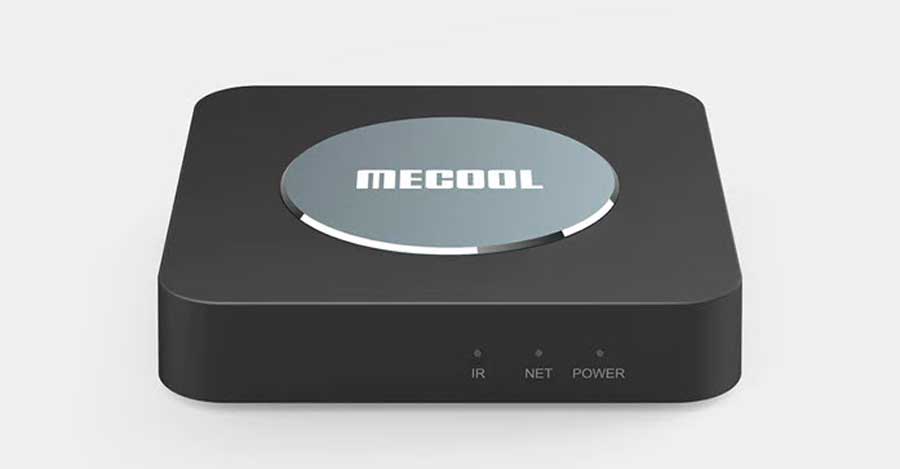 For that price, you're getting a Google\Netflix certified Android device to allow streaming 4K video on both apps.
The heart of the MeCool KM2 Plus is the Amlogic S905X4-B CPU. This is the latest iteration of the popular processor and a significant improvement compared to the Amlogic S922 CPU found in the U22-XJ and Beelink GT-King Pro (both were on this list previously).
The reason is something called Arm Architecture Armv8.2-A.
Without getting too technical, this gives the S904X-B better memory performance, floating point data processing (used for game physics and to render graphics on screen), and reliability.
Unfortunately, the MeCool KM2 Plus only comes with 2GB of RAM, which is a letdown. Although that's the same as the Fire TV 4K Max, the Firestick feels snappier when navigating the menus and initially loading apps.
Overall, at a time when many manufacturers are giving up on Android TV boxes, the MeCool KM2 Plus is an exciting entry that deserves a look.
Pros:
Android TV OS 11
Netflix 4K certification
Amlogic S905X4-B CPU for better performance
Cons:
Only 2GB of RAM
Minor upgrade from the MeCool KM2
We earn a commission if you click this link and make a purchase at no additional cost to you.
---
Best Upgraded Android Box for Canada: BuzzTV X5
If you want to amp up your streaming experience, the BuzzTV X5 might fit the bill. I've spent some time with this bad boy, and let me tell you, it's a total game-changer.
BuzzTV X5 has three versions, all housed in a sturdy aluminum case, which is a refreshing change from the usual plastic. The storage options are pretty sweet, with 64GB and 128GB models.
Plus, there's a special edition of the 128GB model for 2023 sporting WiFi 6 and a chameleon color finish.
The box is powered by Android TV 11, not the regular Android version you'd find on most off-brand boxes. This means you're getting an interface that's designed specifically for TV use, along with access to TV-optimized apps from Google Play Store.
What I absolutely adore about the BuzzTV X5 is its ability to rewind live TV.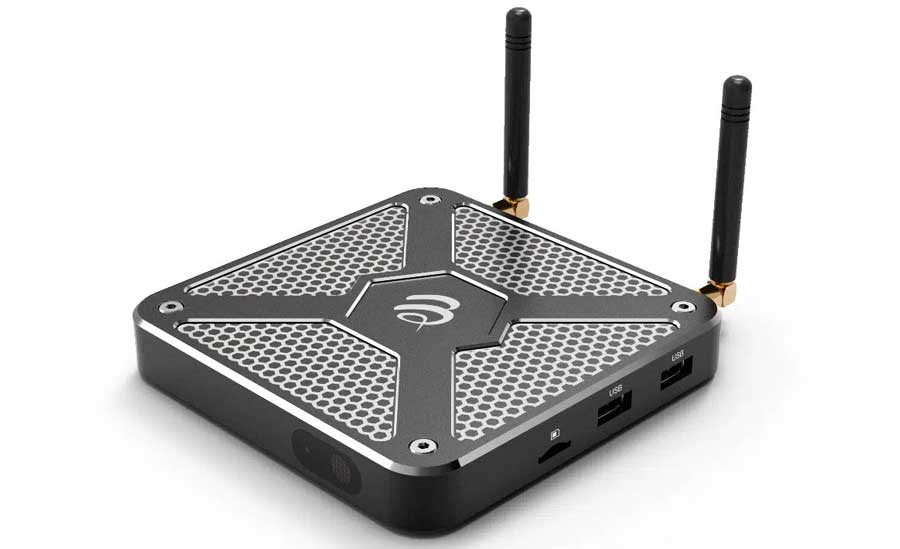 Yes, you read that right. You can literally pause, rewind, and re-watch a live TV moment.
On the tech side, this box is packed with powerful components. It's got an Amlogic S905Y4 Quad-Core Cortex A55 processor that delivers great performance while saving power. The box also supports Gigabit Ethernet and dual-band WiFi, promising speedy connections.
The BuzzTV X5's remote control is Bluetooth enabled and customizable. It comes with a backlit option, which is handy when you're watching in the dark.
BuzzTV's commitment to regular OTA updates is also a big plus. It shows that they care about their customers and want to provide the best viewing experience.
Now, everything isn't perfect.
The remote's directional buttons could be better designed, and there's no voice assistant. But overall, these are minor quibbles compared to what you're getting.
So, if you value performance and don't mind shelling out a bit more for a top-tier device, BuzzTV X5 is well worth considering.
It's a big step up from the MeCool KM2 Plus and is designed to deliver the best possible streaming experience.
Pros:
64 GB or 128 GB storage options
Sturdy aluminum case
Regular firmware updates via OTA
Cons:
No voice assistant
Expensive
We earn a commission if you click this link and make a purchase at no additional cost to you.
---
Best Mainstream Android Box for Canada: Nvidia Shield Pro
The Shield TV has been my favourite TV box for several years. They were one of the first devices to run the official Android TV operating system. You can opt into their beta program to access new Android TV features before they hit the mainstream.
So why did they drop down to #2 on my list?
With this iteration of the Shield TV, NVIDIA refocused the system away from gaming and more toward streaming (which is a good thing).
The remote control got beefier, so it's now the size of a regular television remote. Instead of the "Apple-inspired" flat remote control, it's now triangle-shaped. It's oddly still comfortable, but I still prefer the old remote.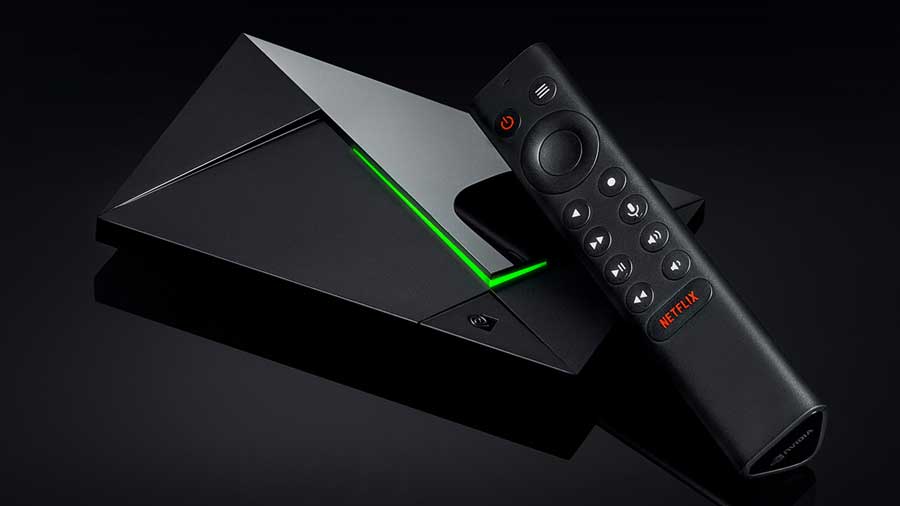 And, best of all, they lowered the price, even in Canada.
All that comes at a cost, though. Storage has been cut in half, down to 8GB, and system memory dropped to 2GB from 3 GB.
As I said, the focus is now clearly on streaming rather than gaming. The specs are still enough to run Netflix at 4K resolution and can still output in Dolby Atmos and Dolby Vision HDR.
The new NVIDIA Shield TV is an excellent option for a bare-bones streaming player running the official Android TV. And now it's at a price point that makes it a great option in Canada.
Pros:
Still the best performing streaming device
Frequent firmware updates
AI Upscaling makes old content look great
Cons:
Expensive
Last hardware update released in 2019
Limited storage given the price
NVIDIA Shield Pro Android TV
Easily the highest performance Android TV there is! Power enough to be used as a Plex media server or game console with Steam or GeForce Now. If you want the best streaming experience you can get, then the NVIDIA Shield Pro is the one you want.
We earn a commission if you click this link and make a purchase at no additional cost to you.
---
Android TV Boxes That I Don't Recommend for Canadians
I've also updated my list of Android TV boxes and media players that don't make sense to buy if you live in Canada.
Cheap no-name TV boxes: This is the easy one because I don't recommend no-name Android TV boxes at all. Usually, these TV boxes are sold by a third-party company without involvement with the manufacturer. Getting firmware updates is a problem, and it's hard to contact customer support after the sale. Avoid these at all costs!
Beelink GT-King: Beelink was once one of my go-to manufacturers, and yes, they've made some fantastic products. But, they've moved on from Android streaming devices and now focus on mini-PCs. Both the GT-King and the GT-King Pro are discontinued on their official website. While these are great devices, their prospects for long-term support are pretty bad. I'd avoid them both.
Minix NEO U22-XJ: The U22-XJ is one of my favourite TV boxes, especially if you love tinkering to get the perfect setup. Similar to Beelink above, MINIX has shifted its focus as a company to mini-PCs. While you can still purchase a MINIX Android TV box on their website, they're increasingly hard to find on other shopping sites.
---
Where to Buy an Android TV Box in Canada (And Where to Avoid)
Shopping is expensive in Canada, and finding the right Android TV box is no exception.
If you're shopping for a new Android TV box, I encourage you to look beyond Amazon. You can often find good deals from the manufacturers themselves. Many don't change the price as the US exchange rate fluctuates.
Another solution is to look at retailers like Geekbuying or GearBest, which specialize in Android TV boxes. They ship directly from China, so shipping will take a week at minimum. However, if you're not in a hurry, you can often get better prices from them than through Amazon. 
A word of caution: Never buy a TV box at a county fair, flea market, or any other type of temporary location. Also, avoid buying an Android TV box that advertises "free TV" as its main selling point.
In my experience, many of these box-sellers just want to make a quick buck. Customer service is usually nonexistent, and getting in touch with them can be impossible after the sale.
---
Wrapping It Up
I wish it were easier to shop for an Android TV box in Canada. You have to deal with horrible exchange rates and excessive shipping costs, which can turn an otherwise good deal into one that doesn't make sense.
The good news is that streaming is alive and well (and legal), despite all the changes that have happened over the last few years. It's still possible to find an Android TV box that makes sense for Canadians, despite all the challenges.
Hopefully, this list will help point you in the right direction!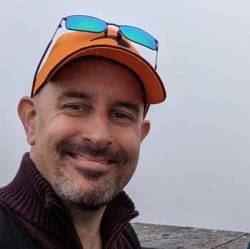 Latest posts by Tim Wells
(see all)