It's been a few years since I wrote my Canadian buyer's guide to Android TV boxes. A lot has changed.
I admit, I don't get back up North to visit my family as much as I'd like. The last time I was up in Toronto, I was shocked when she turned on her TV. She wasn't using one of the TV boxes that I recommended!
Apparently, a couple of my previous "go-to" TV boxes aren't around anymore. That means this is the perfect time to dive back in and get some fresh new recommendations.
If you've been reading this site for a while, you'll notice some similarities in this 'best of' list.
However, there are some quirks to the Canadian market as well. Some Android TV boxes that I'd recommend for the US wouldn't be good for Canada.
Before we get started, let's take a look at one of the most popular questions I get asked all the time.
---
Are Android Boxes Illegal in Canada?
I've said this time and time again: An Android TV box is literally just a media player that runs the Android operating system.
But many people still ask whether Android TV boxes are legal or not.
Back in 2016, the CBC wrote an article that got a lot of attention. It's actually still getting attention today.
It's been a few years since they wrote that article and there's been some new legal battles since then.
Myth #1: Android TV boxes are illegal
You'll hear this one most of all and it's the biggest lie of them all.
The big telecom and movie companies will try to tell you that Android TV boxes are illegal because they can access illegal content.
The truth is that you can get illegal content on your Android box, an Apple TV, Roku or even your PC. Even your Android phone can get to the very same illegal streaming sites that your Android box can.
There's nothing different about an Android TV box except the fact that it's optimized for your television.
Myth #2: Streaming is illegal
This myth started out because streaming got lumped into the same category as downloading torrents. In fact, they're very different.
Remember torrents?
Torrents became popular through sites like The Pirate Bay. Although they go about it differently, they're similar to other peer-to-peer file sharing sites before them (Napster or Kazaa).
Torrents are a way to download movies, music and other files directly from other users. This eliminated the need to have the files stored on a central server somewhere.
The thought was that the government couldn't go after companies directly because they didn't host any of the files themselves. Nevertheless, downloading illegal content was still illegal.
Back in 2019, media companies started suing individual users for downloading files. The media lumped streaming into the same bucket, when in fact, they're completely different.
The legal loophole is that streaming doesn't actually download the files to your device. They just play them in real time.
According to legal experts, "since most streaming video does not actually involve downloading a copy of the work (it merely creates a temporary copy that cannot be permanently copied), users can legitimately argue that merely watching a non-downloaded stream does not run afoul of the law."
There's also a well-publicized legal case where the major telecoms are suing the founder of popular Kodi site, TVaddons. The legal case was built on shaky ground. It's generally believed that the goal is just to keep the trial going as long as possible until TVaddons runs out of money.
What Is Actually Illegal in Canada
A few years ago, Rogers, Bell and Videotron brought a lawsuit against several Android TV box manufacturers for selling "fully loaded" TV boxes.
A "fully loaded" TV box already has apps and addons that can access illegal sites or video sources preinstalled from the factory.
What the courts decided was that these TV boxes enabled piracy and that was a big part of what those merchants were selling.
To put it another way, there's a BIG DIFFERENCE between selling the hardware by itself and selling hardware that is pre-configured to download or stream illegal content.
The moral of the story is that if you want to stay on the right side of the law, not to buy "fully loaded" Android TV boxes.
---
What's the Best Android TV Box for Canada?
Best Overall: SkyStream Pro
I've been a big fan of SkyStream TV boxes since the SkyStream One burst on the scene. At that moment, SkyStream went from a budget TV box manufacturer to a streaming powerhouse.
Now, three iterations later, they've released the SkyStream Pro 8K streaming media player. You can check out my full review at the link above, but I'll hit the highlights here and explain why I think it's the best Android TV box for the Canadian market.
All of SkyStream's previous TV boxes used the vanilla Android OS with a custom launcher. They worked great, but they were never able to replace my Nvidia Shield TV as my main media streamer.
With the SkyStream Pro, they've dropped the vanilla Android and went straight to Android TV. Now, they've got that same slick interface, pain-free setup and Google Assistant, just like the Shield TV does.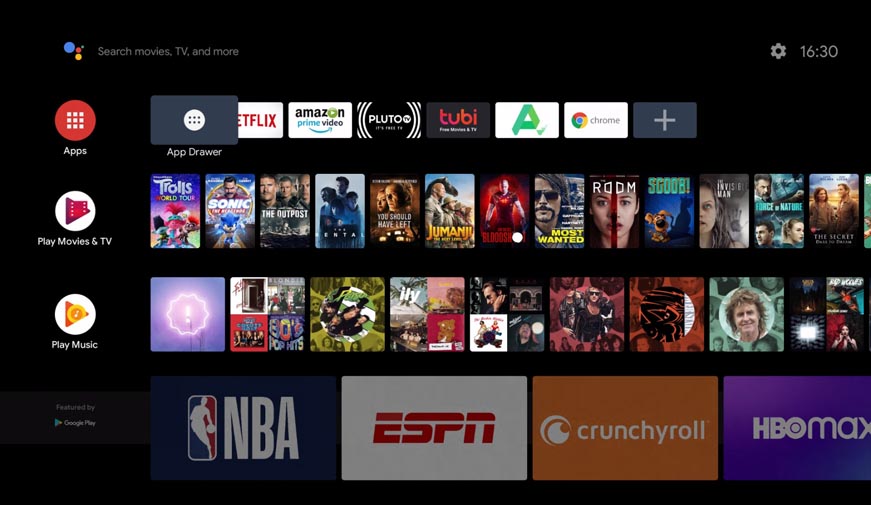 So, what gives the SkyStream Pro the top spot over the Shield TV?
What SkyStream has always done really well is set up their TV boxes for streaming. While they can't sell "fully loaded" TV boxes anymore, they have custom software that can help you configure your TV box however you want it.
If you want a clean slate that you can install whatever apps you want, that's how it comes from the factory. If you want to turn the SkyStream Pro into a fully loaded Kodi box, complete with a suite of Kodi add-ons and other popular streaming apps, you can do that in a click of a button.
SkyStream also includes their Updater App, which I talk about in this article, and their US-based customer service team for all of their TV boxes.
---
Runner Up: Nvidia Shield TV
The Shield TV has been my favourite TV box for several years. They were one of the first devices to run the official Android TV operating system, and you can opt in to their beta program to get access to new Android TV features before they hit the mainstream.
So why did they drop down to #2 on my list?
With this iteration of the Shield TV, NVIDIA refocused the system away from gaming and more toward streaming (which is a good thing).
The remote control got beefier. It's now the size of a regular television remote. Instead of the "Apple-inspired" flat remote control, it's now triangle-shaped. It's oddly still comfortable, but I still prefer the old remote.
They changed the design away from the iconic wedge-shape as well. The Shield TV shrunk down to a small cylinder that's not much bigger than the new remote control.
And, best of all, they lowered the price, even in Canada.
All that comes at a cost though. Storage has been cut in half, down to 8GB and system memory dropped down to 2GB from 3GB.
As I said, the focus is now clearly on streaming rather than gaming. The specs are still enough to run Netflix at 4K resolution. It can still output in Dolby Atmos and Dolby Vision HDR if the movie supports it.
All in all, the new NVIDIA Shield TV is a great option for a bare-bones, streaming player running the official Android TV. And now it's at a price-point that makes it a great option in Canada.
Our Top Pick
NVIDIA Shield Pro Android TV
Easily the highest performance Android TV there is! Power enough to be used as a Plex media server or game console with Steam or GeForce Now. If you want the best streaming experience you can get, then the NVIDIA Shield Pro is the one you want.
We earn a commission if you click this link and make a purchase at no additional cost to you.
---
Beelink GT-King
If you still prefer the flexibility of the tried-and-true Android operating system, then I highly recommend the Beelink GT-King.
This thing is a beast!
It's got a full 64GB of storage (double what the SkyStream Pro has) and 4GB of memory (double what the Nvidia Shield TV has).
It's also got the Amlogic S922X CPU, which is cutting edge as of the time of this writing. It's found in some of the higher-end Android TV boxes, such as the Minix U22-XJ that I'll mention later in this article.
Beelink has always been one of my go-to recommendations for bare-bones Android TV boxes. They don't put a lot of bells or whistles on their TV boxes. They're just solid, all-around great devices.
That said, you're paying a premium for the additional performance. That's why they only make it to 3rd place on this list. Unless you absolutely need a TV box with the vanilla Android OS, go with one of the other two instead.
Beelink GT-King Android TV Box
Amlogic S922X Hexa-core ARM Cortex-A73 and dual-core ARM Cortex-A53 processor.
4G RAM + 64G EMMC Flash Storage
4K 60fps, HDMI 2.1 and HDCP 2.2
We earn a commission if you click this link and make a purchase at no additional cost to you.
---
Android TV Boxes That I Don't Recommend for Canadians
I've also updated my list of Android TV boxes and media players that just don't make sense to buy if you live in Canada.
Cheap no-name TV boxes: This is the easy one because I don't recommend no-name Android TV boxes at all. Usually, these TV boxes are sold by a third-party company who has no involvement with the manufacturer. Getting firmware updates is a problem and it's hard to get any customer support after the sale. Avoid these at all costs!
Amazon Fire TV Sticks: If you're an Amazon Prime subscriber and just need an easy streaming device for your second (or third) television, then the 4K Fire TV stick is alright. But if it's going to be your main streaming device, go with the Fire TV Cube instead. It's got double the memory and storage, so you won't be constantly deleting stuff to make more space. You can check out my Fire TV Cube review here.
Minix NEO U22-XJ: The U22-XJ is one of my favourite TV boxes, especially if you love tinkering to get the perfect setup. The problem is that it just doesn't make sense once you factor in the exchange rate. Here in the US, the Minix U22-XJ costs around $170 US. That balloons up to $250 CDN. That's the cost of BOTH the Nvidia Shield TV and a base model Amazon Fire TV stick.
---
Where to Buy an Android TV Box in Canada (And Where to Avoid)
Shopping is expensive in Canada, and finding the right Android TV box is no exception.
If you're shopping for a new Android TV box, I encourage you to look beyond Amazon. You can often find good deals from the manufacturers themselves. Many don't change the price as the US exchange rate fluctuates.
Another solution is to look at retailers like Geekbuying or GearBest, which specialize in Android TV boxes. They ship directly from China, so shipping will take a week at minimum. However, if you're not in a hurry, you can often get better prices from them than you could through Amazon.
A word of caution: Never buy a TV box at a county fair, flea market or any other type of temporary location. Also avoid buying an Android TV box that advertises "free TV" as it's main selling point.
In my experience, many of these box-sellers are just looking to make a quick buck. Customer service is usually nonexistent and it can be impossible to get in touch with them after the sale.
---
Conclusion
I wish it were easier to shop for an Android TV box in Canada. You have to deal with horrible exchange rates and exorbitant shipping costs. That can turn an otherwise good deal into one that just doesn't make sense.
The good news is that streaming is alive and well (and legal), despite all the changes that have happened over the last few years. It's still possible to find an Android TV box that makes sense for Canadians, despite all of the challenges.
Hopefully this list will help point you in the right direction!