Last Updated on September 6, 2023 by Tim Wells
Update: I no longer recommend the MINIX U22-XJ or the U22-XJ MAX. MINIX has shifted their focus away from Android TV boxes and towards Windows mini-PCs. This review is purely for reference.
I recommend checking out my roundup article of the Best Android TV Boxes instead!
There's no arguing it. MINIX has always made great Android boxes and mini-PCs. So when the new MINIX NEO U22-XJ came out, I couldn't wait to get my hands on it to review it.
Over the years, I've reviewed no less than six MINIX boxes: the NEO X7, NEO X8 and X8-H, NEO U9-H, NEO U1, and the NEO Z64 Windows mini-PC.
I guess you could say I have a type. 🙂
MINIX has been putting a lot of focus into their Linux and Windows mini-PCs. Still, they freely admit that they built their reputation on Android TV boxes.
The problem with making excellent products is that people upgrade less often. In fact, many people are still using the NEO U9-H, which came out over two years ago.
So is it worth upgrading to the new U22-XJ?
Let's find out.
---
MINIX U22-XJ Specs
Hardware
Processor: Amlogic S922XJ Hexa-Core CPU
GPU: Mali-G52 MP4 GPU
Memory: 4GB DDR4
Internal Storage: 32GB eMMC 5.1 Storage
Software
Operating System: Android™ Pie 9.0
Dimensions
Ports
802.11ac 2 x 2 MIMO Dual-Band Wi-Fi, Bluetooth 4.1
RJ-45 Gigabit Ethernet
Micro SD card reader
USB 3.0 port x 3
USB-C port x 1 [data only]
Optical SPDIF
3.5mm audio jack
Kensington lock ready
Audio & Video
HDMI™ 2.1 (4K @ 60Hz)
Supports HDMI-CEC
HDR10+
Dolby Vision
Dolby Audio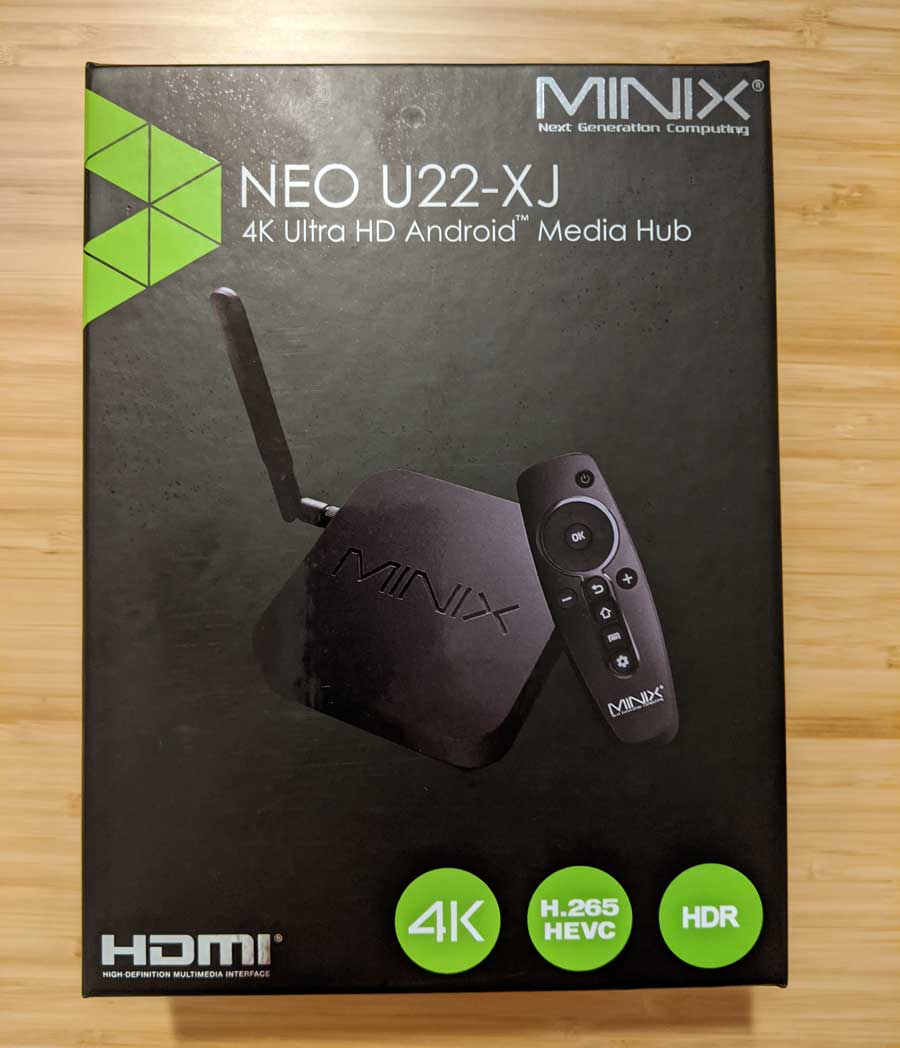 ---
Unboxing & First Impressions
MINIX was one of the first Android TV box manufacturers to really get their packaging right.
When most manufacturers were shipping their products in plain brown cardboard (literally), MINIX went all out with full-color packaging and setup guides.
It's a little thing, but I've always appreciated it. It gives you the impression that MINIX cares about the product and wants you to love it.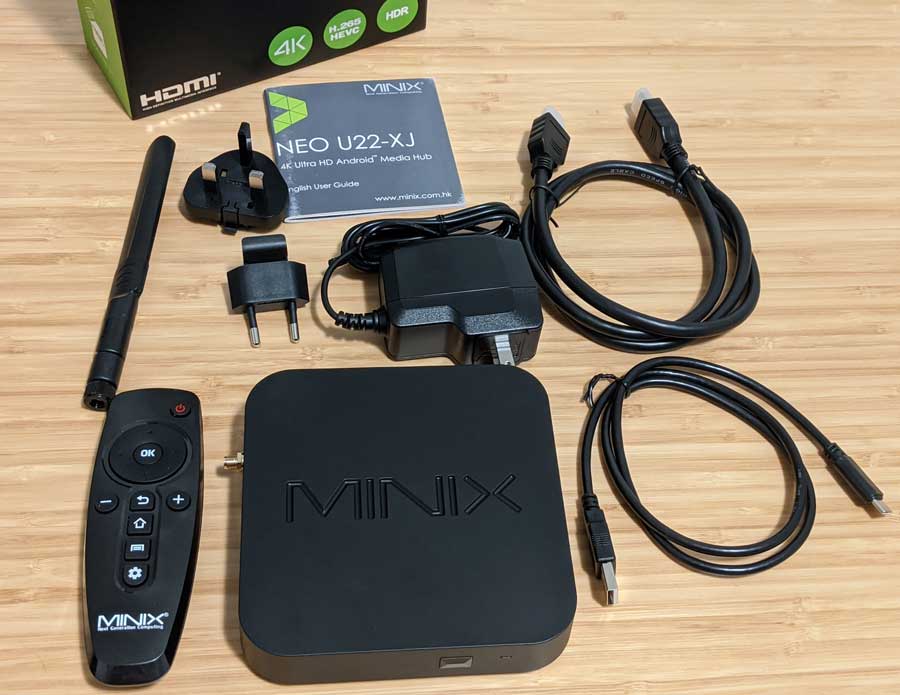 Contents:
MINIX NEO U22-XJ
Wireless antenna
Standard remote control
AC adapter
HDMI cable
USB-C data cable
User Guide
Almost every MINIX box has a detachable wireless antenna. Even though it adds an extra four inches in height and an extra inch to width, you will get better connectivity.
The box itself is made of matte black plastic with a textured finish that is common to their entire lineup.
There's no display on the front, only a small LED indicator light that turns blue when the power is on. In fact, the largest thing on the front panel is the IR receiver for the remote control.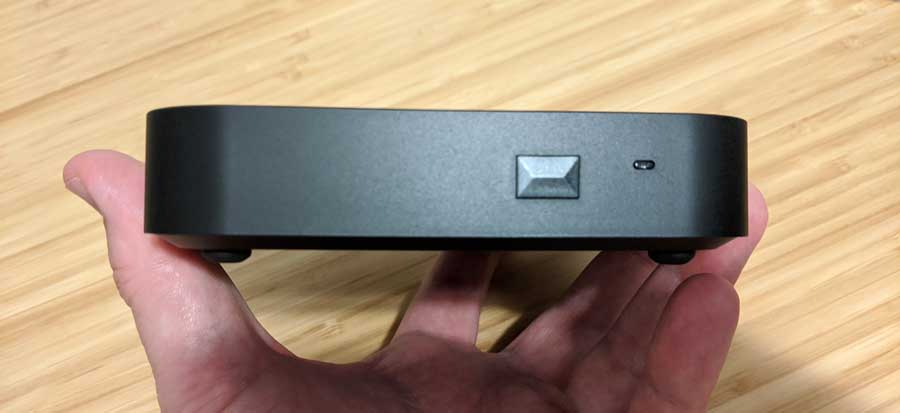 Thankfully, because it's finished in the same matte-black color scheme, it doesn't stand out as much as it could. It blends in in anything but a direct light, and you won't even notice it.
On the right-hand side of the box are three USB 3.0 ports, which is a pleasant surprise. I don't understand why most manufacturers still include USB 2.0 ports on their devices.
USB 3.0 gives you transfer speeds up to 10X faster, which you need on a media center.
A manual power button is in front of the USB 3.0 ports when you can't find your remote control. You've also got a Micro SD card slot which lets you increase the storage by an additional 256 GB of space.
Finally, there's an OTG (On-The-Go) port for connecting your MINIX box to other devices.
For example, if you ever need to do manual firmware updates, you can use the cable included in the box to connect your MINIX U22-XJ to your PC.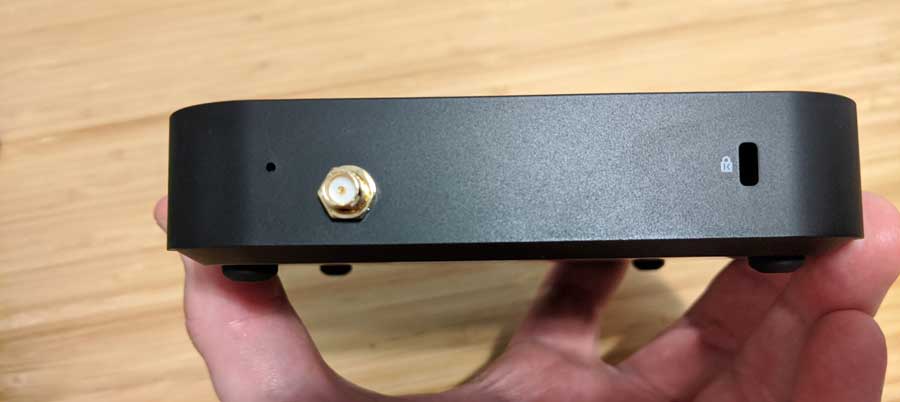 The left-hand side of the UJ22-XJ holds the antenna connector and a Kensington lock slot which you can see on the right side of this image.
Another essential item on the side is the small pinhole you use if you even need to do a hard reset of the device.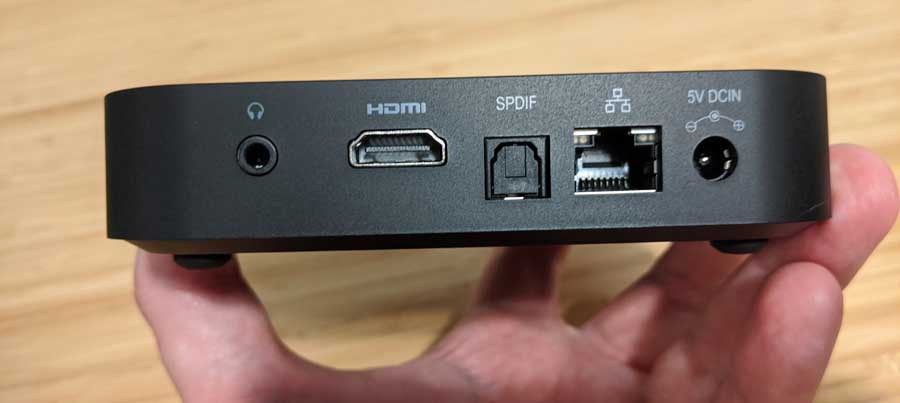 Finally, on the back of the device, you'll find the HDMI port, digital optical port, and headphone jack. This is also where you'll connect your RJ-45 Ethernet port and power jack.
---
Included Remote Control
So far, so good.
The remote control that MINIX includes is pretty basic. It has a D-pad and the bare minimum number of buttons you need to get by.
There's no microphone for voice commands and no air-mouse functionality. That got me excited.
I'm not a big fan of air mice. I usually turn that feature off until I need it, and I switch back to using the D-pad as soon as possible. Voice commands were a cool "nice to have" for a few months, but I only use them to turn the TV on and off.
So this remote should be perfect, right?
Well, not exactly.
Don't get me wrong. 90% of the time, it's great. 
It's light and fits your hand well. The button layout makes sense, so you're hardly ever hitting things you didn't mean to.
The problem is that TV boxes that run pure Android need a remote that has an air-mouse. 
The benefit of Android TV is that it's designed to work with standard remote controls. But you don't have that in pure Android. Some things NEED an air-mouse to replicate touching a different part of the screen.
So there are certain things that you can't do because there's no way to get over to the field you need.
The entire process was so frustrating that I bought the NEO A2-lite remote.
Please note though, you don't need to buy a MINIX branded airmouse. In fact, I tested a bunch of different air-mouse remotes, and there are better options.
---
MINIX NEO A2-Lite Remote
So, unfortunately, I had to buy an extra piece of hardware to use the NEO U22-XJ. That's not a good start to this review.
This is not to knock on the NEO A-2 Lite.
It's a great remote control, but it's a little bulky. I'd used one of the older versions a few years ago, so I knew what to expect.
It's a big remote, as shown in the picture below. But it's solidly built and definitely doesn't feel flimsy or cheap.
Personally, I think MINIX went overboard when designing this remote.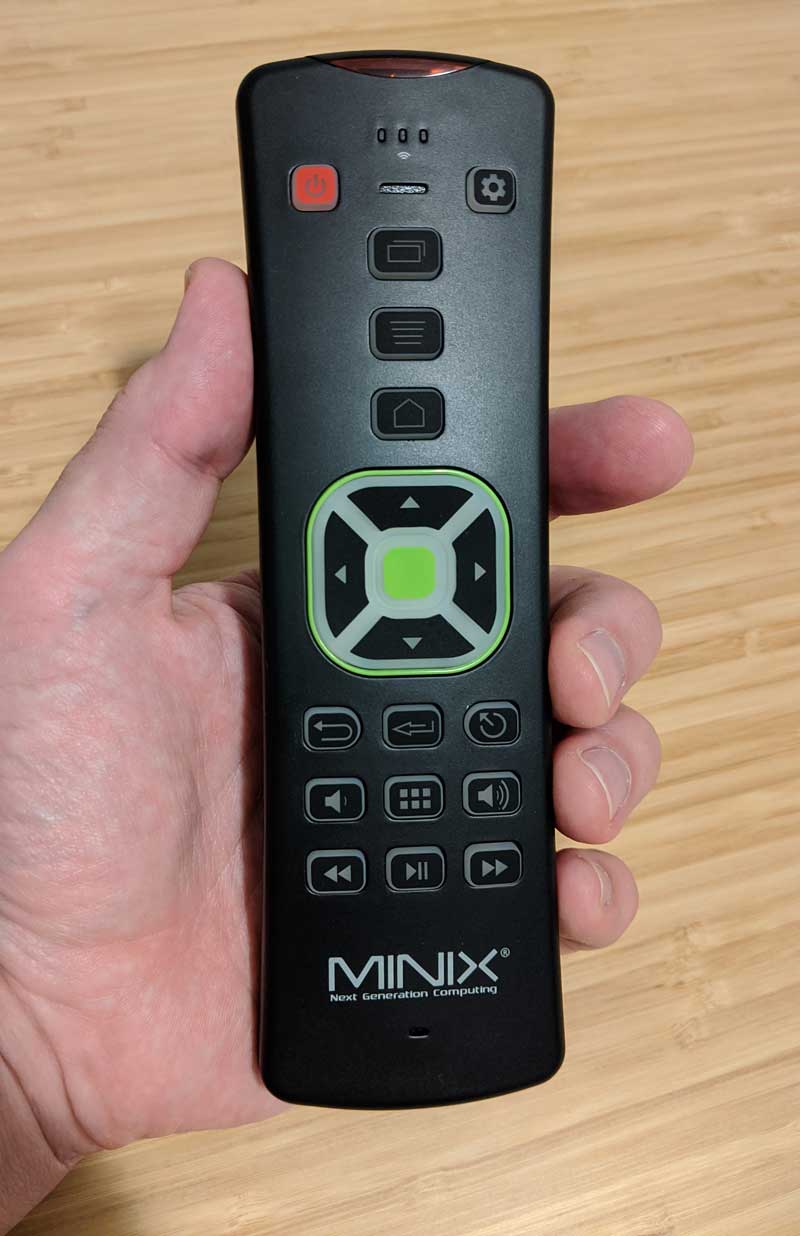 The front of the remote has fourteen buttons, plus the D-pad. Most of them are functions you'll use around once a month.
For example, there's a button for Recent Apps. There's one to take you to the Settings menu directly and another to take you to your App Drawer to see every app you installed on the system. There's a dedicated button for Enter that's different from the OK button in the center of the D-pad.
I don't know about you, but I don't use any of those features often enough to warrant them having their own button on the remote.
Admittedly, much of the bulk is necessary to fit a full QWERTY keyboard on the back. Another feature that's really handy for typing in email addresses and passwords when you're setting up your Android TV box.
After that, I don't see myself using it very often.
MINIX already has a large remote with a keyboard, the NEO A3. The only difference between the A3 and the A2 is that the A3 comes with voice commands, whereas the A2 doesn't.
I wish there was something that included air-mouse functionality without the keyboard. You could cut the size in half and still give us the upgraded remote we need to properly use this Android TV box.
---
MINIX Launcher
With that rant out of the way, let's get to the good stuff.
I've always loved how MINIX designed its Android launchers, and the U22-XJ launcher is no exception.
Customization is the name of the game here. Almost every icon you see is a folder to drop your favorite apps into.
If you prefer a particular media center (Kodi or Plex, for example), add them to that folder. The same goes for games, file explorers, and even your App Market.
On the bottom of the home screen, there's another customizable row of favorites. You can add apps here the same way you add them to the folders.
Just click on the giant + icon and select the ones you want to add.
---
Price & Comparisons
The MINIX U22-XJ retails for around $169 at the time of this writing, or $179 if you opt for the bundle with the NEO A3 voice remote. Based on my experiences with the stock remote control, pay the extra $10 and get the A3 remote bundle.
That's a lot of money for an Android box.
Let's look at two devices that may be a better option for you, depending on what you're looking for.
This isn't going to come as a shock, but I'm a big fan of the official Android TV operating system. Most people want a TV box that's easy to use and can stream what they want to watch.
If that's what you want, then Android TV beats pure Android, in my opinion.
MINIX U22-XJ vs. NEO T5
The first device I want to talk about is also from MINIX, the NEO T5. It's about half the price of the NEO U22-XJ, coming in at around $89.
You still get 2GB of RAM and 16 GB of storage for that price. It still has built-in Chromecast and Google Assistant if you're into voice commands.
Most importantly, the MINIX NEO T5 is one of the least expensive Android TV boxes that are actually Google Certified. The only thing it's missing is certification from Amazon Prime and Netflix, so you can use both of their apps in 1080p or 4K.
But again..for half the cost, it makes a compelling argument. You can check out my review of the NEO T5 here.
MINIX U22-XJ vs. NVIDIA Shield
I'll be blunt: If you spent $179 on the NEO U22-XJ, you probably should have bought an NVIDIA Shield TV instead.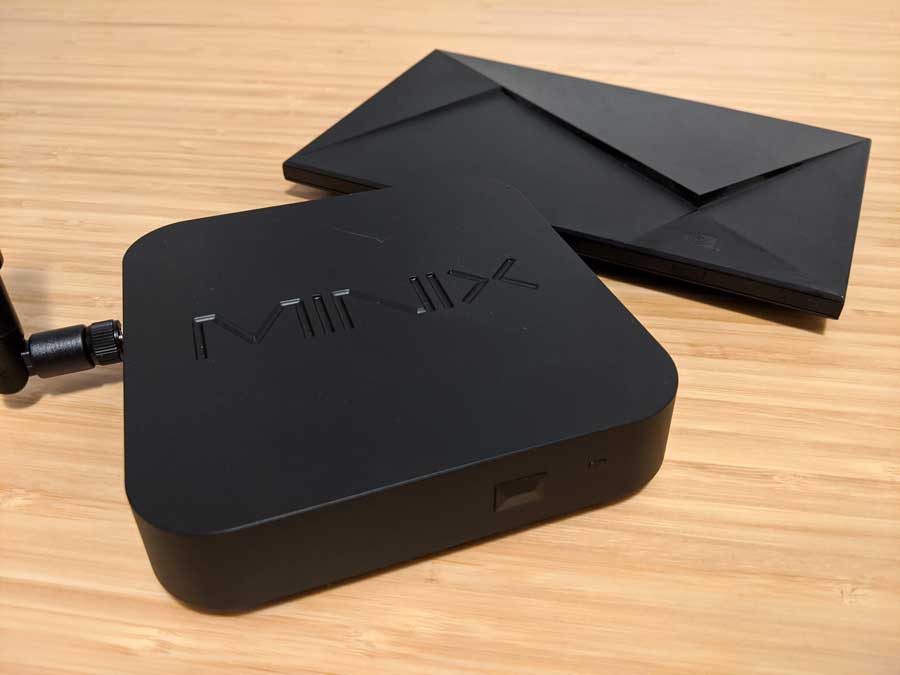 Many people on the official MINIX forums say that you shouldn't compare the Shield TV and the U22-XJ because they're different.
While that's true, I disagree with the argument.
By pricing the U22-XJ right in between the NVIDIA Shield TV ($149) and the Shield TV Pro ($199), MINIX is inviting that comparison. 
And it doesn't work out well for MINIX.
On paper, the MINIX has more RAM (4 GB) than either the Shield TV (2 GB) or Shield Pro (3 GB). It has more storage (32 GB) than the Shield TV (8 GB) and Shield Pro (16 GB). Both have Dolby Vision and HDR support.
So it wins, right?
Not so fast.
Remember that the flagship of the official Android TV OS is the NVIDIA Shield. I'm STILL getting updates for my original Shield TV that I bought back in 2015.
The NVIDIA Shield runs Android TV, so it's easier to use for streaming. It's one of the only devices with official 4K YouTube, Amazon Prime, and Netflix support.
The Shield TV is dead simple to use, which is the MINIX box's biggest drawback. It doesn't help that they're so close in price.
---
The Verdict: Is the MINIX U22-XJ Worth It?
After spending some time with the MINIX U22-XJ, I've concluded that it's a great Android box, but not one I can recommend to most people.
MINIX has consistently made outstanding products and had stellar support after the sale. You'll get more firmware updates from MINIX than most manufacturers.
What's holding this TV box back is also its biggest selling point: it runs pure Android.
If you're looking for a streaming device that's easy to use, then there are better options in this price range or cheaper.
However, if you consider yourself more of an enthusiast and want the flexibility of a TV box running pure Android, the MINIX U22-XJ is definitely a great choice.
Find out how it fared against the best pure Android boxes in my roundup article here!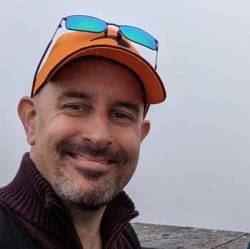 Latest posts by Tim Wells
(see all)