Last Updated on September 6, 2023 by Tim Wells
Lately, most big Android box manufacturers like Minix and BeeLink have been leaving the industry to focus on other products. So, it's nice to see MeCool doubling down and bringing out new Android TV boxes.
In this article, we'll review the MeCool KM2 Plus Android TV box, a new streaming device running Android TV OS 11, and official Netflix 4K certification.
Since it's an upgrade to the popular MeCool KM2, the KM2 Plus is more of an evolution rather than a revolution. But is it worth upgrading?
Let's find out.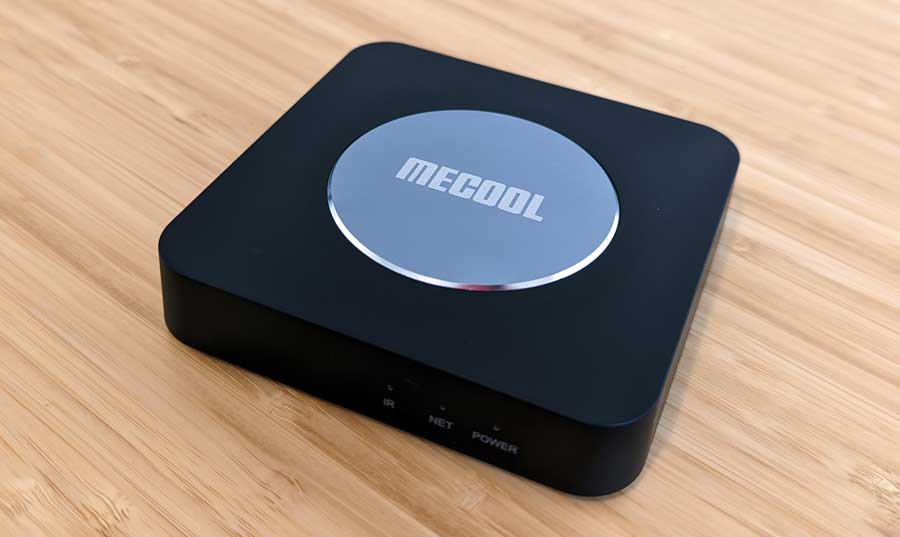 ---
Specs
Although it has a brand-new look and feel, the MeCool KM2 Plus is only a minor upgrade to the KM2.
The KM2 Plus swaps out the AmLogic S905X2 CPU for the newer S905X4-B CPU. This provides minor performance increases to audio processing and video decoding, but otherwise is nothing to write home about.
Hardware
Processor: Amlogic S905X4-B Quad-Core A55 CPU
GPU: Mali-G31 MP2 GPU
Memory: 2GB DDR4
Internal Storage: 16GB eMMC
Software
Operating System: Android TV 11
Dimensions
Ports
802.11ac Dual-Band Wi-Fi
Bluetooth 4.1
RJ-45 Ethernet 10/100
Micro SD card reader
USB 3.0 port x 1
USB 2.0 port x 1
3.5mm audio jack
Audio & Video
HDMI™ 2.1 (4K @ 60Hz)
Supports HDMI-CEC
HDR10
HDR10+
HLG HDR
Dolby Atmos
---
Unboxing and First Impressions
MeCool packaging is reminiscent of the Chromecast with Google TV. It's slightly better than a plain brown cardboard box, but not much.
Inside the box, you'll find an HDMI cable, power supply, and remote control.
The TV box is made from plastic, with a metal circle in the middle featuring the MeCool logo. On the front panel, you've got indicator lights for power, network activity, and the IR remote control.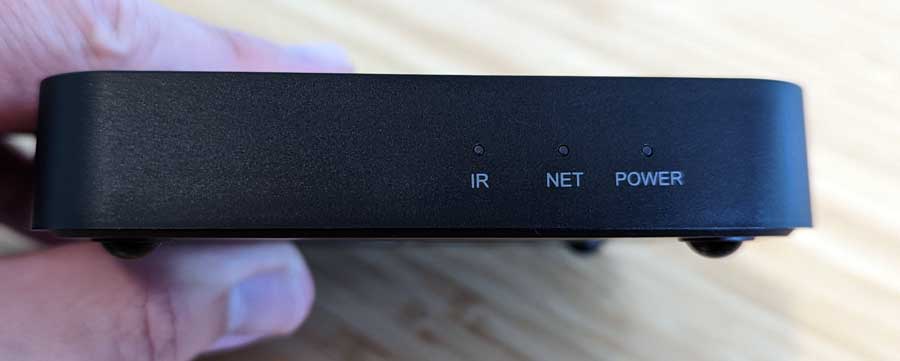 The rear panel has an SBDIF AV port, HDMI out, 100-megabyte LAN, and a power socket.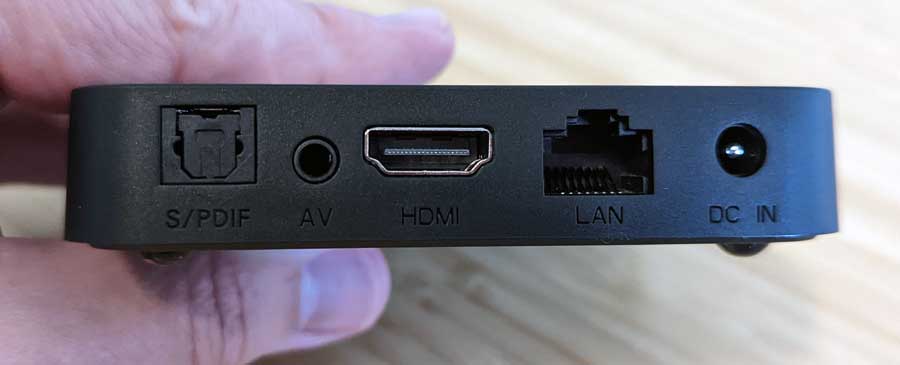 On one side, there's a single USB 2.0 port, a USB 3.0 port, and a micro SD card expansion port. The other side is blank.
---
Remote Control
The stock remote control is basic but surprisingly good.
It's comfortable to hold, even for long streaming sessions, and all the buttons are where you'd expect them to be.
Above the circular D-pad is the Google Assistant button, as expected.
Below the D-pad are the Back, Home, and Live TV buttons, followed by the volume and channel buttons below them.
Four custom buttons are at the bottom for launching Netflix, Prime Video, YouTube, and the Google Play Store.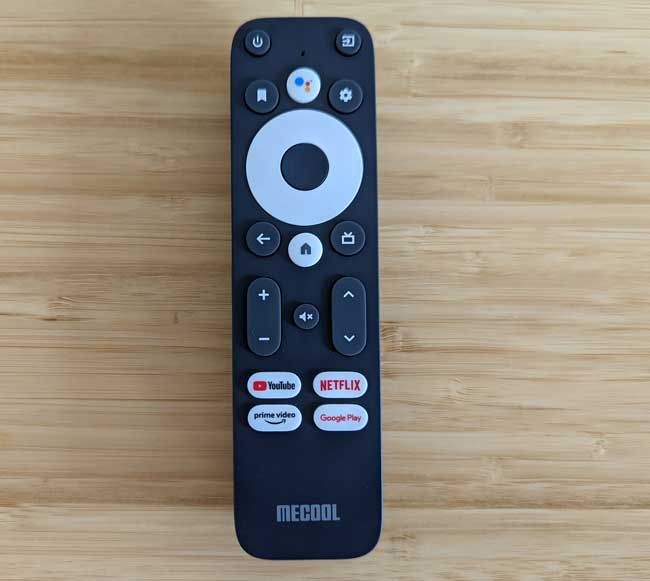 The buttons you'll use the least are way at the top-left and top-right. Those are the Bookmarks and Settings menu buttons.
Overall, I have no complaints about the remote control. It feels like a cross between a Fire TV remote and the older NVIDIA Shield TV remotes.
That's a good thing, by the way.
---
Setup and User Interface
Setting up the MeCool KM2 Plus is straightforward, with the option to complete setup manually or using your Android smartphone.
Unfortunately, unless you immediately disable updates in the Google Play Store, the clean Android TV interface will quickly be replaced by the newer, ad-focused Google TV interface.
Like other Android TV devices, this focuses on content rather than apps.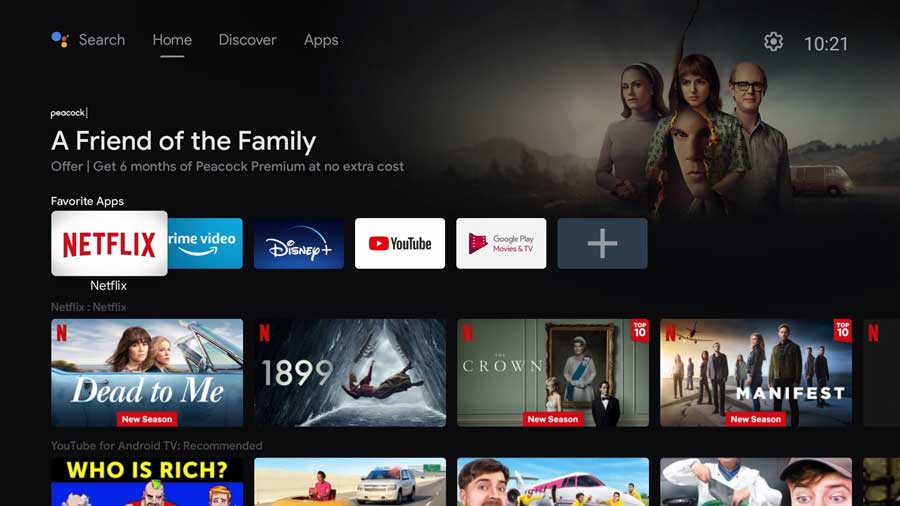 You can search across all streaming platforms for particular shows you want to watch. Unfortunately, there's no way to limit the search to streaming services you subscribe to.
Navigating around the menus is snappy enough. But if you're used to a premium device like the NVIDIA Shield, the MeCool KM2 definitely feels more sluggish.
---
Apps and Streaming
Once everything is set up the way you like, the MeCool KM2 Plus acts like you'd expect an Android TV box to work.
It comes with the official Google Play store, including Android TV optimized apps. You can still sideload your APKs using the Downloader app or an alternative app store like Aptoide TV.
The MeCool KM2 Plus can stream 4K videos from a USB drive, and the VLC player works well with high-bitrate files. Since it runs the official Android TV version, it supports Chromecast built-in.
Both YouTube and Amazon Prime Video stream 4K videos quickly without lagging, which is a definite plus.
Since the MeCool KM2 Plus is Netflix certified, you get the TV-optimized version of Netflix. This means the menus are optimized for navigating with your remote control, and 4K videos will look great.
The device supports 4K HDR and HDR10+ and can handle Dolby Audio and Dolby Atmos.
---
Price & Comparisons
Priced at under $100, the MeCool KM12 Plus is in that middle-ground between budget Android boxes and premium streaming devices like the Amazon Fire TV Cube.
That makes it difficult to tell what its competition actually is.
If you look at the spec sheet, the most obvious competition is the Chromecast with Google TV. It has similar CPU performance, memory, and storage. However, it's priced at around $30 less.
Moving slightly upmarket, the KM2 Plus holds its own against the NVIDIA Shield TV "tube." However, that device is overpriced, given its performance.
I don't want to come off like the MeCool KM2 is a bad device. It's actually one of my favorite new Android TV streaming devices. However, the market has segmented so much that I'm not sure it has a place anymore.
---
Wrapping It Up
Overall, the MeCool KM2 Plus is a great streaming device with a great feature set and performance. It's light on USB ports, but adding a micro-SD card slot is a nice plus.
Unlike many devices at this price point, it supports 4K streaming across the board from Netflix, Amazon Prime Video, and YouTube.
However, with only 2 GB of RAM, you may experience some slowdowns.
If you're looking for a reliable streaming device that supports 4K streaming and offers plenty of features, the Miku KM2 Plus should be on your shortlist.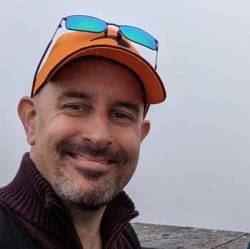 Latest posts by Tim Wells
(see all)