Last Updated on May 8, 2023 by Tim Wells
Dolby Vision is the leader in HDR (High Dynamic Range), but they're not the only game in town. Surprisingly, not all television companies make products that will run Dolby Vision.
I'm looking at you, Samsung.
Samsung supports HDR10 and HDR10+ but not Dolby Vision, which confuses many TV buyers.
Every 4K TV currently includes a combination of these formats, usually either HDR10 and HDR10+ or HDR10 and Dolby Vision.
However, no TV currently offers both HDR10+ and Dolby Vision.
Like many things, it all comes down to money.
Read on to find out more.
---
HDR10 vs. HDR10+ vs. Dolby Vision
There are several formats of HDR, including HDR10, HDR10+, and Dolby Vision. They determine how your television processes the images on your screen, specifically how they handle contrast (light vs. dark) and color depth.
Dolby Vision is a set of technologies and formatting developed by Dolby Laboratories in 2014. According to Giles Baker, Dolby Labs Sr. Vice President, Dolby requires a licensing fee of around $3 for every device that supports Dolby Vision.
This license fee upset Samsung, the global leader in television sales. They would have to pay millions of dollars in fees each year.
So, in 2017, Samsung introduced HDR10+ to compete with Dolby Vision.
Ultimately, Samsung believes that HDR10+ will offer consumers a similar movie experience without paying Dolby's licensing fees.
HDR10+ and Dolby Vision are similar in that they both use dynamic metadata. This allows them to change each frame's brightness and color depth. By contrast, HDR10 uses static metadata, which only lets them set the overall brightness and color depth for the entire movie.
Imagine watching a movie with some scenes on a snowy mountain and others in a dark cave.
On a Dolby Vision or HDR10+ TV, you could still see details in the extreme snow and shadows, while a TV that only supports HDR10 would appear washed out.
However, the most significant difference is how many colors each format supports.
Dolby Vision supports 12-bit color palettes, displaying around 68 billion colors. By contrast, HDR10+ only supports a 10-bit color palette, meaning it maxes out at 1.07 billion colors.
To the average consumer, a Dolby Vision television would have more gradual color changes. In contrast, HDR10+ and HDR10 may have some color banding.
A large color palette is essential for your TV's pixelation, contrast, blending, and brightness.  
---
How To Watch Dolby Vision on Your Samsung TV
The short answer is that you can't.
Since Samsung has decided against Dolby Vision, no software updates or firmware updates will change that. Until Samsung agrees to pay the extra licensing fees, its products will only run HDR10 and HDR10+.
HDR10+ is the closest thing you're going to get to Dolby Vision. These formats have up to one billion colors and operate within 10-bit depth. Most TV models made in 2016 or later support HDR10+, including some Samsung models.
HDR10 and HDR10+ are non-proprietary. They do not need licensing or royalty fees from manufacturers and software creators, making them the next best option to Dolby Vision.
---
Smart TVs That Support Dolby Vision
You can find Dolby Vision in more and more places as it becomes more popular. Streaming services like Amazon Prime, Disney Plus, Netflix, and even some Xbox Series X/S games use Dolby Vision.
It is currently a struggle to find a full-fledged Dolby Vision viewing experience, as most TVs do not support 12-bit HDR. However, nearly every modern TV model has 4K Ultra HD or HDR formatting. This is why Dolby Vision downsizes to run 10-bit, as most TVs will accommodate this bit size.
Think again if you believe you need to buy a new TV to run Dolby Vision.
Samsung models won't support Dolby Vision. Luckily, most other TV manufacturers have models that will operate with Dolby Vision. Often, they must first conduct a firmware update on your TV to make it compatible with Dolby Vision.
However, this is only an option if your TV manufacturer releases an update that can support Dolby Vision.
---
Will Samsung Regret Not Supporting Dolby Vision?
Incurring costs such as licensing and royalty fees can drive up consumer costs.
But will this decision negatively affect Samsung later on?
Samsung's decision has allowed it to save money because it costs less to manufacture each television.
Samsung can still provide customers with high-definition HDR10+ viewing experiences,
This is a good business plan but leaves room for many questions.
Some people wonder if Samsung will regret not making its products compatible with Dolby Vision in the long run. There is no sure answer, just speculation.
If other large companies partner with Dolby Vision and start seeing their profits rise, Samsung might have a problem. Unless HDR10+ makes the jump to support 12-bit color depth, Samsung will likely regret this decision.
That said, I love my Samsung TVs. You can still get excellent image quality, even without Dolby Vision.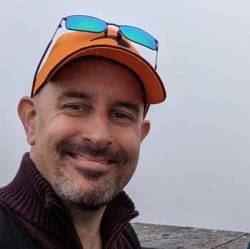 Latest posts by Tim Wells
(see all)