The 2nd generation Amazon Fire TV Cube came out in 2019, so it's not a new device by any means.
Since then, we've had several new versions of the FireStick, including the Fire Stick 4K Max.
After more than two years, the Fire TV Cube is still one of the most powerful streaming devices you can get, but many people wonder if it's still the best value for the money.
In this article, I'm going to do a full review of the Amazon Fire TV Cube, run it through it's paces, and see if it's still worth buying in 2021.
---
Amazon Fire TV Cube: Specs (2nd Gen 2019)
If your only experience with Amazon devices is one of the many versions of the Amazon FireStick, the Fire TV Cube will feel like an absolute speed-demon.
Even if you compare it to the 4K FireStick and the 3rd Gen FireStick from 2020, the Fire TV Cube is a serious upgrade. It's powered by an AmLogic S922X CPU running at a higher overall clock-speed.
That's the same CPU that you'll find in some of the higher end Android TV boxes.
Memory is upgraded slightly to 2GB of DDR4. In a generic streaming device, that would still be a little low in my opinion. However, because Fire OS is purpose-built for these devices, Amazon is able to squeeze a lot of performance out of a small amount of memory.
Amazon also bumped up the amount of storage to 16GB, which is a welcome change. Unfortunately, only 12GB was usable storage, but I'm really happy for anything additional. Unfortunately, there are no full-size USB ports or micro-SD card slots to increase that further.
---
Hardware
CPU: AmLogic S922X, Hexa-Core Cortex A53/A73 Processor (32-bit)
GPU: ARM Mali G52-MP2
RAM: 2GB DDR4
Storage: 16GB eMMC (12 GB usable)
802.11 a/b/g/n/ac MIMO Dual-Band Wi-Fi
Bluetooth 5.0
Software
Fire OS 7 (based on Android 9)
Dimensions
Ports
HDMI™ 2.1 (4K @ 60Hz)
Infrared sensor port
Micro-USB port
RJ-45 Gigabit Ethernet (on included dongle)
---
First Impressions
When you buy a higher-end streaming device, you have higher expectations. You want the first impression to be great, and that starts as soon as you open the box.
The Fire TV Cube comes packed in a full-color, heavy-duty box with plenty of images and specs. It's the kind of thing we've come to expect from Amazon, but it's still so rare to find with Android boxes. This compares well to the NVIDIA Shield TV or anything from MINIX.
Inside the box is the Fire TV Cube itself, a 2nd generation Alexa Voice Remote, an Ethernet micro-USB dongle and an IR sensor cable. The sensor cable is shaped like a miniature Fire TV Cube, which is a nice touch.
Once you rip the plastic off (and there's a lot of plastic), the Fire TV Cube is a thing of beauty.
It's a cube (obviously) of gloss black plastic, a little over three inches on each side. On the top are some simple volume buttons and controls for Amazon Alexa. There's no LED display, but there is a LED bar on the top-front corner that lights up blue when you power it up.
---
Alexa Voice Remote (2nd Generation)
Products usually tend to get better and better over time, until they reach their peak. Unfortunately, product designers usually can't leave well enough alone. They start adding more features, ruining that perfect design.
The 2nd Generation Alexa Voice Remote is that peak, perfect design…at least as far as Fire TV's go.
Unlike the newer 3rd generation version, the 2nd generation remote doesn't include quick-launch buttons for any other streaming services. Instead of buttons for Netflix, Hulu or Disney+, there's simply empty space at the bottom. This gives the 2nd generation remote a cleaner look that's uncommon in most remote controls today.
The button layout is simple and effective, too.
The circular D-pad is easy to use, and comfortable to rest your thumb on when you're not using it. Underneath that are the Back, Home and Settings buttons, Play\Pause buttons and Volume controls.
Directly above the D-pad is the voice search button, which morphs into a dedicated Alexa button in future versions of the remote.
The remote itself is made of smooth black plastic, which is comfortable to hold. It doesn't have as much grip as I'd like, however.
A few companies make silicon covers in various colors and textures that you can buy for a few dollars each. Although definitely not a requirement, they add a little customization as well as an easy way to identify your remote controls if you have a few Amazon Fire TV's in your house.
---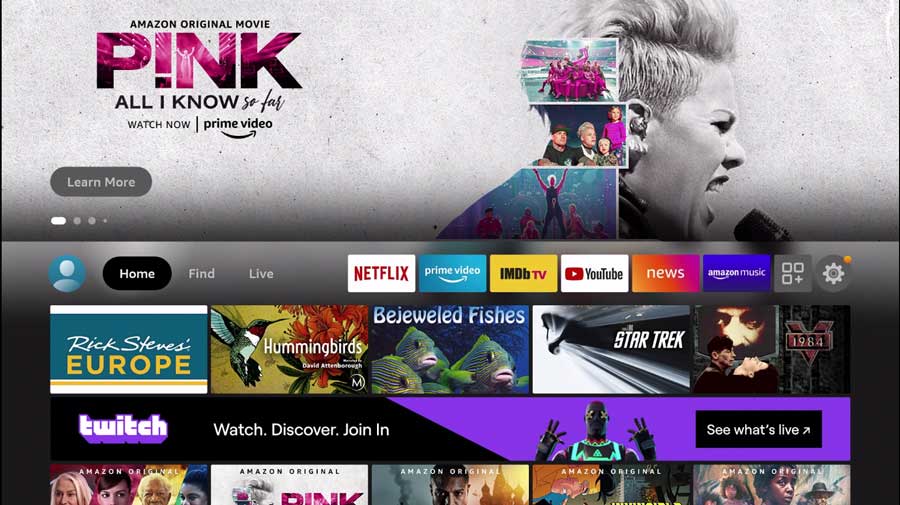 Setting up the Amazon Fire TV Cube
Right out of the box, setup took longer than I expected. Before I could even start the setup process, the Fire TV Cube downloaded several updates, including the new Fire OS UI that just came out. I'll cover my thoughts on the new Fire TV OS in the next section.
The entire update process took nine minutes, and that's connected through Ethernet with a gigabit Internet service (CenturyLink).
Once that was done, I could finally start the setup process.
Similar to how Google makes setting up an Android TV device easy if you link your account, Amazon lets you link your account with them to bypass a lot of the tedious parts of setting up a new device.
All you need to do is go to amazon.com/code on your computer or smartphone, and enter the five digit code on the screen. Once you log into your Amazon account, it will automatically register your Fire TV Cube to you.
Registering your Fire TV Cube links any app, movies or music purchases that you've made on other devices, or on Amazon.com. More importantly, it lets you import your Fire TV settings to this new device without having to go through each menu separately.
If you choose not to import your settings like me, you're taken through a standard set of menu options for parental controls, installing any streaming services, and, of course, enabling Alexa.
User Profiles
User Profiles take center stage on the new Fire TV OS. In fact, every time I turned on my Fire TV Cube or woke it from sleep, it asked me to confirm who was watching.
Personally, I've always liked the idea of custom user profiles, so it's nice to see them at the device level. I can always tell when my wife has been watching YouTube because I get crazy recommendations showing up in my feed.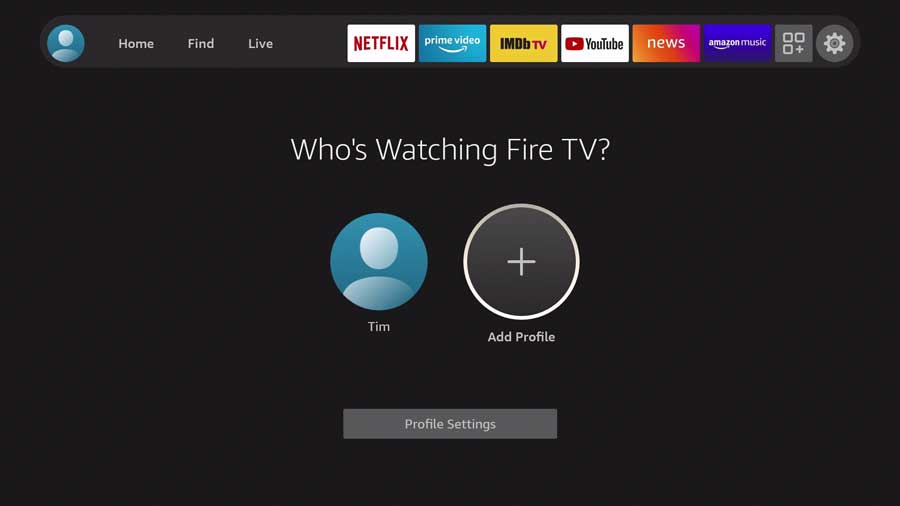 Creating a new user is simple, and you can even quickly import a profile from your Amazon Household. Strangely, though, Kids profiles are not available on the Fire TV Cube, only the FireStick Lite, 4K, and 3rd Generation.
I fully expect that to be fixed in a future update, however.
---
Navigating Around the Amazon Fire OS
in 2020, Amazon released it's biggest update ever for the Fire TV OS. If you're a fan of the old look and feel of Amazon's streaming devices, unfortunately, you're out of luck. You can't skip the update, and I haven't found anyone yet that's been able to force downgrade back to the old UI.
That's not to say that it's bad.
On the contrary, I really like the new version!
---
Changes to the Fire OS UI
I've always had my issues with the old Amazon Fire OS UI.
In fact, one of the main reasons why I prefer Android TV over FireSticks is because I was frustrated with the Amazon interface.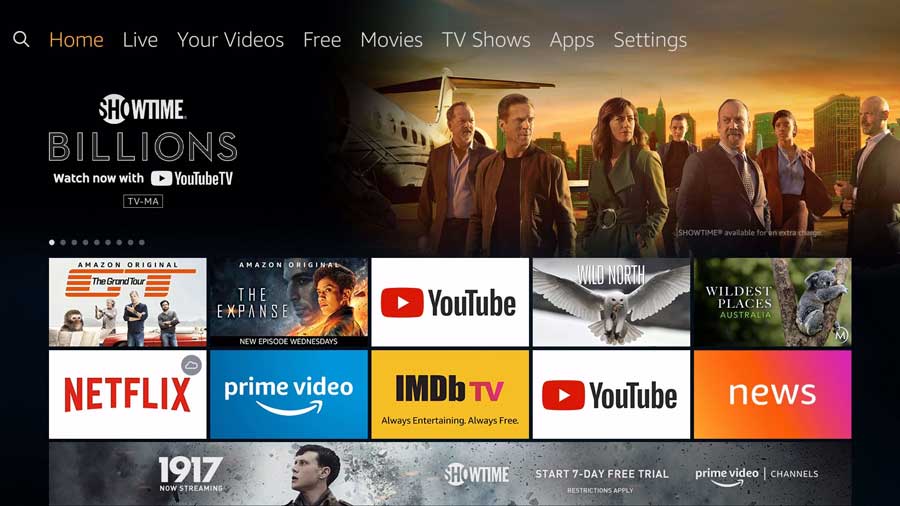 The menu was all the way at the top of the screen, which was a pain to get to, depending on where you were in the menu system. It was also really hard to find content that came with your Amazon Prime subscription and you didn't have to pay extra for.
Both of those things have been fixed in the new UI.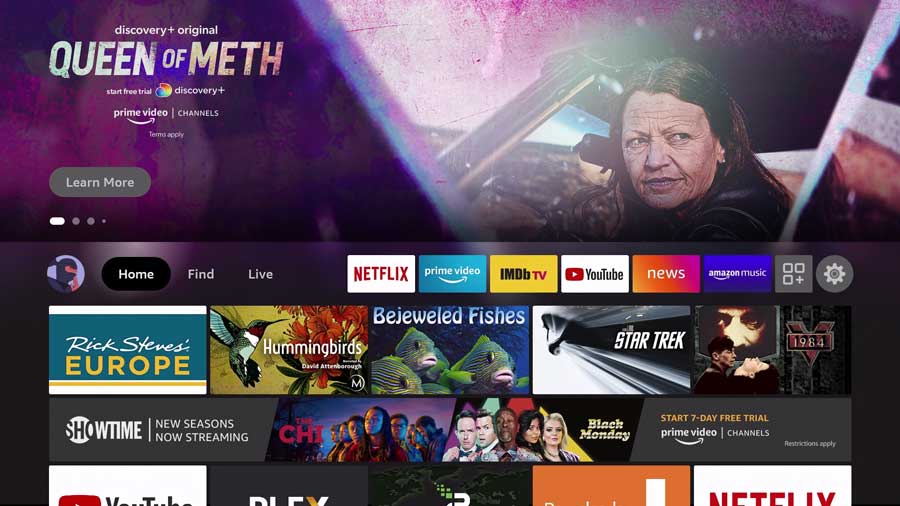 The menu bar is now in the center of the screen, underneath the scrolling feature image. To be fair, it's a small change, as you can still scroll down a screen for what feels like forever. But to me, this feels like it's easier to find the stuff that's important to me.
There's also a Free to Me section that is a welcome improvement. It still only highlights content on Amazon Prime Video, but it's a start.
---
Live TV Guide
It seems like it's easier and easier to get free live TV these days. While you won't necessarily find the local channels that you'd find through your cable company, there's enough out there to keep you occupied.
Right out of the box, Amazon links to free live TV channels from IMDB TV and Plex. If you have subscriptions to premium live TV services like Sling, Hulu or YouTube TV, those will show up in the guide as well.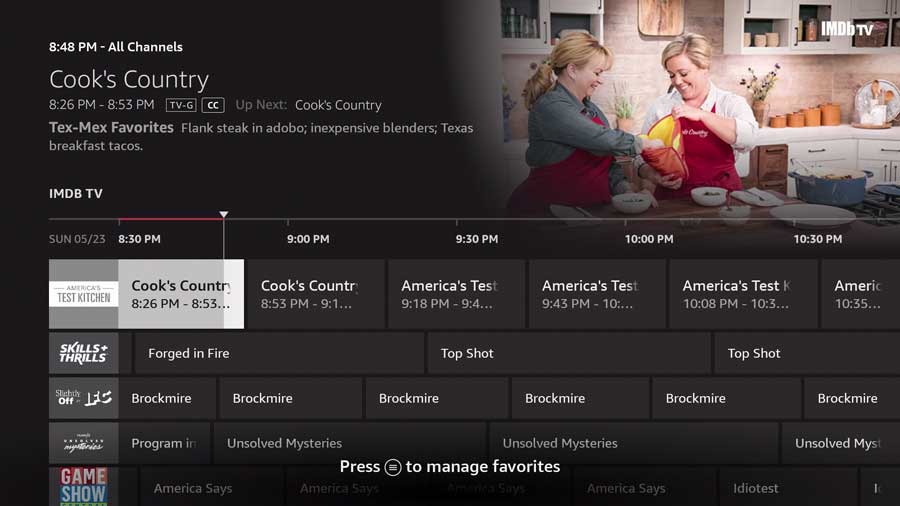 The guide will show any shows that are coming up in the next two weeks. So if you want to plan your schedule around your favorite TV show, you have that option.
All in all, the live TV guide isn't an Earth-shattering feature. You can download apps for each of these services and watch directly from there.
Still, it's nice that you can access them all right in one place.
---
Amazon Fire TV Cube: Video Performance
I used the Amazon Fire TV Cube as my main streaming device for a few days, and I was really pleased with the results.
For both Plex and Kodi, I played several movie and music files from my personal library. Both run from a Windows 10 server, hardwired via Ethernet. For YouTube, Netflix and Amazon Prime Video, I tested HD and 4K video, and looked for dropped frames, stuttering and resolution.
My home network uses a Ubiquiti US-8-150W gigabit Ethernet switch and a UAP-AC-PRO-US wireless access point. It provides a lot more network capacity than I need, so if there is any network slowdowns, I can usually rule out the network as the cause.
Netflix \ Amazon Prime Video
Let's start with the easy one.
Obviously Amazon Prime Video performance is going to be stellar. At a $50 premium to the FireStick 4K, it had better be. For that extra price, you get a seamless 4K streaming experience across both Amazon Prime Video and Netflix.
Menu's are snappy, with absolutely no delay when switching between menus. Previews almost instantly and the audio quality is amazing.
In short, if you get most of your content from Amazon Prime Video, this is as good as it's going to get.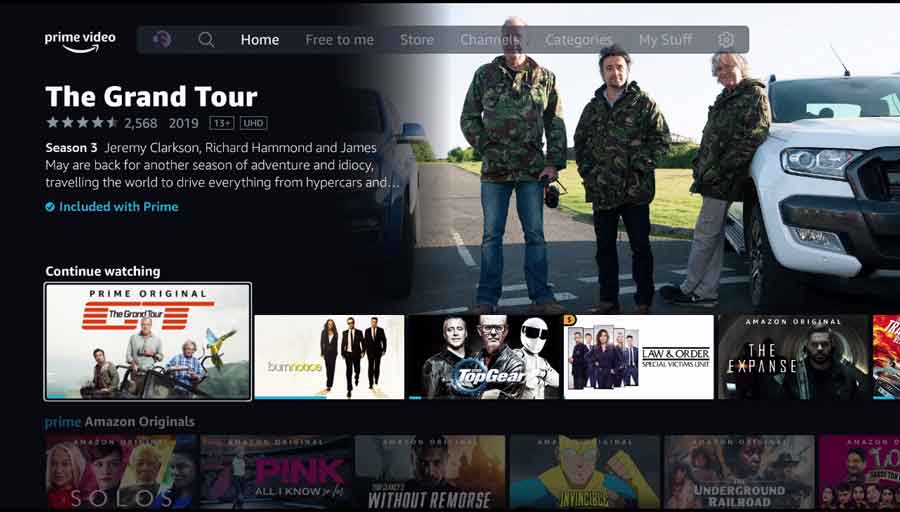 YouTube
YouTube and Amazon have had a pretty rocky relationship over the years. Back in 2017, there was a time when Google pulled the YouTube app off Amazon's platform.
Since then, YouTube has made it's way back on to FireSticks and the Fire TV Cube, but there's always that risk that it will go away again. Amazon still doesn't carry the new Chromecast with Google TV, so this feud is probably going to continue.
That said, YouTube playback is on par with both the Chromecast and the NVIDIA Shield TV. 4K videos start right away and play at their full resolution without any dropped frames.
Plex
Transcoding movies is where the Fire TV Cube's AmLogic S922X really shows it's power. Movies take a few seconds to start, but once they did, Plex playback was outstanding. I only encountered one minor stutter in several hours of watch time.
Fast-forward and rewind were as seamless as I've seen from anything except my 2017 NVIDIA Shield Pro. There were some slight delays while skipping around to new chapters, but nothing that took me out of the viewing experience.
Streaming music from my Plex server was even better. Playback started immediately. Even skipping to different artists and albums, the music continued without a hitch.
Kodi
It takes some work to install Kodi on the Fire TV Cube or FireStick. It's not in the Amazon App Store, so you'll need to sideload it. I wrote a tutorial that walks you through how to do it on the new Fire OS interface, but it's still an extra step that some people might not want to take.
Once you get it installed, Kodi performs really well. The interface looks good and the performance is outstanding. As far as Kodi playback is concerned, I put the Fire TV Cube on the same level as the NVIDIA Shield…and that's saying something.
---
The Verdict: Is the Amazon Fire TV Cube Worth It?
I think the Amazon Fire TV Cube occupies a perfect little niche in the streaming device segment. It's not quite on par with the NVIDIA Shield Pro, but it's much better than something like a Chromecast or generic Android box.
Sure, you get support for Dolby Atmos and Dolby Digital, and full 4K & HD streaming for Netflix, same as the Chromecast. However, the Fire TV Cube has much better performance out of Kodi, Plex, and Amazon Prime Video.
On the flip side, you won't get the raw power of the NVIDIA Shield, so gaming or running a Plex server on your Fire TV Cube can be hit-or-miss. But you're not paying that expensive NVIDIA price-tag either.
All-in-all, I think the 2nd Generation Amazon Fire TV Cube is a great streaming device for the money, and should be on everyone's short-list to look at.
Amazon Fire TV Cube [2022]
Octa-core processor that is 2X as powerful as Fire TV Stick 4K Max
Support for Dolby Vision, HDR, and Dolby Atmos audio
Netflix certified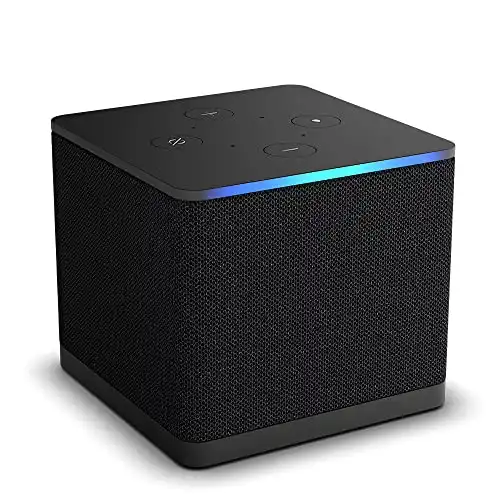 We earn a commission if you click this link and make a purchase at no additional cost to you.