Last Updated on June 15, 2023 by Tim Wells
You've probably seen dozens of reviews of generic, black-plastic Android boxes before. Generic boxes. Generic specs. You could cut and paste the names from one review to another, and everything would still apply.
Trust me, you've never seen anything like the Beelink GT-King Pro.
Not only does the GT-King Pro look different, but it performs differently. It's got the performance to rival the NVIDIA Shield, so if you're looking for the best pure Android box. This is it.
Let's get into why.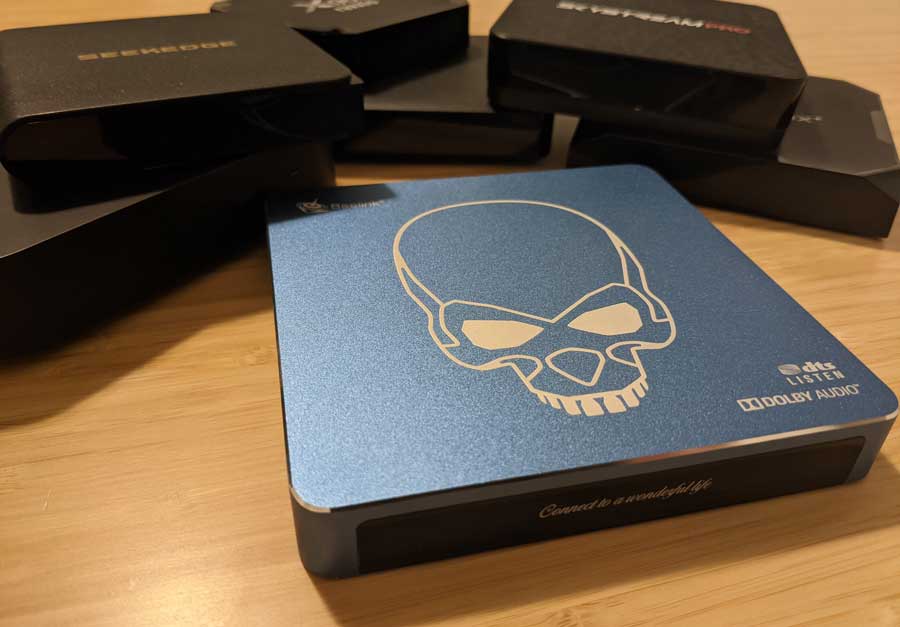 ---
Overview
The original Beelink GT-King was already a great Android box, so what does the GT-King Pro give you that's better?
It starts with the chipset, actually. The GT-King Pro has a modified version of the S922X found in the GT-King: the AmLogic S922X-H.
It adds DTS Listen & Dolby Audio certifications for Hi-Fi Lossless music. There are two ESS Hi-Fi ES9018 audio decoding chips (DAC) and two RiCore RT6862 Op-Amp chips.
If you're an audiophile, you probably understand what that means. I'm not, so I needed to look it up.
The ESS ES9018 chips are Digital-to-Audio Converters (DAC). In simple terms, they convert a digital audio signal into an analog. It helps you get better sound through your headphones or speakers.
The other benefit of the GT-King Pro is the RiCore RT6862. According to Audio Science Review, "the RT6862 is a high-quality audiophile operational amplifier design…(that) is very low noise and distortion. RT6862 is stable at any gain configuration."
Finally, the GT-King Pro's HDMI port supports Dolby and DTS, while the standard GT-King does not.
---
Beelink GT-King Pro: Specs
Hardware
CPU: AmLogic S922X-H, Hexa-Core Cortex A53/A73 Processor (32-bit mode)
GPU: Mali-G52
RAM: 4GB DDR4
Storage: 64GB eMMC Storage
802.11 a/b/g/n/ac Wi-Fi
Bluetooth 4.1

Software
Android 9.0 Pie
Rooted: Yes
Dimensions

Ports
HDMI 2.1 (4K @ 60Hz)
USB 3.0 port (x3)
USB 2.0 port (OTG)
SD card slot
Digital Optical port

---
First Impressions
From the moment you open the box, the Beelink GT-King Pro makes a great first impression.
First, unlike many generic Android boxes made of cheap, black plastic, the Beelink GT-King Pro has a brushed metal case in a unique metallic blue color scheme.
The metal case helps with heat dissipation. There's additional venting on either side and underneath. So it's functional, as well as stylish.
There's also a physical power button on the back of the device.
That may seem small, but it will save you from unplugging and plugging in the TV box when you want to power-cycle it.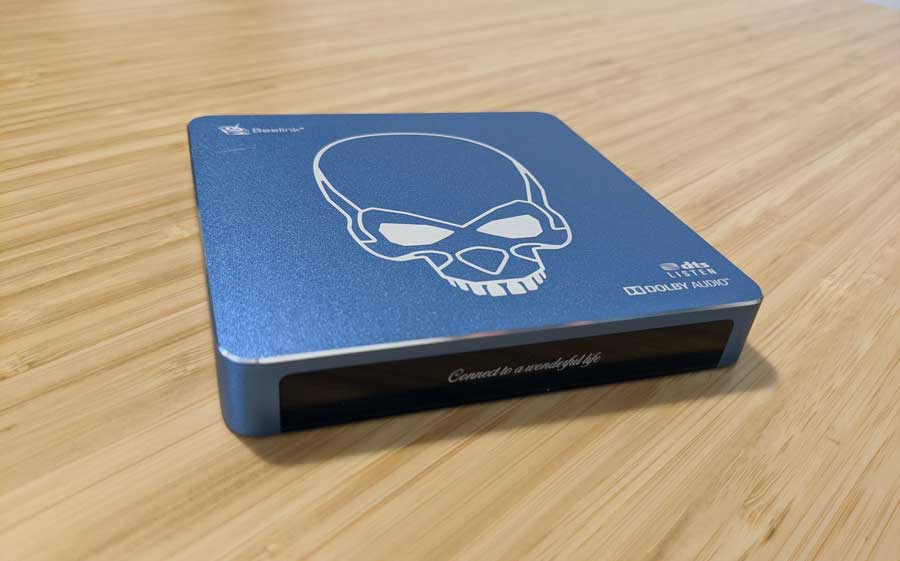 In fact, the only thing I don't like about the Beelink GT-King Pro is the silly saying on the front panel. "Connect to a wonderful life."
Uhh…ok.
Finally, there's a full-color instruction manual in seven different languages to offer more detail on the various ports. If you misplace it, there's also a digital version of the instruction manual once you power up the device.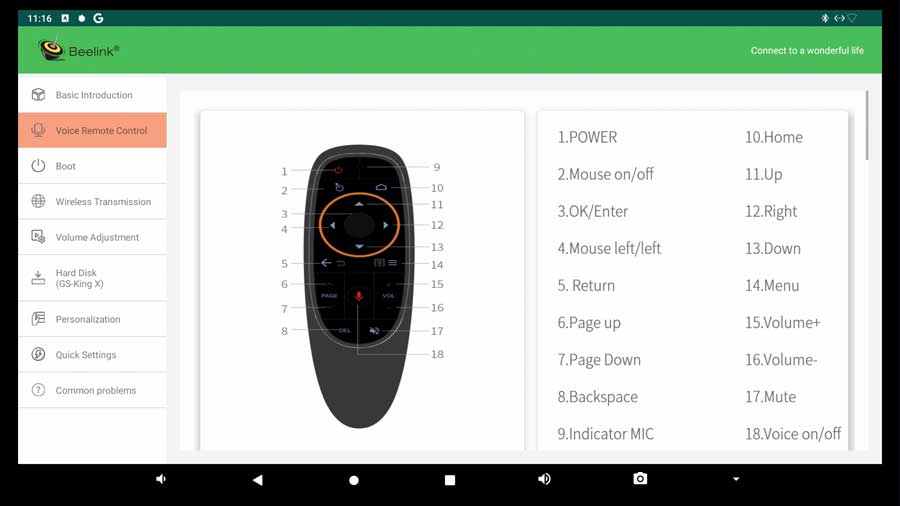 ---
Setting up the Beelink GT-King Pro
Most of the devices I review on this site run the official Android TV operating system. That makes the Beelink GT-King Pro a bit of a departure. I have to tip my hat to Beelink, who included an excellent setup tutorial on their device.
While not as polished as the setup guide for Android TV, it walks you through setting your system language and time zone or connecting to a wireless network quickly.
It also helps you adjust your display so the home screen completely fills your TV right from the start.
Once you complete the setup process, you're taken to the Beelink home screen launcher. It feels dated, similar to the stock launchers from companies like MINIX or Ugoos. So if you've used any of those devices, you'll feel right at home.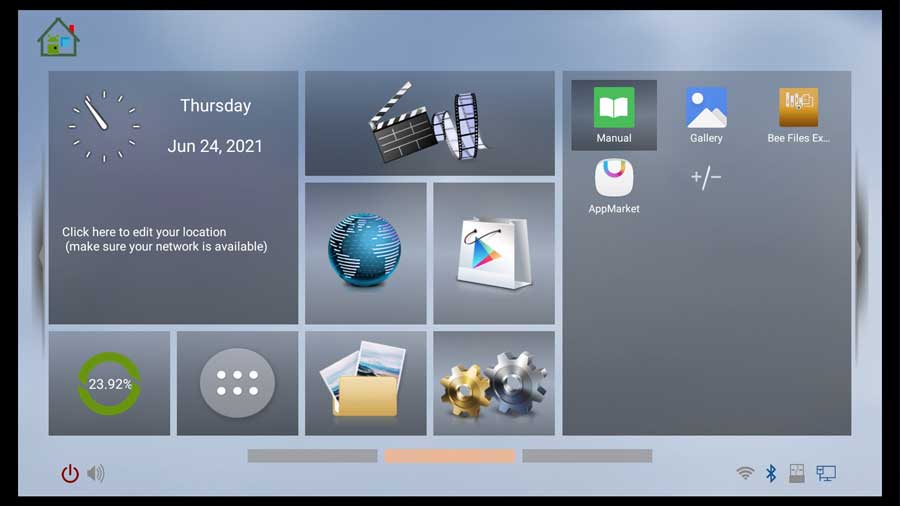 In the center of the screen are large icons for your media player, the Google Play Store, and your internet browser.
On the left is a large clock and a memory cleaner app. On the right side of the screen is a configurable shortcut menu where you can put your most-used apps.
Like most Android devices, you can click an icon to reach the main app drawer. There you'll find all the apps you don't create shortcuts for.
Pure Android is a blank-slate operating system, especially compared to something running the official Android TV OS. That means that the Beelink GT-King Pro doesn't include a lot of apps installed from the factory.
To make it easier on you, Beelink includes its own custom app store called AppMarket.
The Beelink AppMarket lets you install several apps configured to work perfectly with the GT-King Pro. You'll find Netflix, Qodi (Kodi fork), Tubi, and YouTube TV here.
I'll admit, it's not every app that I wanted to install. You'll still need to install an alternate app store like Aptoide TV or hunt for APK files to sideload, but it's a good start.
---
Beelink GT-King Pro: Remote Control
If this air mouse remote control looks familiar…it should! It's almost identical to the G10BTS I tested in my best air mouse roundup article.
Overall, I thought it was a great remote control, but it felt awkward in my hand. The battery compartment takes up the lower half of the remote, so it's ergonomic…in theory.
It's much more comfortable if you hold it near the bottom, almost pistol-grip style. Unfortunately, that makes it harder to hit the D-pad.
The button layout is perfect. The Back button is down and to the left of the D-pad – exactly where you'd expect it to be.
The volume controls, and the Home button is one row under that. My one complaint about the buttons is that the velvety texture is a dust magnet, as shown in the picture above.
All-in-all, I really like this remote. I don't see a reason to upgrade it unless you need something with a QWERTY keyboard or backlighting.
---
Beelink GT-King Pro: Video Performance
I had really high expectations for the Beelink GT-King Pro. I knew there would be issues running Netflix and Amazon Prime Video because it's a pure Android box.
But I expected terrific performance from the other video services.
On both Plex and Kodi, I played several movie and music files from my personal library on my Windows 10 server.
The entire test was done while hardwired via Ethernet. On YouTube, Netflix, and Amazon Prime Video, I tested HD and 4K videos. I looked for dropped frames, stuttering, and resolution.
My home network uses a Ubiquiti US-8-150W gigabit Ethernet switch and a UAP-AC-PRO-US wireless access point. It is designed to have far more network capacity than I could ever use.
So if there are any performance hits while testing, I can rule out the network as the issue.
YouTube
YouTube was a letdown.
There were some issues with screen resolution where the Beelink GT-King Pro would change resolutions at the beginning of each video, causing the screen to go black momentarily.
I couldn't fix that, no matter what settings I adjusted.
However, once that momentary interruption was over, playback was outstanding. There were no dropped frames, and the picture looked amazing.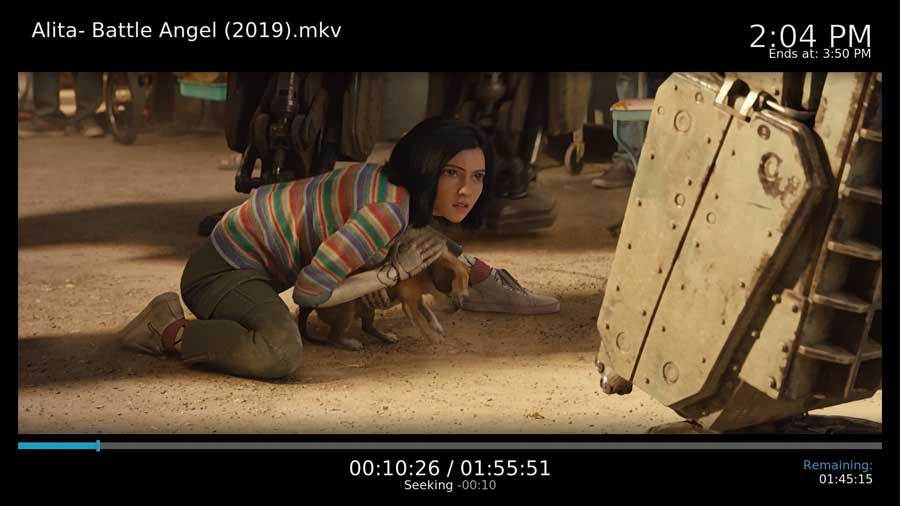 Kodi
Kodi is where the GT-King Pro really shines.
Playback started almost immediately, and fast-forward and skipping to a different chapter was virtually instantaneous. Navigating through the different menus was very snappy too.
Amazingly, whether I played a video directly from a USB drive or from my server over Ethernet didn't make a difference.
The system was extremely responsive in both cases.
Plex
The performance was outstanding here too. Skipping to a different chapter, fast-forwarding & rewind took marginally longer than the same video with Kodi.
That's likely because the server is an entirely different system, unlike Kodi just needing to hit my network storage.
Still, if you use Plex for a significant portion of your media streaming, the GT-King Pro will not disappoint you.
It's easily one of the best Plex clients I've tested.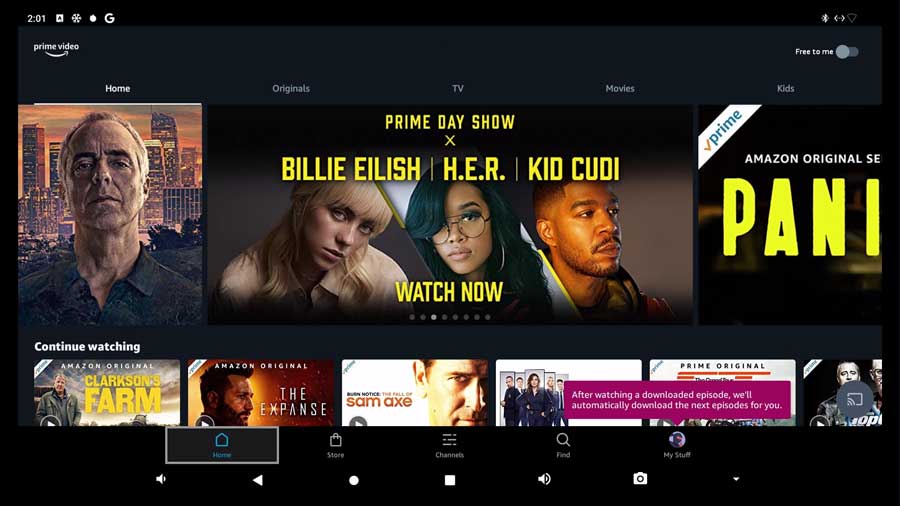 Netflix \ Amazon Prime Video
As expected, both Netflix and Amazon Prime Video were limited to SD video.
Amazon Prime was a desktop app. After seeing beautiful 4K/HD videos on YouTube and Kodi, that was just such a letdown.
It's worth noting that while the GT-King Pro doesn't come with Netflix pre-loaded, Beelink includes it in their app store to make it easy to install.
The version they include is Netflix 6.26.1. That is the same one that I detail how to install in my tutorial here.
---
Beelink GT-King Pro vs. NVIDIA Shield
If you've read anything on this site before, you know I'm a massive fan of the NVIDIA Shield TV. I've owned three of them over the years, and they've consistently been the top-performing Android TV box since 2015. So you're probably a bit skeptical that anything could match that performance.
To be fair, the Shield Pro still has a decent lead on the GT-King Pro in terms of raw power. So why would someone choose Beelink over NVIDIA?
When you think about it, they're aimed at entirely different audiences.
To start, there's the operating system itself. I love Android TV. It used to be a terrific, streamlined operating system that made it simple to stream from your couch.
But over the years, Google has inserted itself more and more into the picture (pun intended). Now, ads and personalized recommendations litter the home screen.
Android TV looks more like Fire TV every day.
Then there are the apps. One of Android TV's biggest complaints is the lack of apps in the Google Play Store. A pure Android box, like the Beelink GT-King Pro, has access to the entire Google Play Store and hundreds of thousands of apps.
In short, the Beelink GT-King Pro is a pure Android box that gets you as close to NVIDIA Shield performance without all of Google's limitations and interference.
---
The Verdict: Is the Beelink GT-King Pro Worth It?
The Beelink GT-King Pro isn't cheap. In fact, its closest competition is the NVIDIA Shield Pro and the MINIX U22-XJ (review here). All three streaming devices are priced close to $200 but go after slightly different markets.
The choice ultimately comes down to what's important to you.
The NVIDIA Shield is aimed at users who want a simple streaming experience using mainstream apps like Netflix and Amazon Prime. The MINIX and the Beelink cater to users who want the ultimate pure Android experience for Kodi, Plex, or any number of other applications.
While the MINIX has Dolby Vision for excellent picture quality, the Beelink GT-King Pro has DTS Listen and Dolby Audio support for the best sound possible.
Dollar for dollar, almost nothing can outperform the Beelink GT-King Pro. That's why it's earned a place on my list of the Best Pure Android Devices. Check out the rest of the list here!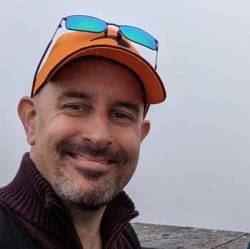 Latest posts by Tim Wells
(see all)