Last Updated on August 7, 2023 by Tim Wells
You've probably heard at least something about the Xiaomi Mi Box S, right?
Over the past few years, the Mi Box has developed quite a following in the Android TV community.
Some people love it, some don't.
But how do you separate the hype from the haters?
I've owned the Mi Box S for a while, and in this article, I will look at whether it's still a good option for a budget Android TV streaming device in 2023.
We'll go over the specs and what it's like to use it, of course. But we will also examine how it compares to some of its competition.
The results might even surprise you.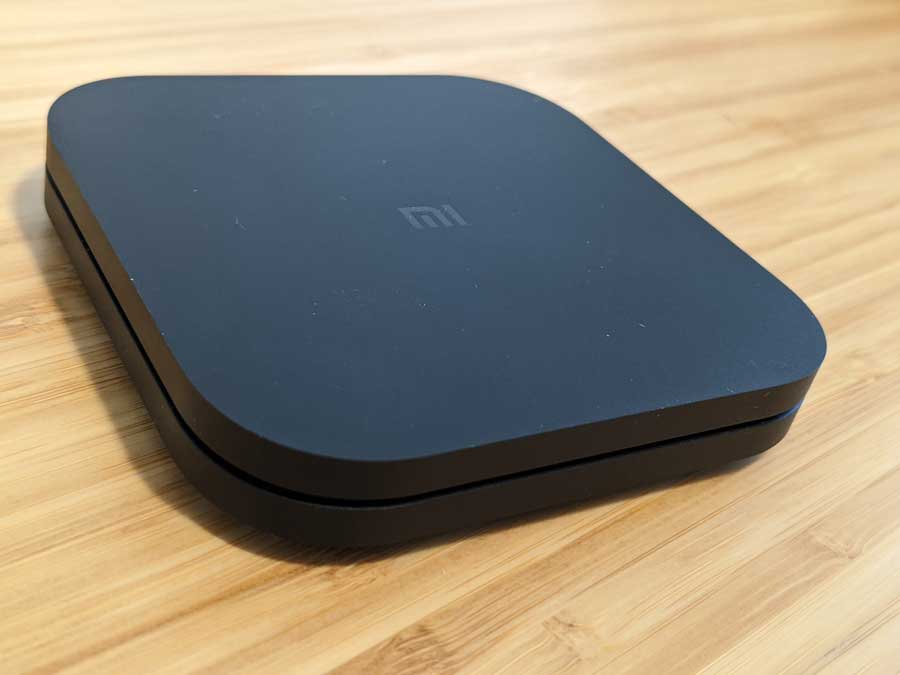 ---
Improving on the Mi Box 3
The Mi Box has been out in various forms since 2016 but only made it to the US market two years later. Before that, you had to import it from vendors like GearBest that shipped internationally.
That first US release was the Mi Box 3, the first to get the official Android TV operating system. So it makes sense to compare the Mi Box S to its closest sibling.
Increases in RAM and storage space got most of the attention – rightly so. The Mi Box S doubled the 1 GB RAM and 4 GM storage in the Mi Box 3. Clock speed was officially rated at 2 GHz for the Mi Box 3, but we'll understand why that's misleading in the next section.
However, the first Mi Box suffered from bad public perception.
Part of the problem was that Xiaomi had no name recognition in the United States. Since Wal-Mart was one of the only places to buy the Mi Box 3, most people thought it was another knockoff Android box.
Comparisons to the NVIDIA Shield were inevitable, considering they were the two most popular Android TV devices on the market.
Since I own both devices, I'll get into those in a later section.
While some of those factors are out of their control, I think Xiaomi has done many things right with the Mi Box S.
---
Mi Box S Specs
The Mi Box S is based on the AmLogic S905X-H chipset, although if you run AIDA64, it will detect as an S905L. Xiaomi doesn't specifically list the CPU, so we need to do some digging.
This part gets complicated, so it's worth explaining before we get into the specs.
As always, I'm going to be referencing CNX-Software. Jean-Luc runs the site and does terrific work digging into the different TV box chipsets to see the differences.
If you like to geek out with that kind of thing, I recommend checking him out.
As I mentioned, the CPU in the Mi Box S identifies as an AmLogic S905L. The S905L is a lower-cost variant of the S905X that strips out the VP9 codec. However, Xiaomi specifically lists VP9 support in the Mi Box S, and that's also been verified by the community.
Another clue is the addition of Dolby and DTS support. That eliminates most lower-cost AmLogic chipsets since they were only included in the "-H" models.
That leaves us with the S905-H CPU, but there's one more catch.
Early reviews advertised a clock speed of 2 GHz, but that's inaccurate.
I'll again reference CNX-Software, who confirmed that "the Coretex-A53 based Amlogic SoCs have the same issue. S905, S905 Rev-C(S905H), S905X and even S912."
The CPU is limited to 1.536 MHz, so you won't see Xiaomi list a specific frequency on their site.
While that's disappointing, it does keep them on even footing with every other manufacturer who uses AmLogic chipsets.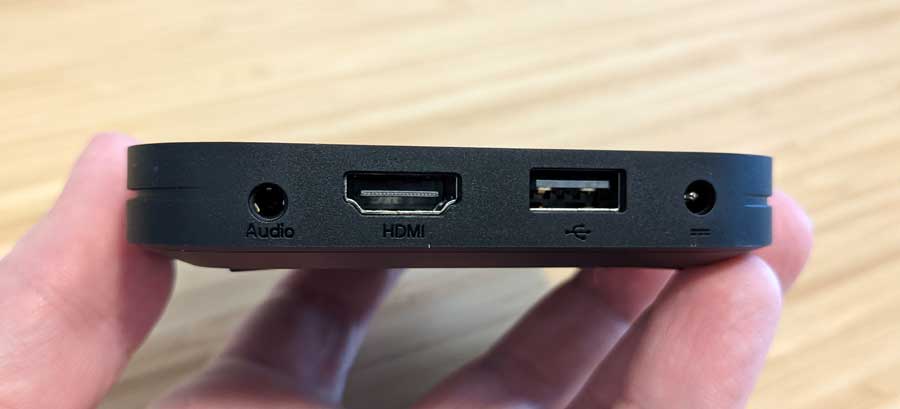 Hardware
CPU: AmLogic Quad Core S905X-H
1.5GHz ARM Quad 64-bit Cortex-A53
GPU: Mali-450
RAM: 2GB
Storage: 8GB
Bluetooth: Yes
Software
Operating System: Android TV 9
Dimensions
Ports
WLAN: 802.11 a/b/g/n/ac
USB: 1 USB 2.0
Audio & Video Formats
Video Decoder: 4K@60fps,VP9, H.264,MPEG1/2/4,VC-1,Real8/9/10
Audio Decoder: DOLBY, DTS, MP3, APE, Flac
---
Unboxing & First Impressions
When I opened up the box, I wasn't sure if Amazon had delivered a streaming device or a drink coaster.
At just over half an inch thick, the Mi Box S has one of the thinnest profiles of any device I've ever seen. Couple that with its matte black finish, and you'll understand why.
All joking aside, the Mi Box S looks like something Apple would produce – and that's a compliment.
It has soft, rounded edges and a small, understated logo in the middle of the top panel. It even has a groove on the sides to break up the otherwise clean lines.
There are only four ports on the back of the box: HDMI, USB 2.0, digital audio, and power.
This is about as minimalist as possible with an Android TV device.
It doesn't even have an indicator light to tell when it's turned on.
---
Mi Box S Remote Control
Similarly, the remote control they give you also has a minimalist design.
It reminds me of the original NVIDIA Shield remote controls from 2015 and 2017. There are a few more buttons, but the general feel is the same.
The power button and a dedicated button for Google Assistant are at the top. I like this placement because they're easy enough for you to reach them but far enough away that you won't hit them accidentally.
The circular D-pad has a velvety texture that feels great on your thumb's bottom.
The center button has a slight indentation, so it's easy to pick up the remote in a dark room and not have to guess which button you're pressing.
Below that are buttons to pull up your Apps menu, the Back and Home buttons, and Volume Up and Down.
My only complaints center around the buttons themselves.
First, there are the obligatory Netflix and Amazon Prime Video buttons. You can't remap them to something else, so you're stuck with them – even if you don't use their apps.
Secondly, the buttons have a great texture but have a loud click when you press them. That can get distracting when you're navigating around the screen.
Overall, I really like this remote.
It has every feature you need daily and doesn't get cluttered with features you won't use.
---
Performance
It's gotten to the point that even cheap Android TV devices have pretty decent performance.
Even with that, I was pleasantly surprised by how good the Mi Box S felt. TV playback from YouTube and Amazon Prime Video was seamless, even at higher resolutions.
The WiFi never felt like it struggled to keep up, even when playing high-bitrate files from my Plex server.
If I had to nitpick, there's a slight delay in navigating around the Android TV home screen. It's almost like the Mi Box S has to take a breath before it moves the cursor. However, that delay vanishes once you get into an app.
Overall, I think the performance is great, as long as you have the right expectations.
While the Mi Box S can more than hold its own against devices in its price range and even smart TV's running Android TV, some comparisons aren't fair.
---
Mi Box S vs. NVIDIA Shield 2019 'Tube'
The Mi Box S has always been compared to the NVIDIA Shield. Even though there's a huge price difference, most consumers expected similar performance, and that's not realistic.
However, when the 2019 Shield TV got a brand new design and lower price tag, suddenly, those comparisons made a bit more sense.
I've been an NVIDIA Shield owner for a long time. I actually have all three different versions of the Shield TV.
In fact, on paper, the Mi Box S looks almost exactly like the Shield TV.
The Shield TV, or 'tube' as we like to call it, only comes with 2 GB of RAM and 8 GB of storage space. It doesn't have a USB port, so you're limited to adding additional storage through the microSD card.
If you swap out the micro-SD slot for a USB port, those are the exact specs as the Mi Box S – at less than half the price!
Before you get too excited, there's a big performance jump between an AmLogic S905X-H and a Tegra X1. Still, it's not big enough to warrant paying twice as much.
In fact, for most users, the Mi Box S will be the better option.
So where does it fall short?
The Mi Box S doesn't have the same audio\video support that the Shield TV has. Most notably, it lacks support for Dolby Atmos and Dolby Vision. Instead, it has basic Dolby Audio and DTS.
---
The Verdict: Is the Mi Box S Worth it?
For its price, I think that Mi Box S is still one of the best values for Android TV streaming players.
Performance isn't earth-shattering when compared to the top-of-the-line NVIDIA Shield Pro. However, it can hang with other devices in its price range, like the Ematic Jetstream or even the Shield TV "Tube."
Where it falls short is in some of the higher-end audio features. Dolby Atmos and Dolby Vision are notably absent.
Still, if you're in the market for an inexpensive Android TV device with great support and a large user base, then the Mi Box S is one of the best options.
If you're looking for a cheap Android TV streaming device, I created a roundup article where I tested each device at several different price points. That will help you get the most bang for your buck!
Value Pick
Xiaomi Mi Box S
The Xiaomi Mi Box S runs the latest version of Android TV and is officially certified by Google so you get 4K Netflix, YouTube and Amazon Prime Video!
Check Latest Price
We earn a commission if you click this link and make a purchase at no additional cost to you.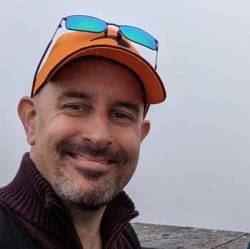 Latest posts by Tim Wells
(see all)