Last Updated on September 6, 2023 by Tim Wells
Whether you've been watching anime for years or are new to the genre, you've probably been looking for the best anime streaming site to watch everything on, right?
Thankfully, there are plenty of options – some free and some you'll need to pay for. In this article, I'm going to walk you through some of my favorites.
---
The Best Anime Streaming Sites (Free & Premium)
To compile this list, I looked at over thirty anime streaming sites, both paid and free. Each site was ranked based on the user experience, anime catalog, cost (if any), and how many ads and annoying popups you'll likely encounter.
As of the time of this article, all of these sites are up and running. However, remember that some of these get their anime content from places other than the content creators.
As such, one of these sites can disappear. When that happens, I'll remove it from the list and (hopefully) add a replacement.
With that said, let's look at my list of the best anime streaming sites!
---
Crunchyroll
Crunchyroll is one of the most popular anime streaming sites today. It has a 14-day free trial and three levels of premium subscriptions.
The three subscriptions include the Fan level ($7.99), Mega Fan level ($9.99), and Ultimate Fan level ($14.99). With any of these subscriptions, ads are eliminated.
Even the lowest-priced subscription gives you unlimited access to the library, new episodes one hour after airing in Japan, and access to digital manga in English. However, you only can stream on one device at a time.
Users will like that there are over 30,000 anime episodes on the site, mainly because it is easy to search by genre, season, recent updates, simulcast, or what's popular. You can also search by alphabetical order, making it easy to locate anime others suggest.
An easy-to-understand layout and simple login make this one of the best sites. There is a queue option or randomizer to help you find new content to enjoy. That's a great help if you're unsure what to watch.
Perhaps the best thing about Crunchyroll is that it is mainstream. You can trust it on your computer, and you won't get inappropriate ads or content coming up.
---
Funimation
Funimation is another excellent site when you want to watch anime. It is unique because it carries some anime that other places can't get yet. That's because Funimation is actually involved in creating them.
Funimation offers a Premium Plus plan for $7.99 a month, allowing ad-free streaming. There are also two other options for streaming without ads. These include Premium at $5.99 monthly and a Premium Ultra subscription for $100 annually. The site has both subs and dubs. So this is an excellent option if you're like me and don't like dubbed anime.
Some of the latest shows out of Japan come to Funimation's site first. With one of the premium plans, you can download content, have up to five video streams at once, and get free shipping on any order over $20.
There's also a 14-day free trial to see how you like the platform.
The site is organized by what's new, discover, shows, or shop. Shows are organized by "all shows, "genres," "Simuldub," and "popular."
I liked that I could also find pre-orders and home videos in the shop if you don't need to have all of your anime in digital formats. There are over 15,000 hours of anime on the site, all ad-free with a subscription.
Something I love about Funimation is that it's a known name. I feel like it's trustworthy and something I can trust with my subscription fee.
---
Animixplay
Animixplay has an excellent layout. From the moment you get to the site, you intuitively understand how to get around.
There is a scrolling list of current popular anime. New episodes are shown immediately on the front page, too. Select a genre on the sidebar to find an anime or sort by stream, sub, or dub.
There is a randomizer, and you can get a list of all the current anime on the site by clicking "A-Z List" at the top. A simple search engine also makes it easy to locate anime you might be interested in on the webpage.
Once you click into the A-Z list, you'll find that there are literally hundreds of shows to choose from. Some are dubbed and will note that with a red [Dub] mark.
The shows do have ads, unfortunately. However, they open on the site instead of sending you to third-party sites to watch your video. This is better for younger audience members, but remember that ads may be unsafe for work (or kids).
Downloads are possible on the site, too, though not for everything. You can create an account, but there is nothing to pay for. You can find a place to donate at the bottom of the screen if you love the service.
---
VRV
At VRV, you need to create an account to use the site. Once you do, you can log in to save and browse your favorite anime.
The site says it has the best in anime, gaming, cartoons, and more. With a free account, you can create a watchlist and watch the shows on multiple apps.
VRV does offer a premium subscription. It has a 30-day free trial, which is one of the longest free trials available.
Premium is available for $9.99 per month plus tax where applicable. Buying premium removes ads and gives priority access to new episodes and exclusive series.
VRV is the home of multiple channels, including Crunchyroll, HiDive, Mondo, Rooster Teeth, VRV Select, and Cartoon Hangover. With one subscription, you can use all of the apps interchangeably (that's why it's ranked high on the list!)
One great thing about this site is that you can easily add series to your watchlist from the main page. You can also access your watchlist by clicking on the watchlist symbol in the upper right-hand corner of the page.
The page itself seems to be in perpetual dark mode. If you like browsing on darker-toned sites, this is a good one to use.
It's arranged nicely, and a simple drop-down menu lets you switch between apps.
---
Anime-Planet
When you sign on to Anime-Planet, you'll immediately see options to select from anime, manga, and characters or to join the community to chat with others. You can sign up here to save your favorites, too.
Anime-Planet streams 45,000 legal anime episodes. The most popular releases are available on the main page. You can also click "see all popular this week" to see what most of the crowd has been watching.
The page also has anime and manga recommendations, so you can try out a new episode from a series you might not have found otherwise. Since watching anything on Anime-Planet is free, you don't have to worry about a subscription fee or paying per episode.
There are ads embedded into the page to support Anime-Planet. No popups usually appear. The site is run by fans, so they have a Patreon account where you can donate if you enjoy using it.
One clever thing I like about this website is its light mode at the bottom of the page. By clicking on it, you can toggle between light and dark mode.
Switching to dark mode is excellent for watching TV at night since it reduces brightness, which might feel a bit blinding.
---
Animelab
When you open the main page of AnimeLab, you have to sign in or sign up. The anime comes straight from Japan, so the releases are sooner than on some of the other free-to-watch sites. You can stream the latest shows within an hour of the broadcast, which is fantastic for people wanting to watch with friends overseas. Simulcasts are also available.
You can watch from anywhere with AnimeLab. Phones, Roku, Amazon FireSticks, PlayStation, and other devices handle the app. I love that the shows adapt to different screen sizes. Nothing is worse than seeing half a video when you want it to go full-screen.
There are thousands of anime on this site, so it seems endless as you scroll through them.
There are two plans if you want to sign up. The first is a free plan with standard support, limited selection, online-only playback, and a max of 480p definition. Subbed titles are available. Simulcasts are delayed by a week.
With the premium upgrade, there is a fee of $6.95. Currently, it's only available to those in Australia and New Zealand. If you live in the US, you must use a VPN to access this site. But you can sign up for an email notification when it's released here.
Those minor issues aside, Animelab is a solid choice for people who want to stay up-to-date on their favorite shows.
---
Animedao
Animedao is an interesting website with a simple layout. The latest episodes are available on the main page. You can also browse by ongoing and added.
It even has a dark mode, which is excellent for people who are on the computer a lot or are sensitive to blue light. I switch my sites to dark mode as soon as possible if they have the option.
At the top of the page, you can search for a specific anime. There is a list format to browse, or the site can choose a random anime to watch. If you like it, you can bookmark it to your favorites to watch later.
One thing I love about this site is that it actually resizes based on your viewing platform. It works just as well on a phone as on a desktop.
There is no fee for using the site.
When you click on the specific anime you want to watch, it opens directly on the page. There are multiple streams available, so there is a potential for one of them to be down. The anime was good quality and had subtitles directly on the feed rather than through closed captions.
A comment area is below (watch out for links and viral content), and AnimeDao also has a Discord. It's a more popular site, with 33,125 members of Discord at the time of this article.
---
Anime Kisa
Anime Kisa is a simple site where you can see some of the latest episodes of your favorite anime.
On the front page, recently added shows include Kumo Desu Ga, and Nani Ka? Back Arrow and Shaman King.
Clicking into the menu, you can sort by anime, dubbed, movies, categories, schedule, random, and most popular. You can also select from subbed or dubbed anime.
On the lower right-hand corner, you'll see a Discord button where you can click to join over 58,000 members of the Anime Kisa group. The site is permanently ad-free and does not charge you to watch your favorite shows.
There seem to be thousands of titles if you click "anime" to see all the site currently hosts. Each title has an additional page that shows a summary. Individual episodes are listed under the title.
Clicking on the episode you want takes you to the player. The video may have an ad (this isn't controlled by the site), but clicking out of that is easy enough. Then, the episode plays with a single click.
There are no fees to use Anime Kisa, so this is a great place to watch anime for free and with minimal ads.
---
MyAnimeList
The first time you open up the main page of My Anime List, it can be overwhelming.
There is a scrolling view of summer anime, the manga store, and the latest episodes. Top airing anime are listed on the right, and all moving ads are scattered around the page.
However, unlike some of the pages, you have the option to hide ads.
You'll see an orange "hide ads" button in the upper right-hand corner. This will take you to a subscription page. You can remove ads for an affordable $29.99 per year or $2.99 a month.
Premium extras include:
Being able to save up to 20 favorites in each category.
Having the ability to ignore forum users.
Getting more interactivity with your profile status bar.
You'll also get a custom forum title and profile badge.
The nice thing about My Anime List is that you don't have to subscribe to get all the same content. You can still browse by genre, find anime and manga through the menu and even get industry news.
This site is busy, but the content here is top-notch, and they have a dedicated staff and support system. Any issues can be reported and taken care of.
---
Anime Fever
Animefever has a clean, straightforward design that reminds me a lot of Netflix. Scrolling down the page, you see trending and recently added content. There is no fee to use it, so it's great for people on a budget.
You can register to save your content, check out the anime schedule, get a random anime suggestion, or explore what's currently on with a search. If you click explore, you can filter the anime into types, like OVA or Currently Airing.
You can also select a parental rating control if your kids use the site.
There are some popups, like most other sites on this list. It's a good idea to use a popup blocker. All the shows open up in the browser on the site, so you're not taken to a third-party website.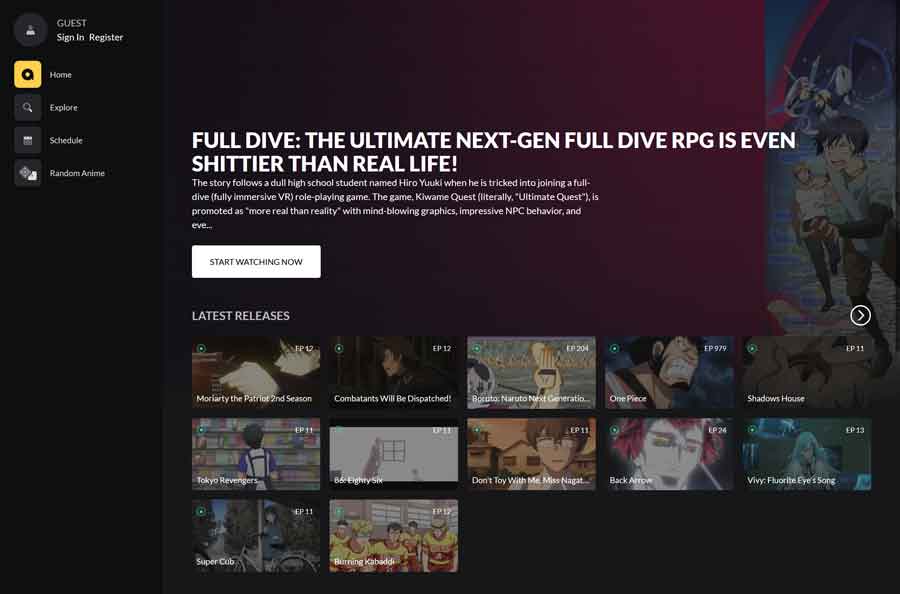 The quality of the videos was good. You also get some nifty additional features like taking screenshots, using closed captions, sharing the content with others, or going fullscreen.
Overall, for a free site, this is an excellent place to watch anime without the risk of malware or virus-laden popups. I didn't get taken to 3rd-party websites when checking out the content, so it was easy to navigate and stay where I wanted to be on the page.
For free content, I think this is a winning solution.
---
GoGoAnimeTV
GoGoAnime's website is laid out nicely. You can browse recent releases, dubs, and even Chinese shows, which is a first for sites on this list. You can browse by scrolling through the most recent items, which appear in a grid format that gives you around twenty new suggestions for recent releases.
The site tells you if a video is subtitled or dubbed right on the thumbnail.
However, you'll have to maneuver through popup windows and ads for each episode, then select the anime from one of several servers. I found a few servers that were no longer in service.
However, on the main page, you'll definitely get a lot of popup ads and embedded ads. Use an ad blocker if you're concerned about accidentally clicking on one or getting a virus.
Some of the ads on the site are pretty suggestive. When I was browsing the menu, a nude woman sprawled across my screen, so be careful if you've got younger viewers in the room with you.
But if that doesn't bother you, you can view some great anime on GoGoAnime.
---
9Anime
9Anime is another extremely popular anime streaming site. However, getting to it is challenging if you only try to rely on Google Search.
There are actually four official URLs for 9Anime:
https://9anime.to
https://9anime.ru
https://9anime.nl
https://9anime.live
No matter which URL you go to, the first page is straightforward, with only a search bar and a link to an alphabetic list at the bottom of the screen. If browsing is more your thing, you can click the button to go to the home page, which you see in the image below.
Here you can browse different categories, new releases and see the estimated schedule for new releases.
If you create a login, you can save your favorites to view later.
There's also a drop-down menu with a good variety of options. These include sorting by genre, type, newest, updated, ongoing, added, schedule, and choosing a video at random. You can also request an anime you want to watch by completing the request form. That's a nice touch since some rare anime may still be missing from the site.
On the main page is an A-Z sorting bar where you can search for your favorite anime. There is also a toggle to turn on ads that are safe for the workplace. All-in-all, the site has over 414 pages of anime, so you shouldn't have a problem finding one you'll enjoy.
However, there are a lot of popup ads to watch out for. When clicking to sign in, the first thing it did was take me to a completely different website.
So watch out that you aren't inputting information into another site.
---
Animepahe
Animepahe hosts some of the latest releases on their site. In fact, when you log on, you'll see a grid full of new releases on the home screen. This makes it easy if you're looking for a brand-new video that was just uploaded.
If you're looking for something different, you can search for titles directly in the search bar. Alternately, there's also a complete list of all the anime on the site.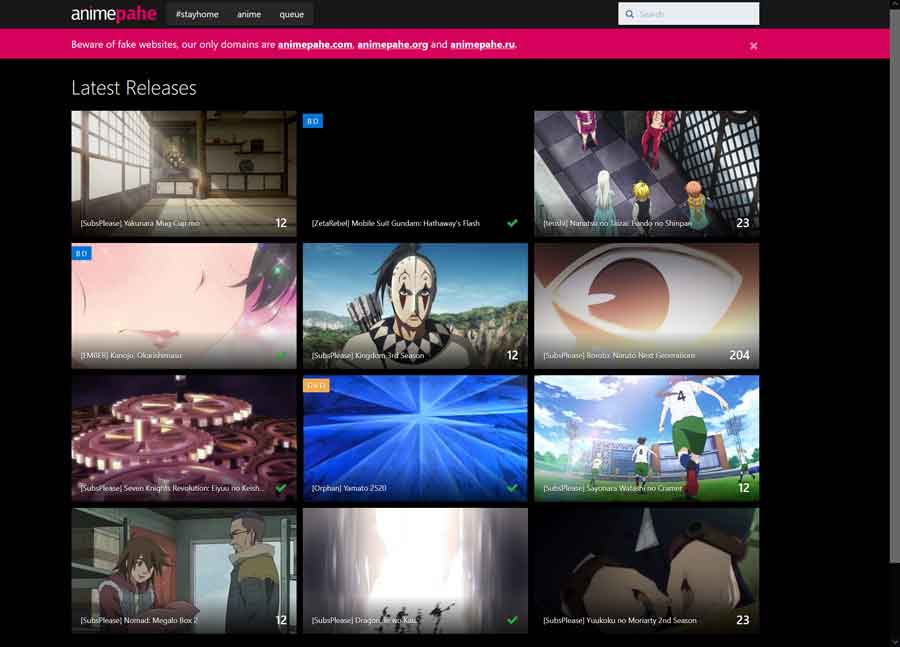 Speaking of the index, Animepahe has thousands of anime videos available for streaming on the site. Since the entire site is free, this is a perfect way to watch the anime you want without spending any money.
When you click on the show you want to watch, you're taken to a summary page similar to what you'd find on Netflix. There you'll find details about the show, such as the English name, how many episodes there are, and whether the anime is done airing.
A cool feature is custom tags you can click on to see other anime shows in the same genre. I really like this idea. It's common for me to enjoy a specific anime style, but I don't know why. Searching for similar programs is a great way to find similar anime to something you already like.
---
GENOAnime
GENO Anime doesn't have the best-looking website, but it's fun to scroll through rows of anime to see what catches your eye.
Each icon is in full-color cover art, complete with tags under each to give you an idea of the genre. A quick look at each title will show you how many episodes are in the series and whether it is dubbed or subtitled.
On the main menu, there's the option to search for a specific anime to stream, find a random anime, check the release schedule, or browse what's on the site.
Though the layout isn't the best, using the menu and getting around the site is still manageable. The imagery is reminiscent of the early 2000s anime sites you might remember.
If you click browse, you can sort by season, type of anime, or genre. Best of all, there is no fee to use the site, so you aren't going to waste time or money on finding anime only to be upset if a link is broken or an episode is missing.
Some newer anime are available, such as Kimetsu no Yaiba's dub. If you click on the show you'd like to watch, a complete list of available episodes populates at the bottom of the screen.
The nice thing about GENOAnime is that there were no ads when I was browsing. GENO Anime has an Instagram, Discord, and Facebook page.
It also has two sister sites, GENODrama, and GENOMovies.
---
Aniorb
Aniorb has a simple layout, and it's easy to see that this streaming site was clearly made by anime fans.
There are no fees to watch anything on Aniorb, and searching for anime to stream is simple with the search bar at the top of the screen.
On the left sidebar, you can filter by recently added or one of almost 40 different genres of anime. You can even create your own list and add anime you want to watch to your list. That makes it easy to build up a list of shows to watch when you have time.
I really like having all of those different genres to search. It's easy to quickly find all of the "vampire" or Sci-Fi" themed anime to stream.
When you click on the anime you want to watch, it opens on the same page on a single stream. The default setting is for high-speed internet. Quality is configurable, up to 1080p. Just be aware that some older anime will still look grainy despite the better quality.
---
Shiro
Like many sites on this list, at Shiro.is, you can stream both dubbed and subbed episodes of your favorite anime.
What's different about this site is that it's a non-profit organization. This is a totally free anime streaming platform, with only a few ads to support it. Donations are accepted if you like what you see and feel there is value in watching anime on the site.
You can browse all sorts of anime, though no exact number of programs are available. You do have access to some ongoing anime on this site and can sort by the trending, popular shows.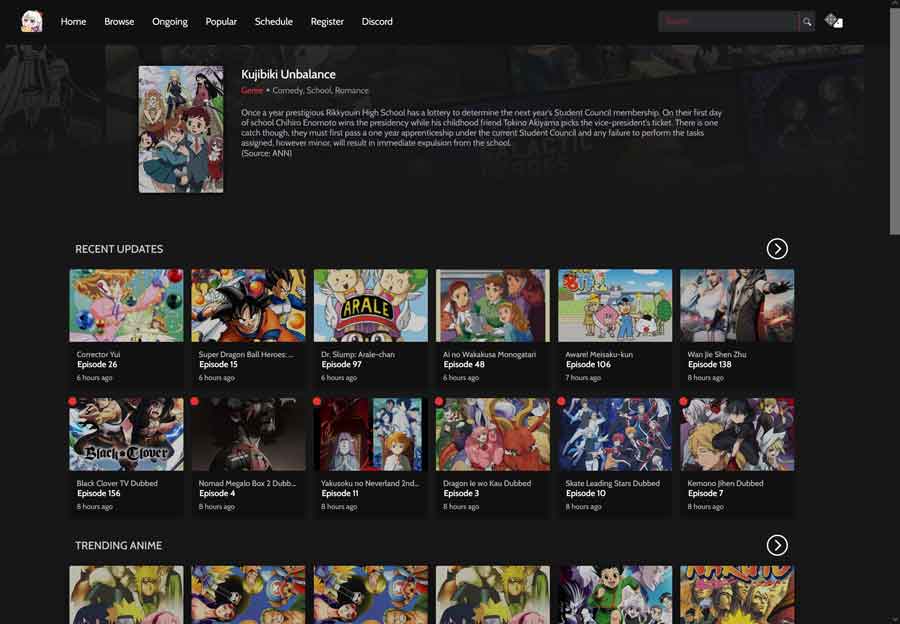 Registering lets you save shows, and there is a Discord where you can connect with others who use the site.
The Discord itself had 1,111 members online when this article was written, and there are nearly 8,000 overall members. Join them to talk about your favorite shows or the latest releases on the site.
Since the site is free, you don't need to pay for a subscription. If you decide to donate to the site, you should be able to, but I didn't find an easy way to do it on the site.
---
Array Anime
Array Anime hosts subbed, dubbed, and Chinese content. Some thumbnails open on the main screen, but you can't see what they're for until you scroll over them. The episodes are not in any order, and I found it difficult to see which show I was looking at.
There are ads on the site, but they are embedded. This makes it easier to get around without popups.
If you click on one of the thumbnails you want to watch, an ad you must click out of will come up. The video opens on the Array Anime page, so it's not taking you off-site.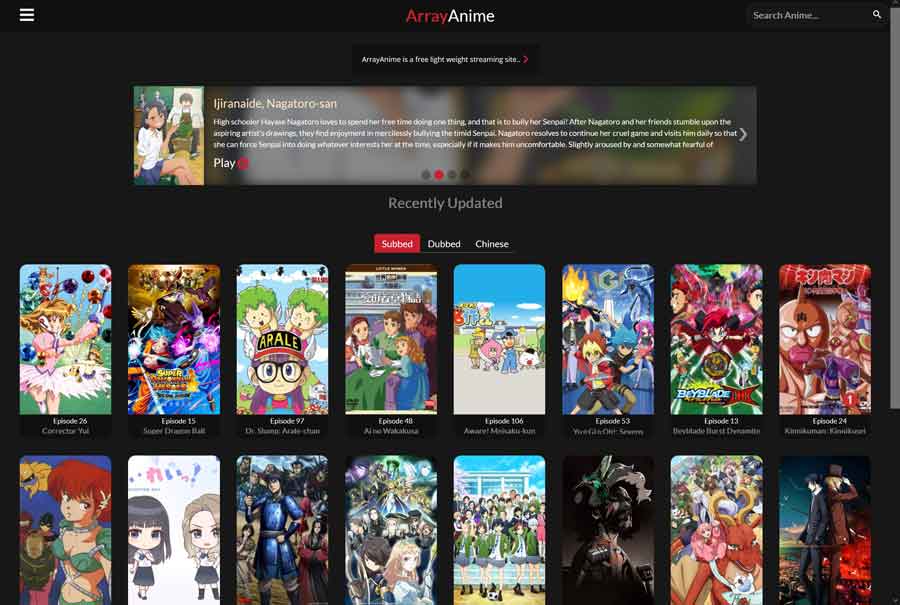 This streaming site doesn't look as slick as others, but it has a menu bar to find trending anime, a complete list of anime, movies, and a donate button. You can search for your favorite shows on the top right of the page.
This site has thousands of anime available, sorted from A-Z to make them easy to find.
This site has a Discord server (at the very bottom of the page) with 710 members presently.
---
4anime
4Anime and I started off on the wrong foot because it plastered my computer screen ads.
Once I could navigate away from them, the site was pretty simple. At the top is a randomizer that allows you to search for any anime currently popular or suggested by the app. There is a simple search function to let you look for the anime you want to watch as well.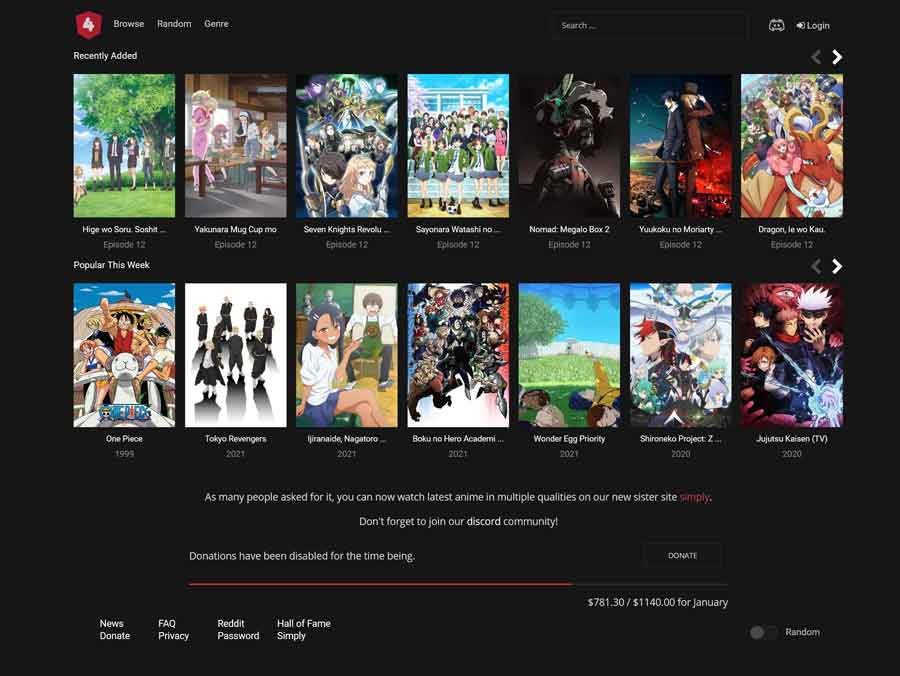 The menu slides out from the left-hand side (the first click took me off-site again and, again, gave me virus-laden ads). It allows you to search through different genres or randomize the content. You can also browse all the anime.
You can log in and register on this site, allowing you to save your favorites. Presently, donations are disabled, so there is no suggestion for payment at all.
The site has a Reddit page, so you can check that for updates. In the FAQ, there is a discussion about monthly subscriptions, but there is no direct link to that site.
The Discord server currently has 94,258 members, around 19,000 of which were online at the time of this article.
---
AsianCrush.com
Asian Crush is a beta site that offers free or premium membership.
It primarily hosts Asian dramas, similar to IcDrama. The premium subscription is available for $4.99 a month or $49.99 per year. With the annual plan, you save 15% on the cost.
For more live-action movies, Asian Crush is a great site. It also hosts anime, although there are not nearly as many titles as on some other anime-focused sites. The anime that is available includes more popular anime like Fushigi Yugi or Blue Submarine No. 6.
The site does have a search bar and randomizer. When you click on the show you want, you'll be prompted to try the 30-day free trial for ad-free streaming. You need to create an account to sign up.
Some shows can only be watched with premium, so you may have to upgrade to see what you want to watch.
There doesn't seem to be an easy way to browse for titles that are free to watch, but you'll know you need to upgrade if the thumbnail has a white crown on an orange background in the upper left-hand corner.
You can browse titles by country, genre, movie, or show. I suggest going to Premium to watch everything you want. Still, if anime is your priority, try a different site first.
---
Viz.com
If you have ever watched anime in the US, you will be familiar with VIZ. VIZ has been an authority on manga and anime for years and is a leading pop culture publisher and producer. As a leading anime distributor in the USA, this site carries many of the most popular shows (and manga to match).
You can watch VIZ shows through multiple apps, like Netflix and Hulu. You can also watch content on the site. Users will be taken to a page with the latest anime by clicking on WATCH. Many videos are hosted on YouTube, so they're easy to access, too.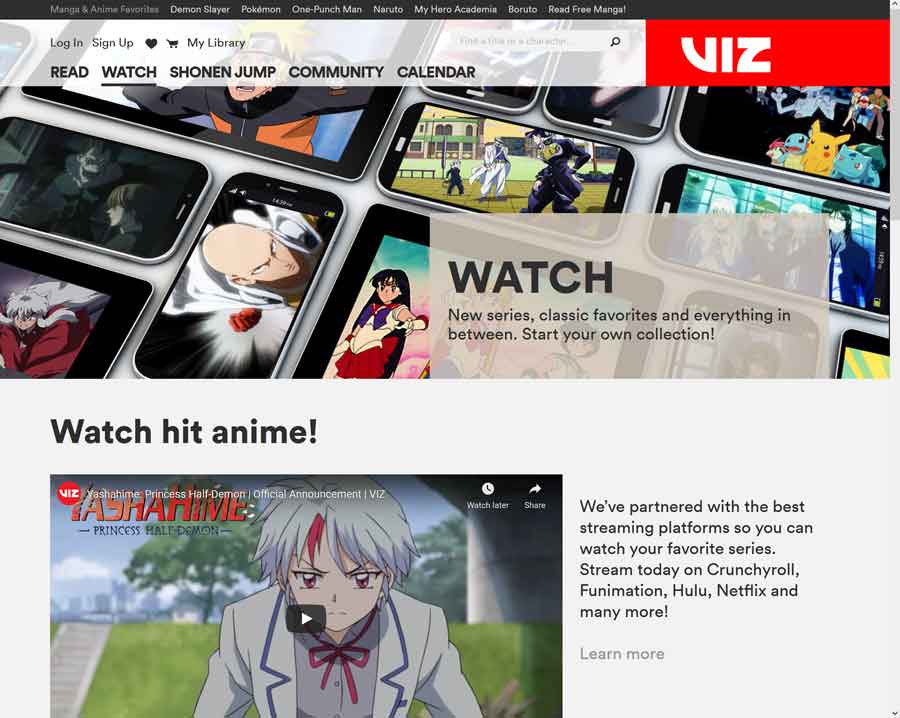 While this site is not as easy to get around as the others, it does have more anime content for a seasoned otaku.
You can buy the series you want to watch and download it on the site in some cases, which is terrific if you like to watch shows offline and support the people who created them.
Uniquely, VIZ does have a fan section where you can see cool cosplays and interesting artwork made by other users of the site and fans of a specific show. It's an interesting site, though it does sit closer to the bottom of the list for the difficulty in finding and accessing shows.
---
Simplyaweeb.com
Simply a Weeb has a welcoming vibe when you land on the front page. With a black background and easy-to-read layout, it's great for first-time visitors.
If you want to support the site, click "Consider Supporting" at the top of the page. When clicked, this brings up a popup that allows you to join the Patreon page as a support or to buy a coffee (which translates to donating to the admin).
On Patreon, you can join on a $1 monthly plan, $10 plan, or $30 plan. The only difference is that there is an exclusive Discord channel for subscribers who spend $10 or more a month.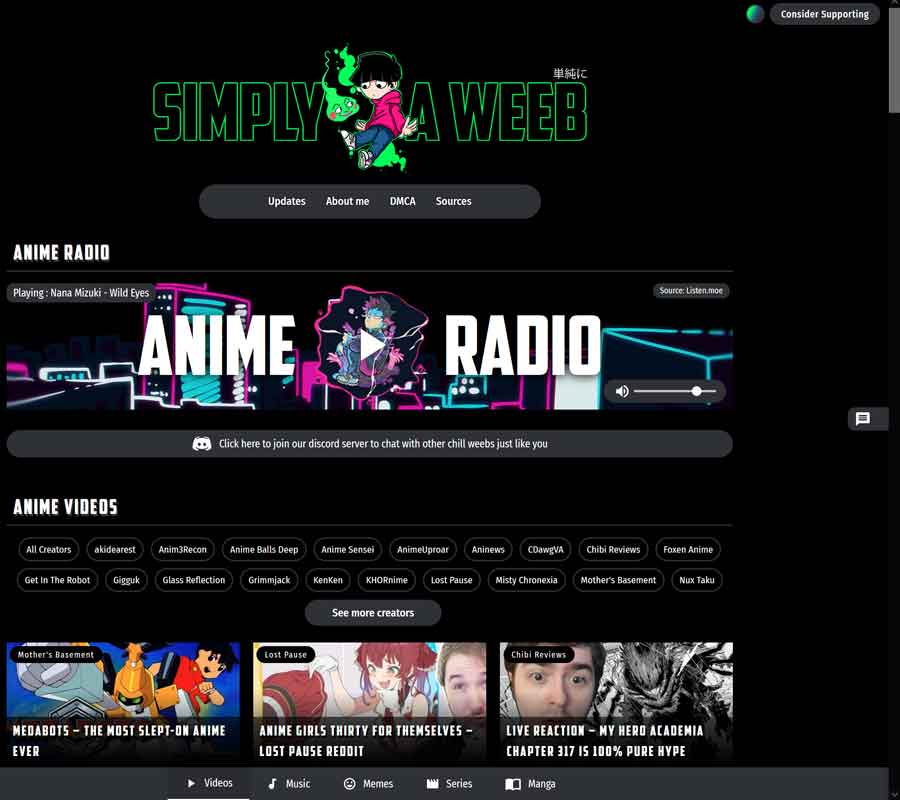 The site itself is free, and it's organized nicely. You'll see tags for popular genres and current creator content when you scroll down. At the bottom of the page, there is a bar that allows you to sort through music, video, memes, series, and manga.
On the left-hand side, you'll see a menu bar with the option to hide ads. Clicking it allows you to block ads, but it wouldn't open when attempted this time. Other sidebar info includes the about me page, sources, DMCA, color options for the background, and a donate button.
---
AnimeHeaven.ru
Cleverly, AnimeHeaven has a simple search bar to allow you to search and find the anime you're interested in watching. At the top of the site, you can browse by anime, dub, series, movies, ongoing content, popular, schedule, and random.
I enjoy the random feature because it introduces content that might be overlooked. However, many of the ads I was shown emphasized hentai, so I wouldn't suggest this site for those under 18.
If you've been to the old AnimeHeaven, you can switch back to it. AnimeHeaven is free, which appeals to those who aren't interested in a subscription service. The site is secured with an SSL certificate through CloudFlare, so you shouldn't, ideally, pick up any viruses.
What I don't love about this site is that it doesn't store files on the server. This makes them prone to broken links at third-party save points.
There are popups all over the website, and one even appeared to have a virus. That said, once you get to the anime, it's possible to find some hidden gems.
Overall, though, I'd suggest skipping this one unless you want your computer to get a bug.
---
Twist.moe
On Twist.moe, the site claims to be ad-free and subscription-free, but the first thing that pops up is an ad (which most likely contains a virus). This is something to watch out for if you're looking for a streaming site and want to avoid damaging your phone, tablet, or computer.
If you have an ad blocker, that's a good way to get around the issue.
There is a chat on the website, which you can use to talk to others if you need information about popular anime or trends. You can also sign up and make a username to chat. You do have to log in to chat, which helps cut down on the random chatbots.
When you click on a show you'd like, you will find it pulls up immediately on a new page.
The chat may remain open on the right-hand side if you want. There is no indication of how many shows there are. Still, they're in alphabetical order and available for search with the search bar.
The site seems like a good deal for anime lovers. Watch that you don't accidentally click a popup and get pulled off-site.
---
DarkAnime
As a streaming site, I can't recommend DarkAnime.stream.
The site has multiple popups and frequently took me to third-party websites whenever I tried to click on anything. You can get rid of them if you create an account… supposedly. Even when trying to do that, when I clicked on "hide ads," it took me to a completely different website.
Clicking on the anime you'd like to watch will take you to a preview page. From there, you click on the link to the show you want, but this forwards you to sites that are unsafe for work.
Trying the link to the anime again, I could pull up an episode, but there were multiple popups, and I never could get the video to play.
You should be wary of this site, but getting around it more easily with an ad-blocking application may be possible.
There is a Patreon for donations, which turns off ads, but the "donate" button takes you off-site. Be cautious because it may take a few attempts to get to their Patreon due to popup ads.
That said, if you can get the episodes to run, they're free or inexpensive. The Patreon starts at $1 monthly and ranges up to $10 for the Sama badge. With the upgrade, you can search by genre, recent updates, and hot series without ads.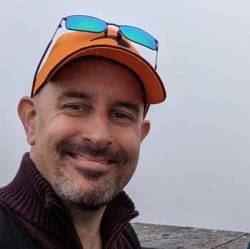 Latest posts by Tim Wells
(see all)