Update: MINIX discontinued the NEO T5, so it is no longer available for sale. This review is purely for reference.
I recommend checking out my roundup article of the Best Android TV Boxes instead!
Over the years I've owned several MINIX Android boxes, but the biggest drawback for me was that they were running pure Android. So I was really excited when they finally released the MINIX NEO T5 running the official Android TV OS.
---
Overview
The MINIX NEO T5 is the first MINIX device to actually run the official Android TV operating system. All of their previous devices ran some version of pure Android or Windows – neither of which is that great for streaming devices.
I had the opportunity to review their flagship Android device, the NEO U22-XJ last year. As much as I liked that device, I thought it missed the mark.
In my experience, most people want a simple streaming device that lets them watch the content they want on a device that's easy to navigate and easy to use.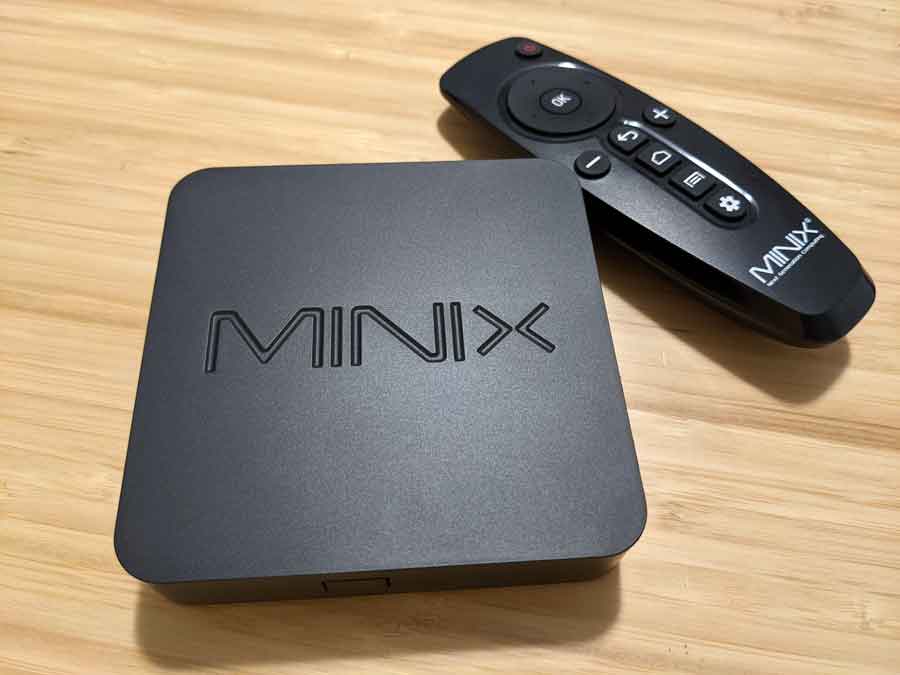 That's where the NEO T5 comes in.
It's no secret that I prefer Android TV over pure Android when it comes to streaming devices. The interface is easier to use and you don't need a box with as beefy specs as you would for one running pure Android.
As a result, the 2 GB of RAM that's in the NEO T5 actually makes the device feel pretty snappy.
However, like most MINIX devices, the NEO T5 is not Netflix certified, so the app isn't available through the Google Play Store and you're limited to standard definition video. Except for that, video performance is pretty good overall, but we'll get into more detail on that a little later on.
First, let's go over the hardware specs.
---
MINIX NEO T5: Specs
The MINIX NEO T5 is based around the AmLogic S905X2 architecture. In general AmLogic CPU's are a great starting point for lower-cost streaming devices.
In general, you get good performance to cost, even adding features like HDMI 2.1 and USB 3.0. Both increase bandwidth so you can transfer files and display video faster on your screen.
System RAM is a little low at 2 GB. I wouldn't recommend using the NEO T5 as a gaming machine, but it's more than enough to stream video content – even at 4K.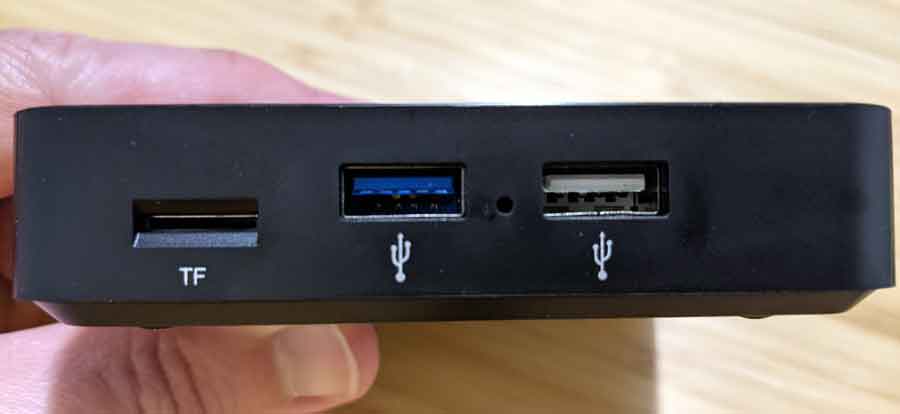 Similarly, storage is on the low side at 16 GB. That's not enough memory to store even one Blu-ray video rip on the device's internal storage. However, that's where the two USB ports come in. On my setup, I added an external hard drive to the USB 3.0 port and the USB receiver to the MINIX A3 air mouse to the other port. Finally, I hardwired in to my home network via the Ethernet port to access my Plex server.
All things considered, the MINIX NEO T5 never left me wanting more while I was testing it…at least from a hardware perspective.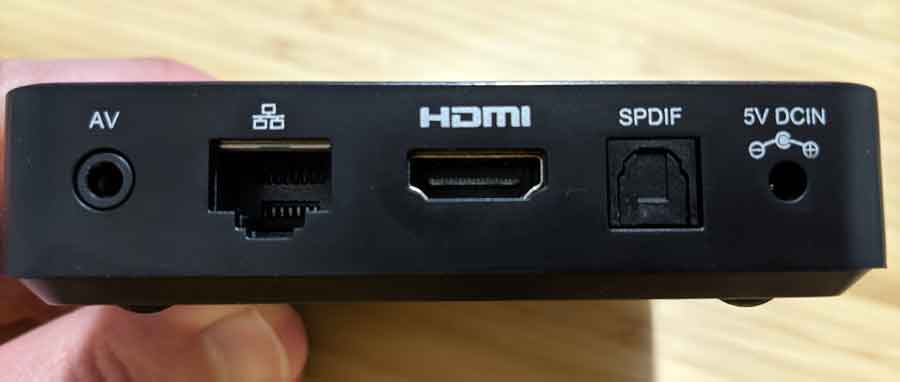 Hardware
CPU: AmLogic S905X2, Quad Core Cortex A53 Processor (64-bit)
GPU: Mali-G31 MP2
RAM: 2GB DDR3
Storage: 16GB eMMC 5.1 Storage
802.11ac 2 x 2 MIMO Dual-Band Wi-Fi
Bluetooth 4.2
Software
Dimensions
Ports
HDMI™ 2.1 (4K @ 60Hz)
Optical SPDIF
3.5mm audio jack
RJ-45 Gigabit Ethernet
Micro SD card reader
USB 3.0 port x 1
USB 2.0 port x 1
---
First Impressions
I love MINIX Android boxes, if for no other reason than they really get the unboxing experience right. Right from the first time you open the box, everything screams that this is a high-quality streaming device.
The packaging is top-notch, full of glossy color images on a heavy cardboard box. They keep up that level of quality when you open the box. The NEO T5 box itself is presented in a textured cardboard cradle, with a full color setup manual sitting underneath.
Included in the box is the remote control, batteries, HDMI cable and a power adapter with several different plugs, depending on what region of the world you live in.
In general, setting up an Android TV device is super-easy, and the MINIX NEO T5 is no exception. You have the option to go through the process manually, or to link to your Android smartphone or tablet to make the process easier.
From the time you open the box through the first time you plug it in, MINIX gives a great first impression.
---
MINIX NEO T5: Remote Control
…and then you pick up the remote control.
In all seriousness, MINIX has some of the worst stock remote controls I've ever used. I can understand trying to push customers into their premium air mouse remotes like the A2 Lite and A3, but this is almost unusable.
And that's not just me saying it. Team Kodi's official recommendation is to skip MINIX remotes "unless you want to get really annoyed with broken functionality."
The stock remote is small and light, which is a good start. But the buttons are laid out in a really uncomfortable configuration.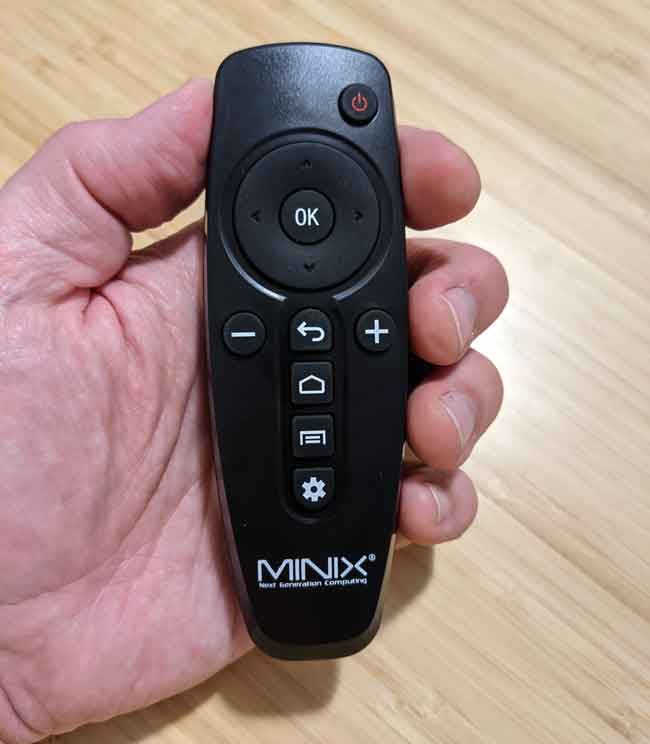 For example, the Back button is in the center row, directly underneath the circular D-pad. Immediately to the left is the Volume Down button – exactly where the Back button should be.
I lost track of how many times I tried to exit out of an app or video and ended up decreasing the volume instead.
The D-pad is adequate, but it has a cheap feel to it. When navigating around the screen, I regularly had to press a button several times before it would register the click.
The other buttons were placed more or less where you'd expect them. But like the D-pad, they felt cheap when you press them. Finally, with no backlight, there's no way to distinguish between one button and another in a dark room.
If I had to pick a weak spot for the entire device, it would definitely be the stock remote control.
---
MINIX NEO T5: User Experience
Unlike every other MINIX device, the NEO T5 runs on the official Android TV operating system. That means the interface should be very familiar to anyone who's used other Android TV devices like the Mi Box S or NVIDIA Shield TV.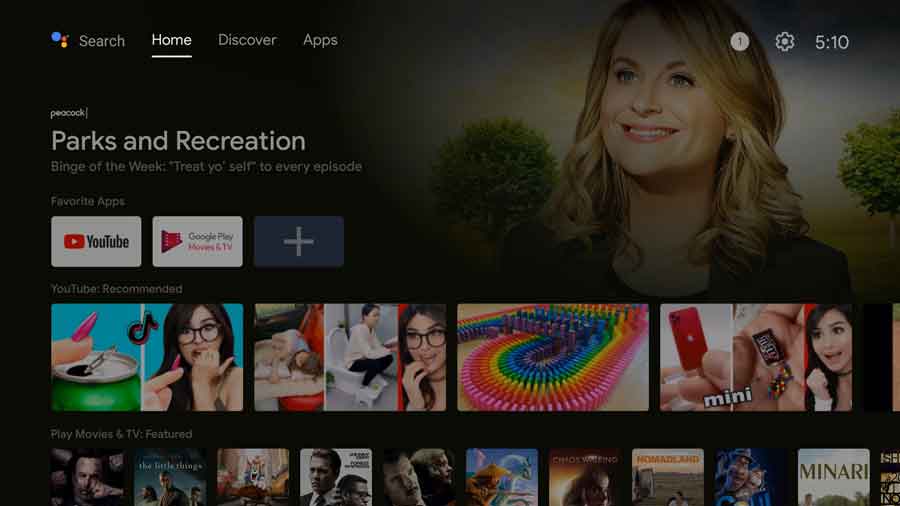 There are a couple of personalization enhancements that started with the new Google Chromecast as well.
The channel rows, while still customizable, put recommendations front and center. On my setup, I have recommended videos from YouTube and Plex as well as the "Play Next" channel which looks at your most recent played videos across your apps and services.
The home screen looks busier than previous versions of Android TV. To me, it's more about the shift from focusing on individual apps, to personalized content across all apps.
---
MINIX NEO T5: Video Performance
After using the MINIX NEO T5 for a few days, I wanted to run some more tests in order to get a better idea how it performed.
For both Plex and Kodi, I played several movie and music files from my personal library. Both run from a Windows 10 server, hardwired via Ethernet. For YouTube, Netflix and Amazon Prime Video, I tested HD and 4K video, and looked for dropped frames, stuttering and resolution.
My home network uses a Ubiquiti US-8-150W gigabit Ethernet switch and a UAP-AC-PRO-US wireless access point. It may be overkill, but it's designed to have far more capacity than I could ever use. That way, if there's any performance hits, I should be able to rule out the network itself.
YouTube
YouTube was flawless – even at 4K. To be honest, YouTube video playback on the MINIX was so good, I had to make sure that I was hooked up to the NEO T5 and not my NVIDIA Shield.
That's high praise, coming from me.
Not only did I get full 4K resolution, but there was almost no "ramp-up" time to get there. You've probably been watching a video that starts out a little grainy but then sharpens up a few seconds later.
That didn't happen with the NEO T5. Not even once. As soon as the video started, Stats for Nerds verified that the video was playing at the optimal resolution.
That's all you can ask for, really.
Plex
Plex was just as good. My video library is limited in that I don't have any dedicated 4K content. However, all Blu-ray movies are ripped into mkv files, so they're quite large – about 30 GB each. It's enough to put a stress test on most device's wireless adapters.
Except it didn't.
No matter which movie I played, the NEO T5 took it in stride. Playback was flawless and audio was always perfectly in sync. Even fast-forwarding or rewinding to different sections of the movie only took a few seconds.
Kodi
Kodi performance was a bit of a mixed bag, but I'm willing to give the MINIX NEO T5 the benefit of the doubt.
Initially I tried connecting to my media server and play the same video that I did for my Plex performance test. Except when I played the video through Kodi 19, the quality was noticeably worse. The video was grainy and filled with artifacts.
That didn't really make sense to me, so I tried another test.
I loaded a couple of mkv video files on to a flash drive and ran them directly from the USB 3.0 port. This time, they were flawless. The video quality was perfect, right from the start. Skipping ahead or back to a different chapter was effortless.
With the exception of the initial hiccup, this is a great device if you want to use it for Kodi.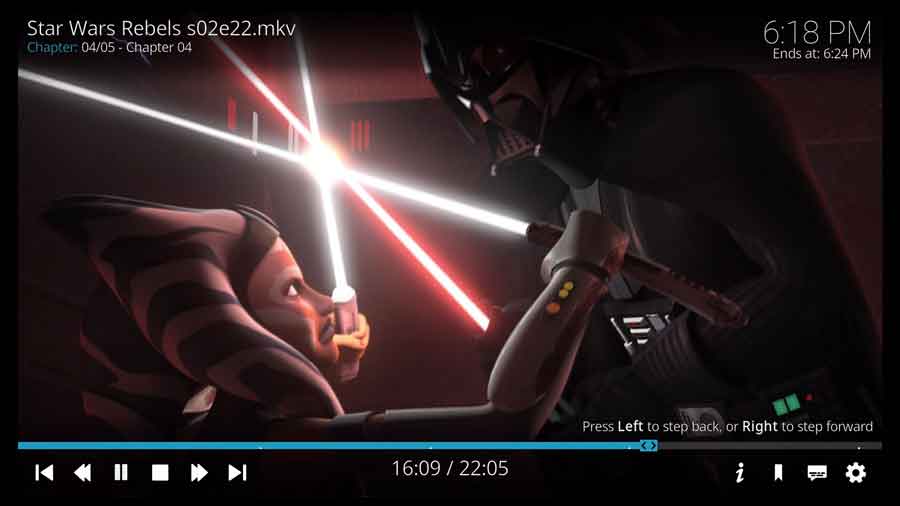 Netflix \ Amazon Prime Video
Unfortunately, both Netflix and Amazon Prime Video aren't available through the Google Play Store. Both will need to be sideloaded if you want to use them on your MINIX NEO T5.
That limits them to SD resolution, which means they get a failing grade in this category.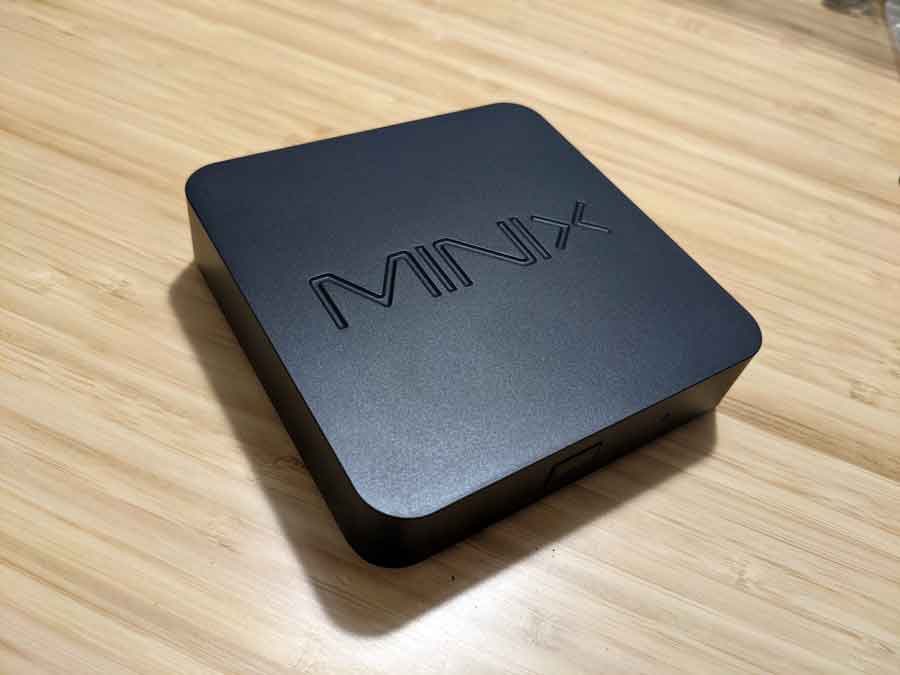 ---
The Verdict: Is the MINIX NEO T5 Worth It?
I've owned many different MINIX devices over the years, and I've always had a great experience with them. The NEO T5 is no exception.
The packaging and design are extremely high-quality, which is an indication of how long the device will last. The user community is top-notch and extremely helpful if you run into difficulty. Finally, MINIX will usually bring out several firmware updates over a device's lifespan.
All this means when you buy a MINIX Android box, you an count on it to last a long time.
That's not to say that the NEO T5 is a perfect device. It has it's flaws – most notably the lack of HD\4K support for Netflix and Amazon Prime Video. I would also highly recommend swapping out the stock remote control to an air mouse as soon as possible. You can check out my favorite air mouse remotes here!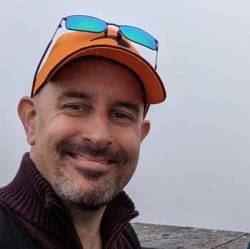 Latest posts by Tim Wells
(see all)