Back in 2015, I bought ten of the most popular air mouse remote controls to see which one was the best for your Android TV.
In fact, you probably skipped over that article when you clicked here. (Thank you by the way!)
Times have changed, though. Only a couple of those remotes are still on sale, so I thought now would be a great time for another Remote Control Roundup.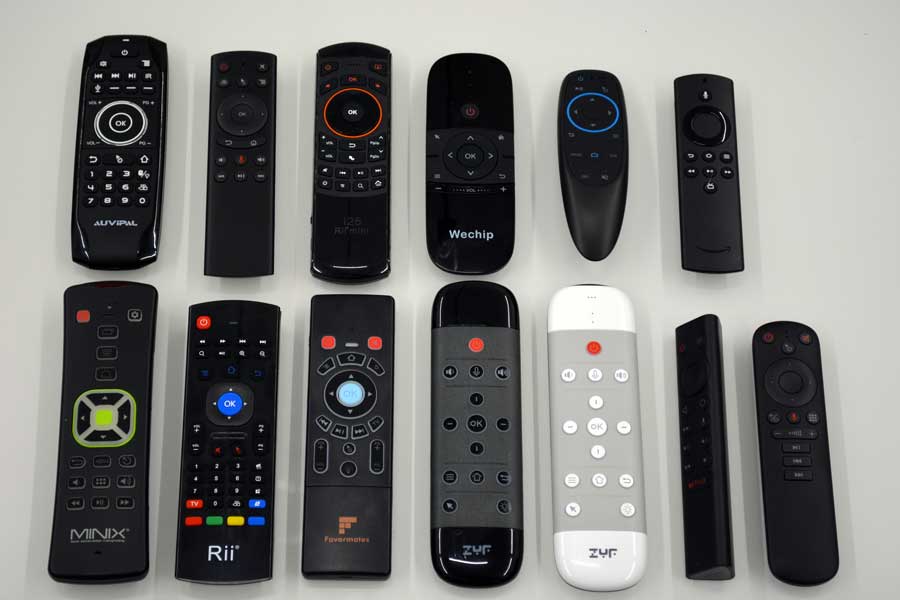 ---
What is an Air Mouse?
An air mouse is a pointing device with a built in gyroscope. Instead of moving a mouse across your desk to move the cursor on screen, the gyroscope senses when you move your hand and moves the mouse cursor in the same direction.
The original versions were designed for computers, but later versions were adapted for streaming devices and Android boxes.
Even high-end streaming devices like the NVIDIA Shield TV have things that you can't do with the stock remote, like browse the Internet with Google Chrome. There's no way to scroll up and down on the page.
Air mouse remote controls are a great (and inexpensive) was to add a lot more functionality to your Android box.
---
How I'm Rating These Remotes
I'll be the first to admit, this is a highly subjective list.
For each remote control, I've tried to explain how it feels to hold and to use. Each has a photo of me holding it in my hand, so you can get an idea of the size.
If there's a keyboard on the back, there's an additional photo so you can see the layout of the keys.
One quick note: if your air mouse has a full QWERTY keyboard, it helps to disable the onscreen keyboard before you use it.
Each airmouse is ranked based on the following criteria:
Overall look & feel
Comfort
Button layout
Keyboard
Quality
Value for the money
With that said, let's get on with the challenge!
---
Best Air Mouse Remote Controls
Best Overall: WeChip W1 Remote Air Mouse
Of all the air mouse remotes that I purchased to test, the WeChip W1 was the one that got me most excited.
And it didn't disappoint.
This is an absolutely beautiful remote control.
The curved casing is made of a glossy black finish with a gentle curve to it so it naturally fits your hand. Contrasting the gloss black is a brushed, satin finish piece housing all of the buttons on the front.
If you look closely, you'll notice that piece is all one button. There's no seams going from one button to the next. That's an attention to detail that I wasn't expecting.
The raised D-pad and indented OK button is a natural fit, cradling your thumb.
The volume buttons are a bit awkward to hit, but their smooth finish keeps you from hitting them when you don't want to.
Finally, the power button is front and center near the top of the remote – exactly where it should be.
The only way I could design it any better is to move the Back and Home buttons over to the left and put the Settings Menu and Airmouse On\Off toggle button over on the right.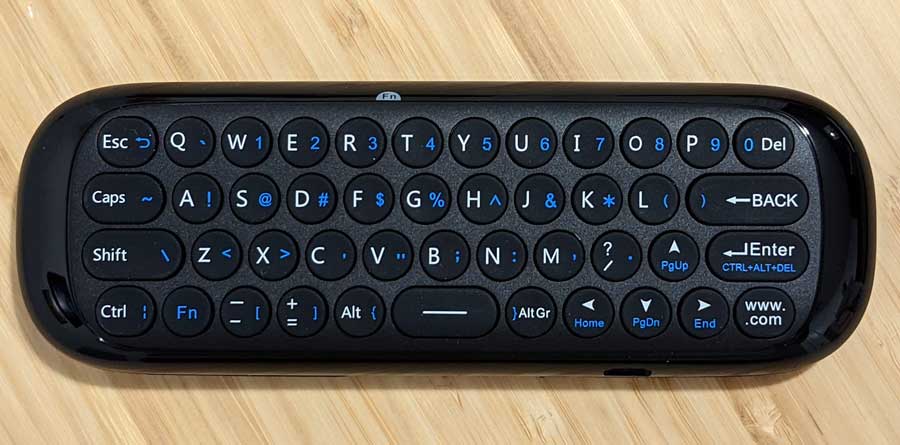 The airmouse movement is silky smooth. There are four levels of speed adjustments that you can configure right from the remote itself.
The keypad on the back takes up most of the width of the WeChip W1. with very little bezel. the keys are slightly indented to make it more comfortable to type.
The entire unit is powered by an internal rechargeable battery which you charge by the included micro-USB cable.
Our Top Pick
WeChip W1 Keyboard Remote Control
Sleek, light and thin, the WeChip W1 air mouse has a polished back finish, a full QWERTY keyboard on the back, and a super-comfortable D-pad on the front.
We earn a commission if you click this link and make a purchase at no additional cost to you.
---
Runner Up: Auvipal G9 Pro+ Wireless Air Mouse
At first glance, the Auvipal G9 Pro+ looks like a very busy air mouse remote. But it's really not.
I'll admit, there are a lot of buttons, but they're all set out more or less where you'd expect them to be.
So you don't need to think too much when you're using it.
You just pick it up and go.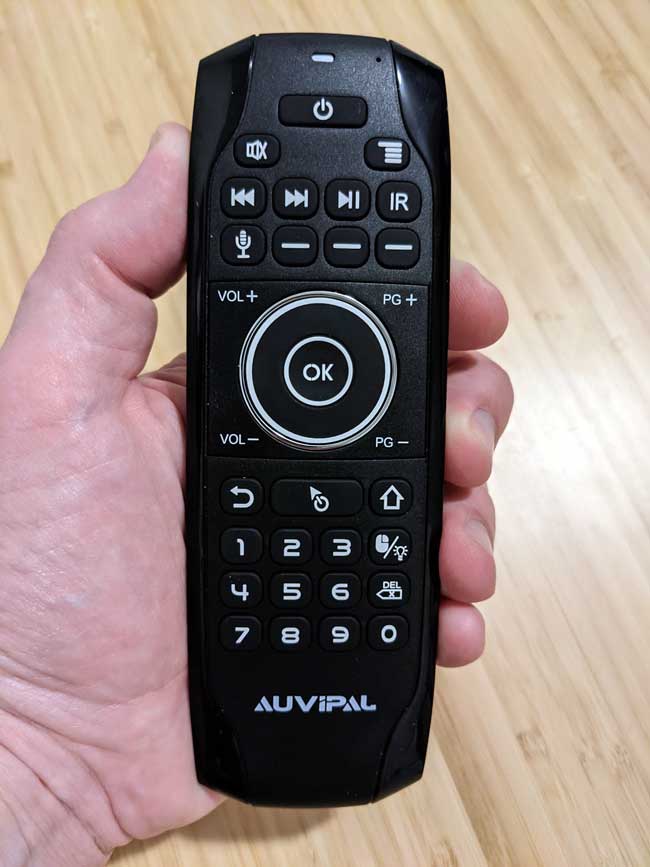 Unlike most of the remotes on this list, this is a learning remote, so you can use it to replace the stock remote control from your television or cable box.
I really like the indented D-pad and OK button. It's almost like a cradle for your thumb when you hold it.
That said, I don't particularly like the overall shape of it.
The Auvipal G9 Pro+ is made from an upper and lower piece, with two glossy-black side panels. Unfortunately, the seam where all the pieces fit together is right underneath where my fingers would naturally sit, meaning it's impossible to hold the remote without feeling that seam.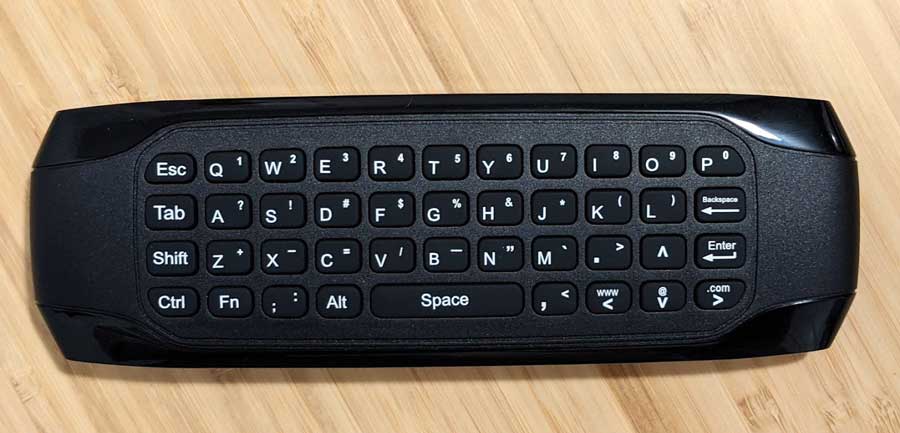 That's one of the few flaws in an otherwise great air mouse, however.
The Back, Home and airmouse On\Off buttons are directly underneath the
D-pad, exactly where they should be. Below that is a full number pad.
While this isn't necessary for your Android TV box, remember this is a learning remote. You're able to directly change the channel on your television, as long as it's paired ahead of time.
Not only that, but there are three programmable learning keys that you can customize however you like.
A really nice touch is the Volume Up & Down and the Page Up & Down buttons. They're not so much buttons as part of the remote's casing itself.
Similar to several other airmouse remotes on this list, you can adjust the sensitivity of the cursor straight from the remote itself.
If you can get past the slightly awkward shape, this is a really excellent air mouse.
Runner-Up
AuviPal G9 Backlit 2.4GHz Wireless Air Mouse
5 programmable keys to control power, channel, volume, and mute.
Backlit QWERTY keyboard.
Built-in air mouse function
200mAh built-in rechargeable cobalt lithium battery
Up to 33 feet control range, IR (Infrared Ray) + RF (Radio Frequency) wireless technology.
We earn a commission if you click this link and make a purchase at no additional cost to you.
---
Best Budget Air Mouse: Youlelin 2.4GHz Wireless Voice Remote
The Youlelin Wireless Voice Remote reminds me of the 2015 and 2017 NVIDIA Shield TV remote, but with a few additions.
It's almost an inch longer and a little thicker, to accommodate two AAA batteries instead of either a rechargeable battery (2015 Shield) or CR2032 batteries (2017 Shield).
It still feels really good. It's one of those remote controls that you could almost forget that you're holding.
The circular D-pad is perfect. It is exactly where you'd naturally rest your thumb and it's raised enough that you won't push it by accident.
The button layout is mostly good, with a few exceptions. There's a single button for both Back and Home. Clicking it once will go back, as you'd expect. Home requires a three second long-push, which is slightly awkward, but not a big deal.
The voice search button is directly underneath the D-pad, so you can get to it easily.
To the right of that is a button that will take you directly to the Settings menu, no matter where you are. Personally, I would have liked to see them have put a dedicated Home button here instead. I'd use that far more often than I would need to go to the Settings menu – especially on Android TV.
The airmouse functionality is seamless. There are even three different sensitivity settings that you can choose, which I thought was a nice touch. The button to switch back and forth between normal and air mouse modes is all the way at the top of the remote, out of the way.
Still, there are a few things that bug me about the Youlelin airmouse.
It's made of smooth ABS plastic, so it slides around easily in your hands. There's also a lot of bend and flex in it, and it lets out an audible creaking sound each time.
There are dedicated volume buttons, which is good. However, the mute button is all the way at the top of the remote – nowhere near the rest of the volume buttons.
They also included three, vertically stacked track advance, rewind and play\pause buttons. I think the design would have been cleaner if these were small, circular buttons and not the wide rectangles. The entire unit could have been a little smaller as well.
Finally, there's no Bluetooth option. This remote needs a small 2.4 GHz USB receiver that'll take up one of your TV box's ports.
Overall, I like the Youlelin Wireless AirMouse, but there are a couple of small annoyances to keep it from being higher on this list.
Value Pick
Youlelin Air Mouse
The Youlelin has a streamlined features that eliminates everything you don't need and leaves you with simply the best air mouse you can get at this price point.
We earn a commission if you click this link and make a purchase at no additional cost to you.
---
Rii K25 Mini Wireless Fly Mouse Keyboard
I have to admit, the Rii K25 Mini wireless air mouse makes a great first impression.
It's a sleek, stylish remote that has a carbon fiber look to the outer case.
Once you pick it up, however, you realize that the case is textured, and not just painted on. Personally, I think that's better because the texture helps the airmouse from sliding around in your hands when you hold it.
It also helps disguise some of the fingerprints that you'll inevitably get on the black finish.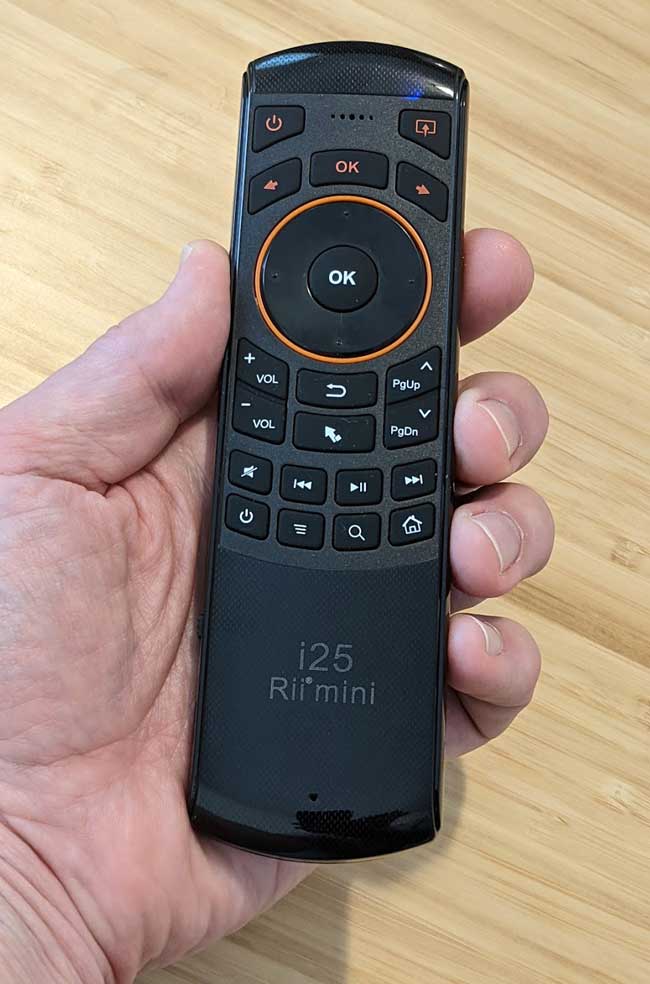 There's no bend or flex in this remote, either. Because this remote is so thin, I was really concerned that it would feel flimsy. That's just not the case.
When you press any of the buttons, there's a nice solid feel. The D-pad is smooth, so it's easily distinguishable from the satin feel of the rest of the buttons.
There is an occasional lag when you press one of the buttons. However, as long as I was pointing the Rii i25 Mini directly at my NVIDIA Shield, it seemed to work much better.
That said, it's worth noting that this is a 2.4 GHz wireless remote. There's no Bluetooth at all. There is an IR port, however, for putting it in learning mode.
In theory, that'll help cut down on the number of remote controls sitting on your coffee table.
The keyboard has a great feel. My one complaint is that the secondary function of each key is written in an orange font that makes it hard to read.
One thing I didn't like about it is there's a manual power switch on the side. According to the instruction manual, there's no auto-off timer.
That's important because the Rii i25 Mini has an internal rechargeable battery. You can charge it from any USB or micro USB port, using the included cable.
The button layout is only OK. There's nothing explicitly wrong, although I do question putting the Home button all the way in the bottom right.
But it doesn't get as high marks as it should here.
There are too many buttons for Android TV – including two power buttons. There's also a left, right and OK button at the top of the remote that I can't tell what they do.
Still, none of these are deal-breakers. This is an excellent airmouse remote control that looks and feels like something that should cost more than it does.
Rii K25 Wireless Fly Mouse
Lightweight and thin, the Rii K25 looks more like a sports--car than a TV remote. Solid feel, despite being one of the lightest air mouse remotes I tested.
We earn a commission if you click this link and make a purchase at no additional cost to you.
---
WeChip G20 Wireless Air Mouse
The WeChip G20 Wireless air mouse feels like a marriage between an Amazon Fire TV remote and the 2015\2017 NVIDIA Shield Remote.
But it works out pretty well.
Let me explain. On the surface, this remote looks like the NVIDIA Shield remote, only with more functionality. Flip it over, and you've got that comfortable curve that the Fire TV remote does so well.
The button placement is really good. I've only got two complaints, and they're really nitpicky. I'll get into those in a minute.
There's a great satin feel to the D-pad and the buttons. It gives enough texture that this airmouse doesn't slip around in your hand, but not so much that you can't switch from one button to another quickly.
Immediately under the circular D-pad is the Back and Home buttons, like you'd expect. One of my minor complaints is that they're slightly curve. It makes them easy to find by touch in a dark room, but they feel a bit awkward to touch.
Underneath those are the volume, voice command and the track advance\rewind buttons. Even though they feel exactly the same as every other button on this remote, they're spaced far enough apart so you can always tell which button you're clicking on.
Above the D-pad is a Delete button, a Settings button and the button to turn the air mouse feature on or off. The Air mouse works well and the speed is configurable to three different levels, straight from the remote itself.
The Delete button acts like a Back button everywhere except when you're typing in a text field. There it simply deletes the last character you typed.
The Settings button pulls up the Settings menu, no matter where you are.
Personally, I'd would have preferred not having the Delete button and the Settings button so the remote could be a bit smaller. However, I have no complaints about this airmouse – particularly at it's price point.
WeChip G20 Voice Remote
A cross between a Fire TV remote and an NVIDIA Shield remote, the WeChip G20 has a smooth, polished texture at a great price-point.
We earn a commission if you click this link and make a purchase at no additional cost to you.
---
Strqua G10BTS Bluetooth Air Mouse
The Strqua G10BTS is one of the smallest airmouse remotes that I tested, and that goes for the instruction manual too. Seriously…the manual is written in four-point font, so bring a magnifying glass.
After several failed attempts to pair this with my NVIDIA Shield TV, I've got to say that this little remote performed pretty well. Definitely better than I was expecting for it's $13 price tag.
This remote is Bluetooth only, so there's no receiver to plug in to your TV box.
It's powered by two AAA batteries, which slide into the back of the device. That gives the Strqua G10BTS a pronounced hump, which is supposed to be ergonomic. Unfortunately, it felt a bit awkward in my hand.
However, if you hold it farther down, almost pistol-grip style, then it becomes much more comfortable. The tradeoff is that its a bit of a stretch to hit the D-pad.
Speaking of the buttons, the layout is perfect. The Back button is down and to the left of the D-pad – exactly where you'd expect it to be. The volume controls and Home button are one row under that.
My one complaint about the buttons is that they have a velvety texture which makes it difficult to tell which button you're pressing unless you're looking right at it.
There's no back-lighting, so finding the correct button in a dimly lit room could be a challenge.
Airmouse functionality is good. The button to turn it on and off is in the upper right-hand corner, so it stays out of the way when you don't need it.
In my opinion, it's well worth the $13 price if you're looking for a basic air mouse remote control.
Strqua G10BTS 6 Axis Air Remote Mouse
The Strqua G10BTS is small and extremely lightweight. It doesn't have lots of bells and whistles, just a minimalist air mouse remote that's easy to use and feels great in your hand.
We earn a commission if you click this link and make a purchase at no additional cost to you.
---
MINIX NEO A2 Lite
MINIX offers two air mouse remotes for Android TV boxes: The NEO A2 Lite and the NEO A3. The only difference between the two is that the NEO A3 adds voice control.
Here, I'll be focusing on the NEO A2 Lite because I'm not a huge fan of voice control on my Android TV boxes.
Both have full QWERTY keyboards on the back of the remote. The keyboard has large, backlit buttons that are easy to type on. You won't be setting any typing speed records, but it's great for typing in email addresses and passwords.
Let's be fair: this remote is HUGE.
Even though this is one of the largest remotes I've tested, it's surprisingly comfortable to hold.
The sides are tapered to naturally conform to your hand as you're holding it. Best of all, that taper pulls the back of your hand away from the keyboard on the back.
You can almost forget that this air mouse even has a keyboard.
Airmouse functionality is good, but not as fluid as some of the other remotes on this list. Keep in mind that it's an older design, so that makes sense.
Button placement is good, but not great.
The D-pad is exactly where you want it to be and forms a natural place to rest your thumb. However, it's so large that you have to awkwardly stretch to reach the Back button and the Air Mouse On\Off button.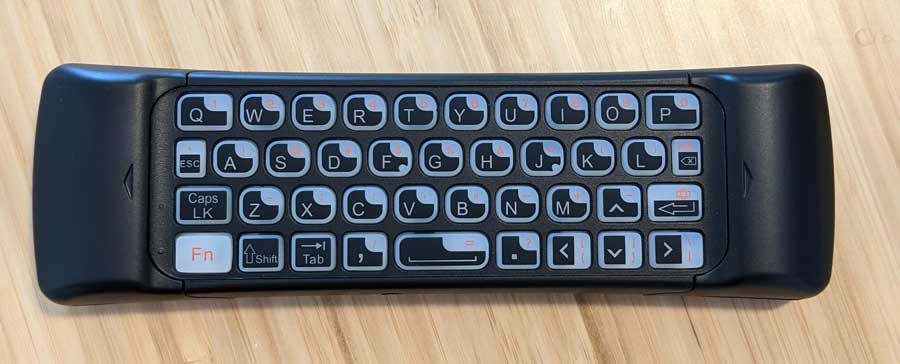 One of the drawbacks to both MINIX airmouse remotes is that they're designed exclusively for MINIX Android boxes. They're not guaranteed to work on any other device.
On the plus side, there are a couple of additional buttons that work best with pure Android media players.
I've been using the MINIX NEO A2 Lite and A3 air mouse remotes for several years on various Android boxes without problems. They're a little pricey, coming in at just under $30, but they're solidly built and will last you a long time.
We earn a commission if you click this link and make a purchase at no additional cost to you.
---
NVIDIA Shield TV Remote
Full disclosure: The 2015 and 2017 NVIDIA Shield remotes were hands-down my favorite remote control designs ever. I think they were beautifully simple and elegant.
Then NVIDIA follows them up with the 2019 NVIDIA Shield remote, so I'll try not to let my utter disdain for this remote come through too much.
Even though there's no airmouse functionality, I'm including it on this list because its a Bluetooth remote that you can pair with other Android TV boxes.
Additionally, you can use apps like Mouse Toggle for Android TV that lets you use your D-pad to control a mouse cursor.
But what I really want to know is who thought a remote control shaped like a triangle would be comfortable?
The 2019 Shield remote feels heavy, even compared to other remotes that use two AAA batteries.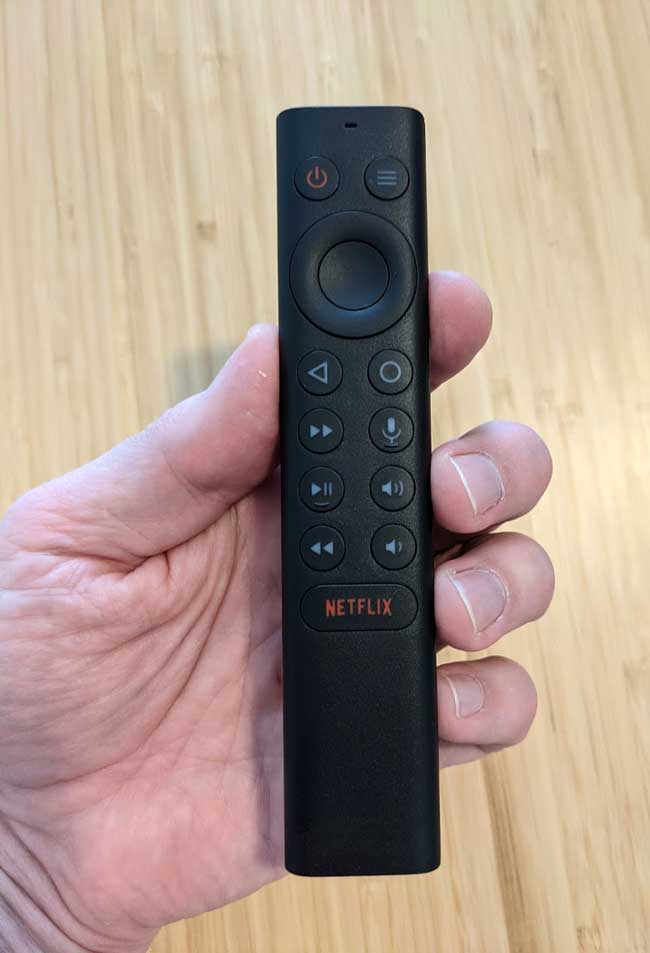 The button layout is OK, but not very intuitive in some places.
For example, underneath the circular D-pad is the Back and Home buttons – as you'd expect. Below those on the left is the Track Advance, Play\Pause and Track Rewind buttons.
If you think about it, it's natural to have Track Rewind be on the left, Track Advance be on the right, with Play\Pause in the middle.
To me, that's not intuitive at all, especially if you switch back and forth between multiple remote controls.
On the right, there's the volume control buttons, which DO make sense. Volume Up is above Volume Down.
The Voice Assistant button is nestled in between the Volume Up button and the Home button. With Google's push to get Voice Assistant on every Android TV device, I would have thought this would be someplace more prominent.
But I guess they saves that prominent location for the dedicated Netflix button. Bleh. But if you want to quickly disable the Netflix button on the NVIDIA Shield remote, click here.
Above the D-pad in the upper-right corner is the Settings button. I feel this would have been a better location for the Voice Assistant button. As I've said a few times already, I don't think most people will use this feature often enough to warrant it's own dedicated button.
All-in-all, I really don't like this remote control. I don't find it comfortable to hold. You can't re-assign the dedicated Netflix button, and I always seem to hit it when I don't want to. What's worse, it's one of the most expensive remotes on this list, with an MSRP of $29.99.
NVIDIA got it right with the 2017 Shield TV remote. This one seems like a huge step backwards.
NVIDIA Shield Remote
Great functionality, but a design that may take some getting used to. This backlit remote has a comfortable D-pad, long battery life and a dedicated Netflix button.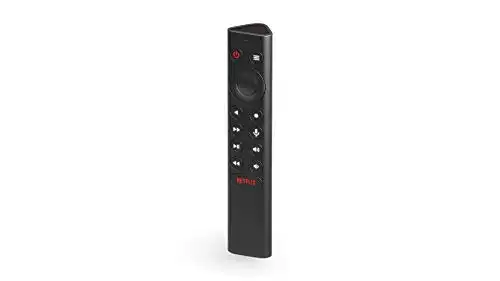 We earn a commission if you click this link and make a purchase at no additional cost to you.
---
ZYF Z10 Air Mouse
If the WeChip W1 was a pleasant surprise, the ZYF Z10 air mouse was a huge disappointment.
I feel like they tried to make a lot of stylistic choices when designing this remote, without an actual designer on staff.
The ZYF Z10 is available in either white or black. No matter which color you choose, the center of the remote is covered in what looks like a grey fabric. Except that it's not a fabric. It's just a separate plastic panel with an almost denim texture.
Moving on to the front buttons, don't bother looking for a D-pad. There isn't one. Only four small arrow buttons framed around a slightly larger OK button.
Then, we have my pet peeve: the Settings menu button is located where the Back button should be.
But let's flip it over and get to the really questionable design.
Remember those awful Microsoft ergonomic keyboards that were split down the middle?
That's exactly what this feels like when you're typing on it. The center is another touch pad, circular this time. I guess, just in case you need to navigate while you're typing?
Each key's secondary function is written in a small, red font, making it ridiculously difficult to read.
Worse yet, the functions aren't where you'd expect them to be on a normal keyboard. For example, the '@' symbol isn't above the '2', it's above the 'S'.
The whole point of having a keypad is to save you time when you're typing in email addresses or passwords. It actually took me longer to enter my email address using this keyboard.
This remote would have scored much higher on this list if it had a a decent keyboard – or even if it skipped the keyboard altogether.
It's not that this was a bad airmouse remote. It wasn't, but I had high expectations for the ZYF Z10 and it just fell far short.
ZYF Z10 Air Mouse - Black
Available in both black and white,this stylish airmouse has a clean, mid-century modern vibe to it. The button layout is good, but the touchpad in the center of the QWERTY keyboard may take some getting used to.
We earn a commission if you click this link and make a purchase at no additional cost to you.
---
Favormates Mini Wireless Keyboard/Air Remote
I'm struggling to figure out why the Favormates Mini wireless keyboard/air remote was so expensive…and why so many people liked it on Amazon reviews.
First, unlike the photo on Amazon, there's a huge, ugly logo taking up space on the lower part of the remote.
It wouldn't be so bad if it wasn't bright orange. Or a sticker. But unfortunately, you're stuck with it, whether you like it or not.
It doesn't get much better from there. The Favormates air mouse is a perfect rectangle. Since our hands are not, that makes this very uncomfortable to hold.
One thing that is as good as advertised is the backlighting. In the stock photos, it gives off a nice warm glow. Although you have to manually turn the backlighting on and off, it's actually very bright and illuminates the keys very well.
There are several different color options. Pressing the backlight button on the bottom-center of the remote will cycle between red, green, blue, yellow, magenta, cyan, white and then off.
One of the complaints I saw most often in the Amazon reviews was that you needs a key press to wake the air mouse up from sleep. According to those reviews, it misses that first key so you need to double-press to make it register.
Fortunately, I didn't run into this with my remote. Even when waking it from sleep mode, it registered my keypress the first time.
The key layout is good, for the most part.
My biggest complaint is that the back button is in the upper right hand corner. Exactly opposite from where you expect it to be.
The Volume up\down and Page Up\Down buttons are slightly pressed into the case, making it difficult to press the bottom half of the button.
Flipping the airmouse over, you'll find the QWERTY keyboard. Unlike all of the other keyboard remotes on this list, the back is split between the keyboard and a touch-pad.
To be honest, the touchpad is a waste of space. It's too small to be useful, but it takes up so much space that the keyboard's keys are uncomfortable to type on.
The texture on the keys is only OK. The sensitivity on the touchpad is hit-or-miss. The backlighting is good, but it would have been better if you didn't have to manually turn it off and on.
All-in-all, the quality isn't what I expected for an air mouse of this price. I think they had some good ideas, but the implementation falls short.
ILEBYGO Air Mouse for Android TV Box
Bulit in durable lithium rechargeable battery
Touchpad mini wireless keyboard
QWERTY mini wireless keyboard with RGB led backlight buttons
2.4GHz wireless Keyboard and mouse Combo, 6-Axis Somatosensory and Infrared remote control.
We earn a commission if you click this link and make a purchase at no additional cost to you.
---
Rii MX3 Air Mouse Remote
If you ever find yourself missing those big, bulky remote controls of the 1980's, then I've got a treat for you.
The Rii MX3 Wireless Air Mouse Remote reminds me of those bygone days with it's glossy black finish and brightly colored buttons.
I could have excused the dubious design choices if I felt like this was a quality remote. But sadly, I got the opposite impression.
Every time I pressed a button, I half-expected to break it in half.
For example, when you press the D-pad, the entire assembly moves – including the OK button.
It's not like you can mash the buttons either. The area with the arrows that you're supposed to press is so thin, that your thumb will inevitably hit the OK button as well as the directional arrow.
Button placement is awkward, at best.
The Back button is above the D-pad and to the right – exactly opposite of where it should be. The Home button is above center with the Settings button above and to the left of the D-pad.
Below the D-pad are the Volume Up and Down buttons and the Page Up and Down buttons. Page Up and Page Down are useful when you're scrolling through a web page on your Android internet browser. It gives you the option to navigate the page without turning on the air mouse mode.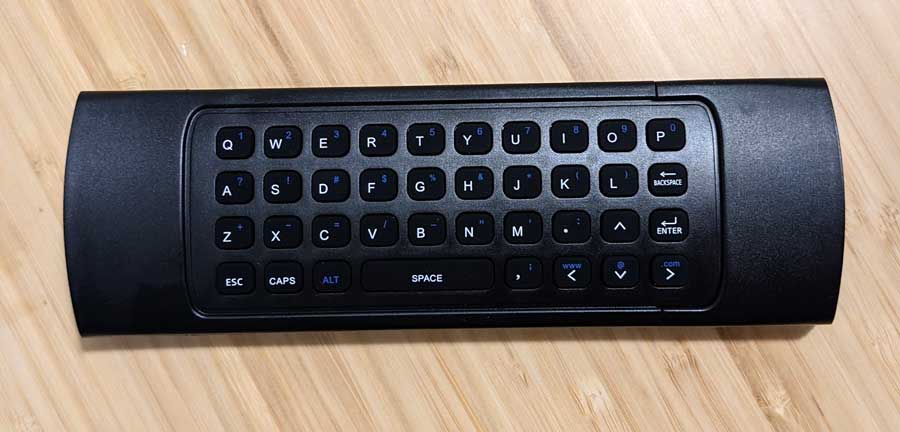 Speaking of the airmouse. It feels jumpy on the Rii MX3.
Sometimes I'd make subtle movements and nothing would happen and other times my mouse pointer would end up on the other side of the screen.
There didn't seem to be a rhyme or reason to it.
Finally, I didn't like the way the Rii MX3 airmouse felt in my hand. There was no effort to make it ergonomic. It looks exactly like it feels – a rectangular brick. Worse yet, I could always feel the keyboard on the back.
Even though this is one of the cheaper air mouse remotes on this list, I recommend you go with one of the other options instead.
We earn a commission if you click this link and make a purchase at no additional cost to you.
---