For years, Kodi has been one of the most popular media centers. But until fairly recently, you couldn't install Kodi on Android TV without jumping through a lot of hoops.
Thankfully, these days, it's much easier to download and install Kodi on devices running the official Android TV operating system. In most cases, you should be able to install it right from the Google Play Store.
However, that won't work all the time, so we're going to talk about a few other ways to install Kodi if that's not an option on your particular Android TV device.
After showing you each method step-by-step, I'll also cover how to keep Kodi updated automatically. That way, you'll never have to worry about whether you have the latest version of Kodi or not.
One quick note before we get started. If you have a Sony Bravia Android TV, there are a few quirks to installing Kodi. I've written a tutorial specifically for Sony Bravia TV's that you should follow instead.
Ready?
Let's get started.
---
Install Kodi from Android TV Google Play Store
The first place you should check to install Kodi on your Android TV device is the Google Play Store itself.
Over the years, Google and Amazon have had a love-hate relationship with Kodi. Each has removed it from their app stores several times over the years for legitimate (or perceived) grievances.
Amazon pulled Kodi back in 2015 for 'facilitating piracy" while Google pulled Kodi out of the Play Store in early-2020 as part of a copyright claim. At one point, Google even de-indexed the downloads page on Kodi's official website.
To open the Google Play Store on your Android TV, go to your home screen and click on the red Apps icon on the left-hand side.
That opens your app tray, which lists every app that's installed on your device, except for the apps that you had to sideload manually.
To open the Google Play Store, click the icon that says Get more apps.
Once the Google Play Store is open, click on the magnifying glass icon in the upper-right hand corner to open the Search tab.
From here, you can either type or speak 'Kodi.'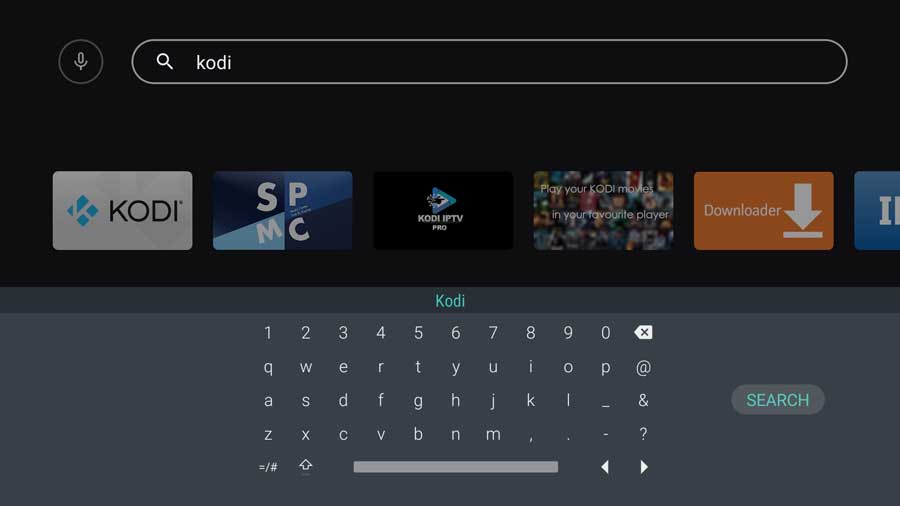 The official Kodi app should be the first app that's returned in the search.
Note: Kodi is developed and maintained by the XBMC Foundation. That means that you won't see Kodi (or anything similar) listed as the developer. XBMC, which stood for X-Box Media Center, was the previous name of Kodi up until August 2014.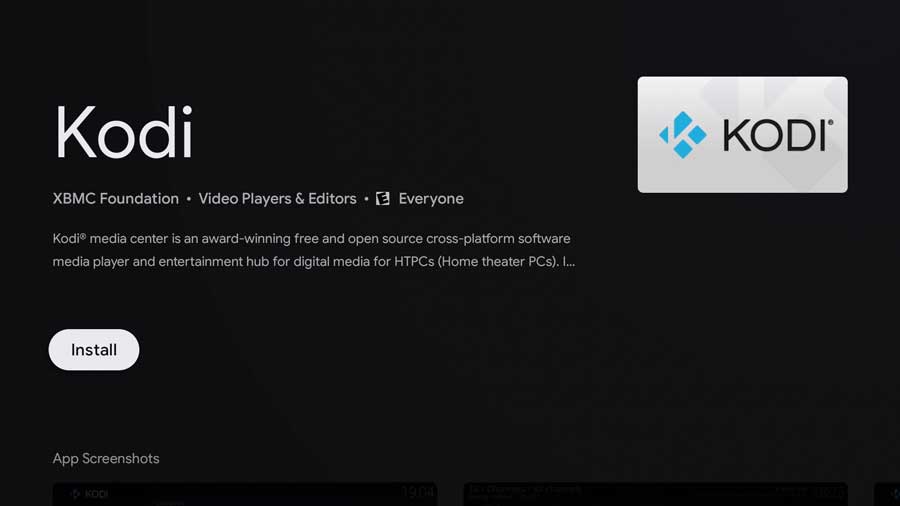 Once you've found the official Kodi app for Android TV, you can click on the Install button to start the download.
Once it's installed, you can open Kodi directly from here or exit back to your home screen.
---
Install Kodi from Aptoide TV Android App Store
If the Google Play Store isn't an option, or you just prefer using 3rd-party app stores, the next easiest place to install Kodi is through Aptoide TV.
Aptoide TV has thousands of different free apps available that are designed for Android TV's and TV boxes. If you haven't already downloaded it on your device, you can follow this tutorial to help you get started.
Once you've opened up the Aptoide TV app, click on the magnifying glass icon in the upper left-hand corner of the screen to open the Search tab.
From here, you can search for a particular Kodi version, which is useful if your device runs an older version of Android.
Otherwise, I recommend simply searching for Kodi.
As before, the official Kodi app will be the first icon that comes back in the search results.
Clicking on the first icon will open up the app's info page, where you'll be able to download and install Kodi directly, or open the app if it's already installed on the system.
---
Download Official Kodi APK
If installing Kodi from either the Google Play Store or Aptoide TV isn't an option, the fallback option is to download the Android APK directly from their website.
YYou can download it either from the AFTVNews Downloader app, or through your favorite Android TV web browser.
Open the Downloader app and go directly to the Home tab. From here, you can either search for 'Kodi' or go directly to https://kodi.tv/download.
Personally, now that Google Search is integrated into the Downloader app, it's much easier to find what you're looking for. This is the option I chose.
In my case, the first search result was the official Kodi APK for Fire TV and Android TV. If this comes up in your search, click on this result and the download should begin after a few seconds.
If that page doesn't show up in your search results, you can navigate to the official Kodi.tv website, as shown below.
Once you're on the Kodi website, scroll down until you see the Download section and click on the Android icon.
From here, you can download the current release (in this case Kodi v18.8), or you can choose to download one of the pre-release builds or development builds.
Pre-release and development builds are a great way to test out new features. Keep in mind that there may be some bugs in the program that haven't been worked out yet. It's best to only use the recommended build on your main media center.
If you want more details on how to install the AFTVNews Downloader app, check out my full tutorial here.
---
Kodi Settings: Enable Automatic Updates
When you open Kodi for the first time, you'll go through a special setup process. This process will ask you to confirm permissions for the app, like access to your device's internal storage.
From here, you'll also want to enable some additional settings to help keep Kodi updated and running smoothly.
From anywhere in the Kodi interface, click on the gear icon on the left-side menu. This will jump you to the Settings menu.
Fur the purposes of this article, we're only going to touch on a couple of settings to change. We'll get into recommended Kodi settings in another article.
Once you're on the System\Settings tab, scroll down to the bottom right-hand of the screen and click on the System icon.
On the next tab, scroll down to the Add-ons section.
The official Kodi development team has publicly stressed how important it is to keep both Kodi and all of the different add-ons updated. Most of the vulnerabilities and security risks on our devices are because our software is out-of-date.
We're going to take care of that in our Kodi installation right now, so your Android TV will be as secure as possible.
By default, Kodi is set to Install Updates Automatically. If your device is set to "Notify, but don't install updates" or "Never check for updates", change that now.
I also like to turn on Show Notifications so Kodi will tell me when it's installing an update. By doing this, a message will scroll along the bottom of the screen. to alert you.
The third option on this menu is to enable installing add-ons from unknown sources. If you're conscious about security, you'll want to leave this disabled. However, it will definitely limit the add-ons that you can install.
By enabling this, you'll only be able to install add-ons that Kodi has vetted and given their blessing to.
---
Auto-Update Google Play Store Apps
We've set all of our add-ons to automatically update, but what about Kodi itself?
We can actually take care of that within the Google Play Store as well. Obviously, this won't work if you've downloaded one of the pre-release or development builds of Kodi on your Android TV.
However, auto-enabling apps is a great way to make sure that you've got the latest versions at all time.
From inside the Google Play Store, click on the gear icon in the upper right-hand corner to open the Settings menu.
There are only a couple of options available to you. The one we're looking for is labeled Auto-Update Apps. Click on this and then enable it on the next menu.
If you'd rather update Kodi manually, you can follow this step-by-step guide that will walk you through the process.
---
Conclusion
Installing Kodi on your Android TV or TV box is super-easy. Getting it set up the way you like it takes a little more effort.
Keep on the lookout for our detailed guide for setting up Kodi where I'll go through adding music and videos to your library, installing add-ons and setting up network drives.
Check out my roundup post where I share my favorite Android TV apps that nobody's talking about. These are essential apps that every Android TV should have, so I highly recommend reading that next.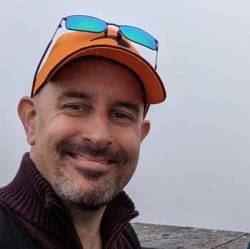 Latest posts by Tim Wells
(see all)