For years, Kodi has been one of the most popular media centers. But until fairly recently, you couldn't install Kodi on Android TV without jumping through a lot of hoops.
Thankfully, these days, it's much easier to download and install Kodi on devices running the official Android TV operating system. In most cases, you should be able to install it right from the Google Play Store.
However, that won't work all the time, so we're going to talk about a few other ways to install Kodi if that's not an option on your particular Android TV device.
First things first, it's essential to distinguish between Android TV and Stock Android operating systems. While they both stem from Google's Android, Android TV is a specialized version designed for use with televisions and digital media players. On the other hand, pure Android is the most 'vanilla' version of Android you can get, devoid of modifications often done by manufacturers.
Popular Android TV devices include Nvidia Shield, Mi Box, and Google Chromecast with Google TV. Some common stock Android devices include the Minix Neo U9-H and Beelink GT-King.
Note: If you have a Sony Bravia Android TV, there are a few quirks to installing Kodi. I've written a tutorial specifically for Sony Bravia TV's that you should follow instead.
Ready?
Let's get started.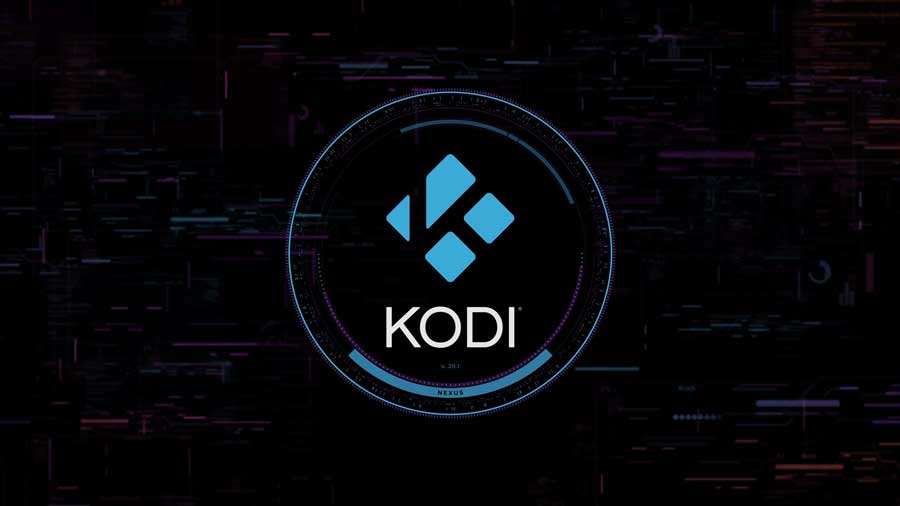 ---
How to Install Kodi 20.2 from Android TV Google Play Store
The Google Play Store is the first place you should check to install Kodi on your Android TV device.
Over the years, Google and Amazon have had a love-hate relationship with Kodi. Each has removed it from their app stores several times for legitimate (or perceived) grievances.
Amazon pulled Kodi back in 2015 for 'facilitating piracy," while Google pulled Kodi out of the Play Store in early-2020 as part of a copyright claim. At one point, Google de-indexed the downloads page on Kodi's official website.
In this tutorial, I'll be installing Kodi on my NVIDIA Shield TV. However, the same process will work for any Android TV or Google TV device – including Android boxes.
To open the Google Play Store on your Android TV\Google TV, go to the apps tab at the top of your screen. Then, click the button that says "Open the Google Play store."
You can also get to it by clicking on the Google Play Store icon in the list below.
Once the Google Play Store is open, click the magnifying glass icon in the upper-right-hand corner to open the Search tab.
The official Kodi app should be the first app returned in the search.
Note: Kodi is developed and maintained by the XBMC Foundation. That means you won't see Kodi (or anything similar) listed as the developer. XBMC, which stood for X-Box Media Center, was the previous name of Kodi up until August 2014.
Once you find the Kodi app, you can click Install from this screen, or click on More Info to go to the app detail page.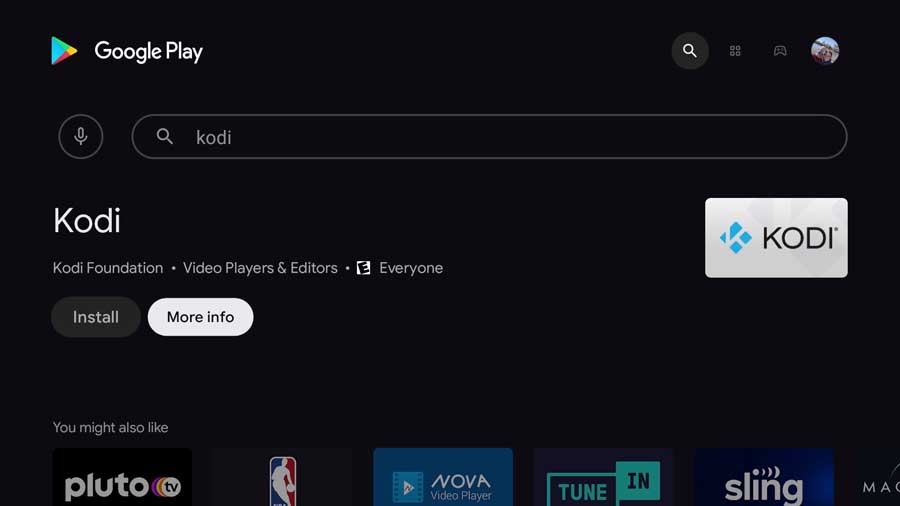 On the app detail page, you can see a description of the app, screenshots, and version information.
Click on the Install button to start the download.
Once installed, you can open Kodi directly from here or return to your home screen.
---
How to Download Official Kodi 20.2 APK
If installing Kodi from either the Google Play Store or Aptoide TV isn't an option, downloading the Android APK directly from their website is the next-best option.
You can download it from the AFTVNews Downloader app or your favorite Android TV web browser. Check out my full tutorial here for more details on installing the AFTVNews Downloader app.
Open the Downloader app and go directly to the Home tab.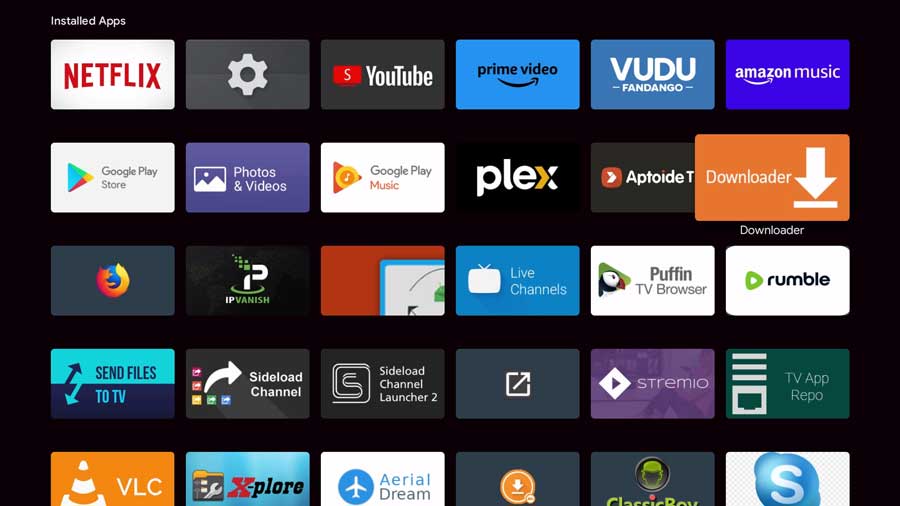 In the center of the screen, you'll find a box where you can Enter a URL or Search Term.
Search for 'Kodi.tv'.
That will take you directly to Kodi's official website.
Once on the Kodi website, click on the menu in the upper right-hand corner.
Then, click Download.
Scroll down until you see the Download section and click on the Android icon.
From here, you can download the current release or choose to download one of the pre-release or development builds.
Pre-release and development builds are a great way to test out new features. Remember that some bugs in the program may haven't been worked out yet. It's best to only use the recommended build on your main media center.
Click on the Recommended tab if it isn't selected already.
Which version do you install?
Great question.
Android versions exist in two forms: 32bit and 64bit. It's the job of the device maker to choose which one to use. The vast majority of Android devices out there, about 90%, use the 32-bit version of Android, ARMv7a. Only a few high-end devices, like top-tier smartphones and premium media streamers like the NVIDIA Shield, use the 64-bit version, ARMv8a.
So here's the key takeaway: even if your device's processor (CPU) is 64bit, if your Android operating system is 32bit, you'll need to install the software version designed for ARMv7a (32bit).
Since I'm installing Kodi on my NVIDIA Shield, I'm using the ARMv8a version. You may be using the ARMv7a version.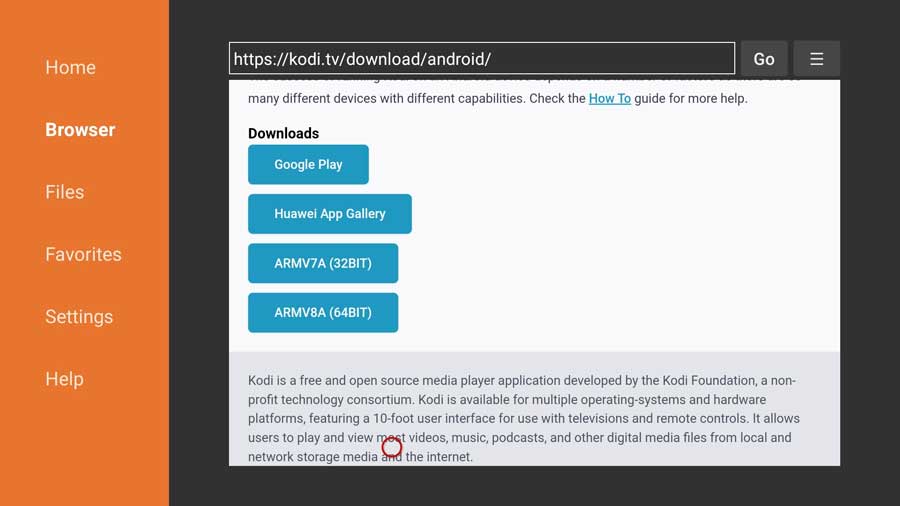 The download process will start immediately.
Once it finishes downloading, click Install to continue.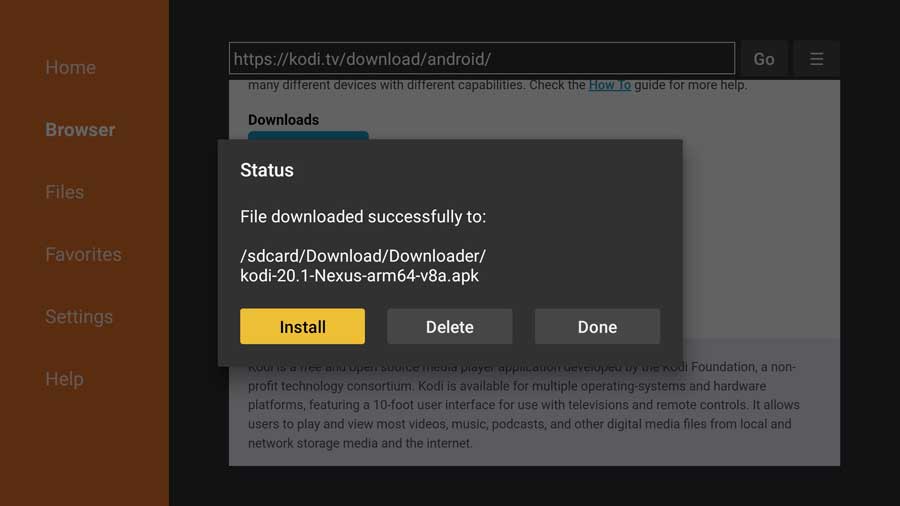 A small pop-up window will appear. Click Install again.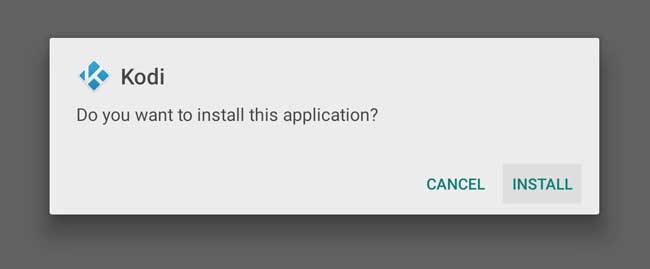 Once the installation finishes, you can click Done or Open Kodi right from this screen.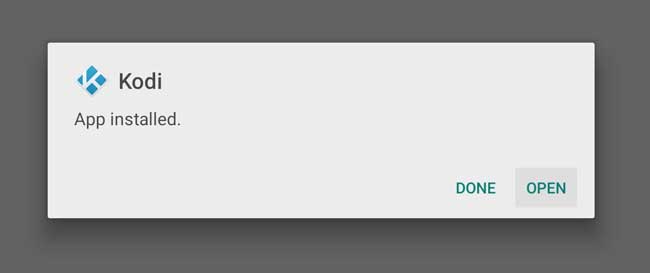 ---
Running Kodi for the First Time: Completing Setup
If you didn't launch Kodi immediately from the installation process, you could find the icon in the Apps tab of your Android TV device.
When you launch Kodi for the first time, you'll need to give it certain permissions so it has access to your device.
Click Continue.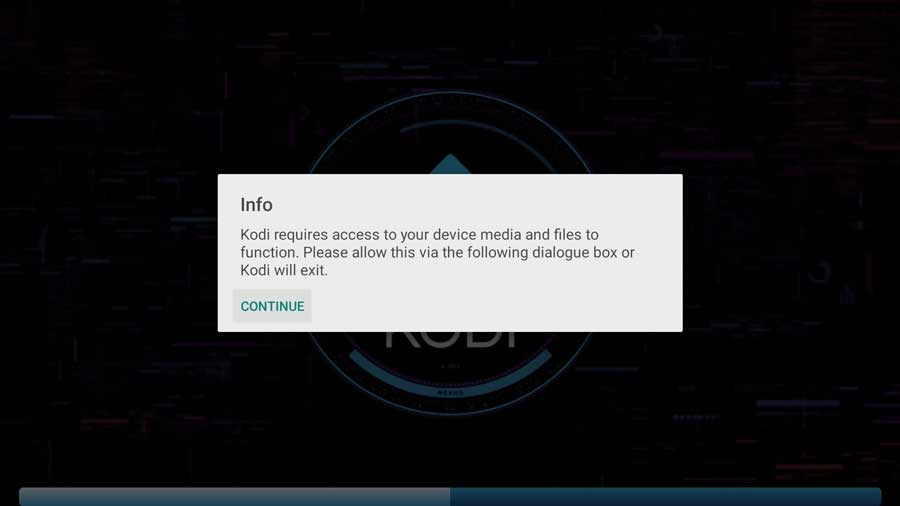 The first permission request is for Kodi to record audio. By giving Kodi this permission, you can enable voice commands like searching for content, play\pause, and volume controls.
Click While Using the App to continue.
Next, Kodi requests access to photos and media on your device. Kodi is a media player, so it needs this to find TV shows and movies on your device and play them.
Click Allow to continue.
Next, Kodi displays a message telling you its Preparing for first run. Please wait…
After a few seconds, you're taken to the main menu.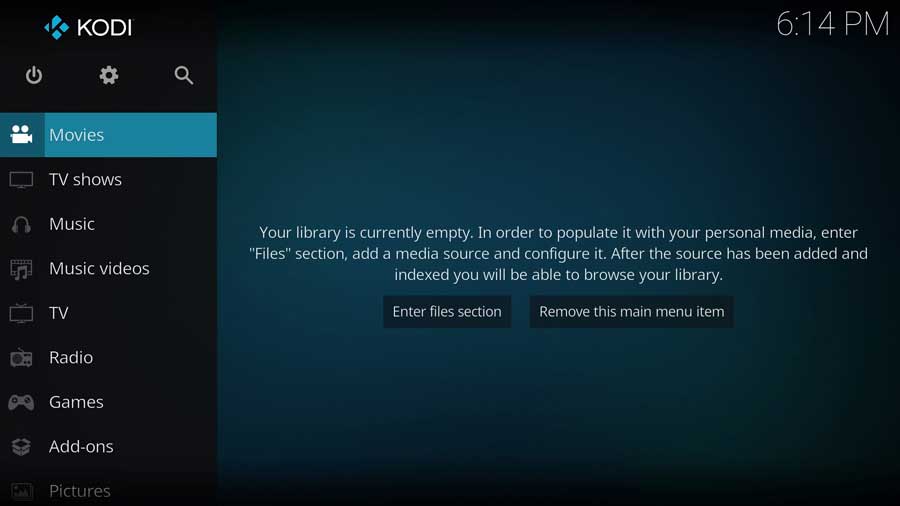 ---
FAQ
What devices can run Kodi?
Kodi can run on a wide range of devices, including Android TVs, Android boxes, Amazon Fire TV Stick, PCs (Windows, macOS, Linux), Raspberry Pi, iOS devices (via jailbreaking), and Xbox One.
What are the minimum requirements for Kodi?
To run Kodi, your device needs at least 1GB RAM, a dual-core (2.0GHz) processor, and graphics hardware controller with OpenGL 2.0 support. You also need Android 5.0 or higher, iOS 6.0 or higher, or Windows 7 or higher.
Can I use Kodi without the internet?
Yes, Kodi can be used offline to play local media files stored on your device or connected drives.
Can I use Kodi to play local files from my device?
Yes, Kodi can play audio and video files stored locally on your device. It supports a wide range of media formats.
Can I use a VPN with Kodi?
Yes, using a VPN with Kodi is possible and can provide enhanced privacy and potentially access to a wider range of content.
How do I install fully loaded Kodi on Firestick?
To install fully loaded Kodi on Firestick, you first need to install Kodi, then install addons or a build that includes a variety of pre-installed addons.
What is fully-loaded Kodi?
A fully loaded Kodi refers to a Kodi setup that comes pre-packaged with various addons or a build, which enhances the functionality of Kodi by providing access to a wide range of content.
Is Kodi legal to use?
Yes, Kodi is legal to use. However, some addons may provide access to copyrighted content, which could be illegal depending on your local laws.
How much does Kodi cost per month?
Kodi is completely free to use. There are no monthly costs involved.
What are Kodi addons and how do I install them?
Kodi addons are like apps for Kodi, extending its functionality. To install them, you need to go to the 'Addons' section in Kodi, select 'Install from Repository' or 'Install from Zip file' (if you've downloaded the addon), and then follow the prompts. You can find my list of the best Kodi addons here.
What addons do you need for Kodi?
The addons you need depend on what you want to use Kodi for. Some popular choices include Exodus Redux and The Magic Dragon for movies and TV shows, YouTube for video content, and TuneIn Radio for music.
---
Wrapping It Up
Installing Kodi on your Android TV or TV box is super-easy. It takes a bit more effort to get it set up the way you like it.
Keep on the lookout for our detailed guide for setting up Kodi where I'll go through adding music and videos to your library, installing add-ons and setting up network drives.
Check out my roundup post where I share my favorite Android TV apps that nobody's talking about. These are essential apps that every Android TV should have, so I highly recommend reading that next.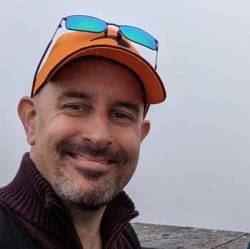 Latest posts by Tim Wells
(see all)