Today we're going to take a look at one of my favorite Kodi addons: Exodus Redux.
I'm going to walk you through what it does, how to install it on Kodi, and some of the most frequently asked questions surrounding Exodus Redux.
Exodus Redux is one of the best Kodi addons I've found in 2022. Check out the rest of the list after you're finished here!
First, let's give a (very) brief overview on Kodi, if you're new to the media center.
---
Overview of Kodi
Kodi is an all-in-one media player you may already be familiar with or may want to start using if you have a smart TV. You can store all of your favorite movies, television shows, music, games, and even pictures in one place. It looks fantastic and is incredibly easy to use.
When it comes to installing various add-ons in Kodi, it's just as easy to do as using the entertainment center. You can search through the different add-on options available based on the version of Kodi you're running via their app store.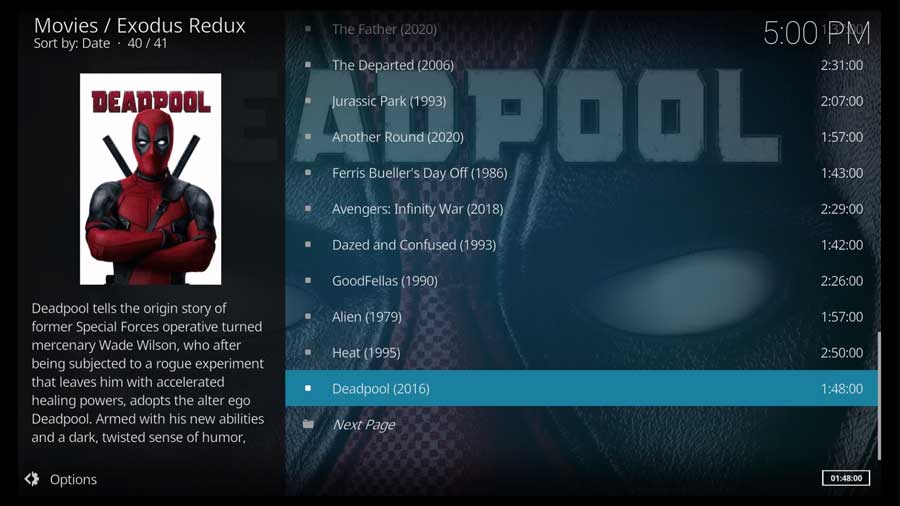 ---
Overview of Exodus Redux Kodi Add-on
Most Kodi users use add-ons for the entertainment platform. They have a tab where you can look at all the most popular add-ons for the platform when you visit the Kodi website.
Exodus is a well-known and pretty popular add-on for Kodi. It gives users access to an extensive library of movies and TV shows.
Recently, the developers at Exodus released a new version of the add-on, known as Exodus Redux after abandoning their previous version.
Exodus Redux is a streaming add-on that you can use via the Kodi platform to watch almost anything you want. It provides users with fast and reliable streaming of newer movies and TV shows as well as some popular older ones.
When you install the Exodus Redux Kodi add-on, you'll have access to hundreds of verified links that allow you to stream movies and TV shows directly on your TV.
Whether you're running the Kodi Matrix or Kodi Leia, you shouldn't have an issue with installing the Exodus Redux add-on.
Keep in mind that when you're searching for the Exodus Redux add-on, you won't find it while searching through Kodi's add-on library.
It's a third-party add-on.
DON'T MAKE THIS MISTAKE!
Your ISP knows more about you than you think!
Your IP address is your online fingerprint. It logs everything you do online and is visible to your Internet Service Provider, the apps & addons you use, and even the government.
Currently, your IP Address 3.225.221.130 in Ashburn is visible to everyone.
Kodi Builds & Addons offer unlimited free streaming content, but there are risks.
Stream safely with NordVPN.
The Best VPN hides your identity and bypasses geo-blocked content and government surveillance while letting you stream your favorite movies buffer-free.
I've tested all the major VPNs on Android TV boxes and recommend NordVPN. It's the fastest VPN for streaming and gives you access to the most geo-blocked content!
SAVE 68% ON NordVPN + GET 3 FREE MONTHS
Try it risk-free for 30-days on up to six Internet-connected devices at the same time.
---
How to Install Exodus Redux Kodi Addon
Hopefully that's given you an idea of just how much I like this addon. In this section, I'm going to walk you through how to install the Exodus Redux addon on your Kodi device.
Important Note: For version 19 (Matrix), Team Kodi upgraded the programming language they used to Python 3, which subsequently broke many popular addons who were built on Python 2. As a result, Exodus Redux will not run properly on Kodi 19! You can still use it on previous versions of Kodi, however.
For the purposes of this tutorial, I'm using a clean installation of Kodi 18.9 Leia. I haven't installed any other addons or even set up my media libraries. That should make it as easy to follow as possible.
Step 1: Enable Addons from Unknown Sources
By default, Kodi only includes access to the official Kodi repository.
These are a select few addons that are vetted and maintained by Team Kodi. They give you access to change the look & feel, add new video sources, backgrounds and some really useful utilities.
However, the most popular Kodi addons come from third-party developers. In order to install them, you'll need to change a setting which enables addons from unknown sources.
To get started, go to the Settings Menu and click on the System icon in the bottom right-hand corner.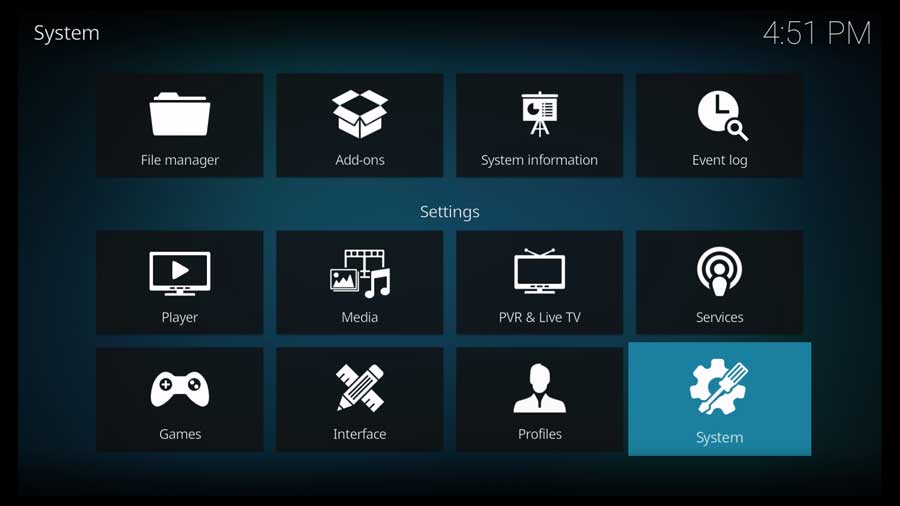 Next, scroll down to the Add-ons section and click on Unknown Sources.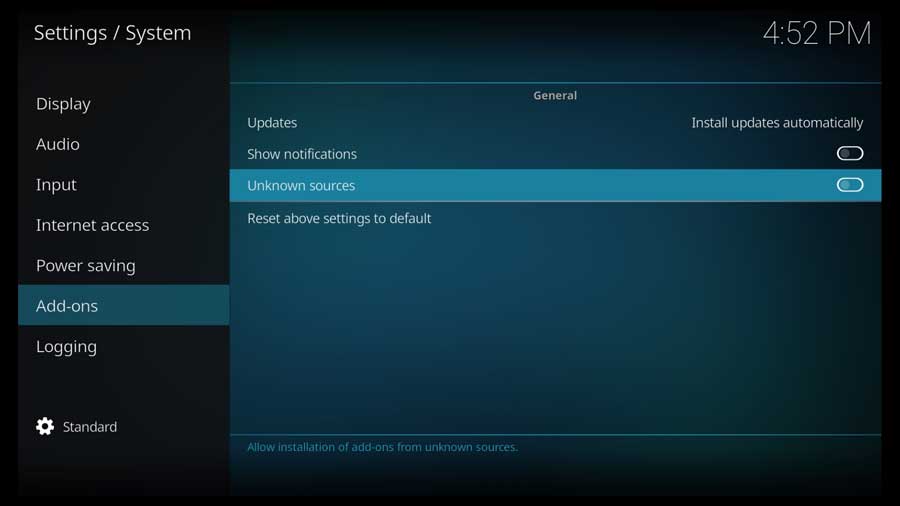 Once you do, you'll get a pop-up message warning you that any addons you install will have the same rights that Kodi has. This means they'll have read\write access to any files on your device.
This isn't necessarily a big deal if you're installing the Exodus Redux addon on your streaming device. However, if you run Kodi on your PC, where all of your personal files are stored, you may want to use caution.
Click Yes to continue.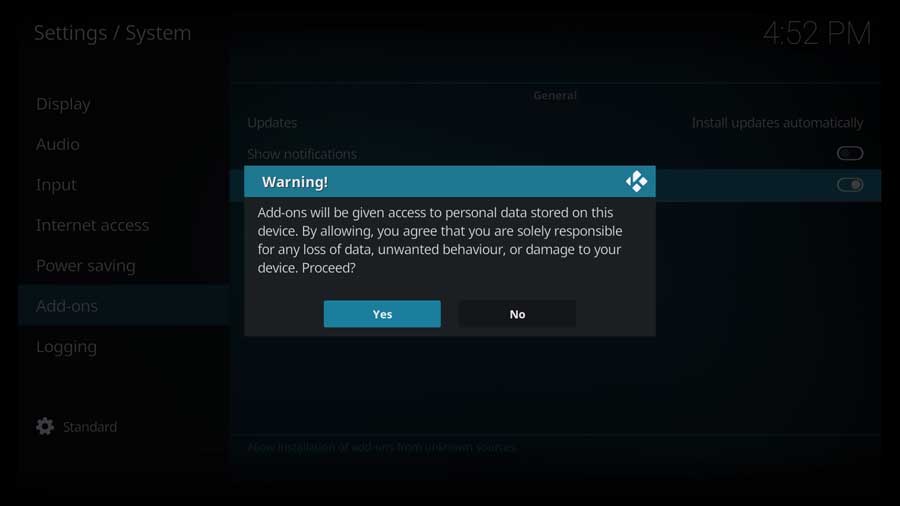 Once you do, the toggle switch turns white to signify that the setting is enabled. You're now able to install Exodus Redux, or any other third party Kodi addon.
---
Step 2: Add the Exodus Redux File Source
Like most third-party addons, installing Exodus Redux is a three-part process. The first thing on the list is to add a new file source to tell Kodi where to find the repository we need.
First, go to the Settings/System menu and click on the File Manager icon.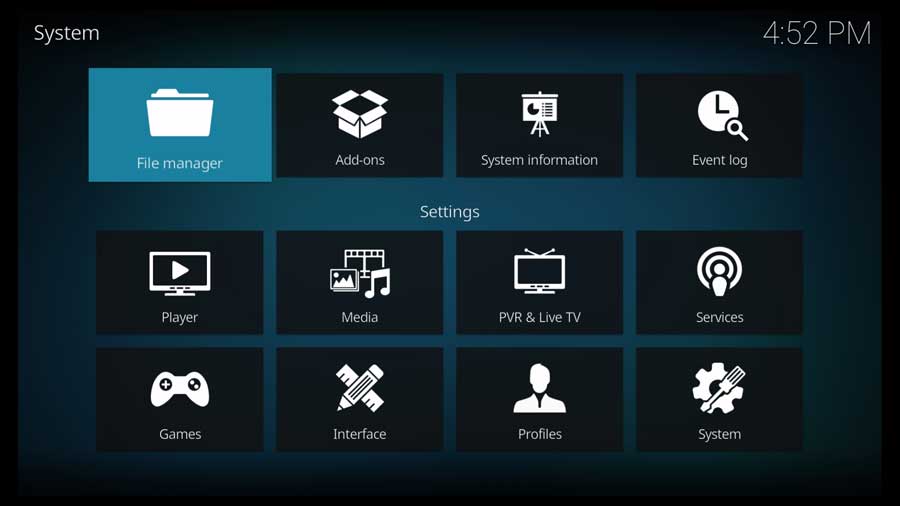 This is the same menu where you can add directories to your media library. In this case, we're going to point it to the developer's GitHub page.
Click on Add Source.
In the Add File Source menu box, click on <None> to add a custom source.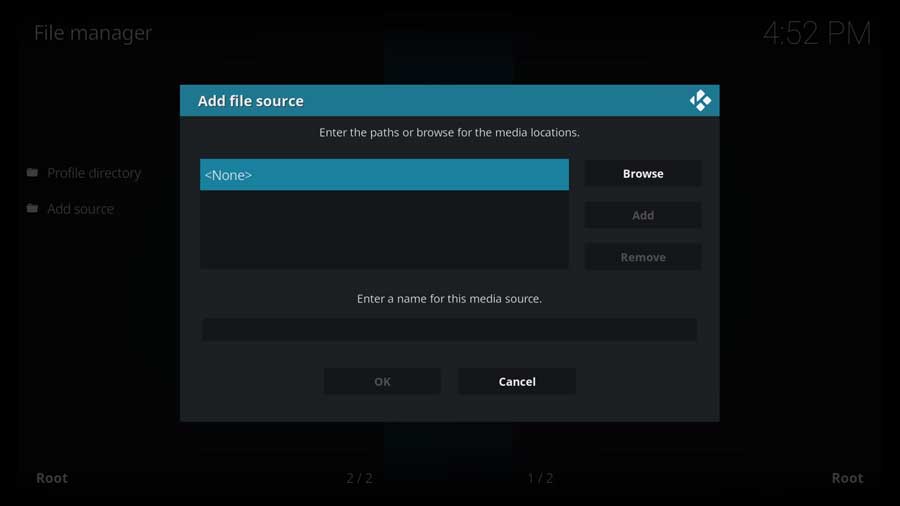 When you add a file source, it can be a local folder on your device, a shared folder on your network, or even an external website. In this case, we're going to be pointing Kodi to the developer's GitHub page.
If you're not familiar with GitHub, that's OK.
It's a well-known code repository where teams of developers can publish code to the site and ensure that everyone is working on the latest version, even if they're in different parts of the world.
Type in the following URL and click OK:
https://i-a-c.github.io
Next, we'll create a name for this media source. It can be anything you like, but I do recommend making it somewhat relevant to the source. In this case, I named mine IAC.
Once you've entered a name, click OK to continue.
Once you have the file source URL and the name, click OK to continue.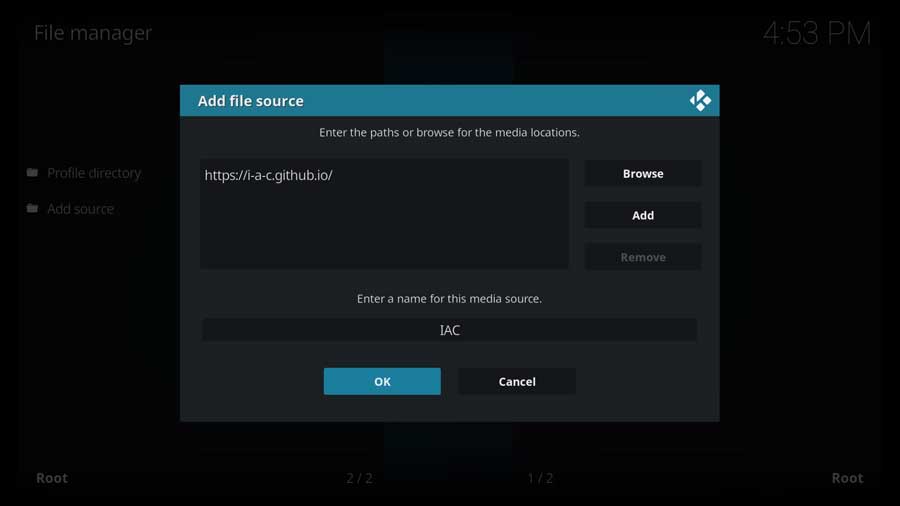 Kodi will do a quick check to make sure that it can reach the site. If it's successful, it'll bring you back to the File Manager window. Your new file source will be listed on the left-hand side of the screen.
---
Step 3: Install the Exodus Redux Repository from Zip File
Next, we're going to install the IAC repository on our Kodi device.
Go back to your Kodi home screen, and scroll down until you find the Add-ons section. Then, click the Install from Zip File icon.
This pulls up a list of all the file locations on your device. This includes any internal folders, external drives like flash drives or external hard drives, as well as any shared network drives that you have.
It'll also show any custom file locations, like the one we just created. Click on the name that you entered in the previous section.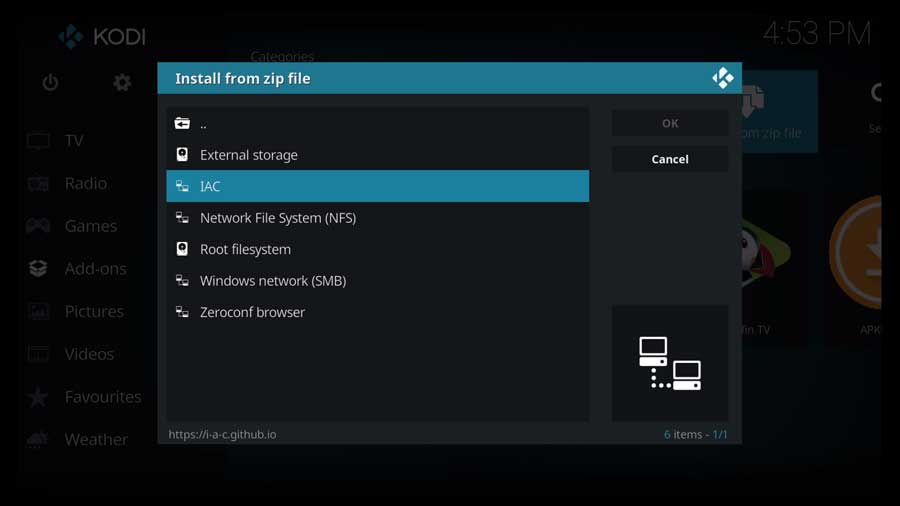 Finally, click on the repository zip file to install it. Don't worry if the version number is different than the one you see in the image below. That will change as the repository is updated.
After a few moments, you'll be taken back to the Add-ons screen and a message box will appear saying the Exodus Redux Repo is installed.
---
Step 4: Install the Exodus Redux Addon from the Repository
One final step to go. Now all we have to do is install the Exodus Redux addon from the repository, and then we're finished!
Click on the Install from Repository icon to continue.
This pulls up a list of all of the repositories that are installed on your device. Since I'm doing this on a clean installation of Kodi, the only ones I have listed are the official Kodi Add-on Repository and the Exodus Redux Repo that we just installed.
Click on the Exodus Redux Repo to continue.
As with many Kodi repositories, there are several addons within the Exodus Redux Repo. The one we're looking for is in the Video Add-Ons section, so click on that now.
Here you can install addons for Adult Swim, Cartoon Network or the main Exodus Redux addon.
Click on Exodus Redux to continue.
That takes you to the addon's detail page.
Click Install to continue.
Depending on your system, you may have several additional addons or modules modules that are required by Exodus Redux.
On my system, I had over a dozen required addons that needed to be installed. There were a few that had difficulty installing, but I found that I was able to restart the installation and the issues resolved themselves.
Click OK to continue.
Installation took almost a full minute for me, because of all the additional stuff that needed to be installed as well.
Once it finishes, you'll get a pop-up message box in the upper right-hand corner telling you the Exodus Redux addon has been installed successfully.
To launch Exodus Redux, go back to the Add-ons tab in Kodi, then click on the icon in the center of your screen.
---
Frequently Asked Questions (FAQs)
If you have burning questions surrounding the Exodus Redux add-on, we're here with the answers to some of the most common concerns.
Does Exodus Redux work on Kodi 19 (Matrix)?
No. Unfortunately when Team Kodi changed the programming language behind Kodi from Python 2 to Python 3, it broke many popular addons.
Exodus Redux will only work on Kodi versions up through 18.9 Leia.
Are Exodus and Exodus Redux Different?
Technically, yes. As you can assume by the name, they're both from the same developers. Exodus and Exodus Redux are both add-on options for Kodi, but Exodus Redux is a newer version.
They're very similar in that they have a large selection of movies and tv shows to choose from, but Exodus Redux is a new and improved version of the original.
The original Exodus has since been abandoned by original developers as they came out with Exodus Redux.
Currently, Exodus Redux is much more popular than its previous version.
You can still use the older one, but if you're considering adding Exodus to Kodi, you may want to consider using the newer version.
It's much faster, more reliable, and is regularly being updated.
Unlike the previous Exodus, Exodus Redux scrapers find reliable links to shows and movies fast. They've found links to TV shows that were broadcasted only hours before.
If you're still on the fence about using the Exodus or Exodus Redux add-on, keep in mind that the developers are no longer providing updates for the original Exodus. You will not have access to new titles like you would with Exodus Redux.
Is Exodus Kodi Add-on Legal?
Yes. Downloading and installing the Exodus Redux Kodi add-on is 100% legal. When you're streaming movies and tv shows, that's also legal as long as you're streaming from their public library and not illegally downloading or streaming copyrighted films.
When it comes to copyrighted movies and TV shows, you can still stream them legally, but you'll have to pay.
Is Exodus Redux Kodi Add-on Free?
As with almost all Kodi add-ons, the Exodus Redux add-on is free to download and install. There are some movies and tv shows that are free to stream, but if you're planning to add anything to your Kodi entertainment library, you may have to pay for some. It truly depends.
Why Does Exodus Redux Say No Streaming Available?
Nine times out of ten, if you see this notification when launching this add-on, it's due to having an out-of-date version. You can quickly fix this by updating your Exodus Redux add-on to the most current version.
If you need to update your add-on to the most recent version, don't uninstall the add-on. You can update it without completely removing it from Kodi.
Where is Exodus Redux on Kodi?
Once you've finished installing the Exodus Redux add-on, you'll need to find it before you can take advantage of all the streaming options. You'll find this add-on under the video add-on tab on Kodi's home screen.