Last Updated on June 20, 2023 by Tim Wells
One of the most significant selling points for the 2019 NVIDIA Shield was support for Dolby Vision. Between that and the AI upscaling, it was the only reason I had to upgrade from my 2017 Shield.
In fact, since the NVIDIA Shield doesn't support HDR10+, Dolby Vision is the only premium HDR option to get the most out of your TV.
But getting Dolby Vision to work correctly has been a challenge, to say the least.
The community support for the NVIDIA Shield is terrific, and I can usually find the answers I need. In this case, information is fractured across dozens of posts on NVIDIA and Dolby's websites, other forums, and individual hardware manufacturers' websites.
If you want to watch a movie, that gets pretty frustrating.
So I've put over forty hours of research into creating this 'one-stop-shop' to help you find quick answers to the most popular questions. Here you'll find everything from basic information for beginners all the way up to specific troubleshooting for advanced users.
For more great articles like this, visit my NVIDIA Shield TV resource page. You'll find all of my tips, tricks, reviews, and tutorials to help you get the most out of your NVIDIA Shield. 
Also, check out my guide to enabling Dolby Atmos on your NVIDIA Shield.
---
Dolby Vision on NVIDIA Shield: What You Need
As I mentioned, only the 2019 Shield TV 'Tube' and the 2019 Shield Pro support Dolby Vision. Older versions of the NVIDIA Shield do not support Dolby Vision, so you won't see it in the Settings menu.
However, that's not the only thing you need. Here are some other requirements:
Dolby Vision Compatible TV
Remember, as well, that your TV has to support Dolby Vision too.
As much as I love them, Samsung TVs won't play Dolby Vision, no matter what you do. Samsung is one of the founding members of the HDR10+ Technologies consortium, Dolby Vision's main competition. While many TV manufacturers support both formats, Samsung is exclusively HDR10+.
HDMI Cables
Cables can also be an essential piece of the puzzle, but not as much as you might think.
Dolby Vision, like HDR10+, relies on dynamic metadata. Both were introduced as part of the HDMI 2.1 specification. Fortunately, your cables must be compatible with the HDMI 2.0 specification to carry Dolby Vision data.
Although not directly related to Dolby Vision, your cable needs enough bandwidth to push through 4K HDR content at high frame rates. The HDMI organization created ratings like Ultra High-Speed and Premium Cables to ensure compatibility with 4K@60Hz, BT.2020, and HDR.
You don't need to spend a fortune on premium cables. However, upgrading your cables might be the answer if you run into some of the problems we'll discuss in the Dolby Vision Troubleshooting section.
Dolby Vision Passthrough
If you're plugging your NVIDIA Shield directly into your television, getting Dolby Vision to work is relatively simple. Things get more complicated when you start adding more devices to the chain.
In home-theater terms, 'passthrough' is a device's ability to take a signal, in this case, Dolby Vision, and send it to your TV without altering the signal.
Usually, this happens with audio receivers that act as the brains of your home theater system.
For example, I have everything hooked through a Denon receiver that switches between inputs, depending on what source I'm watching. I need to ensure that my receiver is capable of Dolby Vision passthrough.
That's not always necessary, though.
If you're using a native streaming app (like Netflix) on your TV but sending the sound out to a soundbar, your soundbar doesn't need Dolby Vision support.
HDMI splitters, switches, and video capture devices can inadvertently affect the video signal. This may limit you to Dolby Vision at 4K 30Hz, or drop Dolby Vision entirely.
Finally, ensure the firmware on your devices (especially receivers) is current. On some devices, like Onkyo receivers, there may be additional settings you need to change to manually enable 4K 60Hz with 10/12 bit color.
10' Monoprice 8K Certified Braided Ultra High Speed HDMI 2.1 Cable
Certified Ultra High Speed HDMI® Cable
Supports all features of the HDMI® 2.1 specification
Supports uncompressed video resolutions up to 8K@60Hz and 4K@120Hz
Delivers 48Gbps bandwidth
Supports Variable Refresh Rate (VRR)
Durable braided cable
Supports Enhanced Audio Return Channel (eARC)
We earn a commission if you click this link and make a purchase at no additional cost to you.
---
Dolby Vision on the NVIDIA Shield: Supported Apps
Even if you have all the proper hardware, not every app you install on your Shield TV is compatible with Dolby Vision.
Here are the apps that currently support Dolby Vision on the NVIDIA Shield.
Netflix
Amazon Prime Video
Apple TV+
Google Play Movies & TV
Plex
VUDU
Disney+
MX Player
Prominent apps like YouTube, VLC, and even Kodi 20 Nexus are absent from this list.
We'll cover why YouTube and Kodi don't support Dolby Vision in separate sections later.
---
What Formats Do You Need for Dolby Vision?
Both MP4 and MKV files support Dolby Digital on the 2019 NVIDIA Shield. In general, MP4 files are natively supported by more apps and devices. In contrast, MKV files support multiple audio and video tracks in the same container (file).
TS files will also hold Dolby Vision metadata, but they're not currently supported by most major apps (notably Kodi).
Most people, including myself, prefer using MKV files for their flexibility. It's great to have different audio tracks, even the director's commentary tracks, in one file.
Unfortunately, it's not as easy as just saving it to the correct file type.
Each piece of content has a Dolby Vision Profile (link to Dolby whitepaper). This describes how the file is encoded, what features it has access to, and even what devices can play it.
A device has to be certified to play Dolby Vision files or streams. Usually, devices are only authorized for specific profiles.
For example, the NVIDIA Shield officially supports Dolby Vision profiles 5 and 8. It can play back profile 7, but only as a single layer, prohibiting it from producing 12-bit video.
What's worse, the Shield isn't expected to ever be able to play dual-layer profile 7 Dolby Vision sources. That profile was created for 4K UHD Blu-ray movies, not for streaming services. There's little reason to adapt the device for a niche use case.
---
How to Enable Dolby Vision on NVIDIA Shield
Once you've got the proper hardware, a supported app, and a stream or 4K UHD ripped movie, we can start watching Dolby Vision content on our NVIDIA Shield.
First, we need to make sure everything is plugged into the correct ports.
Surprisingly, not every HDMI port on your TV can display 4K video in Dolby Vision. It requires an HDMI 2.0 (or greater) port supporting HDCP 2.2.
Then, make sure that your TV is set up correctly for HDR. Most newer televisions will do this automatically, but some require you to manually select HDR mode from the Settings menu.
Your NVIDIA Shield will automatically set to an HDR10 capable display mode when it detects an HDR television. However, you'll have to enable Dolby Vision manually.
If your TV can output Dolby Vision at 4K 60Hz, go to Settings > Device Preferences > Display & Sound > Dolby Vision.
However, if your TV can only support Dolby Vision at 4K 30 Hz (or less), you may need to select a custom display mode instead. Go to Settings > Device Preferences > Display & Sound > Advanced display settings > Custom display mode. Any compatible display modes will be labeled "Dolby Vision Ready."
If the Dolby Vision line is greyed out, the first thing to check is your HDMI cables.
As I mentioned earlier, your existing HDMI cables should be fine in most cases. However, older or worn-out cables may not support Dolby Vision.
Try replacing them with higher-quality cables and try again.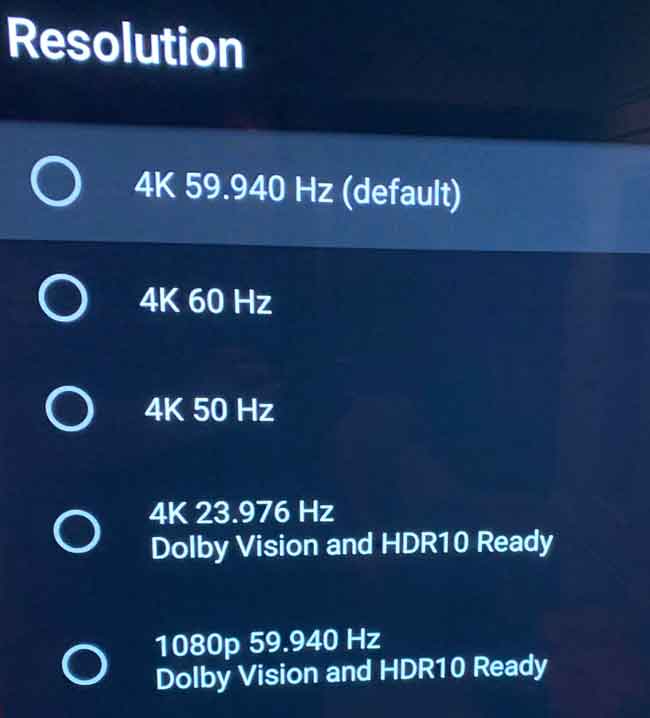 ---
Does the NVIDIA Shield Support Streaming in Dolby Vision?
If 4K UHD rips aren't your thing, don't worry. The NVIDIA Shield supports Dolby Vision in several (but not all) popular streaming apps.
In this section, we'll cover the specific requirements for each or why Dolby Vision isn't supported at this time.
Dolby Vision on Netflix
Thankfully, Netflix is the most straightforward streaming app to get working on your NVIDIA Shield. It supports streaming in both Dolby Vision and HDR10 in various titles.
If a title is available in Dolby Vision, you'll see a small logo on its info screen.
However, in addition to the requirements listed above, to watch Netflix in Dolby Vision on your NVIDIA Shield, you'll also need the following:
A Netflix plan that supports streaming in Ultra HD.
Streaming quality set to High.
A steady internet connection speed of 25 megabits per second or higher.
---
Dolby Vision YouTube
Unfortunately, YouTube doesn't offer Dolby Vision on any platform. It opened up support for HDR10+ in fall 2021 for the Chromecast with Google TV.
Worse yet, there's a hardware limitation for even getting HDR content at 4K on the NVIDIA Shield.
Instead of more widely accessible compression formats like HEVC (h265), YouTube uses VP9. It was developed by Google, so unsurprisingly, most major clients are Google brands: YouTube, Stadia, and Chromecast.
Specifically, VP9 profile 2 gives 10\12 bit color that HDR requires.
Both the 2015 and 2017 NVIDIA Shields have the same basic hardware specs. Both run the NVIDIA Tegra K1 system on a chip (SoC). Unfortunately, when that SoC was developed, VP9 didn't exist, so there's no support for VP9 profile 2.
That said, the YouTube app, as well as SmartTubeNext, do allow for HDR playback on the NVIDIA Shield. Unfortunately, not at 4K. Many users, myself included experience stuttering at 1080p 60Hz. Some even experience issues with playback as low as 720p.
For their part, Google Support only mentions HDR support and doesn't mention Dolby Video. (source)
---
Dolby Vision on Plex
Plex is my favorite way to play my 4K UHD rips on the NVIDIA Shield. However, Dolby Vision can be a bit hit or miss.
You still need the basics: a (preferably) MKV rip of a 4K UHD Blu-ray movie, a Dolby Vision compatible television, and your NVIDIA Shield.
MakeMKV, the most popular ripping software, automatically rips Dolby Vision content using profile 7. As discussed earlier, the NVIDIA Shield doesn't officially support that DV profile.
As of June 2021, Shield users experienced occasional issues with MKV files where Plex would pop in and out of Dolby Vision, occasionally switching back to HDR. (source)
According to Plex, "That issue is caused by the DOVI decoder on the device crashing and is unfortunately out of our control, and would require a fix by Nvidia. The dvhe.07.06 profile is not officially supported by the Shield, and as such, sometimes may not work."
When asked about it, NVIDIA's official comment was that "the Plex posts are correct. Shield doesn't officially support those profiles and what you see is what you get for now. No promises on the future."
I've had success playing my Dolby Vision rips through Plex. The most I've had to deal with is the occasional stutter during playback.
---
Dolby Vision on Kodi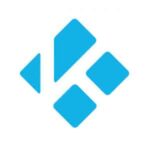 Unfortunately, Dolby Vision is not supported with Kodi 20 Nexus. This applies to the Android version of the NVIDIA Shield and all other platforms.
Kodi uses FFMpeg to run its media player software. Unfortunately, Dolby Vision in an MKV package isn't supported yet FFMpeg. Unless FFMpeg adds support for that feature or Kodi changes its video framework, don't expect to see Dolby Vision on Kodi anytime soon.
There are a couple of custom Kodi forks, like this one from Fandangos, which supports Dolby Vision.
However, since this is a fork and not the release version of Kodi, the more time passes, the more it will get farther away from the official version.
Custom forks are also built and maintained by third-party developers, not Team Kodi.
---
Why is Dolby Vision Not Working?
Is Dolby Vision limited to 30Hz on the NVIDIA Shield?
No. You can get Dolby Vision playback on the 2019 NVIDIA Shield TV and Shield Pro at 60 Hz. However, not every HDMI port on your TV may be compatible with 4K@60Hz.
For example, only HDMI ports 2 & 3 support 4K60 on my particular Sony Android TV. The rest of the ports, including the eARC HDMI port, only support 4K30. Sony has a support article where you can check this on your specific model.
Even then, the HDMI Signal Format setting has to be set to 'Enhanced Format.'
Other brands have their issues as well. Many LG B6 OLED TVs from around 2016-2018 will force playback down to 30Hz. This isn't a fault of the NVIDIA Shield but the TV itself.
Finally, I've personally run into the issue where my Shield TV will play Dolby Vision at 4K 60Hz, but only if it's directly plugged into my TV. Plugging it into my soundbar dropped the resolution down to 4K 30Hz.
As I've said before, be sure that every device and cable in the chain can support Dolby Vision at the resolution you want. The problem is often not with your NVIDIA Shield.
Stuttering during playback on 60Hz and 59.94Hz
One of the more frustrating issues with Dolby Vision playback on the Shield TV is stuttering during playback.
My Shield TV 'Tube' struggles with high-bitrate 4K UHD rips over my local network, especially over Wi-Fi. My 2019 Shield Pro handles them better, but the occasional rip is unplayable, even over Ethernet.
As with many things on this list, upgrading to a certified HDMI cable helped but didn't always fix the issue.
The Refresh Rate app (link to Google Play Store) or the Match Content Frame Rate feature also helped. It's a pain to manually change the framerate to eliminate the stutter, but it's a good workaround.
Match Content Frame Rate is available with the Shield Experience Upgrade 8.2.3. It requires either the new NVIDIA Shield remote or the Shield remote app for your smartphone.
Black Screen with Dolby Vision on Shield TV
While not precisely a Yamaha issue, this is most common with a recent firmware update to certain Yamaha receivers.
Affected models include the Yamaha RX-A2A, RX-V6A, RX-V483, and TSR-700, although there may be others. I've also seen this issue reported with LG and Sony soundbars and Onkyo receivers.
Users have reported a variety of fixes, although nothing works 100% of the time.
In most cases, turning off CEC for audio and video fixes the issue, but not always. Occasionally replacing the HDMI cable fixes the problem.
Dolby Vision Color Problems
This has been a major issue with the Shield for some time. Unfortunately, there's no fix on the horizon, even after the Shield Experience 9.0 rollout.
In a nutshell, the colors (especially greens and reds) look washed out (over-saturated).
This happens even when comparing the identical image from your TV's native Netflix app to the Netflix app running on the NVIDIA Shield.
According to NVIDIA insiders, this is something they're looking into, but they don't have a solution for now.
No Dual Layer Support?
Ultra HD Blu-ray movies use Dolby Vision Profile 7, which has two layers: a base layer and an enhanced layer. While the NVIDIA Shield unofficially supports Profile 7 running in single-layer mode, it doesn't support dual-layer profiles.
This isn't a limitation of the NVIDIA Shield, per se.
Profile 7 was created for UHD and Blu-ray players, not set-top boxes. Unfortunately, Dolby limits set-top boxes like the NVIDIA Shield and Apple TV 4K to Profile 5.
---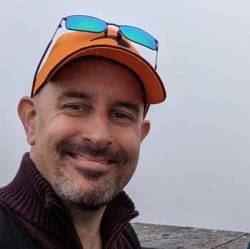 Latest posts by Tim Wells
(see all)