Have you ever wanted to watch an old DVD on your 4K television? It's almost unwatchable, isn't it?
How would you feel if you could transform lower-resolution content into crisp and clear images on your 4K display at the press of a button?
That's what AI Upscaling on the NVIDIA Shield can do.
As someone who's been using it for several years, it's a game-changer.
In this article, we'll take a closer look at NVIDIA Shield AI Upscaling, how it works, and why it's such a powerful tool for enhancing your entertainment experience.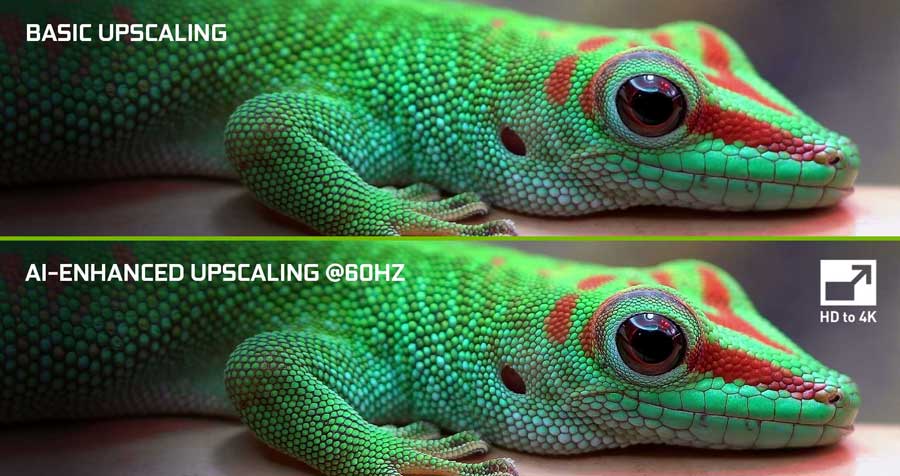 ---
What Is AI Upscaling?
Put simply, upscaling makes lower-quality video content look like it was shot with a higher-resolution camera. NVIDIA's AI Upscaling improves on this by using NVIDIA's machine learning algorithms to improve the visual quality of images or videos.
As you watch a video, the Shield's Tegra X1+ processor analyzes the low-resolution source image or video and then uses an AI model to generate a higher-resolution version that is visually similar to the original but with more details and clarity.
The algorithm analyzes the input image or video, generating new pixels based on patterns it learned from other higher-resolution images. In other words, it fills in the gaps in the low-resolution source.
Initially, the newest NVIDIA Shield TV and Shield TV Pros could only upscale 720p and 1080p video. However, a Shield Experience software update expanded this to include 360p and 1440p content as well. 
What does this mean for the average viewer?
It means that NVIDIA Shield's AI upscaling can take your old HD or SD content and make them look like 4K videos. (pdf whitepaper)
The 2019 NVIDIA Shield TV and Shield Pro are the only streaming devices capable of this level of processing.
---
How to Enable AI Upscaling on the Nvidia Shield
Go to Settings and select AI upscaling to enable AI upscaling on the NVIDIA Shield. 

Next, you can enable either AI-Enhanced upscaling or the default Enhanced upscaling.
When choosing AI Enhanced Upscaling, you can select the level of Detail Enhancement based on your personal preference.
When they first announced AI upscaling on the Shield TV, NIVIDA set up a demonstration webpage. It had a slider you could move across the screen to go back and forth between Basic and AI Enhanced upscaling.
For most users, though, it takes seeing it on your own television to see the full impact.
Thankfully, NVIDIA included a Demo Mode on the Shield TV, so you can do that.
You can access demo mode by holding the Settings button on the Shield remote to toggle the slider viewer.
One caveat, however: AI upscaling is not available for video content with a resolution less than 480p, a frame rate higher than 30Hz, or a color space of RGB. In these cases, AI-Enhanced upscaling will revert back to Enhanced upscaling.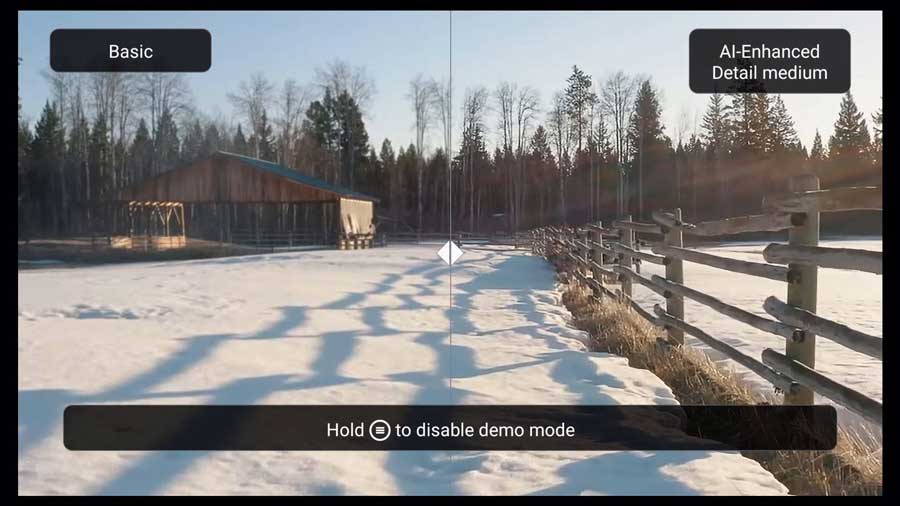 ---
My Experience with NVIDIA Shield AI Upscaling
I've been using AI upscaling on my 2019 NVIDIA Shield TV and Shield Pro for a while. Based on my experience, there are some strengths and weaknesses to be aware of. 
Strengths:
AI upscaling is excellent at improving low-resolution or lower-quality content, especially if you have high-bitrate sources with clean animation.
Medium Detail setting shows a nice improvement if the source is clean. However, Low Detail is sometimes better for a more true-to-source image.
AI-enhanced upscaling works better on some things than others, for example, "remuxed" Blu-rays.
It's handy for reading the fine print on the TV screen.
Weaknesses:
AI-enhanced upscaling on High Detail level can introduce very noticeable artifacts from over-sharpening. This occasionally happens at the Medium Detail setting, but far less often.
Different types of content can give strange effects, especially if you have upscaling enabled on both your television and your NVIDIA Shield TV.
It can be hit or miss on low-resolution 480p SD content.
AI upscaling doesn't work as well with low-bitrate videos. It tends to introduce too many artifacts and halos.
Newer televisions already have good upscaling capabilities. I found I used AI upscaling more frequently on my older Sony Bravia and Samsung TVs than when watching my newer Hisense television.
---
How is AI Upscaling Different from GeForce NOW Resolution Scaling?
Resolution Scaling is a feature exclusive to NVIDIA's GeForce NOW game streaming service that allows upscaling or downscaling game content to match the display resolution of the user's device. 
When using GeForce NOW, the NVIDIA Shield receives a compressed video stream of the game at a specific resolution. This is called the Streaming Resolution.
If the Streaming Resolution and the Display Resolution don't match, GeForce NOW resolution scaling will automatically adjust the streaming resolution to match the display resolution. 
Similar to AI Upscaling, there are three modes of resolution upscaling in GeForce NOW: Standard, Enhanced, and AI-enhanced.
The Standard mode uses a bilinear filter to scale content and uses the least amount of system resources. The Enhanced mode uses NVIDIA Image Scaling (NIS) to scale and sharpen content, resulting in better image quality but may increase latency.
AI-enhanced mode is only available for PC users with select NVIDIA GPUs or the NVIDIA SHIELD TV Pro (2019). It uses a trained neural network model to increase sharpness and enhance details that no traditional scaler can recreate.
---
FAQ
Is the AI upscaling feature available on all versions of the Shield TV?
No. AI Upscaling is only available on the 2019 Shield TV 'Tube' and the 2019 Shield Pro.
Can I turn off AI upscaling if I prefer to watch videos in their original resolution?
Yes, you can turn off AI upscaling on the NVIDIA Shield TV. By default, the "Enhanced" upscaling mode is enabled. However, you can switch to "Basic" upscaling or turn it off entirely in the settings. To do this, go to Settings > AI upscaling and select "Basic" or "Off" instead of "Enhanced" or "AI-Enhanced."
What resolution video content do I need for the Shield TV's AI upscaling to work?
According to NVIDIA, AI upscaling is unavailable for video content with a resolution lower than 480p. Additionally, video content with a frame rate higher than 30Hz and a color space of RGB is also incompatible with AI upscaling.
How does the Shield TV's AI upscaling differ from the upscaling on my TV?
The Shield TV's AI upscaling uses advanced algorithms and artificial intelligence to analyze and enhance lower-resolution content in real-time. Typically, the upscaling on your TV relies on simpler interpolation methods.
The AI upscaling on the Shield TV is also customizable and can be adjusted to user preferences, whereas the upscaling on your TV is often a fixed setting that cannot be changed.
However, it is worth noting that some newer TVs may also feature AI upscaling or similar advanced upscaling technology.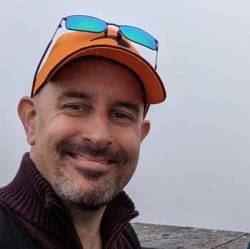 Latest posts by Tim Wells
(see all)