No matter what version of Kodi you use, eventually you're going to have to update it. Unfortunately, it's not as easy as updating other apps on your Android TV or Android Box.
And don't even get me started on Amazon Fire TV. I covered updating Kodi on the FireStick and Fire TV is a separate article here.
No matter what Android device you have, I've created a simple, step-by-step guide to updating Kodi on your device – even if you're not updating to the latest version.
Why Update Kodi?
There are two big reasons why you should update your software – and Kodi is no exception.
The first reason is that updates often bring new features with them.
New features will often roll out in major releases, 17.0, 18.0, etc. However, it's not uncommon for minor releases to include new features as well. For example, many PVR features were added in Kodi 18.2, rather than wait until version 19 Matrix came out.
However, the biggest reason to upgrade Kodi is that new releases always include bug fixes.
Kodi is open source software, which means that its code base is out there for the world to see. Because more people can see the code, more people can discover bugs and find solutions for them.
If you'd like to see an idea of just how many small bug fixes there are, take a look at Kodi's official release history.
Fresh Install vs Normal
Do you ever feel like you just want to start over?
You don't have to reset Kodi to start fresh every time you upgrade to a new version, but there are times you might want to.
Usually, it's a good idea to upgrade in place and do a normal installation.
Normal installations let you keep all of your addons and libraries intact. Even if you've done it dozens of times, it takes some time to get Kodi setup and running the way you like it.
Personally, I don't want to go through all that unless I have to.
However, when you're upgrading to a new version, such as Kodi 19 Matrix, it's a good idea to do a fresh installation.
It's common for Team Kodi to make large changes to their codebase in new versions of the program. If you do a fresh installation, you can be sure that there's no incompatibilities or gremlins left over from any of your old addons.
How to Update Kodi to the Latest Version
Most people aren't aware that there's a new version of Kodi until they get a message like this:
In this section, I'm going to discuss how to update Kodi in the three most popular Android operating systems: pure Android, Android TV and Amazon's Fire OS.
The steps for each are very similar, but there are some nuances in each that we need to cover.
---
How to Update Kodi on Android TV
Let's start with the official Android TV operating system. For this example, we're going to be using my trusty NVIDIA Shield TV to update from Kodi Leia 18.6 to version 18.8.
After you get the Version Check alert that there's a new version of Kodi, exit Kodi and go back to your Android TV home screen.
From here, click on the Apps icon on the left side of the screen to open your app drawer. We'll be updating Kodi through the Google Play Store, so click on the Get More Apps button at the top of the screen.
Once you're in the Google Play Store, click on My Apps in the menu at the top of the screen.
Here you'll see a list of every app on your device with an available update. You can choose to update them individually or click on the Update All button to do them all at once.
While that's updating, let's make it so the Google Play Store updates Kodi, and all of your apps, automatically.
Go into the Settings menu in the Google Play Store by clicking on the gear icon in the upper right-hand corner of the screen.
There aren't a whole lot of settings that you can change here. Scroll down to Auto-Update Apps and make sure it's enabled.
By now the updates should be complete. Go ahead and exit the Google Play Store and re-launch Kodi.
On the splash screen, you should see that it's updated to the latest version.
---
How to Update Kodi on Android Box (Pure Android)
Updating Kodi on a TV box running pure Android is a very similar process. For this example, we're going to be updating from Kodi Krypton 17.0 to Kodi Leia 18.8 on my MINIX NEO U22-XJ.
It starts out with the same screen you get on other versions of Kodi. The Version Check add-on determines that there's a newer version of Kodi than the one you're currently using.
Exit Kodi and go back to your device's home screen.
This next part is going to look slightly different depending on your device.
Most manufacturers will put a shortcut to the Google Play Store somewhere on the home screen. In this case, you can see a button titled App Market on the right hand side.
If you don't see something like that on your Android box's home page, you can always get to the Google Play Store by going directly to your All Apps or App Drawer screen.
From here, click on the Play Store app icon to continue.
I think it's funny how many differences there are between the Android TV version of the Google Play Store and the version that you see if you're running pure Android.
The main menu here runs along the left-hand side of your screen. We're going to click on the first item listed: My Apps & Games.
One thing I really like is that Google will give you a notification warning if you have any apps that need to be updated. You can see that in the Notifications section on the side menu as well.
Once you get to the My Apps & Games section, you can choose to update Kodi by itself or click Update All to update all your apps at the same time.
In this image, there was only one app with an available update, so it worked out the same either way.
Depending on your internet speed, it should only take a few seconds to update Kodi.
Once the icon moves from the Updates Pending section to the Recently Updated section, go ahead an exit the Google Play Store.
Re-launch Kodi and you should see the splash screen reflect the new version number.
---
How to Update to an Older Version of Kodi
So far we've assumed that you always want to upgrade to the latest version of Kodi.
But what if you want don't?
There are plenty of reasons why you want to stay with an older version of Kodi. Usually, they have something to do with compatibility.
As I said earlier, Team Kodi sometimes makes major changes to the underlying code. Unfortunately that can break things, like your favorite addon.
That's OK because, in this section, I'm going to cover how to install any version of Kodi you want.
Both Kodi's official web page and the Google Play Store only have the latest version available to download.
If it's a recent version, you can usually find it on Aptoide TV which is one of my favorite app stores for Android TV and TV boxes.
On Aptoide TV, you can search for Kodi and it'll automatically pull up the latest version.
Clicking on the Other Versions tab gets us the results we're looking for.
You'll usually find the most popular recent versions and you can download them the same as you would any other app.
If the version you're looking for isn't available on Aptoide TV, then the next place I'd recommend is APKMirror.
If you've been reading my other tutorials on this site, you've seen me use APKMirror before. It was one of the only places to download an older version of Netflix that worked on Android boxes.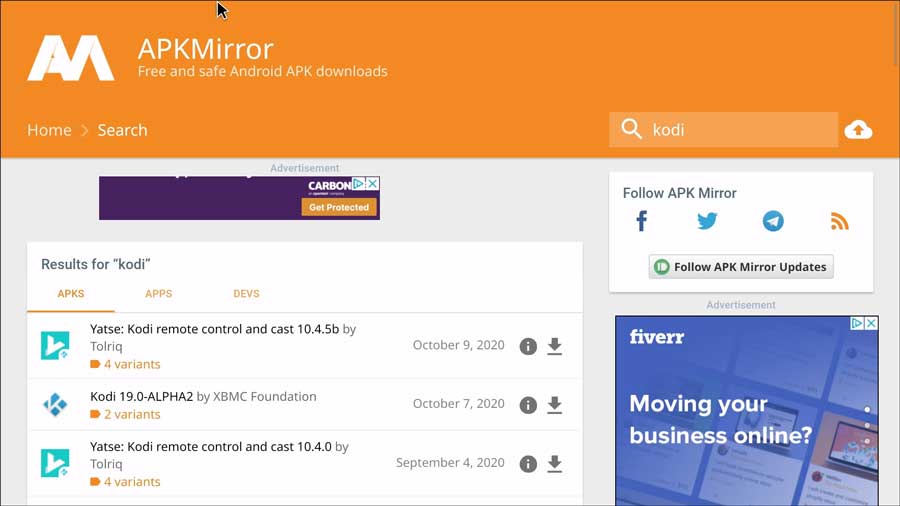 A simple search for Kodi pulls up a lot of different apps as well as Kodi itself.
Thankfully, we can make this a little easier on ourselves.
Any official version of Kodi will be uploaded by the XBMC Foundation. If you click on their name in the description, you can filter down the list to just apps that they've released.
Once you find the version you're looking for, click on the download button to get started.
If you're not sure how to sideload an app on your Android TV or Android box, I wrote a detailed step-by-step guide that'll walk you through the process.
---
FAQ
Which Kodi Build: Nightly vs. Release?
Nightly builds are that 'latest and greatest' versions of a program that the developers are still working on. Think of them like a work in progress. You get access to new features, but you also get the bugs that go along with them.
Release builds, by contrast, are the stable versions that are released to the public. Release builds will potentially still have bugs, but they'll be few and far-between.
For most people, I highly recommend using Release builds of Kodi, or any other software.
Will Kodi Update Automatically?
Kodi can automatically update individual add-ons that you have installed. However, the app itself will not automatically update to the latest version. You'll need to go through the process detailed above to update Kodi on your device.
That said, you can configure the Google Play Store to automatically update your apps for you. It doesn't matter where you download Kodi from either. As long as the app's "signature" matches, Google will automatically update it for you, according to Team Kodi.
How Do You Update Kodi Without the Google Play Store?
You can update Kodi through most alternative, 3rd-party app stores. Personally, I like using Aptoide TV, which has several older versions of Kodi 17 Krypton and Kodi 18 Leia. If you haven't used Aptoide TV before, you can check out my tutorial here.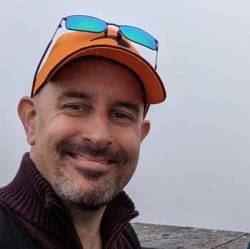 Latest posts by Tim Wells
(see all)