Are you a Spectrum customer with an Amazon FireStick or Fire TV? If so, you've probably been getting frustrated trying install the Spectrum app on your FireStick.
Chances are you've even read one or two tutorials online that promise show you how to download and install it.
They didn't work, did they?
The Spectrum app gives you access to around 50,000 on-demand movies and TV shows, as well as about 250 live TV channels.
The catch is that the Spectrum TV app is not supported on Amazon devices. Similar to apps like SkyTV Go, you can sideload it, but the app will detect that it's running on an unsupported device and return an error message like this one.

So, what exactly is the Spectrum app, and what devices will it work on?
In this article, I'm going to answer both of those questions. I'll also show you how to sideload the Spectrum TV app on your FireStick, just in case they decide to update the app to work on the FireStick. Finally, I'll give a brief overview of the app itself.
Let's get started.
---
Compatible Devices
The Spectrum app was only compatible with Roku boxes (excluding the first generation) when it launched. Currently, it is available to several devices, and apart from the FireStick, there are native apps for:
Apple TV (OS 12 or higher)
iPhone 5S or newer
iPad Air/Pro 5th gen or newer
iPad Mini 2 or newer
iPod Touch 6th gen or newer
Android phones/tablets (running Android 5.0 or higher)
Samsung Smart TVs (2012 model or higher)
Xbox One
Currently, no Amazon Fire TV OS devices are compatible with the Spectrum TV app, which they say plainly on their official support page.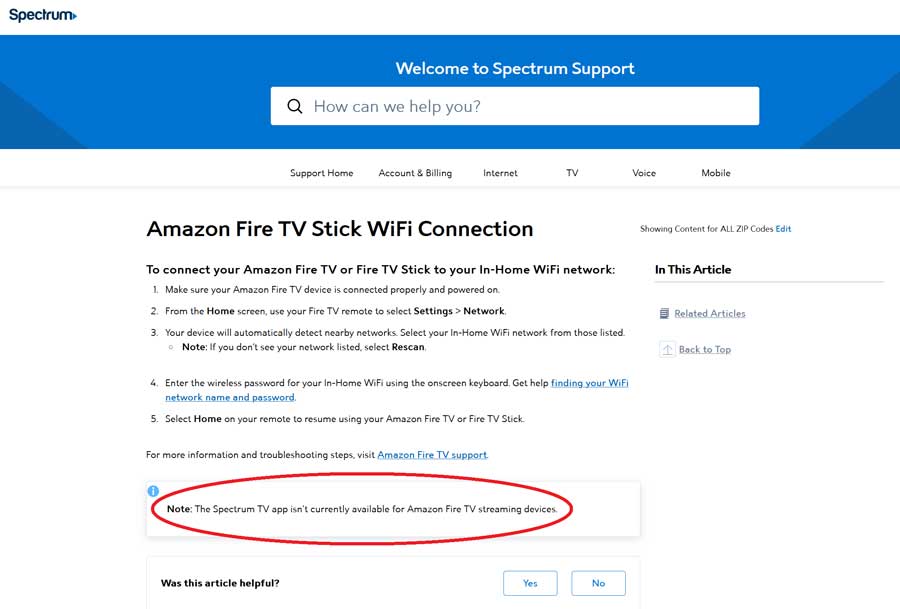 ---
How to Sideload the Spectrum TV App on FireStick [For Reference Only]
In this section I'll cover how to install the Spectrum TV app on a FireStick or Fire TV device.
As I mentioned above, this process will install the app, but you'll still get the "device not supported" error message when you try to open it. There is no workaround for this, unfortunately.
To get started, open the Downloader app and search for "spectrum apkmirror."
The Downloader app is my go-to app for downloading and sideloading APK files on both my FireSticks and my Android TV devices. If you're not familiar with the Downloader app, you can check out my tutorial here.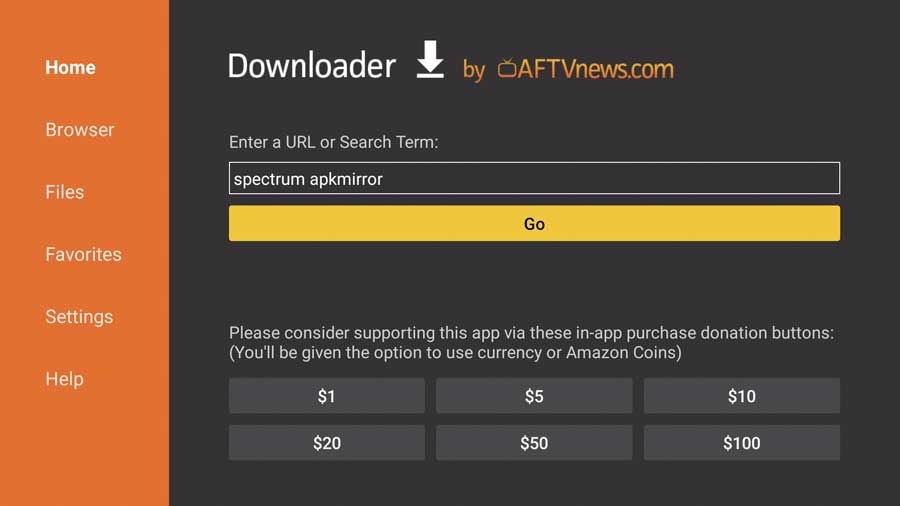 One of the best features about the Downloader app is the built-in web browser. As soon as you click Go, it will either navigate to a web page directly, or pull up search results from Google.
In this case, it's searching for the listing for the Spectrum TV app on APKMirror, a popular site for getting APK files.
Find the entry that says Spectrum TV APK's on APKMirror.com and click it to continue.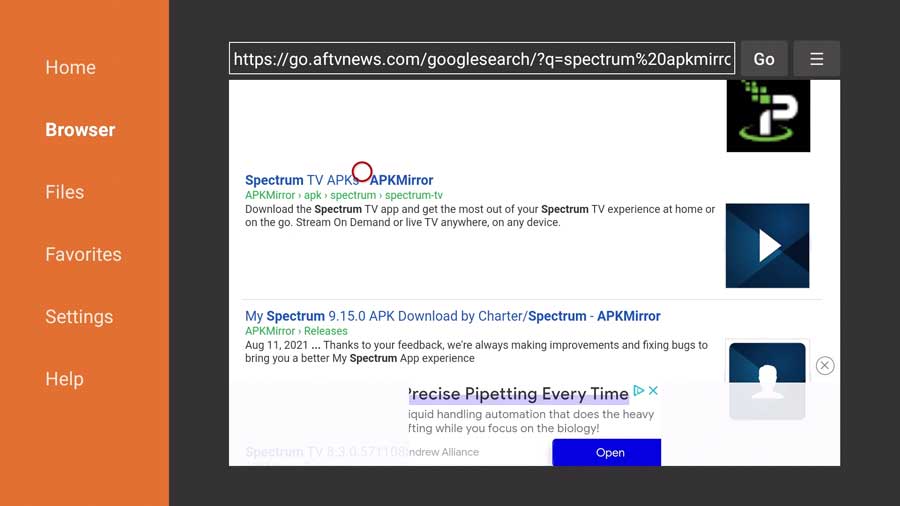 This takes you directly to the app detail page on APKMirror.com.
Scroll down until you see a list of the latest APK files.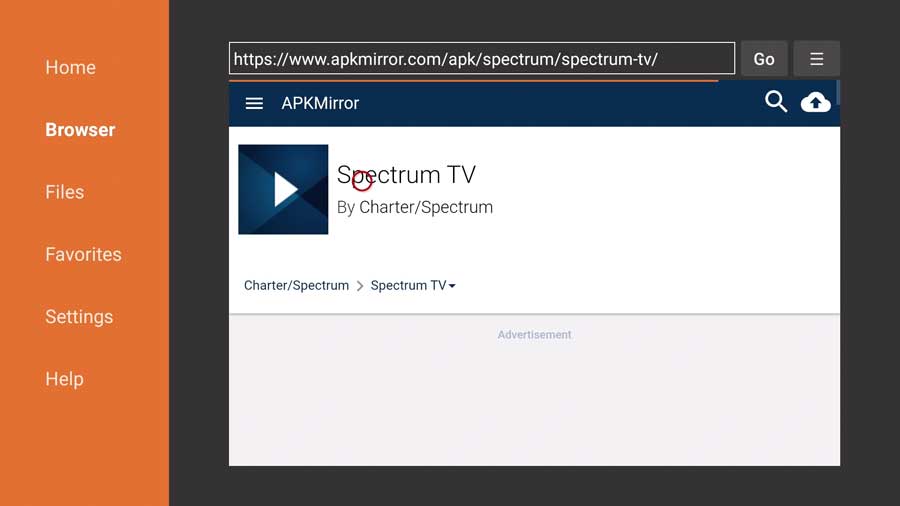 APKMirror will usually have several versions of every APK file available to download.
In most cases, you'll want to install the latest version, but there are times when an older version would be more compatible with your system.
Click the download icon on the right-hand side of the screen to continue.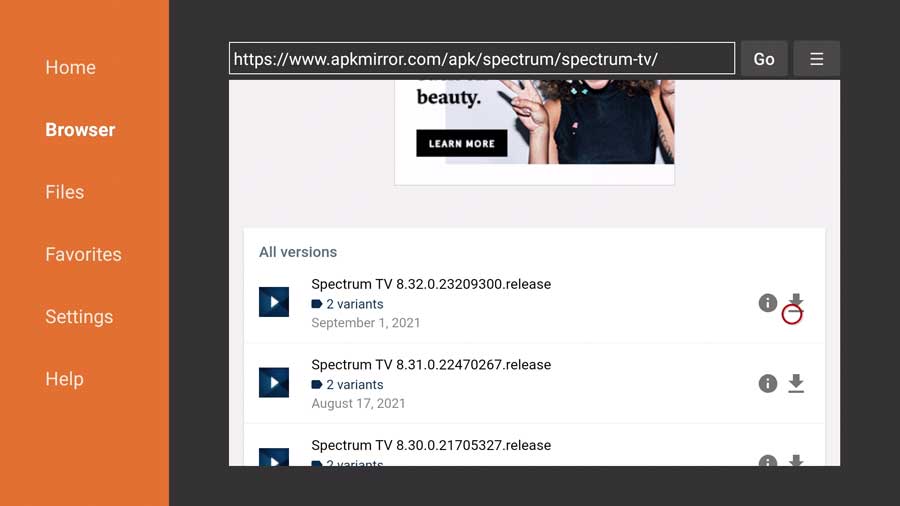 This starts the download process. As soon as the file is downloaded, the Downloader app will automatically start the installation process.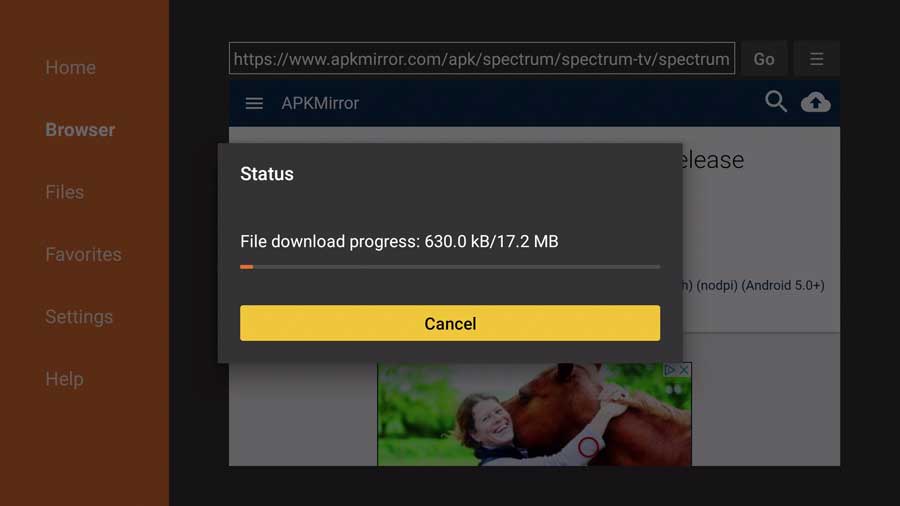 Click Install to continue.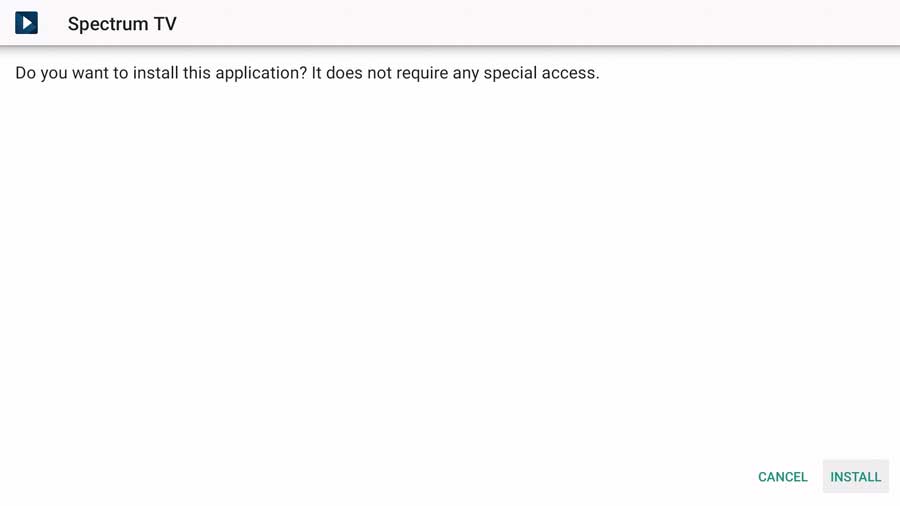 After a few seconds, the Spectrum TV app is installed on your FireStick, and you get the message box telling you it's ready to launch.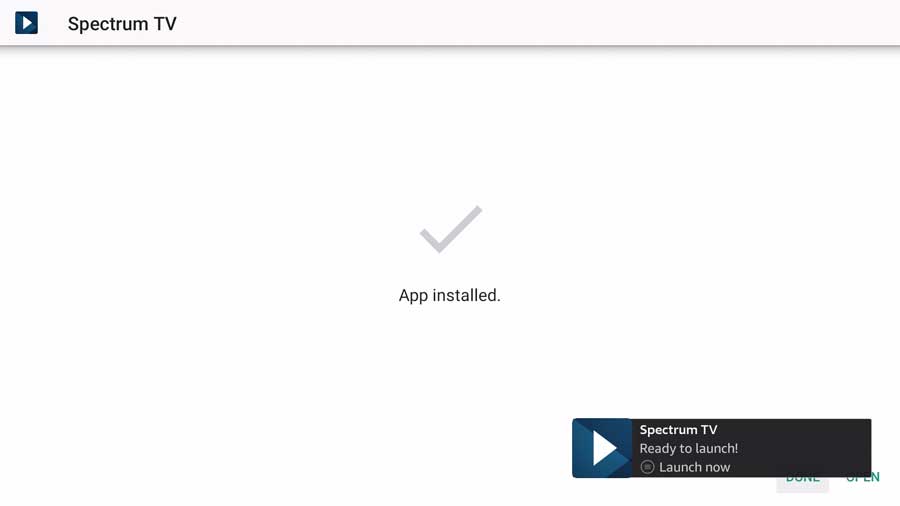 You can either launch it directly from that message box, or from your App Library on your FireStick's main menu.
However, since we sideloaded it, the icon for the Spectrum TV app doesn't appear. In my case, I had several sideloaded apps on this FireStick, so I had to guess which blank icon was the right one.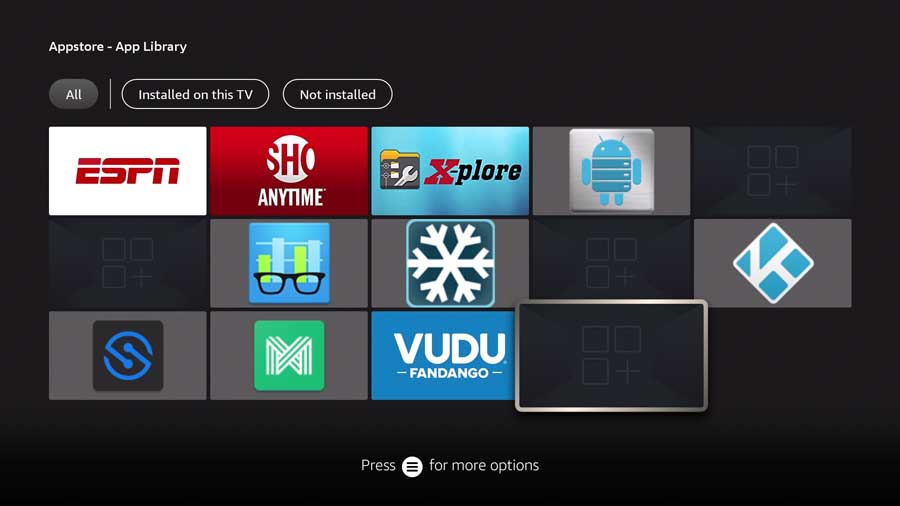 Unfortunately, whether you open the Spectrum TV app from your App Library or directly from the message box, you'll get the "device unsupported" error message as soon as you open it.

---
App Overview
The Spectrum app is application software that enables you to watch live or on-demand content from your TV or portable devices. If you have a Spectrum bundle, the TV app will give you the best value for money in entertainment.
That said, there are three Spectrum apps, each with a different function. First is the Spectrum mobile app, which allows users to manage their account info. There is also the My Spectrum app for accessing your wireless network, paying bills, and troubleshooting.
Of interest here is the third one, which is the Spectrum TV app. It has multiple features to enhance your viewing experience, and these include:
Live TV and On-Demand Content
The main feature of this app is that it gives you access to local channels, such as ABC, NBC, CBS, FOX, and ESPN, where you can watch live news and sports. You can pick a default channel that displays as the home screen when you sign in.
A TV guide pops up on the screen to help you navigate through the channels, and it shows helpful tips to assist you as a new user.
If you get bored with live TV, there is an on-demand library where you can catch up on the latest TV shows and movies.
DVR
Along with giving access to multiple live channels, the Spectrum app has a DVR function that lets you pause, rewind, or fast-forward the live TV. It is a convenient feature that can record content when you are away for you to enjoy later.
Tags
If you have favorite channels, you can tag them, which adds them to the favorites list. By doing this, you won't have to scroll through the roughly 250 stations to get to your preferred options.
Channel Search
Spectrum added a channel search function to make it easier to get to your favorite program. Of course, there is the channel number search, but you can also filter by category or network.
If this is not enough, you can search by the title, sports team, or actor to narrow down the results when unsure what the channels are showing.
Parental Controls
Some content might be inappropriate for your young ones, and it is necessary to lock them out. For this, the Spectrum app features parental controls, a group of settings that give you control over what your child can access. You can block extremely violent, explicit, or race/sexual preference/religion-biased content.
---
FAQs
Is the content on the Spectrum TV app free?
Although the Spectrum TV app is completely free, you must be a Spectrum TV customer to enjoy the services. Being a customer has some fees and rates, so there is a cost.
Can I view the Spectrum app without a cable?
Yes, you can, but this will attract data charges if you cannot access a wireless network. Also, channels are limited when viewing on the go.
Does FireStick have the Spectrum app?
No. Unfortunately, the Spectrum TV app will not work on any Amazon FireStick or Fire TV device. You can sideload the app, however it will display an error message as soon as you open the app.