Last Updated on September 6, 2023 by Tim Wells
I've always been a console gamer. It was easy to pop in a game cartridge or disk and be playing in minutes. Sure, the quality wasn't as good as a dedicated gaming PC, but, I didn't mind.
These days, the newest PlayStation costs $400, if you can even find it. The new Xbox is $500!
Somewhere along the line, game consoles got so expensive that the casual gamer can't afford them anymore.
That was a big selling point when the NVIDIA Shield TV was released. NVIDIA brought out an Android TV box that could play most of the newest games.
As good as it is, not everyone can afford a $200 Android TV box. So I wanted to see if there were any good alternatives to the NVIDIA Shield.
---
What Games Can You Play With An Android Box?
There are two main ways that you can play games on your Android box. You can download standalone games right from your favorite app store. Or, you can download emulators to play your favorite console games that you grew up on.
Let's talk about each in a bit more detail.
Android Games
When you think of gaming on your Android box, this is probably what comes to mind. Games like Pixel Dungeon, Mindustry, or Cataclysm: Dark Days Ahead are free to download, right from the Google Play Store.
A word of caution however. There are dozens of games like Asphalt 9 or RAID: Shadow Legends that seem free at first, but allow you to purchase in-game items with real-world money.
Since most of the games you'll find on the Google Play Store are designed for smartphones and tablets, they'll mostly be simpler games that you can play in small chunks.
Emulators for Android
Imagine if you could play Mario Kart or Sonic the Hedgehog on your Android box.
That's exactly what emulators let you do.
Without getting too technical, an Emulator creates a kind of virtual sandbox inside your Android box's CPU. Inside that sandbox you can play a GameCube game, for example, as if you were playing it on an actual GameCube.
While there are emulators available for many popular game consoles, it's worth noting that emulators can be a bit buggy. Don't expect to get perfect performance out of them.
---
Best Android Boxes for Gaming
Now for the part you've all been waiting for. Here are my top five best Android boxes for gaming. However, if streaming is more your thing, check out my best Android boxes for streaming roundup article here.
#1 NVIDIA Shield TV Pro
This should surprise absolutely nobody.
As a streaming device, the Nvidia Shield TV Pro is hard to beat, yet this little wedge-shaped device packs a Tegra X1+ processor, which is the same chip that powers the Nintendo Switch. It also has 3GB of RAM and 16GB of storage.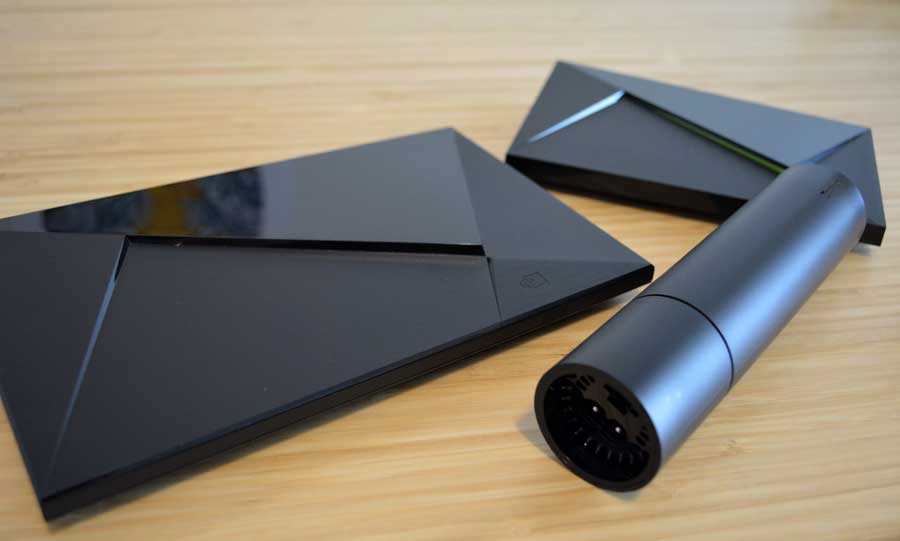 Although previous versions of the NVIDIA Shield came with a game controller, they don't come standard anymore. However, you can purchase on separately or use any Bluetooth compatible game controller, like a spare Xbox or PlayStation controller.
If that's not your style, you can plug a gaming mouse or keyboard into the rear USB ports.
Android TV comes standard, and also includes Chromecast 4K, so you can display any mobile app supporting Chromecast. You get access to all the major streaming services, such as Netflix and Amazon Prime Video in all their 4K glory.
Like many other devices, you can access your Steam library using Steam Link on your NVIDIA Shield TV.
But the big reason why the Shield TV is the best Android box for gaming is GeForce Now. This is NVIDIA's answer to Google's Stadia and lets you play many top-tier PC games on your TV.
There's a free tier and two paid tiers that give you priority access. The library is admittedly limited, but you can increase it by linking your Steam and Epic Games accounts.
I wrote an in-depth review where I go through the signup process and see how easy it is for the casual gamer to start using GeForce Now here.
The NVIDIA Shield TV can also stream games from your computer with GameStream, as long as it has a compatible Nvidia GPU. All of this makes it an easy top choice for gamers.
NVIDIA Shield Pro Android TV
Easily the highest performance Android TV there is! Power enough to be used as a Plex media server or game console with Steam or GeForce Now. If you want the best streaming experience you can get, then the NVIDIA Shield Pro is the one you want.
We earn a commission if you click this link and make a purchase at no additional cost to you.
#2. Beelink GT King
If you're looking for an Android box that runs pure Android rather than Android TV, then the Beelink GT-King should be top of your list.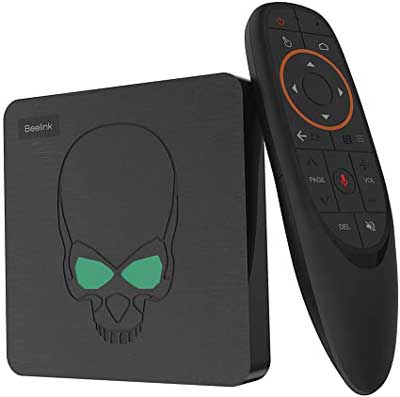 The GT-King has the Amlogic S922X CPU and sports 4GB RAM and 64GB of storage. Unfortunately, one big drawback is Beelink's legacy user interface, which feels very dated at this point.
Unlike the NVIDIA Shield and Fire TV Cube, you won't get 4K resolution on Netflix or Amazon Prime Video. However, you will get it in other apps that support it, like Kodi or Plex.
The GT King has an incredible array of ports: one USB 2.0, two USB 3.0, HDMI, Gigabit Ethernet, Micro SD expansion slot, and a SPDIF port for digital audio.
When it comes to gaming, the Beelink GT King is a rock star!
Not only does it play any of the millions of pure Android games that are found on the Google Play Store, but it's powerful CPU also seamlessly runs emulators for Sega Genesis, Nintendo 64 and other older game consoles.
It struggles a bit with PSP and GameCube games however.
If you're familiar with the GT-King, you might be wondering why I've included the base GT-King and not the GT-King Pro.
Both devices are very similar, but the GT-King Pro only has a minor improvement in processor speed. While it's nice to have a little extra power, there's no tangible difference that I could see to warrant the extra $40 in price.
3. MINIX NEO U22-XJ
MINX prides themselves on making Android boxes that also act as the center of your home media experience. Their latest and greatest Android box is the NEO U22-XJ media hub.
Like the Beelink, it runs pure Android 9.0 Pie operating system, which means every Android app and game will work on it, no matter what TV you decide to plug it into.
Performance comes from a six-core Amlogic S922XJ, mated to 4 GB of RAM and 32 GB of storage space for your games. to store large videos and other downloads.
That's good enough to run most game emulators as well as 4K video playback at up to 60 FPS, provided the app supports it.
The U22-XJ has tons of ways to connect all kinds of equipment: HDMI 2.1, SPDIF, Gigabit Ethernet, an OTG cable, three USB 3.0 ports and a headphone jack.
Performance is ever-so-slightly higher than the Beelink GT King and a bit lower than the GT-King Pro, which is why it comes in right behind it on this list.
For more details, check out my full review of the MINIX NEO U22-XJ here.
4. Amazon Fire TV Cube
Did you know that apart from selling some of the hottest titles on the planet, Amazon offers free games as part of its Amazon Prime subscription?
Even better, the retail giant is throwing down the gauntlet and launching its own cloud gaming service. Amazon Luna offers such titles as Assassins Creed Valhalla, Control, Metro Exodus, and GRID.
Like NVIDIA GeForce Now, it streams directly to your device from their cloud servers.
By far the best way to access all those games is through their latest Fire TV Cube.
Like most of the other Android boxes on this list, it runs a version of the Amlogic S922 CPU. However, it only comes with 2GB of RAM and 16 GB of storage. That's less RAM than I'd like, so it has the potential to lag a bit in more intense games.
Unlike the FireStick, you can connect to your router through it's Ethernet port Adapter that plugs into the micro USB port.
While the FireTV Cube isn't quite the gaming powerhouse that the NVIDIA Shield is, it offers similar streaming performance and good game performance at a discount. If you want something that plays Netflix in 4K and can handle some basic games, the FireTV Cube is a great option. You can check out my full review here.
Amazon Fire TV Cube [Latest Version]
Octa-core processor that is 2X as powerful as Fire TV Stick 4K Max
Support for Dolby Vision, HDR, and Dolby Atmos audio
Netflix certified, Wi-Fi 6E compatible
We earn a commission if you click this link and make a purchase at no additional cost to you.
5. Zidoo Z9X
Officially, the Zidoo Z9X is a 4K Ultra High Definition (UHD) media player, but it's a pretty good Android box for gaming as well.
Powering the Z9X is a Realtek RTD1619DR hexacore 64-bit high-performance CPU. Throw in 2 GB of RAM, 16 GB of flash storage, a stylish aluminum case and a media-centered backlit remote, and you have a great Android box that's powerful enough to handle 4K HDR video and hi-fi audio playback.
Like the Beelink and the MINIX, the Zidoo Z9x runs pure Android 9 Pie. That lets you download Android's huge library of apps and games. Emulator performance is good, for most game systems. Unfortunately, it does not support the Vulkan API.
You'll need to spring for additional hardware if you want to turn this into a true gaming machine. Fortunately, you have plenty of ports to attach a controller, keyboard, or mouse.
The Zidoo Z9X includes Gigabit Ethernet, HDMI 2.0, digital optical, two USB 3.0 ports, two USB 2.0 ports and a DC 12V for attaching the power cord. Wireless is available via 2.4G + 5G dual-band WiFi or Bluetooth 4.2.
The stylish aviation aluminum case is compact enough to fit anywhere, but the two fold-up hi-gain antenna in the back annoyingly requires plenty of clearance above.
The biggest drawback to the Zidoo Z9X is it's price. At over $200, there's no reason to buy this Android box over the NVIDIA Shield TV if you're looking for a great gaming device.
Zidoo Z9X 4K Media Player
High-end Android box with the option of regular or custom performance firmware. Support for HDR10, HLG, HDR10+ and Dolby Vision makes this box an awesome streaming machine!
We earn a commission if you click this link and make a purchase at no additional cost to you.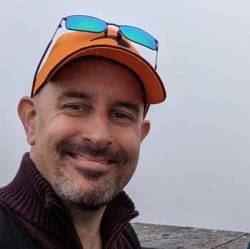 Latest posts by Tim Wells
(see all)