I've always been curious about NVIDIA's GeForce Now game streaming service.
I'd never used it before, so for this article, I wanted to really put it through it's paces and really see if it's worth it for the casual gamer.
Game streaming services haven't caught on. At least not to the same level that music and video streaming services like Pandora and Netflix did.
NVIDIA's GeForce Now is a cloud gaming service that officially launched to the general public on February 4, 2020. as part of Shield Software Upgrade 2.0.
Longtime NVIDIA Shield users have probably seen the NVIDIA Games row on your home screen. From there you can launch both GeForce Now and GameStream, which we'll cover separately.
You may even have tried the Beta version of GeForce Now when it launched in 2013 under its former name, NVIDIA GRID.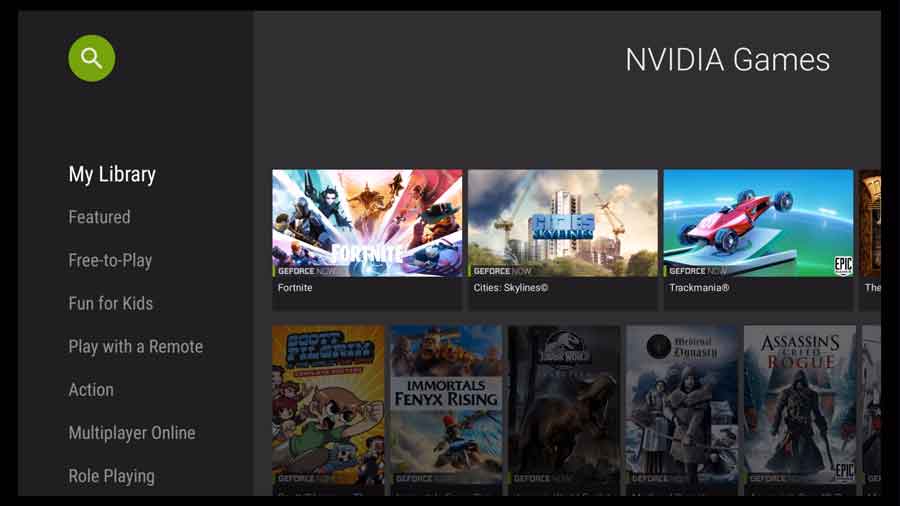 GeForce Now is a great example of what NVIDIA's technology can really do when it is properly implemented and configured. As an undisputed leader in the PC gaming industry, NVIDIA is making a name for itself in the competitive game streaming market.
NVIDIA's GeForce Now may be one of the newest cloud-based gaming services to hit the market, but it's certainly not the first.
---
What Is GeForce Now?
Game streaming services like Google Stadia and Microsoft's Xbox Game Pass have created a lot of buzz in recent years.
While Xbox Game Pass has had some good success, Stadia has been… well, let's just call it underwhelming.
GeForce Now is different though.
It's better to think of GeForce Now as a game aggregator, rather than a streaming service. Since – although I'm still going to call it a streaming service here.
GeForce Now is the hub where you can play all of your games – no matter what platform they're on. It enables NVIDIA Shield users to play many of PC games that you wouldn't be able to play on the Shield otherwise.
GeForce Now links to popular platforms like Steam and Epic Games, and gives you one place to play them, without having to switch apps depending on where you bought the game.
What I liked most was that GeForce Now lets me play games on my Shield TV that I wouldn't be able to play otherwise like Cities Skylines or even Cyberpunk 2077.
How Does GeForce Now Work?
As I mentioned earlier, it's important to think of GeForce Now as a game aggregator, not just a game streaming platform.
You see, you don't actually rent or buy games from NVIDIA to use on their service.
You're essentially renting time on one of NVIDIA's game servers to play a game that you already own on another platform.
Let's walk through an example so you have a better idea how it works.
Cities: Skylines is available through GeForce Now through Steam. I purchased it for the PC, and it's linked to my Steam account.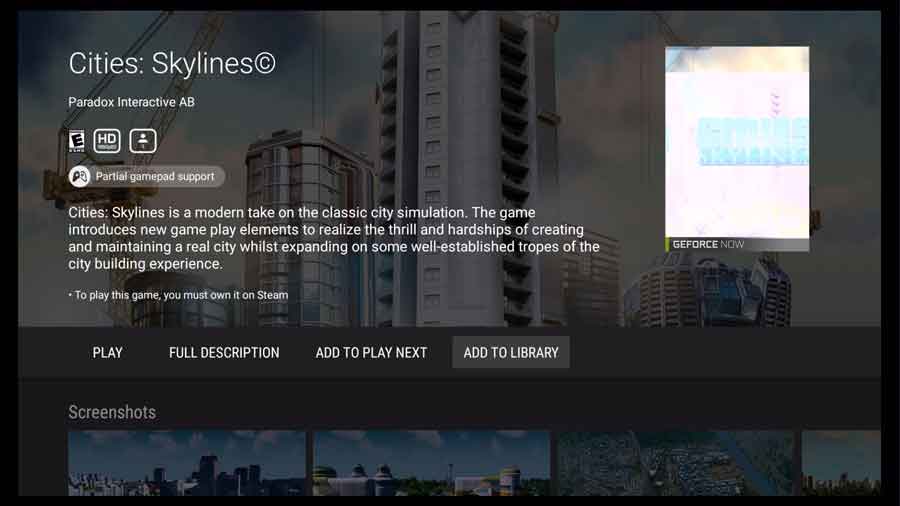 And indeed, if you search for Cities: Skylines on GeForce Now, it'll give you the option to run it from your Steam account. Then, you can go ahead and add it to your GeForce Now library.
Now comes a little NVIDIA trickery.
GeForce Now works by emulating a PC on one of their servers so you can play your game. Your game thinks it's running on Windows, for example, not your NVIDIA Shield. That lets you bypass any compatibility issues and (better yet) any minimum hardware requirements.
That makes a HUGE difference, especially for games like Cyberpunk 2077 which has been downright awful on consoles.
Put simply, GeForce NOW was designed from the ground up to create a powerful gaming experience for people who enjoy PC gaming, but want the convenience of console gaming.
It works in real-time, on several different platforms like any desktop, laptop, Mac, Android device, iPhone, iPad, or SHIELD TV.
No other gaming service delivers this level of performance across so many platforms.
How Fast Does Your Internet Need To Be?
Streaming services rely on a speedy internet connection. It could literally mean the difference between life and death…at least in the game.
Depending on where you live and the type of internet connection you have, this may be the biggest roadblock for many gamers.
NVIDIA recommends a connection of at least 15Mbps for 720/60fps performance and 25Mbps for 1080p/60fps performance.
Remember, that's speed at the device level, not the speed of the internet when it comes into your home.
To get that number, you'll want to use Ethernet (recommended) or a 5Ghz wireless router to help minimize latency.
Personally, I've found that a wireless internet connection doesn't allow for a seamless gaming experience. I've got a Ubiquiti network setup in my home, and I still see faster throughput with a wired Ethernet connection.
Note: If your internet plan has a data cap, playing games on a cloud streaming service can quickly eat away at your data for the month.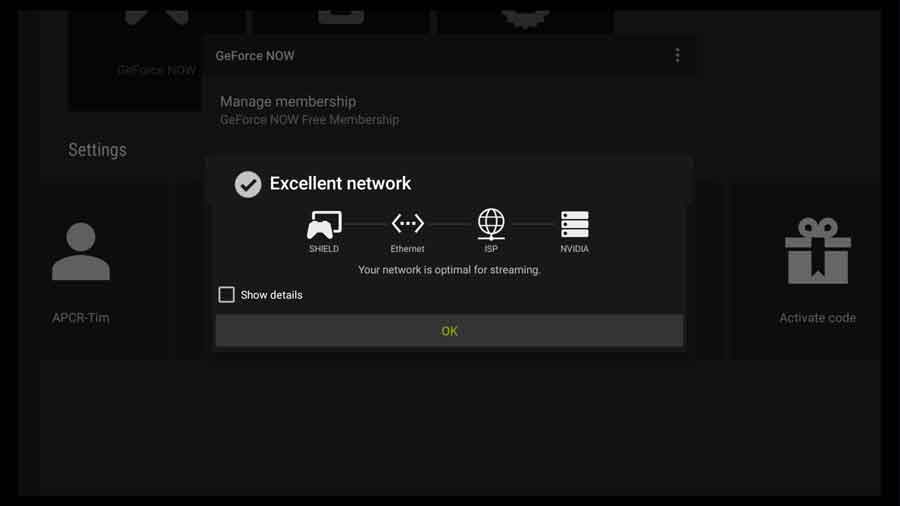 Regions Where GeForce Now is Available
GeForce Now is available in over seventy countries in Europe and North America. Additionally, NVIDIA has alliance partners that support the service in Russia, Japan, Korea and a handful of other countries.
If you're gaming with players in other countries, you might find there are games in their library that you are not able to play. This can happen when certain games are prohibited in certain countries.
---
How Much Does GeForce Now Cost?
Like most cloud gaming services, GeForce has a tier that's is free to use. That enables you to get started quickly, create an account and start playing your favorite games.
Not surprisingly, upgrading to the paid "Founders" membership tier will land you a better experience overall. But we'll get into what you get at each tier.
There are two membership options for GeForce Now: Free and Founders.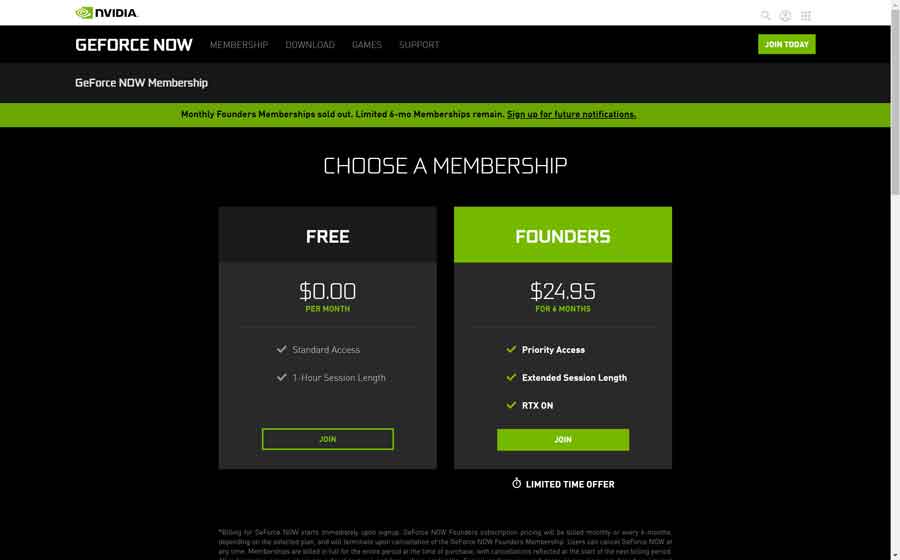 GeForce Now: Free Membership
As you can imagine, the Free GeForce Now Membership is the cheapest way to get started. You get access to the GeForce Now servers, but there are some serious limitations to be aware of if you choose this option.
Most importantly, a free membership enforces a 1-hour session limit. After an hour, you'll be forced to log out and log back in again, even if you want to play the same game.
The catch is that you'll be placed at the back of a queue, behind other free players.
NVIDIA says that free-tier users "may experience wait times" as Founder's Members get priority access to the servers.
In my experience, the wait times were really bad.
I tried to play several games while I had the free membership,
I'm totally OK with waiting a bit if I'm not paying for the service. I get it: bandwidth costs a lot of money.
But as you can see from the screenshot above, there were two hundred and thirty-nine people in front of me waiting to play WRC 7 – a game that came out in 2017!
So I waited…
…and waited.
After 30 minutes, I backed out of the queue. There were still 219 people in front of me.
Unfortunately, in my experience, the Free Membership just wasn't a viable solution.
GeForce Now: Founders Membership
So I upgraded to the 6-Month Founders Membership.
At $24.95 a month (about $4 a month), you can bypass the limitations and cut to the head of the line. It also turns on RTX and ups the one hour session limitation to six hours.
The increased session length is nice, especially if you're playing RPG's like Cyberpunk 2077. However, enabling RTX is more of a novelty.
RTX is only supported on a small number of games, so I wouldn't call it a big selling point yet. The potential is there, definitely. However, don't go purchasing a Founders Membership solely for the RTX capability.
You should buy a Founders Membership because it gets you gaming faster.
I tried several different games (old and new) at different times. On average, I waited no more than a minute to connect to a server and start playing.
---
My Review: GeForce Now on the NVIDIA Shield
But let's take a step back. What was it like for someone who's never used a game streaming service to sign up and use GeForce Now?
Don't get me wrong, I've used tons of different streaming services, many just because I was testing them for this website (and it's predecessor). However, the closest thing to a gaming service I'd used was a couple month stint with Gamefly several years ago.
So let me walk you through my GeForce Now experience on the NVIDIA Shield TV.
Signing Up for GeForce Now
As a longtime Shield TV user, I've had an NVIDIA account for years. It's the main login that you I to access the NVIDIA forums, as well as the Shield Preview Program.
Thankfully, you can add a GeForce Now membership so everything is still tied to that one account.
But even if you don't have an NVIDIA account already, it only takes a few seconds to sign up – at least for the free membership.
You can login with either Google or Facebook, so you can use their single-sign on. If you want to keep things separate, the only information NVIDIA asks is your email address and date of birth.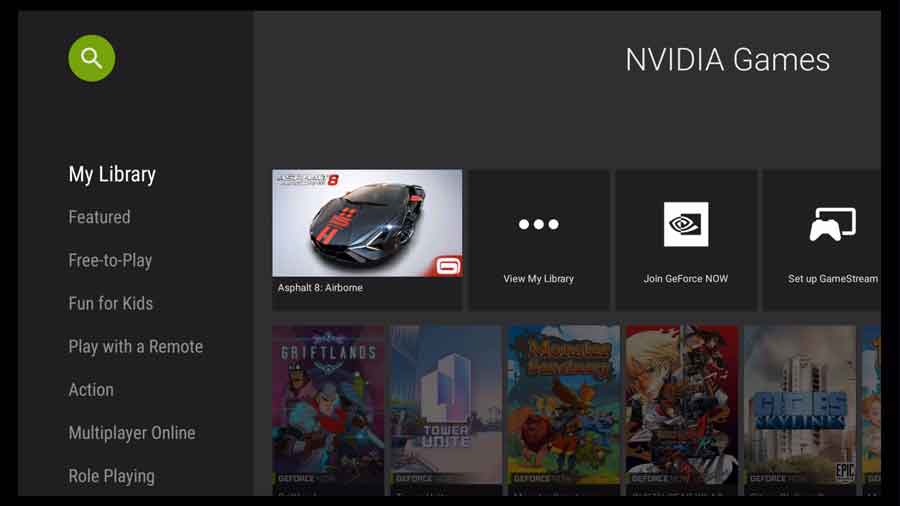 Once you sign up, you can head on back to your Shield TV and open the NVIDIA Games app to start putting games in your library .
Adding Games to your GeForce Now Library
NVIDIA has almost one thousand games that work with GeForce Now.
That sounds great if you're just starting out with a game streaming service. But the reality is that it's not easy to actually get them in your GeForce Now library.
First, it's hard to tell what games are actually available.
If you go into this thinking that GeForce Now is an all-in-one streaming service like Google Stadia, then you're going to be in for a shock.
As I've said before, GeForce Now is simply a front end.
Only certain game stores like Steam, Epic Games, Ubisoft+, and GOG are supported. Moreover, not every title in those stores will run on GeForce Now.
Secondly, if you have accounts from different stores, you need to link all of those stores to your GeForce Now account.
Sometimes, that can be as simple as using your Google single sign-on. If not, you'll need to enter each one separately on your Shield TV.
Hey NVIDIA, if you're listening, how about letting us link our accounts all at once from a web browser, and having them automatically transfer to our GeForce Now account?
Supposedly there's a feature in version 2.0.22 of the GeForce Now app that will automatically sync your Steam library to your GeForce Now account. Unfortunately, that didn't seem to work for me and I had to manually add my games one at a time.
Finally, there were games listed on GeForce Now that I couldn't install because they weren't compatible with my system, like Fallout Shelter.
Overall, I think the games Library needs some work.
If you're new to game streaming, it's going to leave you overwhelmed. If you're not, it adds a lot of hoops you need to jump through before you can play your first game.
Launching and Playing Games
As cumbersome is it is to add games to your GeForce Now library, it's super-easy to actually play them.
The GeForce Now Library makes you feel like you're looking at your games, stacked in a row on your shelf. You only need to pick the one that you want to play right now.
Once you click on a game, it's like you're picking up the case, at least virtually. In the next screen, you can read the description, start playing or remove it from your library.
Unfortunately, once you start playing the games, things can go a little sideways.
Remember, GeForce Now emulates a PC connecting to one of your game stores (Steam, for example).
But you can tell right away it's not a native Android TV app.
Emulating a PC on a console, is hit or miss – especially in the controls. It's awkward trying to play a PC game using a controller.
To it's credit, the GeForce Now app gives you some good options. No matter where you are, you can always open up the virtual keyboard and mouse to navigate around the screen.
That said, navigating is clunky. It's annoyingly difficult sometimes just trying to start a game.
For example, I was really excited to play Cities: Skylines on a big TV. But trying to play a keyboard & mouse game on a controller leaves a lot to be desired.
To be fair, you can hook up a USB keyboard to your NVIDIA Shield, but I wanted to see what the experience would be like with just the controller.
In my experience, if your game can run natively with a game controller, then it's going to be great on GeForce Now. But if it relies too heavily on a keyboard and mouse, then you might want to reconsider.
---
What You Need to Get Started
NVIDIA makes it easy to get started with GeForce Now, especially for Shield TV users. All you need is a controller or a USB keyboard and mouse, depending on the game.
NVIDIA recommends either the standard Shield game controller, an Xbox One controller or a PlayStation 4 controller.
If a keyboard and mouse is more your style, Logitech makes several great options that work very well with the Shield TV.
Other than that, it helps to have accounts already set up with the different game stores, especially Steam and Epic Games. Epic has free games from time-to-time to help you build your game library quickly.
---
The Verdict
Even though I went into this review with the wrong expectations, I like NVIDIA's GeForce Now for the Shield TV.
Initially, I wasn't sure what the advantage was to using GeForce Now instead of launching the game from the Steam Link app or the app drawer.
It may not be the game streaming service I expected, but it's a great way to play games that you wouldn't otherwise be able to on your Shield TV. There are, however, some great GeForce Now alternatives that I explore in another article. Or, check out my guide to installing Steam Link on your NVIDIA Shield TV.
For more great articles like this, head on over to my NVIDIA Shield TV resource page. There you'll find all of my tips, tricks, reviews and tutorials to help you get the most out of your NVIDIA Shield.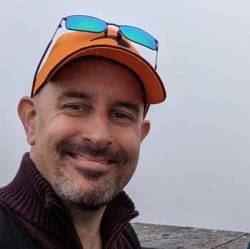 Latest posts by Tim Wells
(see all)