Last Updated on June 20, 2023 by Tim Wells
Even if you're completely new to streaming, you've probably heard of Roku.
They've dominated the streaming player market for almost as long as there have been streaming players.
But that doesn't mean that they're the only game in town.
This site focuses on Android TV, so I thought it would be good to compare Android TV vs. Roku devices.
Although Roku is the market leader, Android TV offers some appealing features that might just tip the scales in their favor.
---
Android TV vs. Roku: Comparing the Look & Feel
No matter which smart TV you choose, they're super-easy to set up and use. Simply connect them to your network and you're good to go.
You might not find much of a hardware difference between the Roku TV and Android TV, but the user interfaces are like night and day.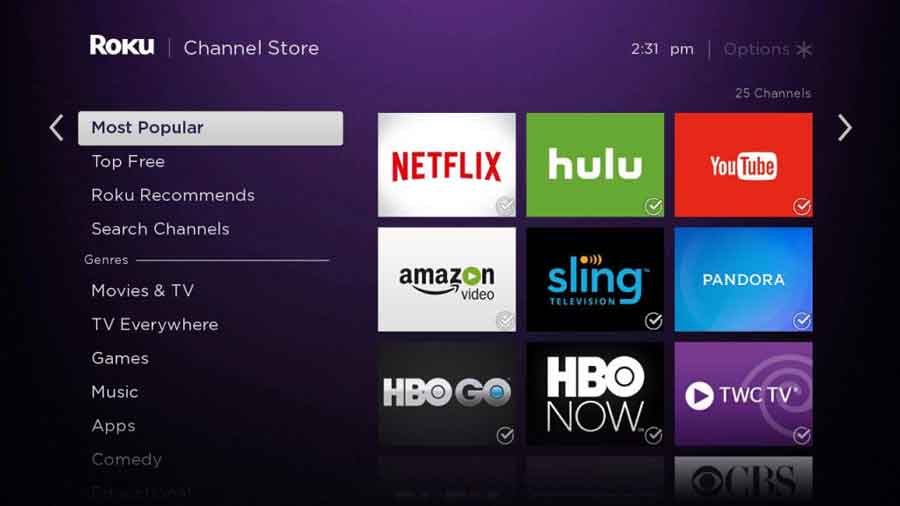 Roku Home Screen
Roku's interface has remained the same since 2013. They have a simple, 3×3 grid interface that makes it easy for people new to streaming. Users, particularly those who aren't tech-savvy, consistently praise its ease of use.
There's a universal search feature that lets you find content on any service, including those you haven't installed. There's also an option to follow your favorite shows to be alerted of new episodes/content.
Roku has its own proprietary channel with content, but most people prefer their premium services like Netflix or Amazon Prime. Finally, you can also navigate around using the voice remote.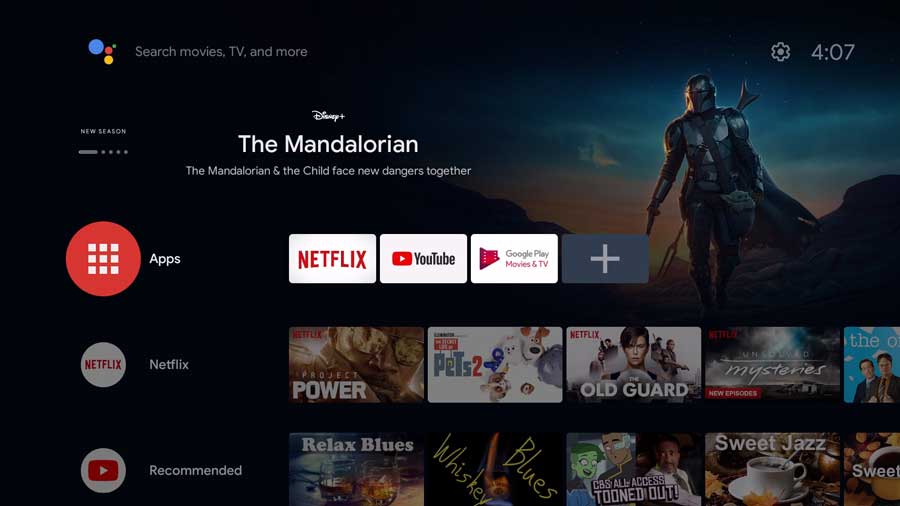 Android TV Home Screen
In comparison, Android TV tries to be a bit more intuitive and attractive. There's a few differences between the stock Android TV launcher and the customized version included with the Chromecast with Google TV, so I'll call out them out as we cover them.
Android TV's home screen has several rows of content that you can customize to show different things.
The top row is a kind of quick launch bar where you can put the apps that you use most often. Underneath a Recommended row that, as the name suggests, recommends content to watch from the apps you use most.
Below them are different rows for many of your apps, like Netflix, Amazon Prime or even games that you've installed. Android TV lets you add, remove and reposition rows so they work better for you.
This makes it easy for you to keep up with your favorites. And thanks to built-in Google Assistant, there's no need to manually type in the shows that you want to watch.
Android TV vs. Roku: Apps
The biggest difference between Roku and Android TVs isn't the hardware; it's the software that can run on it.
It's easy to make a case for Roku based on the number of video and music apps alone.
From high-quality official apps to some sketchy third-party options, Roku has you covered. There's Tubi, Crunchyroll, PlutoTV, Plex, and more. One notable exception is Roku's lack of an official Twitch app, which it a point in the Android TV column.
Additionally, you can use the Chromecast built-in feature with Android TV to stream content from your computer or smartphone. However that's slightly less convenient than using a native app.
Android TV does offer the most common names. Netflix, HBO Now, YouTube, Hulu, Spotify, and Disney+ are all available, along with Twitch and some live TV upgrades.
Android TV vs. Roku: Gaming
Neither Android TV nor Roku are designed for gaming, but that doesn't mean there aren't options for casual gamers.
Roku only has about two dozen games on it's official gaming channel. You won't find any Triple-A games here, but you will find games like poker or chess to help pass the time.
Android TV has a lot more options for gamers, especially if you opt for the NVIDIA Shield. It won't replace a dedicated console for gamers. However, you will find hundreds of games to keep you busy. including Crossy Road, Minecraft Store Mode, and Final Fantasy IX.
Mobile Device Integration
Both Roku and Android TV can integrate with your smartphones to give you a better streaming experience.
Chromecast is built right into Android TVs so that you can easily fling content from your smartphone to your TV. There are also official Android TV and NVIDIA Shield apps that turn your smartphone into another remote control.
Roku has its own app that acts as a remote and allows you to type search queries directly into your device. It even lets you start watching on your TV, pause, and then continue it on your phone when you're on the go.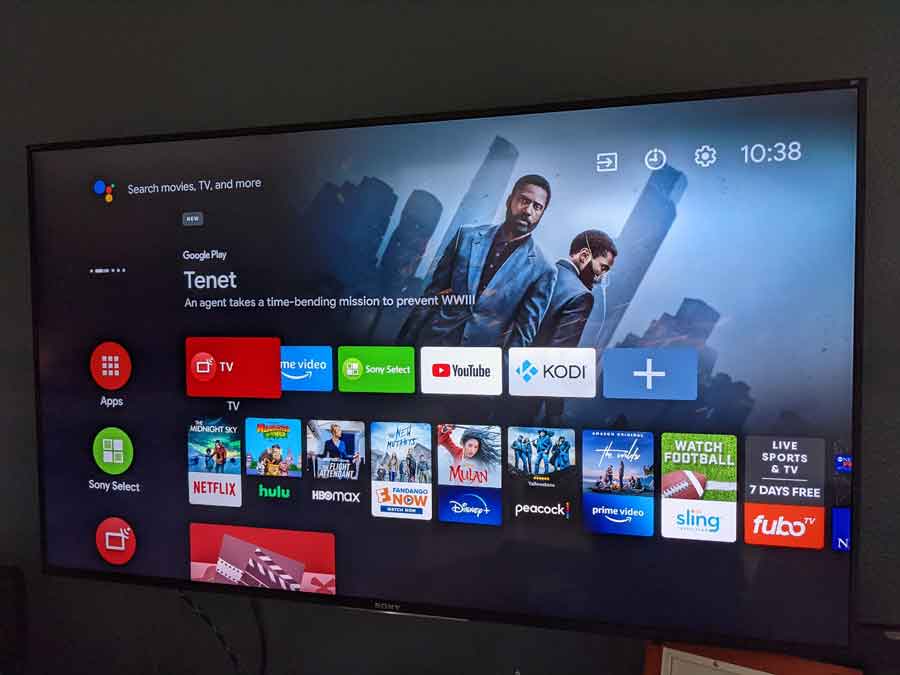 ---
Android TV vs. Roku: Comparing the Televisions
Let's start by looking at the TV's.
Both Roku TV and Android TVs are available from a variety of manufacturers. Some manufacturers even make both.
Roku TVs are made by TCL, Hisense, Philips, RCA, Hitachi, Sanyo, and Westinghouse.
Android TV is exclusive to Sony, and Sharp televisions, but you can also get it from TCL, Hisense, and Philips as well.
Within those brands, there's plenty of variations, as well.
TCL's Roku TVs are the most common, ranging in size from 28″ to 75″. Android TV's range from the 24″ Phillips on the small end, all the way up to the gargantuan 98″ Sony XBR Z9G.
Although every TV will have different specifications, they're all built to work perfectly with their Roku or Android TV operating system.
Many have features like Dolby Vision HDR, Dolby Atmos sound, and THX certification.
---
Android TV vs. Roku: Comparing Hardware
Although you can use this as an excuse to buy a new television, you certainly don't have to. Both Android TV and Roku have boxes and streaming sticks that you can use with your current TV.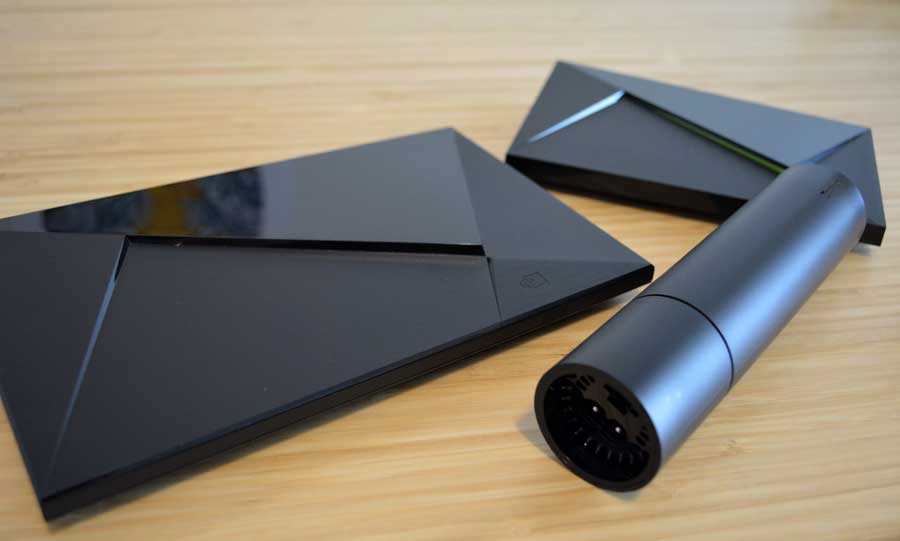 Official Android TV Boxes
For many years, the only official device recommended by Google was the NVIDIA Shield TV. It's a high-end streaming device that can replace your entire home entertainment system. However, it's a little pricey, especially if you opt for the Pro model.
Recently, more and more Android TV devices have started popping up. You can now buy streaming boxes like the Xiaomi Mi Box S and the Ematic Jetstream AGT419.
I've reviewed both on this site previously.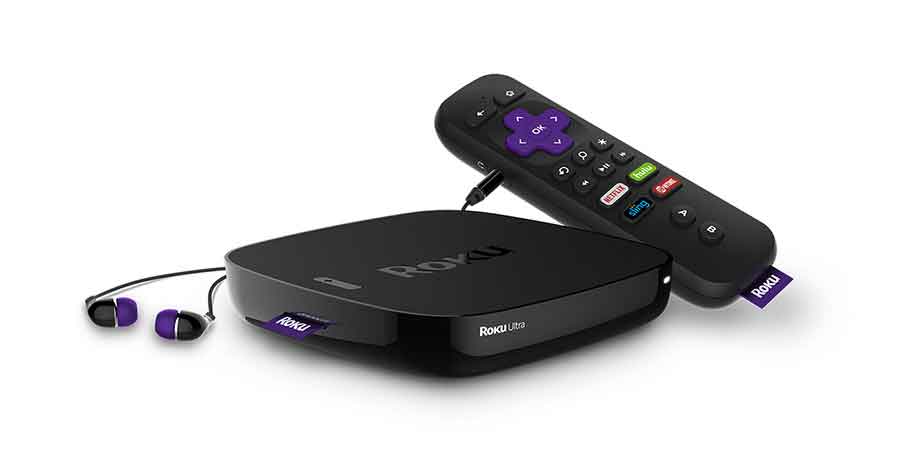 Roku Streaming Devices
Roku' has several models of streaming boxes and sticks that plug directly into your TV's HDMI port. The four current options are the Roku Express, Roku Premiere, Roku Streaming Stick+ and the Roku Ultra.
The Roku Express starts at less than $30, putting it on par with an Amazon FireStick. If all you want is access to your favorite streaming service, it's your most affordable option.
However, its hardware is also the weakest, making it a bit slower than other Roku streaming players. You can upgrade to the Express+ to add voice controls.
Next up is the Roku Premiere. It takes the Express and adds 4K playback and better audio. reaming experience. The Streaming Stick+ might just hit the sweet spot, adding a voice-controlled remote that can also operate your TV.
All of the Roku sticks are powered by a USB cable that plugs directly into your TV.
If you want to add your own content from a USB drive or SD card, or from a media server through Ethernet, then the Roku Ultra is the right device for you.
Finally, the Ultra LT is a light version of the Roku Ultra that leaves out USB playback, Dolby Vision, fast channel launch, Dolby Atmos, personal shortcut buttons, or the lost remote finder to save some money.
---
Roku vs. Android TV: Price Comparison
Roku doesn't just have the price advantage over Android TV when it comes to streaming devices; it tends to be cheaper overall.
You can buy a brand-new Roku TV for less than $200 any day of the week. If you're looking for a smaller set to place in your bedroom or kitchen, for example, you can spend less than $150 for a full-featured smart TV.
While Google has a few smaller, more affordable options, the price difference becomes more apparent between comparable premium smart TVs.
This may ultimately be why Roku is a more common household name than Android TV. Still, when the devices are closer in price, it's a much closer battle.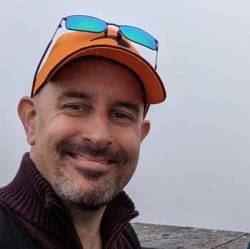 Latest posts by Tim Wells
(see all)