I've been using Android boxes for almost a decade, and I've seen a lot of "fully loaded" Kodi boxes come and go. Each promised "free TV for life" so you'd save thousands of dollars on your cable bill each year.
Chances are you've come across a Facebook ad for one. Maybe you saw them for sale at a booth at your local flea market. Either way, most "fully loaded" Kodi boxes are pretty dodgy. In this article, I'm going to explain why.
---
What is a Kodi Box?
First, let's define what makes a Kodi box different from an Android TV box, or other streaming devices.
In this article, I'm calling any device that primarily runs Kodi a "Kodi box."
Sometimes these devices use Kodi as a front-end to access their Plex servers or even stream from Netflix. Usually they simply run Kodi by itself and stream the content from addons.
Most Kodi boxes you see are specially modified Android TV box or "jailbroken" FireSticks. However, they can be any device that runs Kodi – even a mini-PC running Windows 10.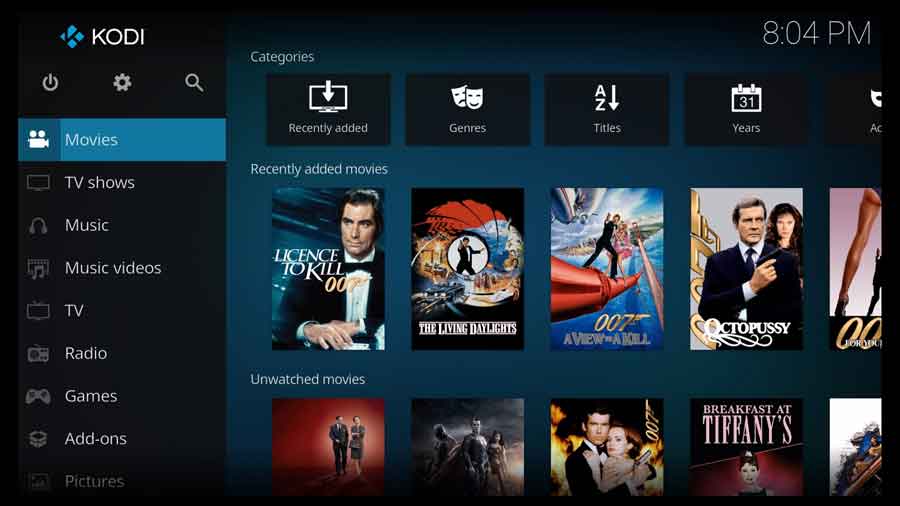 You can use Kodi both for your personal media library and your streaming apps. That makes it incredibly powerful and one of the most popular medic centers in the work.
In fact, you can actually boot right into Kodi and never see your Android desktop at all. You can find out how to do that in my tutorial here.
Kodi has addons that link to your premium streaming services like Netflix or Hulu, allowing you to stream those movies from within Kodi. Similarly, if you have a HDHomeRun, there's an official Kodi addon that lets you stream and record live TV.
All that makes Kodi an incredibly powerful media center. It's easy to see why dedicated Kodi boxes are so popular.
---
Are Kodi Boxes Legal?
Kodi has always had a tough relationship with the law. Some is justified. Most of it isn't.
Kodi's official stance is that they oppose piracy in all it's forms. However, they don't do anything to actively block known streaming piracy addons from their media center.
Kodi has gotten extremely popular over the last few years. Many people have argued that piracy was a big factor in that.
But is Kodi legal?
It depends how you use it.
If you're using Kodi to manage your own library of movies, music and TV shows that you purchased and own, then yes! That's absolutely legal, and, in fact, that's how Kodi got it's start.
If you're using one of the addons I mentioned earlier to play your Netflix or Hulu subscriptions through Kodi, that's perfectly fine as well. Same goes for accessing live TV through HDHomeRun.
The problems start when you start accessing content that you would otherwise have to pay for.
By that I mean pay-per-view sporting events, premium movie channels, and "free" subscriptions to premium streaming services.
To be blunt, the laws in most countries haven't kept pace with how we're watching content. Most countries have laws that prevent you from downloading content. That makes things like torrenting or file sharing illegal, but it doesn't cover streaming pirated movies at all.
That puts Kodi boxes in a legal gray area.
Kodi box-sellers have been put out of business, sued by the big entertainment companies and even arrested, in some cases.
However, nothing has been done to the little guys – you and me – who just use Kodi to watch the game on Saturday.
There's no denying that Kodi boxes dance around the question of whether Kodi is legal or not. However, at least as of now, they are.
That's enough for most people to keep using them.
---
Five Kodi Boxes to Avoid (and Why)
As I said earlier, I've been following the Android box industry for a long time, and I've seen a lot of companies come and go.
Some companies change their name a few times because their reputation was so bad, or because they got into trouble with the law.
I've picked five Kodi box manufacturers that I recommend staying away from. I'll go into more detail on each in their own section below.
Note: All screenshots were taken and prices checked on April 15, 2021.
StreamSmart \ e-StreamSmart \ Streamaster
I wrote my first anti-StreamSmart article way back in 2016.
They've changed their name a few times and have a different website these days. But it's still one of the most over-priced Kodi boxes on the market today.
Why?
Simple. The e-StreamSmart Superbox S2 Pro currently sells for $29 and has 4 GB of RAM and 16 GB of storage. It runs Android 7.0 Nougat – which was released way back in 2016. Not exactly cutting-edge technology.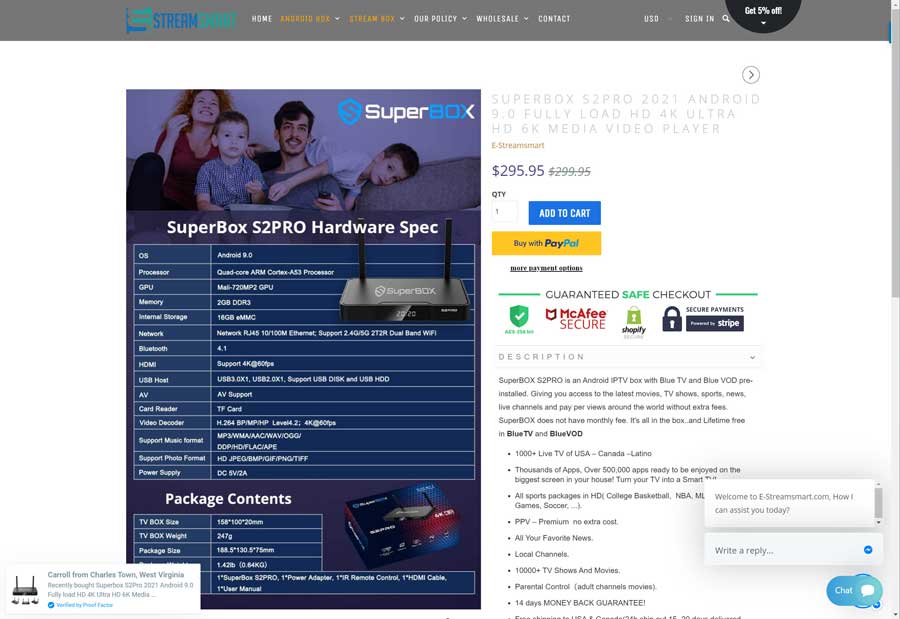 In fact, if you go to GeekBuying.com, a similar spec Android TV box sells for $29.99.
No, that's not a typo. e-StreamSmart is marking up their Kodi box ten times what it should be!
e-StreamSmart offers a "free" lifetime subscription to BlueTV as part of the package. BlueTV is an IPTV service, that allows you to get access to tons of channels from around the world. On their website, they offer a year's worth of the service for $80.
My quick math tells me you'd have to have your e-StreamSmart box for over three years before you break even!
Given StreamSmart's history of folding up and re-starting under a new name, that's not a bet I'm willing to take. I recommend avoiding StreamSmart Kodi boxes, no matter what they're calling themselves these days.
---
ShadowBox TV \ NeoTube
At first glance, the ShadowBox TV doesn't look that bad. It's only $99, which puts it in the normal price range for an Android TV box.
Their Kodi box only has 1 GB of RAM and 8 GB of storage. That's pretty basic by today's standards. However, we've seen what the Google Chromecast with Android TV and the Amazon FireStick Lite can do with similar specs.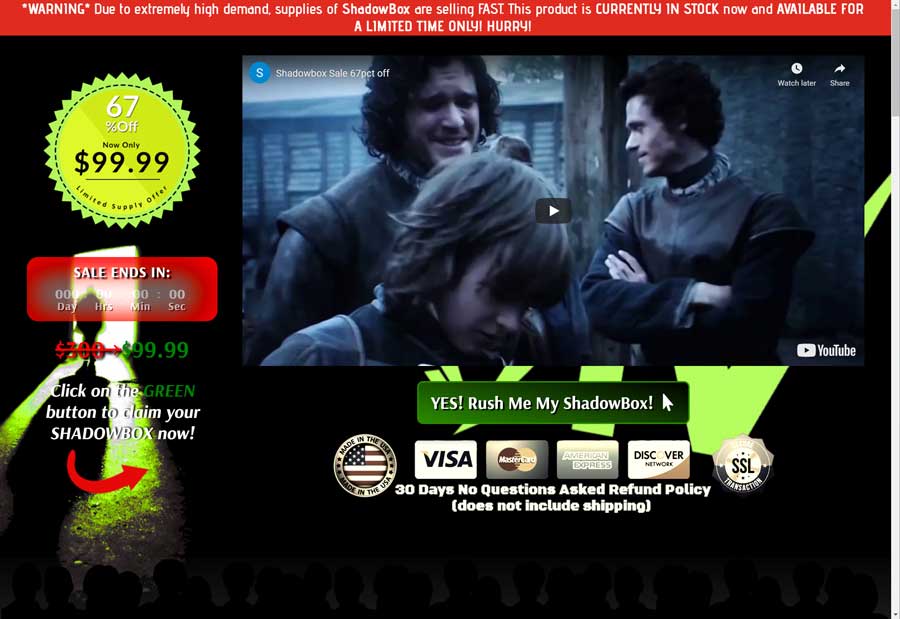 For me, the red flags start popping up when I dug a little deeper.
Take a look at some of the testimonials on the current ShadowBox TV site…
…and compare those to the NeoTube-TV website.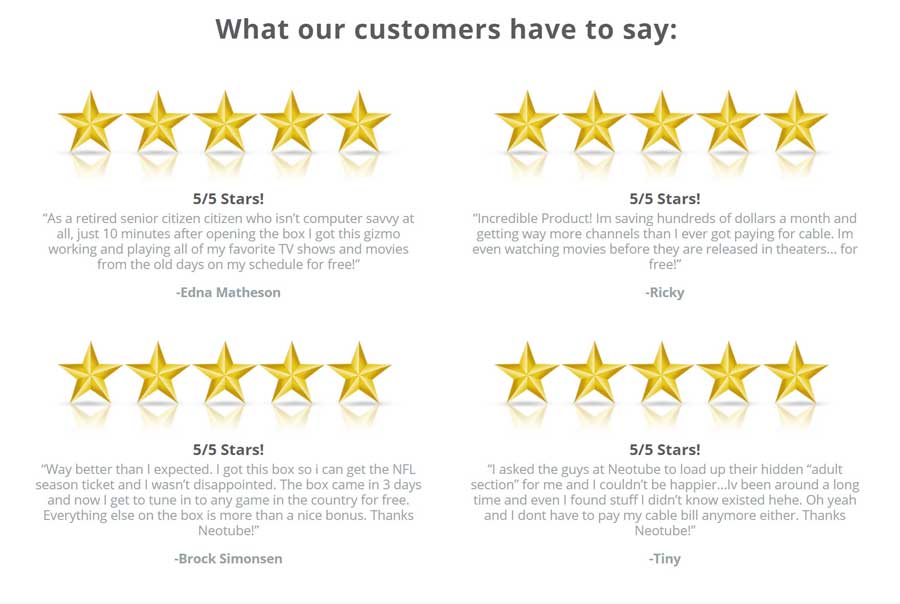 All four testimonials are exactly the same, except the NeoTube TV name is swapped out for ShadowBox TV. Two of the testimonials don't even have the same people quoted as saying them.
Personally, even if this was an amazing product (it's not), I wouldn't trust a company that re-uses testimonials. If they were even real in the first place, that is.
---
FreeStream Elite Media Player
There are a couple of Kodi boxes calling themselves the FreeStream TV Box. They all look over-priced to me, but the one I'm going to focus on here is the FreeStream Elite Media Player from Boxxmen.
The Boxxmen's suggested retail price for the FreeStream TV box is $599, but they'll let you buy it for 'only' $248 through their website.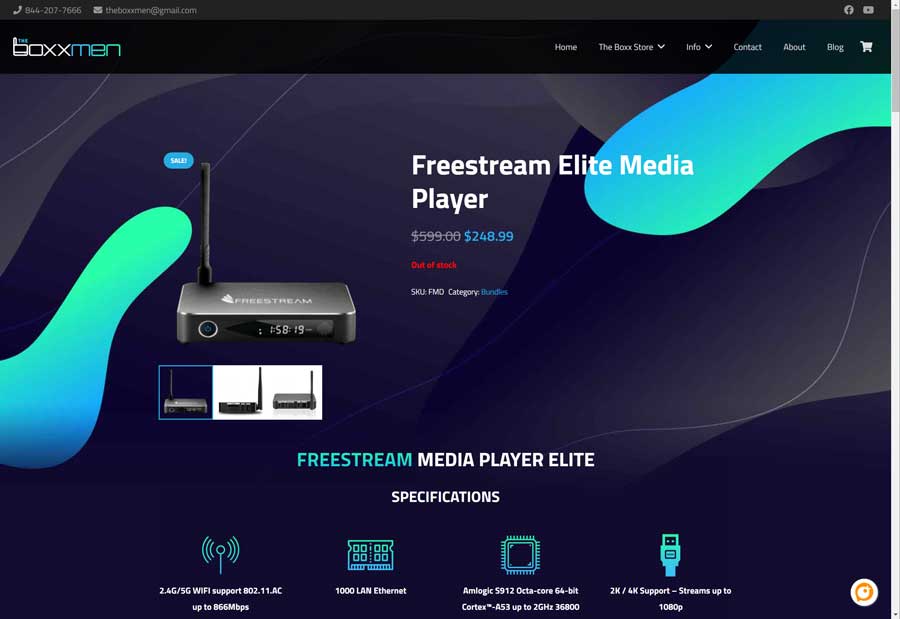 Similar to the StreamSmart box, this is marked up several times what the normal price of that Kodi box should be. And like the StreamSmart, the FreeStream TV box is using very old technology.
System memory and storage are low, at 2 GB RAM and 16 GB of storage. The biggest red flag to me is the chipset. It's an AmLogic S912 – which came out in 2016!
Similar devices on GeekBuying sell for…you guessed it….$29.99. This FreeStream TV box is marked up ten times over a similar product.
Don't worry. If you're scared off by the ancient technology, the Boxxmen have two other Kodi boxes to sell you: The SuperStream M1 at $300 and the EzBoxxTV at $325.
The specs on these devices are a little better, but still something that you'd find in a $30-$50 Android TV box on Amazon.
I recommend to steer clear of this site, and the FreeStream brand in general.
---
Ultimate Android TV
Stop me if you've heard this one before. Company marks up a relatively cheap Android TV box to over $300 and offers "movies, TV shows, live TV, all the sports, and even PPV you can watch."
The OctaStream series of Kodi boxes from Ultimate Android TV are yet another company doing just that.
Ultimate Android TV offers several different Kodi boxes for sale. Prices range from $259 up to $375 at the time of this writing.
However, despite the name 'OctaStream', none of these Android TV boxes have eight-core CPU's.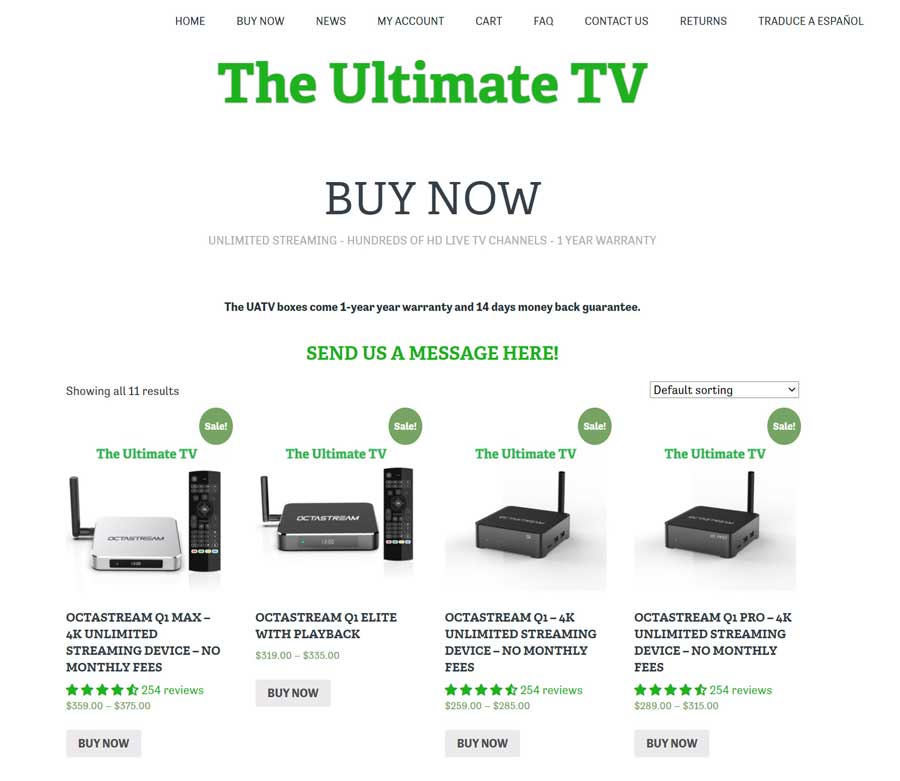 The basic Octastream Q1 4K is an ancient device with 1 GB of RAM, 16 GB of storage running Android 6.0. That's an OS that was released back in 2015!
That's so old that I couldn't find an equivalent TV box on Geekbuying.com. But Ultimate Android TV is charging $259 for it.
The top-of-the-line OctaStream Q1 Max sells for $375. At least, for that price, you get somewhat newer technology. You get 4GB of RAM, 32 GB of storage space and run Android 9.0.
A quick check at GeekBuying shows a similar device selling for $139.99.
There's very little information on the website – which looks like it was thrown together in about an hour. There's no details on how they get their content.
Unfortunately that means I can't say what it's truly worth, or how long it's going to be around.
However, at these prices, I can definitely recommend avoiding the Ultimate Android TV OctaStream Kodi boxes.
---
CorkyTV
I'm cutting CorkyTV a little slack because you can tell it's a one-man operation from looking at his website. That said, he still suffers from the same problems as the other Kodi box sellers on this list.
The Android Extreme TV Box sells for $249.95 on his website. That includes an AmLogic S905X3 chipset, 4 GB of RAM, running Android 9.0.
The closest Android Box I could find on GeekBuying was priced at $54.99. That's around 500% markup on this device.
What's worse, his comparison chart inflates the prices of every competitor so that his Kodi box looks like a better deal! (see image below)
Here's a bigger problem though. The website states "Watch ANYTHING Free, Mobdro for live TV, Latest Kodi with the new best build. Jail broken, Fully Unlocked and Loaded. Easiest one to use!"
The only problem is that Mobdro was shut down in March 2021 and hasn't worked since.
I have no doubt that CorkyTV offered other streaming services in addition to Mobdro. But this highlights one of the main issues with Kodi box sellers.
Kodi box sellers rely on services that they don't own and can't control.
If their main service stops working, customers are left high and dry without TV. All they have to show for it is a super-expensive Android box that no longer works as intended.
I admire Corky's drive to create a business, but I can't recommend buying from him.
---
(Dis)Honorable Mentions
There are far more Kodi box sellers on my naughty list. Too many for this article, in fact.
Here are a couple of other well known brands that ended up going out of business (or worse).
Netmaster: Website disappeared and their social media channels went dark.
Dragon Box: This famous streaming TV box manufacturer received a DMCA takedown notice and was forced out of business. The owners were fined $14.5M.
StealthTVBox: Website disappeared and they're no longer selling Kodi boxes.
AmazingTVBox: No longer selling Kodi boxes.
DigiStream\FOMOStream: They don't sell Kodi boxes any more. However, existing customers will get a lifetime discount at a fine jewelry shop instead! Seriously. You can't make this stuff up.
---
What are the Best Kodi Boxes?
Now that you've got an idea of what not to buy, let's talk about the Kodi boxes that I recommend.
To start, a streaming device – whether it's a Kodi box, an IPTV box, or a "blank slate" Android TV box – needs to be reasonably priced for the hardware that you're buying.
Start by looking at the hardware separately from the software.
If a company sells a streaming service separately, that's great. It gives you the option of buying hardware that you really like and adding the service on later.
CableKillerz is a good example.
The hardware they sell are modified ("jailbroken") Amazon FireTVSticks that have a reasonable markup of around $50. Their service is a monthly subscription charge that you can add to any device – even one they didn't sell you.
Which brings us to the second thing to look for.
However they get the content, it needs to be something they either own themselves, or update and maintain constantly.
That way, if a service like Mobdro goes under, they instantly have a replacement for you.
You're paying far too much to have service outages.
---
Best Android Box for Kodi: NVIDIA Shield
I'm a huge fan of the NVIDIA Shield. I've owned three of them (2015 Shield TV, 2017 Shield Pro & 2019 Shield TV "Tube") and still use them every day. You can see my article on the differences between the three NVIDIA Shield TV models here.
Except for the 2019 Shield TV "tube", the performance is simply light-years ahead of everything else on the market. The Shield TV "Tube" is still good, but lacks the raw power of it's bigger brother.
With Dolby Atmos and Dolby Vision support, your audio and video are going to look and sound amazing. Even if you're watching older, standard definition video, the Tegra+ CPU has an AI upscaling feature to make sure it looks the best it possibly can.
The Nvidia Shield TV is a little more expensive than other Android boxes, but it's worth the extra money.
If you're looking for a lower-priced alternative that can compete with NVIDIA, check out the Xiaomi Mi Box S or Google Chromecast with Android TV. They're not as fast as the Shield TV, but they have rock-solid support and a great user experience as well.
NVIDIA Shield Pro Android TV
Easily the highest performance Android TV there is! Power enough to be used as a Plex media server or game console with Steam or GeForce Now. If you want the best streaming experience you can get, then the NVIDIA Shield Pro is the one you want.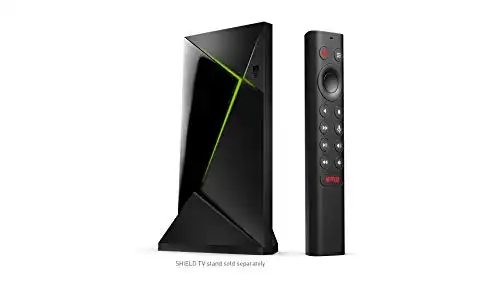 We earn a commission if you click this link and make a purchase at no additional cost to you.
---