The Boys addon is an all-in-one video add-on for the Kodi media center, giving you access to thousands of movies and TV shows.
If you're familiar with some of the other popular add-ons, such as Chains, Ghost, Wasteland, and Mad Titan, then you have an idea of what The Boys Kodi Add-on is all about.
It is an excellent alternative to one of my favorite Kodi addons, The Crew (see my turoial here). Both are on my list of the best Kodi addons I've found in 2022. You can check out the rest of the list after you're done with this article!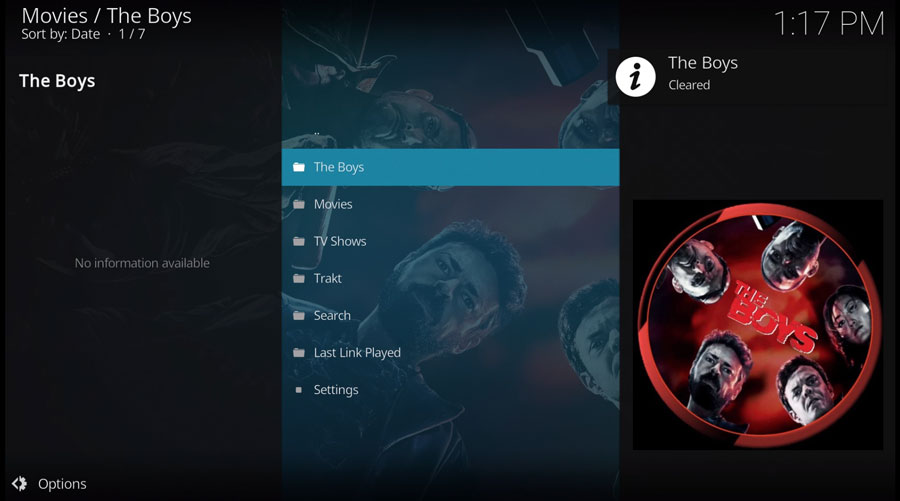 ---
What Does The Boys Kodi Add-on Offer?
The Boys is a fork of the popular Shadow addon, and is similar to many popular Kodi addons. However, they put a different spin on some of the most popular features, with some new ones added to keep it fresh.
The add-on's menu layout was reorganized to make it more user-friendly. It also supports trakt.tv, helping you keep track of the TV shows, movies, or any media you want to watch.
The Next Up feature allows you to create a queue of what to watch for continuous playback. You can just sit back, relax, and watch uninterrupted for hours on end.
When it comes to source selection, the screen was animated, making it more compelling. Choosing what to watch also was made easier with dedicated sections. With a single click, you can access documentaries, anime, and other genres. This feature is handy if you like watching specific types of programming.
As you can see, The Boys comes with a long list of benefits. That is why many consider it the best Kodi add-on so far.
---
The Boys Kodi Add-on Compatibility
For this Kodi add-on to work, you need to have a premium account with Premiumize, Real Debrid, or All Debrid. Having a premium account will let you pull high-quality links and experience buffer-free streaming.
The add-on can be integrated with various scraper packages. It also supports Furk and Easynews accounts.
Best of all, The Boys is compatible with Kodi 19 Matrix, unlike many of the other popular Kodi addons. However, even if you haven't updated your Kodi yet, don't worry. The Boys still works well with Kodi 18 Leia.
---
Is The Boys Add-on Safe to Use?
The Boys is not included in Kodi's official repository of add-ons. If you want to install it, you need to do so through an external provider. This might raise a few red flags for some people. The biggest concern is whether it is legal and safe to use.
If it is your first time installing an unofficial add-on, an alert will pop up saying that Kodi gives third-party add-ons access to personal information on the device. You need to acknowledge this notification to allow the installation. You will also have to change the settings, but you only need to do it once.
If you are apprehensive about doing this, just scan the repository URL for The Boys. You won't find any malware or other suspicious files. That means you can use the add-on without having to worry about data breaches.
Still, it is better to take steps to protect yourself when streaming using this add-on. Use a virtual private network, or VPN, to get an anonymous connection while streaming or downloading using the add-on.
---
How to Install The Boys Addon for Kodi
In this tutorial, we're going to start with a clean installation of Kodi 19 Matrix and install The Boys addon.
For this example, I haven't installed any other addons on this device, or even set up my media library. That way it should be easy to follow along with this tutorial, even if it's the only thing you want to install on your Kodi box.
Just follow these instructions and you'll be up and running with The Boys in only a few minutes.
What Your ISP isn't telling you…
Your ISP knows more about you than you think!
Your IP address is your online fingerprint. It logs everything you do online and is visible to your Internet Service Provider, the apps & addons you use, and even the government.
Currently, your IP Address 44.200.171.156 in Ashburn is visible to everyone.
Kodi Builds & Addons offer unlimited free streaming content, but there are risks.
Stream safely with NordVPN.
The Best VPN hides your identity and bypasses geo-blocked content and government surveillance while letting you stream your favorite movies buffer-free.
I've tested all the major VPNs on Android TV boxes and recommend NordVPN. It's the fastest VPN for streaming and gives you access to the most geo-blocked content!
SAVE 68% ON NordVPN + GET 2 FREE MONTHS
Try it risk-free for 30-days on up to six Internet-connected devices at the same time.
---
Step 1: Enable Addons from Unknown Sources
When you first install Kodi, you only get access to the official Kodi repository. This official repository includes hundreds of different addons to change the look & feel, add new video sources, backgrounds, or some really useful utilities.
There's a lot to find in the official repository, but it doesn't have many of the most popular addons.
If you want to install anything that's not found in the official Kodi repository, you need to change a setting to allow addons from unknown sources.
First, go to the Settings menu. You can get there either from the gear icon on the left-hand menu, or in the Add-ons tab, click on Settings, as shown below.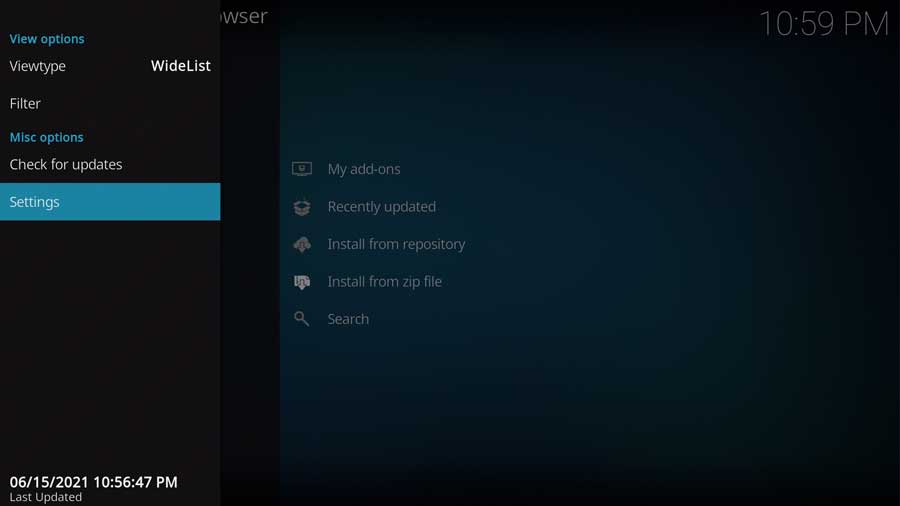 Then, on the Settings/System menu, scroll down to the Add-ons section.
Kodi has several different levels for their Settings menu, from Basic to Expert. All of them will give you the option to enable unknown sources, so you don't need to change the level if you don't want to.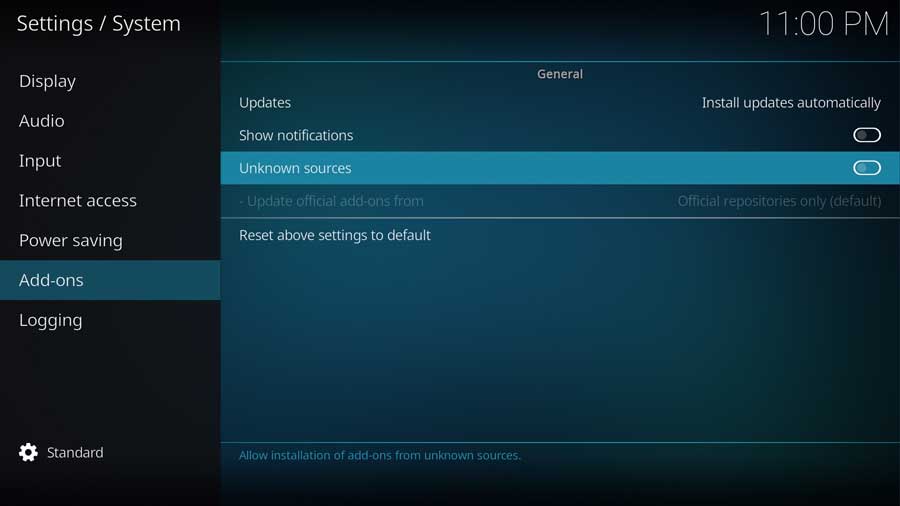 As soon as you click on the Unknown Sources toggle switch, a menu box will appear.
Whenever you install a Kodi add-on, it inherits the same rights as Kodi itself. That includes access to your device's files and network connections.
Even if you don't store any personal data on your Kodi box, never install an add-on that you don't trust.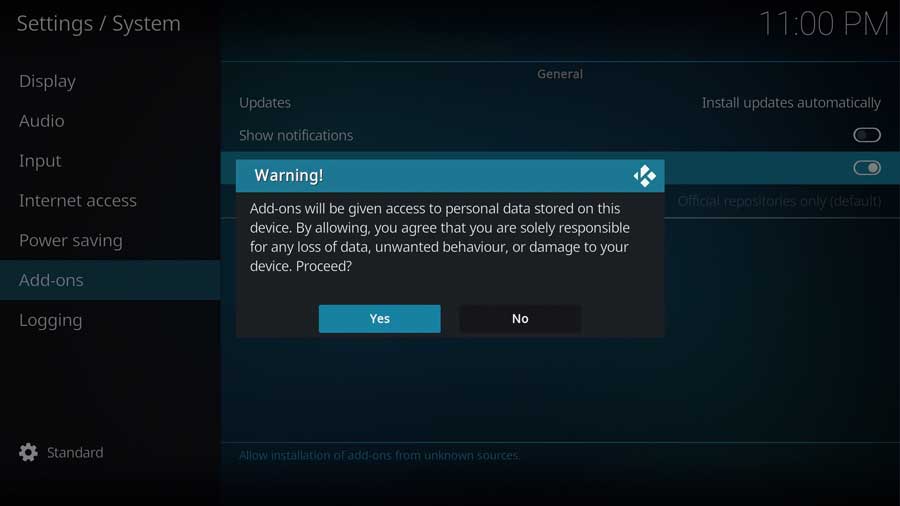 Once you click Yes on that message box, the toggle switch turns white. You're then able to install The Boys addon, as well as any other unofficial Kodi addon.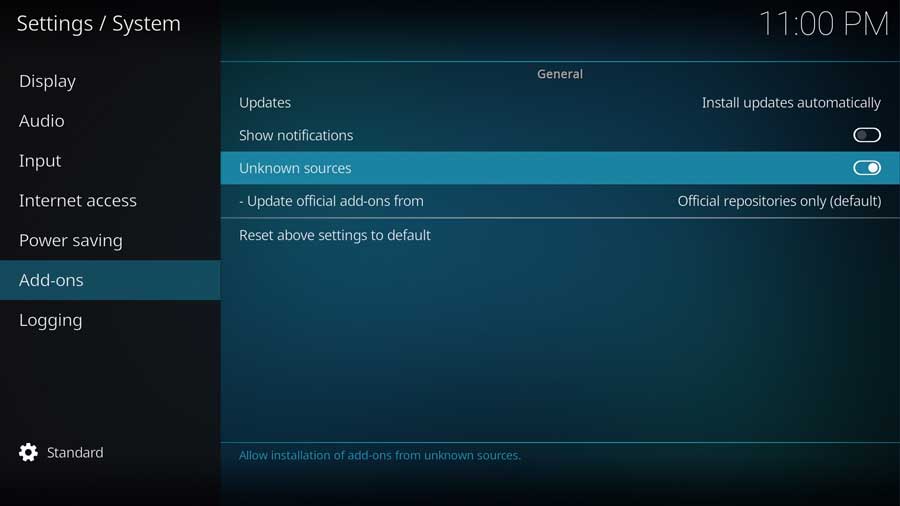 ---
Step 2: Add The Chains Repo File Source
Installing any addon is usually a three-part process. First, we need to create a custom file location for the repository that houses The Boys addon. In this case, we're installing The Chains repository.
First, go to the Settings/System menu and click on the File Manager icon.
Most of the time, we use the File Manager screen to point Kodi to the locations of our media library. This time, we're going to tell it where the repository file is located.
Click on Add Source to continue.
Highlight <None> and click on it to add a custom source.
Here, you can enter a specific file path or URL for the new source. Usually, that's a location either on your Kodi device itself, or a location on your local network.
In this case, we're going to use the network URL for The Chain's official website.
Type in the following URL and click OK:
httpssss://thechains24.com/ChainsRepo
In this case, the name for this media source is already populated because our file location had a subfolder. When then happens, Kodi automatically uses the name of the folder. In this case, it's named ChainsRepo.
You can rename it if you choose, but I'm going to keep it.
Click OK to continue.
Once you have the URL location and source name, click OK to finish up this step.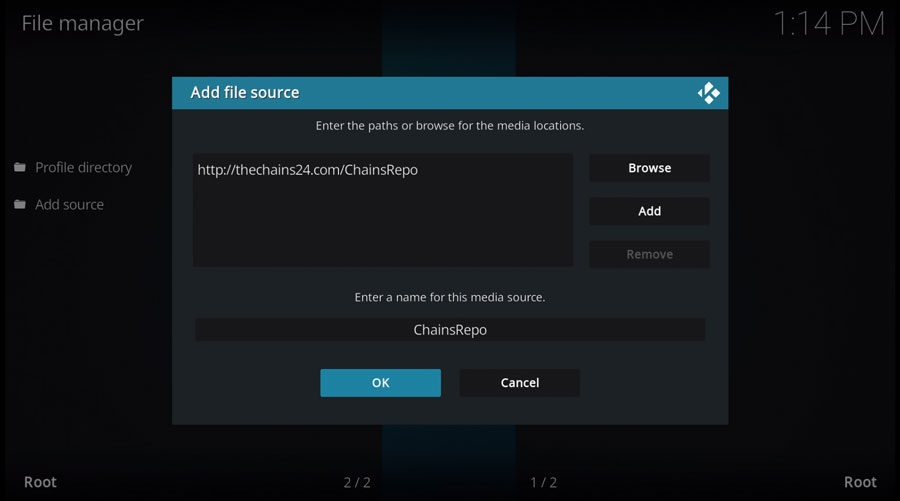 Kodi does a quick check to verify that it can reach that URL. If everything goes well, it'll pop you back to the File Manager screen, and your new custom file source will appear in the list on the left.
---
Step 3: Install The Chains Repository from Zip File
Now that we've told Kodi where to find The Chains repository file, let's go ahead and install it.
Go back to the System menu and click on the Add-ons icon.
Next, click Install From Zip File.
A pop-up window will appear, reminding you that any add-ons installed from a zip file will not auto-update. This means you will need to manually update them from time to time.
Click Yes to close that popup box.
The next window shows all of the standard Kodi locations, as well as any custom file locations you've specified on that particular device. For example, if you have a network file share, it will be listed here.
Scroll down until you see the source name you entered in the previous section. If you didn't name it anything different, you should be looking for ChainsRepo.
Click on it to continue.
Then click on the repository.chainsrepo zip file.
Don't worry if the version number appears a little differently than what you see below. Kodi will automatically pull the latest version from their website for you.
Kodi will take you back to the main Add-ons menu.
After a few seconds, you'll get a message box that the Chains Repository has been installed.
---
Step 4: Install The Boys Addon from the Repository
One final step to go!
With the Chains Repository installed, all we need to do is install The Boys addon.
Click Install From Repository to continue.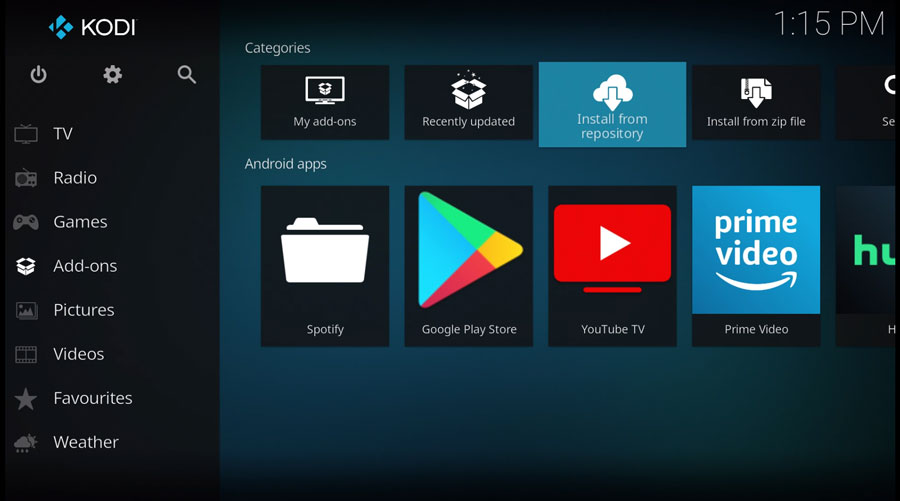 As I mentioned earlier, I'm installing The Boys addon to a clean install of Kodi 19. So the only repositories that I have on this device are the official Kodi repository and the one we just installed.
You may have a lot more repositories on your system.
Scroll down until you see Chains Repository and click on it.
Kodi breaks the add-ons into sub-categories, to make it easier to browse.
The Boys addon is located in the Video Add-ons section. Click on it to continue.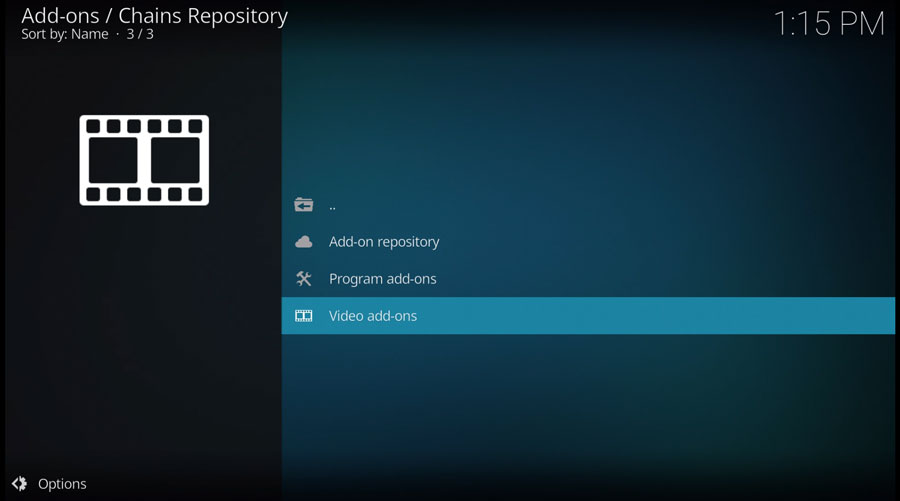 Scroll down until you see The Boys and click on it to continue.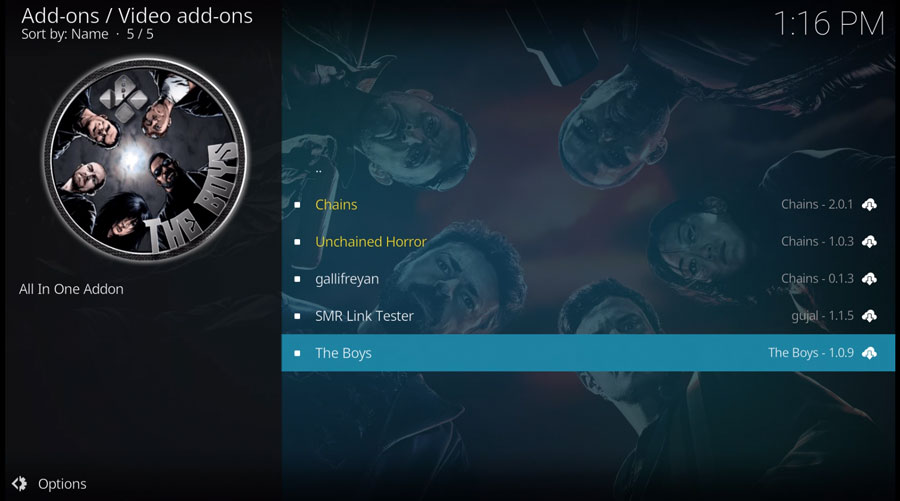 This brings you to the addon detail page, which looks a lot like app detail pages in the Google Play Store or Aptoide TV.
Here, you'll see details like different versions of the addon that are available, as well as any dependencies that will be installed along with the addon.
Click Install to continue.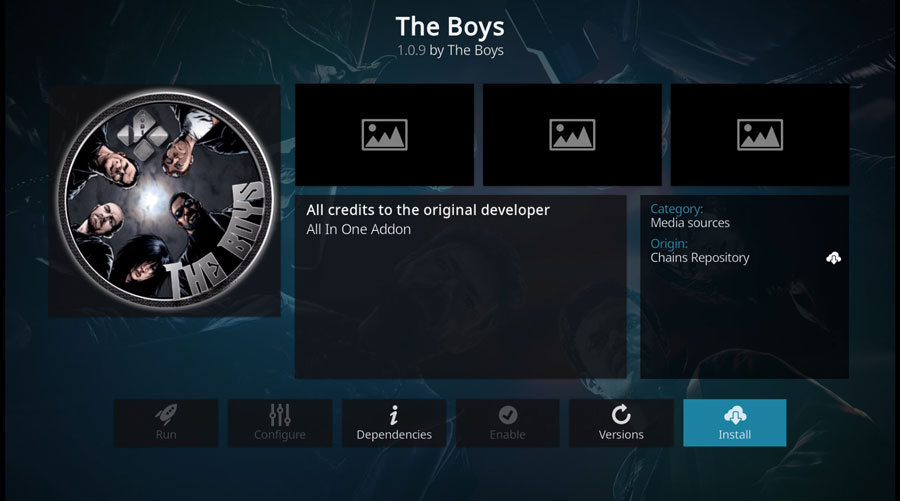 After a few seconds, you'll see a popup message the The Boys Add-on has been installed.
That's it!
To watch content on The Boys, go to the Add-ons tab on the left-side menu and click on The Boys icon.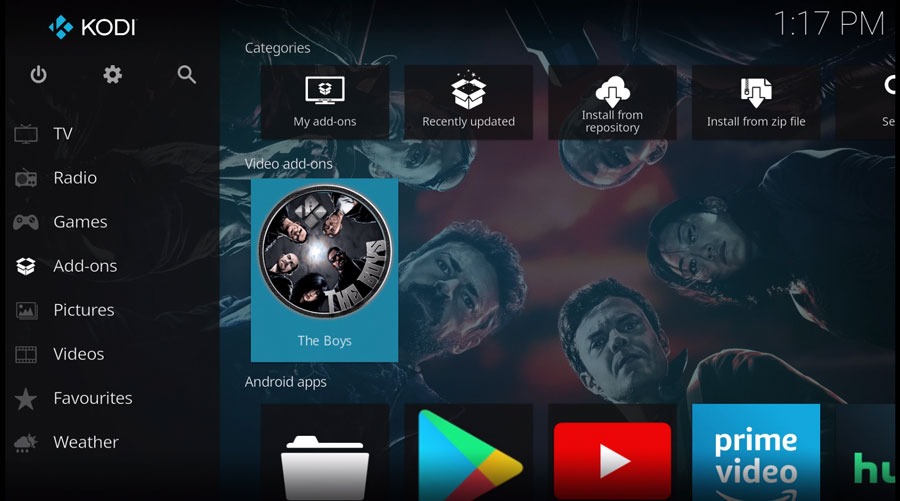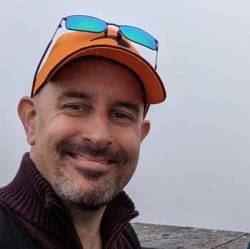 Latest posts by Tim Wells
(see all)