Today we're looking at another amazing build for Kodi: The No Limits Magic Build.
It's available to install on any Kodi device, such as FireStick, Fire Cube, and Android TV, as well as systems like Windows, Mac, iOS, and Linux.
The Kodi No Limits Magic Build is one the most popular build you'll find on Kodi. In this article, I'm going to give you an overview of what it's got to offer. I'll also walk you through how to install it., and answer some common questions at the end of the article.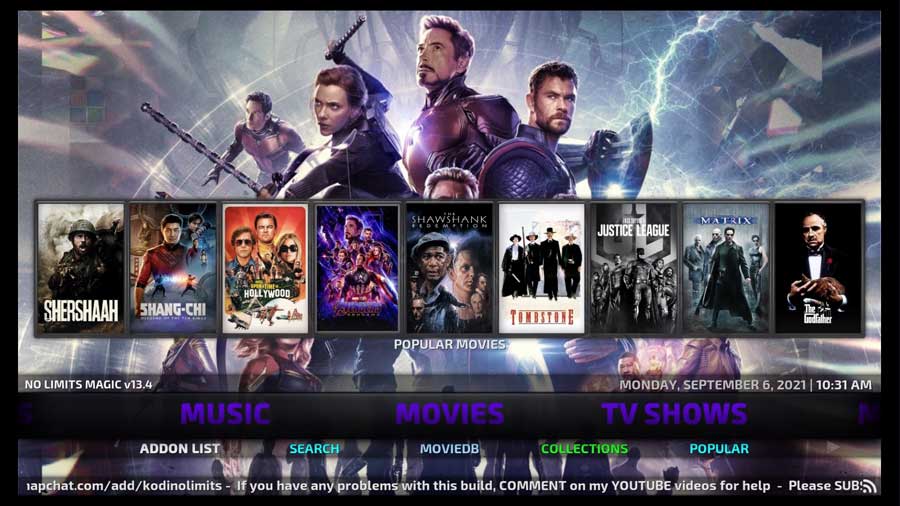 ---
Overview
The No Limits Magic Build is an attractive, well-designed build for Kodi 18 (and below). It's got a custom skin that is reminiscent of the old Kodi Confluence skin.
Overall, the look and feel of this build is really impressive. There are a lot of custom backgrounds that cycle through for each section, and a lot of content for each.
This build has several top addons like 7 of 9 and The Magic Dragon, as well as a dedicated Sports and Kids section. You definitely won't run out of fun things to do with this build.
Essentially, this platform has everything you'll need to stay entertained. You can find a library of sports, music, movies, television shows, live TV, and other options via the Kodi No Limits Magic Build.
Want to learn how to install this build?
Let's get started!
DON'T MAKE THIS MISTAKE!
Your ISP knows more about you than you think!
Your IP address is your online fingerprint. It logs everything you do online and is visible to your Internet Service Provider, the apps & addons you use, and even the government.
Currently, your IP Address 3.225.221.130 in Ashburn is visible to everyone.
Kodi Builds & Addons offer unlimited free streaming content, but there are risks.
Stream safely with NordVPN.
The Best VPN hides your identity and bypasses geo-blocked content and government surveillance while letting you stream your favorite movies buffer-free.
I've tested all the major VPNs on Android TV boxes and recommend NordVPN. It's the fastest VPN for streaming and gives you access to the most geo-blocked content!
SAVE 68% ON NordVPN + GET 3 FREE MONTHS
Try it risk-free for 30-days on up to six Internet-connected devices at the same time.
---
How to Install Kodi No Limits Magic Build
In this section, we're going to go step-by-step through how to install the No Limits Magic Build. In this tutorial, we're going to start with a clean installation of Kodi 18.9 Leia so it's easy to see all the changes made.
I always recommend starting with a clean installation when installing a Kodi build. Not only is it easier to follow along, but one of the steps is to wipe your current Kodi setup and overwrite it with the build. If your favorite addon isn't included in the build, you can always re-install it after you're finished installing the No Limits build.
Step 1: Enable Addons from Unknown Sources
The only repository that Team Kodi includes by default is their official repository. Although it includes hundreds of different addons to change the look & feel, add new video sources, backgrounds, or utilities, it doesn't include many of the most popular addons.
In order to install addons from other repositories, need to enable addons from unknown sources.
First, go to the System\Settings menu. To get there, click on the gear icon at the top of the left-hand side menu.
Then click on the System icon in the lower right-hand corner of the screen.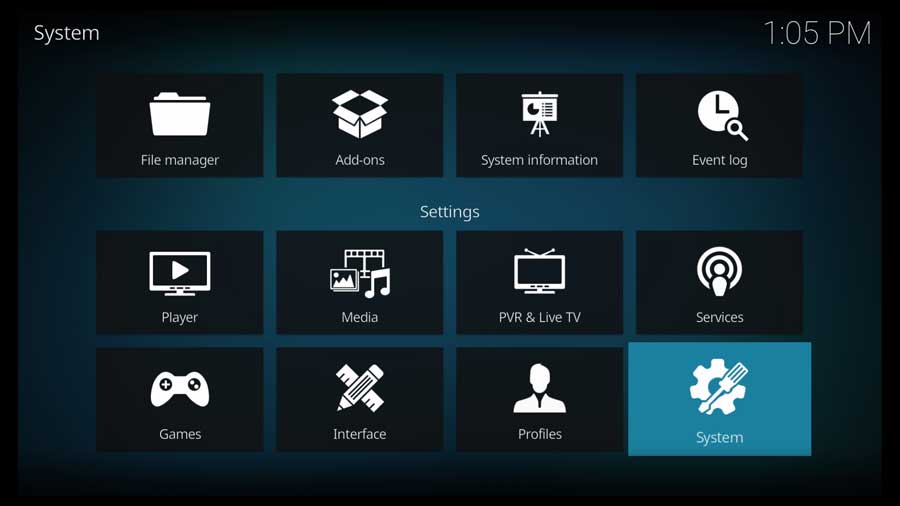 Scroll down to the Add-ons section, then move to the right-side of the screen and click on Unknown Sources.
When you do, you get a message box appears warning you that add-ons get access to the same permissions as Kodi itself has.
That means, since you have to give Kodi read\write access to any files on your device, any third-party addons you install will have that access too. On a streaming device, where you don't have a lot of personal data, this isn't such a big deal. But you want to be sure you trust the add-on's creator before you install it.
Click Yes to continue.
As soon as you click Yes, the toggle switch changes to white and we can move on to the next step.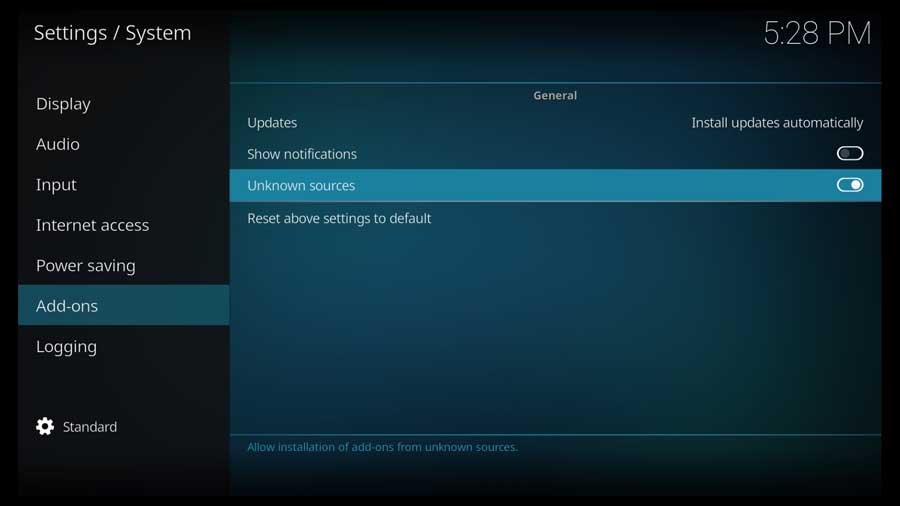 ---
Step 2: Add The No Limits File Source
The first things we're going to do is to tell Kodi where to find the repository that contains the No Limits Magic build.
First, go to the Settings/System menu and click on the File Manager icon.
Normally, the File Manager is where we point Kodi to our media libraries. In this case, we're going to give it the URL for the No Limits repository.
Click on Add Source to continue.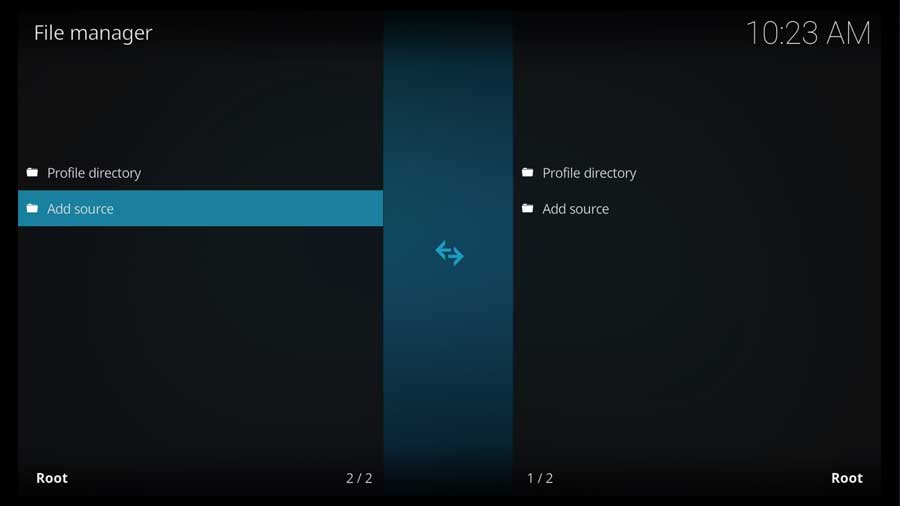 Scroll down and click on <None> to continue.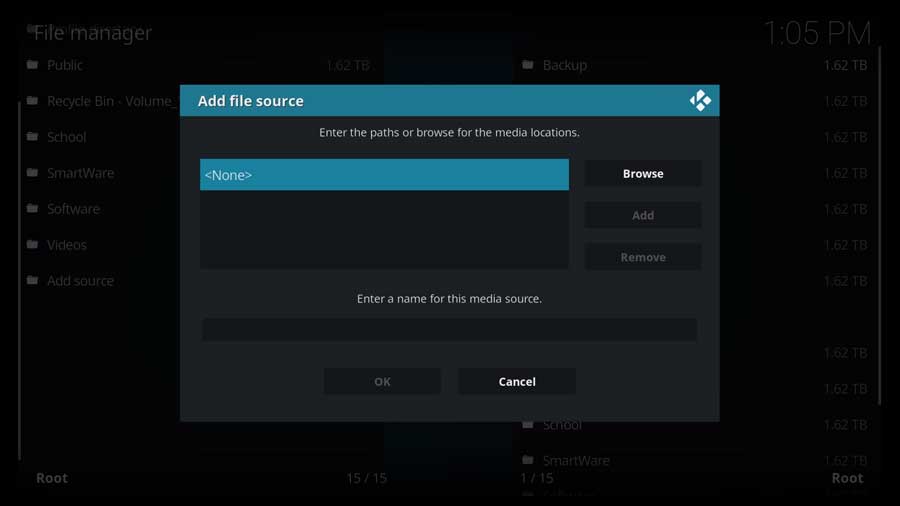 On this page, you can enter an Internet URL, like we're going to, or a physical path on your your local network. In this case, we're going to be using the developer's official repository.
Type in the following URL and click OK:
https://www.nolimitswiz.appboxes.co
Click to the next box under Enter a Name for this Media Source.
Next, create a name for this media source. This can be anything you want. Kodi doesn't care. But, I recommend naming it something that can help you remember what it is.
In my case, I named mine NoLimits.
Click OK to continue.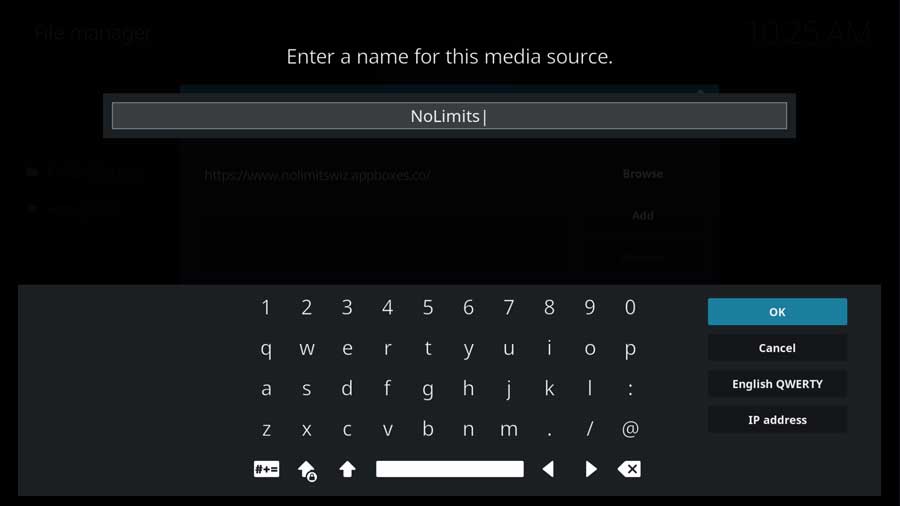 If you like the way it looks, click OK to continue.
Kodi will do a quick check to make sure it can access the location. If that's successful, the new file location appears in a list with any other custom file locations you've created on this device.
---
Step 3: Install No Limits Repository from Zip File
Now that we have our custom file location set up, let's go ahead and install the repository..
On the left-hand side menu, scroll down to the Add-ons section. Then, click Install From Zip File.
This menu box includes all of the file sources available on your device, including the custom file location we created in the previous section.
Scroll down until you see the name you entered previously, then click on it to continue.
Next, click on plugin.video.nolimitswizard18.zip.
Once you do, you're taken back to the main menu. After a few seconds, you'll start to see message boxes in the upper right-hand corner telling you that different components have been installed.
Once you see a message that the No Limits Wizard18 add-on is installed, the process is complete.
---
Step 4: Run the No Limits Wizard
One of the things I liked about this particular installation process is that the No Limits Wizard ran automatically. There's no additional step to select the file from the Install from Repository menu.
They make it easy for you.
If this is your first time installing a Kodi build, things might look a little different than you're used to. Like most builds, No Limits Magic has an installation wizard that takes you through the process.
The first screen you get is an options menu. This allows you to keep any existing settings you've changed on this Kodi device. If you're installing the No Limits Magic build on a fresh installation of Kodi, like I am, you can stick with the default settings.
However, if you've added other repositories, or changed your AdvancedSettings.xml, or have Real Debrid set up, you might want to keep those.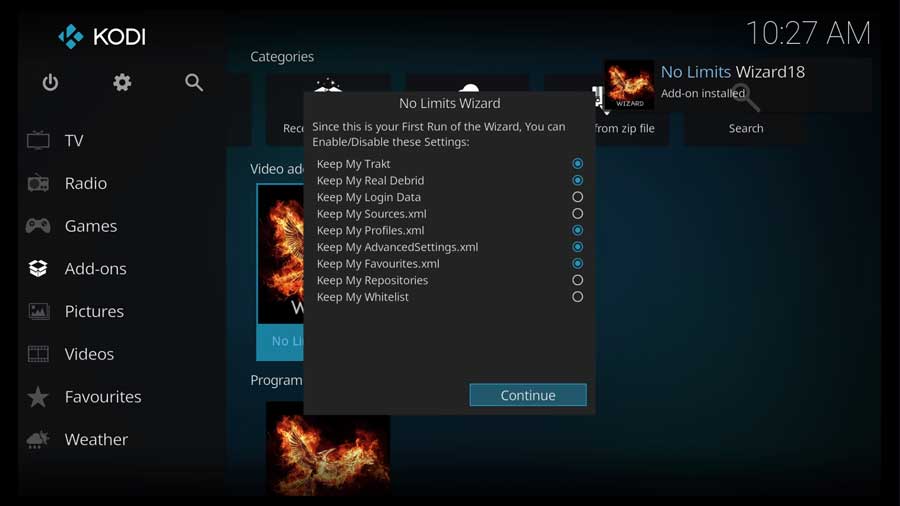 Click Build Menu to continue.
On this screen, you'll see a lot of information. The top two line has the version of Kodi that you're running. In my case, I'm using Kodi 18.9 Leia.
Next, you'll see all the different builds, broken down by the server that they're on. Each server has two builds, one with an Adult section, and one without. Each of those builds also has a full version and a 'Lite' version, which is designed for devices with less storage.
If you have a device with 2GB of RAM or higher, use the full version.
If you're using an older device with only 1GB of RAM, then you should install the Lite version instead.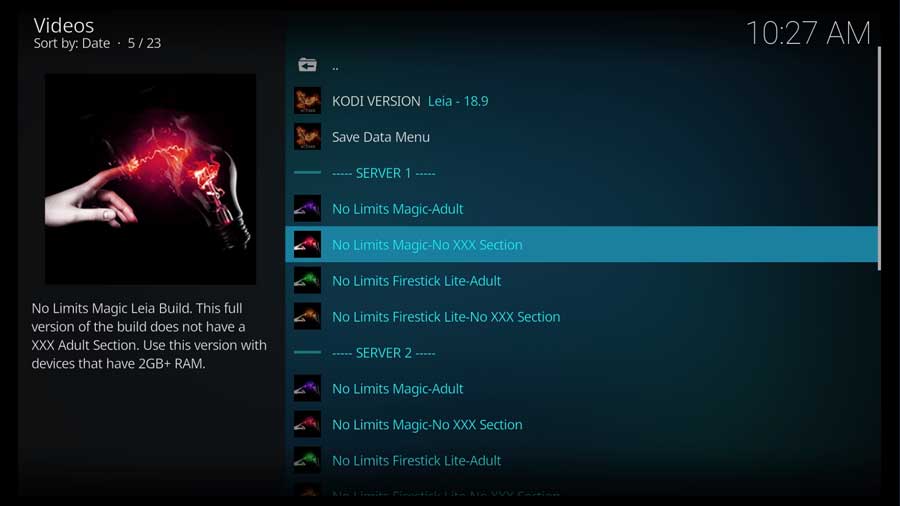 In my case, I'm installing the full No Limits Magic build, without the Adult section.
Since I'm doing this on a clean installation of Kodi, I'm selecting a Standard Installation. If you're replacing another build, click Fresh Install instead.
The wizard gives you one last chance to back out. Click Yes, Install to continue.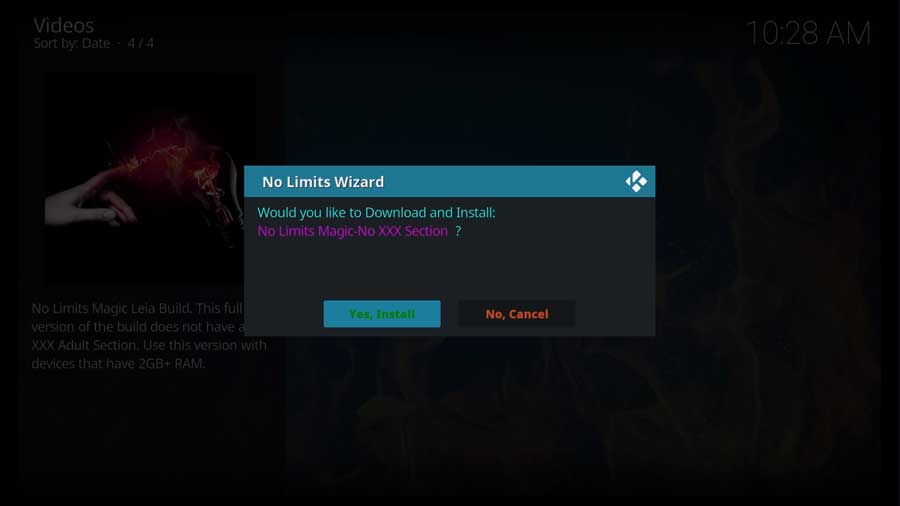 Next, Kodi will start downloading the files to install the No Limits Magic build. There are two separate download status boxes that appear. Between the two, the total download size is around 650MB.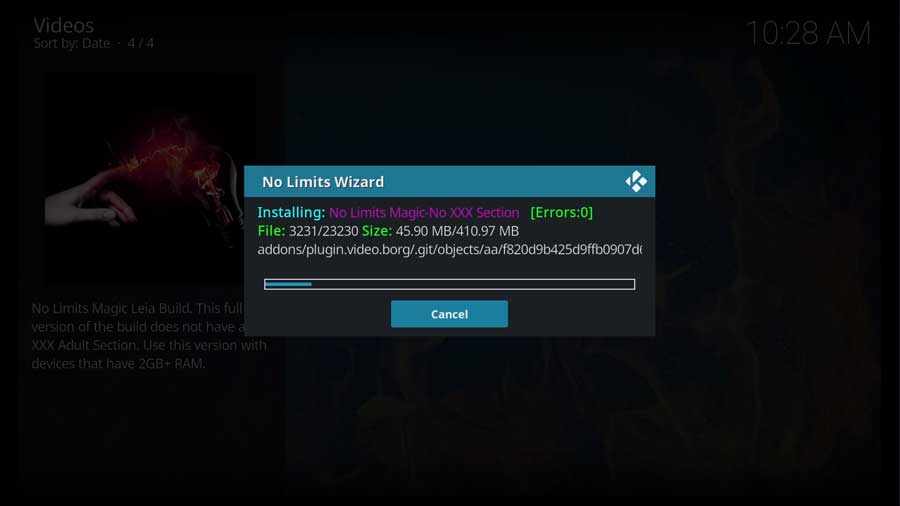 Once it's done, you can either Reload your Profile or Force Close Kodi. I recommend clicking Force Close, so you can reload Kodi from your device's home screen.
When Kodi relaunches, you see the brand new No Limits Magic custom launcher.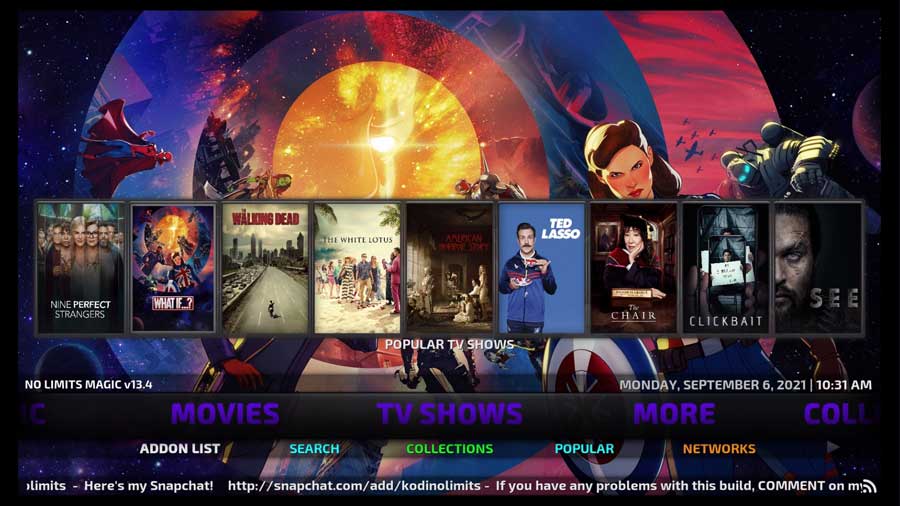 ---
Frequently Asked Questions (FAQs)
Below are the following most frequently asked questions about the Kodi No Limits Magic Build.
Does the No Limits Magic Build work on Kodi 19?
No. To use the No Limits Magic build, you need to be running Kodi 18.9, or below. Team Kodi changed the version of Python, the programming language that they use, between Kodi 18 and Kodi 19. Unfortunately, that change broke many popular addons and builds. When you try to install it on Kodi 19, you'll see an error message like the one below.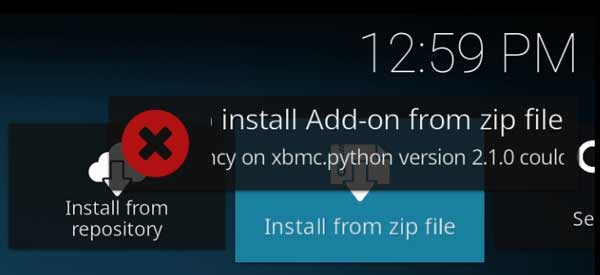 What Addons come with the No Limits Magic Build?
Addons change often, as new addons are added to the build, and older ones stop being updated. Currently, here are some of the major addons included:
7 of 9
The Magic Dragon
Titan
Uranus (Elysium)
Wolf Pack
Arrakis
Borg
Brettus Documentaries
Classic British Comedy
Eyasess Reloaded
History Tube
Limitless
Neptune Rising
Out of this World
StreamHub
YouTube
YouTube Vault
How do I update the Kodi No Limits Magic Build?
For updates, you'll need to click Add-ons on the Kodi home page. Now click the option "My Add-ons." Next, double-click the "Kodi No Limits Wizard" option. Scroll to the bottom of the page and click the Update button to see any updates available. Follow the instructions on the screen to install the new updates.
What are other good Kodi builds for FireStick?
Along with the Kodi No Limits Magic Build, some other excellent builds include:
Simplify Build
Misfit Mods Lite
One Nation Nebula
Xanax
How do you use the No Limits Build on Kodi?
The No Limits build adds a completely new skin over the default Kodi skin. So whenever you launch Kodi, you're automatically using the No Limits build. You don't need to do anything additional!