The Oath is a high-quality addon that has gained popularity among Kodi users. The Oath is a relatively new addon that can be used in any version of Kodi, such as 18 Leia or 19 Matrix.
The Oath gives unlimited access to hosts and features resembling other streaming platforms. It supports Trakt.tv, which helps sort and keep track of your favorite shows and movies, syncing your watch history across all your devices. The Oath includes library integration, file downloads, and subtitles.
The Oath Kodi addon, an Exodus fork, is one of the best Kodi addons I've found in 2023!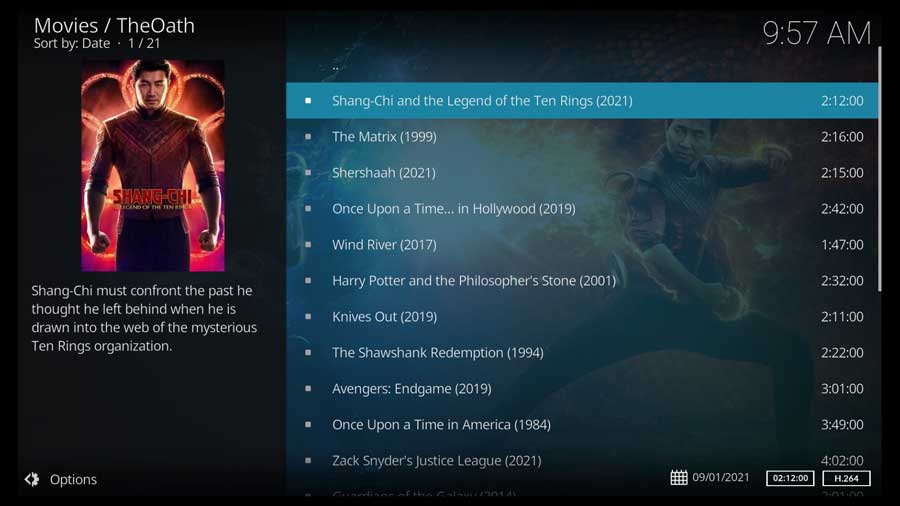 ---
The Oath Addon for Kodi: Features
The settings menu has 10 categories, including:
General – allows you to adjust the language and interface settings such as items per page, trailers, new movies, and list special and/or new episodes.
Playback – includes the resume and autoplay abilities, where you can enable the refresh watch status.
Source filters – use them to adjust the resolution (4K, 1080p, 720p)
Providers – The Oath uses a built-in package known as OathScrapers.
Trakt – where you can manage your separate Trakt.tv account
Accounts – where you can link other accounts, including IMDb
Library – where you can organize your favorite movies and shows
Downloads
Subtitles
Debugging
These are the main features found in The Oath. There are plenty of other adjustments you can make after installation.
What Your ISP isn't telling you…
Your ISP knows more about you than you think!
Your IP address is your online fingerprint. It logs everything you do online and is visible to your Internet Service Provider, the apps & addons you use, and even the government.
Currently, your IP Address 44.200.101.84 in Ashburn is visible to everyone.
Kodi Builds & Addons offer unlimited free streaming content, but there are risks.
Stream safely with Surfshark.
The Best VPN hides your identity and bypasses geo-blocked content and government surveillance while letting you stream your favorite movies buffer-free.
I've tested all the major VPNs on Android TV boxes and recommend Surfshark. It's the fastest VPN for streaming and gives you access to the most geo-blocked content!
SAVE 81% ON Surfshark!!!
Try it risk-free for 30-days on unlimited devices at the same time.
---
How to Install The Oath Kodi Addon
In this section, I will walk you through how to install the Oath addon. I'm going to be using a clean installation of Kodi 19.1
The Oath addon works on BOTH Kodi 18 (Leia) and Kodi 19 (Matrix)!
To make things easier to follow, I haven't installed any other addons or set up my media library on this device.
Even if you only want to run The Oath on your Kodi installation, follow these instructions, and you'll be up and running in only a few minutes.
Step 1: Enable Addons from Unknown Sources
On brand new installations, the only repository that Team Kodi includes is their official repository.
That repository has hundreds of different addons to add new video sources and backgrounds, change Kodi's look & feel, and even utilities to keep Kodi running smoothly.
Unfortunately, it doesn't have many of the most popular Kodi addons. Those are all designed by third-party developers, so the first thing we'll need to do is to enable addons from unknown sources.
First, go to the Settings menu. You can get there either from the gear icon on the left-hand menu or in the Addons tab, click on Settings.
Next, click on the System icon. This is usually found in the bottom right-hand corner of your screen.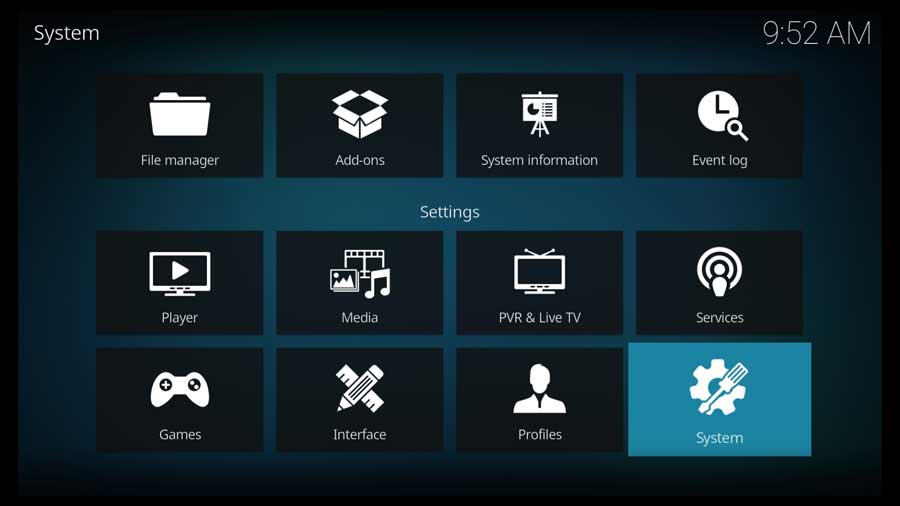 Next, scroll down to the Addons section and click on Unknown Sources.
As soon as you do, you'll receive a warning box asking you to confirm your choice.
You want to be careful whenever you're installing third-party addons. These addons have your device's same rights and privileges as Kodi does.
Since Kodi can access any file on your device, so can any addons you install.
If all you use your device for is streaming, then that's not such a big deal. However, think twice if you're installing Kodi on your home PC, which also has your banking information.
Click Yes to proceed.
The toggle switch turns white, meaning the setting is enabled. Now you'll be able to install The Oath addon, and any other third-party Kodi addon.
---
Step 2: Add The Oath's File Source
As with most addons, installing The Oath addon is a three-part process. In this step, we'll tell Kodi where to find the repository that houses the addon we want.
First, go to the Settings/System menu and click on the File Manager icon.
In this setting, we usually add the file locations for our media libraries and tell Kodi what type of media is stored there.
This time, however, we'll be pointing Kodi to an external URL that holds the repository we will use.
Click Add Source to continue.
In the Add File Source menu box, click on the <None> field to add a custom file source.
Type in the following URL and click OK:
httpsssss//host505.github.io
This is the developer's official GitHub page.
If you're unfamiliar with GitHub, it is a code repository where several developers can work on the same project simultaneously, even if they're on opposite sides of the world.
Then, scroll down to the Enter a Name For This Media Source box and click on it.
Enter the name of this file source. This can be anything you like, but I recommend naming it something that will help you remember what it is.
In my case, I named it Oath.
Click OK when you're done.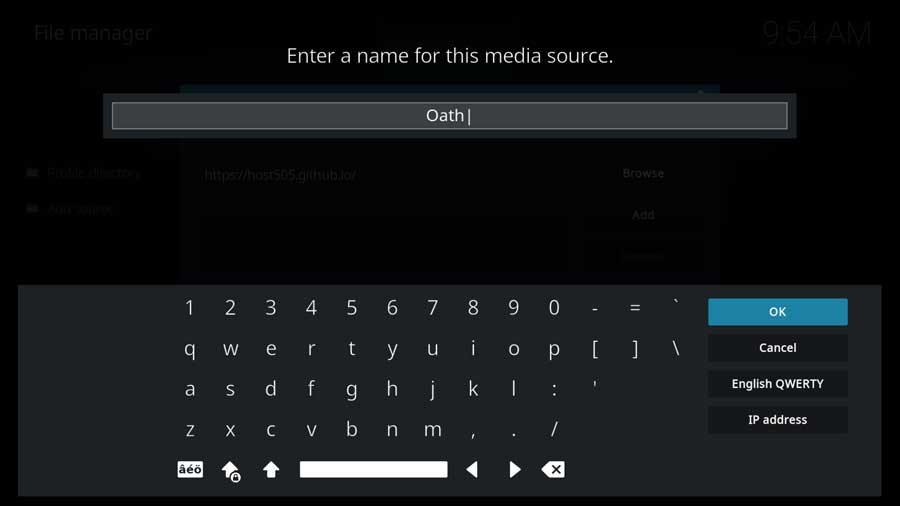 Make sure everything looks good, and click OK to continue.
Kodi will quickly check to ensure it can reach the URL. If you type everything in correctly, it'll take you back to the File Manager menu.
Your new custom file source will appear on the left-hand side list.
---
Step 3: Install The Oath's Repository from Zip File
Next, we will install the repository with the Oath Kodi addon on your device.
Go back to your Kodi home screen, and scroll down until you get to the Addons section.
Then, click on the Install from Zip File icon.
As soon as you do, a pop-up message box warns you that any addons you install from a zip file will need to be manually updated.
Click Yes to proceed.
The following pop-up window shows the file locations on this particular device.
Scroll down until you see the source you created in the previous section.
Click on it to continue.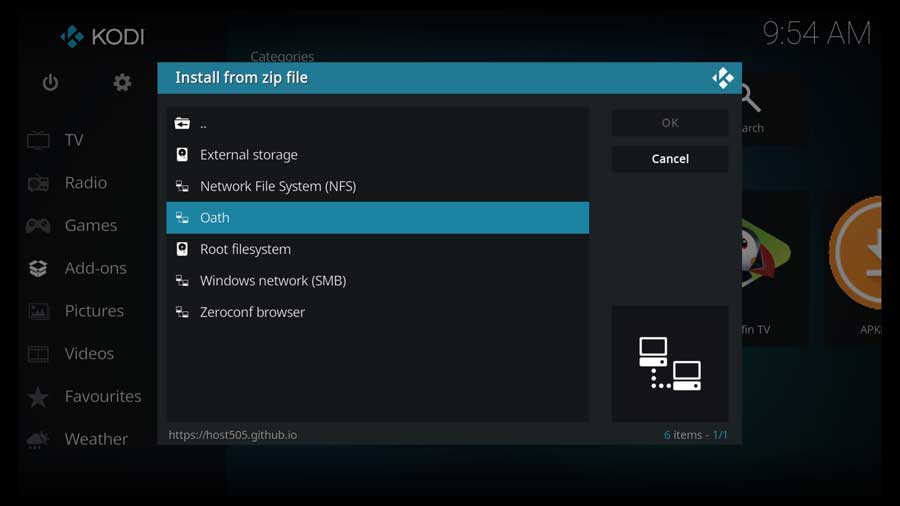 Any zip files that Kodi finds in that file source will show up in the next window.
Click on the repository.host505-2.5.zip to continue.
You're immediately taken back to the Addons menu. After a few moments, you'll get a pop-up message in the upper right-hand corner telling you the host505 repo addon has been successfully installed.
---
Step 4: Install The Oath Addon from the Repository
We're finally ready to install The Oath addon.
Click Install From Repository to continue.
As I mentioned at the beginning of this tutorial, I'm installing The Oath addon to a clean installation of Kodi 19.1.
The only repositories I have on this device are the official Kodi repository and the one we just installed.
If you have several addons installed on your device, you may have a lot of repositories listed here.
Scroll down and click on the host505 repo.
That takes you to another menu with all the different classes of addons found in this repository.
Scroll down to the Video Addons section and click on it to continue.
Click on TheOath.
That takes you to the addon's detail page. This gives you a bit of detail about the addon, what it does, and some screenshots.
In this case, there's nothing more to learn about The Oath.
Click on the Install button to continue.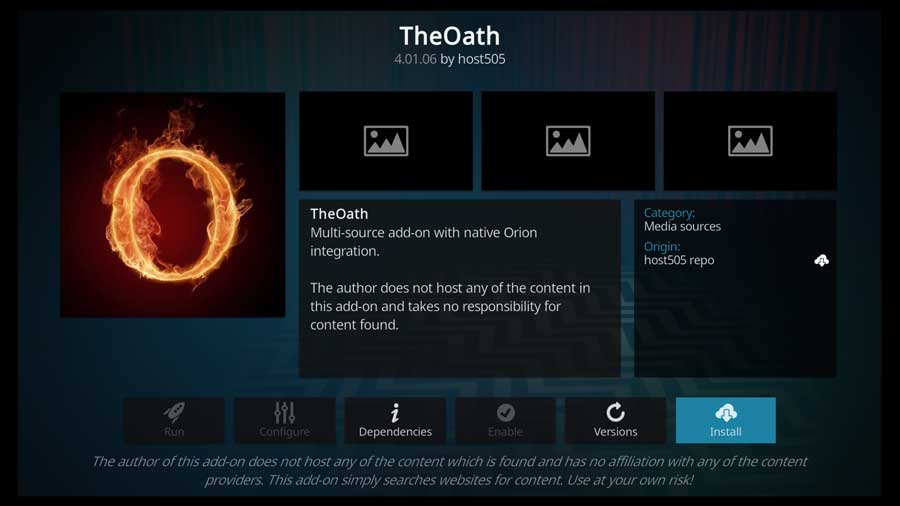 I had several dependent addons that needed to be installed to make The Oath work. If you decline this, the installation will abort.
Click OK to continue.
After a few moments, you get a pop-up message saying TheOath Addon has been installed.
Click back until you get to the Addons menu.
Click on The Oath icon to launch the addon.
---
The Oath Kodi Addon: The Essential Guide
Once The Oath is up and running, there are several folders to help make navigating easy.
Movies or TV shows: Find what you want to watch.
My Movies or My TV shows: Continue what you've already started.
New Movies or New Episodes: The latest and greatest content.
Tools: Where you can adjust and change settings.
Search: Enter the keyword or title to find what you want.
---
People Also Ask (FAQ)
Do I need a premium account to use The Oath?
You can access The Oath through free and premium accounts, but remember that free accounts are more liable to streaming issues, like buffering.
Is The Oath safe to use?
When you use The Oath addon, your IP address is never exposed. The data you're watching is encrypted through protected sources. Every download uses HTTPS, or hypertext transfer protocol secure, for secure communication.
However, everything you stream is visible to your ISP (internet service provider) and potentially any government agency wanting to spy on your activity.
That means watching copyrighted content could be a legal issue.
Using a VPN would be an excellent precaution to take, depending on where you are located and where you are watching from.
What Are Other Available Addons? Are There Alternatives?
The Oath is one of many Exodus forks. Some of the others include Covenant, Specto, and Gurzil. If you're looking for something else, PlayOn Browser, iPlayer, and FilmOn.TV are other online streaming addons.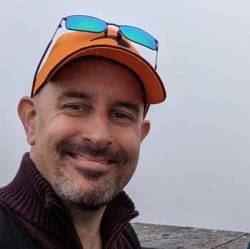 Latest posts by Tim Wells
(see all)