Although Kodi peaked in popularity in 2018, hundreds of thousands of people are still using it to stream content all over the world. One of the best ways to watch live sports on Kodi is with the SportsDevil Kodi addon.
However, it's a little more challenging to install the SportsDevil addon in 2023.
This article will give you a brief overview of the SportsDevil addon and which version of Kodi you need to run.
Then, I will walk you through the installation process…including a significant change that could cause your installation to fail.
Let's get started.
---
SportsDevil Kodi Addon: Overview
SportsDevil is a third-party addon for the Kodi media center. It works by scraping the web for links to on-demand and live sporting events.
SportsDevil groups content into several convenient categories: Favorites, Highlights, Blogs, Live Sports, and Sports TV.
Each group has specific items and channels.
For example, the Highlights section has Goalsarena.org and Live TV.ru-Archive. Blogs include major companies like Sport1.de and Capital-Trikot.de.
SportsDevil lacks any search capability. What you do is pick a provider from proffered websites. This will return a list of what sports a variety of providers cover.
Like any third-party Kodi addons, SportsDevil may access questionable content, depending on your local laws and regulations.
While neither Kodi nor SportsDevil provides any content directly, they may access the content they otherwise shouldn't.
As such, you may come across some broken links or "stream not available" messages. It might take several attempts to locate a working stream.
Finally, as with any Kodi addon, getting a reliable VPN is a good idea. You don't want to risk anyone monitoring your internet traffic by anyone, including your ISP.
A VPN is the best way to maintain a secure and anonymous connection, allowing you to stream without restrictions.
What Your ISP isn't telling you…
Your ISP knows more about you than you think!
Your IP address is your online fingerprint. It logs everything you do online and is visible to your Internet Service Provider, the apps & addons you use, and even the government.
Currently, your IP Address 44.200.101.84 in Ashburn is visible to everyone.
Kodi Builds & Addons offer unlimited free streaming content, but there are risks.
Stream safely with Surfshark.
The Best VPN hides your identity and bypasses geo-blocked content and government surveillance while letting you stream your favorite movies buffer-free.
I've tested all the major VPNs on Android TV boxes and recommend Surfshark. It's the fastest VPN for streaming and gives you access to the most geo-blocked content!
SAVE 81% ON Surfshark!!!
Try it risk-free for 30-days on unlimited devices at the same time.
---
How to Install the SportsDevil Kodi Addon
In this section, I will walk you through how to install the SportsDevil addon. I'm going to be using a clean installation of Kodi 18.9.
Important Note: For version 19 (Matrix), Team Kodi upgraded their programming language to Python 3, breaking many popular addons built on Python 2. As a result, SportsDevil will not run properly on Kodi 19! You can still use it on previous versions of Kodi, however.
I haven't installed any other addons or set up my media library on this device to make things easier to follow.
Even if you only want to run SportsDevil on your Kodi installation, follow these instructions, and you'll be up and running in only a few minutes.
Step 1: Enable Addons from Unknown Sources
The only repository that Team Kodi includes on brand-new installations is their official repository. That has hundreds of different addons to change the look & feel, add new video sources, backgrounds, or utilities like checking the Kodi log files.
However, you won't be able to find many of the most popular Kodi addons in the official repository. The first thing we'll need to do is enable addons from unknown sources.
First, go to the Settings menu. You can get there either from the gear icon on the left-hand menu or by clicking on Settings in the Addons tab.
Next, click on the System icon. This is typically found in the bottom right-hand corner of your screen.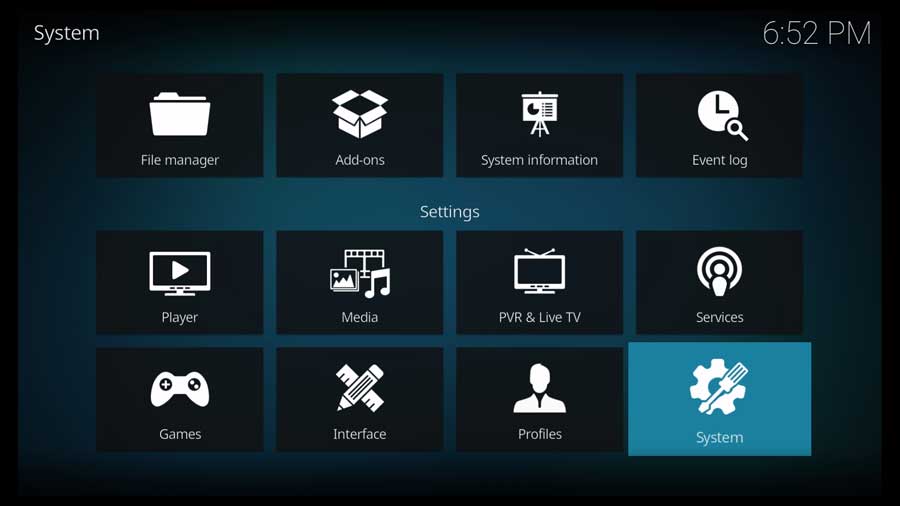 Once you're in the Settings\System menu, scroll down to the Addons section.
Kodi allows for different levels of Settings, depending on how detailed you want to get. In this case, I'm in the Standard settings options, as you can see on the bottom-left part of my screen.
The option we're looking for will show up at any level, including Basic.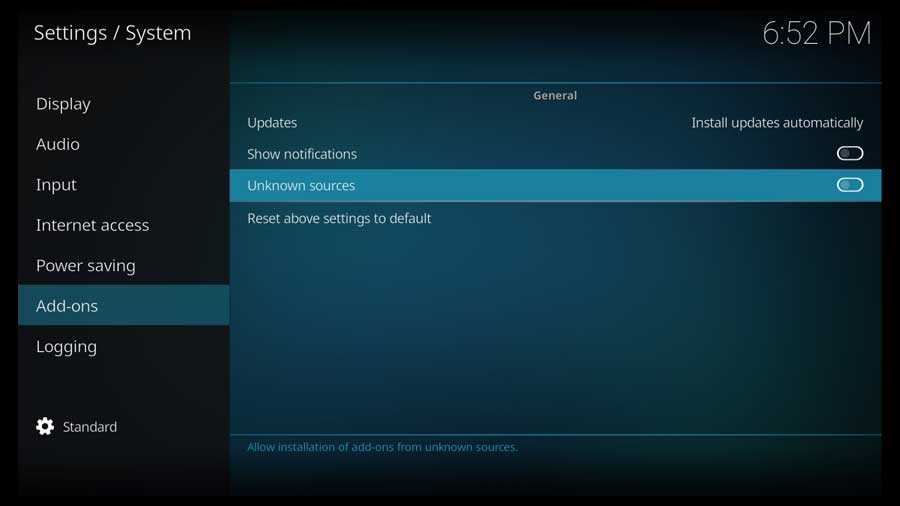 Click on the Unknown Sources setting.
As soon as you do, you'll get a pop-up box asking you to confirm your selection.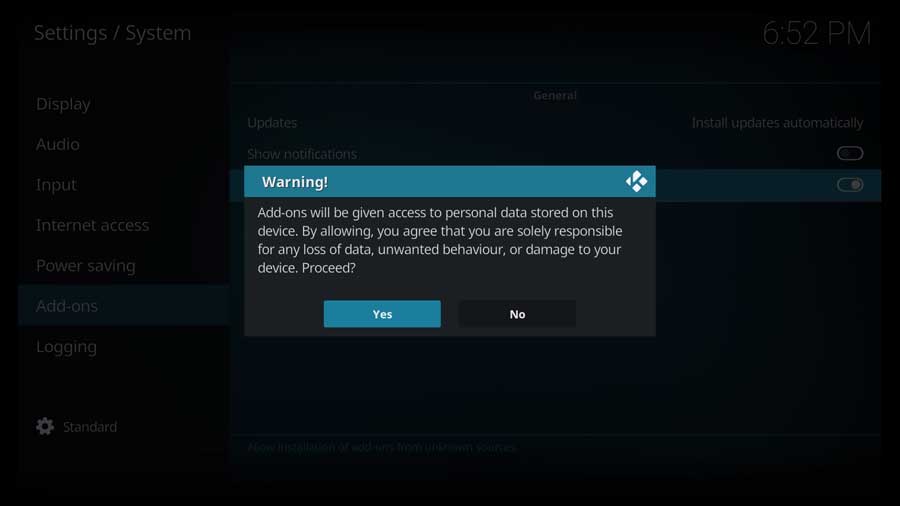 When installing third-party addons, you should exercise caution.
These addons will have the same rights to your system that Kodi does, which means they can access all the files on your device.
That's not necessarily a big deal for streaming devices. However, it could be a problem if you run Kodi on your PC, which also stores your personal data.
Click Yes to proceed.
Once you do, the toggle switch turns white, and you'll be able to install the SportsDevil addon and any other unofficial Kodi addon.
---
Step 2: Add SportsDevil's File Source
With that out of the way, there are three parts to installing the SportsDevil addon. First, we need to tell Kodi where to find the repository that houses the addon we want.
In Kodi, the addon's files are stored in something called a 'repository.' In order to install the addon, we need to first install the repository. You can check out our list of working Kodi repositories here.
First, go to the Settings/System menu and click on the File Manager icon.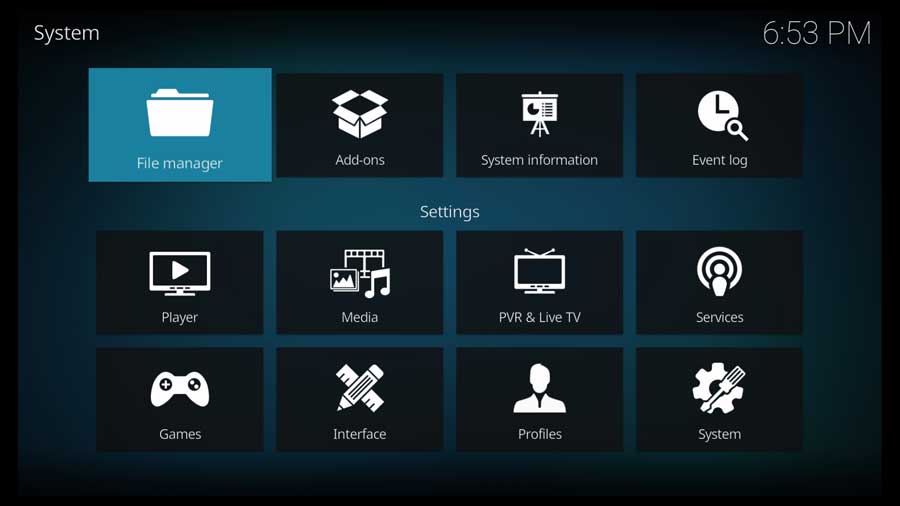 Here we can add media libraries, either locally stored files on the same device or elsewhere on your home network.
In this case, we'll be pointing Kodi to the location of the repository we need.
Click on Add Source to continue.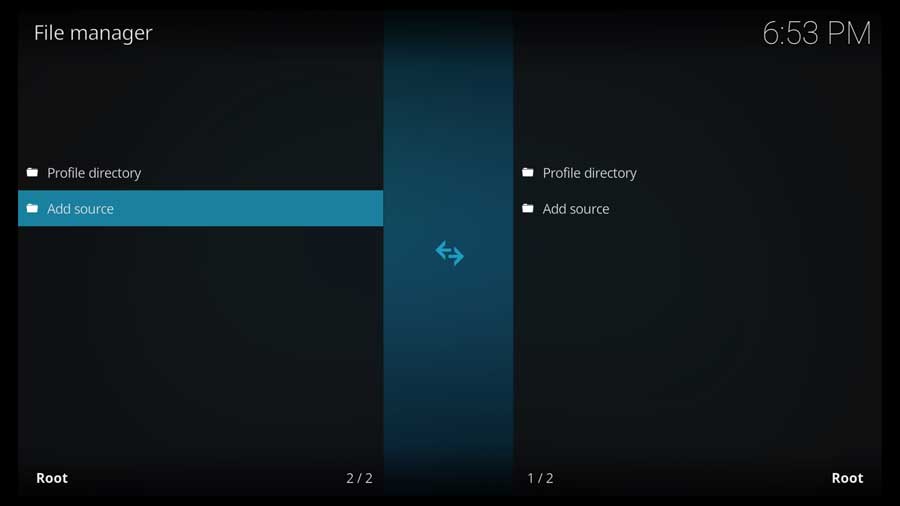 Click on <None> in the Add Source menu box to add a custom source.
Important Note: The central repository from the actual SportsDevil no longer works. It will let you install SportsDevil, but the addon won't run. Thankfully, a handful of other repositories still have the addon, so you can install it. We'll be using one of those here.
Type in the following URL and click OK:
httpsssss//ezzer-mac.com/repo
As I mentioned, this is a different repository. I'll show you what happens when you install it from the developer's GitHub page at the end of this tutorial.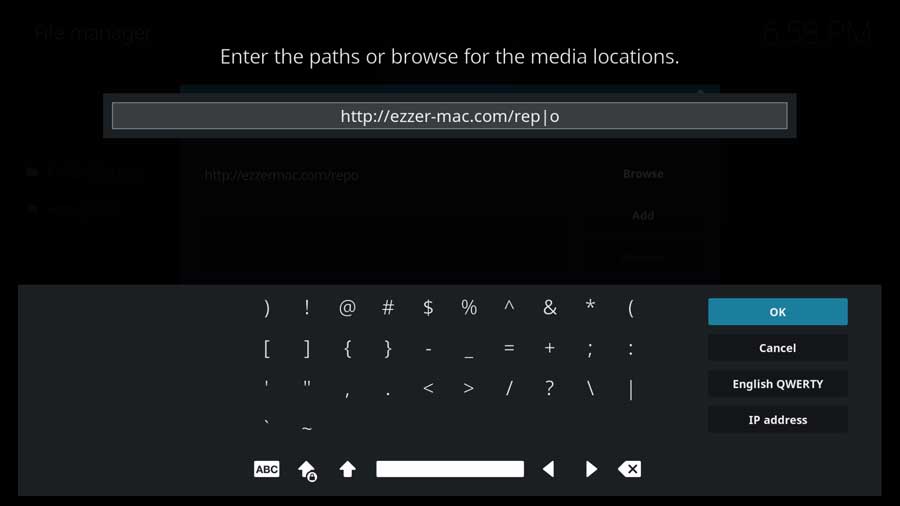 Next, create a name for this media source. I was lazy this time and kept the suggested name 'Repo.'
Click OK to continue.
Once you have the URL location and named the source, click OK to exit the Add File Source menu box.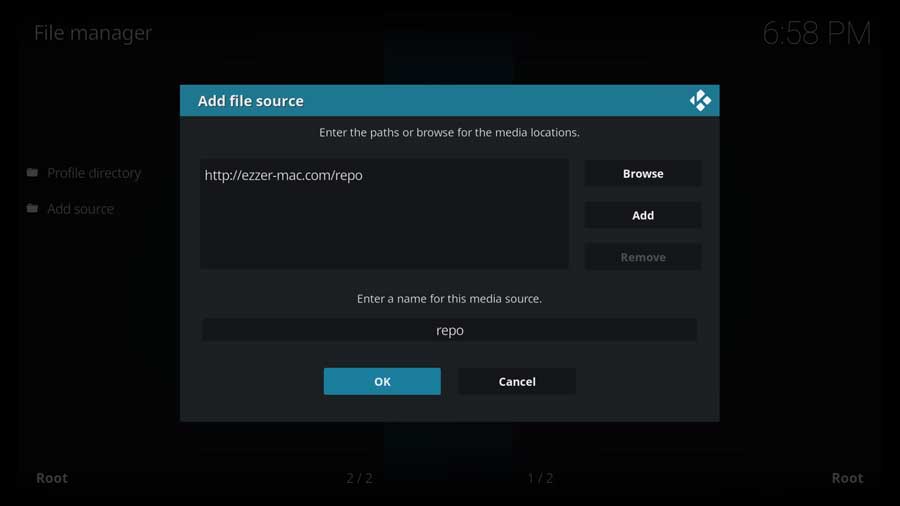 Your new file source will now appear in the File Manager menu, and we're ready to move on to the next step.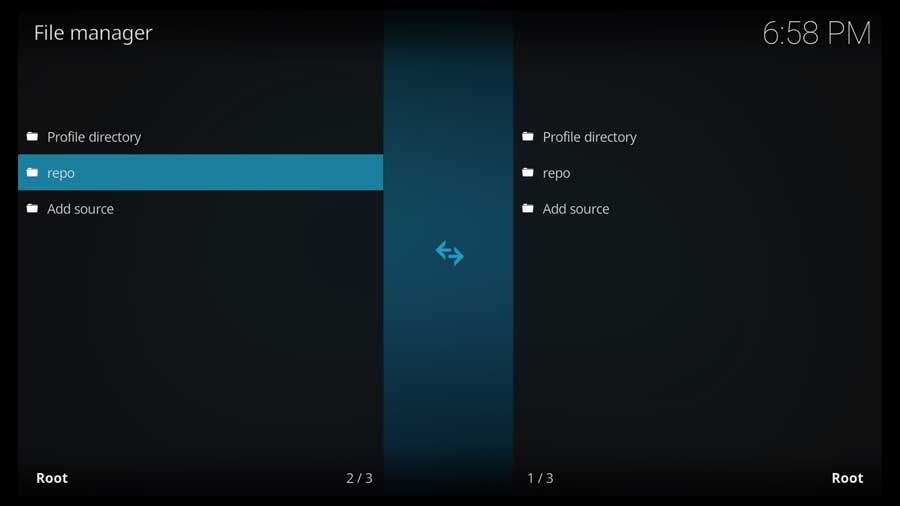 ---
Step 3: Install SportsDevil's Repository from Zip File
With that finished, we can install the SportsDevil Kodi addon repository.
Go back to your Kodi home screen, and scroll down until you get to the Addons section.
Then, click on the Install from Zip File icon.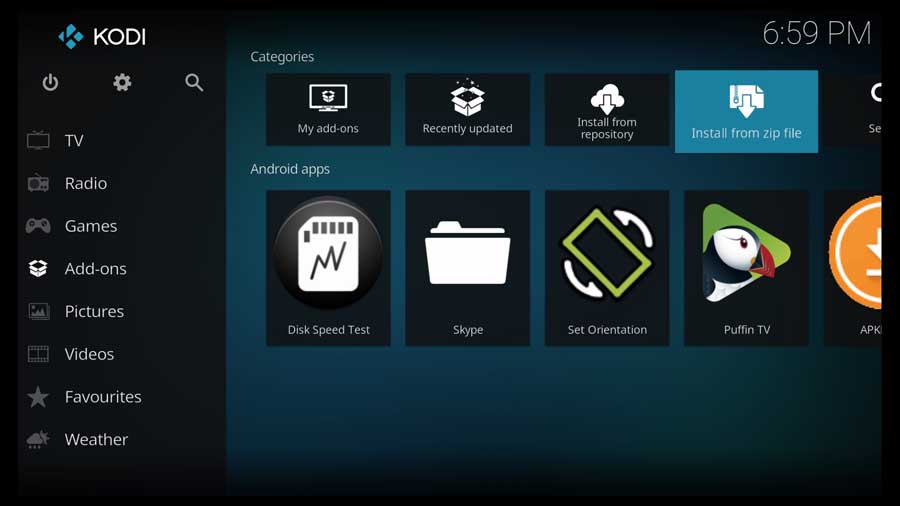 A pop-up window appears with all the file locations you've configured on this particular device. If you've mapped any network drives on this device, they also appear here.
Scroll down until you see the source you created in the previous section.
Click on it to continue.
The following window will show any zip files in that file location.
Click on the repository.EzzerMacsWizard.zip file to continue.
That takes you back to the Addons section menu. After a few moments, you'll get a pop-up message in the upper-right-hand corner that the EzzerMacs Wizard Repository has successfully installed.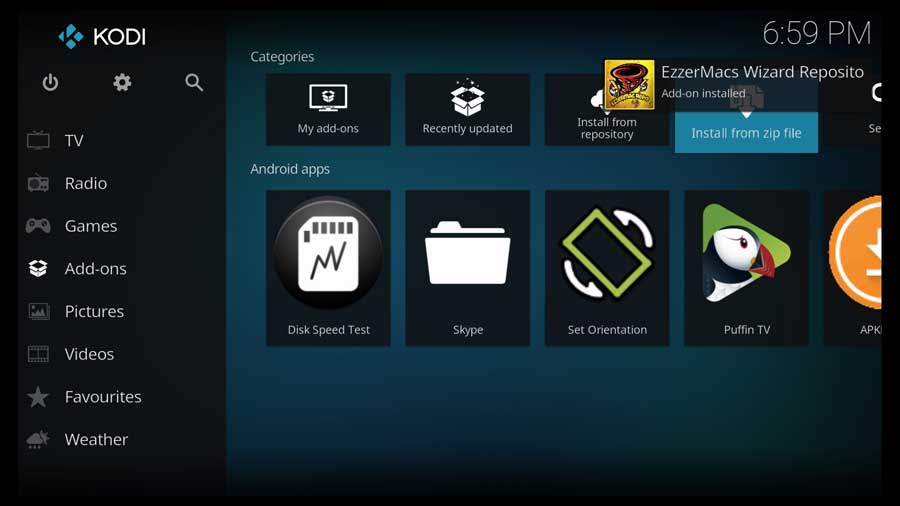 ---
Step 4: Install the SportsDevil Addon from the Repository
Now for the final step. We can install the SportsDevil addon itself.
I like installing addons directly from the developer when I can. Not only does that ensure that you're getting the latest version of the addon, but it also means there are fewer options in this step.
No such luck here, though.
Click Install From Repository to continue.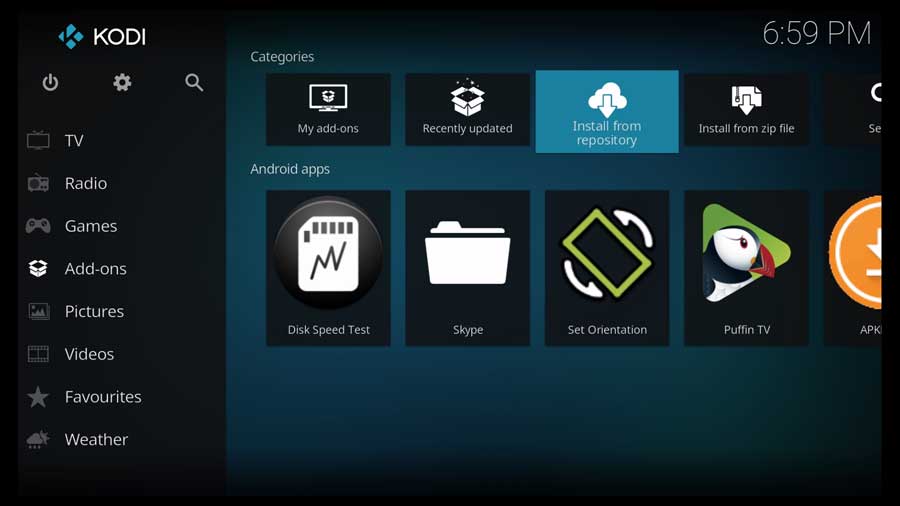 Since I'm installing the SportsDevil addon to a clean Kodi 18.9, the only repositories on this device are the official Kodi repository and the one we just installed.
You might have a lot more repositories on your system.
Scroll down until you see EzzerMacs Wizard Repository and click on it.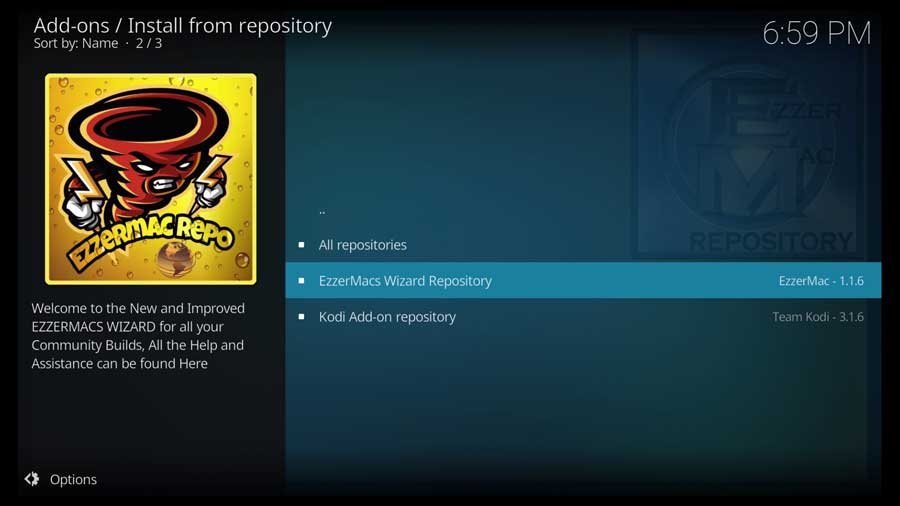 This takes you to a sub-menu that shows all the individual addons included in this repository.
I'll warn you ahead of time…there's a lot here.
SportsDevil is located in the Video Addons section, so click on it to continue.
Scroll down until you get to the SportsDevil addon, and click on it to continue.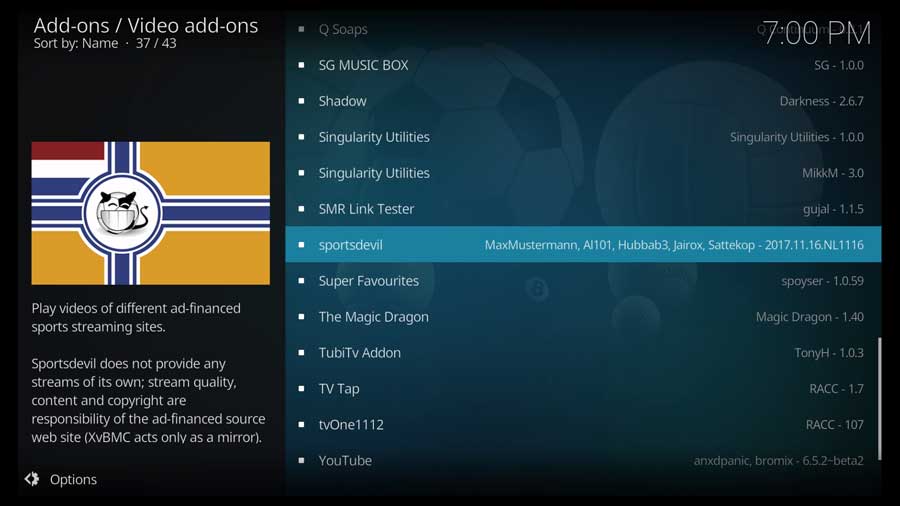 That takes you to the addon's detail page. This gives you essential info on what the addon does and (occasionally) screenshots.
Click on the Install button to continue.
Depending on your system, you may have some dependent addons that need to be installed to make SportsDevil work. If so, click OK to approve them.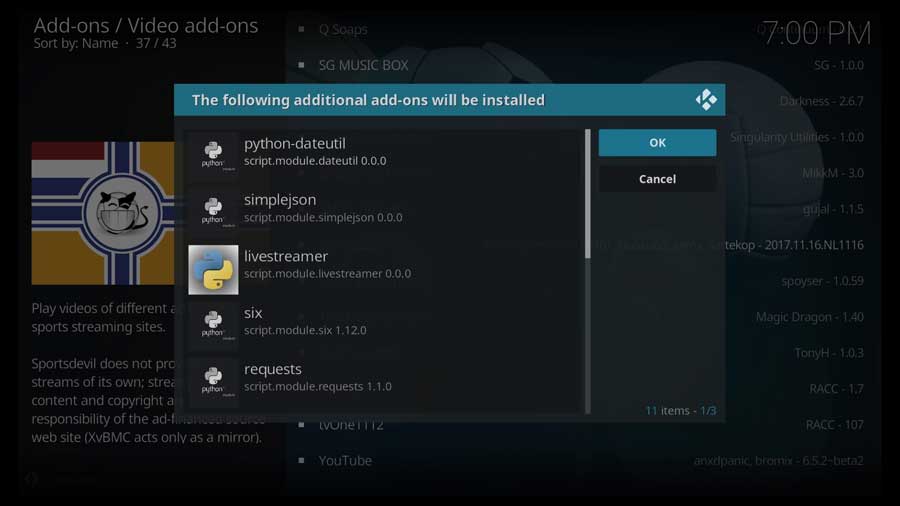 After a few moments, you're taken back to the Addons section, and the SportsDevil Kodi addon is installed.
---
What Happens If You Use the Developer's Repository?
As I mentioned, we're not installing SportsDevil from the developer's official repository: https://cy4root2.github.io/zip .
That's because I couldn't get the addon to work in either Kodi 19 or Kodi 18.9.
After researching and reaching out to several members of the Kodi addon community, this has been happening for some time.
It's possible that the developer took the repository offline. If so, the alternate sources, like the one we used, may be the last places to find the SportsDevil addon.
Still, that would be the best option if it ever comes back.
Here's what happened when I tried to install it from that repo:
I was able to add the repository as a source and complete the "Install from Zip File" section.
However, when I tried to browse the cy4root repository, I got an error message that I couldn't connect to the repository. This happened in both Kodi 18.9 and Kodi 19.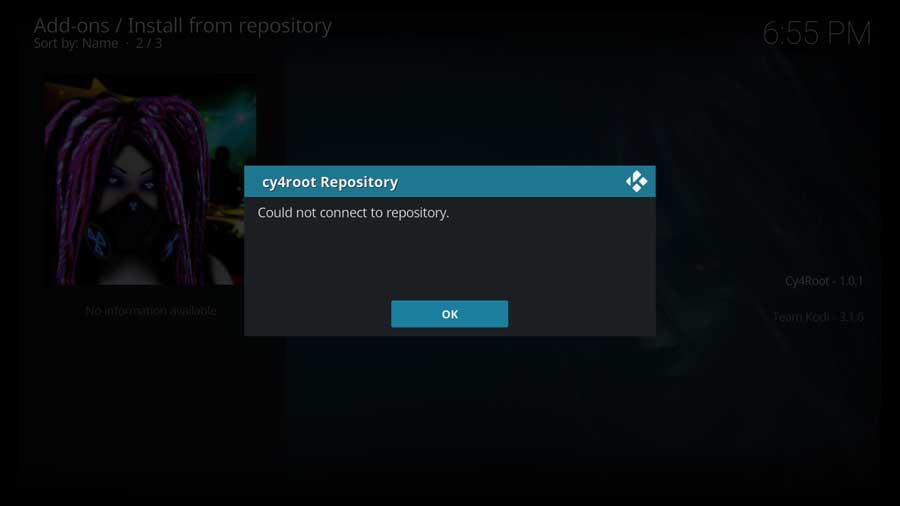 No matter what I tried, I couldn't get around this error, which is why I recommend using an alternative repository like EzzerMacs.
---
FAQ
Here are some of the questions we commonly see regarding the SportsDevil addon. The answers may be beneficial to installing and correctly using the addon.
Will SportsDevil work with Kodi 19?
No. Like many popular addons, SportsDevil is based on Python version 2. For Kodi 19, Team Kodi upgraded to Python version 3, which rendered many popular addons inoperable.
What Do I Get with SportsDevil?
The SportsDevil addon provides content from all major sports leagues, including NHL, NFL, NBA, MLB, UFC, MMA, English Premier League, Indian Premier League, and the U.S. Open.
It is the outlet for watching all forms of sports live and streaming. There's Cricket, boxing, baseball, basketball, soccer, and more. There's also Formula 1 racing if you don't have access to the F1 TV app.
What Is Kodi?
Kodi is an application for utilizing and playing all forms of media. With Kodi, you change a media player into a global multimedia center.
The platform already has many addons, and third-party addons like SportsDevil give sports fans all-new potential.
What Is a Repository?
In a control system for revisions (updates and addons), a repository is a platform for hosting code sources and other metadata.
Why Is SportsDevil Not Working?
If you have trouble getting SportsDevil to work, you first want to ensure that the addon version is the latest one.
Try reinstalling or seeing if there's an update.
Is SportsDevil Illegal?
SportsDevil allows you to see any sporting event you want pretty much anywhere. However, that doesn't necessarily mean you automatically have the right to view it.
What If My Download Fails?
This usually happens if you don't enter the URL correctly or there's an issue on the website. Double-check to see if you got the URL right, or perhaps look into the site undergoing maintenance.
Where Do I Get Kodi?
I have several tutorials that can walk you through how to install Kodi on Android TVs and TV boxes and how to install Kodi on FireSticks and the FireTV Cube.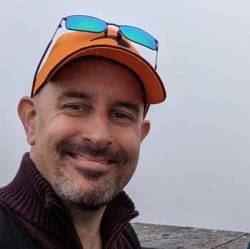 Latest posts by Tim Wells
(see all)