Are you tired of missing out on the high-speed thrills and unforgettable moments of the F1 season?
In this article, we'll show you how to get the ultimate F1 viewing experience on your Android TV with the F1 TV app.
Sure, you can watch most races on ESPN, but as a fan, I guarantee you're missing out if you're not watching race weekends on F1 TV.
That's why we've put together this easy-to-follow installation guide and overview to help you enjoy Formula 1 on your Android TV.
Let's get started.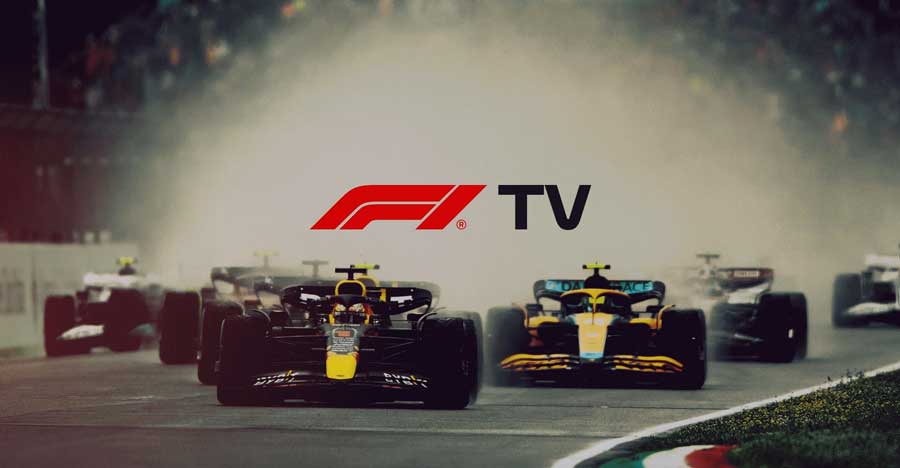 ---
What are F1 TV and F1 TV Pro?
F1 TV and F1 TV Pro are streaming services offering live and on-demand coverage of Formula 1 races and other related content.
Both services offer F1's Live Timing features, which include live leaderboard data, real-time telemetry, driver maps, and other analytics.
However, there are some key differences between the two services.
F1 TV is the basic version of the streaming service, providing replays for every race, highlights, archive content, and exclusive documentaries and features.
Stepping up to F1 TV Pro, you get live streaming of every F1 race weekend, including onboard cameras and team radios. This includes practice sessions, qualifying, and the race.
F1 TV Pro also offers replays for each event's F2, F3, and Porsche Supercup races.
F1 TV Pro is only available in select countries, including the United States, Canada, and many European countries.
---
How Much Does F1 TV Cost?
F1 TV Access, the basic version of the streaming service, typically costs around USD 2.99 per month. The exact price may vary depending on your location and the local currency.
F1 TV Pro, the premium version of the service, costs USD 9.99 per month or USD 79.99 per year in the United States. The price may also vary depending on your location and the currency in your country.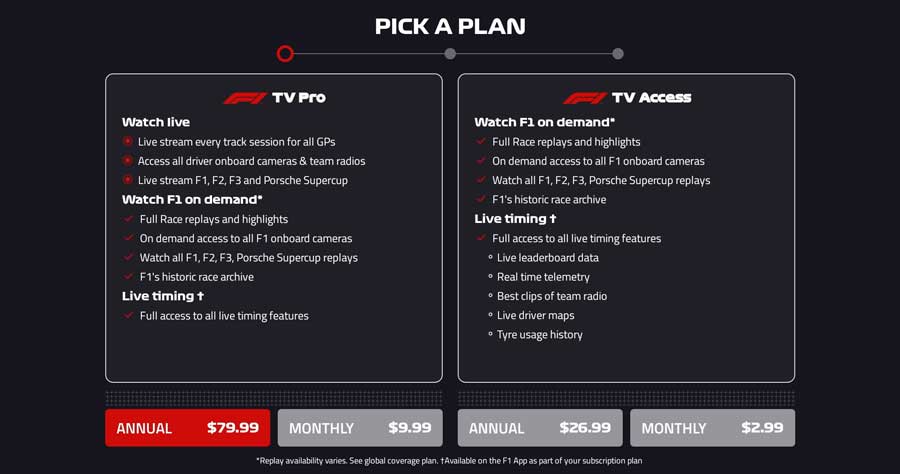 It's worth noting that the availability of each service will vary depending on your location. Some countries may only have access to one version of the service, while others may not have access to either.
Unfortunately, there is no free trial for F1 TV in the United States.
---
How Do I Watch F1 TV on Android TV and Google TV?
Although you can sign up for F1 TV Access or F1 TV Pro through the app, I recommend creating your account on a PC or tablet.
You must enter your email address, password, and billing information to use the streaming service. That's much easier if you have access to a keyboard.
Once you've signed up, download the app directly from the Google Play Store or your favorite alternative app store by searching for 'F1 TV.'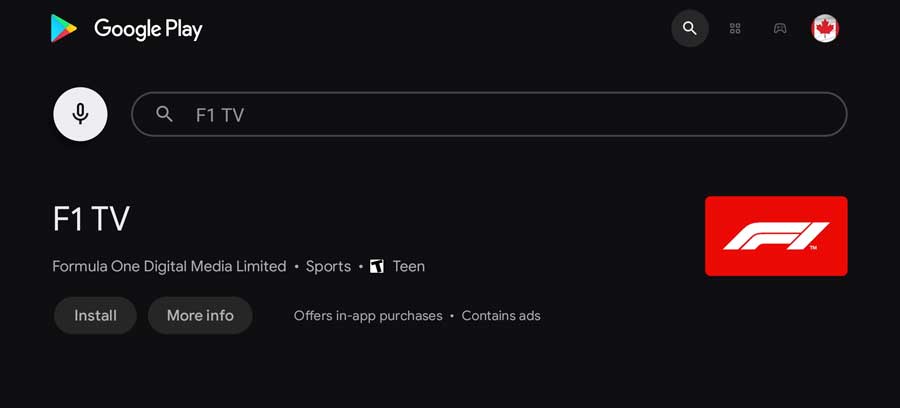 This will pull up the official F1 TV Android TV app. Click Install to continue.
After a few seconds, the installation finishes. You can launch the app by clicking Open.
---
Overview of the F1 TV App for Android TV & Google TV
In this section, we'll cover each section of the F1 TV Android TV app in more detail.
2023 Season
The '2023 Season' section of the F1 TV app is the one-stop-shop for fans who want to stay up-to-date with all the action from the current Formula 1 season.
Here, you can see a comprehensive schedule of all upcoming races. As the season progresses, replays of each event will be listed separately. This includes each practice session, qualifying, and the sprint and grand prix races.
Users can choose between the F1 TV broadcast with Will Buxton or the international broadcast with David Croft.
Archive
The 'Archive' section of the F1 TV app is where users can access a wealth of historical Formula 1 content. This section provides access to full race replays, highlights, and other content from past seasons as far back as 1970.
If you don't want to relive the entire race, each year has a 'Moments of Brilliance' and 'How the Season Was Won' mini-documentary.
Personally, I love the Greatest Races tab, which provides a bite-size highlight of some of the greatest races in F1 history.
Shows
Here you'll find archives of F1 TV's most popular shows, including:
Jolyon Palmer's Analysis
Tech Talk
Best Onboards
Weekend Warmup
Pre and Post-Qualifying Shows
Pre and Post-Race Shows
Esports Championship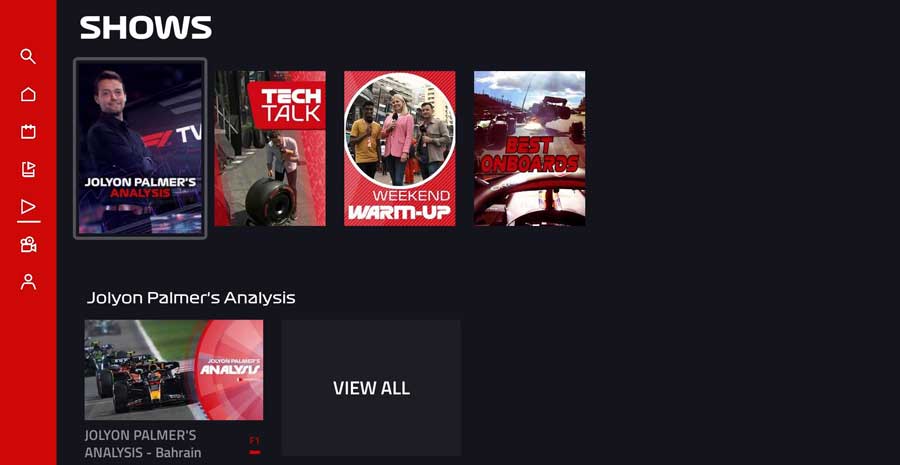 Documentaries
Here you'll find archives of F1 TV's most popular documentaries, including:
F1 All Access
Chasing the Dream
F1 Inside Tracks
Vettel: More than a Champion
and more
Fortunately, you will NOT see 'Drive to Survive.'
---
Where Else Can I Watch F1?
If you're passionate about F1, watching races live is an absolute must. But with so many different broadcasting options available across the globe, it can be tough to know where to look.
While F1 TV may be the obvious choice for some viewers, it's important to note that not all regions have a package that includes live Grand Prix coverage.
In Australia, Fox Sports is the go-to for fans who want to watch all the action as it happens. But if you don't have it as part of your pay TV package, consider Kayo Sports. This fast-emerging streaming service offers a free two-week trial. Its basic and premium packages cost $25 and $35 per month, respectively, so it's a budget-friendly way to enjoy every race.
Meanwhile, in the UK and Ireland, Sky Sports and its dedicated Sky Sports F1 channel are the top choices for fans. Not only do subscribers get access to coverage of every 2023 F1 Grand Prix, but they can also watch on the move using the Sky Go app.
In the US, ESPN will live-stream the race but have limited coverage of qualifying and practice sessions. Cord-cutters can access it via over-the-top providers like Sling TV and FuboTV.
And in Canada, viewers can watch on TSN or RDS if included in their cable package.
The F1 TV app remains the best way to watch Formula 1 in the US and Canada.
---
Wrapping It Up
Whether you're a die-hard fan or just dipping your toes into the world of Formula 1, there's a broadcasting option out there that will suit your needs.
So, grab that early morning coffee and watch the next race weekend live.
P.S. Go Papaya!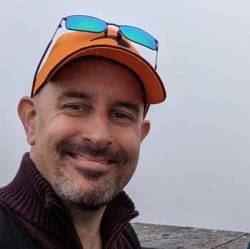 Latest posts by Tim Wells
(see all)