If you're of a certain age, you remember Sony's dominance in high-end electronics. If you wanted the best TV, it usually meant buying a Sony.
However, for almost two decades, Samsung has been the global leader in TV market share.
So, how do you choose between these two popular TV bands?
I thought it would be a great idea to explore both companies. By breaking down their features and benefits, you can choose the best high-end TV for your viewing pleasure.
---
Picture Quality
One of the most critical aspects of television is its picture quality.
So naturally, both Sony and Samsung have built their reputations on realistic viewing, so you will think you're right there.
Let's compare these two tech giants side by side.
Sony
Sony has been working on OLED since the XEL-1 in 2007. It's been a steady climb since then, as their tech has only gotten better since then.
Many enthusiasts believe Sony's OLED tech has reached the pinnacle with its newest OLED offering, the Bravia XR A90J. Many in the tech world call it the best OLED TV available in 2021.
The A90J provides natural colors, high peak brightness, and intense, pure blacks for the best picture possible.
In addition, Sony uses premium XR Triluminos Pro™ and XR OLED Contrast Pro technology to provide realistic images and is natural for the human eye.
This model also brings with it XR Motion Clarity for intelligent motion processing. This feature is ideal for fast-moving images, including sports and action-packed movies. There will be no more watching blurry images or dealing with slow refreshing rates when you have an A90J.
Samsung
Recently, Samsung has shifted its focus to LED models with its HDTV line. They unveiled their first LED model television back in 2009. Steadily improving the quality of their LED output since then, they expanded their QLED line.
Samsung's recent output shows they focus more intensely on perfecting the LED TV rather than shifting to the more powerful OLED screens that have become the next big thing in HDTV technology.
I love Samsung's most recent QLED model, the QN90A, and I can't say enough good things about it.
However, the excellent mini LED backlighting features make this television stand out for me. This element is a game-changer for Samsung so that you can view near-perfect picture quality even in brightly-lit rooms.
Seating positioning is no contest for the QN90A either. So your entire group of friends can enjoy exceptional picture quality, no matter where they sit in the room.
The Result
While Sony focuses on making the perfect OLED, and Samsung focuses on getting their LED TV line just right, Samsung is the clear winner.
Still, with the technology of the times producing less and less significant advances, alternatives are becoming more common. As a result, new battlefronts are opening between Sony and Samsung and heading toward other features.
---
Dolby Vision vs. HDR10+
Years ago, the idea of televisions boasting of "high dynamic range" became a powerful marketing tool to show off the kind of screen quality you'd be getting from a new HDTV.
It worked, too, since any 4K TV you're buying these days will boast of some HDR technology built-in.
Since then, two similar protocols have set standards for HDR video: Dolby Vision and HDR10+.
These standards are built with dynamic metadata in mind, allowing for brighter and more vivid picture quality.
Dolby Vision
Until Dolby Vision came along, you'd probably only think of Dolby as an audio company that has produced standards for what you've been hearing in theaters for decades.
However, that's not entirely correct.
Dolby introduced their Vision standard in 2014. Dolby Vision supports a maximum resolution of 8K, 12-bit color depth, and 10,000 max peak brightness (nits).
Dolby's hard push to get Vision into the hands of consumers has worked.
Streaming services like Netflix have signed on to use the service for their HDR-enabled content, and Sony has led the charge by including Dolby Vision on most of their TV lineup.
Unsurprisingly, the Sony A90J supports this standard and two other lesser HDR protocols.

HDR10+
However, Dolby Vision does have its rival, Samsung's HDR10+, supported by major entertainment companies like Amazon, Onkyo, Panasonic, Plex, and Yamaha.
Like Dolby Vision, HDR10+ supports a maximum resolution of 8K and 10,000 nits of maximum peak brightness. HDR10+, however, only supports up to 10-bit color depth.
Simply put, pricing is the critical difference between these two. Whereas Dolby Vision will cost manufacturers through licensing deals, HDR10+ is royalty-free and is an open standard.
The benefits of HDR10+ are many, including:
Exceptional quality HDR picture
High-quality availability in less expensive products
The open standard allows a continuous evolution
Free of cost
The standard's fortunes changed after receiving more support from larger Hollywood studios. The alliance between Samsung, 20th Century Fox, Panasonic, and Amazon gave the standard a tremendous boost.
Moreover, it showed how the backing of the big boys in tech and entertainment could give it a leg up to the streaming companies.
The Result
Sony and Samsung are now backing two different horses for HDR protocols, making this just another avenue for these two companies to duel it out in the HDTV market. Samsung's investment in HDR10+ means you won't get Dolby Vision on their TV's.
---
OTS vs. Acoustic Surface Audio
Over the past decades, sound technology has evolved from the old two-speaker stereo model built-in to your old console television. As a result, even quality surround-sound equipment that used to be in homes is changing.
Companies are finding innovative ways to surround you with sound through your television. These efforts benefit consumers without them having to buy expensive home theater equipment.
Sound standards have been around for years. However, manufacturers like Sony and Samsung have found a way to create their own to benefit consumers and push their television tech-forward in a new arena.
After all, the average consumer can't always tell the difference between a 1080p HDTV and a 4K HDTV, but a great surround sound system will usually get them excited.
OTS
Samsung's OTS, or Object Tracking Sound, analyzes sounds in content to allow for optimization before sending the sound to the appropriate speakers on your television.
All of their newest high-end televisions come with this technology built-in. With astonishing results, the multi-channel audio comes from multiple directions to match the on-screen visuals, rather than coming from one front-facing speaker.
Naturally, if you opt for an external soundbar or speakers, your audio quality may improve, but the OTS is one of the best options for anyone who doesn't want to run out and purchase extra sound equipment.
Acoustic Surface Audio
Meanwhile, Sony's standard, Acoustic Surface Audio, is working to accomplish the same goals as OTS. However, Sony's idea is to turn the TV into a speaker. Sony's approach has more benefits than just increasing audio quality. ASA allows sounds to travel directly to your ears instead of around the room.
While you may be concerned with sound coming directly from the screen itself and may affect picture quality through vibration, what I found from tech reports is that isn't the case. Its bass-heavy speakers with ASA technology were behind the screen instead of the front. This setup minimizes any issues.
Sony's Acoustic Surface Audio can also be used in tandem with surround sound systems, allowing the television itself to be the center speaker for dialogue. That's one less speaker to buy for you audiophiles looking to save a buck.
This technology is now available on Sony's newest OLED TVs and is likely to trickle down to lower models once the technology is perfect.
The Result
Both OTS and ASA are terrific high-quality options for TVs in the market today.
However, when it comes down to it, how you want to set up your home theater system will depend on which TV you choose.
---
Tizen vs. Android TV and Google TV
Smart TV technology continues to push the HDTV market forward in many ways. Since HDTVs now can stream content from the web, manufacturers seek to give consumers the most user-friendly operating systems on their television sets.
Considering how easy it is to stream Netflix, manufacturers hope you'll use their operating systems rather than the alternative.
So instead of going out and buying OTS devices, like Amazon's Fire TV or a Roku device, these built-in OS capabilities make home streaming easier for us.
Tizen
In 2015, Samsung created its in-house proprietary OS for their smart TVs called the Tizen OS. We covered Tizen in our complete breakdown of Tizen vs. Android TV.
However, Tizen is a Linux-based, open-source system supported by several devices. You can find it with TVs, mobile devices, and even home appliances.
Samsung claims there are many advantages to their HDTVs because of their use of Tizen OS. The advantages include:
Available in 197 countries worldwide
Collaborates screens for video, gaming, and art
Encompasses user-driven values and needs
The Tizen OS also comes with the Samsung TV Plus app, which aggregates several hundred streaming channels for free.
Android TV and Google TV
On the other hand, Sony televisions implement Google's Android TV into many high-end HDTV models. Like the A90J, recent Sony models use Android TV branded with the Google TV interface.
Android TV (no surprise here) is an offshoot of Google's well-known mobile Android operating system. It has been around since 2014 and has made some headway in the Smart TV market. Thanks to partnerships like the one with Sony, it continues to grow.
Android TV evolves into Google TV through many software changes and a new interface. Their end goal is to make the OS more personalized for customers using Google's AI to recommend specific content types.
However, it's not hard to see how Google TV's new interface draws more attention than anything. Instead of getting Android TV apps, Google TV puts potential content recommendations front and center.
The Result
Smart TV operating systems are just another way for televisions to differentiate themselves in a crowded market. A head-to-head comparison will boil down to what more easily works for the average consumer.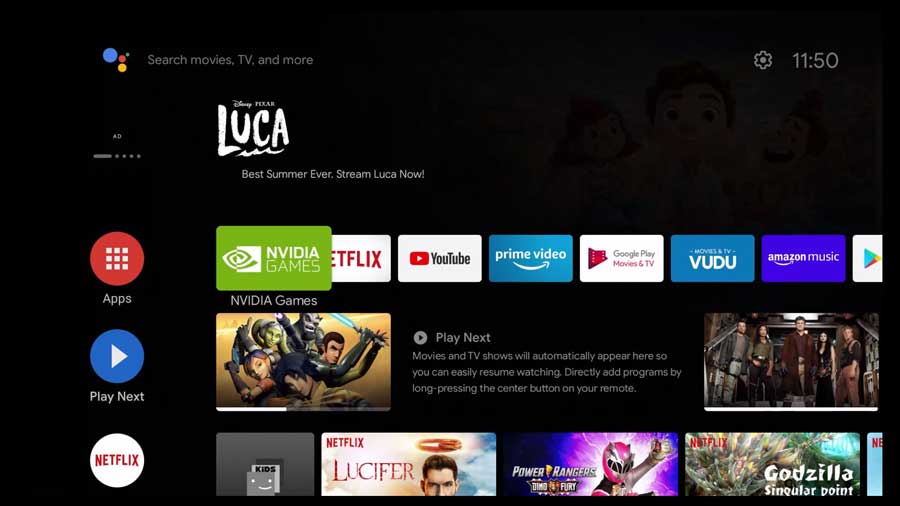 ---
Design and Aesthetics
The basic idea behind a television remains similar to the first TV in 1927.
It's a box with a screen to display moving images.
However, the more realistic and vibrant those moving pictures, the better.
The days of console TVs that sit on the floor in oversized boxes are in the past.
I mean, can you imagine a 65″ console television? Who would have space in their living room for that on the floor?
Providing a more aesthetically pleasing television to suit the customers' demands has forced Sony and Samsung to alter their designs to remain relevant in the market, pushing the original idea to new and exciting places over the years.
The Incredibly Shrinking Bezel
The space around the television screen, known as the bezel, is just one of the many advancements in technology.
Not so long ago, flat-screen televisions had bezels that were several inches thick. However, both Sony and Samsung continue to evolve and minimize this space.
Smaller bezels mean more viewing space for you, especially if you only have a limited area to place a television.
A 50-inch television with a 4-inch bezel or a 55-inch television without much bezel may have similar dimensions. However, the 55-inch television has a much larger viewing area in that frame.
Samsung focuses on making their televisions look great, both when they're on and off. Samsung's latest obsession is to create TVs with bezels so small they're almost non-existent.
You may hear about the "Frame TV," which is essentially a monitor with a bezel so thin that you might think you're looking at a picture frame on a wall.
Samsung's "The Frame" screen can be purchased from 32″ to 85″. How great would that look in your sitting room or kitchen? Think of how simple it would be to install or move.
Of course, Sony is also following this trend and began to shrink the size of its bezels with its recent Bravia offerings. Bezels from both companies are becoming so small these days that a new type of market is emerging around them.
Is a bezel-less television in our future? Considering how small the bezel continues to shrink, you shouldn't be surprised if future TVs find a way to do without them.
Next Comes the Curve
Aside from the bezel thickness, Sony and Samsung also found ways to incorporate curved displays into the HDTV market, providing more alternatives for us tech enthusiasts.
Even with this innovation, it did not pan out. These TVs had their limitations.
These television models took up more space than the flat alternatives. Trying to view them from different angles was challenging. So, if you're sitting dead center in front of the curved TV, you have the best viewing angle.
However, if you're somewhere off to the side, the viewing angle is not ideal. The result is not as desirable as we would like in television products, and it quickly lost momentum.
While curved TVs did not take off as the next innovation in our living rooms, they did gain popularity in the computer monitor market. Gamers and power users love the extra screen real estate and immersion provided by sitting right in the middle of the curved screen.
Although it may not be the best choice for your living room, a curved monitor can be an ideal solution for your office or gaming console.
Thinner, Thinner, Thinner
Bigger is better, especially for TVs. But while everyone loves a big-screen television, those big, bulky models make it difficult to position in your home.
Gone are the days when you need a large entertainment center in your sitting area to support a large TV. Instead, we mount televisions on the wall, making our living rooms more open and less crowded. 
However, hanging thick, bulky screens are not ideal, so Sony and Samsung continue to surprise us with thinner televisions to make our lives easier.
The last time I checked, Samsung's "The Frame" model once again shined in this space as the company's thinnest offering at 1.8 inches thick. Sony's thinnest screen, meanwhile, came in at 2.125 inches with their A8H OLED model.
Emerging technology is leaps and bounds ahead of our parent's TVs.
How thin can a television get?
LG showed off its roll-up TV in CES 2018, but at almost $100,000 (you read that right), it's out of reach for most consumers.
I'm excited to see what Sony and Samsung's response will be.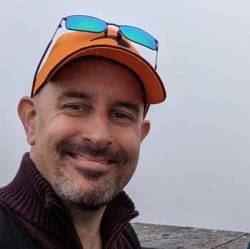 Latest posts by Tim Wells
(see all)