Last Updated on June 16, 2023 by Tim Wells
These days, it can be hard to keep in touch with the people we care about. We still need face-to-face interaction even though working from home or away from family and friends.
If you're like me, you're probably using video-conferencing apps like Skype and Google Duo more now than ever.
I started using Skype a few years ago while my wife was at medical school in the Caribbean. Telephone service on her island was very expensive and suffered from a lot of outages. We needed a more reliable & cheaper way to keep in touch.
Honestly, I don't know how we would have made it through those two years without talking on Skype daily.
Most of us use Skype on our laptops or smartphones, but I bet you didn't know you could also use it on your Android TVs.
There are a couple of tricks to getting Skype installed and looking great on your Android TV. We'll also cover those in detail in this article.
---
Can You Use Skype on TV's?
There used to be a version of Skype specifically for Smart TVs called, predictably, Skype on TV. They created it back when Skype was still a privately owned company before they were bought by Microsoft back in 2011.
After a few years and a few thousand tech-support calls later, Microsoft quietly retired Skype on TV.
However, that doesn't mean you can't use Skype on your Android TV. It just means that you have to go through a few extra steps.
While there's no official Android TV version of Skype, I was able to successfully sideload the regular Android version of Skype on my NVIDIA Shield TV.
After a couple of tweaks, it was working great.
---
How to Install Skype on Android TV
There are several different ways to install Skype on your Android TV. This section will walk you through two of the most popular.
The first method is directly through the Aptoide TV app store. Aptoide TV is an alternative app store that has been used by over 200 million people since it began.
If you're unfamiliar with it, I wrote an article showing how to install Aptoide TV on your Android box and Android TV here. 
The second method is sideloading the Skype APK directly from APKMirror. APKMirror is one of the most popular repositories of Android installation packages (APK).
It takes more effort to sideload an app versus installing it from the Google Play Store or Aptoide TV. However, there are certain apps that you can only install by sideloading, so it's definitely worth knowing how to do it.
---
Install Skype Through Aptoide TV
To get started, open Aptoide TV on your Android TV or TV box and click on the magnifying glass icon in the upper left-hand corner of the screen.
Then search for 'Skype.'
Depending on when you're reading this, you'll probably see a few different versions, including Skype Preview and Skype Lite.
We will install the latest release of the official Android version of the app: Skype – Free IM & Video Calls.
When you search on Aptoide TV, it sorts the relevant search results by the most popular.
That means that the latest release should be the first result listed.
If you click on a result, you can see some basic information like the number of downloads, who published the app, and whether it's a 'Trusted App' or not.
Just be sure you're downloading the full version of Skype, not a preview or 'Lite' version. Hint: Comparing the total number of downloads is an easy way to tell which one to choose.
Once you've got the right app, click the Install button to start downloading.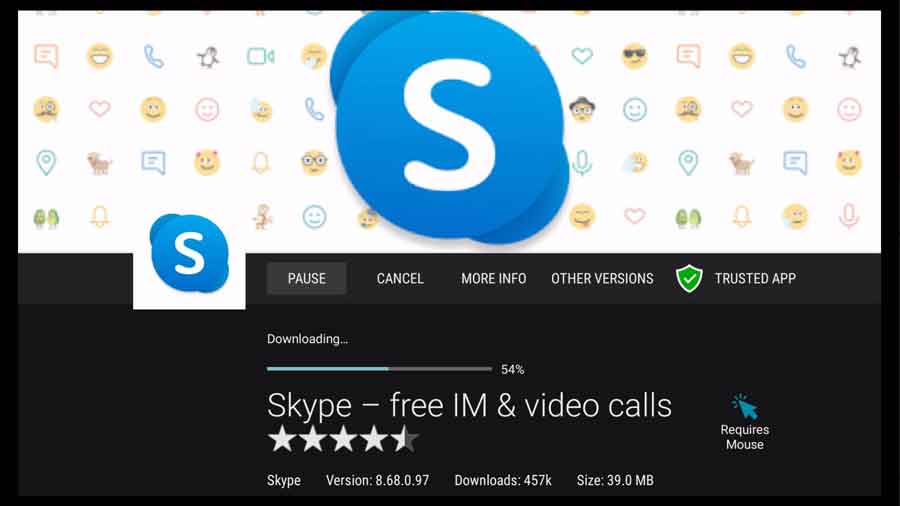 The Skype APK is only around 40MbB, so it should only take a few seconds to download, depending on your Internet speed.
Once that's completed, Aptoide TV will automatically start the installation process.
Skype doesn't require any special permissions at this point.
The first time you open it, Skype will ask permission to access your contacts, webcam, and microphone. We'll get into those in a later section.
For now, click Install to continue.
A few seconds later, you'll see the message that Skype has been installed successfully.
You can open Skype directly from this screen or click Done to return to Aptoide TV. For now, click Done and return to your Android TV home screen.
To continue, skip down to the section on How to Set Up Skype on Android TV.
---
Sideload Skype Through APKMirror
In this section, we'll cover how to install Skype from APKMirror. If you don't have Aptoide TV installed or prefer to install a specific version of Skype on your Android TV, then this is the method to use.
To get started, you must install a web browser on your Android TV device. Any browser that can download files is fine (like Chrome).
In this example, I'm going to use the Downloader app. It's a purpose-built app designed to make searching for APK files easy and installing them on your device. You can read all about it in my article here.
To get started, open the Downloader app.
Type 'apkmirror' into the search box on the Home screen and click Go.
This pulls up a Google search results page. After you scroll past the ads, it should be the first result.
Click to go to APKMirror.com.
Once there, click the magnifying glass in the upper right-hand corner to open the search bar.
Type in Skype and click Go.
This will return all the different versions of Skype APKs that are available. Like the previous method, you will want to look for the latest full version of the Skype app.
Do not download Skype Early Access versions.
Once you've found the latest full version, click on the download icon on the right-hand side of the row.
This takes you to the file's detail page.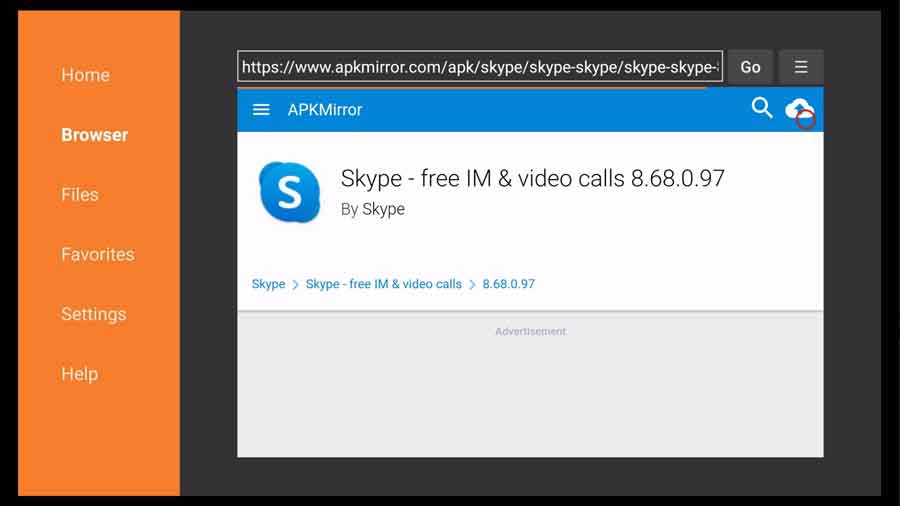 Scroll down until you see a blue button that says See Available APKs.
Click on it to continue.
Each APK is available in different versions.
Here you can see there are four different versions of the same file.
From the top, we have an ARM 32-bit version, an x86 version, an ARM 64-bit version, and a 64-bit x86 version.
Most Android devices have some version of an ARM processor in them. By contrast, if you have a Windows PC, it probably has an x86 processor.
Without getting into too much detail, you should always download the 32-bit ARM version for most Android TV devices.
You may sacrifice some performance but have far fewer compatibility issues.
Click on the top row to go to its download page.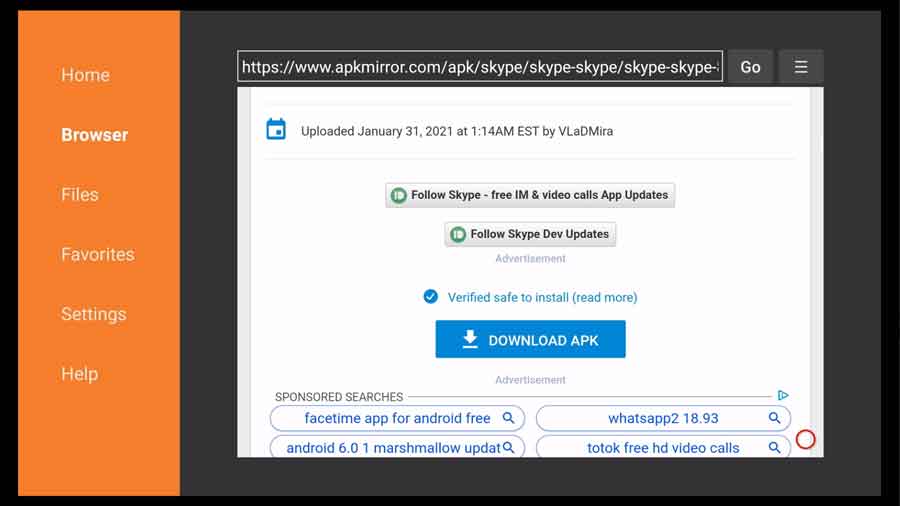 Once there, scroll down until you see the blue Download APK button.
Click on it to start the download process.
The Skype APK is around 40 MB, so downloading should take a few seconds.
Once it finishes, Downloader will begin the installation automatically.
Click Install to install the Skype APK on your Android TV.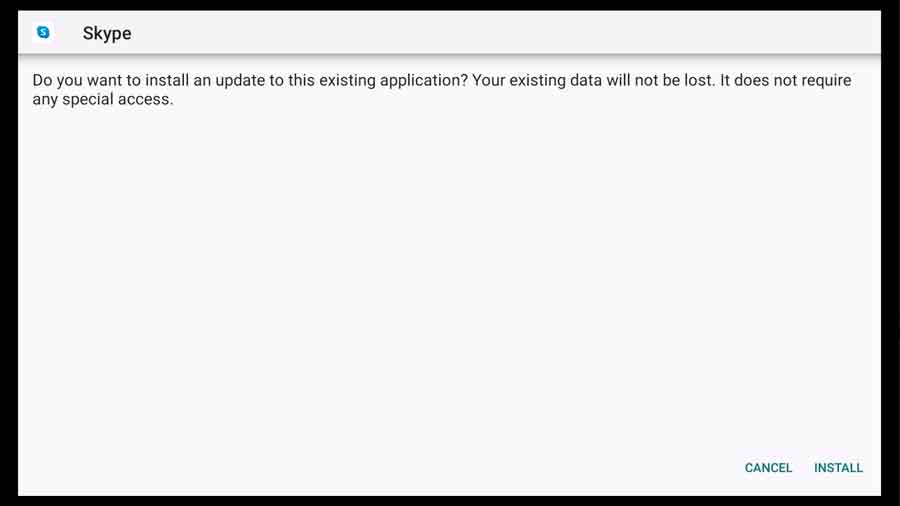 Once you're done, you won't need the APK file anymore. So remember to delete it to save space on your device.
Return to your Android TV's home screen, and we'll open Skype and configure it on your device.
---
How to Set Up Skype on Android TV
No matter which method you use to install Skype on your Android TV, the process is the same once you open the app.
However, there are a few quirks to getting Skype to look right on your Android TV. So stick around until the end for some essential final steps.
Since we sideloaded Skype, we must open it using Sideload Launcher or a similar program.
Don't worry. We'll create a shortcut on the home screen at the end.
The first time you log in to Skype, it'll ask you to Log In or Create an Account.
I assume you've already got a Skype account for this article. If not, head on over to Microsoft's signup page. It'll be easier to sign up for Skype on your PC rather than on your Android TV.
Enter your username and password on the next screen. I recommend having a USB keyboard or Air Mouse hooked to your Android TV. It makes entering usernames and passwords MUCH easier.
After successfully logging in, Skype will ask permission to access your contacts.
While you don't need to do this to be able to use Skype on your Android TV, it definitely makes it easier to start conversations with your family and friends.
Click Allow to continue.
At this point, Skype threw me a curve ball. It suddenly switched from Landscape mode to Portrait mode for the rest of the installation.
If this happens to you, I've got a fix in the Final Steps section.
Next, Skype asks permission to access your device's webcam and microphone.
Even if you don't have these installed right now, go ahead and Allow both of these permissions.


Once that's finished, Skype will automatically pull up your contacts and any active conversations running on other devices.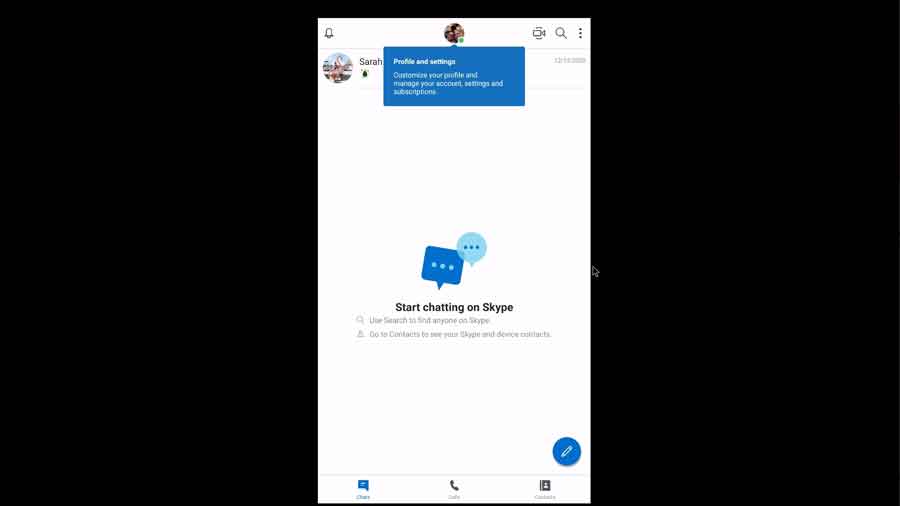 ---
Final Steps
Now that Skype is running on your Android TV let's make it easier to use.
Force Skype to Landscape Mode
As I mentioned, Skype switched from Landscape mode to Portrait mode halfway through the setup. Remember that we installed the pure Android version of Skype, not a native Android TV app.
Since this version of Skype was designed for smartphones and tablets, it still has screen rotation enabled. But that's not what we want on our televisions.
Thankfully, that's easy to fix. I've written an article showing step-by-step how to force an Android app into Landscape or Portrait modes. I'll go over the highlights here, but I recommend you check it out for all the details.
You'll need the Set Orientation app, which you can find on either Aptoide TV or APKMirror. You can install it using the same process you used to install Skype.
Set Orientation has several options that you can choose from. Usually, I like to leave it in Automatic.
Even though it works for most apps, Skype sometimes wanted to rotate to Portrait mode. 
I recommend setting Set Orientation to Landscape mode so you'll never have to worry about it. 
---
Create a Home Screen Shortcut
Remember when I said you needed an app like Sideload Launcher to open Skype?
We're going to fix that here.
Any time you sideload an app on your Android TV, the system doesn't create a shortcut automatically. I have an article showing several different ways to create a shortcut for your home screen.
I used this website to create a Leanback Shortcut, which Android TV uses to launch apps.
The process is a little involved, so I recommend checking out my article for all the details.
Once I created the shortcut and installed it on my Android TV, I could open Skype right from the shortcut on my home screen.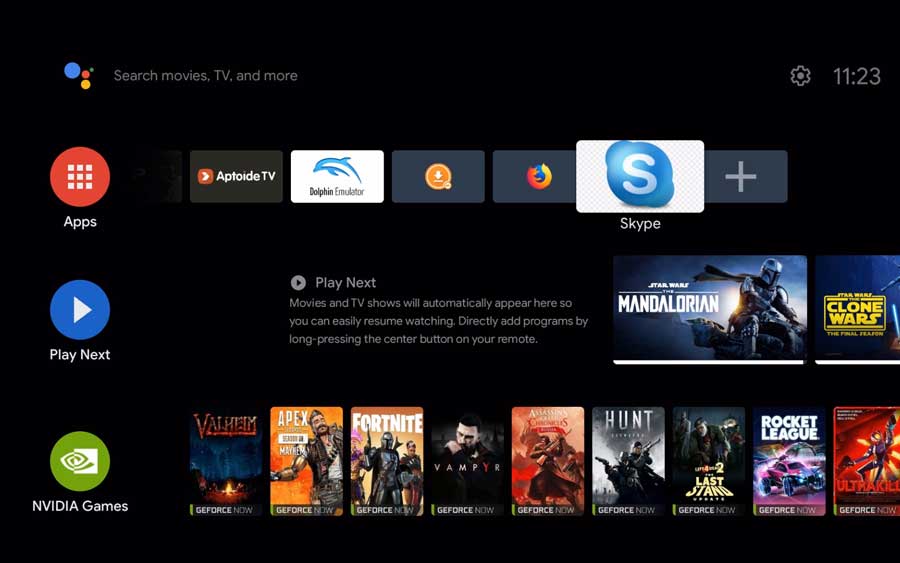 ---
Can You Use a Webcam With Skype on Android TV?
Depending on your model, it is possible to use a webcam with your Android TV. Android will immediately recognize it as long as the camera has UVC-compliant drivers for Linux.
I got my Logitech C920s up and running quickly with Skype on my NVIDIA Shield Android TV.
I'm putting the finishing touches on an article that will detail which webcams will work on Android TV.
Look for that soon, but for now, enjoy using Skype on your Android TV!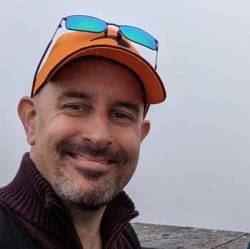 Latest posts by Tim Wells
(see all)