The Diggz Xenon Matrix Build is one of the most common Kodi builds. Like the No Limits Magic Build, it works great on low-spec devices such as Android boxes and Amazon FireSticks.
It has excellent features such as streaming movies, TV, sports, music, and more. The Diggz Xenon Matrix Kodi Add-On is compatible with Windows, Android, Mac, IOS, and Fire TV devices.
Another great thing about the add-on is the added benefits it comes with. This bundle comes with add-ons including The Crew and Mad Titan for sports, The Oath, Continuum, and Asgard for movies and TV.
Finally, there are Kodi addons for Netflix, ABC, NBC, and Amazon Prime Video.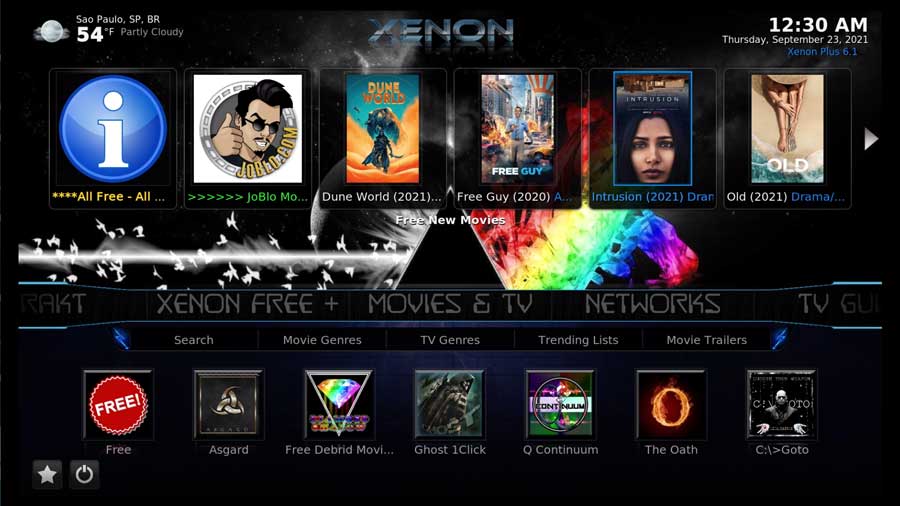 ---
How to Install the Diggz Xenon Matrix Build
Now that you've got a brief overview, we'll show you step-by-step how to install the latest Diggz Xenon Build. For this walkthrough, we will start with a clean installation of Kodi 19.1 Matrix.
I always recommend starting with a clean installation when installing a Kodi build.
It's much easier to follow along with a clean installation. Still existing addons could cause conflicts with the installation or even slow down your system after the fact.
Suppose your favorite addon isn't included in the build. In that case you can always re-install it after installing the Diggz Xenon Matrix build.
What Your ISP isn't telling you…
Your ISP knows more about you than you think!
Your IP address is your online fingerprint. It logs everything you do online and is visible to your Internet Service Provider, the apps & addons you use, and even the government.
Currently, your IP Address 3.235.186.94 in Ashburn is visible to everyone.
Kodi Builds & Addons offer unlimited free streaming content, but there are risks.
Stream safely with NordVPN.
The Best VPN hides your identity and bypasses geo-blocked content and government surveillance while letting you stream your favorite movies buffer-free.
I've tested all the major VPNs on Android TV boxes and recommend NordVPN. It's the fastest VPN for streaming and gives you access to the most geo-blocked content!
SAVE 68% ON NordVPN + GET 3 FREE MONTHS
Try it risk-free for 30-days on up to six Internet-connected devices at the same time.
---
Step 1: Enable Addons from Unknown Sources
By default, the only repository that Kodi includes is their official repository. It contains hundreds of different addons, most maintained by Team Kodi themselves.
You'll find addons to change the look & feel, add new video sources, backgrounds, or other useful utilities.
However, it doesn't include many of the most popular addons. Most of those are developed by third-party, amateur developers.
Before installing the Diggz Xenox Matrix build, we first need to change the setting that allows Addons from Unknown Sources.
First, go to the System\Settings menu. To get there, click on the gear icon at the top of the left-hand side menu.
Then click on the System icon in the screen's lower right-hand corner.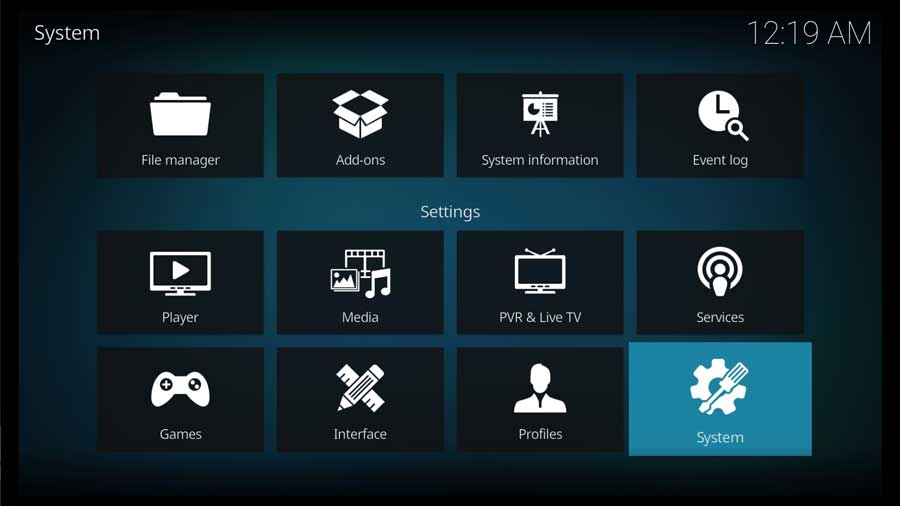 Scroll down to the Add-ons section and select Unknown Sources from the main part of the screen.
As soon as you enable this setting, a message box appears, warning you that add-ons get the same permissions as Kodi.
Since Kodi has access to all of the files on your device, any addons you install will have that ability too. That means any personal information stored on your device is potentially at risk.
Always be sure you trust the addon creator before you install anything!
Click Yes to continue.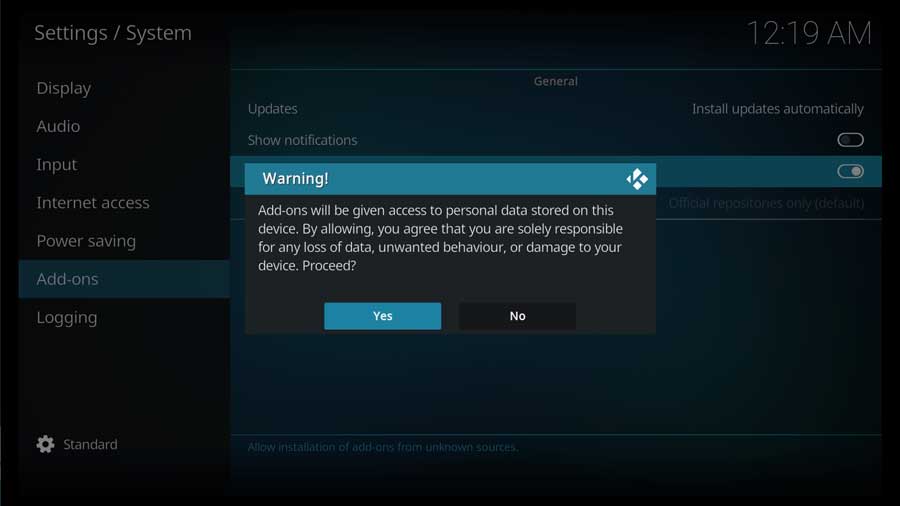 Once you do, the toggle turns white, and the setting is enabled. We can move on to the next step.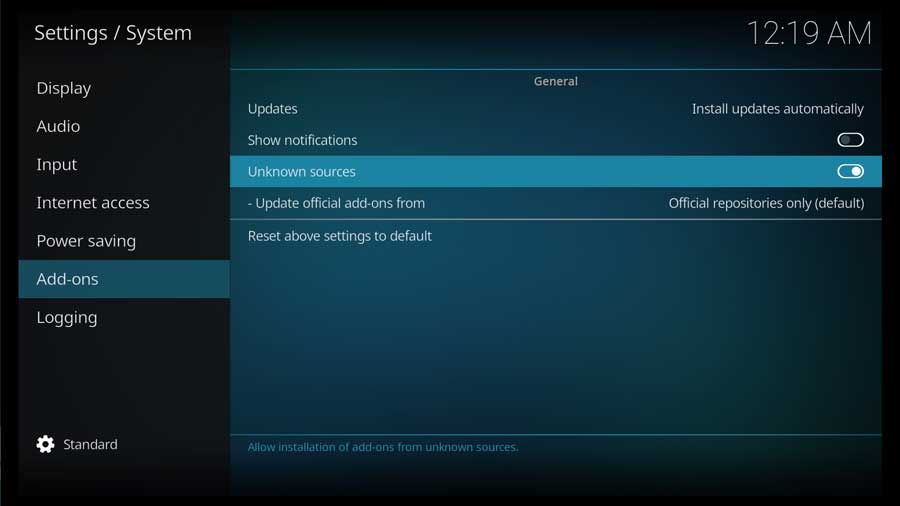 ---
Step 2: Add The Diggz Xenon File Source
The first thing we're going to do is to tell Kodi where to find the repository containing the Diggz Xenon build.
First, go to the Settings/System menu and click on the File Manager icon.
Most of the time, the File Manager screen is where we go to tell Kodi where we store our media libraries.
But in this case, we're going to give it the URL for the Diggz Xenon repository.
Click on Add Source to continue.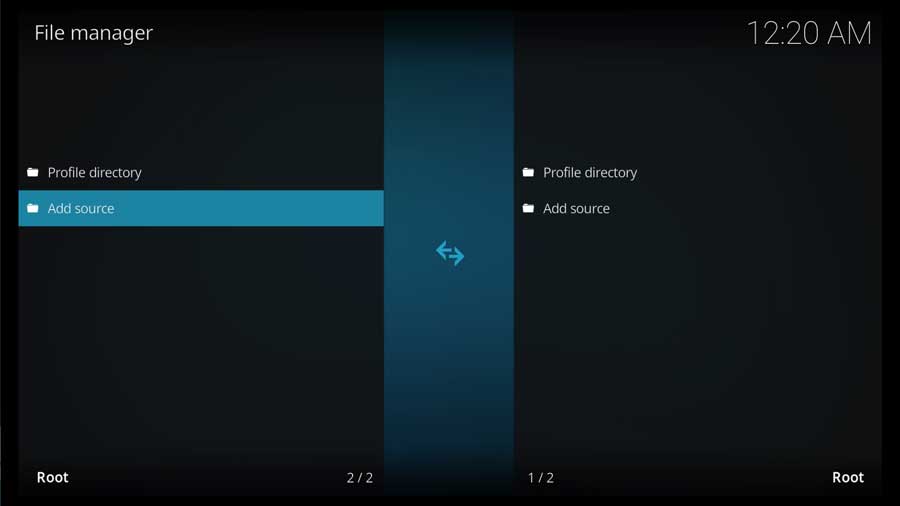 Highlight <None> and click on it to continue.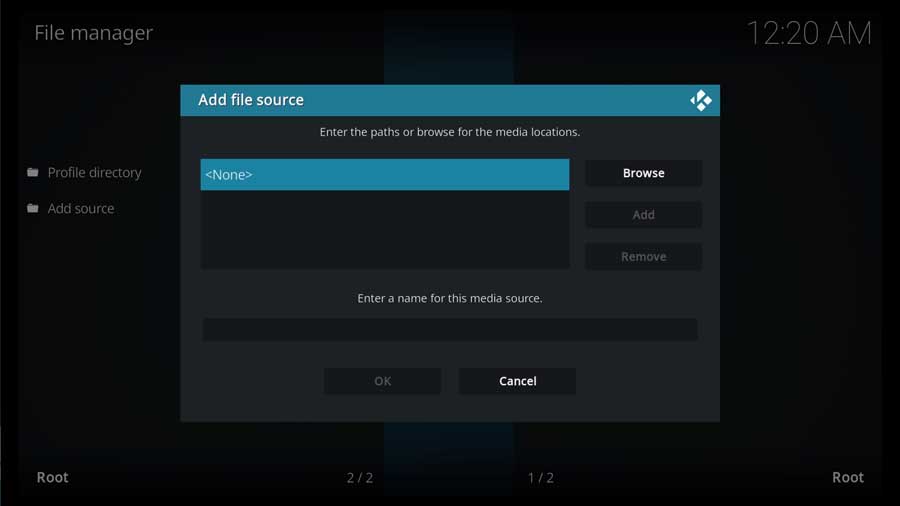 Here you can enter a specific path to a directory on your local network or a URL on the Internet.
In this case, we will be using the developer's official repository.
Type in the following URL and click OK:
http://diggzrepo.ddns.net
Alternately, you can use this secondary URL if the first one doesn't work:
http://grumpeh.aion.feralhosting.com/repo/Install_Repo
Clicking OK takes you back to the Add File Source dialog box.
Scroll down to the next section, where you Enter a Name for your Media Source.
In this box, you can type in anything you want. However, I recommend something that will help you remember what it's for.
In my case, I named mine Diggz.
Click OK to continue.
If everything looks good, click OK to continue.
Kodi will do a quick check to ensure it can access the location.
If successful, the new file location appears in a list with other custom file locations you've created on this device.
---
Step 3: Install Diggz Xenon Repository from Zip File
Now that we have our custom file location set up, let's go ahead and install the repository.
On the left-hand side menu, scroll down to the Add-ons section.
Then, click Install From Zip File.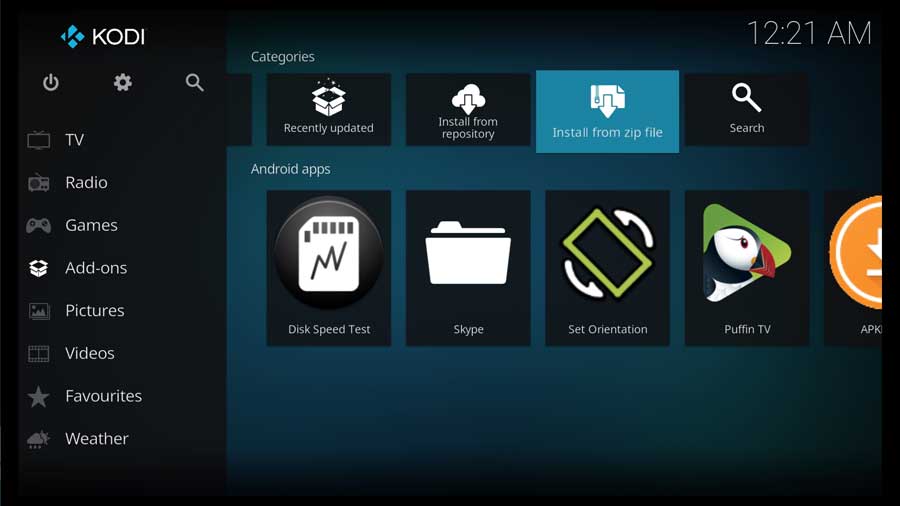 You may get a pop-up box with a message saying that any add-ons you install from a zip file need to be updated manually.
Click Yes to continue.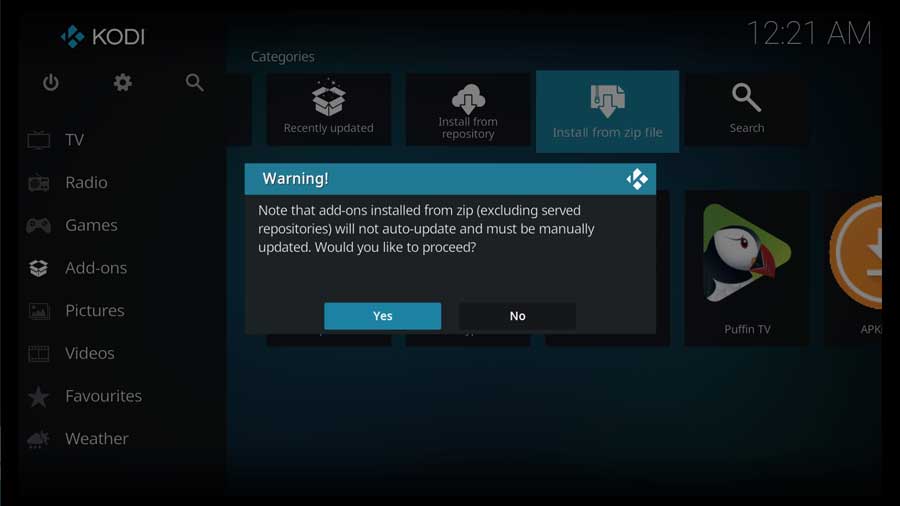 A new menu box pops up that includes all of the file sources available on your device. You should see the custom file location we created in the previous section.
Scroll down until you see the name of the custom file source you entered in the previous step. Then click on it to continue.
The Diggz Xenon Repository includes separate repository files for Kodi 18 Leia and Kodi 19 Matrix.
Find the file that corresponds to the version of Kodi that you have and click it to continue.
Next, click on repository.diggzmatrix.zip.
When you do, Kodi automatically takes you back to the main menu. After a few seconds, a message will pop up that the Diggz Matrix Repository (or Diggz Leia Repository) has been installed successfully.
---
Step 4: Install Diggz Chef Wizard Addon from the Repository
The next step is to install the DiggzChef Wizard from their repository.
Click on Install From Repository to continue.
As I mentioned earlier, I'm doing this on a clean installation of Kodi 19. The only repositories I have access to are the official Kodi repository and the one we just installed.
Click on the Diggz Matrix Repository to continue.
Then, click on Program add-ons to continue.
Click on ChefMatrix Wizard to go to its app detail page.
Usually, an add-on's detail page will give you more information than what you see here. But because this is a wizard, there's very little to configure.
Click Install to continue.
Depending on your system, you may have additional addons that also need to be installed.
Click OK to continue.
Once you install the wizard, it immediately starts the configuration process.
We'll cover that in detail in the next section.
---
Step 4: Run the Chef Matrix Wizard
In theory, the Chef Matrix wizard will start automatically as soon as it's installed. You can manually select it from the Add-ons menu, if it doesn't.
Usually, they make it really easy for you.
If you're used to installing addons, then installing a full Kodi build will probably look very different than you're used to.
No matter what build you install, an installation wizard usually takes you through the process. That's the case here.
The first time you launch the Chef Wizard, you'll get a message asking you to go to the Build Menu. There you can choose what build you want to install.
Click Build Menu to continue.
The first thing you'll notice is that there are a lot of builds here!
There are several versions of the Diggz builds, like Diggz Phenominal Build and the Diggz Xenon Ultra. There's even several designed explicitly if you're using a Debrid service.
I'm installing the Diggz Xenon Matrix FREE Plus build in this example.
Next, click on the ChefWizard Install.
Kodi asks you to confirm that you want to download and install this version of the Diggz Xenon build.
If you're happy with your choice, click Yes, Install to continue.
Two separate download windows pop up. The first is a little over 300MB in size.
The second download window lists the size at just over 500Mb.
Overall, the installation process takes a few minutes since there's a lot to it. The exact time will depend on your internet connection and the speed of your device.
You're asked to force close Kodi as soon as the installation completes. Once you click OK, you'll be taken back to your device's home screen.
When you reopen Kodi, you're greeted with the Diggz Xenon Matrix interface. Kodi goes through minor updates to update some of the included addons and pull art for movies and TV shows.
---
Diggz Xenon Matrix Kodi Layout
Once you've successfully installed the Diggz Xenon Matrix Kodi Build Add-On onto your device, you're ready for a comprehensive tour of its capabilities.
The home screen has a menu bar that shows movies, tv shows, and apps. Not only can you search by movie name, but you can also search content by the add-on.
Some of the best Kodi addons are included, like The Crew, The Oath, Asgard, The Boys, and Mad Titan Sports.
Beneath the main menu bar, there is a sub bar with settings and other customization options.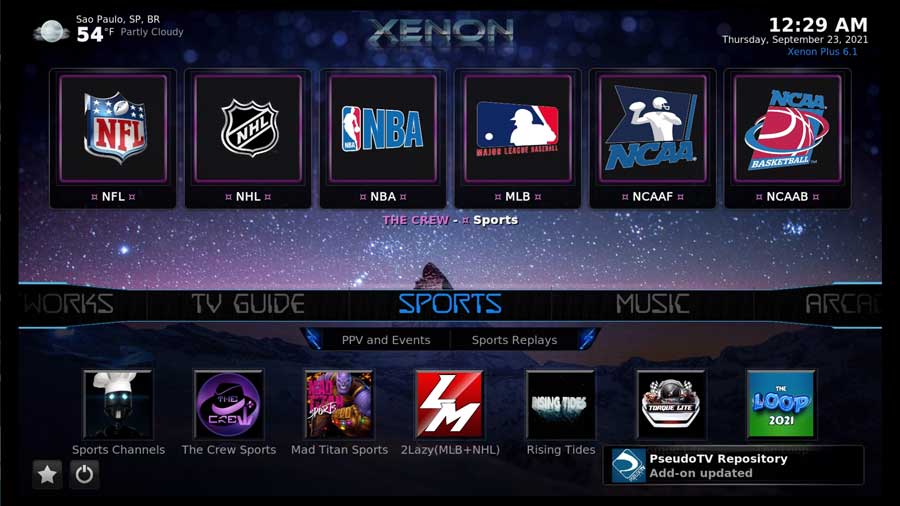 ---
Commonly Asked Questions
Now that you're familiar with the Diggz Xenon Matrix Kodi Build Add-On, here are some commonly asked questions other people have about it.
What should I do if my add-ons don't work?
Most Kodi addons are maintained by teams of amateur developers. Unfortunately, as time passes, some developers decide to move on, and the addons slowly stop working.
Usually, the best solution is to check our list of the best Kodi addons to see if there's a current addon that still offers you the content you're looking for.
What causes an install to become a wizard error?
Waiting about 30 seconds should cause the install to move to another server. If this doesn't work, try force-quitting Kodi.

What is a Kodi Repository? How do I download the right one?
One of the best aspects of the Diggz Xenon Matrix Kodi Build Add-On is the ability to customize your streaming experience. A Kodi repository lets you do that by choosing which channels you place on your Kodi home screen.
Popular Kodi repositories include the Kodi Israel repository, the Maverick repository, and the All Eyez on Me repository. These channels are featured due to the great selection of channels and how popular they are with users.
How do I buy Real Debrid?
Buying Real Debrid offers many benefits, including better sources.
Go to https://real-debrid.com/premium and make an account. Choose a payment plan and enjoy your new selection of sources.
Why is my Real Debrid not working?
You can try fixing this by disabling your router for about 5 minutes or disconnecting from your VPN. Go on to your Real Debrid account and delete all authorizations.
Then, go back to Kodi and authorize Real Debrid again.
Why is the add-on not working with my Windows device?
Attempt to install an antivirus on your device. Double-check to make sure you have a compatible build installed on Windows.
How do I backup a build?
To backup a build, you can either use the ChefWizard and save the build and its skin. You can also use a manual backup and restore by saving the build to a zip file outside the Kodi folder.
Will this add-on work on Xbox?
The Diggz Xenon Matrix Kodi Build Add-On will not work on Xbox because Microsoft will not allow it. Microsoft does not enable emulators in their store, which is essential for the build to function.
How can I protect my streaming privacy?
Since the Diggz Xenon Matrix Kodi Add-on is a third-party add-on, there is a risk that you might fall into trouble with the law due to copyrighted, pirated, or censored content on the platform.
I always recommend using a VPN with Kodi.
Although there are many risks involved with using a third-party streaming app like the Diggz Xenon Matrix Kodi Build Add-On, one of the many benefits includes being anonymous from hackers and spammers.
How do I properly care for my build?
Always shut down the system before unplugging the build's device. Be careful when playing with skins. Changing the skin may mess with the home menu format.
Always create extra backups in case of surprise crashes.