It's easy to find a cheap Android TV box. A quick search on Amazon returns almost five hundred of them, in fact.
It's easy to find a great, high-end Android TV device, You just buy the NVIDIA Shield TV and call it a day.
But, it's A LOT harder to find a good Android TV box that's still cheap.
Over the years, I've tested dozens of TV boxes. Some have been great, but some have been absolute garbage.
In the past few years, we've actually gotten some really good streaming devices that run the official Android TV operating system and have great 4K performance, without breaking the bank.
So in this article, I'm going to list off my picks for the best, cheap Android TV box at a few of the most popular price points.
If you want to get right to it, you can skip down to the winners. But first, let's talk about some reason why you might only need a cheap Android TV box.
The Winner:
Value Pick
Why Would You Want a Cheap Android TV Box?
I love my NVIDIA Shield TV, but it's not for everyone.
For starters, the $150 price tag is a little much to swallow. Especially if you're only looking for an Android TV box for a spare TV, or for something that your kids can use.
Or maybe you're looking for something to give your aging parents. You need something that will be easy to use, but not something that's going to be too expensive.
And you definitely don't need a gaming powerhouse like the Shield TV.
If all you plan on doing with your Android TV box is some basic streaming, then there's no need to break the bank. You want something that has good performance, at a reasonable price.
If it happens to play videos in 4K, more the better!
BTW, don't worry…all of my top picks have great 4K playback, except for one. If 4K playback is a deal breaker, you only need to spend a little more to upgrade.
These Android TV boxes may be cheap, but they're no slouch in the performance department.
What Makes a Great, Cheap Android TV Box?
What separates a really great Android TV device from the hundreds of other cheap devices out there?
A couple of things actually.
It's Designed for Streaming
The first thing to look for in a cheap Android TV box is to make sure it runs an operating system that's designed for streaming first.
Usually that means the official Android TV operating system, although Amazon's Fire OS is a great substitute as well.
Most of the Android TV boxes you'll find don't actually run Android TV. They run the same vanilla Android OS that you have on your Samsung or Pixel smartphone.
The trouble is, vanilla Android isn't designed for your TV screen. It's designed for your phone or tablet. By contrast, the official Android TV OS is super-simple for new users to pick up – especially those that aren't that technical.
If you're just getting started with Android TV's, I have a beginners guide here that will get you up to speed quickly.
Don't get me wrong. TV boxes running pure Android can be great. However, I normally only recommend them for experienced users, or people who want to tweak their devices and get them running exactly how they like them.
It Gets Updated Frequently
No matter what device you get, it should get better over time.
Google releases new versions of the Android TV operating system regularly. However, some devices get updates faster than others.
Additionally, your manufacturer should release new firmware updates that fix simple bugs or provide additional functionality.
Either way, you want to make sure that the manufacturer of your streaming device has a good history of keeping their devices running smoothly.
It Has Great Customer Support
On a similar vein, when you do have problems, you want to be sure that your manufacturer will be there when you need them.
That can be something as simple as an online chat with an agent, or (better yet) someone on the phone to help walk you through your problems.
Some manufacturers will only have email support. It's not the best, but it's better than nothing.
Finally, don't underestimate the value of an active community. Whether that's a Facebook group, private forum or subReddit, you can find a ton of valuable information to help you get the most out of your Android TV box.
Support for Lots of Apps & Services
You can have the best device in the world, but if it doesn't have the apps and services you want, it's not right for you.
When it comes to streaming devices, you also need to make sure that it's certified to run the services you want to use.
What does that mean? Let's pick on Netflix.
Netflix only certifies a handful of devices to run their apps. You can get Netflix on most Android boxes, especially if you follow my guide here. However, you may be limited to standard definition if your device isn't one of their chosen few.
That eliminates most of the cheap Android TV boxes you're going to find.
If you want to get true HD or 4K streaming on your Android box, make sure that is has full support for the apps and services you like.
---
Beat Cheap Android TV Box
Alright, now that we've got a basic understanding of what you should be looking for in a cheap Android TV box, let's take a look at how I chose the winners.
Most people are looking for something at a certain price point: $100, $50 or even less.
So I chose what I think were the best values for an Android TV box in those price ranges.
Let's take a look at the overall winner…
---
Best Android TV Box Under $100: Mi Box S
If you're looking for a cheap Android TV box, that actually runs the official Android TV OS, then the Mi Box S is by far your best choice.
Let me be clear though. The streaming devices on this list are all great values for the money. But the Mi Box S just gives you a little bit more. That's why it's on the top of this list.
The Mi Box S retails for around $60, which puts it in our highest price point. BUT…it's not uncommon for it to go on sale for $50 or less.
4K playback is good, especially for something this inexpensive that's not purpose built for the hardware. It's Netflix certified so you can get 4K content there, as well as in YouTube and Amazon Prime Video.
As an added bonus, the built-in Chromecast functionality is on par with the Chromecast Ultra, so you're getting 4K casting as well.
Hardware specs are a little light. There's only 2GB of RAM so it will get overloaded if you try to do anything too intense, like gaming on emulators.
Because this is Google certified, you're getting the same official updates as all other Android TV devices.
You can check out my full review here!
Strengths
Good 4K playback in Netflix & Amazon Prime Video
Quick software updates
Large user base, so lots of support
Weaknesses
Only 2 GB of RAM
Clunky remote control
Value Pick
---
Runner Up: Ematic Jetstream Android TV Box
In all honesty, I look at these two devices as #1 and #1a. The Mi Box S is only marginally better than the Ematic Jetstream.
According to the spec sheet, both devices are remarably similar.
The Ematic Jetstream Android TV has great performance. It feels snappy and responsive, even though it's one of the older chipsets based on the AmLogic 905 platform (S905X).
More importantly, it's one of the few Android boxes that's Netflix certified. That means you can get 4K resolution in both Netflix and YouTube.
If I could find one flaw with the Ematic Jetstream, it's in the potential lack of support. At the time I'm writing this, there's no official support page on their website. That makes it impossible to manually download and install new firmware on your Android TV box.
Other than that tiny detail, the Ematic Jetstream brings a lot to the table.
In fact, when I wrote my full review of the Ematic Jetstream Android box, I was shocked just how similar it felt to my NVIDIA Shield TV – at less than half the price!
While it's not enough to take the crown away from the Mi Box S, it makes this a really good value if you're looking for a new Android TV device.
You can check out my full review here!
Strengths
4K Netflix and Amazon Prime Video
Weaknesses
No brand history so support is questionable
Limited storage and RAM
We earn a commission if you click this link and make a purchase at no additional cost to you.
---
Best Android TV Box Under $50: Chromecast with Google TV
The new Chromecast with Google TV finally gets an operating system and it doesn't disappoint!
Coming in right at the $50 mark, the new Chromecast is running Android TV 10 with a customized launcher, called Google TV. Similar to Amazon's Fire TV, Google TV focuses on content instead of apps or channels. It also takes advantage of Google's search algorithm to recommend content for you across all of your streaming services.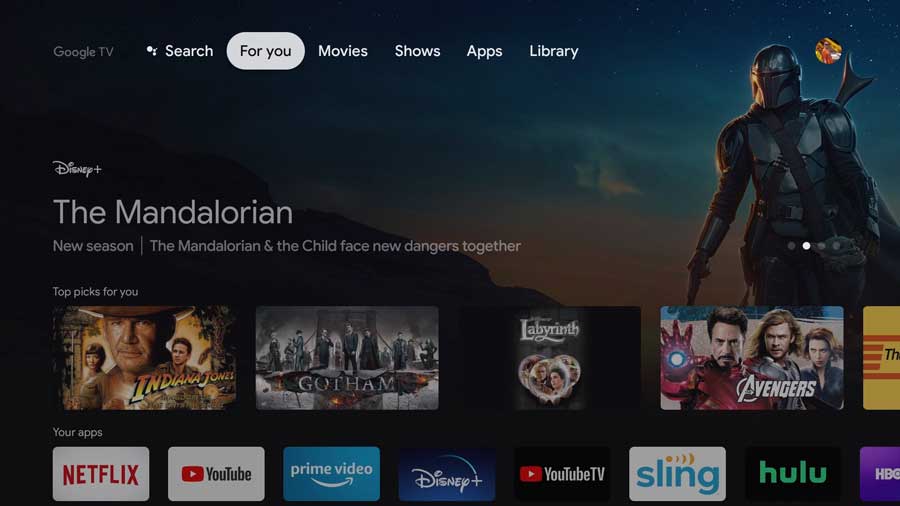 The new Chromecast with Google TV is geared for streaming services, so it only has 8 GB of storage space (4 GB usable) and only 2 GB of RAM. Don't expect to be winning any benchmark competitions.
However, that's more than enough to run seamless 4K video from Netflix, YouTube or Amazon Prime Video.
It's also integrated with the Google Home app so you have access to Google Assistant to ask questions, find new content or control your smart home, all with voice commands.
At just under $50, the Chromecast with Google TV is a no-brainer if you're looking for an inexpensive device that has the power to play 4K content from all of the major streaming services.
For more details, check out my detailed review here.
Strengths
Slick user interface
4K Netflix and Amazon Prime Video
Stylish remote control
Weaknesses
Low storage. Won't be able to install many apps
Limited RAM
---
Best Android TV Box Under $30: Amazon Fire TV Stick Lite
If you want the best Android TV device and want to spend as little as humanly possible, then the Amazon Fire Stick is the way to go.
Technically speaking, the FireStick and Fire TV runs Amazon's Fire OS. However, since that's a fork of Android and it runs any Android TV app, I'm OK including it on this list.
There are three different versions of the Amazon FireStick: the FireStick Lite, FireStick and FireStick 4K. They'll run you around $20 for the FireStick Lite, $30 for the FireStick, and the 4K FireStick will run you about $40.
Unfortunately, while you can buy them online at Amazon, you can't buy FireSticks at Walmart due to the ongoing feud between the two retail giants.
Both the FireStick and FireStick Lite are identical, except for the remote.
The standard FireStick comes with the Alexa Voice Remote, which includes TV controls. That voice remote is $29 by itself, so if you think you might want TV controls in the future, definitely buy the standard or 4K FireStick.
On paper, the FireStick hardware isn't that impressive. It has a 1.7 GHz quad core CPU (MT8695D), but only has 1 GB DDR4 RAM, and 8 GB storage.
The 4K FireStick is just outside of our $30 price point. As the name implies, it upgrades you to 4K playback, increases the memory and upgrades the CPU.
However, because Fire OS is optimized specifically for this hardware, they punch way above their weight class.
That makes the FireStick Lite and standard FireStick some of the best value Android TV devices, and definitely the best under $30.
Strengths
Amazon Prime Video & Netflix in 1080p
Brand new user interface
Huge user-base with plenty of support
Alexa integrated
Weaknesses
No voice remote
No 4K support
Best under $30
We earn a commission if you click this link and make a purchase at no additional cost to you.
---
The Verdict
No matter what your budget is, there's a great Android TV box out there for you.
All it takes is a little know-how, and this handy guide to help you find the best value Android TV device for the money.