If you've been looking for an inexpensive Android TV, you may have noticed a new name on the market: Skyworth.
Although they're relatively new to the American market, Skyworth has been making televisions and other consumer electronics for over three decades.
In this article, we're going to discuss who makes Skyworth TV's, including their individual components. We're also going to take a brief look at some of the cool technology in their televisions and where you can buy them in the US.
Let's get started.
---
Who Makes Skyworth TVs?
The Skyworth Group ranks in the top ten for TV manufacturers in the world. They are a recognized OEM (Original Equipment Manufacturer), meaning they manufacture their own TV's. Headquartered in China, Skyworth began selling TV's in North America in 2017. Skyworth also sells TV's in Europe under the Coocaa and Metz brands.
Although they've been selling TV's though retailers like Amazon and Walmart since 2017, Skyworth gained notoriety in 2020, when they announced a brand new series of OLED and 8K LCD TVs.
As an original equipment manufacturer, Skyworth makes most of the components for their TVs. Even in their regional manufacturing centers in South Africa, Poland, Indonesia, and Argentina, many of the components are shipped in from China and assembled in the local countries.
In July of 2020, Skyworth joined the Wireless Speaker and Audio Association (WiSA). which is a standards organization of more than 60 individual brands that develop standards for wireless, high-resolution, multi-channel audio.
---
Where Are Skyworth TVs Manufactured?
Starting with a single location in Shenzhen's High Tech Industrial Park in 1988, Skyworth has since expanded rapidly.
Skyworth TV are manufactured in plants in Argentina, South Africa, Poland, and Indonesia, as well as several Chinese facilities in Shiyan, Longgang, Guangzhou, and Nanjing. They also have several research facilities and logistics centers spread throughout China, including Hong Kong, Shenzhen and Beijing.
Additionally, the company has over 40 branch campuses, 200 regional offices, and over 20,000 contract customers in China alone. There are 11 other branches and 38 other sales offices in countries around the world.
---
Where to Buy Skyworth TV's?
A few years ago, trying to find a Skyworth TV in North America would have been difficult, if not impossible.
These days, Skyworth TV's are available in several major electronics and big-box retailers, including Walmart and Amazon. You can even buy them from the Home Shopping Network from time to time.
It's important to note, however, that not all Skyworth TVs are available in every country. Some models are sold in China only, while others may be sold in South Africa but not in the United States, and vice versa.
As they get more popular in the United States, Skyworth intends to make more models available.
---
What Types of TVs Does Skyworth Make?
Skyworth, like most major electronics brands, makes several different lines of televisions. Most are super-thin smart TVs running the Android TV operating system.
In January 2021, the company announced the launch of five new products in the United States. These new Skyworth TVs are ultra-slim, with almost no bezel around the edges of the screen, which Skyworth calls a "boundless screen."
Television sizes range from 32 inches to 85 inches, although not all dimensions are available in every country. All models feature at least 4K resolution and HDR compatibility, with some models going up to 8k resolution.
Recently, Skyworth began producing OLED TV's. OLED stands for "Organic Light-Emitting Diodes" and is one of the brightest, clearest displays available.
---
What Features Do Skyworth TVs Have?
Since Skyworth primarily sells televisions running the official Android TV OS, you have access to all your favorite apps through the Google Play Store. This includes Netflix, YouTube, Amazon Prime, Disney+, and more.
However, the new Skyworth TVs go way beyond simple Smart TVs. These interactive televisions allow you to immerse yourself in what's happening on the screen. That's not just because of the boundless display, exceptional picture quality, and Dolby sound either.
Let's look at some of the most innovative features.
Hands-Free Voice Control
Many of the newer Skyworth TVs connect to Google Assistant to allow you to control your TV simply by speaking. Whether you want to know the weather, change the channel, or turn off the living room lights, you can do that by talking to your television.
Android 10 Operating System
Because most of these TVs use the latest version of Android, they have thousands of the most popular streaming apps and games available.
Included with Android TV is Chromecast Built-In, which allows you to cast content from any compatible device directly to your Skyworth television.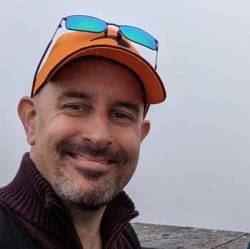 Latest posts by Tim Wells
(see all)