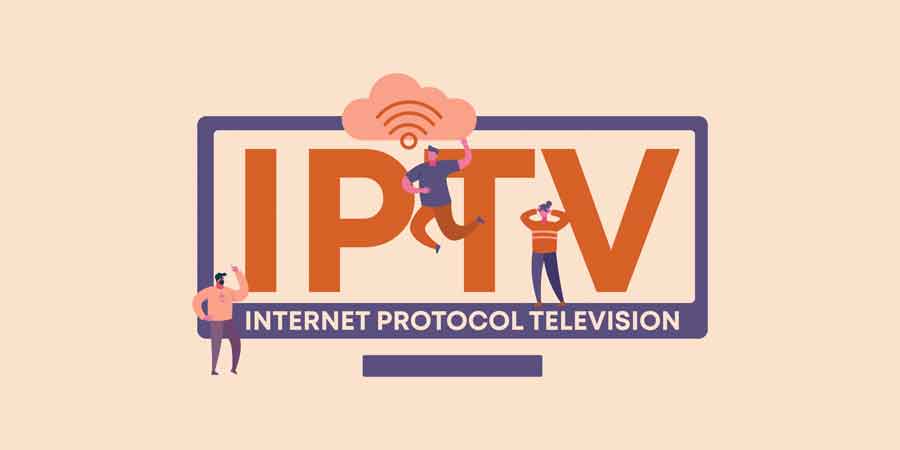 Even if you've been streaming movies and TV for years, you might not have heard about IPTV before. You might even understand the concepts of "IP" and "TV" separately, but just not how they work together.
It's understandable to be confused. There's a lot of misinformation about how to access IPTV and whether it's legal or not.
In this article, we're going to walk you through what IPTV is in simple terms. By the time you reach the end, you'll have a solid understanding of what IPTV is, and how you can use it.
What is IPTV?
The IP in IPTV stands for "Internet Protocol." This is an identifying address assigned to every device that's connected to any network that uses IP.
With someone's IP address, you can typically narrow down their location and figure out who provides them with Internet service. Those providers can also use IPs to identify people who might be illegally downloading content online, among other reasons.
TV, of course, is something that most people are familiar with.
Over-the-air or OTA, service was once the standard. You received a signal to your satellite, antenna, or even directly to your TV that allowed you to tune into local news, your favorite sitcoms, and more.
More recently, digital transmissions have become the norm. And you might have enjoyed TV service from your cable company through fiber optic cables.
That is until the high-speed data came onto the scene, and people began cutting their cords. Not only was it possible to watch your favorite movies or easily find new content on the various streaming services, but they typically charged less.
Even if consumers had fewer options, they recognized that it was a better deal to pay Netflix, Amazon, or Hulu than their local cable company. Video game consoles, smart TVs, and streaming devices replaced OTA TVs.
What does this all have to do with IPTV?
Every streaming services is a form of IPTV because they stream to your TV or any number of mobile devices that the standard household owns using IP, just like all the Web pages you visit.
So even if you weren't familiar with the term before, you're likely one of the millions of people who have used IPTV in some form in the past.
How Does IPTV Work?
IPTV works differently, depending on how its broadcast. Some IPTV services will offer more than one option, while others may only focus on one.
Let's talk about each one.
Video on Demand (VOD)
Video on Demand, or VOD, is the most common type of IPTV broadcast.
VOD is similar to Netflix or Disney+. You get to watch specific content whenever you want. Behind the scenes, the IPTV service transcodes TV signals to ones that your streaming device can understand, often without paying a subscription fee.
This might seem too good to be true. It could be if the IPTV service doesn't have the rights to broadcast that content. However, many live TV services have gone this way because it's a great way to attract new viewers.
The most popular examples of legal video on demand services are Amazon Prime, Hulu, or Netflix service.
VOD is similar to DVR (time-shifted) content. It allows you to watch content after it's been aired live.
Live Broadcasting
Next up is live broadcasting, a type of IPTV that's similar to your local news report or Monday Night Football on ESPN.
You log in at a specific time to catch live programming, and you usually get the content directly from the source, rather than a third party.
Internet Simulcasting \ IP Casting
Finally, we have a category with a few names: live internet simulcasting, IP casting, or live IP.
IP Casting is streaming content by someone other than the source. It can be completely legal if the third party has licensed the content.
Pluto TV is one example of legal live IP that also offers on-demand video. It's actually owned by Viacom, which has contracts for content usage and relies on ads that keep the service free to users.
Hybrid IPTV
A lesser known type of IPTV is something called "hybrid IPTV." This combines traditional TV with IPTV in a single set-top box so that you can enjoy both with minimal effort.
The IPTV part of that service is similar to and may even be provided by the same sources you might use on your streaming device, Kodi box, or computer.
Is IPTV Legal?
Now that we have a basic understanding of what IPTV is, the big question is if IPTV is legal.
It is. At least some of the time.
As long as a streaming service is willing to pay enough money, then they could end up with the rights to your favorite TV show.
However, if they can't reach an agreement, the rights expire, or the content owners would rather put it on their own streaming service (like HBO Max or Disney+), then you could be out of luck.
Then sometimes you end up with the infamous 2013 deal where Dodgers fans living in Southern California couldn't watch their team's games because of a contract dispute with Time-Warner Cable (Spectrum).
If someone can't find a way to watch the content they want, they may start considering alternative IPTV options that may not be entirely legal.
Unfortunately, it's often hard to tell whether a streaming service is above board or not. Without looking at a company's license agreements, how do you know they're allowed to broadcast it or not?
These companies have good reason to obscure when they're breaking the law, and you might assume that it's not your job to uncover the truth. However, both law enforcement and Internet providers have started to crack down on illegal IPTV use.
Fortunately, it might be easier to figure out whether an IPTV service is legal than you think.
What Live TV Services Are Legal?
You probably already know about some of the most popular IPTV services. Several are even owned by the biggest names in telecommunications.
We already mentioned Pluto TV, which is available on a number of streaming devices and requires no configuration.
Xumo is similar, offering both live TV and VOD. It's owned by telecom giant Comcast. That means you don't have to worry about legality or how long the service will last.
BBC's iPlayer includes the channels BBC One, BBC Two, BBC Three, BBC Four, BBC News Channel, and CBeebies. It's restricted if you live outside of the United Kingdom, but many people get around that by using a VPN like IPVanish.
Even YouTube offers its own live options with channels such as HGTV, TNT, and Nickelodeon on the lineup. However, it's not free.
Whether you love British drama, anime, Disney movies, sports, or comic movies, you're sure to find an IPTV service that fits your style.
In fact, many streaming services now offer optional packages that give access to niche and live content. That means you don't have to sign up for a separate service.
Many services appeal to consumers by offering some free content. If you look directly at services from channels like CBS or The CW, you'll find apps that provide a mix of free and paid content.
It's a bit difficult to recommend other IPTV services because new ones pop up all the time. Others go down because they've run into issues with the law, their providers, or ad buyers.
How to Tell if IPTV Is Illegal
Since there may be no easy way to determine if an IPTV service is legal, you'll have to look for some of the telltale signs. These include:
Free services
IPTV services that charge a one-time rather than a monthly fee
IPTV boxes that promise a fully-loaded TV experience without explaining how that's possible.
Poorly-designed software
Of course, this doesn't mean that all TV boxes are illegal or even offer IPTV options.
For example, some boxes simply have legal software pre-installed so that all you need to do to stream, watch IPTV, or enjoy the media you already own is plug and play.
How to Get IPTV on Kodi
If you like Kodi and use it regularly, then IPTV can make it even better. Although you can always install a TV tuner to get OTA (Over The Air) signals, an IPTV service may be a better option, depending on where you live.
First, you can install an IPTV add-on to enjoy live TV and video on demand directly within Kodi. These add-ons which may or may not be legal, depending on where you get it from.
IPTV add-ons for Kodi will only work if you have an account with the service and configure the add-on. Some may require you to install an additional plugin to make them work, too.
The second option is to buy a fully-loaded Kodi box.
A "fully loaded" Kodi box is an Android TV box that comes preloaded with Kodi, as well as many popular apps and add-ons – including several IPTV services.
It's not all sunshine and roses though.
While not all of the add-ons on fully-loaded Kodi boxes are illegal, some likely are. On top of that, some of the add-ons and apps are sub-par quality, which might make them more hassle than they're worth.
Many people prefer to buy their own streaming devices, install Kodi, and choose whatever apps and IPTV services work best for them.
From price to performance, you'll need to shop around.
If you want the best possible experience, pay attention to what other consumers say about support, firmware upgrades, and even accessories.
Of course, Kodi isn't the only way to enjoy IPTV, just one of the many options you can choose to explore