Last Updated on September 6, 2023 by Tim Wells
Streaming has definitely become global, but it still can be tough to find what you're looking for – especially if it's content from another country.
For North American devotees of all things British, which is the best streaming service for British content: Britbox or Acorn TV? 
In this article, we're going to look at how Acorn TV and Britbox are similar and what makes them unique. We'll also look at what kind of content is on each, and how much they cost for a subscription.
Let's get started.
---
Britbox Vs Acorn: How They're Different
First of all, when considering Britbox vs Acorn, it's worth asking, are these two British streaming platforms different?
Acorn TV started streaming back in 2013, giving it a three-year head start on Britbox to garner viewers.
Britbox, by comparison, started in 2016. Run jointly by ITV and the BBC, Britbox sets out to house a wide variety of shows spanning decades. Selections include:
Waking the Dead
Fawlty Towers
Dr. Who
Despite its late appearance to the streaming scene Britbox has over a million North American subscribers. That's in addition to upwards of 500,000 British viewers. 
Not to be outdone, Acorn kept pace, despite its more focused and limited content selection. And in 2019, Acorn hit the one million subscriptions mark, too. 
But the main difference between the two services is that whereas Britbox plays to a range of genres, Acorn TV has a particular target in mind. It prioritizes:
Police procedurals
Thrillers
Murder mysteries
Whether you like your detectives hard-boiled or Golden Age or prefer your corpses kill-em-fast-and-find-em to longer, more drawn-out mysteries, Acorn TV has something for mystery aficionados of all types and tastes.  
---
Britbox Vs Acorn TV: Where And How To Stream Content
When it comes to streaming content on Britbox vs Acorn, viewers are spoiled for choice. Both are available as auxiliary channels through your Amazon account. They will appear under the 'channels' section of Amazon Prime for both North American And British Users.
Where To Watch Britbox
In addition to functioning as an Amazon Prime channel, you can download the Britbox app onto a variety of devices, including:
IOS
Android
Amazon Fire devices
However, Britbox's availability depends on location. Currently, Britbox is accessible to users in:
Britain
North America
Australia
There are plans to extend its coverage to South Africa currently underway.
Acorn TV: Where To Watch
Acorn TV, in contrast, has a much wider availability. The streaming service is available in:
North America
Britain
Australia
New Zealand
Mexico
Nordic countries
Additionally, Acorn is available in certain parts of South America, but not all of it.
Like Britbox, users can access Acorn across various streaming devices including:
Apple TV
Roku
Chromecast
YouView
IOS/Android mobile devices
It's also possible to watch Acorn TV from your browser. For the best experience, Acorn recommends using Chrome to do this. 
---
Britbox Vs Acorn: Content Selection
So that's where to stream your content covered. But which service has what content?
Content On Britbox
As discussed, Britbox caters to a vast selection of genres. Partly that's because Britbox is the brainchild of usual competitors ITV and the BBC.
Offerings range from mystery to comedy to the King's College Nine Lessons and Carols Christmas service.
Britbox is also home to classic British soap staples like Coronation Street and newsier content like Good Morning Britain.
Content On Acorn
As discussed, Acorn has a much more targeted approach to content and viewers. Where Britbox aims to bring you everything and anything that was ever a British box set and a few things that weren't, Acorn is all about the thrill of the mystery.
However, to say that Acorn is exclusively mystery-oriented is to do it a disservice. In addition to a variety of classic, comedic, and darkly thrilling mysteries, the service also boasts a selection of documentaries and original content. 
And now Acorn also includes mini-series favorites like A Dance to the Music of Time and period dramas like The Prime of Miss Jean Brodie. 
---
Britbox Vs Acorn: Costs And Free Trials
We've talked about where to watch your favorite British TV shows and how to access both Britbox and Acorn. The next question as far as Britbox vs Acorn goes is how much do they cost?
Britbox: Cost And Trial Period
If you can't, make up your mind whether to side with Britbox or Acorn, the best place to start is with a free trial period. Britbox offers a seven-day free trial. After that, it's $8.99 a month or $89.99 a year for North American subscribers. 
UK subscribers are also entitled to a seven-day trial, after which point they pay £5.99 a month.
Acorn TV: Cost And Trial Period
Like Britbox, Acorn similarly offers a seven-day trial period for undecided user.
After the trial runs out, users who stay with the streaming platform pay $5.99 US a month.
An annual subscription is $59.99.
UK viewers can choose to pay either $4.99 a month or $49.99 annually.
Britbox Vs Acorn: The User Experience
If you're streaming Britbox or Acorn over a TV then the user interface remains similar.
Both divide their content by easily negotiable categories, such as:
Most popular
Recently added
Chosen for you
Recently watched
There are also various genre-based categories, such as:
Irrespective of device, both platforms allow you to scroll through categories that look appealing to see a selection of content. Clicking on 'more' at the end of the carousel provides you with an expanded view of the available material.
Additionally, Britbox and Acorn both offer a closed captioning feature for hard-of-hearing users or viewers who prefer watching with subtitles.
User Interface, Features and Differences
However, the two streaming services don't have an identical layout. For instance, if you're considering Britbox vs Acorn, it's helpful to know that Britbox allows viewers to scroll forward or backward by ten seconds to replay missed moments. This feature isn't an option for Acorn users.
However, Acorn offers users a choice in content quality, allowing you standard and high-definition options. This is not a feature Britbox offers.
Another Acorn-specific feature is the ability to pin your video to part of the desktop, freeing up the rest for any work you might want to complete while watching.
While this feature isn't available for Birtbox users streaming content over their desktop, it's available as a feature on a mobile device.
To compensate, Britbox allows its subscribers to download shows and episodes to watch offline on mobile devices. This isn't possible through Acorn.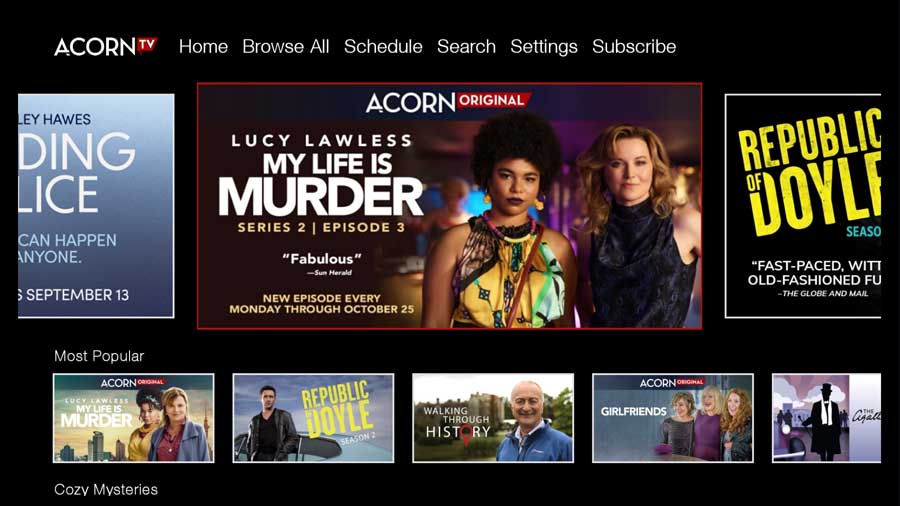 ---
Britbox Vs Acorn: What To Watch
We've talked about content differences between Britbox and Acorn. We've also talked about content availability and how region plays a part when it comes to what's available on Britbox vs Acorn.
What To Watch On Britbox
But Britbox has 350+ available shows. The sheer amount of content can be overwhelming to a new subscriber. So, how do you navigate through Britbox's offerings to find something you'll enjoy?
Britbox favorites currently include:
Have I Got News For You
Fawlty Towers
Poirot
Broadchurch
What To Watch On Acorn
While Acorn has slightly less material to sort through at 320+ shows, finding your new favorite evening mystery or documentary can still seem daunting.
Some Acorn favorites are:
Line of Duty
Miss Fisher Mysteries
The Hour
---
Britbox Vs Acorn –  Which Platform To Choose?
So, which should you choose? Britbox, or Acorn TV?
When it comes to Britbox vs Acorn, and all things British it's six of one half a dozen of the other for the interested viewer.
Britbox reportedly thrives on catering to the under-represented audience of women over 45. That means a healthy dose of greats like Helen Mirren and Judy Dench. It also means that viewers who fall into that age bracket may find more to cater to their tastes on Britbox than Acorn.
It's also true that there's a wider selection of material on Britbox. That means there's more likely to be something for everyone, whether you favor science fiction, soap opera, or police procedural.
However, Acorn's more focused market is no reason to overlook it. It's billed as a haven for the mystery lover whether you want a cozy country killing or a gritty noir, but there's more to Acorn than meets the eye.
And if you're someone with a finger on the pulse of new and exciting British acting, Acorn may be the place for you. Its original content ranges from the dark and sobering Deadwater Fell to the wickedly funny Agatha Raisin.
Ultimately, Britbox vs Acorn is a matter of taste. And it's worth remembering that depending on where you live, the content available may vary.
If you still can't decide, why not try both? Just make sure you cancel the streaming platform you choose to opt-out from when the trial ends.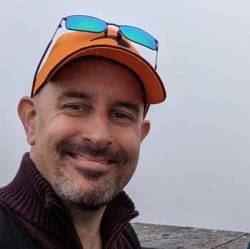 Latest posts by Tim Wells
(see all)