When I was shopping for a replacement NVIDIA Shield TV remote control, I wanted something that would give me more functionality in an ergonomic, easy-to-use design.
I wanted to be able to control everything from one device.
My favorite NVIDIA Shield remote control is still the original 2015 version, with its rechargeable battery and metal case. Unfortunately, though, you can't buy those anymore.
However, with so many options, finding the best NVIDIA Shield TV remote control is tricky.
Remote controls have come a long way from the ones our parents used. But it's still common to sit on the couch to watch a movie or show and find out that our remote control doesn't work right.
In this article, I'll break it all down so you can get the best replacement NVIDIA Shield remote for you and your individual streaming setup.
For more great articles like this, visit my NVIDIA Shield TV resource page. You'll find all of my tips, tricks, reviews, and tutorials to help you get the most out of your NVIDIA Shield. 
---
Best Overall NVIDIA Shield Replacement Remote: Logitech Harmony Elite
When it comes to replacement remote controls, the Logitech Harmony Elite is in a class all its own.
It gives you fingertip control over approximately 270,000 home entertainment and smart-home devices via Bluetooth, IR, and Wi-Fi.
The Harmony Elite is the same remote control as the award-winning Harmony 950 but also includes the Harmony Hub. The Harmony hub is central to this remote control's operations. It connects to your router or modem via an Ethernet cable.
Setting up the remote to work with your Shield TV using the included app is pretty straightforward.
After establishing the connection, you don't need to maintain a line of sight with your Shield TV. That means you can hide your NVIDIA Shield TV in a cabinet or behind the TV itself.
Although I'm focusing on the Harmony Elite as a replacement for the standard NVIDIA Shield remote, it's also a fantastic choice for controlling other devices.
You can control up to eight entertainment devices like your TV, cable box, streaming boxes, or digital video players. Additionally, you can command dozens more home automation products simultaneously.
With Alexa support or several customizable one-touch macro buttons, you can allow single button presses to perform multiple actions for your activities.
For instance, you set up a "movie mode" to dim your lights while you turn on the TV, select the correct input, and change your speaker mode from stereo to surround sound.
The Harmony Elite is pretty sleek, sporting an LCD touchscreen with haptic feedback and great backlighting on all the buttons. It's the best overall choice for a replacement NVIDIA Shield remote control.
However, it's not without its faults.
First, the Harmony Elite remote is not cheap. It's easily the most expensive universal remote of its kind.
Secondly, Logitech has stopped producing the entire line of Harmony Remotes. However, they have pledged to maintain support for their avid user base.
Pros
Take command of up to 15 devices, including smart-home gadgets and all manner of audio and video equipment
Color touchscreen
Backlighting for all buttons
Works with the NVIDIA Shield TV device using Wi-Fi
Customizable activity buttons
Cons
Logitech has discontinued making this particular line of remotes (software support continues)
Pricey
Initial setup with NVIDIA can be tricky
Logitech Harmony Elite Remote Control (Renewed)
All-in-one control of up to 15 home entertainment and connected home devices
Full color touchscreen
Controls channels, movies, volume, 50 favorite channels and smart home devices like Philips Hue lights
Touch an Activity like "Watch a Movie" to automatically power on and switch devices to the right settings.
We earn a commission if you click this link and make a purchase at no additional cost to you.
---
Best Value Replacement NVIDIA Shield Remote: SofaBaton U1
If you want to control up to fifteen devices, including your NVIDIA Shield TV with one remote control, but don't want to pay hundreds of dollars for a Harmony Elite, the SoftBaton U1 is a solid value.
It doesn't have Wi-Fi capabilities or a fancy touchscreen. Still, it can control about half a million individual devices via IR and Bluetooth.
You can pair this remote with over 6,000 brands using the SofaBaton App on your smartphone. Find your device, press a couple of buttons, and you're done without searching for or entering complex codes.
Using the integrated OLED screen, scroll through a list of paired devices, and take control of them with this simple handheld remote control.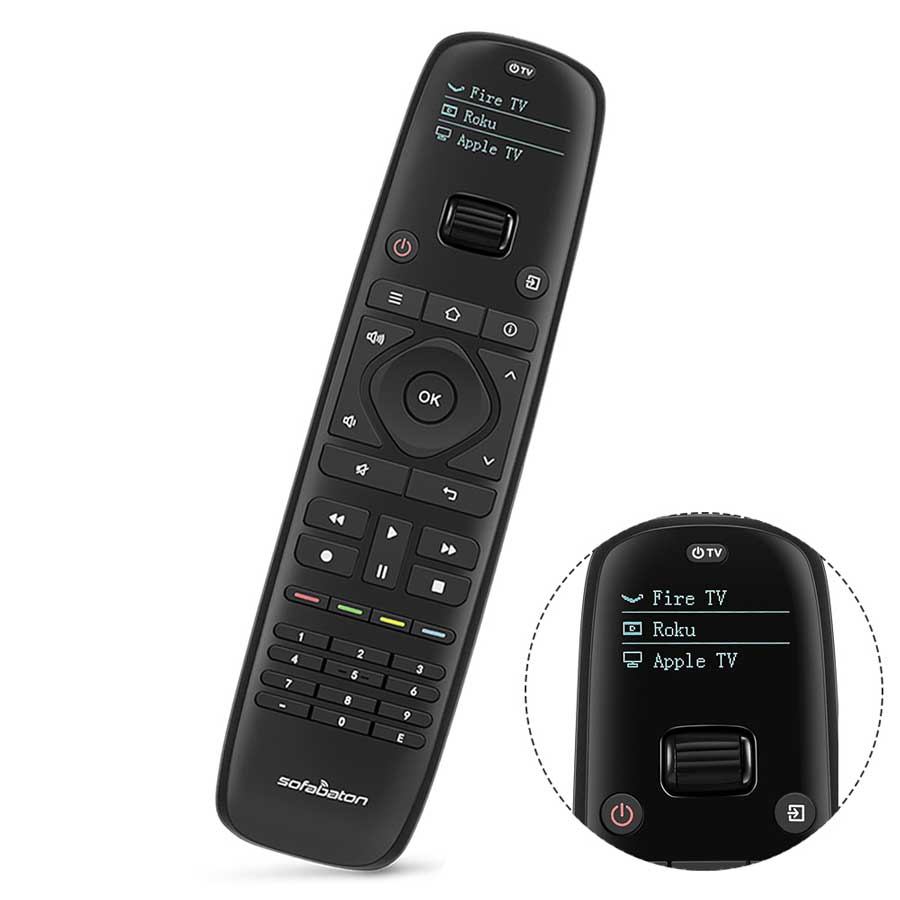 You can also create macro commands to perform strings of commands by only touching one button.
For instance, set one button to power on your TV, projector, and AV receiver simultaneously without switching between devices. You can even build delays into your macro commands in case devices need to power on in succession instead of all at the same time.
The biggest drawback of this remote is that it lacks Wi-Fi connectivity, so it can't control devices that need that functionality, like Sonos.
Pros
Insane compatibility with hundreds of thousands of devices
Customizable control of up to 15 devices at once
OLED display screen
Smartphone app for easy pairing
Bluetooth and IR control
Simple power from AA batteries
Affordable
Cons
No Wi-Fi connectivity
Lacks some high-end capabilities compared to other more expensive remotes
---
The Best Budget NVIDIA Shield Remote Control: WeChip G20
The WeChip G20 might be your best bet if you're looking for a quick, affordable, and easy replacement for your 2015 or 2017 NVIDIA Shield remote control.
One of the things some people don't like about the original remote that comes with the Shield TV kit is the volume control.
There is a slider instead of the traditional set of up and down keys, and there isn't a dedicated mute button. On the other hand, this remote has up and down volume keys, so if you prefer that button arrangement, you're in the right place. 
This remote uses a USB dongle to interact with your device. If you've used an aftermarket wireless mouse with your computer, you're familiar with this type of setup. Insert the dongle into a USB port on your Shield TV, wait for it to reboot, and get clicking.
It's that easy. 
The WeChip G20 was one of my favorite air mouse remote controls, not only as a replacement for the NVIDIA Shield TV but also for generic Android boxes. You can check out my list of air mouse remote controls to see my other top picks.
This remote offers voice control and a decent range of operability with various devices from different manufacturers.
The buttons are well-spaced, making it easy to select the right one without looking down at the remote for every click.
There are only eighteen keys, so you can get familiar with this remote quickly, easily toggling it back and forth from remote mode to air mouse mode.
Its simplicity is critical to making it easy to use, but it lacks some high-end features. But, at its very affordable price point, you shouldn't expect to see all the bells and whistles found on models that cost twenty times as much or even more.
Remember that the WeChip20 won't work with the 2019 NVIDIA Shield TV "Tube," but it will work with the 2015 and 2017 models and the 2019 Shield TV Pro.
Pros
Very affordable
Easy to use with only tactile feedback
Simple layout
Ideal remote control for Shield TV before 2019
Cons
Won't work with the 2019 model NVIDIA Shield TV "Tube"
No display screen
Limited pairing capabilities (Radio Frequency and USB wireless only)
No backlighting on buttons
WeChip G20 Voice Remote
A cross between a Fire TV remote and an NVIDIA Shield remote, the WeChip G20 has a smooth, polished texture at a great price-point.
We earn a commission if you click this link and make a purchase at no additional cost to you.
---
Official Replacement NVIDIA Shield Remote: NVIDIA Shield Remote (2019)
When buying a replacement remote for your NVIDIA Shield, most expect you can't go too far wrong by just getting the official 2019 version of the NVIDIA Shield remote control.
In my opinion, the overall design and layout of the current NVIDIA Shield remote is a step backward from the 2017 and 2015 models.
The 2019 model is triangular, making it awkward to hold. The button layout is bizarre too.
For instance, the forward advance and reverse buttons are one on top of the other. Every other remote control layout has Forward on the right and Back on the left.
Usually, the play, pause, or select button is in the middle for continuity between different remotes and solid tactile feedback for the user.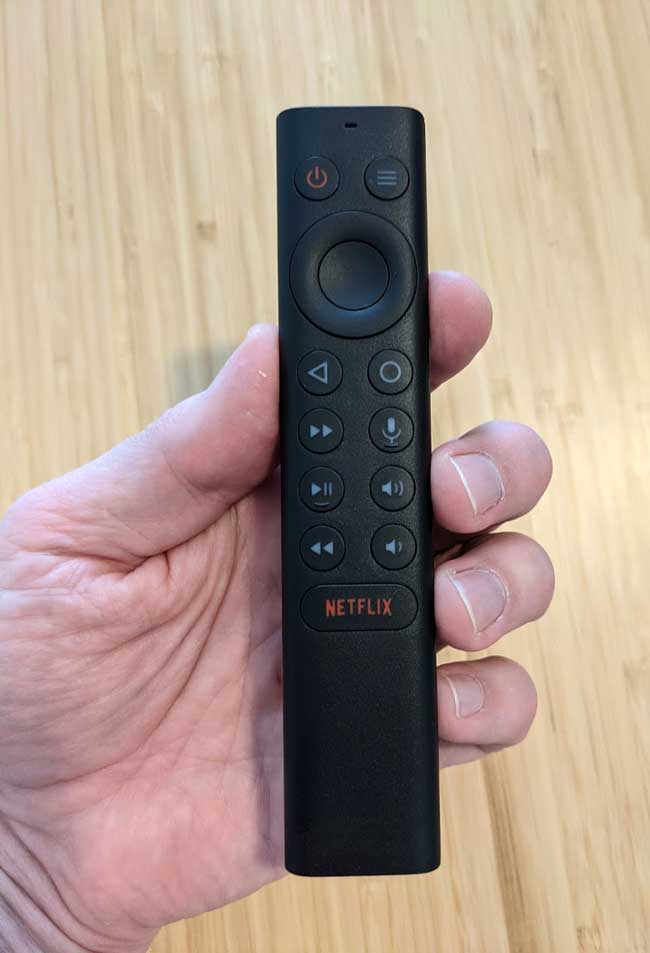 Additionally, for some reason, the Voice Assistant button (a prominent feature of every Android TV device) was put between the Home button and the Volume Up button, where it's neither intuitive nor easy to find.
On the other hand, the Netflix button has a very wide space for itself at the bottom. Quick note: Find out how to disable it here!
If you need a new remote for your NVIDIA Shield, this one will work, but it might be annoying to hold and use. In fact, I like the 2017 model remote control so much that I wrote a guide to troubleshoot and fix it so that you don't have to replace it. 
Pros
Works well with all versions of NVIDIA Shield
Cons
Odd button layout
Awkward to hold
Not as affordable as it should be for what you get
NVIDIA Shield Remote
Great functionality, but a design that may take some getting used to. This backlit remote has a comfortable D-pad, long battery life and a dedicated Netflix button.
We earn a commission if you click this link and make a purchase at no additional cost to you.
---
What Remotes Work with NVIDIA Shield TV?
In general, modern remote controls fall into three general categories:
Infrared (IR)
USB
Bluetooth
All three types should work with an NVIDIA Shield. Still, if you have a 2019 model, you must utilize a separate adapter to retain IR-remote functionality.
Before investing in a new remote control, understand which version of NVIDIA Shield TV you own. 
Although less common, some remotes even work on your Wi-Fi network.
These four remote controls are our picks for replacement remotes for your NVIDIA Shield TV.
Logitech Harmony Elite Remote Control & Hub
SofaBaton U1 Universal Remote Control
WeChip G20 Voice Remote
NVIDIA Shield Remote (2019)
Basic Differences Between 2015, 2017, and 2019 Shield TV Remote Controls
Each version of the NVIDIA Shield has come with its own remote control.
The 2019 version has a dedicated Netflix button, motion-sensitive backlighting, and other additional controls. But it's our least favorite of the three. All three work with the NVIDIA Shield App if you prefer to use your smartphone as the controller. 
Here's a quick breakdown of the features of each remote in chronological order:
2015 Shield TV Remote
Metal construction
Small in your hand
Voice command, volume touch control, back, and selection buttons only
Backlit voice button
Headphone jack on the bottom of remote
Rechargeable battery
2017 Shield TV Remote
Plastic construction
Small in your hand
Voice command, volume touch control, back, and selection buttons only
CR2032 battery
IR Blaster for controlling other devices
Backward compatible
2019 Shield TV Remote
Plastic construction
Triangle shape, bigger in your hand
AAA batteries (heavier)
Volume touch control replaced with separate buttons for up and down
New buttons including Netflix, menu, and media controls
Voice command
Motion-sensing backlighting
Backward compatible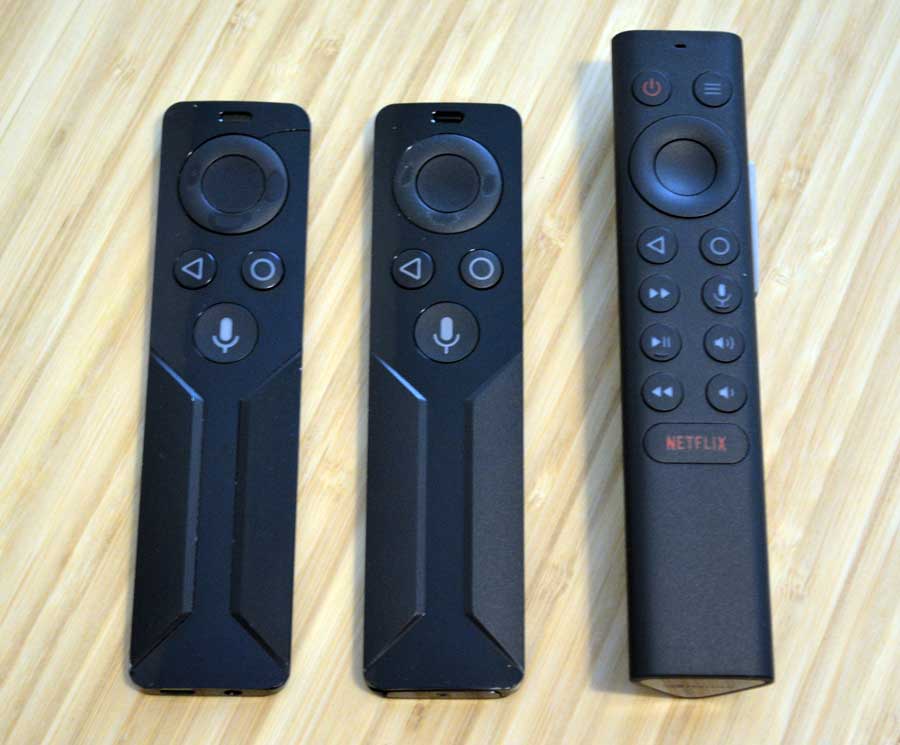 Ease of Charging
Any remote you buy should have a relatively long battery life. But be careful to ensure you understand the battery type it uses. Some remotes need standard household batteries that can be changed easily.
Other remotes need more specialized batteries. Some other models require charging them in a cradle to boost your batteries.
It's really up to you to decide which style you prefer.
Voice Control
Most remotes these days have some version of voice control. You usually have to press a button to take advantage of your remote's voice control capabilities.
Make sure that you choose a remote that will make doing so easy.
For instance, if the layout doesn't work for you how you typically hold the remote, you may hit the wrong button and get frustrated when trying to activate voice control.
Backlighting
Backlighting is essential if you usually use your remote control in the dark. It helps you find the right button when you need it.
Some remotes can sense your motion and will automatically turn on the backlighting. With the remote's illuminated buttons, it becomes much easier to use.
Some remotes only illuminate the backlighting when you press a dedicated button, and others only light up specific keys. Find one that works for you and how you use your remote. Even inexpensive models should have a backlight function.
Smartphone Integration
One of the most significant developments in remote controls is their integration with apps that turn your smartphone into another remote. There are quite a few scenarios where this is a big help.
Use your smartphone app as a remote control when:
The app has expanded capabilities or a better layout than the physical remote
Makes scrolling through menus simpler and easier with a touchscreen
If you misplace your physical remote
If two people are sharing remote control duties
Your physical remote needs new batteries or a recharge
You've briefly stepped out of range of a line of sight connection
Universal Remote vs. Single System
Some remotes control one system and one system only. They're archaic at this point. Even a low-end TV remote can usually control a cable box or vice-versa.
However, some remote designs try to achieve universal control of devices, equipment, and smart-home gadgets. The more systems you control with one remote, the more complicated things tend to get. But you can easily find a replacement NVIDIA Shield remote that handles many different devices, like the Logitech Harmony Elite and the SofaBaton U1.
Most manufacturers have a listing of their compatibility. Check out their websites for more information about specific remotes and how they can interact with other systems, including the NVIDIA Shield.
Methods of Control
Since so many types of devices are on the market, you must ensure that the remote you are looking for works with your hardware.
On the NVIDIA Shield TV's 2019 version, NVIDIA removed the USB port. That makes it incompatible with a remote control like the WeChip G20 Voice Control, as it relies on a connection to the device through its USB port via a small device or adapter called a dongle.
Remote controls use a few ways to connect with devices, so make sure you understand what you're trying to control and whether your new remote might work with them before buying it. 
RF — radio frequency, good range, but limited compatibility
IR — infrared, requires line of sight visibility between devices (some remotes come with IR blasters to detect signals and relay them to devices hidden inside of a closet or cabinet)
Bluetooth — wireless connectivity, best over short distances
Wireless via a dongle, good range but requires a USB port
Wi-Fi, excellent range but requires Wi-Fi hardware in the remote and with your devices (sometimes a separate hub connects to devices without Wi-Fi via hardwiring, enhancing compatibility)
---
NVIDIA Shield Remote Control FAQ
Some questions are bound to come up. Let's answer some of the most common ones so you have everything you need in a straightforward guide.
How do I replace my NVIDIA Shield remote if I lose or break it?
Buying a new remote is easy. Except for the Harmony Elite, each remote control in this review is quite common, both online and in stores.
Can I Buy A New NVIDIA Shield Remote Just Like The One For My 2015 Or 2017 Model?
Unfortunately, if you have your heart set on finding a new 2015 or 2017 version of the NVIDIA Shield remote control, you're out of luck. NVIDIA now only sells the 2019 model.
But you may be able to find used models of the 2015 or 2017 remote. You might even have some luck repairing one. Check out my guide to troubleshooting the NVIDIA Shield remote here.
How Hard is it to Program and Setup a New NVIDIA Shield Remote Control?
A simple rule of thumb is that remote controls become increasingly difficult to set up when they can perform many functions and pair with many devices.
With integrated apps and other data-sharing methods, you don't have to search through lists of codes on paper to find your specific device like in the old days. But, programming, pairing, and using remote controls can get complicated.
If you're not into the idea of a complicated setup that controls your whole array of devices, a simple remote to control your NVIDIA Shield and the TV it's hooked up to might be your best bet.
Can I Use an Xbox Controller With The NVIDIA Shield?
Depending on which model Xbox controller you have, it may work well with the NVIDIA shield. Third-generation Xbox One controllers manufactured after 2016 will work, as will some older models.
If you want to learn how to use your Xbox controller with your NVIDIA Shield TV, you can check out my step-by-step connection guide here.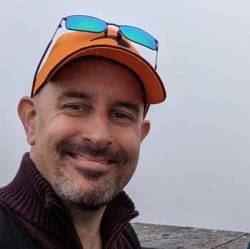 Latest posts by Tim Wells
(see all)