Last Updated on April 27, 2023 by Tim Wells
When I bought my Hisense TV last year, there were some quirks I needed to get used to—one of those was how to install apps.
I've been using Android TV or Google TV for years, so I'm used to installing apps from the Google Play Store or sideloading apps through Downloader or Aptoide TV. 
But the version of Google TV on the Hisense U8H was locked down more than usual. So, I wanted to write this guide to help anyone struggling to install apps on their Hisense Google TV. 
I want to be thorough, so I'll show you how to install an app from the Google Play Store. Then I'll show you how to sideload apps and install an alternative app store with thousands of apps specifically designed for your TV.
The screenshots below show the process on a Hisense U8H. However, this will work on the Hisense A4, A6, A7, U6, U7, U8, U9, and Laser series of televisions. It will not work on Hisense Roku televisions.
Let's get started. 
---
How to Install Apps on Your Hisense TV: Google Play Store
If you can find the app you want on the Google Play Store, I recommend installing it from there. It's easy and will save you a lot of time.
Click on the Apps tab at the top of your Hisense Google TV screen to start.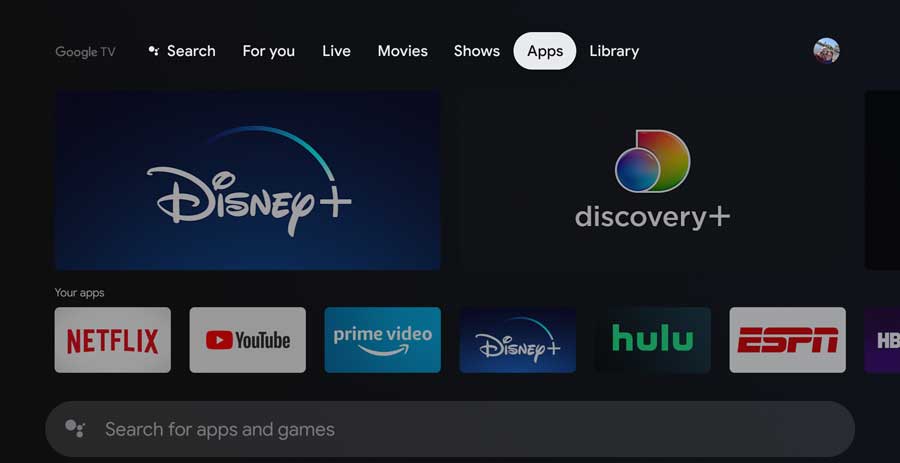 If you know the name of the app you're looking for, you can type it in the search field in the middle of the screen.
A word of warning, though. A few times, I knew what app I was looking for, but the search told me the app wasn't available on my Hisense TV. But I could browse through the categories and find them with no problem.
I don't know if that was just a quirk of the specific app I was looking for or if there was a problem with the Search function.
If the Search feature can find the app you want, great!
If you need to browse for a particular app, there is an App Categories section a bit further down the screen.
In this example, we're looking for the Downloader app. You can find it in the Tools section. 

Click on the Downloader app icon. 
This will pull up the app detail page. Click the Install button to start installing the app on your Hisense TV.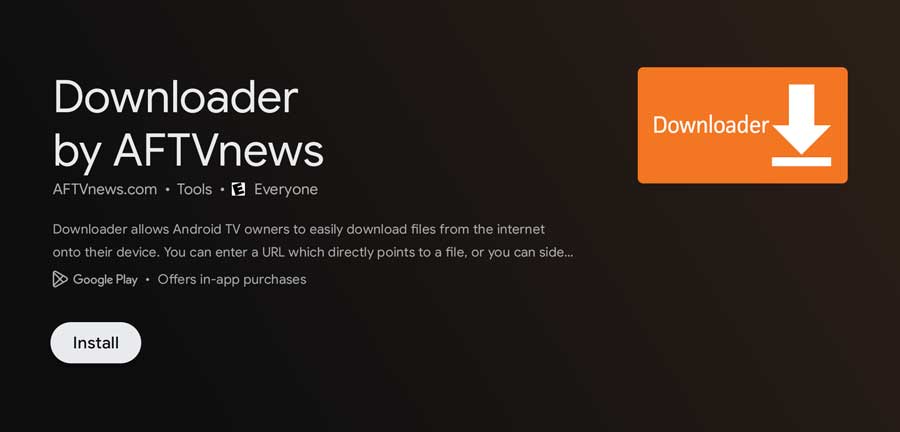 Once it finishes, you can open the app from here or navigate back to your App Drawer.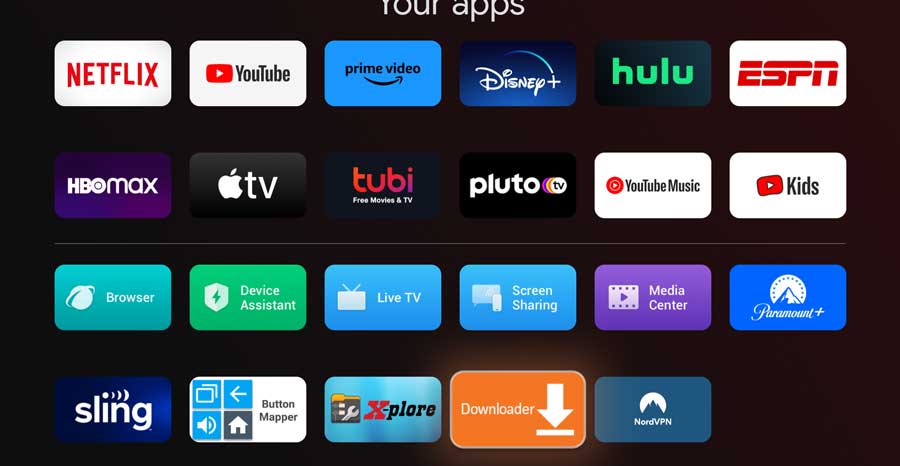 ---
How to Install Unknown Apps (Sideloading\Jailbreaking)
Not every app is available on the Google Play Store. In fact, there are thousands of mainstream apps that Google deliberately hides from you.
This includes alternative app stores like Aptoide TV or the Amazon App Store. 
But that doesn't mean you can't install those apps on your Hisense TV.
Installing an app from somewhere other than the Google Play Store is called Sideloading. On Apple devices, it's referred to as 'jailbreaking,' so you might also hear that term used.
We'll need to change a Security Setting on your Hisense TV to do that.
To get to the Settings menu, scroll to the top right-hand side of your home screen. You'll see the Settings icon next to or under your profile information, depending on the version of Android TV you're running.

Click on Apps.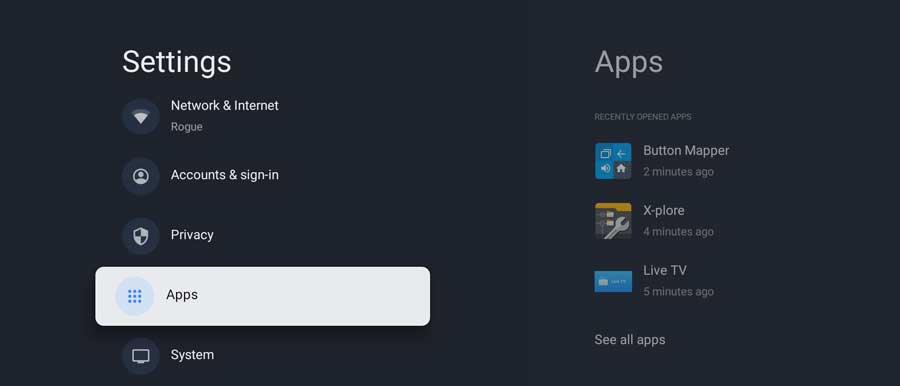 Next, click on Security & Restrictions.
Click on Unknown Sources.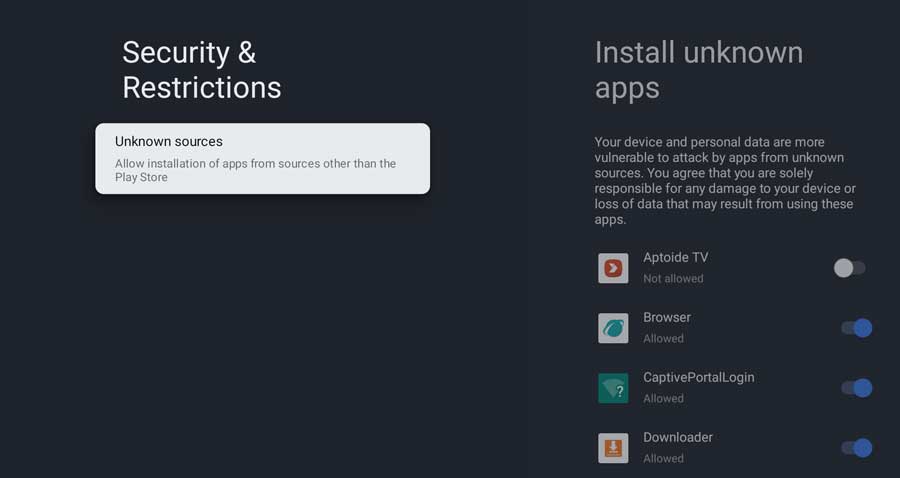 In previous versions of Android TV\Google TV, the Unknown Sources setting was global, meaning you would turn it on or off, affecting every app on your device.
This was a massive security risk, so Google changed it to make it app-specific.
Under the Install Unknown Apps setting menu, you'll see a list of apps with access to the files on your Hisense TV. This list will look different on your TV, depending on what you've installed.
Scroll down until you see the Downloader app. Click to allow Install Unknown Apps.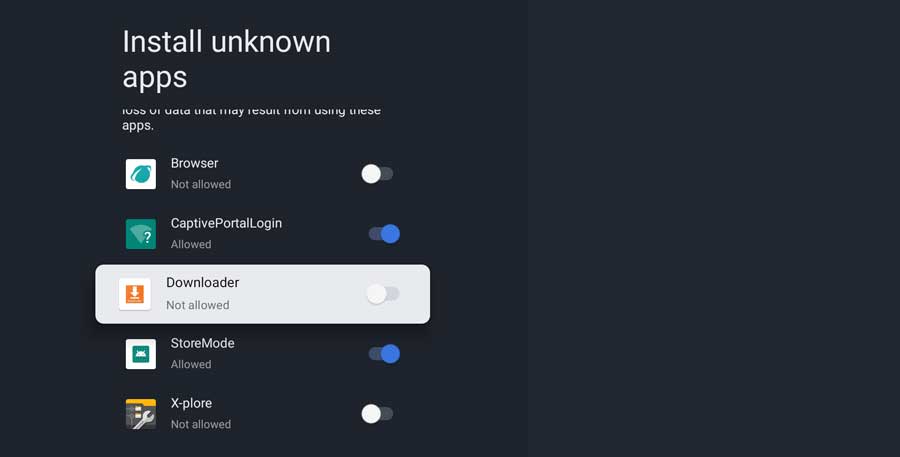 ---
How to Sideload an Alternative App Store
So, we have the Downloader app installed and configured it to install unknown apps. Let's install an alternative app store to give you thousands of TV-optimized apps to install on your Hisense TV. 
Go to the Your Apps screen. You can get to this from the Apps tab on your TV's home screen by clicking See All.
Click on the icon for the Downloader app near the bottom of the screen.
If this is your first time running Downloader on this device, a message box will pop up.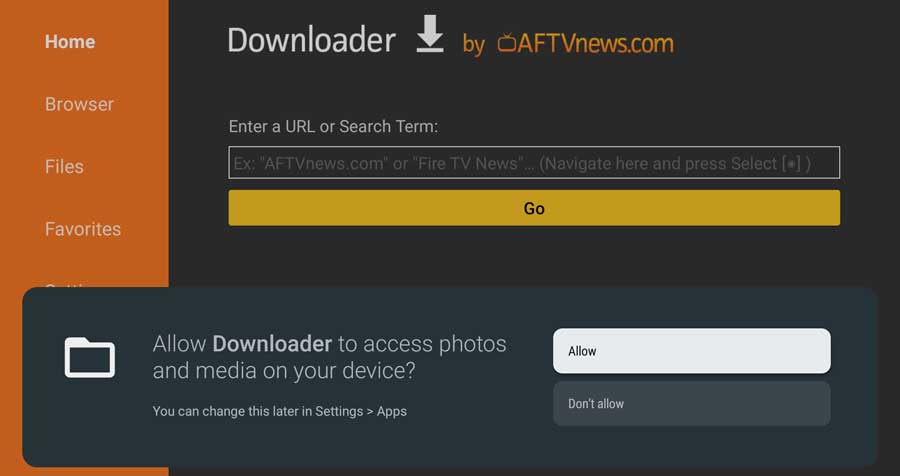 You'll need to Allow Downloader access to the photos and media on your device so that it can install new apps.
Downloader has basic web-browser functionality, which is how we'll search for apps to install.
In the center of the screen, type "Aptoide TV" into the search field.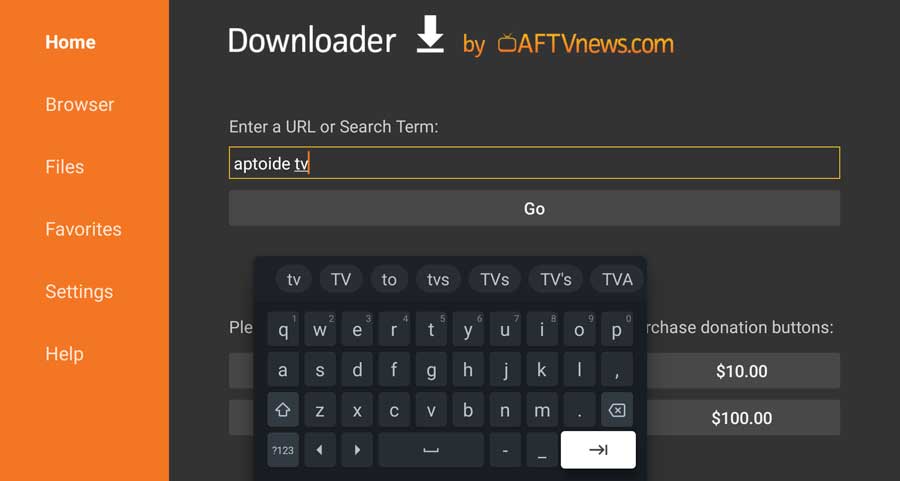 This pulls up the Google search results, just like you'd see on Chrome or Firefox.
Click on the result for tv.aptoide.com, which is Aptoide TV's official web page. 

Scroll down until you see the massive Download Aptoide TV button. Clicking on it will automatically start the installation process.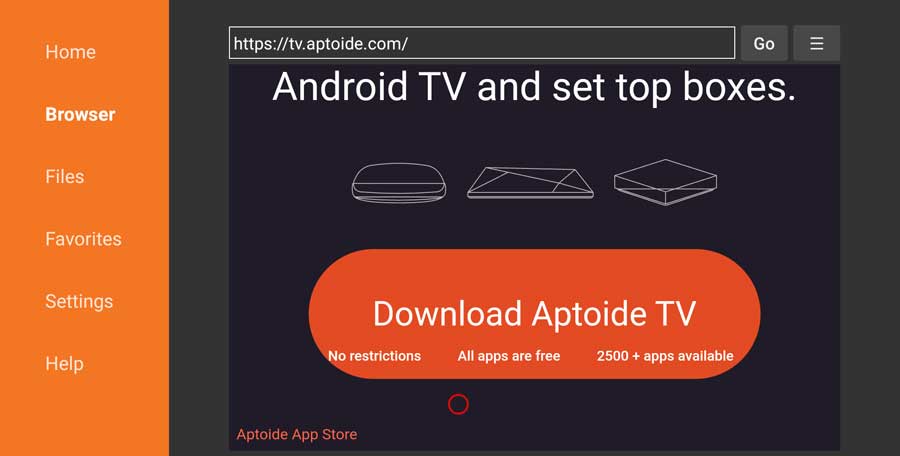 Click Install to continue. 

After a few seconds, you'll receive a confirmation message that the installation is complete. 

Head back to the Your Apps page and open Aptoide TV by clicking its icon.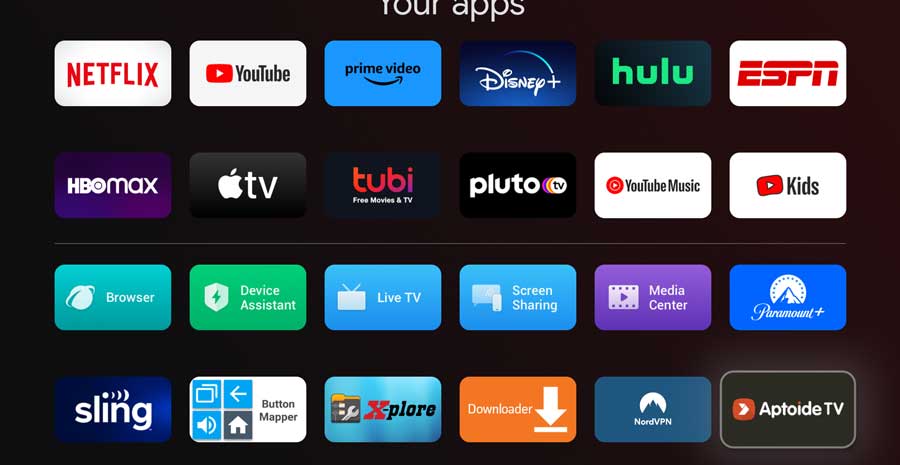 Note: Before you use Aptoide TV to install apps on your Hisense TV, you'll need to go back to the Settings menu and allow it to Install Apps from Unknown Sources. 
Aptoide TV will look very familiar to anyone who's used the smartphone versions of the Google Play Store or the Amazon App Store. A left-hand side menu lets you browse for apps by category or search for specific apps.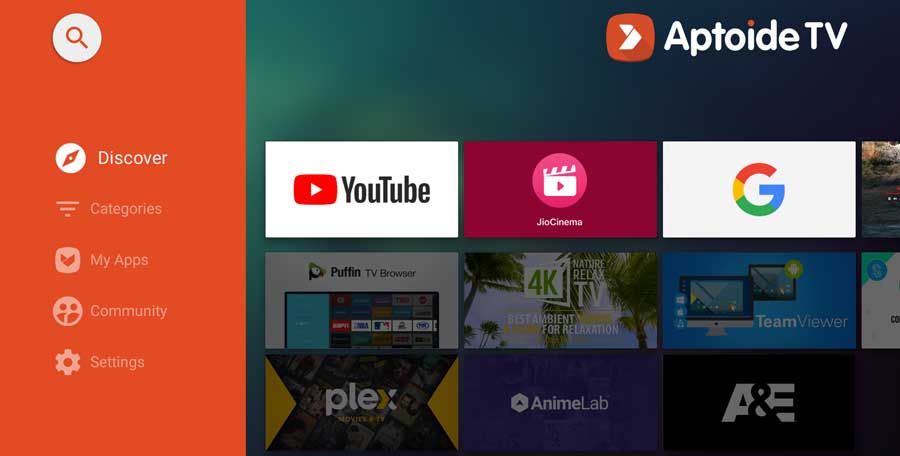 ---
Wrapping It Up
Installing apps on your Hisense Google TV is a little different than you'd expect.
The easiest method is to search or browse for the app you want on the Google Play Store. Unfortunately, the selection is limited, so many people prefer to sideload apps using Downloader or an alternative app store like Aptoide TV.
Sideloading apps on your Hisense TV gives you access to thousands of apps you'd never find otherwise. Enjoy!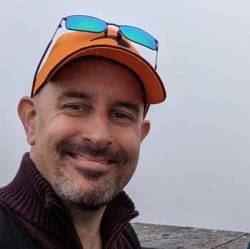 Latest posts by Tim Wells
(see all)