You used to need either a high-end gaming PC or a next-gen console if you wanted to play the latest games. There are more options than ever for gamers looking to play their games through the cloud.
Shield TV owners are already familiar with NVIDIA's GeForce Now cloud gaming service. If not, I cover it in detail in this overview article. 
However, even though it integrates well with other platforms like Steam or Epic Games, it's missing some critical features compared to its competition.
This article will look at 11 of the most popular GeForce Now alternatives for the NVIDIA Shield and other platforms. They could be just the service you're looking for if you aren't impressed by GeForce Now.
---
Stadia
Thanks to a pervasive marketing campaign when it launched, Google's Stadia Pro is perhaps the biggest name on this list. It allows you to stream over 200 games without downloading patches or updates.
You can stream games to nearly any phone, computer, or TV screen, and it offers a free month of play even without making an account. The $10 monthly price is the same as the basic GeForce Now subscription.
With Stadia, you get a few extra perks.
It's relatively inexpensive to stream games with 4k graphics and surround sound. However, you need to invest in high-speed internet to make the most of the service.
Like GeForce Now, you have to buy individual games on Stadia's free tier. Depending on how newly released the games were, they can range from $40-$60.
Pro tier subscribers have access to several games per month that you can play free for as long as you keep your Stadia subscription. You're not forced to fork up the cash if you don't want to purchase the games.
Stadia has some exclusive titles that you won't find on some consoles. It's also not restricted to certain consoles like other options on this list.
There is no significant lag when playing with a high-speed connection. It outperforms many other similar services when compared side-by-side.
---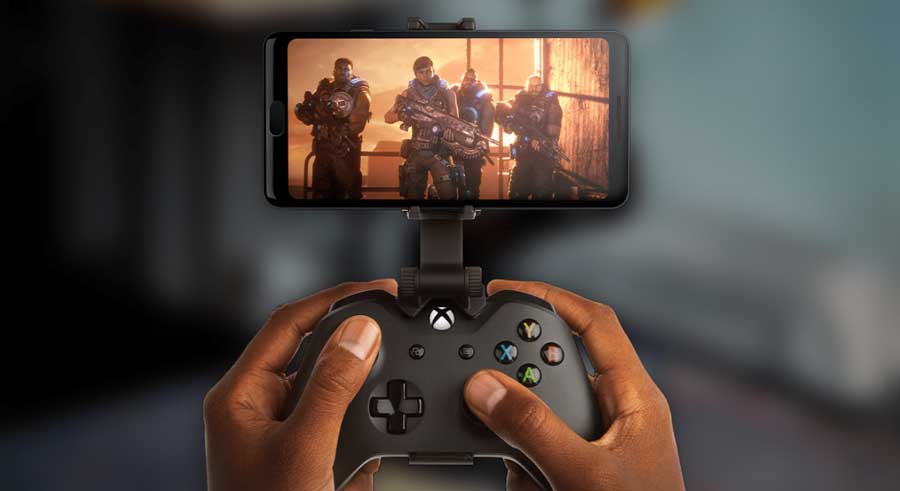 Xbox Cloud Gaming
Xbox Cloud Gaming is Microsoft's cloud gaming platform that allows you to stream Xbox console games to smartphones, tablets, and PCs.
The cool part is that it's free for Xbox Game Pass Ultimate subscribers. You may have it already and not even know it. Xbox Cloud Gaming is now available for purchase as a separate service if you don't.
Saved progress carries through across multiple devices. You can even stream saved games from the cloud, even if you aren't playing on your Xbox console. That lets you take your Xbox gaming on trips without lugging around a bulky console.
Touch screen controls are supported and controllers, but you will have to ensure the device supports those features.
Xbox Cloud Gaming users have reported latency issues and lag compared to faster services. This means it's not ideal when you don't have access to a good internet connection.
---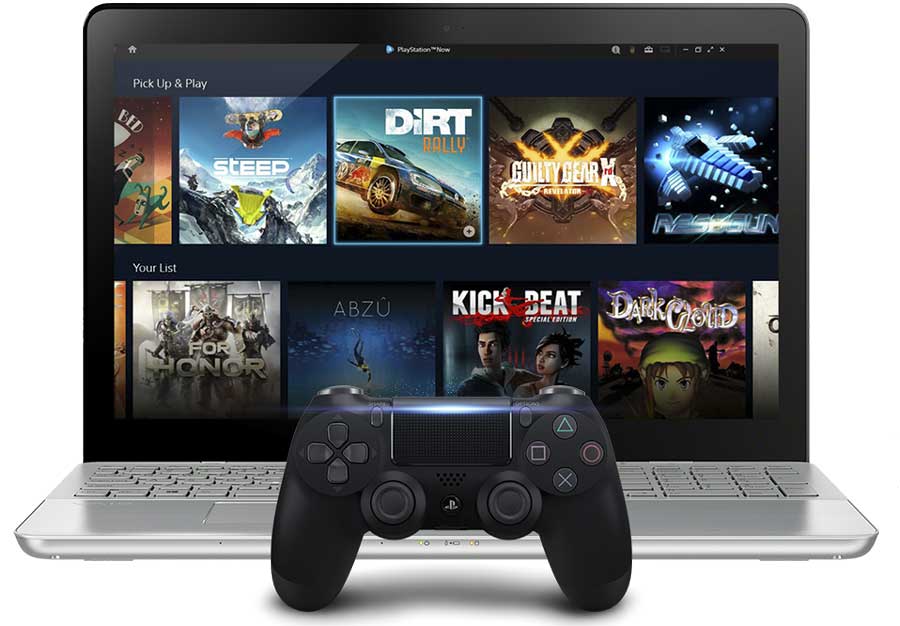 PlayStation Now
PlayStation Now is Sony's cloud gaming streaming service that hosts many games that you would find on PlayStation consoles.
These days, it's so hard to find a new PlayStation console in stock. Gaming on PlayStation Now can be an attractive option until you can find (or afford) the PlayStation console you want.
You can access over 700 titles in a Netflix-style catalog by paying a nominal subscription fee. Currently, the monthly fee is set at $9.99, with quarterly and yearly options that bring the cost down even more. That's pretty reasonably priced, considering how many games are available on the service.
PSNow used to be only for owners of PlayStation consoles, but it's also available to users of Windows PCs.
Sony adds more games to the PlayStation Now library every month, including games from older consoles like the PS3 and PS2.
Once you select the game you want to play from the list, you are connected to a server that hosts a session that boots the game for you.
Although playing the game requires an internet connection, you can temporarily save a game to your hard drive and play through it offline as well.
PlayStation Plus members can download two games every month, access exclusive discounts, cloud storage for saving files, and access to multiplayer servers.
---
Amazon Luna
Amazon's cloud streaming games service is called Amazon Luna. Amazon Luna is one of the most inexpensive streaming services as it starts at only $5.99 per month.
It boasts excellent performance and low latency that works in either its dedicated app or a web browser. Amazon sells its own gamepad, but you can also use a PlayStation 4 controller, Xbox One gamepad, or a keyboard and mouse.
Luna currently has a smaller library and some performance limitations, limiting gameplay. However, you can play all of the games for an unlimited time, so you don't need to purchase the games separately like Google Stadia.
Thanks to Amazon's cloud servers, Luna has excellent performance with low latency issues. Amazon Luna is a great cheap alternative to some more expensive cloud gaming services.
---
Paperspace Gaming
Paperspace Gaming is a cloud gaming subscription service. It allows you to "rent" high-end gaming PC's that you pay as you use them.
This service offers multiple subscription tiers that charge per hour of gameplay. There's also a small monthly fee for storage and saved games, and you're only billed for your storage if the PC you're renting is powered off.
The cheapest GPU+ tier gives you 30 GB Ram (not a typo) and a GPU with 8 GB of RAM to play games on a 50GB solid-state drive. This level of performance is adequate to play any modern game in at least standard settings.
The higher tiers keep bumping up the graphics card memory and type, and they even offer some multiple-GPU tiers.
Paperspace Gaming lets you leverage the functionality of high-end gaming devices without investing in a gaming laptop or PC.
It features an auto-shutdown feature, so you aren't billed for time that you don't use and is easy to use.
---
Vortex
Vortex is a cloud gaming service that bills itself as a group of people passionate about playing computer games.
It's an inexpensive service with an extensive game library and support for both browsers and Android devices.
It provides a core cloud gaming experience, but it lacks some of the extra features of other services. Plus, it only has one subscription plan.
As a result, it's a very stripped-down experience that focuses on just the games.
It will have issues playing games that use some form of digital rights management (DRM) like games on Steam, Battlen.net, or Origin services. It has a great selection of games, but sometimes you might find one of your favorite titles is inexplicably missing for that reason.
You aren't exactly getting a high-end device, but performance is pretty good, even with average connection speeds.
As is typical with streaming services, your mileage with latency will vary depending on your internet connection.
---
PlayKey
PlayKey is an app that allows your Windows PC or Mac OS to play new releases on low spec computers by utilizing cloud streaming.
Installing PlayKey gives you access to a PlayKey server with an optimized PC that is great for games that take up a lot of graphics resources.
PlayKey server computers have devices that have Nvidia GeForce 1080 TI graphics cards with 11GB of GPU memory. These computers also have 20 GB of RAM.
These features combine to produce an experience that allows you to play a high-end PC that would ordinarily cost thousands of dollars for much cheaper.
This service does require a computer to work, one that has at least 1GB of RAM and a 1.5 GHz processor. You will also need a stable internet connection of at least 25 MBps per second to get the highest FPS and graphics settings.
They offer a pay-as-you-go model where you can play from their selection of games for as little as $1 per hour.
---
Loudplay
Loudplay is another cloud gaming alternative service that lets you rent a PC to play games from your existing library. That allows you to play games and other software from a home PC.
Instead of a subscription model, you have the option to purchase credits that give you time to spend with the PC you want to rent.
While it's nice only to have to pay for the time you are spending, this does mean that sometimes there can be ques to wait for a machine to open up for you to use.
Loudplay servers are located in Russia, so users in North America could experience considerably more lag than users located elsewhere. This could affect the download rates for certain games and performance during multiplayer sessions.
Another potential downside for Loudplay is that their hardware isn't as robust as some of the other options on this list. This will often require some of the more resource-intensive gamings to be run on the lowest settings while using Loudplay.
---
Shadow
Shadow is a cloud computing service, not necessarily a dedicated gaming service. It lets you spin up your own Windows 10 PC to install your own game or other applications. However, it's quite a bit more expensive than other options because of its extra features.
As far as technical specs, you get a GeForce GTX 1080 graphics card, a quad-core processor, and 12GB of RAM. This is usually enough to allow Shadow to run graphics-intensive games or VR titles.
Similar services let you rent server space or temporarily access a virtual PC. However, Shadow gives you the same high-performance PC for as long as you have the subscription.
Unfortunately, Shadow only offers Windows PCs, so someone looking for a Linux device or Mac OS high-end PC won't find that with Shadow's cloud gaming.
They also don't offer their own game library, so you need to purchase and install your Windows PC games separately.
---
Parsec
Parsec, also known as Parsec Arcade, lets you stream a library of games you own to any device. Essentially it's a way to take the games from your hardware and play them on the go when you don't have access to your gaming PC.
You can also use Parsec to allow friends worldwide to connect and play your games with you. It advertises itself as a virtual arcade where you can meet and play games with anyone online through its peer-to-peer network.
Parsec focuses on streamlining server architecture to reduce latency and lag as much as possible so that you are getting the fastest gaming experience possible.
It has an inexpensive monthly subscription model in line with the other cheaper entries on this list.
---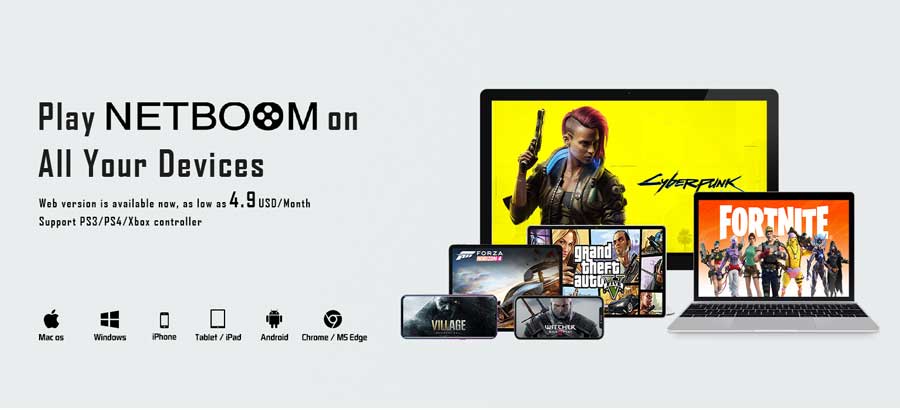 Netboom
Netboom is a cloud gaming service that lets your mobile device access a high-end PC gaming PC. It's a service primarily for mobile devices and smartphones, but it also has a Windows client coming soon.
It still requires you to purchase each game individually. However, if you don't have the license for a particular game, you can borrow the license from the Netboom library for free.
The monthly subscription fee gives you up to 80 hours of game time per month. If you run out of game time, you can get the Netboom Pro subscription that gives you unlimited playtime every month for a higher fee.
Unfortunately, saving progress on games can be tricky on Netboom because you rent time on a different PC every time you boot it up.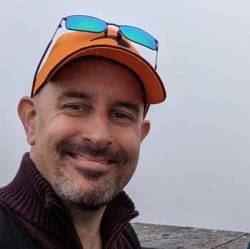 Latest posts by Tim Wells
(see all)