For me, testing out a new Android TV stick is kind of like getting back to my roots. So I was excited to test the new MeCool KD1 TV stick.
The MeCool KD1 is a relatively new Android TV stick that retails for about $60. You're getting a Google Certified device running the official Android TV 10.0 for that price.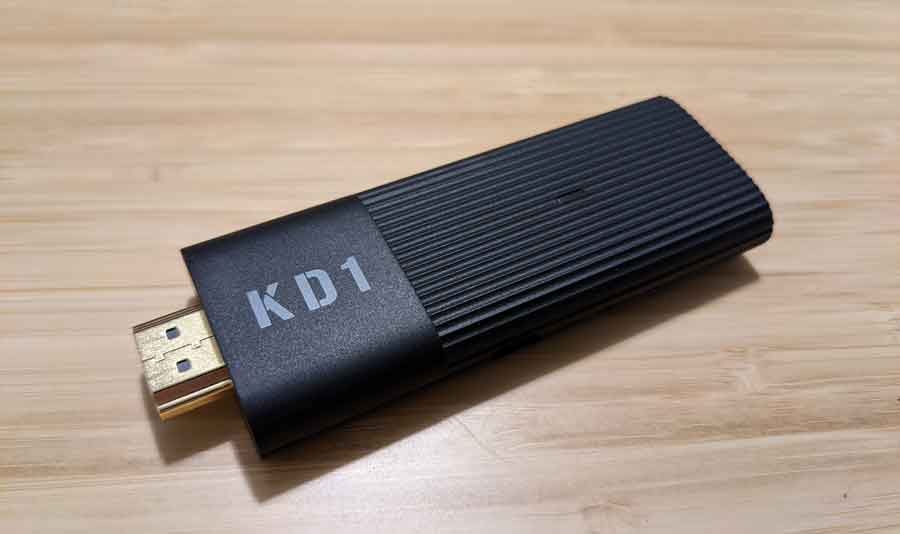 Just because it's Google Widevine certified doesn't mean it's Netflix certified.
Unfortunately, that means video performance in the world's most popular streaming app isn't as good as it could be.
I've been using it for over a month as a "daily driver" streaming device. In this review, I will give you my thoughts, some performance figures, what I liked about it, and what I think fell a little short.
We'll get into the details in the coming section, but first, let's look at the hardware specs for the MeCool KD1.
---
MeCool KD1: Specs
The MeCool KD1 runs on the AmLogic S905Y2 chipset, a small form-factor version of the popular S905 platform. Since it's designed for streaming sticks, the S905Y2 does away with any external ports, so it can be as small as possible.
Even though it's a small form-factor CPU, the S905Y2 supports HDMI 2.1, which ups the throughput to 48 Gb/s. That's more than enough bandwidth to support 4K at 60 fps, so I was anxious to see the video performance.
The other important things to look for are system memory and available storage.
Since there are no expansion slots for micro-SD cards, the 16 GB of storage is all you'll ever get. System memory is 2 GB, which is about right for a streaming stick in this price range.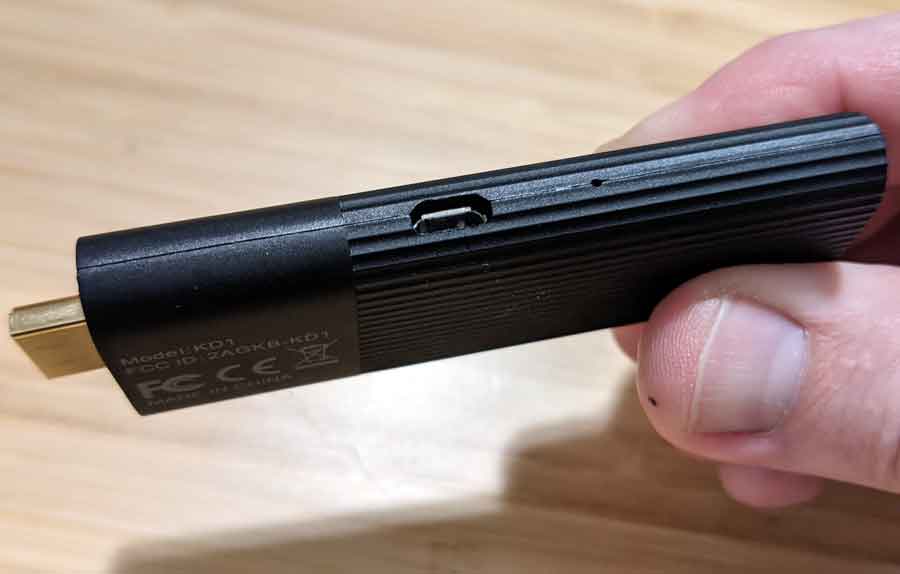 Hardware
CPU: Amlogic S905Y2 Quad-core ARM Cortex-A53 CPU
GPU: ARM G31 MP2 GPU
RAM: 2GB
Storage: 16GB
WiFi: Built-in 802.11 a/b/g/n/ac Wi-Fi + BT 4.2 Module
Bluetooth: BT4.2
Software
Operating System: Android TV 10.0
Dimensions
Ports
1 x HDMI 2.1
1 x DC 5V/1A
Audio & Video Formats
VP9 Profile-2 Up to 4k * 2k @ 60fps
H.265 HEVC [email protected] Up to 4k * 2k @ 60fps
AVS2-P2 Profile Up to 4k * 2k @ 60fps
H.264 AVC [email protected] up to 4k * 2k @ 30fps
H.264 MVC UP to 1080P @ 60fps
MPEG-4 ASP @ L5 UP To 1080P @ 60FPS (ISO-14496)
WMV / VC-1 SP / MP / AP UP TO 1080P @ 60fps
AVS-P16 (AVS +) / AVS-P2 JIZHUN Profile Up to 1080p @ 60fps
MPEG-2 MP / HL UP To 1080P @ 60fps (ISO-13818)
MPEG-1 MP / HL UP To 1080P @ 60FPS (ISO-11172)
RealVideo 8/9/10 Up to 1080p @ 60fps
---
First Impressions
As soon as I took it out of the box, it hit me just how light the MeCool KD1 was. It's almost the same size as an Amazon FireTV Stick but is noticeably lighter.
The case is made from a ridged, matte black plastic stamped with the "KD1" logo on the top. There's also a "blink, and you'll miss it" white LED light midway on the top that glows when powered on.
Besides that, the only thing interrupting the sleek black plastic case is a micro-USB port on the side used for the combined power cable and IR remote sensor.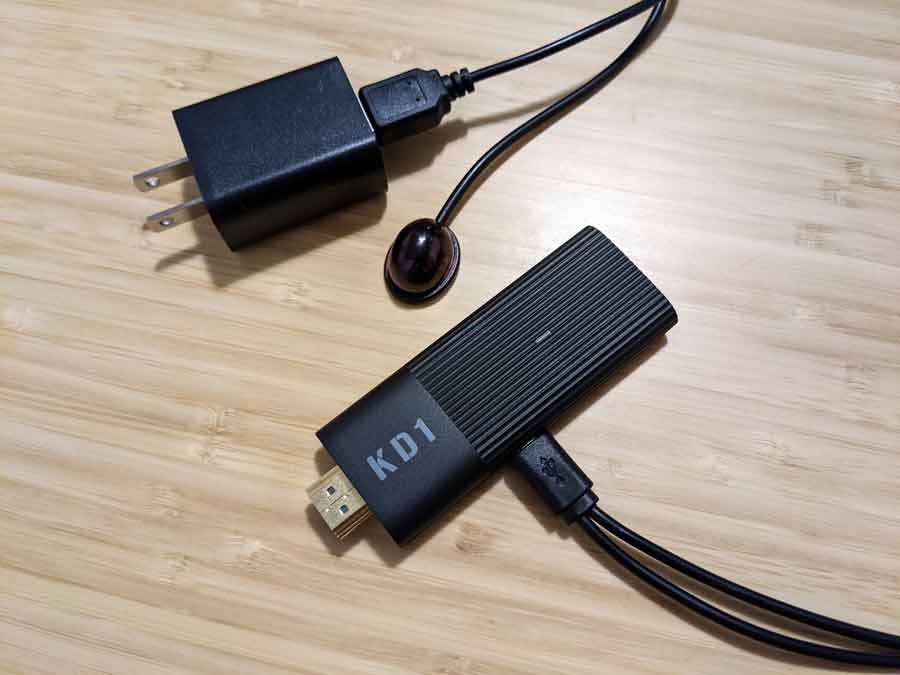 I'm not a fan of IR remote sensors, so that cable is easily my biggest disappointment with this Android TV stick. I understand why manufacturers use them.
It's all cost-saving.
However, a Bluetooth remote isn't much more expensive than an IR remote.
I think consumers would be perfectly willing to pay $5 more for their device and not have an IR sensor peeking out next to their television.
---
Setting Up the MeCool KD1
Since the MeCool KD1 is a Google-certified Android TV stick, it will have the same familiar Android TV home screen you're used to seeing.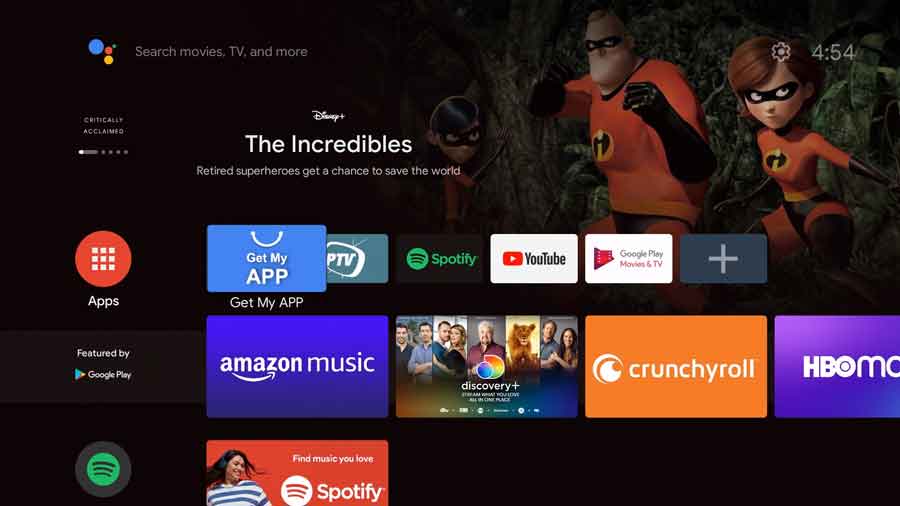 That also means that it will be straightforward to set up. You can either go through the process and manually enter your Google account's username and password or link your Android smartphone to make things easier.
The whole setup process takes about five minutes to complete.
Once you get to the Android TV home screen, the first thing to do is check for any system updates.
MeCool has an OTA (Over The Air) update app that will automatically reach out to their servers and download any patches and bug fixes that have been released.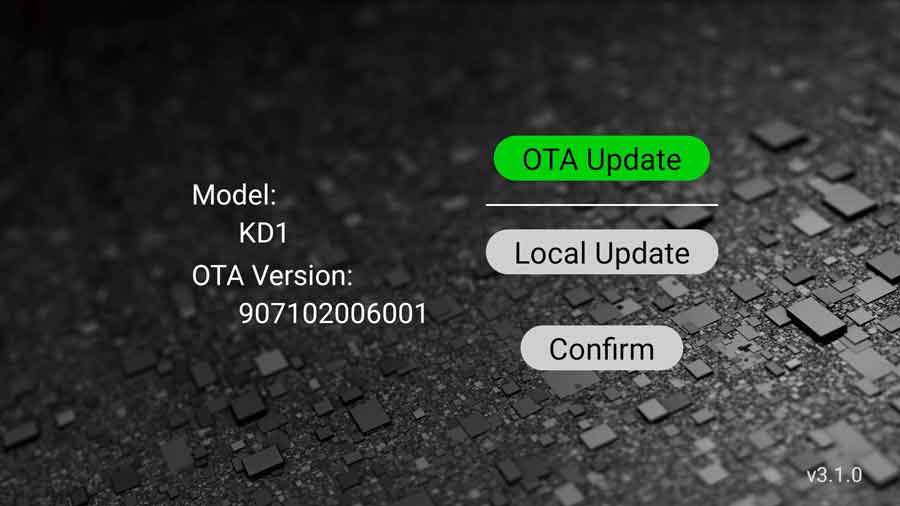 Check this app regularly to ensure you're running the latest and greatest version.
---
MeCool KD1: Video Performance
In addition to using the MeCool KD1 as one of my daily-driver streaming devices for several weeks, I ran specific tests to gauge video performance.
For YouTube, Netflix, and Amazon Prime Video performance, I tested HD and 4K video, looking for dropped frames, stuttering, and resolution. On Plex and Kodi, I tried movie and music files from my personal library, which runs off a Windows 10 server, hardwired via Ethernet.
My home network uses a Ubiquiti US-8-150W gigabit Ethernet switch and a UAP-AC-PRO-US wireless access point. I designed the network to have far more capacity than I could ever use. That should take the network out of the equation when looking at performance.
YouTube
YouTube played well, for the most part.
The video was occasionally laggy, which seemed to be because of the slower WiFi adapter. It's not common, but it happened enough for me to notice.
This is where it really could benefit from an external Ethernet adapter.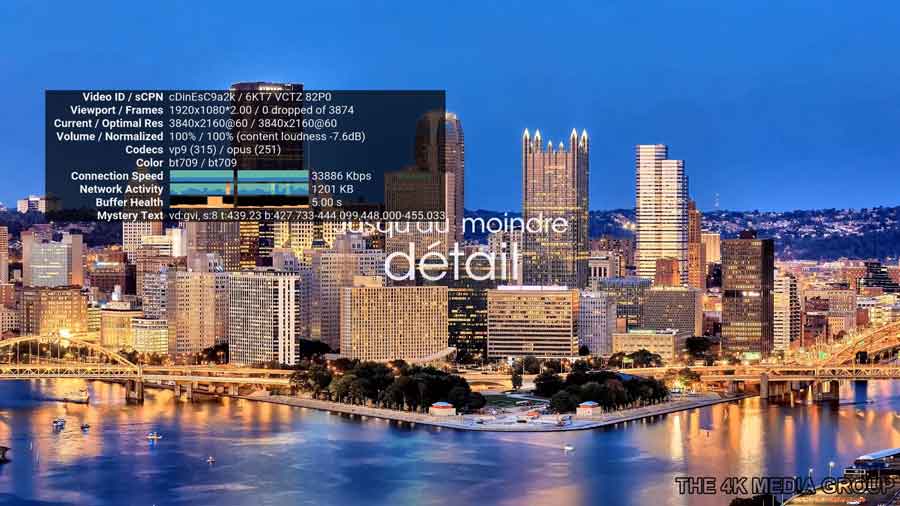 For the most part, 4K videos played at the full resolution (3840 × 2160).
There were several instances when the resolution dropped to 2560 x 1440, but I wouldn't have known if I didn't have Stats for Nerds up.
Plex
On my personal Plex server, using one of my NVIDIA Shield TVs as a client, videos usually play after a buffering time of only 2-3 seconds.
With the MeCool KD1, the DVD ripped immediately, and the quality looked as good as expected. However, once I tried playing Blu-ray rips, I encountered some issues.
The picture quality was excellent.
However, having several seconds of buffering during normal playback was very common. Usually, this happens at the worst times.
For example, during testing, it buffered at the beginning of Darth Vader's hallway scene in Rogue One (1080p).
The occasional second or two of buffering is to be expected.
However, I experienced so much buffering that it completely took me out of the movie experience.
While music files played just fine, my experience trying to watch movies means I cannot recommend the KD1 as a Plex client.
Kodi
Since it was accessing the same files, Kodi had the same challenges as Plex. Large video files buffered frequently, so it's impossible to make it through an entire movie.
However, it got a lot better when I switched to streaming content from add-ons directly.
Although I encountered a few seconds of buffering while switching to new content, the entire experience was pretty good overall.
Netflix \ Amazon Prime Video
I've seen some reviews of the MeCool KD1 where the reviewer needed to sideload Amazon Prime Video.
Thankfully, I could install it right from the Google Play Store, so that wasn't necessary for me. Netflix, unfortunately, still needed to be sideloaded manually. For more on that process, check out my tutorial here.
Amazon Prime Video looked good, although it could not play 4K content. Since it's got a native Android TV app, the navigation was seamless and worked really well with the remote.
The same cannot be said for Netflix. Navigating the pure Android app was clunky and needed an air mouse to make it work. Since Netflix is limited to SD content, it looked grainy on anything larger than a 32″ TV.
---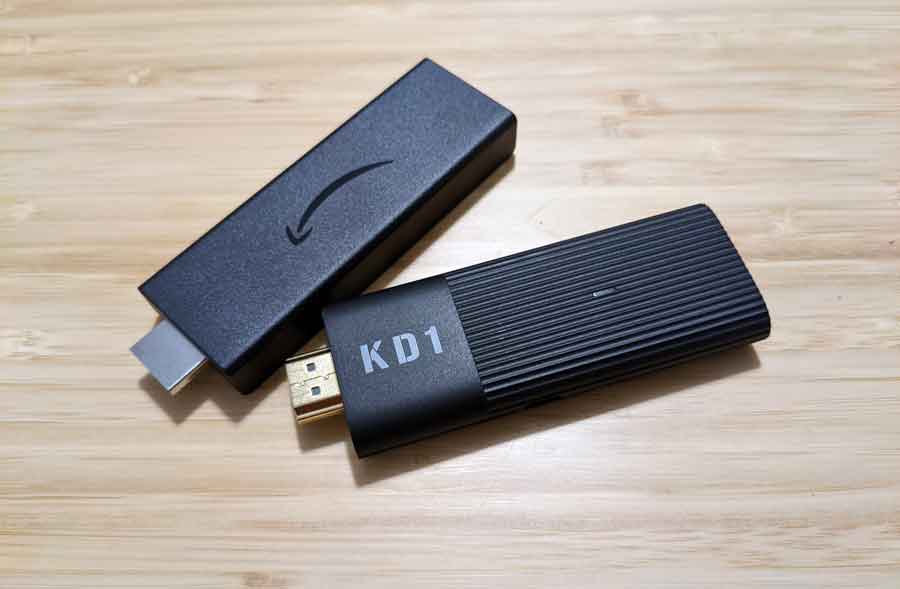 The Verdict: Is the MeCool KD1 Worth It?
I like the MeCool KD1… I'm just not sure if I like it enough.
It's a solid Android TV stick with some great features. The performance is good, especially for YouTube and Kodi addons that rely on streaming.
For the price, it's a great Android TV stick if you want to buy something other than the Chromecast or FireTV Stick.
But that's the problem.
At this price point, both the new Chromecast with Android TV and any of the Amazon FireSticks give you more for your money.
Even the $39 FireTVStick has a native Netflix app that lets you stream in HD quality. You can upgrade to the 4K FireTVStick for a few dollars more, and you're still less than the price of the MeCool KD1.
As I said…the MeCool KD1 is a good streaming stick, but it's in a tough segment. As good as it is, I think there are better options for the price.
Check out my roundup review here if you're looking for Android TV sticks. Or, if you're looking for a great Android TV streamer that won't break the bank, check out my article discussing the best cheap Android TV devices for the money!
We earn a commission if you click this link and make a purchase at no additional cost to you.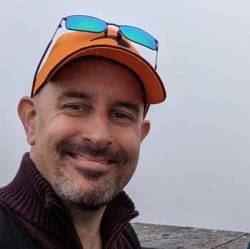 Latest posts by Tim Wells
(see all)