Last Updated on May 8, 2023 by Tim Wells
When I saw my first Android TV stick back in 2013, I knew it would change how we watched TV.
Turns out that they changed a lot more than that.
Almost a decade later, streaming sticks are a huge deal, led by the heavy hitters like Chromecast, Fire TV and the Roku Streaming Stick.
But they're not the only game in town.
Google, Amazon, Apple and Roku have carved out the the top of the pile. But there's still a lot of room for other companies aiming for smaller niche markets. There are a ton of options for people who want a desktop replacement or just a portable Android streaming device.
That's who this list is for.
It doesn't matter if you call them PC sticks, an Android TV stick, HDMI sticks, or something else. If it looks sort-of like a thumb-drive and fits in your television, it's welcome here.
I don't judge.
Below you'll find sections of this "Best of" list for Android, PC, basic streaming devices, Windows and even Chrome OS.
If you stick PC's aren't your thing and want something more powerful, then check out our Best Android TV Box post.
…but, please, do it after you've finished this article, OK?
Here is is, our award winners for the Best TV Stick…no matter what operating system you're looking for.
What is an Android TV Stick?
First, let's talk about what an Android TV stick actually is.
An Android stick is a small device about the size of a candy bar that connects to a TV via an HDMI port. Designed to be portable, Android TV sticks have less powerful CPU's or less memory than TV boxes. The most common operating systems installed are either pure Android, Android TV, or Fire OS.
Over the years, Android TV sticks have gotten more and more powerful.
The original Rockchip MK802 had a whopping 1 GHz processor and only 512 MB of RAM memory. Now, for roughly the same price, you can get double the processor speed and eight times the memory!
Why Buy an Android TV Stick vs. an Android Box?
In general, an Android TV stick isn't going to be as powerful as an Android TV box at the same price-point.
So why buy an Android TV stick?
Simple. It's portable and easily concealed.
Most people who buy Android sticks are looking for something that's portable. Something they can take with them when traveling, and still get access to all of their streaming services and content.
---
Best Android TV Sticks
With that in mind, let's get to what I think are the best Android TV sticks!
Best Overall: BuzzTV ST4000 / Vidstick+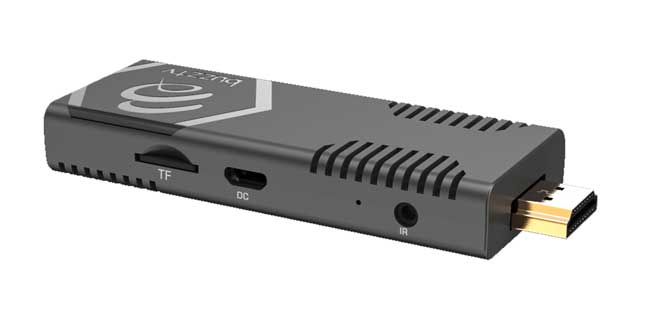 Taking my top prize is the BuzzTV ST4000 and Vidstick+. Even though they have different names, both Android sticks are the exact same device.
Let's start with the differences first. The ST4000 gives you 2 GB of RAM and 16 GB of storage for around $70. The Vidstick+ has 4 GB of RAM and 32 GB of storage, but ups the price to around $110.
Both devices have a single USB 3.0 port and a micro-SD card slot for additional storage.
Both are powered by an Amlogic S905Y2 chipset, which is an ultra-low power variation of the popular S905 that powers many Android TV boxes.
Because it's low power and smaller size, there are a couple of features that you'll never find on an S905Y2 device. The one you're probably going to miss the most is an Ethernet port.
Both devices run pure Android 9 and have a very simple interface. One of the features that I really like is that BuzzTV includes three launchers by default.
You can choose from Classic, Modern and Media Player. In my opinion, the best looking launcher is the BuzzTV Modern, which is the default. It looks very similar to the official Android TV launcher and also integrates your IPTV provider, if you have one.
The Classic and Media Player launchers aren't as good looking. Media player looks like a stripped-down version of Android TV that is just too plain, in my opinion. The Classic launcher looks a lot like Kodi's Estuary theme.
No matter which launcher you choose, they have a lot of customization options including modifying your Favorites row and adding or hiding the Navigation bar along the bottom of the screen.
Performance is a mixed bag, unfortunately.
The BuzzTV S4000 is one of the fastest TV sticks around, but still lags behind Android TV boxes.
The CPU is pretty speedy, but internal storage speeds are pretty slow. As long as you're streaming your content online, you should be fine, but playing videos you've downloaded to the device were a bit choppy.
4K videos in H.265 format played great, as did YouTube in 4K resolution. Unfortunately, Netflix hasn't certified any BuzzTV devices, so you're limited to SD resolution. The same goes for Android Prime Video playback as well.
That said, most people who buy a pure Android TV stick aren't buying it for Netflix or Android Prime Video. Both apps will work, but at much lower resolutions. If Netflix or Prime video is your thing, I recommend looking at the Amazon Fire TV instead.
The BuzzTV ST4000 and Vidstick+ are among the best Android TV sticks available today. While I think the Vidstick+ is a little expensive for the performance is gives, the ST4000 is well worth the money.
Best Android TV Stick
BuzzTV HD5 Android TV Dongle
The BuzzTV isn't cheap, but you're getting similar performance to larger Android boxes, all from a much smaller, portable package.
We earn a commission if you click this link and make a purchase at no additional cost to you.
---
Best on a Budget: X96S Android TV Stick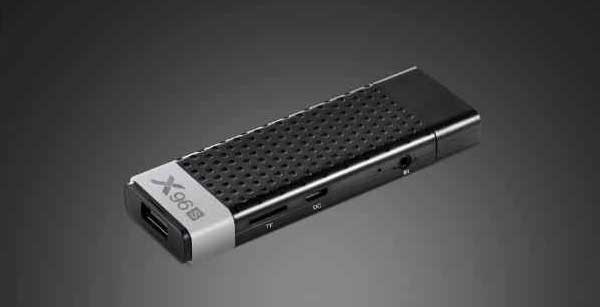 If you're looking for something a little cheaper, then the SUPVIN X96 S Android TV Stick may be the answer.
Looking at the specs, the X96 S offers features identical to the BuzzTV Vidstick+. It's got 4 GB of RAM and 32 GB of internal storage. It uses the same Amlogic S905Y2 chipset and has a high speed USB 3.0 port and a micro-SD card for additional storage.
So if it costs $40 less, why is it runner-up on this list?
It's simple: the user interface.
There's no getting around it: the home screen is ugly. There are several different companies that make X96 S Android TV sticks with the same hardware. They all have horrible looking launch screens.
The first time it booted up, I thought I was looking at a TV stick from 2015.
Along the bottom of the screen is a row of icons for your web browser, settings, Google Play Store, media player and your All Apps screen. These icons aren't configurable, so even if you use a different app, you're stuck with the default icons.
On the flip side, video playback is outstanding. 4K playback was silky smooth no matter whether you're playing videos from the local storage or whether you're streaming from the Internet.
Unfortunately that doesn't extend to Netflix or Amazon Prime Video. Those apps are limited to SD resolutions because Netflix hasn't certified the device.
All in all, the X96 S Android TV sticks are great hardware with an iffy user interface. If you don't need Netflix or Amazon Prime Video and you don't mind installing a different launcher, then this is a great option.
Best Budget TV Stick
X96 Android TV Stick
If you mainly use your TV stick for Kodi, then the X96 S deserves a look. Better performance and more memory than the BuzzTV, all for much less money.
We earn a commission if you click this link and make a purchase at no additional cost to you.
---
Best 4K Streaming Stick: Amazon Fire TV Stick 4K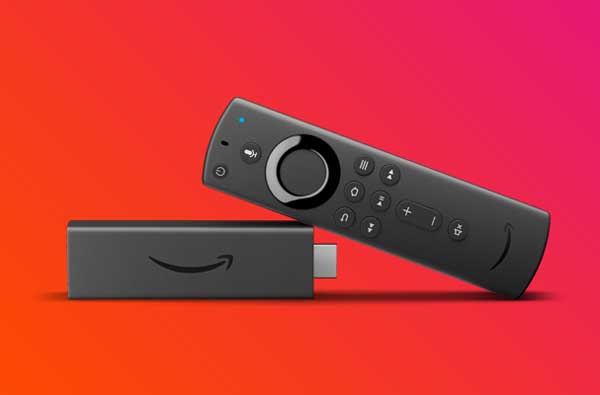 I've owned several versions of Fire TV's over the years: the original Fire TV box, the awkward looking Fire TV dongle and a couple of Fire TV Sticks.
Even though it's over two years old at this point, the Amazon Fire TV Stick 4K is still the one to beat.
That's not to say it's perfect. There are more than a few annoying quirks about them, but, overall, I think Amazon offers the most well-rounded experience for most people.
First, let's talk about the different versions.
The Fire TV Stick ($39) and the Fire TV Stick Lite ($29) are the most similar. Both have the same CPU, memory and storage in the TV stick itself, and only differ in the interface and the remote control.
For the extra $10, the Fire TV Stick lets you control basic TV functions on the remote control, whereas the Lite does not.
But where things start getting interesting is in the Fire TV Stick 4K.
As the name suggests, you get full 4K streaming from all the popular streaming apps like Netflix, Hulu, Amazon Prime Video, Disney+ and even YouTube. Like all Fire TV models, it supports Dolby Digital, DTS and Dolby Atmos.
Since the Fire OS is based off Android, most apps will work just fine. If an app isn't available through Amazon's App Store, you can always sideload the apps using the Downloader app.
That gives you access to thousands of additional apps to choose from.
But with the good also comes the bad. As I mentioned, there are some warts on this otherwise amazing device.
Personally, I've never been a fan of the user interface on the Fire TV. I flip back and forth between my Android TV and my Fire TV, and I always find the Fire TV difficult to navigate.
Amazon Prime Video is, of course, the preferred video app, but it can be difficult to tell what movies and shows are free with Prime versus the ones you have to pay extra for.
Finally, as easy as it is to sideload apps, I wish that you didn't need to do it. This is also a problem with Google devices, so I guess I can't fault Amazon too much.
Retailing at $49, it's pretty common to find the 4K Fire TV Stick on sale for $39 or even $35 around Black Friday.
The Fire TV Stick 4K is a solid streaming device right out of the box. If you're the type of person that doesn't about tweaking or configuring your TV stick, then it's hard to go wrong with this one.
Check out this article for more details on the differences between the FireStick and the Chromecast with Google TV.
Best 4K TV Stick
We earn a commission if you click this link and make a purchase at no additional cost to you.
---
Best Chrome TV Stick: ASUS Chromebit
Unlike most of the other TV sticks on this list, the ASUS Chromebit isn't a new device. It doesn't even run Android, but it's still worth a mention because of how flexible the Chrome OS is.
Chrome OS is a simple, web-based operating system based around the Chrome web browser and productivity apps like Docs and Sheets. For a while, it felt like Google's Chrome OS was going to take over the computing world.
You could buy a Chromebook laptop that was faster, lighter and had better battery life than a similar Windows laptop – all for a fraction of the price.
Over the years, Chrome OS has lost a bit of its luster. However, that doesn't mean that it doesn't have it's uses.
Which brings us to the ASUS Chromebit: a HDMI stick PC powered by Chrome OS. At around $70, it was one of the least expensive computers on the market.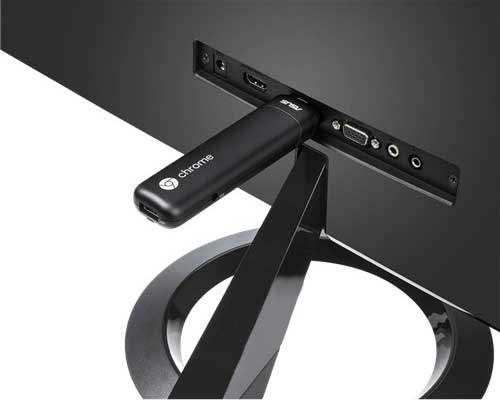 Chromebit connects to the Internet via 802.11 a/b/g/n/ac Wi-Fi. Since it's apps are web-based, it relies on an active internet connection to work.
You can use it offline, but only for certain apps. You'll need to download the apps to the 16 GB of internal eMMC storage.
The ASUS Chromebit is great for people who want a basic computer for web browsing, email and documents, but don't have space for a traditional desktop or laptop. It's also perfect for small businesses that want an inexpensive, low-profile computer for their employees.
Best Chrome PC Stick
ASUS Chromebit CS10 Stick-PC
Get more out of your TV with the ASUS Chromebit. Access Google apps like Gmail, Docs, Sheets, Hangouts and so much more!
We earn a commission if you click this link and make a purchase at no additional cost to you.
---
Best Windows PC Stick: Azulle Access3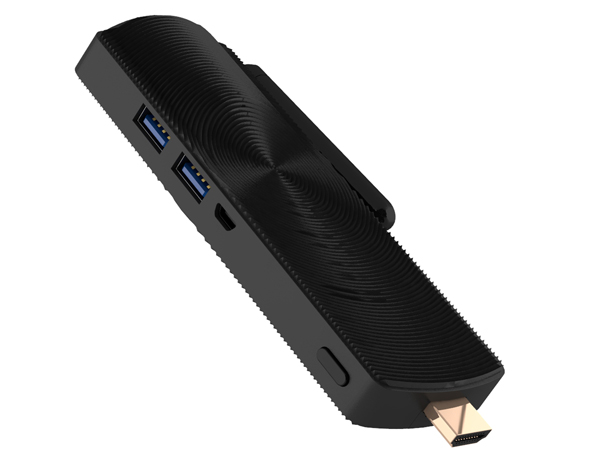 If you like the idea of a PC on a stick, but need Windows, then the Azulle Access3 might be what you're looking for.
Easily the largest HDMI stick on this list, the Azulle Access Plus comes in several different configurations to fit your needs.
You can choose from 2 GB, 4 GB or 6 GB worth of memory and either 32 GB or 64 GB of internal storage space. You can also choose between Windows 10 or Linux, depending on your configuration.
With so many options, the price can vary pretty wildly.
The Azulle Access3 starts at around of $140 but can easily be built out to cost around $350.
No matter how you configure it, the Azulle3 boasts an Intel CPU, two USB 3.0 ports, built-in Ethernet and micro-SD card slots. Because of it's small size, most devices will connect via Bluetooth. Azulle offers several bundles which include Logitech wireless keyboards or webcams.
This is obviously a very niche product.
For most people, an inexpensive laptop or desktop would be a better option. If all you need is basic computing and web surfing, then the Chromebit is a similar product at a fraction of the cost.
However, if you have custom software that will only run on Windows, then this is the stick PC that I'd choose.
Best Windows PC Stick
We earn a commission if you click this link and make a purchase at no additional cost to you.
---
Frequently Asked Questions
How does an Android TV Stick work?
Android TV sticks plug directly into the HDMI port on the back of your television and you control them using a Bluetooth or wireless USB remote control, keyboard or mouse.
Which is better: Android TV Stick or Android Box?
Even though Android TV sticks were around first, you'll generally find better technology in an Android TV box at similar price points.
Android TV sticks are great for specific use cases where you need portability or when you only plan on running very specific apps.
For example, the X96 S Android TV stick that I talked about earlier costs around $95. An Android TV box with similar specs would only cost around $60, but would give you more ports and upgradability.
However, if you need an Android device that's lightweight, portable and can essentially disappear behind your television, then an Android TV stick is the way to go.
How do you control an Android TV Stick?
Because Android TV sticks plug in the back of your television, how do you control them anyway?
Similar to Android TV boxes, you control TV sticks with a USB or infrared remote control. USB is most common, and it also lets you plug in a wireless keyboard or mouse as well.
Can you use an Android TV Stick in your car?
Many back-seat entertainment systems have an HDMI-in so you can attach a DVD player or game console to them. If your car's system does, then it's easy to add an Android TV stick instead.
However, if you're looking to add an Android TV stick to a screen in your front seats (like your navigation screen), then the answer is probably no.
Here in the United States, it's actually illegal to have a video playing anywhere that the driver can watch it. It's fine if the car is parked, with the handbrake engaged. However, most car manufacturers will disable entertainment screens while the car is in motion.
Can you get an Android TV Stick with an Ethernet port?
It's rare to find an Android TV stick with an Ethernet port. Most people choose a TV stick over an Android TV box because it's much smaller and portable.
That said, you can get the Rockchip RK3288 Android TV stick, which does have an Ethernet port built in. However, the chipset is already several years old and, at over $90, I wouldn't recommend it.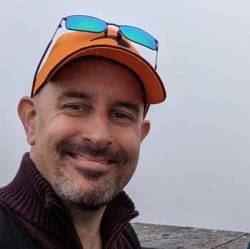 Latest posts by Tim Wells
(see all)