The Marauder Add-on is a popular addon for Kodi, developed by the same people who brought us The Crew addon. It lets you stream tons of new movies, TV shows and even music all from within Kodi itself.
Both are on my list of the best Kodi addons I've found in 2023. Check out the rest of the list after you're finished here!
In this article, I'm going to walk you through how to install the Marauder addon, and answer some of the more popular questions that you may have.
Let's get started.
---
How to Install The Marauder Addon on Kodi
In this tutorial, we're going to start with a clean installation of Kodi 18.9 Leia and install the Marauder addon.
Important Note: For version 19 (Matrix), Team Kodi upgraded the programming language they used to Python 3, which subsequently broke many popular addons who were built on Python 2. As a result, Marauder will not run properly on Kodi 19! You can still use it on previous versions of Kodi, however.
On this particular device, I haven't installed any other addons, or even set up my media library.
I find it's a lot easier to show you how to follow along if we start with a clean slate.
So even if this is the only thing you want to use Kodi for, just follow these instructions and you'll be streaming content in only a few minutes.
What Your ISP isn't telling you…
Your ISP knows more about you than you think!
Your IP address is your online fingerprint. It logs everything you do online and is visible to your Internet Service Provider, the apps & addons you use, and even the government.
Currently, your IP Address 44.200.101.84 in Ashburn is visible to everyone.
Kodi Builds & Addons offer unlimited free streaming content, but there are risks.
Stream safely with Surfshark.
The Best VPN hides your identity and bypasses geo-blocked content and government surveillance while letting you stream your favorite movies buffer-free.
I've tested all the major VPNs on Android TV boxes and recommend Surfshark. It's the fastest VPN for streaming and gives you access to the most geo-blocked content!
SAVE 81% ON Surfshark!!!
Try it risk-free for 30-days on unlimited devices at the same time.
---
Step 1: Enable Addons from Unknown Sources
By default, the only repository that's loaded on a fresh Kodi installation is their official repository. That includes hundreds of different addons to change the look & feel, add new video sources, backgrounds, or utilities like checking the Kodi log files.
Each addon is maintained by Team Kodi, or a major manufacturer's like HDHomeRun, in some cases.
It's enough to give you a good start.
However, many of the most popular addons aren't in the official Kodi repository. So in order to install additional addons from other repositories, we need to enable addons from unknown sources.
First, go to the Settings menu. You can get there either from the gear icon on the left-hand menu, or in the Add-ons tab.
Then, click on System, as shown below.
Next, scroll down to the Add-ons section.
Kodi gives you several different levels of settings to choose from. I'm in the Standard menu settings, as you can see in the image below.
No matter which level you choose, from Basic up to Expert, they'll all give you the option to enable unknown sources, so you don't need to change anything.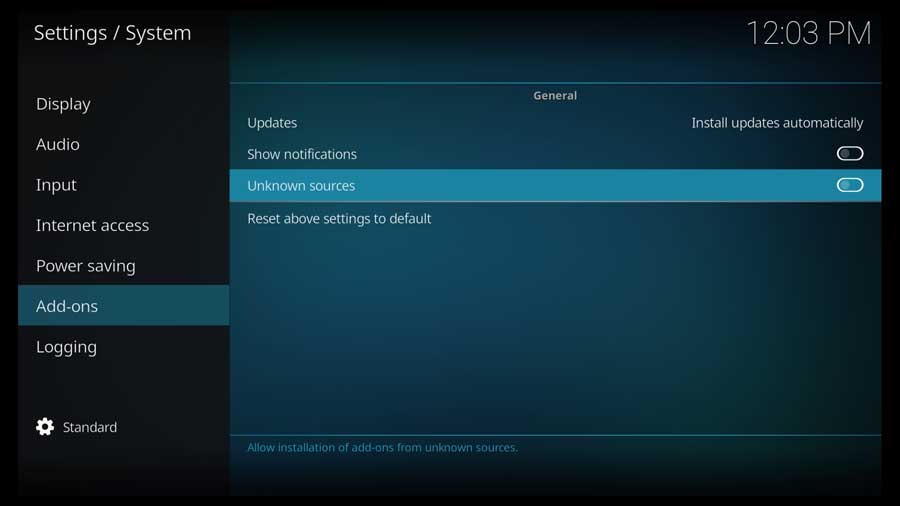 As soon as you click on the Unknown Sources toggle switch, a menu box will appear.
This explains that any addon you install will inherit the same permissions and rights as Kodi itself. That includes access to your device's files and network connections.
Even if you don't store any personal data on your Kodi box, never install an add-on that you don't trust.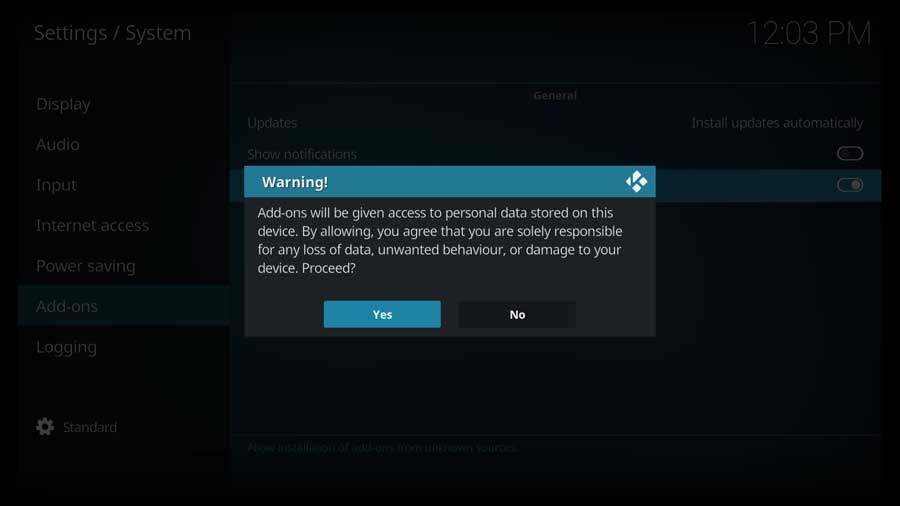 Once you click Yes on that message box, the toggle switch turns white, and you're able to install the Marauder addon, as well as any other unofficial Kodi addon.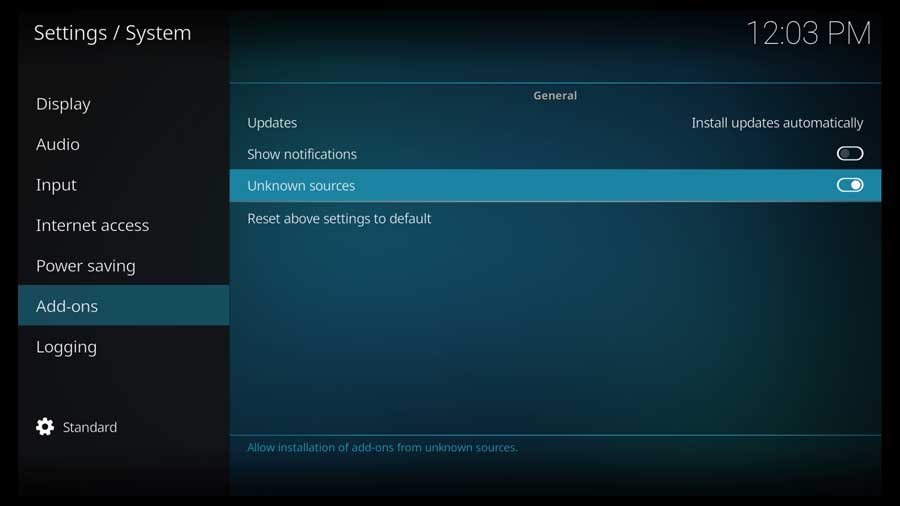 ---
Step 2: Add The Crew File Source
As I mentioned at the beginning, Marauder is developed by the same team that brought is The Crew addon.
In fact, they both use the same repository.
The first thing we need to do is add the location of The Crew's repository file before we can install the Marauder addon.
Go to the Settings/System menu and click on the File Manager icon.
This is the same place that we use to tell Kodi where we store our media files. However, this time, we're going to tell it where the repository file is located.
Click on Add Source to continue.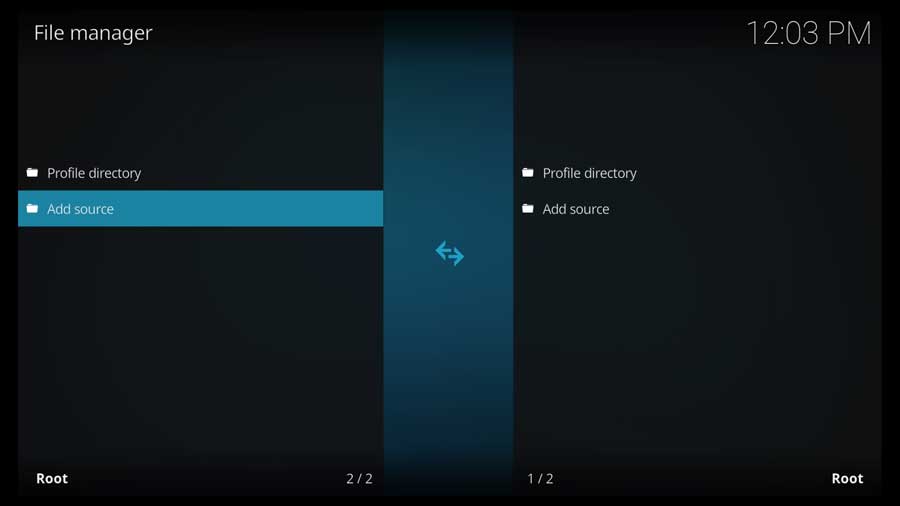 Highlight <None> and click on it to add a custom source.
This screen lets you input a specific file path, either on your device or on a network. In this case, we're going to use the network URL for The Crew's GitHub page.
GitHub is a website where a team of developers can store the code that they're working on so that everyone has access to the most up-to-date source code, no matter where they're working in the world.
Type in the following URL and click OK:
https://team-crew.github.io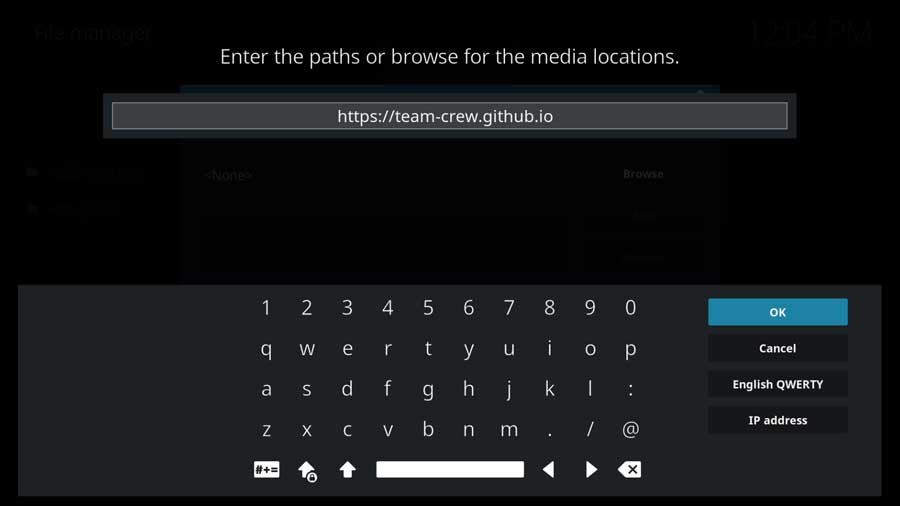 Next, create a name for this media source. This can be anything you want, but I recommend making it something that you'll quickly be able to tell what's in it.
I kept it simple and named mine Crew.
Click OK to continue.
Once you type in the URL location and source name, click OK to finish up this step.
Kodi will do a quick check to see that it can reach the URL. If everything works properly, it'll immediately take you back to the File Manager screen.
Your new custom file location will appear in the list on the left-hand side of the screen.
---
Step 3: Install The Crew Repository from Zip File
With that out of the way, let's install The Crew's repository file on your Kodi device, so we can install the Marauder addon.
Go back to the System menu and click on the Add-ons icon.
Next, click Install From Zip File.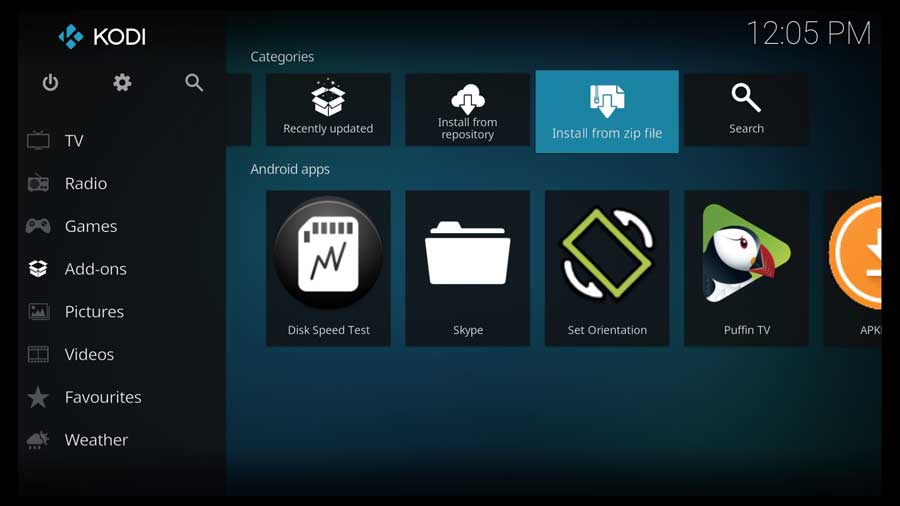 Once you click on Install from Zip File, you may see a pop-up window. This message reminds you that any add-ons you install from a zip file will not auto-update.
You will need to manually update them from time to time.
If you see this message, just Click Yes to close that popup box.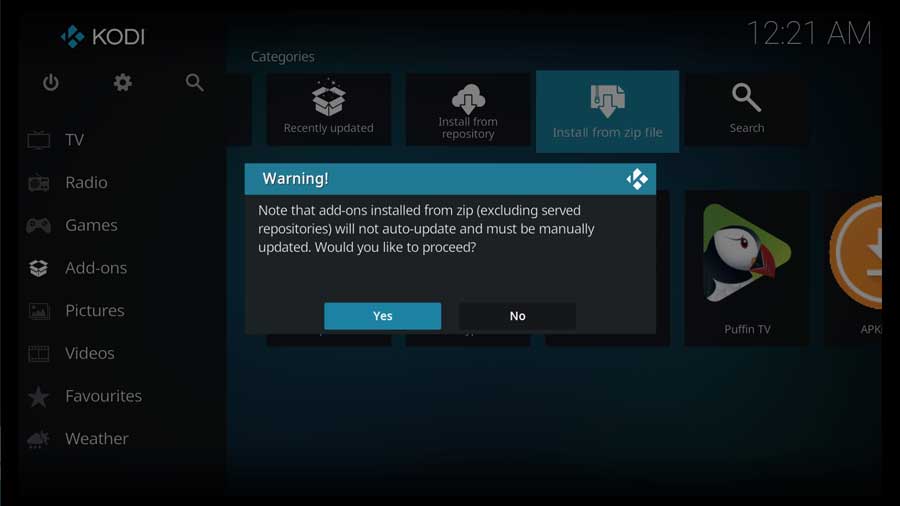 The next window shows all of the standard Kodi locations, as well as any custom file locations you've created on that particular device.
For example, if you have a network file share, it will be listed here.
Find the custom file name you created in the previous section. In this example, my source was named 'Crew', which is highlighted below.
Click on it to continue.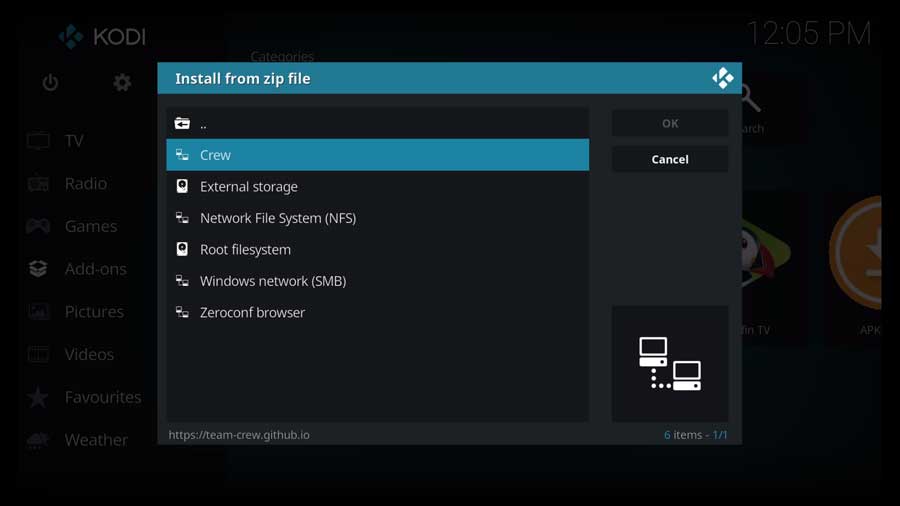 Next, click on the repository.thecrew zip file.
Don't worry if the version number appears a little differently than what you see below. Kodi will automatically pull the latest version from their GitHub site for you.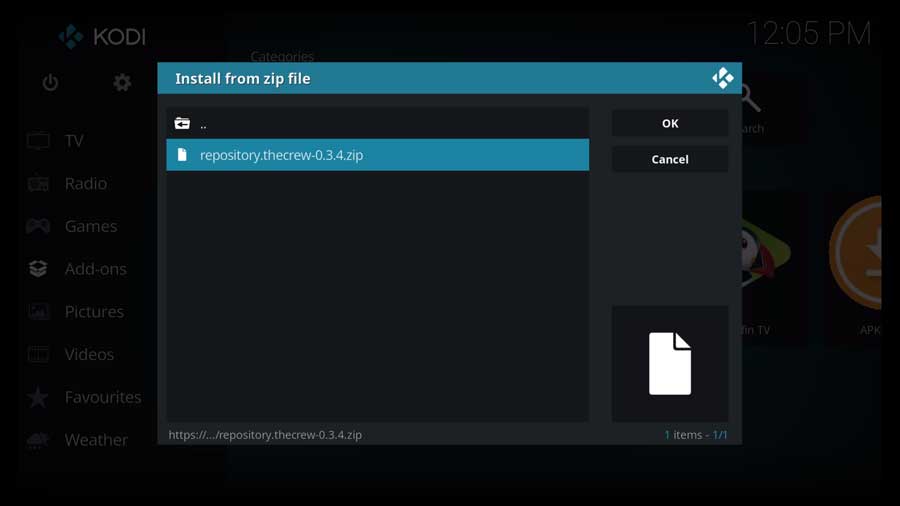 Kodi will take you back to the main Add-ons menu.
After a few seconds, you'll get a message box that The Crew repository has been installed.
---
Step 4: Install the Marauder Addon from the Repository
With the repository installed, we have one step remaining: to install the Marauder addon.
Click Install From Repository to continue.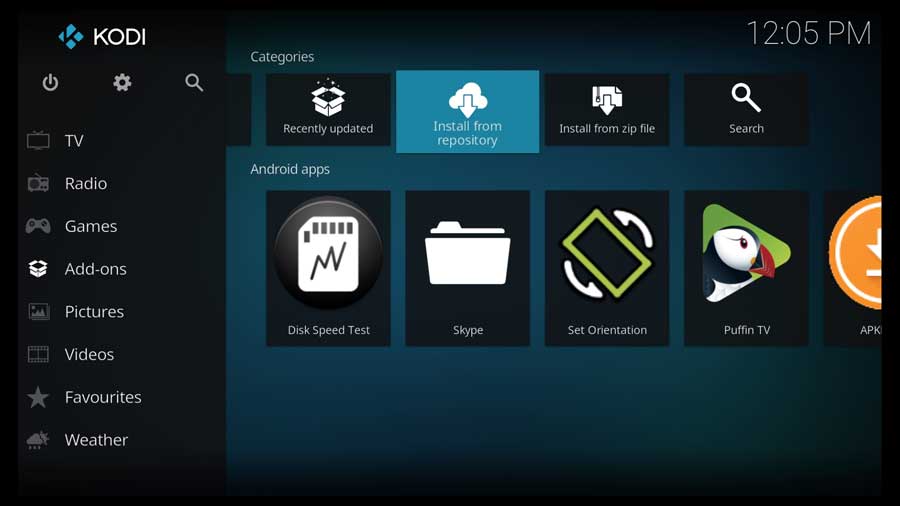 Remember, for this example, I'm installing the Marauder addon to a clean installation of Kodi 18.9. The only repositories that I have on this device are the official Kodi repository and the one we just installed.
You may have a lot more repositories on your system, and that's OK.
Scroll down until you see The Crew Repo and click on it.
That takes you to another menu with different categories. Each category will contain all of the individual addons included in The Crew Repo.
The Marauder addon is located in the Video Add-ons section.
Scroll down until you see Marauder.
Click on it to continue.
That takes you to the addon detail page. If you've installed anything from the Google Play Store or Aptoide TV, this should look very familiar.
Here you'll find more details on the addon, if the developers chose to add any. This could be different versions of the addon that are available, as well as any dependencies that will be installed along with the addon.
Many addon developers don't choose to include any additional information, and that's the case here.
Since there's nothing to see, click Install to continue.
Depending on your system, you may have additional addons that need to be installed as well. This depends totally on what you've already got installed.
Since this was a fresh Kodi installation, I had quite a few additional addons to install.
After a few seconds, you'll see a popup message the Marauder Add-on has been installed.
To launch the Marauder addon, go back to the main menu, scroll down to the Add-ons tab on the left-side menu and click on the Marauder icon.
---
Is Marauder Kodi Illegal?
No, it isn't illegal to download the service but after that it can get a little tricky. There is nothing illegal about using an app called "Marauder" if you want to stream content legally through your device.
The only thing that might get you into trouble would be watching pirated material. You want to pay attention to the distributors on this service.
Some of them will simply be torrents of TV shows and movies and downloading and watching those could be illegal in your particular country or area.
Does Marauder Have Ads?
Not at all.
This is one of the best things about Marauder. Unlike most apps out there that have ads everywhere, Marauder doesn't force its users to see advertisements while trying to access their favorite entertainment channels.
There aren't even any banners popping up during playback. Instead, Marauder lets you enjoy what you love without interruption.
How Does Marauder Kodi Add-on Work?
Once installed, Marauder can be accessed right away through the main menu of Kodi. From here, you can search for shows and movies available on each channel you wish to watch.
For example, you could type "Game Of Thrones" into the search bar and select "GoT" under the results list. Then, click play and start enjoying the latest episodes of GoT online.
Is Marauder Kodi Safe To Use?
Yes. If you follow our installation instructions carefully, then you will be able to use Marauder safely. However, please note that using third-party software such as Kodi makes your system vulnerable to malware attacks.
That said, since Marauder uses the same codebase as official Kodi repositories, it should not pose any threat to your PC.
Why Should I Use Marauder Kodi Add-On instead of Others?
Here are some reasons why you should consider using Marauder Kodi Add-on.
1. It Does Not Require A Subscription
Most of these types of addons do require paid subscriptions to use them. Suppose you already subscribe to certain services like Netflix.
However, with Marauder, you won't need a monthly subscription since it offers nearly unlimited streaming options.
2. It Works Great With VPN's
The best way to browse and stream safely is to use a VPN.
A VPN adds an extra layer of security to your Internet connection, increasing privacy.
When you connect to a VPN service, your real IP address gets masked, making it harder for ISP's to track your activity. As a benefit, you can change to a VPN server in a different country and stream content that you wouldn't otherwise have access to.
Plus, the added layer of encryption helps protect against hackers trying to steal personal information from your computer.
3. It Offers Fast Speeds
Compared to other similar addons out there, Marauder lets you to stream media files faster than ever. They use multiple servers located throughout the world, so you're less likely to run into the dreaded 'stream not available' error.
4. It Works Great No Matter What Device You Own
Whether it's Android, iOS, Windows 10, Mac OSX, Linux, Raspberry Pi, Chromecast, Firestick, Apple TV, or any other device that runs Kodi, the Marauder addon will work.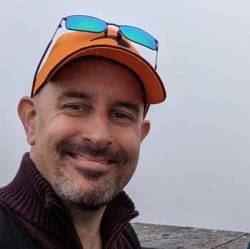 Latest posts by Tim Wells
(see all)