For years, FireFox users have had to sideload a mobile version of their favorite browser on their Android TV's.
Sure it worked, but it was clunky trying to browse the web on streaming device. The Android version was designed for a touchscreen, not a remote control. You really needed an air mouse to make it workable.
Back in late-2018, Mozilla released a version of FireFox specifically for the Amazon Fire TV.
Let's be honest. It wasn't great.
But it got a lot better since then.
These days, I'm excited to say FireFox TV is a great solution for Android TV users who want an alternative to Puffin TV or Google Chrome.
Unfortunately, most people still don't know it's an option.
Since it's not available through the Google Play Store, it flies under the radar. But in this article, I'm going to take you through two ways to sideload FireFox on your Android TV & NVIDIA Shield.
I'll also go over some of the cool new features and explain why this web browser is worth a look.
---
How to Install FireFox on Android TV [NVIDIA Shield]
I'm going to talk about two different ways to install FireFox on your Android TV. First, we're going to install it through the Aptoide TV app store. Then we're going to repeat the process with APKMirror.
Even though Aptoide TV didn't have the latest version of FireFox TV, I recommend installing it from there first.
Then, you can immediately switch over to APKMirror if you want the latest version. If you don't care about having the latest version, then you can skip that second step.
This is because, in my experience, installing an app through the Aptoide TV app store automatically creates a Leanback shortcut. If I sideload an app through most other methods, I needed to create a shortcut manually or use a sideload launcher.
I wrote a step-by-step article to walk you through creating a Leanback shortcut that you can add to your Android TV home screen. If you decide to install FireFox from APKMirror, be sure to check out that article.
---
Install FireFox TV on NVIDIA Shield from Aptoide TV
Installing FireFox TV through the Aptoide TV app store is super-easy.
Just be sure you're downloading the right version!
Open Aptoide TV and search for FireFox.
As you can see, there are several versions of FireFox available. Both the pure Android and FireFox for TV versions are recommended. There are also a few additional choices in the 'All Results' row.
Thankfully, it's pretty easy to tell the difference.
The one we want is FireFox for TV. Click on it to go to its app page.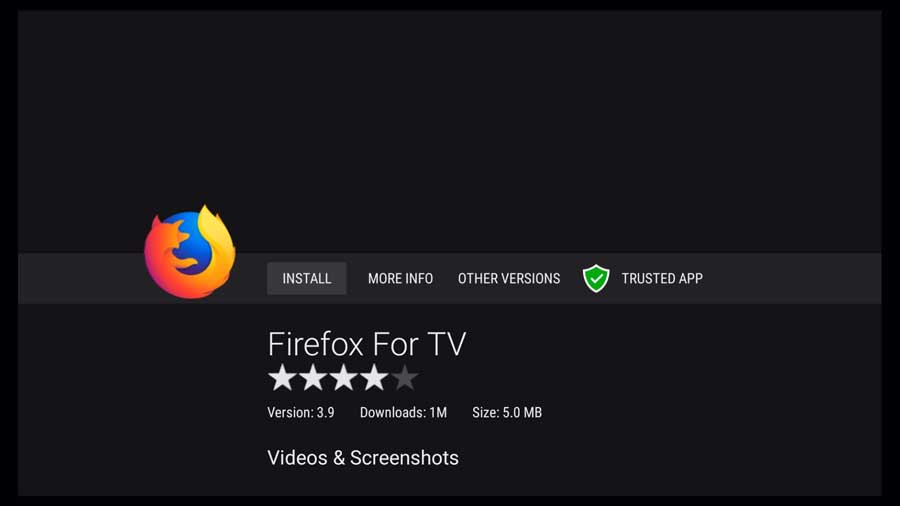 In addition to the name, there are two easy ways to tell the difference between the mobile version and the TV version of the app.
First, FireFox TV was only released in late 2018, so the version number is MUCH lower. You can find the latest version that Mozilla has released here.
In this image, you can see we're downloading version 3.9, which is the latest version that Aptoide TV has at the time I'm writing this.
Secondly, the install size is much, much smaller. FireFox TV is around 5 MB while the pure Android version is around 70 MB.
Once you're sure you have the right version, click Install to continue.
Once it's finished downloading, Aptoide TV will start the installation process automatically.
Since FireFox TV doesn't require any special permissions, click on the Install button to continue.
Once the installation process finishes, it'll automatically create a shortcut in your App tab of your Android TV.
---
Install & Update FireFox TV using APKMirror
Aptoide TV may be the easiest way to sideload apps on an Android TV, but if I'm looking for a specific version, my first stop is APKMirror.
You can get to APKMirror two ways: either directly through apkmirror.com, or through their official app. In this example, I'm going to show you how to do install it from their app.
To start, open the APKMirror app and search for FireFox TV.
If you just search for FireFox, it will return all of the pure Android versions as well. Searching for FireFox TV will make things a lot easier.
As you can see here, they've got version 4.7.1 of FireFox TV. That is the latest version at the time I'm writing this.
Click on it to go to the app page.
Scroll down until you see a button that says See Available APK's.
Click on it to continue.
Unless you're looking for a specific version, click on the latest version to go to the APK detail page.
Scroll down until you see the Download APK button and click on it.
Since the APK for FireFox TV is so small, it should only take a few seconds to download.
Once it's finished, exit out of APKMirror and open your favorite file manager. In this case, I'm going to be using X-plore.
APKMirror will save files in the Download folder by default.
So unless you deliberately changed that setting, you can navigate to that folder and you'll find the FireFox TV APK file.
Click on the APK file to start the installation process.
In this case, I'm upgrading my earlier installation. However, the process is the same whether you're upgrading or doing a fresh install.
Click Install to continue.
Once complete, remember to go back to X-Plore and delete the APK file. You won't need it anymore.
---
Using FireFox TV
What I like most about FireFox TV is its simplicity. Similar to Puffin TV, this browser keeps things very simple for TV users.
The top row is a simple set of icons for Navigate Back and Forward, Reload the current page, Pin (bookmark) the current webpage and turning Turbo Mode off and on.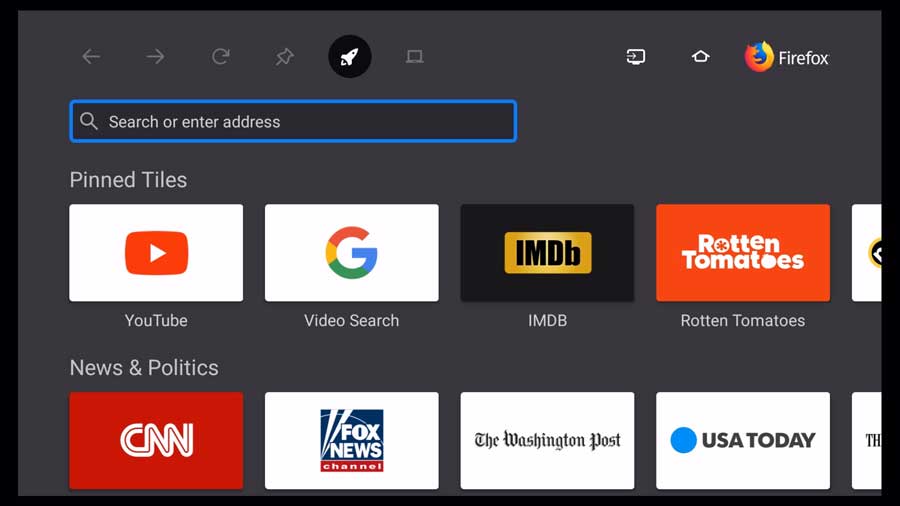 Underneath that are several rows of pinned tiles that you can customize to fit your browsing habits.
For example, if you don't want to see Rotten Tomatoes (for reasons which should be obvious), all you need to do is long-press on the icon. A pop-up menu will appear asking you if you want to remove it from Pinned sites.
Turbo Mode is a really cool feature that blocks third-party trackers so you can browse without being tracked. It also speeds up the web pages slightly, which is nice.
Finally, you can sign in to your Mozilla account and share tabs between your desktop and your Television.
---
Conclusion
FireFox TV is easily one of the best web browsers for Android TV. It's a fast, streamlined app that's super-easy to use.
With Puffin TV adopting a paid subscription model, this is an alternative that you should definitely check out.
For more great articles like this, head on over to my NVIDIA Shield TV resource page. There you'll find all of my tips, tricks, reviews and tutorials to help you get the most out of your NVIDIA Shield.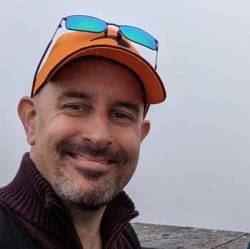 Latest posts by Tim Wells
(see all)