Last Updated on September 6, 2023 by Tim Wells
You can buy a new Amazon FireStick or Fire TV at major stores like Best Buy, Target, Home Depot, Lowe's, or Kohl's. However, there's one notable exception.
You can't buy an Amazon FireStick or the new FireStick 4K Max at Walmart.
Actually, you can't buy any Amazon products at Walmart. Walmart doesn't carry the Kindle tablets, Alexa devices, Amazon's integrated FireTV sets, or the FireSticks and FireTV Cube.
Although you can install the VUDU streaming app on the FireStick, which Walmart owns, they don't even sell Amazon gift cards.
In this article, we're going to explain why.
---
When did Walmart Stop Selling Amazon FireSticks?
Believe it or not, Walmart stopped selling Amazon products several years ago.
As far back as 2012, Walmart stopped selling the Kindle tablet, Amazon's hottest-selling product at the time.
Amazon hadn't entered the streaming market yet. In fact, the major streaming device at the time was the original Roku, which was still very much a niche product.
However, every Kindle sold was another customer who might stop shopping at Walmart and instead decide to shop on Amazon from the comfort of their couch.
Walmart saw the Kindle as the gateway product into Amazon's ecosystem.
But as popular as the Kindle was for its time, it pales compared to Amazon's FireStick and Fire TV devices.
So Walmart quietly removed the FireStick from its shelves in early 2017 and hasn't looked back since.
Instead, Walmart doubled down on its longstanding partnership with Roku, developing several exclusive editions that can only be found there. These include the Express+ and Premier+ Roku players, and they've recently started marketing limited edition onn. streaming players running Roku's operating system.
Walmart never gave an official reason or even a press release explaining their decision to stop selling the Amazon FireStick.
However, experts suspect that the growing competition between the two retail giants played a massive factor in the decision.
Nonetheless, if you are looking for streaming devices, there are other options you can get at Walmart.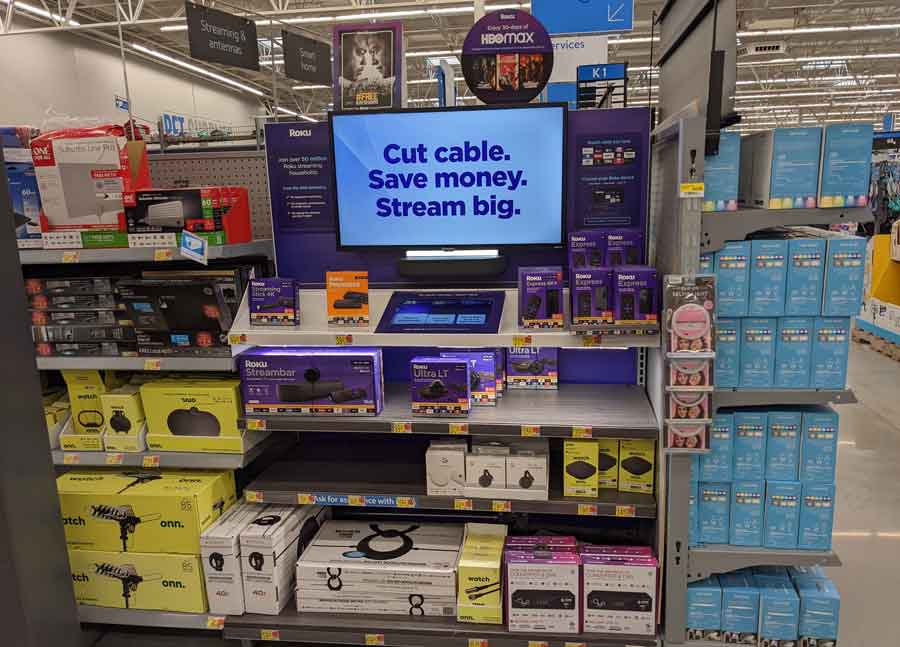 ---
What Other Media Streaming Devices Does Walmart Sell?
Walmart does sell multiple other forms of media streaming devices, such as:
Roku players
Apple TV
Google Chromecast
NVIDIA Shield
onn. streaming devices
Walmart has several different Roku devices that you can choose from. The most standard type, the Roku Express, starts at around $30. You can also find the Roku Streaming Stick for about $50, the Roku Ultra for approximately $60, and the Roku Ultra for just under $100.
Walmart also sells the new Apple TV and several different versions of the Google Chromecast. The store sells both the HD and 4K versions of the new Chromecast with Google TV model costs.
Essentially, Walmart carries a lot of alternatives to the Amazon FireStick that offer a similar experience at a reasonable price.
---
If Walmart Doesn't Sell the Amazon FireStick, Who Does?
You can purchase the FireStick on the Amazon website, at Target, or at stores like Best Buy. Other retail stores that sell the Amazon FireStick include Lowe's, Bed Bath and Beyond, GameStop, and Staples.
If you can't find the FireStick in any retail store, it's unlikely that Amazon would be out of stock. Check out the Amazon website for the FireStick streaming device.
At some stores like Target, you can get the Alexa Voice remote and the Amazon FireStick.
Essentially, if you're looking for the whole kit, you can purchase the FireStick along with the Alexa Voice remote and another streaming media player.
Even though you can't buy the Amazon FireStick or Fire TV at Walmart, plenty of other stores still carry it.
Amazon Fire TV Stick 4K Max
40% more powerful than FireStick 4K, for faster app starts and navigation
Watch in vibrant 4K Ultra HD with support for Dolby Vision, HDR, HDR10+ and Dolby Atmos
Stream more than 1 million movies and TV episodes from Netflix, Prime Video, Disney+, Peacock, and more
Watch live TV, news, and sports on SLING TV, YouTube TV, IMDb TV, Pluto TV, Tubi, and more.
We earn a commission if you click this link and make a purchase at no additional cost to you.
---
What is the Amazon Fire TV Stick 4K Streaming Device?
The Amazon Fire TV Stick 4K Streaming Device is merely one of the latest versions or models of the Amazon FireStick product. You can purchase it on Amazon, and it comes with the Alexa Voice remote.
The significant features of the Amazon Fire TV Stick 4K Streaming Device, along with the Alexa Voice remote, include:
Providing a home theater experience
Ongoing and never-ending entertainment options ranging from Peacock, Netflix, Disney+, and Prime Video subscriptions
Ability to watch in 4K Ultra HD
Option to watch live TV
Alexa Voice allows you to implement your voice to search for shows via mobile apps
Ability to authorize a smart home's devices
A quick and simple set-up process
Small and compact, which means it won't take up much space
Furthermore, the Alexa Voice remote allows you to manage mute buttons and the volume while letting you launch whatever movie you're interested in watching. The Amazon Fire TV Stick 4K Streaming Device will also give you excellent picture quality.
---
Frequently Asked Questions
Here are some answers to some common questions regarding the FireStick:
Does Walmart Sell Accessories or Remotes for the Amazon FireStick?
No. Although the occasional third-party accessory may be available, Walmart doesn't sell any Amazon-branded products, including replacement remote controls or accessories.
What's the Difference Between the FireStick and Chromecast?
The Amazon FireStick and Chromecast with Google TV are both popular streaming devices that offer access to a variety of streaming services.
The FireStick has a simpler interface and Alexa voice control, while the Chromecast with Google TV offers more advanced features such as personalized recommendations and support for Google Assistant. The Chromecast with Google TV also has a built-in Google ecosystem, allowing users to easily access other Google services such as Google Photos and Google Play Movies & TV.
How Long Do Amazon FireSticks Last?
If you don't treat your Amazon FireStick carelessly, the FireStick streaming device can last anywhere from three to five years.
How Do I Connect My FireStick to My Television?
If you want to connect a new FireStick Streaming Device to your smart television, follow the steps below.
Plug the FireStick's power adapter into the outlet and link the USB cable to the power adapter
Plug the other part of the USB cable into the Fire TV Stick. Now plug the FireStick tool into the television's HDMI port
For the 4K version of the FireStick device, be sure to use your TV's HDMI HDCP 2.2 port or the port marked as 4K.
How Can I Be Sure My App Runs on an Amazon Fire TV Device?
You can look at the amazon.hardware.fire_tv feature. You should also pay attention to the exact FireStick model by looking for the model number.
Do I Need Amazon Prime to Implement the Amazon FireStick?
No, you do not need Amazon Prime to use all the different features of the Amazon FireStick.
All of the apps and capabilities can be used without requiring an Amazon Prime membership. However, those with an Amazon Prime membership can access the app through the FireStick.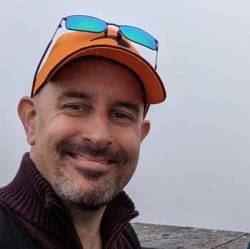 Latest posts by Tim Wells
(see all)