Last Updated on June 23, 2023 by Tim Wells
Are you tired of Google's personalized content suggestions, or the endless number of ads on your home screen? Maybe it's time for a new launcher for your Android TV.
I recently tested every Android TV launcher you can download from both the Google Play Store and Aptoide TV to see which is the best.
Since choosing a home screen launcher is largely personal preference, in this article, I'm going to show you a few launchers that I think are amazing, and a few I recommend staying away from.
More importantly, for each one, I'm going to explain why you should download it. You probably won't like every launcher on my best of list, but I guarantee you'll find one you like.
Before we start, let's talk about an easy way to switch between different launchers on your Android TV device.
---
How to Switch Between Android TV Launchers
Unlike the smartphone version of Android, Google makes it incredibly hard to change the default launcher on Android TV. In fact, you can't do it without root access.
But that doesn't mean you're out of luck.
The best way I've found is an app called Home Screen Launcher. It's available in the Google Play Store, so it's easy to install and really easy to use.
It automatically populates a list with every launcher you've installed on your Android TV device. Unfortunately, you can't set a launcher to open automatically every time you restart your device, but it lets you switch from one theme to another.
---
How the Test Works
For this test, checked out every Android TV launcher that I could find without needing to sideload the APK file on to my device. Most are free downloads, but there are a couple of premium apps as well that you'll need to download. For those launchers, I've listed the price at the time I'm writing this. I've also marked them with an (*) in the heading.
Almost all of these were available on the Google Play Store, but you can also find them on alternative app stores like Aptoide TV. All screenshots are taken from my MINIX NEO T5, running Android TV 9 (Pie).
Then, I divided everything into two categories: the launchers that I would put on my own personal Android TV devices, and those that I would take a pass on.
Obviously this is totally subjective. What I like, and what I'm looking for in an Android TV launcher might not be what you're looking for. So I've tried to give as much information on the experience and screenshots so you can make up your own mind.
---
The Best Android TV Launchers
If you're looking to swap out the stock Android TV launcher, any one of these four launchers would be the best options. Each has a slightly different take on what a TV launcher should be, but you can't go wrong with any of them.
---
HALauncher
HALauncher, or Handheld App Launcher, is one of the few launchers on this list that drastically changes the way Android TV looks – and does it well.
To be fair, the look and feel isn't for everyone. I got flashbacks of the Puffin TV browser when I opened HALauncher for the first time. There's a menu bar that takes up about a third of the screen on the left-hand side. Fortunately, it disappears as soon as you dive into each section.
HALuancher has a lot of personalization options, such as changing the tile sizes, font sizes, and nearly every color you see on the screen. It even has a simple web browser built-in that works with the D-pad on your remote control.
It handles both Leanback (native Android TV) apps and any apps that you've sideloaded, making it a replacement for a sideload launcher as well.
On the negative side, it does have ads in the Settings menu. Oddly enough, it has a setting that you can turn them off however.
Price: Free
Last updated: July 2019
Ad supported, but can be disabled via Settings menu.
---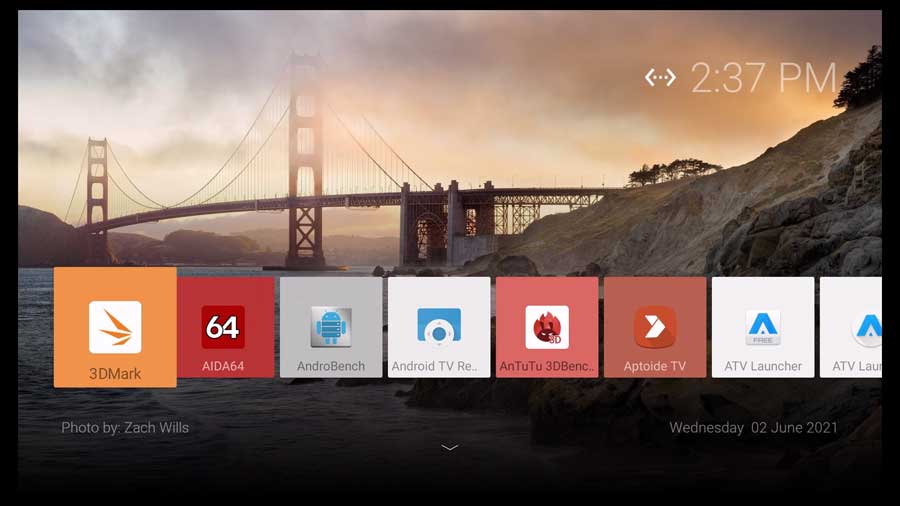 SimpleBox (*)
Even though it's a premium app, SimpleBox is my favorite launcher if you want a different look for your Android TV, without getting too drastic. The best way to describe SimpleBox's interface is "Material Design meets Apple TV."
Apps are arranged on a horizontal row, just below the center of your screen. If you're not the side-scrolling type, you can click down on your remote's D-pad and see all of your apps displayed on a grid.
There are a few customization settings that you can change. However, these are limited to the wallpaper options and the color of the backgrounds for the app's tiles.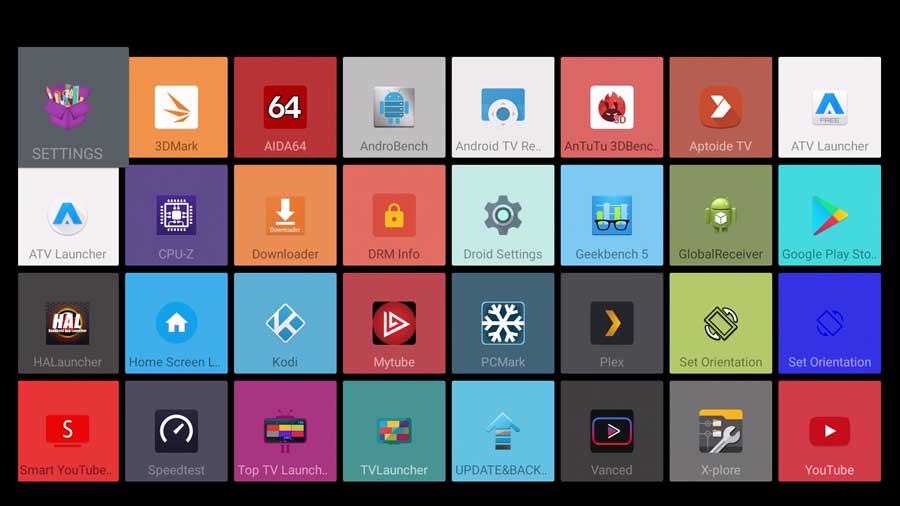 If the built-in wallpaper isn't doing it for you, you can opt to use your own wallpaper instead. There's even an option to change the image anywhere from 1 minute all the way up to 30 minutes.
My one complaint is that there's only one setting for the icon's background image for both the main screen and the 'all apps' screen. Personally, I'd like to have transparent backgrounds on the main screen and full-color ones everywhere else.
Hopefully, the fact that I had to get that nitpicky to find anything wrong tells you something about the SimpleBox launcher. It's a super-clean launcher that performs really well. I'm often disappointed by premium apps, but this is one where I'm happy to support the developers!
Price: $2.49
Last updated: February 2018
No Ads
---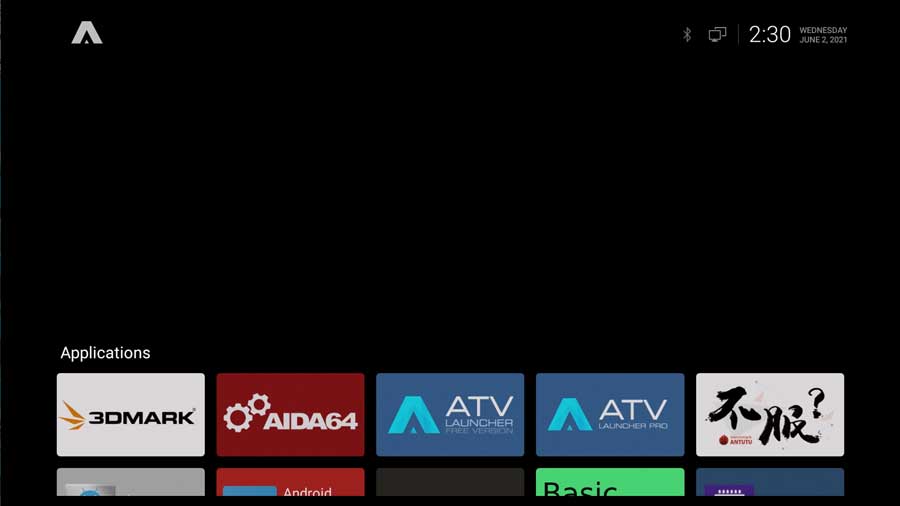 ATV Launcher (*)
ATV Launcher comes in two versions, free and Pro. Aesthetically, they both look identical, however there are some additional features in the Pro version that may be worth the $2.99 price tag.
First, let's talk about the design.
The top 2/3 of the screen is reserved for a widget area, or, if you prefer, space to see your wallpaper image. Widget support isn't universal, however. Many devices aren't supported, including the MINIX TV box that I was testing.
When I tried to add a simple app shortcut widget to my home screen, I got an error message. Not the best first impression for a premium app.
Scrolling down displays all of your installed apps in a grid format. This includes all of your Leanback apps as well as sideloaded apps. By default, this starts out as an alphabetic list, however, you can move apps around if you want.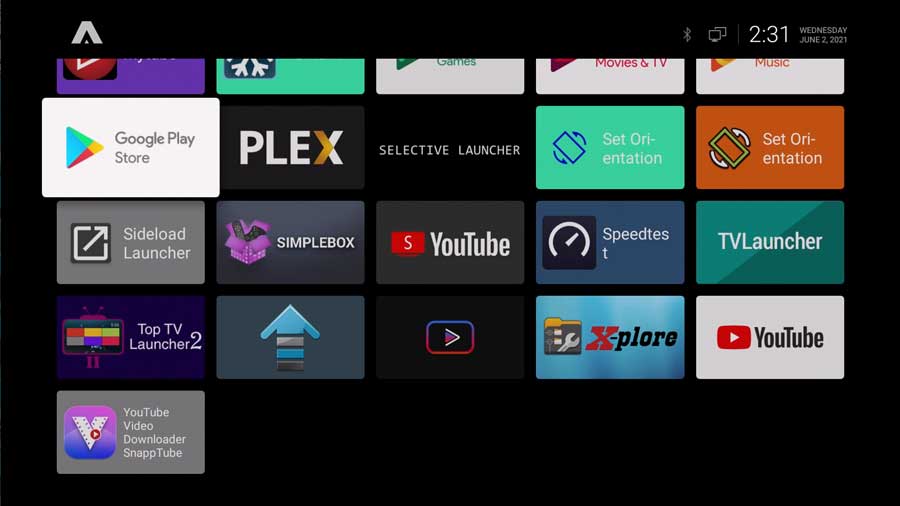 Essentially, that combines the typical Android TV Favorites channel and your All Apps tab into one grid. Pretty cool idea, actually.
The Pro version of ATV Launcher adds a few handy features like creating custom, password-protected folders for your apps, hiding certain apps, and customizing the look and feel of the app grid.
Free and Pro version – $2.99
Last update: August 2019
No Ads
---
Basic Launcher
Remember the old Android TV launcher?
I mean…before Google started cluttering it up with ads, and personalized content suggestions, more ads, Play Next, even more ads, featured apps, and, you guessed it…more ads.
Then you should take a serious look at the Basic Launcher for Android TV.
This is about as simple and minimalist a launcher as you can get. At less than 1MB in size, it's incredibly snappy and lightweight.
However, as the name implies, it's a basic launcher. You won't find any features to customize. No custom rows. No nothing.
You can get to all of your apps one of two ways.
You can either scroll right or left until you find what you're looking for. Or, you can click on the Apps icon at the left-hand side of the screen, which opens up an grid window on the right-hand side of the screen. No matter which you choose, I always felt like everything I needed was right on this main screen.
Obviously, you're giving up a lot when you use Basic Launcher. However, if you still want the Android TV experience, without all the extra fluff, then could be just what you're looking for.
Free
Last updated: September 2020
No ads
---
Android TV Launchers I'd Avoid
Now that we've seen the best, it's time for the rest. These are the launchers that just weren't ready for prime time. There were a few reasons why a launcher ended up on this list, but it all boils down to this: I wouldn't use these on my Android TV device, and I can't honestly see a reason why anyone would.
That's not to say that they're bad (in most cases), but I think any of the options above would be a much better choice.
---
Selective Launcher
Your eyes aren't playing tricks on you. Selective Launcher looks very similar to HALauncher, but I think it falls short in nearly every way.
Selective Launcher has a menu bar along the left-hand side of the screen. Strangely though, the apps are grouped into buckets based on the first letter of their name. From what I can tell, the buckets are arbitrary, based on what you have installed on your system.
Unlike HALauncher, there aren't any customization options. In fact, there are only two real options to speak of.
You can choose to show System Apps, or keep them hidden. That seems like a very limited use case to me. I've never used a system app so often that I would need it on my Android TV home screen.
You can also hide a particular app. That's a little more useful, if you're the kind of person that keeps your home screen as simple as possible. However, in order to see it again, you'd need to un-hide all the apps, which puts you back to square one.
Finally, at the time I'm writing this, there are no reviews for this app on the Google Play Store and only a few thousand total downloads. Personally, I'd prefer to get a little more feedback this launcher before I'd put it on one of my Android TV devices.
Free App
Last updated: January 2020
No ads
---
TV Launcher 3
If it looks like TV Launcher is something straight out of 2015, that's because it is. In fact, the original version came out two years before that, all the way back in 2013!
To be fair, I don't think that TV Launcher 3 is a bad launcher. Back when it was released, Android sticks and TV boxes were basically just getting started. It was a big deal to have a launcher that actually looked good on a TV screen.
But those days are long gone. Personally, I expect more from my launcher – especially if I'm replacing the stock Android TV launcher.
TV Launcher 3 has four main tabs, which act as folders for app shortcuts. They are Favorites, Media, Games, and Utilities. You can also create a new tab, if you want.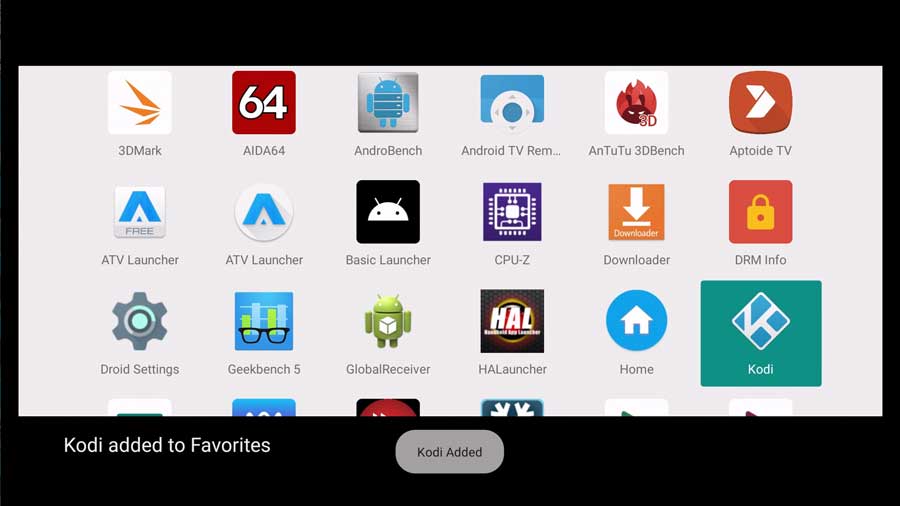 It's easy to add an app, bookmark or URL shortcut to a tab. Or, if you prefer, you can get to all of your apps in grid-form, by clicking on the icon in the upper right-hand corner of the screen.
There are a few customization options, including changing the size of the app icons, number of rows or adding a wallpaper for your background.
Compared to the other Android TV launchers on this list, TV Launcher 3 has a very dated design. Another red flag is that it doesn't seem to not be supported any more. I would definitely pass on this one.
Free, but you can "remove ads" for $2.99
Last updated: March 2017
Ad supported
---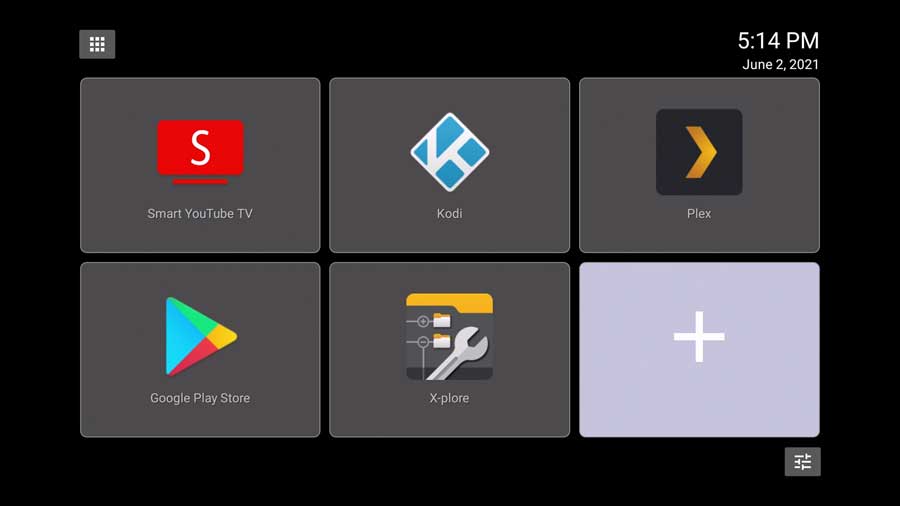 Simple TV Launcher
Simple TV Launcher is the only Android TV launcher on this list that was not available on the Google Play Store. It is available on Aptoide TV, however. Unfortunately that means that there's no Leanback shortcut created when you install this app, so you actually need to open a Sideload Launcher first, before you can start this launcher.
The overall design is very dated, much like TV Launcher 3. However, Simple TV Launcher seems to execute on that design a lot better.
By default, the main screen has space for six icons in a 2 x 3 grid. However, you can adjust that up to 6 columns and 3 rows, for a total of 18 icons. That's usually more than enough for most people, but you can always go to the full app drawer using a button on the home screen.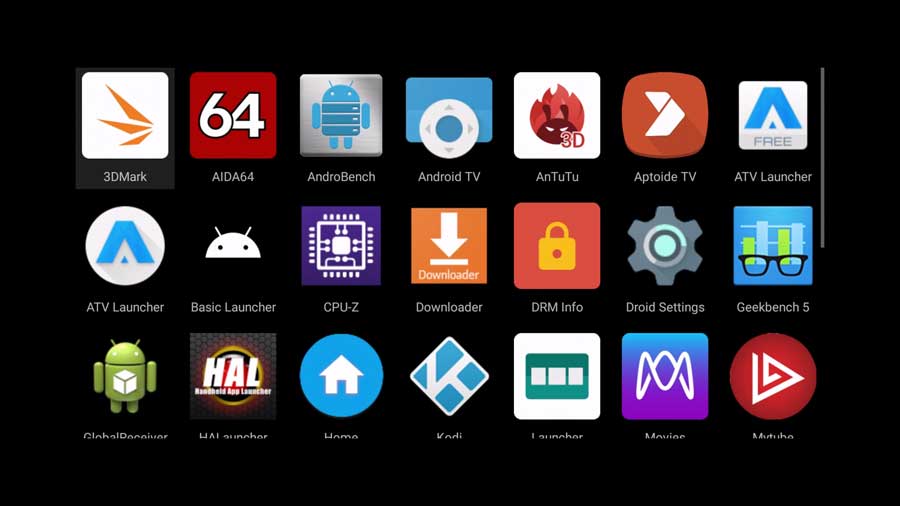 This launcher is designed to be super lightweight and streamlined, so there aren't a lot of customization options. Besides changing the number of icons that can fit on the home screen, you can also add a custom wallpaper and display the date, but that's about it.
This is another launcher that I think is well suited for TV boxes running pure Android, but I can't see a use for it on a device running Android TV.
Free (Not on Google Play)
Last update: December 2020
No Ads
---
Top TV Launcher 2 (*)
Top TV Launcher 2 was created by the same developers that made Sideload Channel Launcher, which I featured in my How to Create a Shortcut on the Android TV Home Screen article. As much as I liked that app, I think this one misses the mark.
That said, I'm probably not the target audience for this one. I want something simple, that I don't have to spend a lot of time configuring.
And there's a lot to configure. You can change the size and number of apps in the app drawers, text size, border colors, change the layout, background wallpaper, and add or remove folders. Depending on your device, you can even add widgets to the background.
The developers provided so many configuration options in this launcher, it's easy to get overwhelmed.
It would be nice if there was some sort of tutorial showing you how to configure everything, or even some images on their website showing what's possible with the app.
The first time I opened the Top TV Launcher 2, I felt like I was using an Android box from 2018. The graphics are great, and I love that it has all of these options to customize it. However, I want to spend my time watching content on my Android TV, not configuring the launcher.
Paid app – $2.98 (Trial version available)
Last Updated: June 2018
No Ads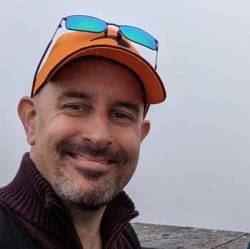 Latest posts by Tim Wells
(see all)