One of the things that I love most about Android TV's is that you can navigate around the screen with nothing more than your TV remote.
Sometimes though, it would be nice to have a full size keyboard, especially when you're surfing the web or entering your Wi-Fi password.
The trouble is the onscreen keyboard still takes up half the screen, even if you're using an external keyboard.
In this article, I'm going to show you a quick way to disable the onscreen Android TV keyboard and stop it from hiding half of your screen.
---
How to Disable Android TV Keyboard
Android TV, like the pure Android OS, lets you customize the virtual keyboard layout that you see onscreen.
Most of us will just change it from QWERTY to alphabetical, or maybe a keyboard with bigger buttons.
But there's an app called Null Keyboard that will let you disable or hide the keyboard entirely using the same process.
Null Keyboard is designed for pure Android, not Android TV, so it isn't available on the Google Play Store. However, you can find it on Aptoide TV so it's not much of an issue.
If you haven't heard of Aptoide TV or need a refresher on how to install it, you should check out my article where I show you step-by-step how to sideload Aptoide TV on your Android TV box and get access to thousands of apps that aren't on the Google Play Store.
Download Null Keyboard
From within Aptoide TV, just click on the magnifying glass icon to search for Null Keyboard. The app we're looking for should be the first one listed.
Once you click on the Null Keyboard icon, click Install to start the installation process.
There are no special permissions required, so the installation should complete in a few seconds.
Once you see this screen, click Done and then exit out of Aptoide TV.
Enable Null Keyboard
When you're back on your home screen, click on the gear icon to get to your Settings menu. If you don't have an icon on your home screen, you can find your Settings menu icon in your Apps Drawer or All Apps menu.
Once you're at your Settings menu, click on Device Preferences.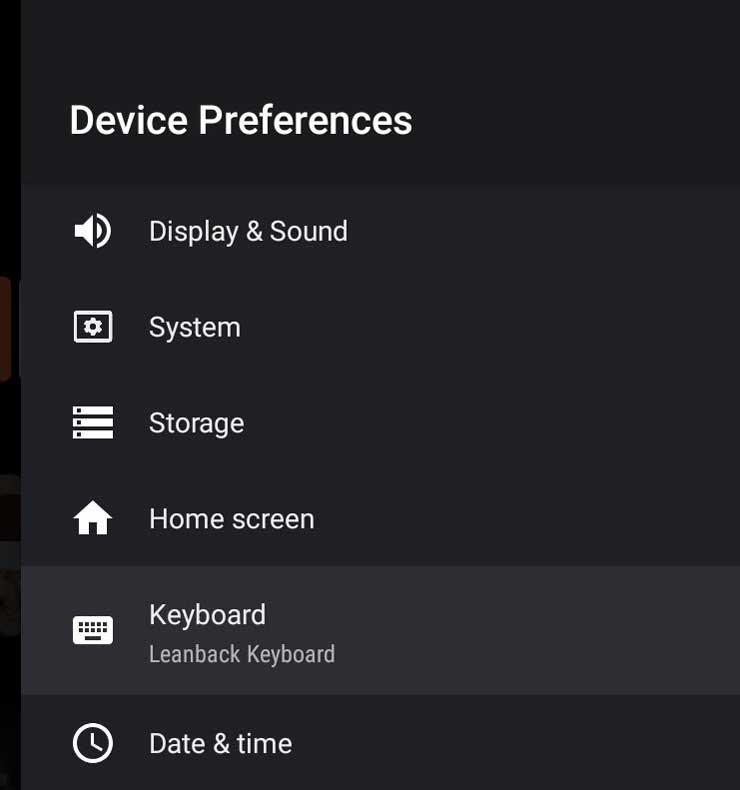 Next, click on Keyboard.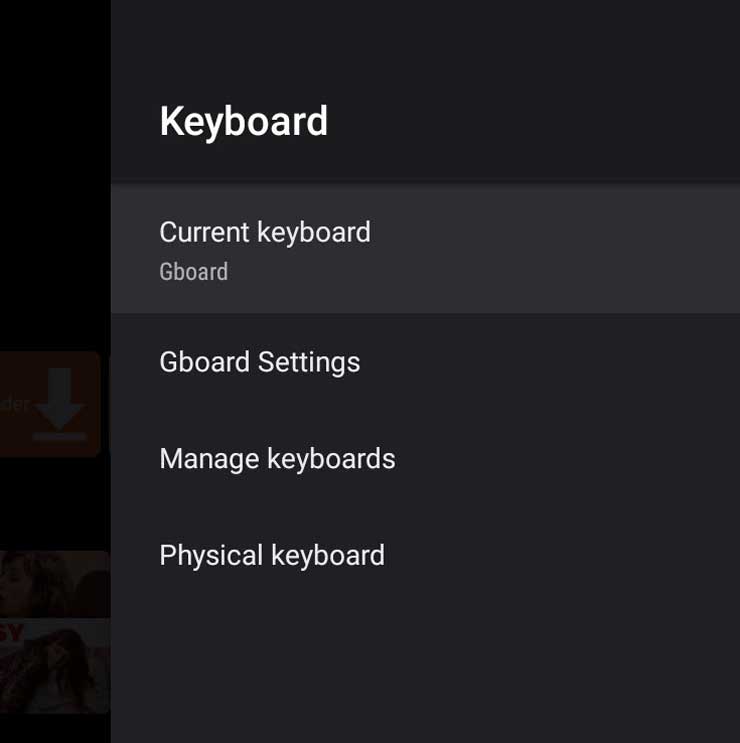 Here you can see a snapshot of which virtual keyboard is active for your Android TV device. Since i have an external keyboard connected, I've also got the Physical Keyboard menu.
Click on Manage Keyboards to continue.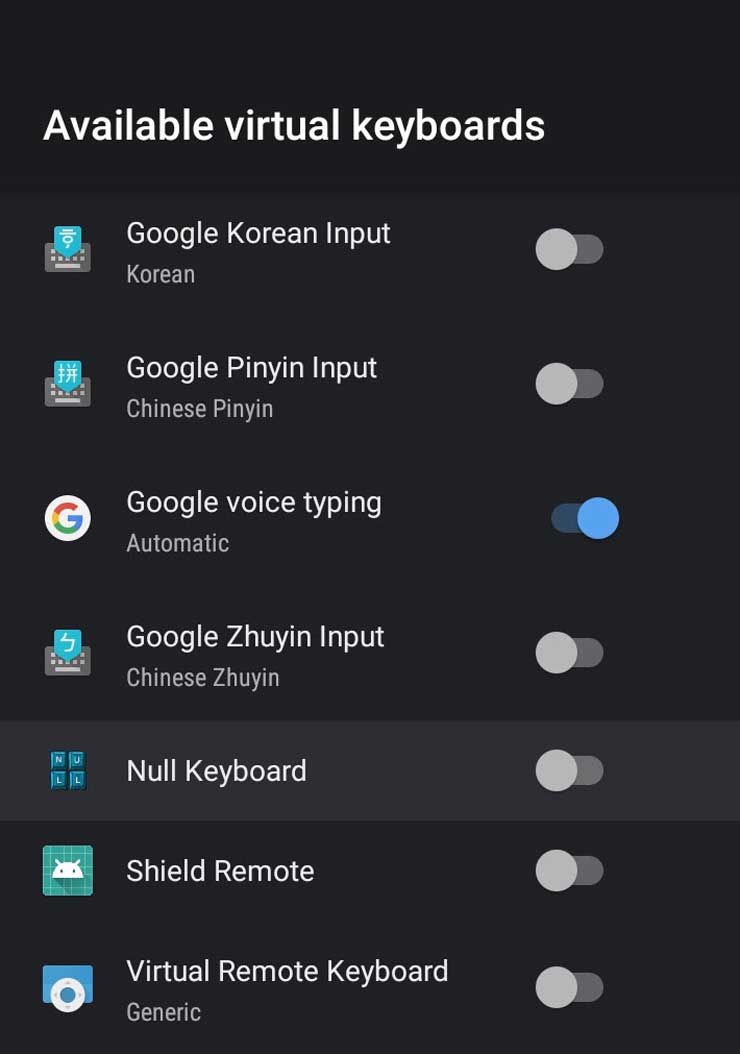 This will show you a list of all of the virtual keyboards that you have installed on your device. It's also where you can change the different keyboard layouts to different languages or even specific uses in the same language.
Here, we're just going to enable Null Keyboard by flipping the switch next to it.
When you do, you'll see a warning box appear.

Since this is a third-party app, Google wants to make sure that you're aware of the potential risks.
Click OK to continue, then go back to the Keyboard Menu.
Set the Active Virtual Keyboard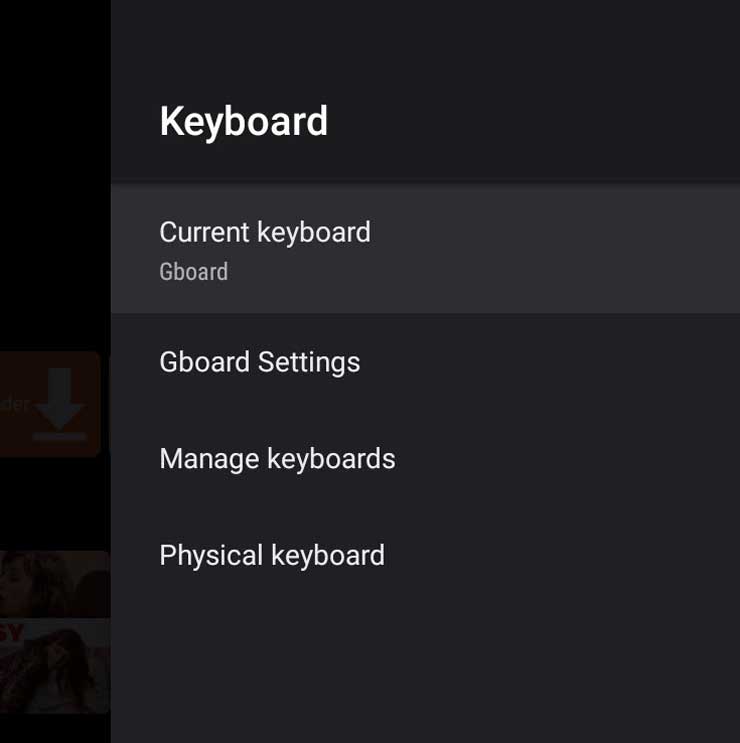 This time we're going to click on the Current Keyboard menu.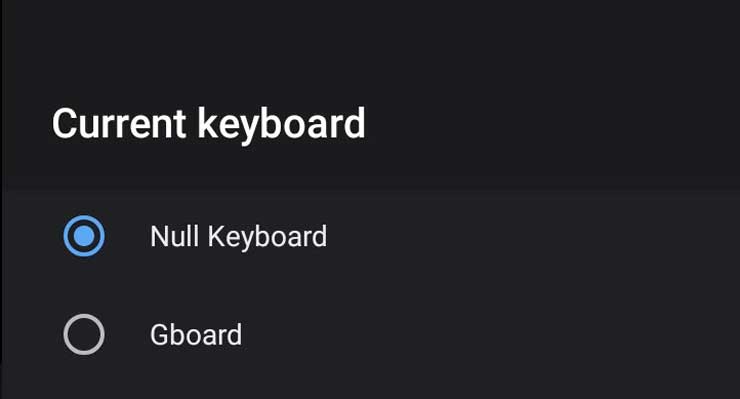 Here you can select which virtual keyboard is going to be active for your Android device.
Click on Null Keyboard to continue.
Now whenever you type in an input box you won't see the onscreen keyboard. Null Keyboard effectively hides it on your Android TV box.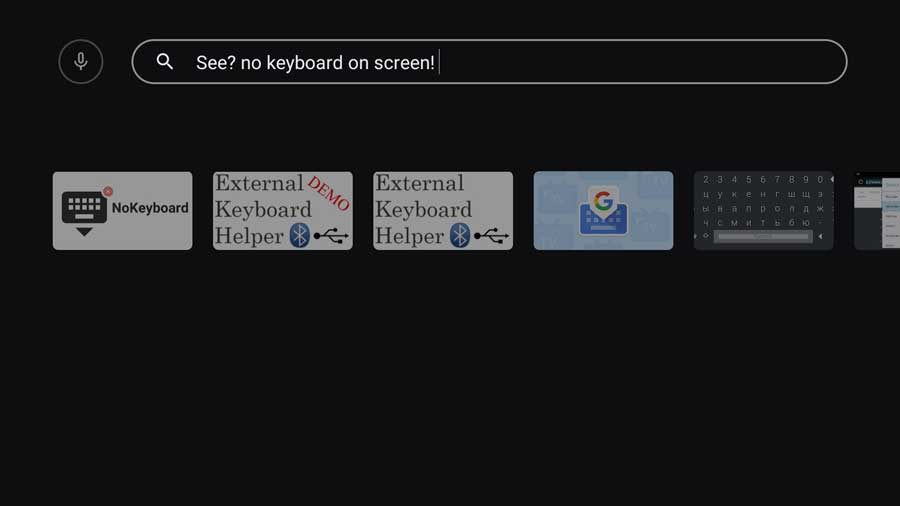 As you can see in this image, I'm typing in the search field using my wireless keyboard and there's no keyboard onscreen!
Turning the Onscreen Keyboard Back On
To turn on the virtual keyboard again, it's a simple matter of going back to the Keyboard menu and switching back to Gboard or the Leanback Keyboard, whichever you prefer.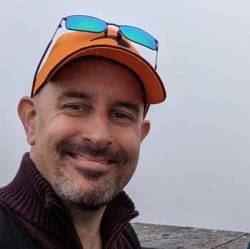 Latest posts by Tim Wells
(see all)