Last Updated on September 6, 2023 by Tim Wells
The TiVo Stream 4K was an instant hit when it was announced at the Consumer Electronic Show (CES). The Wall Street Journal even named it to their Best of CES 2020 list. Unfortunately, when the new Chromecast with Google TV was released later that year, it stole some of TiVo's thunder.
There's a lot to like about the TiVo Stream 4K, even though it doesn't get as much attention as the Chromecast.
This article will review TiVo's inexpensive streaming device to determine how good it is.
---
TiVo Stream 4K: Specs
The TiVo Stream 4K looks similar to many Android TV sticks and dongles I've reviewed before.
It's running the AmLogic S905Y series CPU. The Y-series of AmLogic's processor is designed for smaller form-factor devices (like sticks and dongles) that don't require as many ports or Ethernet.
Performance numbers are generally lower than a similar spec X-series CPU. However, you're sacrificing ports and performance for portability and ease of use.
RAM and system storage are adequate, 2GB and 8GB, respectively.
TiVo uses DDR4 for its system memory, so you can expect a slight performance bump over equivalent TV sticks with DDR3 while consuming less power.
As I mentioned, there isn't much in the way of ports on the TiVo Stream 4K. In fact, all you get is a micro-USB port for power and a single USB type C port for any accessories you want to add.
---
Hardware
CPU: AmLogic S905Y2, Quad-Core Cortex A53 Processor (32-bit mode)
GPU: Mali-G31
RAM: 2GB DDR4
Storage: 8GB eMMC Storage
802.11 b/g/n/ac 2.45/5G MIMO 2T2R Wi-Fi
Bluetooth 4.2
Software
Android 9.0 Pie
Rooted: No
Dimensions
Ports
HDMI 2.0a (4K @ 60Hz)
Micro-USB 2.0
USB-C
---
TiVo Remote
I don't love the TiVo Stream 4 K's remote, but I don't hate it either.
Let me explain.
I'm a fan of simple remote controls. All I need are a few buttons in the right places.
So I do not appreciate having a full number pad or dedicated buttons to open Netflix with a single click.
In my opinion, those "features" usually make the remote control less comfortable and harder to use.
To an extent, that's true with the TiVo Stream 4 K's remote, but it wasn't as bad as I expected.
This remote is larger than the new Chromecast with Google TV's remote by about 20%, but it still feels comfortable to hold. The back is curved into two distinct 'bubbles' that make it easy to carry and won't accidentally slip out of your hand.
The circular D-pad is placed a little lower than I expected. Still, it ends up being exactly where my thumb naturally rests.
Above the D-pad are eight additional buttons: volume and channel up\down buttons, power, and an input selector. There's also a dedicated button to open the TiVo Stream app and the channel guide. We'll cover that app in more detail later.
Underneath the D-pad is a massive button to run Google Voice Assistant and a dedicated Netflix button. The back and home buttons are aligned to the lower left of the D-pad, where I like them. On the other side is a Skip and Live button. Below those are the numeric keypad so you can enter channel numbers directly.
All-in-all, it's a surprisingly comfortable remote control, even if it looks a little busy at first glance.
---
Setting up the TiVo Stream 4K
Almost every Android TV device has the same setup process, with only a few exceptions.
The TiVo Stream 4K is definitely one of those exceptions. It can throw you for a loop if you're not expecting it.
The initial setup process is the same. You pair your remote, sign in with your Google account and select your Wi-Fi network.
Once you're connected to the Internet, the TiVo Stream 4K will check to see if it's running the latest firmware and update itself automatically.
That was a 730MB download, so be prepared to sit there while it installs. After that finishes, you can choose to pre-install some apps that Google has found on your other streaming devices.
Here's where it gets interesting, though.
Registering your TiVo Stream 4K
TiVo requires you to go to their website, create an account and register your device. This isn't uncommon. Amazon requires you to register Fire TV devices as well. We're just not used to seeing it on an Android TV device.
Once you create a TiVo account and link your device, TiVo asks you some personalization questions to understand what kind of movies and TV shows you like.
This is all to give you better recommendations for the TiVo Stream app.
It's a simple "Do you prefer Show A or Show B" question. You're only required to go through a couple of them before it lets you continue.
Then, you can select specific TV shows and movies to add to your playlist.
This helps with the personalized recommendations but automatically puts these shows front and center when new episodes come out.
Finally, you can select what streaming services you subscribe to.
Personally, I really like manually selecting my streaming services instead of letting the system choose what it thinks I'd be interested in.
Once that's complete, you're (finally) taken to the familiar Android TV home screen.
---
TiVo Stream App
Unique to the TiVo Stream 4K is the TiVo stream app. Unlike most apps and custom launchers, you can't install it on other devices or sideload it from sites like APKMirror.com.
Let's discuss what the TiVo Stream app is…and isn't.
It's a front-end only, curating content from all your streaming services and live TV sources like Sling TV, IMDb TV, and Pluto TV.
Being a front-end, movies and TV shows are played in the service's native apps.
For example, if you scroll through the integrated TV guide and find a show you want to watch, it'll open Sling TV to play the video.
TiVo Stream has trending & recommended videos, like most apps.
What makes it different than, say, the recommended content on Google or Amazon's Fire OS is that TiVo Stream gives you the option of which service you want to watch it on.
If it's available on more than one service, YOU get to choose which one to watch it on.
It has a good mix of free and paid content, but it recommends content I needed to purchase more than I'd like.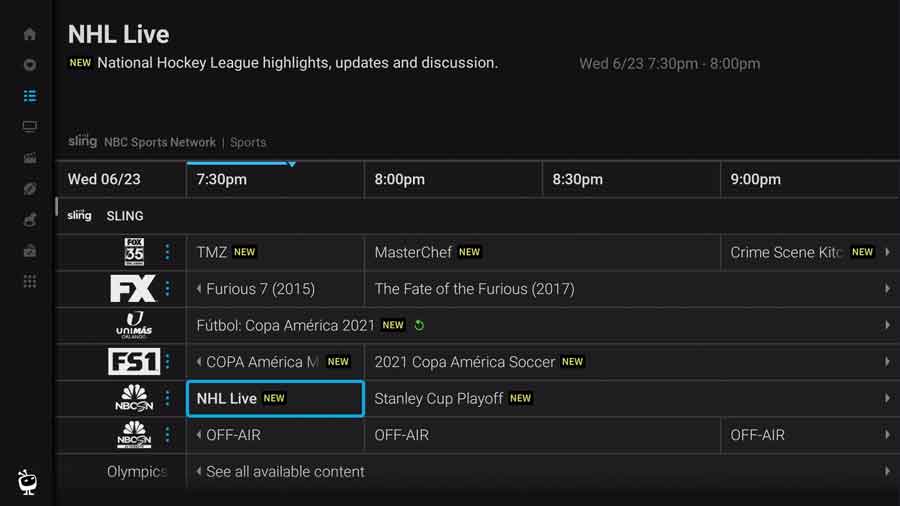 If directly choosing content isn't your thing, you can select your streaming services to open their apps. That gave me the impression that the TiVo Stream app was designed to be this device's main launcher rather than the stock Android TV launcher.
I suspect that has to do more with Google's requirements and not any hesitation by TiVo. Still, it feels like a missed opportunity.
---
TiVo Stream 4K: Video Performance
Typically, I only get to use a new streaming device for a week before writing a review.
Because of my publishing schedule for this site, I got to test the TiVo Stream 4K for three weeks to get a good idea of what it's like to live with this device long-term.
For Plex and Kodi, I played several movie and music files from my personal library. Both run from a Windows 10 server, hardwired via Ethernet. For YouTube, Netflix, and Amazon Prime Video, I tested HD and 4K videos. I looked for dropped frames, stuttering, and resolution.
My home network uses a Ubiquiti US-8-150W gigabit Ethernet switch and a UAP-AC-PRO-US wireless access point. It provides much more network capacity than I need, so if there are any network slowdowns, I can rule out the network as the cause.
YouTube
4K YouTube was amazing. There were no dropped frames, which is always impressive over Wi-Fi. Picture quality was exceptional, and I could skip around the videos quickly without too much lag.
Plex
I've got no complaints about Plex on the TiVo Stream 4K. Both movies and music played well, with no skipping or dropped frames. Moving from chapter to chapter was quick, with only minor buffering.
Kodi
Kodi felt slower than I'm used to when navigating around the menus and performing any actions.
Videos started after a few seconds of buffering, but once they did, playback was seamless. Performance was good, with no dropped frames or audio out-of-sync.
Everything eventually worked, but be prepared to wait a little longer than you're used to.
Netflix \ Amazon Prime Video
You'd expect Netflix and Amazon Prime Video to perform really well. After all, the TiVo Stream 4K is aimed at consumers looking at a 4K FireStick or Chromecast.
For the most part, you'd be right. Netflix's performance is excellent. Menu navigation is quick, and there was no stutter or audio delay on any videos I played. Even 4K videos played well.
Amazon Prime Video was a little laggy in the menus.
I regularly had to wait for a second or two going from the main menu to a show's detail page. Once the video started, though, playback was seamless. I could fast forward and quickly jump to a different chapter in the video.
That minor hiccup aside, I have no complaints about using the TiVo Stream 4K for either Netflix or Amazon Prime.
---
TiVo Stream 4K vs. Chromecast with Google TV
At the beginning of the article, I said that the new Chromecast with Google TV stole much of the hype from the TiVo Stream 4K.
Sure, the Amazon FireStick is the dominant force in that segment. But, for better or worse, the Chromecast is the TiVo's biggest competitor.
Both devices are remarkably similar.
They both run the official Android TV operating system and have similar hardware specs. There's a slight difference in processors, however.
The Chromecast runs the AmLogic S905D3, which has four ARM Cortex-A55 cores. It's better suited for AI voice recognition in TV boxes geared more towards voice recognition than the older S905Y2 CPU in the TiVo Stream 4K.
It's reasonable to believe that the Chromecast will get more frequent Android updates. Google has been known the prioritize its Pixel smartphones above other manufacturers, so we shouldn't expect anything different here.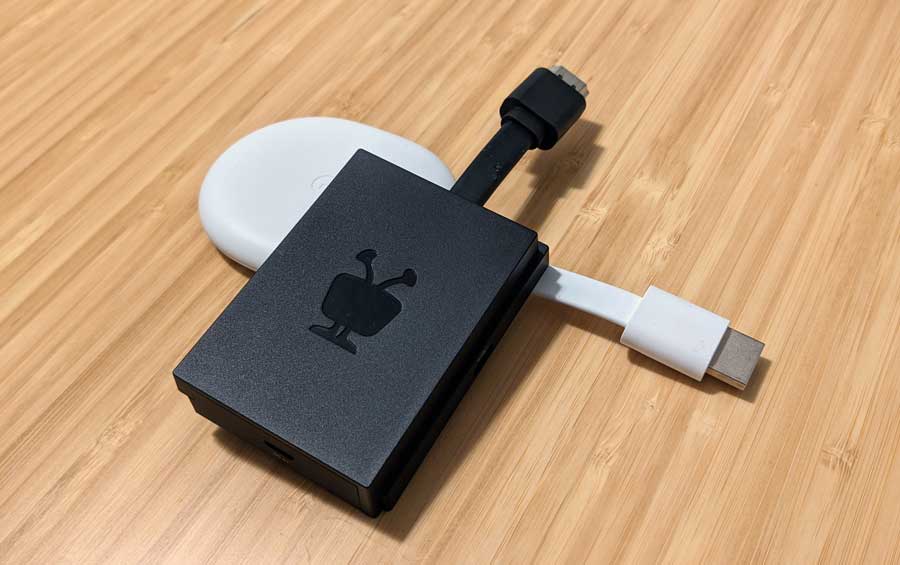 Those updates aren't always welcome, however.
The pushback against the updated Google TV launcher rolling out to Android TV users is a perfect example of unwanted updates.
Still, the exclusive TiVo Stream app is an excellent alternative to the new Google TV launcher.
It's not perfect by any stretch. But its integrated channel guide and ability to select or exclude streaming services is a nice touch. Usually, I'm not too fond of dedicated buttons on the remote. Still, it's handy to launch this directly with a single button click.
Bottom line: If you're addicted to Google Assistant or exclusively use voice search, Chromecast may be the better option. However, with its live-TV integration, a custom launcher that looks across all of your streaming services, AND a lower price, the TiVo Stream 4K should be a better option for most people.
---
The Verdict: Is the TiVo Stream 4K Worth It?
The TiVo Stream 4K is pretty impressive for a budget streaming device.
It usually lists for $39.99, but it's regularly on sale for $29.99 from most major retailers. That gives you a great 4K streaming device at the same list price as the 1080p FireStick and around half the cost of the Google Chromecast.
With that, you get a custom app that integrates all your streaming services into one place and has a built-in guide for live TV.
The performance isn't outstanding if you plan to use it to watch your own media through Kodi or Plex. It'll work, but there are better options.
However, if you primarily use IPTV streaming services like Netflix, Amazon Prime, or Sling TV, the TiVo Stream 4K is an excellent device at a fantastic price.
TiVo Stream 4K
Recommendations Across All of Your Apps: Get rid of the walls between what you watch. TiVo recommends your next favorite shows and movies based on what you love, not where they live.
We earn a commission if you click this link and make a purchase at no additional cost to you.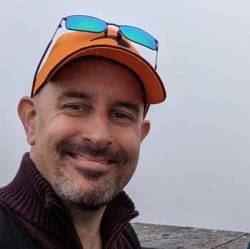 Latest posts by Tim Wells
(see all)