Last Updated on September 6, 2023 by Tim Wells
One of the things I hate most about setting up a new device or streaming service is entering my email address and password. Let's face it, remote controls weren't designed to do much typing on.
Thankfully, adding a keyboard to your Amazon FireStick or FireTV is really easy.
Whether you want a mini-keyboard attached to your FireStick remote or an HTPC keyboard that's only there when you need it, there's a solution that's right for you.
In this article, I'll cover how to set up and connect a Bluetooth keyboard to your FireStick or FireTV. Amazon released a new look for FireOS in 2020. I include screenshots for both the old and new versions in case you haven't updated your FireStick.
Then I'll talk about two of my favorite keyboards: a full-size, Bluetooth keyboard and a mini-keyboard that fits snugly on the back of your FireStick remote.
But first, let's talk about why you should choose a Bluetooth keyboard over a wireless radio frequency (RF) keyboard.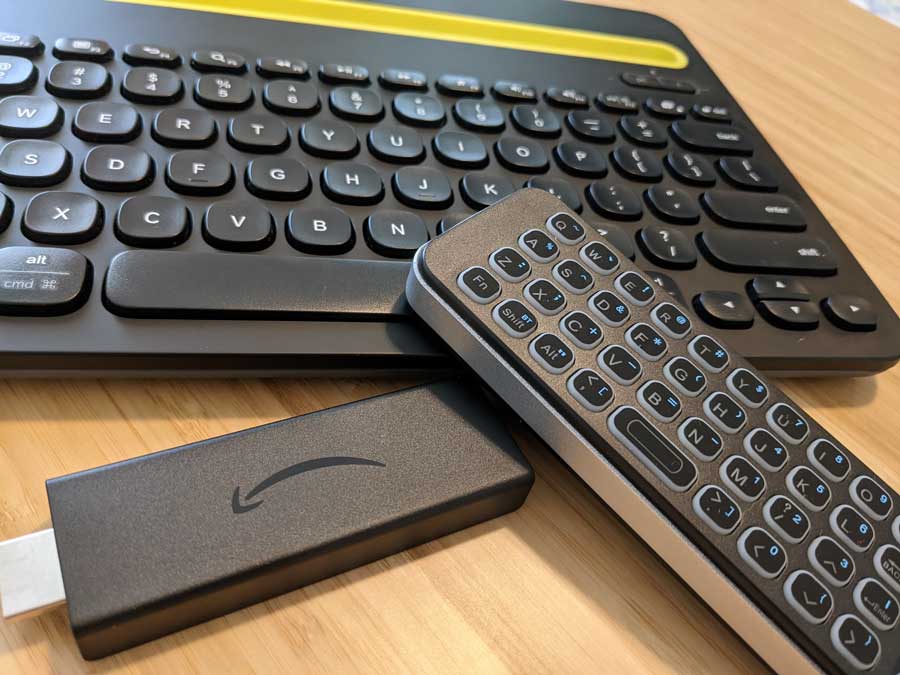 ---
Why Bluetooth Keyboard for Your FireStick?
Although it's not as easy to set up, Bluetooth is much easier to use than wireless RF. You can pair Bluetooth accessories with several devices simultaneously and switch back and forth anytime.
Because there's no wireless receiver to plug in, you don't need to waste one of your USB ports.
Bluetooth doesn't require line-of-sight, so no more pointing your remote control directly at your FireStick to get it to work. You can hide your FireTV behind the TV or inside your entertainment center.
Most importantly, Amazon eliminated the USB port with the FireTV dongle in 2017. If you have any of the newer FireTV and FireStick models, which is likely, you don't even have the choice to use a wireless RF keyboard.
---
How to Connect a Bluetooth Keyboard on FireTV & FireStick
No matter your Bluetooth keyboard, it's easy to set up on your FireTV or Fire Sticks.
As I mentioned, Amazon changed the interface for all FireTV devices at the end of 2020. The new layout is optional, so you don't have to update it if you don't want to.
So, although the process is the same, the screens will look very different depending on your settings and which version of FireOS you have.
Don't worry. I've got screenshots for both.
To get started, put the keyboard or remote in Bluetooth pairing mode. This is going to be different, depending on what device you have.
In most instances, a button combination or long-press will do this. But this is the one place where you'll need to check the documentation for your keyboard for specific instructions.
1. Go into the Settings Menu on your FireStick.
2. Click on Controllers and Bluetooth Devices.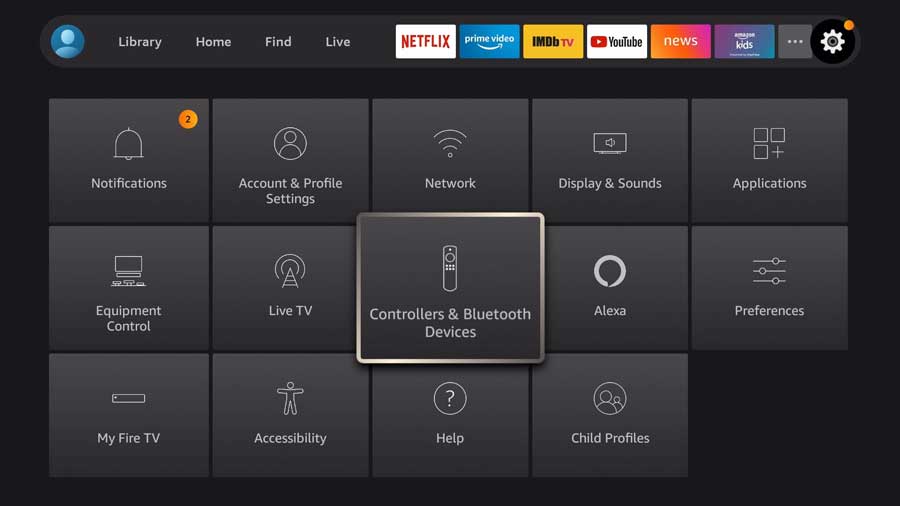 3. Click on Other Bluetooth Devices.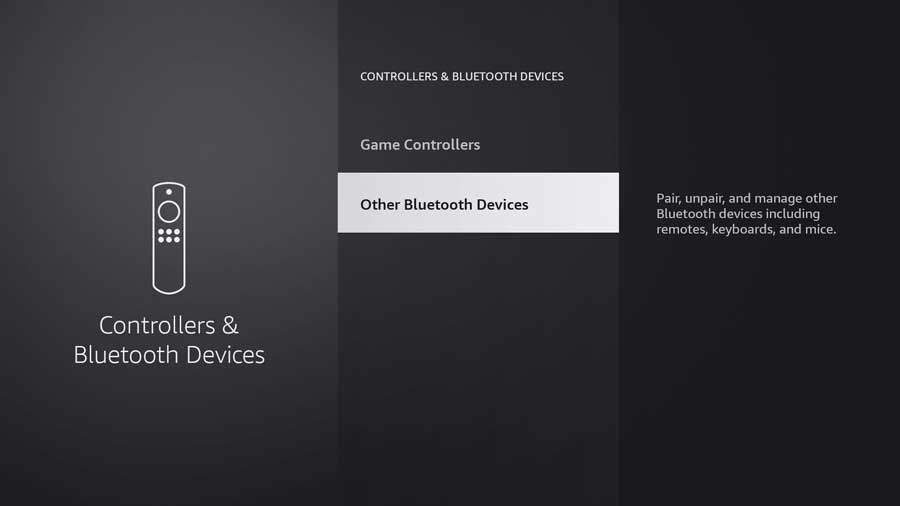 4. Click on Add Bluetooth Devices.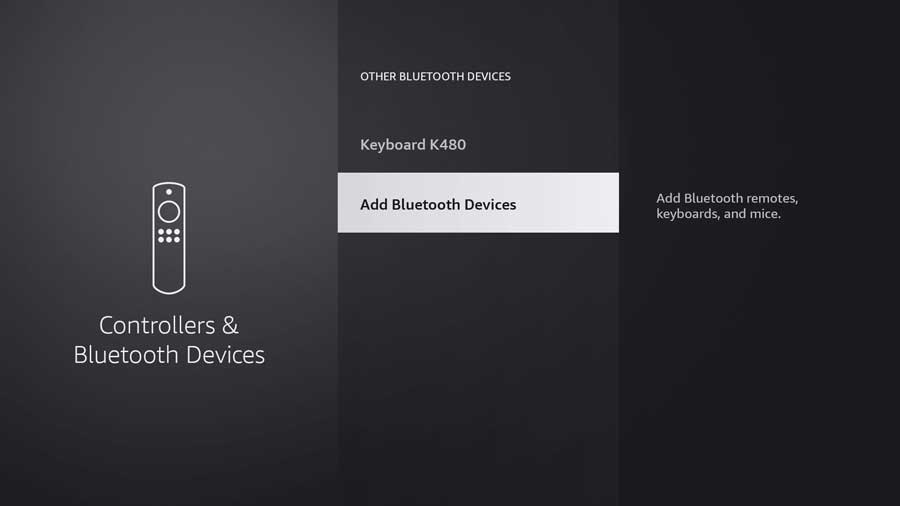 5. Make sure your FireStick keyboard is still in pairing mode.
If it is, you should see the name of your keyboard pop up on the list in a few seconds.
This is the one area where I got frustrated. While my Amazon Fire TV Stick immediately found the Logitech keyboard, the iPazzPort took a few attempts.
In some cases, you might be asked for additional confirmation that the device you're trying to pair is the device sitting in front of you.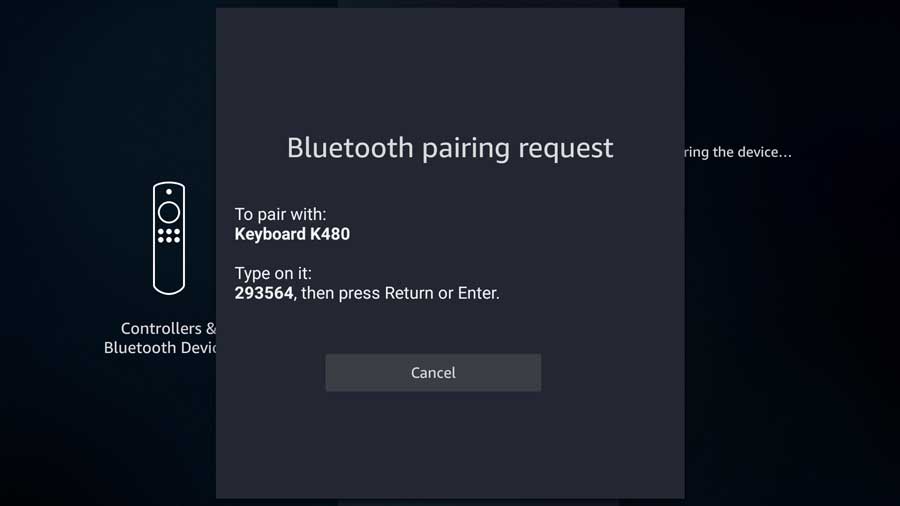 Usually, this is nothing more than a random six-digit code that uniquely pairs the keyboard with the Fire TV.
Enter the six-digit code on the keyboard and press the Enter or Return key. If you're successful, a pop-up on the lower right verifies that the keyboard is now connected.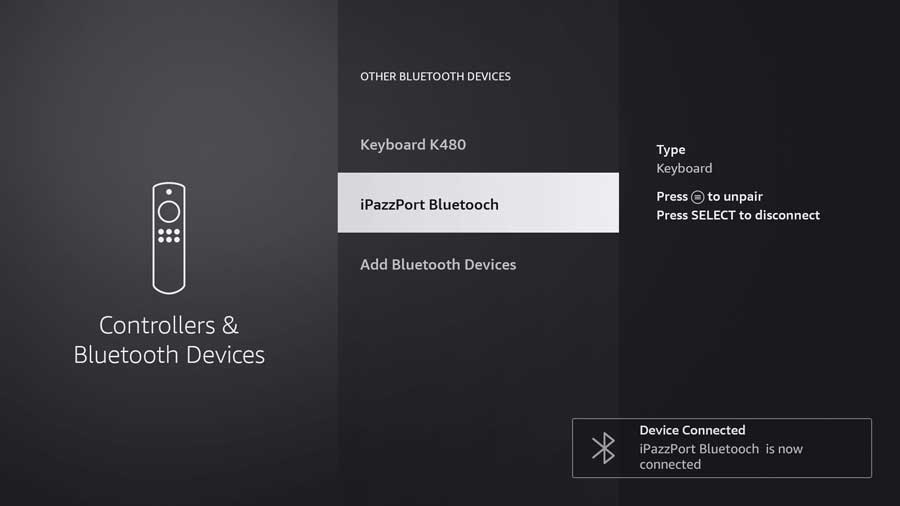 6. Confirmation.
Once complete, you'll get a pop-up window in the bottom-right corner of the screen. That lets you know your Bluetooth keyboard is connected to your FireStick and ready to use.
---
Best Keyboard for Amazon Fire TV Stick: Logitech K480 Keyboard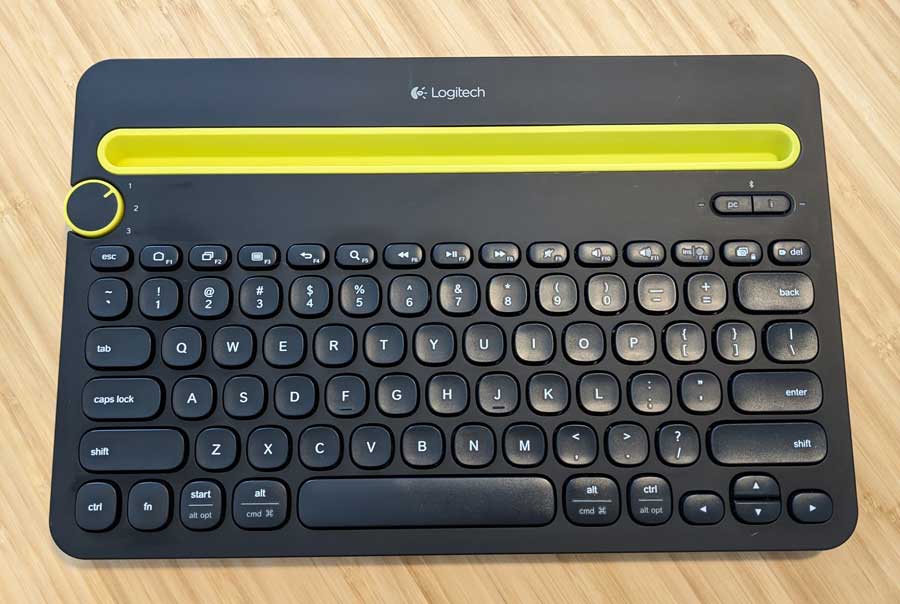 I've said it before, and I'll say it again: I'm a big fan of Logitech keyboards. I'm typing this article out on my K840 mechanical keyboard.
For Bluetooth keyboards, I've got both the K830 HTPC keyboard with a built-in touchpad and the cheaper K480 that I use for my FireStick.
In truth, both are excellent keyboards, but I have to give the nod to the K480 here.
The Logitech K480 is about half the price of the sleeker K830. It has one significant feature that its more expensive brother does not.
See that yellow dial in the picture above?
This Bluetooth keyboard can simultaneously connect to three devices, like a Fire TV, tablet, and smartphone. When you want to connect to one device, turn the dial to the profile number.
How convenient is that?
At around 12 inches by 8 inches and under two pounds, this keyboard is compact enough to keep on my lap while sitting on my couch.
If you want to use it with your smartphone, that long yellow cradle at the top of the keyboard is perfect for holding a tablet and/or phone at just the right angle to see it while you're typing.
One slight con for this Firestick keyboard: it doesn't have a touchpad, which can make navigating a website on your FireStick a bit cumbersome.
Our Pick
We earn a commission if you click this link and make a purchase at no additional cost to you.
---
Best Keyboard for FireStick Remote: iPazzPort Mini Keyboard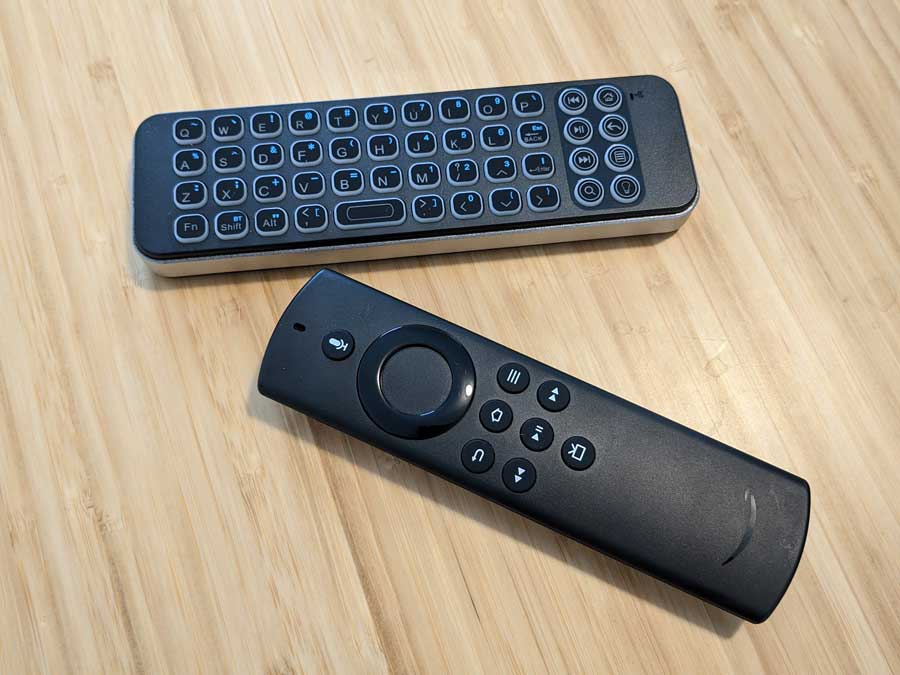 But what if you don't like the idea of a portable keyboard on your lap or cluttering up your coffee table?
You may prefer to type on something you can hold, like your smartphone.
Then the iPazzPort Mini Bluetooth Wireless Keyboard is for you. It connects through Bluetooth and works with the Fire Stick, Fire TV, Android TV Box, and a Smart TV.
The way it works isn't by replacing your FireStick remote but by combining with it.
The iPazzPort Mini Bluetooth keyboard has two silicone sleeves that fit different Amazon remotes. All you need to do is insert your Amazon remote on one side and the iPazzPort Mini on the other.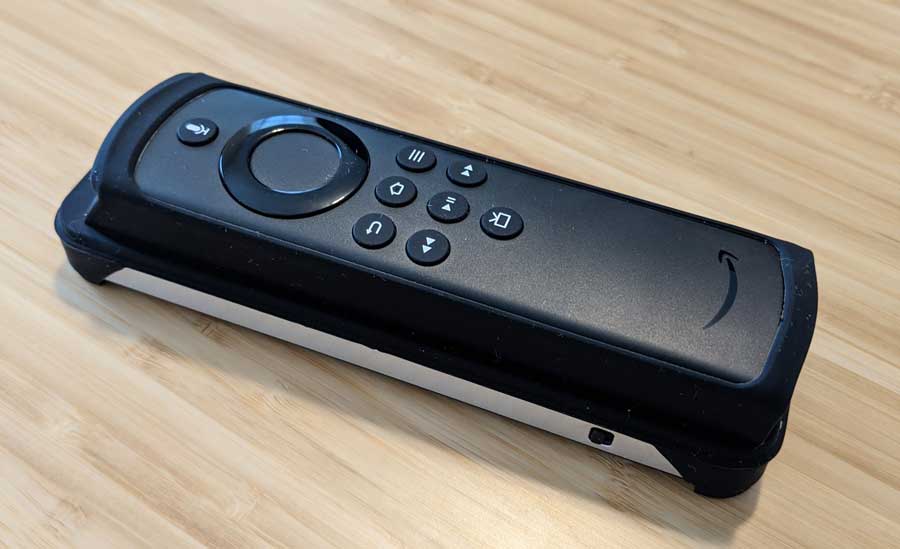 I'll be honest here, the combined weight of both the remote and the keyboard is heavy to hold. However, if you need a keyboard for your FireStick pretty often, the added convenience might be worth it.
The iPazzPort Mini contains a full keyboard with multi-media buttons on the right side: Play, Pause, Return, Search, Previous, Next, Home, +/-, and Menu. It's also backlit, so you can use it in the dark.
Power comes from a built-in lithium-ion battery that you can recharge with a micro-USB cable.
The combined keyboard\remote design makes switching back and forth between the keyboard and remote easy. You simply flip your Amazon Fire TV remote over to get to the mini keyboard.
We earn a commission if you click this link and make a purchase at no additional cost to you.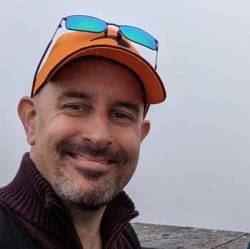 Latest posts by Tim Wells
(see all)