Last Updated on September 6, 2023 by Tim Wells
Over the past few years, SkyStream has really upped its game. What started as a budget hardware company has quietly grown into a powerhouse Android TV box company.
I've been a fan of SkyStream Android boxes since 2014, when I first reviewed the SkyStream X-4. A big part of that is because the company is local to me here in Orlando, and I got to meet the founders, Pete and Phil. 
Back then, it was just the two of them in a rented office. Since then, they've grown into a full-fledged operation with dedicated developers and a customer service team.
So when I started writing about Android TV boxes again, there was only one option to look at first: the new SkyStream Pro 8K streaming media player.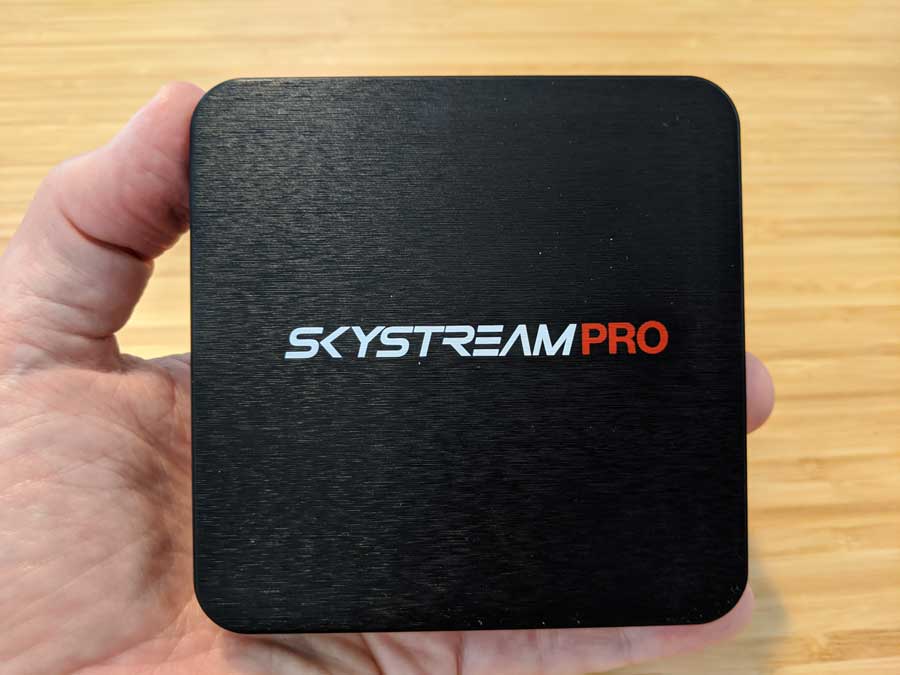 I've had the opportunity to use the SkyStream Pro as my primary Android TV box for about two weeks now. In this review, I will talk about my thoughts and review some benchmark numbers.
I'll also look at what's different from their previous Android box (spoiler: it's A LOT!).
Finally, we'll look at who should buy the SkyStream Pro and who might want to give it a pass.
Ready? Let's get started!
---
SkyStream Pro vs. SkyStream 3 Plus
A good place to start is with the model that the SkyStream Pro is replacing: the SkyStream 3+.
On paper, the SkyStream Pro looks to have slight increases in CPU clock speed and graphics performance, but that doesn't tell the whole picture.
To help figure things out, I turn to my go-to resource for breaking down the ins and outs of computer architecture, CNX Software. Personally, all I need is the highlights of what's changed from model to model. Still, I highly recommend giving them a follow if you really want to geek out on the minute changes.
Looking at the S905X2 CPU that powered the SkyStream 3+ vs. the S905X3 CPU in the SkyStream Pro, there are some noticeable changes, as I mentioned. 
The SkyStream Pro should have better 3D performance due to higher memory speeds.
Clock speed is up to 1.91 GHz, which is about 6% faster
An upgraded wireless module that gets speeds up to 867 Mbps
One of the most significant upgrades you won't see on the spec sheet is in the S905X3's Neural Processing Unit (NPU). That gives it better performance processing voice commands. 
If Google Assistant is essential to you, the SkyStream Pro 8K will handle those voice commands better than its predecessor. 
---
SkyStream Pro Specs
Hardware
CPU: AmLogic Quad Core S905X3
A55 1.9 GHz 64-Bit ARM Cortex
GPU: Mali-G31
RAM: 4GB DDR4
Storage: 32GB flash storage
Bluetooth: Yes
Software
Operating System: Android TV 9.0
Dimensions
Ports
LAN: RJ-45 10/100/1000 GigaPort Ethernet
WLAN: 802.11 a/b/g/n/ac Dual Band WiFi (2.4 & 5 GHz)
Host USB: 2 x External Ports (2.0), 1 x External Ports (3.0)
SD Card: 1 x Micro SD Card
Audio & Video Formats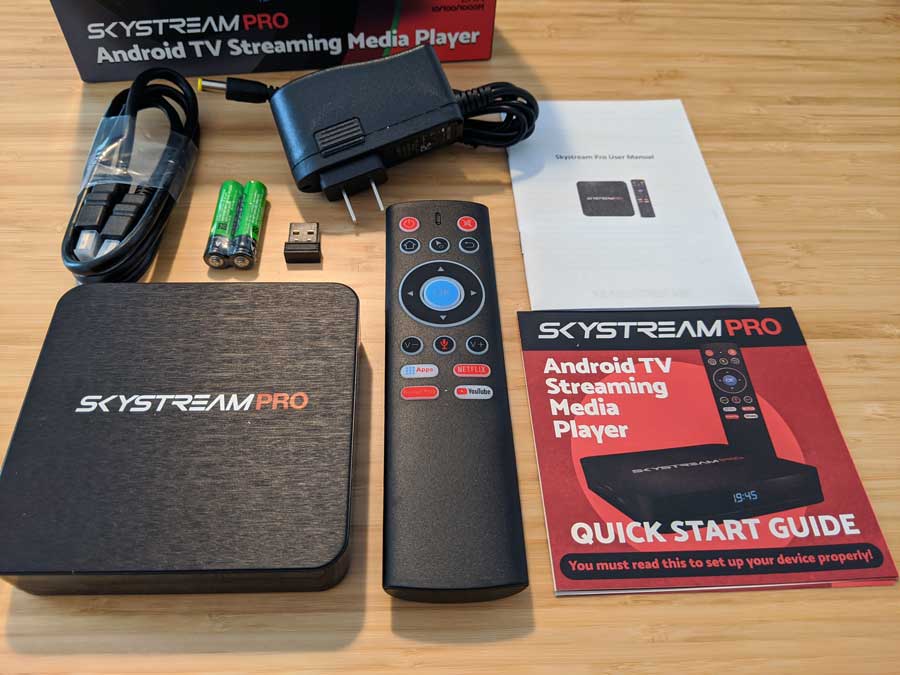 ---
SkyStream Pro: Unboxing & First Impressions
Unboxing Android boxes used to be a bigger deal than it is now. Almost everyone gets their packaging right, so it's hard to differentiate yourself. 
Still, SkyStream does an excellent job with the SkyStream Pro 8K streaming media player packaging.
The box is full of high-quality images that give you a lot of information about the TV box before you even open it up. Inside the box, you've got the same bright red cardboard that neatly frames the black TV box.
Contents:
SkyStream Pro 8K streaming media player
Voice remote control and RF adapter
AC adapter
HDMI cable
Two AAA batteries
Quick Start Guide
User Manual
The SkyStream Pro 8K is a small rectangular TV box made entirely of plastic. It has the typical rounded-off edges that the Apple TV made famous a few years ago.
The top of the box has a nice textured feel, a bit like brushed metal. The front looks like a smooth black plastic, but it's heavily tinted clear plastic, so the blue LED clock can shine through.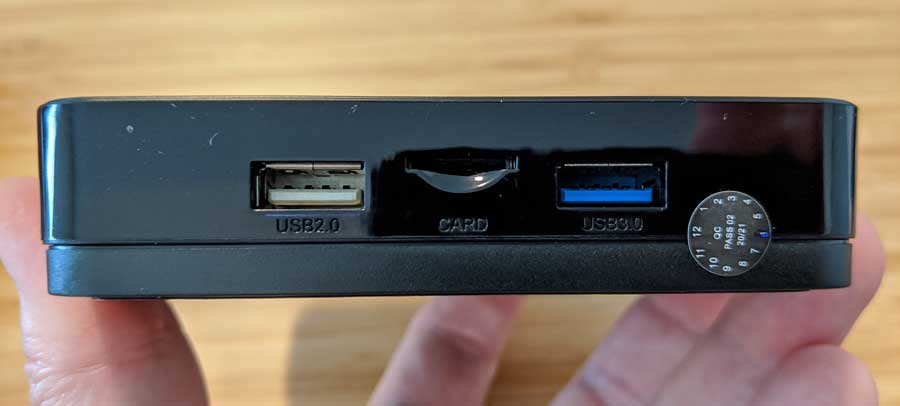 On the left side, you have a single USB 2.0 port, a single USB 3.0 port, and a microSD card slot in between.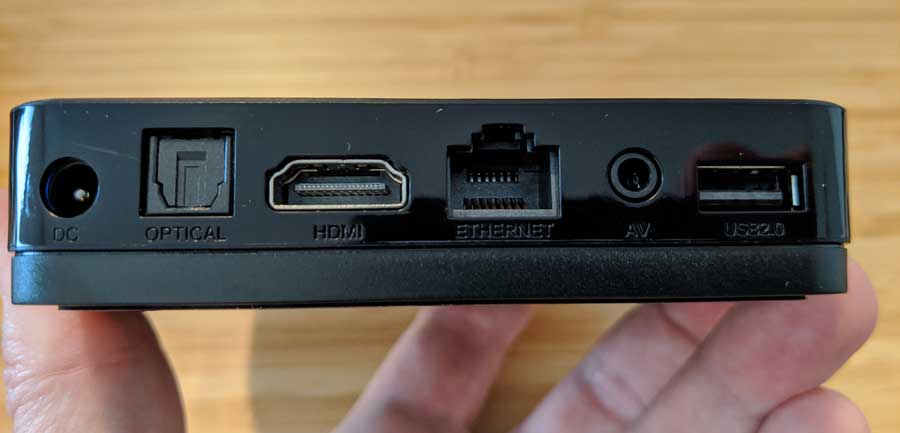 On the back, you have another USB 2.0 port, a digital optical port, an AV port, an HDMI port, an RJ-45 Ethernet port, and a power port. 
---
Voice Remote Control
The voice remote control fits nicely in your hands but feels a little thin and flimsy. You're never worried about breaking it, but there is some flex to it when you pick it up.
It's similar to most of the other remotes you find on Android TV boxes, but it would have been nice to find something with a bit of weight and rigidity.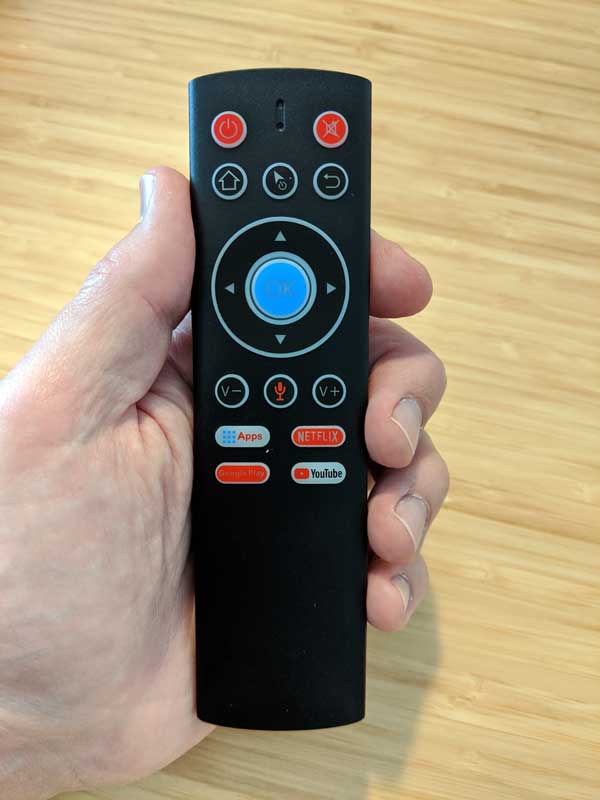 My other complaint about the remote is that the Back button isn't where I intuitively expected it to be.
As you can see in this photo, the Back button is in the upper right, directly underneath the Mute button. In most other TV remotes, the Back button is on the lower left-hand side, where the Volume Down button is on this remote. 
It doesn't take too long to get used to. Still, if you switch between different remotes, you could inadvertently turn down the volume when you mean to exit an app.
The remote also has a few special function buttons, which are really handy. 
My favorite is the Apps button which will take you directly to the App Drawer. There are also specific hot buttons for YouTube, Netflix, and Google Play. While the YouTube and Netflix buttons worked perfectly, I couldn't launch the Google Play Store with the remote hot button. 
---
SkyStream Updater
I've talked about the SkyStream Updater before, but I'll also briefly highlight the important parts here.
The SkyStream Updater app, as the name suggests, is a one-button method to keep your SkyStream device up to date. It's also a great way to set up your TV box with various apps, depending on how you use it.
A few years ago, you used to be able to find a lot of Android TV boxes that came "fully loaded" from the manufacturer with what they thought were the most popular applications. The trouble is, most people didn't agree on what the most popular apps were. That led to people having a ton of apps on their devices that they had never used, which was confusing to some people. 
SkyStream came up with the Updater App, which lets them ship the SkyStream Pro with as few apps as possible and then enables you to choose how you want to configure it.
If you want a bare-bones Android TV box, you've got it. But if you want a fully loaded Kodi box with all the most popular add-ons, you can get that too. 
It's a great solution that has only improved over time. 
---
SkyStream Pro: Performance
Coming from the Nvidia Shield TV, the SkyStream Pro felt incredibly familiar. Both devices run the official Android TV operating system, which is perfect for your living room.
Navigating around the menus felt smooth and snappy. I never felt like I was waiting on the device to catch up to me.
Watching videos on YouTube or Netflix was extremely smooth, with no digital artifacts. If I ever find any artifacts when I'm watching a video, that is a deal-breaker. The SkyStream Pro 8K streaming media player definitely gets some points in that aspect.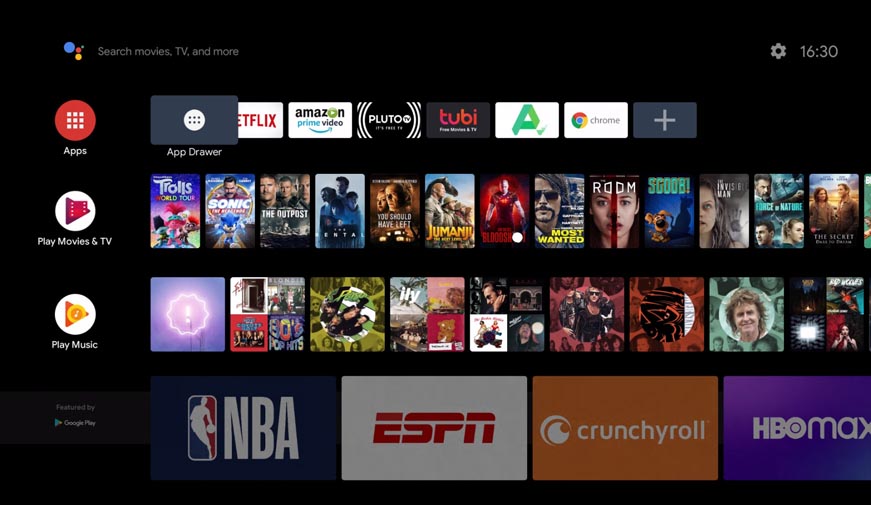 A Word About Benchmarks
If you've read any of the reviews I've written on my old website (see my About page for details), you've probably seen me list off a lot of benchmark numbers. While having the bragging rights for the highest AnTuTu score is good, I've found it doesn't necessarily translate to watching a movie in 4K. 
In that spirit, I won't list benchmark scores unless they're really extreme one way or the other. I find it's much better to log as much time watching movies and TV on a device as possible.
Isn't that much more important to you anyway?
---
Price and Comparisons
The SkyStream Pro is priced around $129, which puts it on par with some of the higher-end Android TV boxes from Minix or Beelink. It's cheaper than the basic Nvidia Shield TV and almost $80 less than the Shield TV Pro. 
Build quality has always been excellent with SkyStream, and from what I've seen of this TV box, it's no exception. 
---
The Verdict: Is the SkyStream Pro Worth It?
I had really high expectations for the SkyStream Pro when I bought it, and it didn't disappoint!
Moving to the official Android TV OS is a massive step in the right direction. Even though the older SkyStream boxes had custom launchers that tried to replicate that "sitting on the couch" experience, flipping around Android TV is much easier and more enjoyable. 
The hardware on the TV box is a moderate step up from the older SkyStream 3+. If you have one of their older boxes and expect a blinding speed increase, you will be disappointed. However, if you want a snappier interface that makes it easy to find the TV shows and movies you're looking for, this is the TV box for you. 
You can buy the SkyStream Pro 8K streaming media player on Amazon or directly through SkyStream's website.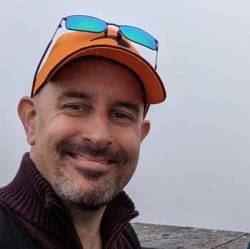 Latest posts by Tim Wells
(see all)