Last Updated on September 6, 2023 by Tim Wells
You've probably heard of Filelinked, a popular file-sharing tool for Android and Fire TV OS. Regular people like you and me could set up their own "store" to share apps with our friends, and it was a great way to discover new apps!
And then it was mysteriously shut down.
Nobody knows why Filelinked stopped working, but several Filelinked replacements have sprung up. The best one I've found is called AppLinked.
AppLinked is a bulk file-sharing application for Android TV and Fire TV devices, just like Filelinked.
In this article, we'll briefly discuss what AppLinked is and how to use it. Then, I will show you how to install it on your FireStick and Android TV.
---
What Is Applinked?
AppLinked is a downloadable content app marketplace.
I like it because it lets me quickly download and install files to a new Android box I'm testing. All I need to do is input my store code on a new device, and I can download everything without searching for each APK file separately.
Although most people use it for APK files, users can upload their own files, including videos, photos, or documents, to share with family and friends.
Each code represents a different app shop, and there are a lot of public app stores to choose from.
AppLinked Features
Some features of AppLinked include:
Free codes for different content.
There are many tutorials and instructions on how to use the software.
Simple to use. This software doesn't have a challenging learning curve.
There are no restrictions on how many files you may link to or download.
Registration is completely free. To begin downloading and sharing files, you must first establish a free account that does not need a credit card.
Efficient. Using a single URL to download and share multiple files saves time you would've spent streaming them individually.
What Your ISP isn't telling you…
Your ISP knows more about you than you think!
Your IP address is your online fingerprint. It logs everything you do online and is visible to your Internet Service Provider, the apps & addons you use, and even the government.
Currently, your IP Address 18.206.13.203 in Ashburn is visible to everyone.
Kodi Builds & Addons offer unlimited free streaming content, but there are risks.
Stream safely with Surfshark.
The Best VPN hides your identity and bypasses geo-blocked content and government surveillance while letting you stream your favorite movies buffer-free.
I've tested all the major VPNs on Android TV boxes and recommend Surfshark. It's the fastest VPN for streaming and gives you access to the most geo-blocked content!
SAVE 81% ON Surfshark!!!
Try it risk-free for 30-days on unlimited devices at the same time.
---
Is AppLinked Illegal?
AppLinked is entirely legal to download and use.
AppLinked does not host the files, which would violate streaming regulations. The material is available on Dropbox, Telegram, and other websites. However, specific AppLinked applications may be illegal.
It's best to use AppLinked codes from reputable developers. It's preferred if the individual passing along the link is a trustworthy friend or reputable source.
---
What Does AppLinked Do?
At its core, AppLinked helps you find the files or media that you're looking for.
When someone creates an AppLinked store, they can add applications to it. Although AppLinked was created to share applications, you can use it to share any type of file, really.
When someone adds a file to their AppLinked store, they're really creating a shortcut to that file. That file can be stored on a private server or a third-party service like DropBox or Amazon Web Services.
They are not uploading the file itself. AppLinked does not host files on their servers.
When you create a store, you can choose to make it public or private, depending if you want others to be able to access it or not. You can store many things, such as movies, pictures, music, APK files, and more…as long as those files are shared somewhere on the Internet.
After you've filled your store with files, you can share your store code so other users can access your store.
---
How To Install AppLinked on FireStick & Android TV
In this section, we'll walk you through installing AppLinked, whether you have a FireStick, Fire TV Cube, or Android TV.
To do this, we will be using the Downloader app from AFTVNews. Downloader is one of my favorite ways to sideload apps onto your device. It's available through the Amazon App Store and the Google Play Store.
In this tutorial, I will assume that you already have Downloader installed on your device. If you don't have it installed, check out my tutorial on installing the Downloader app here.
From Downloader's home screen, search for applinked.store and click Go.
This takes you directly to AppLinked's official home page, as you saw in the image earlier.
Once you're there, scroll down to the Download The App section and click the Download button.
That immediately starts the download process, and a message box appears to show you the progress.
AppLinked is a very small download, around 3.6 MB. Depending on your Internet speed, this should only take a few seconds.
As soon as the download is finished, the installation process will automatically begin.
Click the Install button to continue.
Here's where things take a different spin.
When I'm writing this, if you try to install AppLinked, you'll get a warning message saying that AppLinked is Blocked by Play Protect.
Initially, this warning was meant to warn you about potentially dangerous or harmful apps to protect your device. Now, it seems Google uses this warning box to stop you from installing any file-sharing app.
You can click on the Details button to find out a little more.
If you still want to install AppLinked, click OK to continue.
Once the process is complete, remember to delete the APK file from your device to save space.
Then, you can open AppLinked from your app drawer on your device.
---
How To Upload Files to AppLinked and Create Code
Creating codes in AppLinked to share your videos and pictures is a straightforward process that can be done in just a few steps:
Open your FireStick or Android TV browser and navigate to AppLinked.store (their official website).
Select Create Store.
You'll then create your unique store number, name, and password for that store.
Once you click the Sign Up button, you'll receive an email with your credentials, and your store will be live.
To add files to your store, Click the Add Application button at the top of the screen.
For each file you want to add to your store, you'll need the Application Title, Application Description, APK External LInk, Image External Link, category, and whether you want the app to be public or private.
Click Submit when you're done.
That's it. You've created your AppLinked store and added your first file.
You can give other people your AppLinked store code, and they access all of the files stored under this setup through the AppLinked app.
---
AppLinked Codes
You don't need a store code to use AppLinked. You can browse through all the public stores to see if anything catches your eye. Many people have compiled lists of the most recent software and made them public.
Here are some of the best AppLinked codes to get you started:
5555
7777
8888
6464
3333
45542222
1111
4554
301851852
588201178
607809938
849320303
799783203
000111
727272
363605206
911
811
727272
475414651
---
What Platforms Does AppLinked Work On?
AppLinked is compatible with Firestick, FireTV 4K, Android TV, and pure Android TV boxes.
You can also use AppLinked on Android phones and tablets, Android TVs, and PCs with any Android operating system, such as Chrome OS.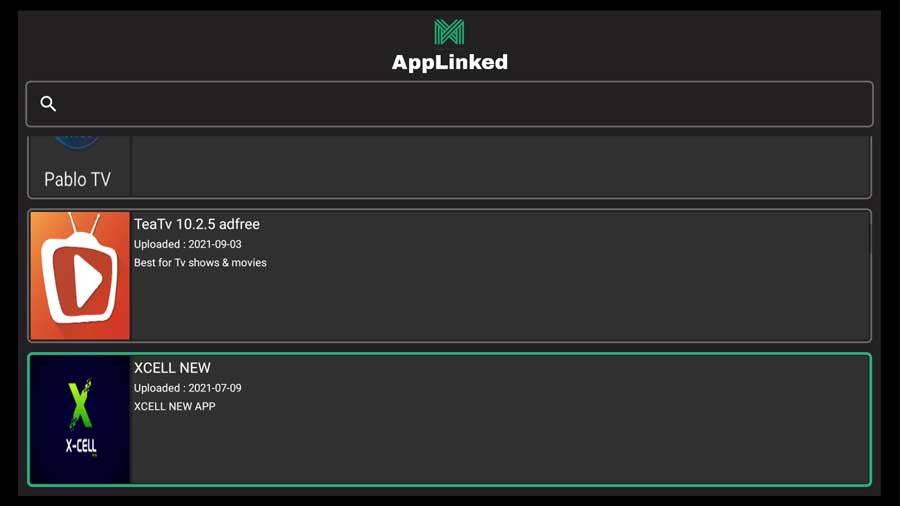 ---
Why Should I Use AppLinked?
Applinked is a brilliant option for downloading a large number of files in one go. You can arrange them in a single, convenient location instead of having your data scattered across several applications.
It's also a fantastic resource for discovering new programs and other helpful information.
Plus, you are not restricted to any one file hosting service. You are free to upload your files anywhere you choose.
The only qualification is that your hosting provider links your files directly.
---
Do You Need an Anti-Virus With AppLinked?
Probably. In addition to using trustworthy codes, you should scan any applications you download from Applinked as an additional precaution. Consider an antivirus program such as:
VirusTotal
Norton
TotalAV
McAfee
Scan Guard
Also, do not post files containing personal information. While Applinked is very safe, there is always the possibility that a shared code may wind up in the wrong hands.
So maintain a paper trail of your private data instead. Use caution when it comes to metadata. Check the settings of any third-party app you're using to be sure it's not sending location data from your photos and videos.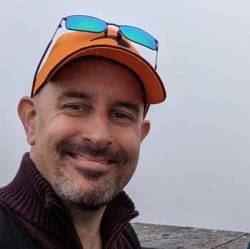 Latest posts by Tim Wells
(see all)